Screenshots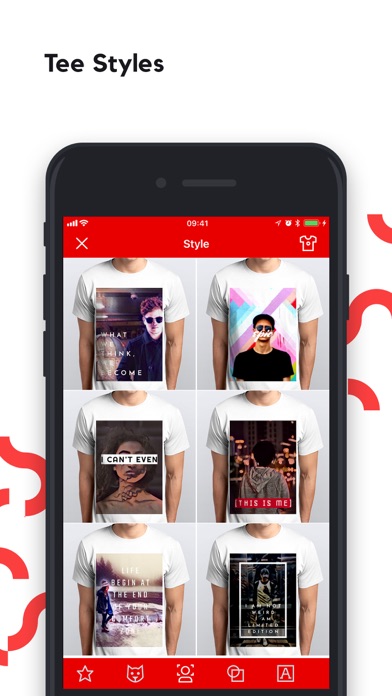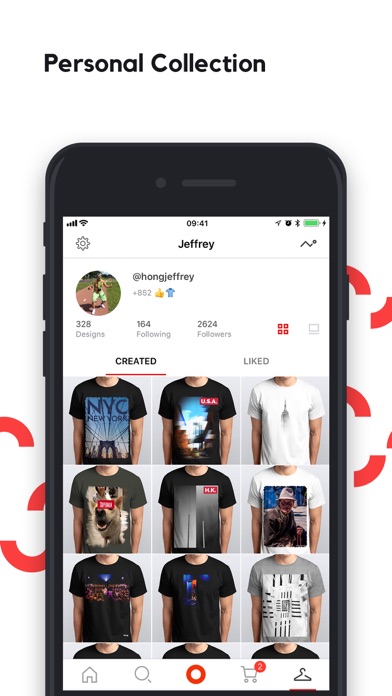 New in version 2.1.3
Today we are updating with a new layout and exciting features.
More coming, stay tuned!
Description
Snap your masterpiece and we print & ship it as your personalized tshirt! Snaptee is the first mobile app in the world that enables you to create your own custom T-shirts with just a few taps of your smartphone. Regardless of your design or photo editing experience, you can easily create your unique clothing with our fun tools. Join the creative Snaptee community, DESIGN, SHOP, and even SELL your unique designer clothing completely in-app.

With Snaptee App, you'll be able to easily:
- Turn inspiring quote or fun pun into a T-shirt.
- Design the most lovable T-shirt gift for your lover.
- Transcend your Instagram ready photos into a wearable T-shirt.
- Scan your hand-drawn illustrations into a one-of-a-kind T-shirt.
- Building a Team? Wear Logo T-shirts to cheer up your team's spirit!
Follow your imaginations and there is no limit of how you create the most unique and stunning apparels!

Whether you're a professional photographer or just a photography enthusiast, you can always import photos directly from your mobile device to create new unique Tshirt designs. (For Optimal printing result, in addition to the Photo album's default editing tools, we recommend to use apps like Prisma, VSCO, Lightroom, Snapseed etc. which can allow full resolution export.) Speak your mind. Show off your artistic sense. Support a cause. Get people thinking. Bring a smile to someone's face with a funny quote. And tell someone you love them in the most dynamic way.

Snaptee is filled with awesome features: Photo album and Instagram integration; Font editing, colors tools; Custom filters such as glitch, Hare, Noir etc. ; Various Tshirt Style templates are just taps away to inspire your creativity. The innovative Remix button is also great for collaborations. Unlock your design to the Snaptee community and be amazed at how users from all over the world can be inspired by your art and reinterpret your creation in awe!

Think other people will love your T-shirt as much as you do? Once you finished designing your unique and personalized T-shirt, easily share your design with friends over social media such as Facebook, Twitter, Instagram etc. to get your fans follow you in Snaptee. Make sure to turn on the Publish and Sell button after finishing your design so fans can buy it. For every T-shirt sold, you earn a 10% commission on the sale.

For the street style hipsters, wear your custom t-shirt and take a selfie and post your impressive shots to your stylebook and lookbook. Build your fan base by showing your style and invite them to follow your Snaptee account. Remember to hashtag #Snaptee when you post on social media!

-------

Before Snaptee, making your own T-shirt was such a hassle. Now, there would be:

- No more searching for an affordable graphic designer.
- No more looking for a print shop that's willing to make you just one T-shirt.
- No more crowdsourcing, crowdfunding, or crowd-voting other people's designs.
- No more settling for T-shirts that aren't good enough.
With Snaptee, you can painlessly create the T-shirt that truly represents you.

Your Snaptee masterpiece starts with just US$19.82 plus worldwide shipping. All virtual designs are brought to life one at a time through Snaptee's efficient digital printing process and shipped directly to you, no matter where you are in the world.
Snaptee is available as Tank Top, Crew T-shirts, V-neck T-shirts, Hoodies, Sweatshirts and Zipup Parka in your choice of Black, White and many more colors, sized to fit Men, Women, and Kids.

Realize your creativity now!
Reviews
It's lit
This app is genius
Good
Good way to give people art recognition
😝
The best site by far!! 🤗
Love!
Sexy_scorpy
on
12/12/2017
Great site! Simple and easy
Awesome
Pretty kool if u like Tshirts
Awesome
Palo súper grande
on
12/10/2017
Great app
Great App
Allows you to really portray your creative design and see it on apparel.
Alright
Needs to allow back designs
Ok
allmotor_johnny
on
12/8/2017
First time user looks. Really fun and easy to navigate let's hope it works !
Great start so far.
JeffreyTyler
on
12/7/2017
New member but experienced designer and apparel owner. Apparel with a purpose. Spread good word and good vibes but keep things simple with pops of color.
Easy setup
Happychikenfacedood
on
12/6/2017
Really good honestly but only think that bugged me was how I couldn't add small decals but I'll find a way to do that probably ;)
Snaptee
Awesome!!! Wish I could get my designs for free
Great
Very smooth and simple way to create 🤘🏾😌
Awesome
bboy rawbzilla
on
12/2/2017
Awesome awesome awesome!
Easy Easy Easy to Use
This app couldn't have made it any easier to use. Simple interface and effortless. LOVE IT!!
Not working.....
RoscoesWorld
on
11/28/2017
Unable to design shirts!!!!
Love it
serenity scott22
on
11/25/2017
Love it
Great
young lil dabber
on
11/24/2017
Great great app I just got it and I love designing 👌
Awesome App!
Love this! Easy and fun to use! I'm getting a shirt or sweatshirt for everyone on my Christmas list.
I love using snaptee
Jmoney081998323
on
11/23/2017
I design my own logo shirts (LGandP) on here, and love using it to sell to my small fan base. Great app overall 👍
A.M.A.Z.I.N.G
Best clothing app everrrrr!!!
Fireeeee
GarthOfFrNce
on
11/20/2017
So fuego
I want more!!
Bede_JBJ_UNIgames
on
11/19/2017
This app is so amazing!!! I use it all the time!! I personally think it could go farther with hats or leg wear. Good job Snaptee!!!
Awesome app
brandon44mason
on
11/19/2017
Awesome app
Great app!
Boogietunez
on
11/19/2017
I love it ! Simple and easy!
Review
Ojoscafesmxa
on
11/18/2017
Love this app
Yes!
Jack septiceye2
on
11/17/2017
Best design app
Good for business
Got to grow an amazing business through this FREE app. TRUELY AMAZING!!!
Best around
I've tested a lot so far this is the best app for T-shirt and hoodie design, keep up the great work
Easy and fun!
Snaptee allows me to be creative and bring my imagination to life while also making a profit for my happy customers! #LOOKZKILLNEWYORK
I LOVE THIS APP ‼️ (add coats)
I love this app I have been searching for something like this forever, thank you guys . Add coats as well
Creative
Mr Figgles11223344
on
10/24/2017
Very User Friendly
Super Awesome
These are great deals. Turning your photos into real pictures on clothes is genius and they come out looking great. The shirt material is wonderful as well and it's not distorted images. I love this app. Super awesome and I highly recommend it for gifts and fun(:
Love It!!!
I can make like anything for me and my bf !!! 💜💜💜
Good app
Mr.mclove44886
on
10/1/2017
Easy to use. Good way to make gifts and hard to find brand pushing
Great way to make Unique tees
Sweglikcaillou
on
9/30/2017
Would be nice to add stuff on to sleeves or more then one picture , or add stuff to the back of clothing . On hoods of hoodies , this app could go far with just a little bit more work .
Off to start from scratch!
Da-best-1$-coming
on
9/23/2017
I created a design that wouldn't save to my locker and when I went to purchase my work, it wouldn't let me buy. I also noticed that my design made it as a feature for the particular Hoodie I designed. I wouldn't have mind using this app had this not happened.
Pretty Great Choice
theguyintheland
on
9/21/2017
Had some holdups with a password at the beginning, but it was something wrong with my username. The UI is very smooth, and making a shirt is easy. All in all a great app.
Shirt sizes
Please make the shirt sizes BIGGER!!!!
Life changing lol
I wish I had found this sooner
SandySnorkel
Chicken Nugget Joe
on
9/11/2017
This app is easy to use and amazing. Make sure to check out SandySnorkel. I'm sure you'll find something you like there. I guarantee it
Dopeness
Love the ability to create my own shirts using some of my favorite sayings
Opinion
I wish the shirts cost less
Fact Sheet
Publisher:

Snaptee Limited

Category:

Shopping

Released:

Feb 12, 2013

Current Version Released:

Nov 27, 2017

Version:

2.1.3

Size:

312.8 MB

Compatibility:

Requires iOS 9.0 or later.

Recommended Age:

4+

Game Center Certified:

No

Supported Devices:

iPad2Wifi-iPad2Wifi, iPad23G-iPad23G, iPhone4S-iPhone4S, iPadThirdGen-iPadThirdGen, iPadThirdGen4G-iPadThirdGen4G, iPhone5-iPhone5, iPodTouchFifthGen-iPodTouchFifthGen, iPadFourthGen-iPadFourthGen, iPadFourthGen4G-iPadFourthGen4G, iPadMini-iPadMini, iPadMini4G-iPadMini4G, iPhone5c-iPhone5c, iPhone5s-iPhone5s, iPadAir-iPadAir, iPadAirCellular-iPadAirCellular, iPadMiniRetina-iPadMiniRetina, iPadMiniRetinaCellular-iPadMiniRetinaCellular, iPhone6-iPhone6, iPhone6Plus-iPhone6Plus, iPadAir2-iPadAir2, iPadAir2Cellular-iPadAir2Cellular, iPadMini3-iPadMini3, iPadMini3Cellular-iPadMini3Cellular, iPodTouchSixthGen-iPodTouchSixthGen, iPhone6s-iPhone6s, iPhone6sPlus-iPhone6sPlus, iPadMini4-iPadMini4, iPadMini4Cellular-iPadMini4Cellular, iPadPro-iPadPro, iPadProCellular-iPadProCellular, iPadPro97-iPadPro97, iPadPro97Cellular-iPadPro97Cellular, iPhoneSE-iPhoneSE, iPhone7-iPhone7, iPhone7Plus-iPhone7Plus, iPad611-iPad611, iPad612-iPad612, iPad71-iPad71, iPad72-iPad72, iPad73-iPad73, iPad74-iPad74, iPhone8-iPhone8, iPhone8Plus-iPhone8Plus, iPhoneX-iPhoneX,

Supported Languages:

English; French; German; Japanese; Chinese; Chinese;