Screenshots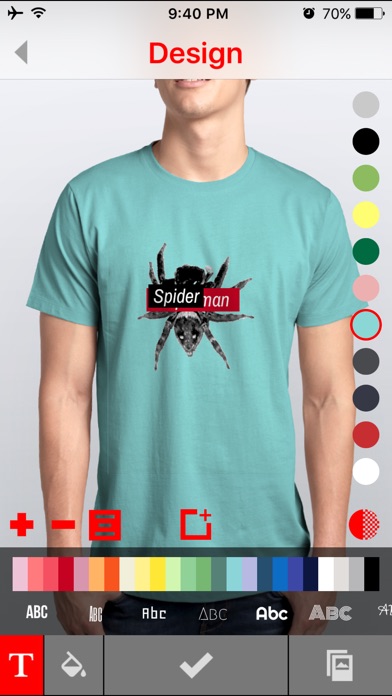 New in version 1.46.4
Bug fixes and Improvements.
Description
Snap your masterpiece and we make & ship it as a tee! Snaptee is the first mobile app in the world that enables you to create your own custom T-shirts with just a few taps of your smartphone. Regardless of your design experience, you can easily complete your unique designs with our fun tools. DESIGN, ORDER, and even SELL your unique creations completely in-app.

With Snaptee App, you'll be able to easily:
- Turn inspiring quote or fun pun into a Tee
- Design the most lovable couple Tee
- Transcend your artistic photos into a wearable Tee
- Scan your hand-drawn illustrations into an one-of-a-kind Tee
- Building a Team? Cheer up your team's spirit with a Logo Tee
Follow your imaginations and there is no limit of how you create the most unique and stunning apparels!

Speak your mind. Show off your artistic sense. Support a cause. Get people thinking. Bring a smile to someone's face with a funny quote. And tell someone you love them in the most dynamic way.

Snaptee is filled with awesome features like photo and Instagram integration, choice of fonts and colors, custom filters and various Tshirt style templates to inspire your creativity. Once you're done designing your one-of-a-kind T-shirt, easily share your design with friends over social media or better yet, invite them to follow you in Snaptee and start building each other's Lockers. The innovative Remix button is also great for collaborations. Unlock your design to the Snaptee community and be amazed at how users from all over the world can be inspired by your art, if not reinterpret it!

And if you think other people will love your T-shirt as much as you do, make sure to turn on the Publish and Sell button after finishing your design to make it available for purchase. For every T-shirt ordered, you earn a 10% commission on the sale.

-------

Before Snaptee, making your own T-shirt was such a hassle. Now, there would be:

- No more searching for an affordable graphic designer.
- No more looking for a print shop that's willing to make you just one T-shirt.
- No more crowdsourcing, crowdfunding, or crowd-voting other people's designs.
- No more settling for T-shirts that aren't good enough.
With Snaptee, you can painlessly create the T-shirt that truly represents you.

Your Snaptee masterpiece starts with just US$19.82 plus worldwide shipping. All virtual designs are brought to life one at a time through Snaptee's efficient digital printing process and shipped directly to you, no matter where you are in the world.
Snaptee is available as Tank Top, Crew T-shirts, V-neck T-shirts, Hoodies, Sweatshirts and Zipup Parka in your choice of Black, White and many more colors, sized to fit Men, Women, and Kids.

Realize your creativity now!
Reviews
Super Awesome
These are great deals. Turning your photos into real pictures on clothes is genius and they come out looking great. The shirt material is wonderful as well and it's not distorted images. I love this app. Super awesome and I highly recommend it for gifts and fun(:
Love It!!!
I can make like anything for me and my bf !!! 💜💜💜
Good app
Mr.mclove44886
on
10/1/2017
Easy to use. Good way to make gifts and hard to find brand pushing
Great way to make Unique tees
Sweglikcaillou
on
9/30/2017
Would be nice to add stuff on to sleeves or more then one picture , or add stuff to the back of clothing . On hoods of hoodies , this app could go far with just a little bit more work .
Off to start from scratch!
Da-best-1$-coming
on
9/23/2017
I created a design that wouldn't save to my locker and when I went to purchase my work, it wouldn't let me buy. I also noticed that my design made it as a feature for the particular Hoodie I designed. I wouldn't have mind using this app had this not happened.
Pretty Great Choice
theguyintheland
on
9/21/2017
Had some holdups with a password at the beginning, but it was something wrong with my username. The UI is very smooth, and making a shirt is easy. All in all a great app.
Shirt sizes
Please make the shirt sizes BIGGER!!!!
Life changing lol
I wish I had found this sooner
SandySnorkel
Chicken Nugget Joe
on
9/11/2017
This app is easy to use and amazing. Make sure to check out SandySnorkel. I'm sure you'll find something you like there. I guarantee it
Dopeness
Love the ability to create my own shirts using some of my favorite sayings
Opinion
I wish the shirts cost less
This is so fun
I'm not sure how to use it so well cause I just got the app, but I've seen my friends using it and posting about it so I downloaded it, and it's a really really cool app! You can make shirts and things and sell them and make money! Although I'm not sure if you can change the price or if it's just set at $29.99 always🤷🏽‍♀️. But anyways , it's a pretty fun app and I'm guessing a really good way to make money.
Great app!
Overseer Nova
on
8/20/2017
Love making my own shirts!
Starting a clothing line
I love it .
Get this one
Amazing!! Never any problems!!
Designing all my shirts on here from now on.
Swag goggles
on
8/12/2017
I was a skeptic at first, but I took a chance. The shirt I designed on this app is the coolest shirt I have ever owned. I was getting tired of going to the mall and just buying whatever they had to sell me. A lot of the time I would just settle for whatever because they never had exactly what I was looking for. With this app I can design a shirt exactly the way I want it, and it comes out perfect. I'm going to be designing and purchasing a lot more shirts from y'all. Thank you for doing what you do.
How do you get paid
How do you get paid ? Pls some one answer
YEAH BABY
Rose the Poet
on
8/9/2017
Best app ever
Listen SnapTee
IG:Anubis_Official00
on
8/6/2017
I love your app I'm still a user but have you every thought of shoes,hats,hell even socks and maybe allow your users to get paid some how but get some revenue just think about it being the YouTube of Custom Clothing even beating customize and etc
I absolutely love it
Great quality & over all good app
Very Pleased!
I really like this app. Great work!
Awesome
Life's party
on
7/30/2017
Great app and great ways to make your own designs
Live Your Life
Best app on this planet
For youtube merch
New to YouTube nice way to start making merch
Thumbs up
Great way too stay fresh in your own way.
Great job
Villagekidd500
on
7/20/2017
Love it
Dope stuff
Tripsgoldie13
on
7/17/2017
This app allows me to embrace my artistic ability
Sizes are small
metamorphilia
on
7/13/2017
Designs are true and a great way to get printed designs quickly, but they run small small small. 2x is barely a large. Beautiful shirts, they just won't fit anyone but a kid.
Great application
I really love it. Its an awsome app and im suggesting it to everyone.
I love it
My clothes are selling like hot cakes at Mickey ds.
Great 😍
One of my favorite apps
Too expensive
$35 for a v neck tshirt?!
Awesome
Great app and easy to use it's awesome!
New to the app but it's not that bad👍🏽
Not bad, it's cool that they let you sell your stuff on the app and have people follow each other.
Awesome 👍🏽👍🏽👍🏽
Awesome App 👍🏽👍🏽👍🏽
Great
Henry Tagggggs
on
6/27/2017
I love this always plug lil Fritz lil Fritz go check out my pullover sweatshirt
Fun app!
Easy to use and fun to make designs with.
Question
My only question is how good the the fabric and how good is the quality of the print?? 🤔🤔🤔 the app is great 🔥🔥💯💯 but hopefully more freedom in future updates.
Pretty Good!
Ronniesbubbles
on
6/12/2017
I just downloaded the app and quickly made a Tee to see how it worked, and it's pretty great. There's lots of tools to edit your designs with IN APP. Love it.
Nice app
Simple and good choices. A litttle more customization would be nice.
Needs some extra stuff
Want to see the ability to move text around.
The best shirt design app
Man I love the fact that you can get multiple designs from this app.
Freaking Awesome
10/10 will be using this for a while
Good app
A good well rounded t-shirt app, but i do wish for more options (back of shirt editing, more then one photo per shirt, ability to resize and reposition photos better, etc.) But i guess that's why i got photoshop express too... lol
Fact Sheet
Publisher:

Snaptee Limited

Category:

Shopping

Released:

Feb 12, 2013

Current Version Released:

Oct 14, 2017

Version:

1.46.4

Size:

107.9 MB

Compatibility:

Requires iOS 8.0 or later.

Recommended Age:

4+

Game Center Certified:

No

Supported Devices:

iPad2Wifi-iPad2Wifi, iPad23G-iPad23G, iPhone4S-iPhone4S, iPadThirdGen-iPadThirdGen, iPadThirdGen4G-iPadThirdGen4G, iPhone5-iPhone5, iPodTouchFifthGen-iPodTouchFifthGen, iPadFourthGen-iPadFourthGen, iPadFourthGen4G-iPadFourthGen4G, iPadMini-iPadMini, iPadMini4G-iPadMini4G, iPhone5c-iPhone5c, iPhone5s-iPhone5s, iPadAir-iPadAir, iPadAirCellular-iPadAirCellular, iPadMiniRetina-iPadMiniRetina, iPadMiniRetinaCellular-iPadMiniRetinaCellular, iPhone6-iPhone6, iPhone6Plus-iPhone6Plus, iPadAir2-iPadAir2, iPadAir2Cellular-iPadAir2Cellular, iPadMini3-iPadMini3, iPadMini3Cellular-iPadMini3Cellular, iPodTouchSixthGen-iPodTouchSixthGen, iPhone6s-iPhone6s, iPhone6sPlus-iPhone6sPlus, iPadMini4-iPadMini4, iPadMini4Cellular-iPadMini4Cellular, iPadPro-iPadPro, iPadProCellular-iPadProCellular, iPadPro97-iPadPro97, iPadPro97Cellular-iPadPro97Cellular, iPhoneSE-iPhoneSE, iPhone7-iPhone7, iPhone7Plus-iPhone7Plus, iPad611-iPad611, iPad612-iPad612, iPad71-iPad71, iPad72-iPad72, iPad73-iPad73, iPad74-iPad74, iPhone8-iPhone8, iPhone8Plus-iPhone8Plus, iPhoneX-iPhoneX,

Supported Languages:

English; French; German; Japanese; Korean; Chinese; Thai; Chinese;