This version of the app is not recommended
App last updated
May 02, 2017
Screenshots
New in version 6.3
Enhanced Security
-We've updated our login system with 2-factor authentication (2FA) for better data protection
Description
Refill prescriptions in seconds, print photos straight from your phone for pickup in an hour, clip coupons with just a tap, and more!

Duane Reade is a Universal app for iPhone and iPad.

PHARMACY FEATURES
• Refill by Scan* - Simply scan the barcode on your prescription bottle for instant refills
• Pill Reminder – Create and manage reminders that alert you when it's time to take your prescription, over-the-counter medications and vitamins
• Transfer Prescription – Easily transfer your prescriptions to Duane Reade
• Refill Reminders – Get alerts when it's time to refill your prescriptions, respond to alerts to instantly refill your prescriptions
• Pharmacy Chat – Chat live with a pharmacy professional to get health advice and account support
• Healthcare Clinic – Find a Healthcare Clinic near you, search available appointment times, and easily schedule an appointment from your phone

APPLE WATCH
• Never miss another dose! Our Apple Watch app keeps you in control of your medications throughout the day - with timely notifications, and simple tools to stay healthy

PHOTO FEATURES
• Print photos from your phone, Facebook, Instagram and Walgreens.com albums. Pick up at your local Duane Reade in about an hour
• Turn your pictures into Photo Cards, Posters, Canvas Prints and Collage Prints, and print them straight from your phone
• Photo Editing – Edit your photos using filters and a variety of other editing tools

BALANCE® REWARDS FEATURES
• Create a Balance® Rewards account, log in and add your Balance® Rewards card to Passbook
• Select your preferred Duane Reade location and when you're near that store, Passbook will display your Balance® Rewards card
• Use your phone to scan your card at checkout to earn points, check your point status and apply savings from your clipped coupons
• View and manage your clipped coupons
• Earn Balance® Rewards points when you log your healthy activities like walking, running, and tracking your weight
• Integration with Apple Health lets you automatically share your health and fitness data to earn Balance® Rewards points

SHOPPING FEATURES
• Weekly Ad & Coupons - Access exclusive deals and offers and find big savings in our Weekly Ad. Clip manufacturers' coupons and coupons from the Weekly Ad straight to your Balance® Rewards card and easily redeem when you shop in store
• In-Store Experience – When you enter a Walgreen store, the app will automatically surface the most helpful features
• Store Maps – Use your Shopping List to locate items in store and map out your shopping trip
• Barcode Scanner – Get detailed product information and reviews by simply scanning the barcode of products in store or by entering QR codes from our paper Weekly Ads
• Product Search – Set your preferred store and search your store's inventory

STORE LOCATOR FEATURES
• Find your nearest store based on your location
• Use different filters to find a store that has exactly what you need, like 24-hour locations, drive-thru pharmacies, and more

There is no charge to download the Duane Reade app, but specified rates from your wireless provider and other fees as noted in your Duane Reade account agreement(s) still apply.

*Requires iOS 9.0 or later.
iPad Screenshots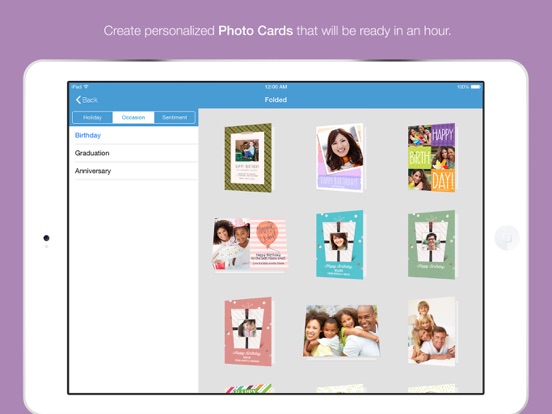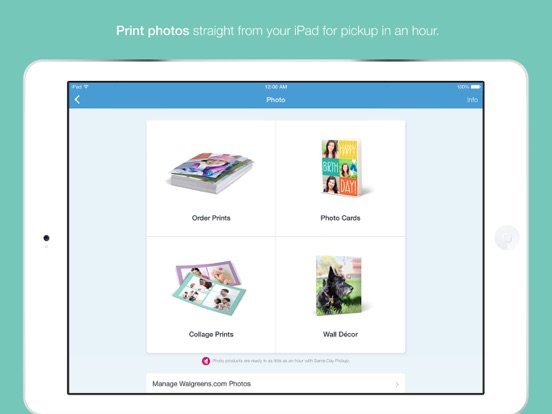 Reviews
Makes it easy to refill a Rx
I use the app for one thing, and it does it well.
Change needed
Default to next day on prescription refills is silly. Default should either be current day or no default at all. Why add a step to something that is supposed to be efficient?
Good app but has a flaw
The app is great for clipping coupons and refilling prescriptions. A major drawback for me is that the "View Weekly Ad" function does not work. If that issue could be ironed out this will be a 5 star app.
Awesome App :)
primnproper7
on
10/21/2017
a few glitches and minor bugs that need to be fixed. Coupons are great ! :D but app fails to upload or to load new coupons clipped or previously removed. otherwise great !!!
Best one yet
This app is the best one I've found, I've already ordered pictures online as well as my prescriptions. It will list everything I have listed at the pharmacy and give me my total. Thank you for this helpful app!
Notifications broken
All of my settings are 100% correct - triple checked - and Rx push notifications simply don't work.
Really easy to use for refills
Arquitecturavida
on
10/8/2017
Good simple app. Great for refills
S'alright. Useful.
Yamara The God
on
8/31/2017
.
Can't sign in
After the latest update that moved the BR for healthy choices from the Pharmacy menu, I can no longer sign in. I get invalid username or password errors. UPDATE-I can now sign in, but the app crashes moments later. Still no good.
SNEAKEY AND ANNOYING
I am constantly getting the rednose notification EVERY SINGLE time I walk past or even come close to a Duane Reade or Walgreens store, despite the fact that I (1) my location is turned off in my settings and in the app it self, (2) I have turned off all notifications except for those regarding my prescriptions. This app is clearly still using my location even though I clearly turned it off TWICE in my phone privacy settings and in the app itself this is disgusting and turning me off to store that I frequent.
Great app
Shopaholic424
on
5/24/2017
Duane Reade provides excellent customer service, whether in store or through this app. It's very easy to refill prescription medication and you can view your prescription history as well.
You may have to call pharmacy
Nice app. Makes it easy to refill scripts. But beware sign up at pharmacy to get notified when script is ready. Several times the scan went through and when I arrived at the pharmacy they had no notification of my refill. Now I only go to make the pick up if Duane Reade notifies me the refill is ready.
Great app but
Love the app and the since the last update I have not been able to log in to add the coupons or rewards to my card. Please fix this.
Messed up notifications
Maverick Ballad
on
12/18/2016
I live right next to a Duane Reade and I keep getting the balance rewards notifications all the time and I can't turn it off.
Awful Pill Reminder
The pill reminder is really awful. If you don't take the pill right away, after about 30 minutes the reminder and app badge icon just go away. Then you *really* forget to take the pill. (The Walgreens app does the same thing.)
Convenience at its best
When essential tasks like refilling medications are made to be easy, life get a little easier as well. This app helps that ten-fold.
Very Convenient
The app lets me refill prescriptions or check the refill date along with the status of my refills. I can request a refill from anywhere within the privacy if my phone.
Not working
I reinstalled app, not working crashes before it even loads
Not functional
The app quits the second I open it. I've deleted and redownloaded, but the app isn't functional.
After iOS update app crashes
I have tried on two devices with iOS 10 to use the app. When the app opens, it crashes. I have removed and downloaded the app again. The app is great when it is working. But, it seems as though the app is not compatible with the new iOS.
Not Compatible with iOS 10
Ericka Suarez-Lewis
on
9/14/2016
App crashes immediately after launch. Please fix ASAP as this app is much needed.
Awesome
Crimsonwolf007
on
5/17/2016
Great App. The only thing is that steps are not being automatically entered onto my Duane Reade account so that I can get points. If it's from my iPhone or other apps that are sync. It's a pain to manually enter them.
sophisticated features and it just works
I had tried various other reminder apps to take medicines and none of them were as well designed and effective as this one
It's fine
Not the prettiest of apps but does what I need it to do
Really useful
Great designed app! So easy to refill medications in one swoop
It works perfectly!
I really only use the app to refill prescriptions. But for that it works perfectly. Even better, they have made improvements to make the process even simpler and more user friendly. Kudos to Duane Reade.
Easy but features need work...
MAYUMI.MITSUI
on
1/13/2016
Easy to use, EXCEPT medication reminders. I have one that I leave on for 72 hours, which is not an option and 3 days wasn't offered as a selection. Refills complete without any probs. Able to select date and time for pickup. Has text and email notification when ready to be picked up and tells you if it's going to be late.
Super convenient
I don't use this app much except for refilling prescriptions, but for that it is unsurpassed. I have tried similar apps from other drugstores and they can't compete. Refilling a prescription by the barcode takes a split second and avoids the hassle, embarrassment and privacy breach of calling them in.
Excellent app
Vigilante315
on
12/17/2015
Use it all the time for refills. Never had a problem with it.
A cool App
Musicismylife2010
on
12/11/2015
This is a cool app easy to use . I always use it for my medicine orders.
DUANEreade
Es excelente este APP
Easy Refills!
Onmyfeetallday
on
9/27/2015
I love using the app to refill prescriptions. Super easy and reliable!!
Wassup
It's convenient because I find my makeup and curl hair products
InApp Shopping is Aweful
Let me start off on a good note, clipping ads to your balance card is super useful and works amazingly as does finding out the sales. Now the online shopping is the worst in an app I've ever seen. There is no way to open your cart and whenever I try to put more than one item at a time in, the app crashes and my cart gets deleted. I try to buy just one item and the app continuously crashes. This is just horrible, what type of shopping app doesn't let you open your cart without having to throw more in there? Or won't let you have more than one item in there at a time?
It works...
I never have to call the pharmacy anymore... Click it and pick it !!! Sure it has lots of bells and whistles, but fir it's designed to do... It works!
It's notification ignorant
I work across the street from DR. It's bad enough that it notifies me every minute that DR is nearby. When I killed the notifications it still notifies me every minute. The fix may be to just delete it. It's easy enough to just use my phone number.
Easy refills
Makes tracking and refilling prescriptions very easy. Used on iPhone, makes it easy, in-store, to access account. Really like the Apple Pay feature
Good app
Like the photo ordering features, and passbook integration. Wish list: price scanner should work for every product in the store
Easy refill
Scan refill feature is super quick and easy.
Decent app
Good app, some kinks left to work out.
Pretty solid app.
I've had minimal trouble using the app and it certainly makes refilling Rx's easy and fast. As with most apps there are improvements that could be made but all in all it's been very helpful.
Great app but needs improvement.
I love this app, because it lets me know when my medications are ready. The problem though with this app is that some of the features on there don't work. I put in a pill reminder & it doesn't work. Also the pill scanner works but not all the time. I have to manually put in the pill name. When the scanner worked though, it was fast in identifying the medication. I still use the app to let me know when my Meds are ready but I would like the pill reminder & scanner to work in the future.
Perfect
Does everything I'd ever hope for! Refill my prescriptions regularly with no issue.
So far so good
I like very much. Thanks DR
jubian
oh awesome... it is easy to access.
Passbook doesn't work
Terrible.
You broke passbook!
Breaking in stories.
on
3/3/2015
Fix please.
Waste of Time unable to load into Apple Passbook
All I wanted to do was use the app to put my rewards card into the Apple Passbook. 3 days later, the system is still unable to handle the task. This after having to re-enter all my personal information again. aReal waste of time. If they can not get an app right how can I be sure they will get my prescription right.
Fact Sheet
Publisher:

Walgreen Co.

Category:

Shopping

Released:

Mar 04, 2013

Current Version Released:

May 02, 2017

Version:

6.3

Size:

152.7 MB

Compatibility:

Requires iOS 10.0 or later.

Recommended Age:

12+

Game Center Certified:

No

Supported Languages:

English;

Parental Advisory:

Mild Alcohol, Tobacco, or Drug Use or References;