This version of the app is not recommended
App last updated
Jan 02, 2018
Screenshots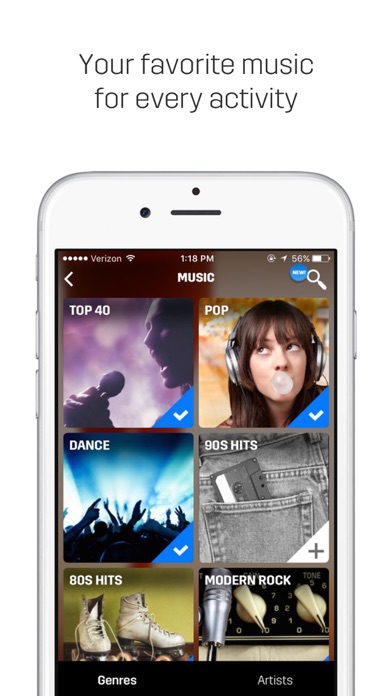 New in version 5.29
Improve form, increase performance and enjoy running more with the best running music. We update the app regularly to make it better for you.
This version includes performance improvements and minor bug fixes.

After a workout, you can now rate the songs you just heard, helping to improve the playlists you'll hear in the future.

If you enjoy Spring, please consider taking a few minutes to review our app.
Description
Spring helps runners and walkers become faster, stronger, and healthier. Sync your footsteps to uplifting, personalized playlists to reach your fitness goal - whether that's running your first 5k, burning more calories, or setting a PR at your next marathon.

Start achieving your goals with Spring today.

MUSIC COACHING: The music is synced with your rhythm, helping you increase cadence, improve form and reduce the risk of injury.
100+ PLAYLISTS & STATIONS, sorted by genre, artist & BPM. New music added weekly.

Featured by Apple as Best New App and Best New Health & Fitness App. Recommended by Women's Health, LA Times, Elle, Self Magazine & BuzzFeed.

KEY FEATURES

MUSIC COACHING
Spring automatically detects your cadence/steps-per-minute. Simply start moving and Spring will match the music to your rhythm. We'll help you increase cadence, improve form and reduce the risk of injury.

GPS TRACKING
Track distance, pace and calories with Spring.

INTERVAL TRAINING
Design your own interval training programs, powered by music and tempo.

SUBSCRIPTION & BILLING DETAILS
Spring is free to download and comes with a 7-day free trial.

Spring Subscriptions ("Spring Subscription", "Spring Unlimited") can be cancelled at any time including during the free trial.

Payments will be charged to iTunes Account at confirmation of purchase. Spring Subscriptions automatically renew unless auto-renew is turned off at least 24-hours before the end of the current period. Accounts will be charged for renewal within 24-hours prior to the end of the current period. Any unused portion of a free trial period, if offered, will be forfeited when you purchase a subscription, where applicable. You can manage your Spring Subscriptions and turn off auto-renewal by going to your Account Settings after purchase.

With your permission, Spring integrates with Apple's Health App

------------

(1) "Effects of synchronous music on treadmill running among elite triathletes."

Journal of Science and Medicine in Sport, 15, 52-57.

------------

CONNECT WITH SPRING
https://www.facebook.com/springmoves
https://twitter.com/springmoves
https://instagram.com/springmoves

NOTE: Continued use of GPS running in the background can decrease battery life.

Terms of Service: http://www.springmoves.com/terms
Privacy Policy: http://springmoves.com/privacy
Reviews
Free trial
The app isn't free. You get a 7 day free trial. You have to sign up and cancel before you get charged.
Horrible
Got the year subscription and this is terrible. Force closes every time I try to do run analysis as well as every time o try to view my moves. There are free apps better than this
Spring is less than I had hoped
Fourwheeldriveladybug
on
1/3/2018
The advertised "14 day trail" was a surprise prepaid month with a 7 day trial. Let me try it once before I have to spend 15 minutes to delete it. When I read "soul cycle for running" I figured there would be more Motivational speak than just BPM matching songs. It says "for best result run normally with your phone in your hand." Personally, I prefer the waist belt so I was stuck holding my hot phone for the duration of my run. I would say it's no better than a great preset list on Spotify premium, so for me there is no gain. It's a dud.
Fits my style
Good music choices, nice gps tracking, and can change my pace. Excellent app.
Disappointed
Beware. Free trial is not free. Huge hassle trying to end subscription!
Beginner to Expert Put Spring in your day
I have been using Spring for several years now. It is my favorite app from simple walk to running marathons.
Terrible
No signal all the time glitchy and the blue manage subscription button at the bottom of the app doesn't work and so i cant cancel my 7day free trial. Gonna try to bill me i bet. Then the button will work to cancel!
Spotify Running is Better
Michaelm1317
on
12/8/2017
I already subscribe to Spotify and it has beat matching built in. Spring is almost the same price for far less features. I'd skip it
Requested refund, no response
Realized this wasn't a good fit 10 mins after buying. I deleted the app and tried to contact support 4 times to cancel my subscription to get a refund. I have not received any response whatsoever.
Not worth it
They made it extremely difficult to cancel the subscription. Scam!
Ser2866
I signed up for trial period three months ago. I cancelled within 24 hours after a I realized it wasn't what I was looking for. I received a confirmation that my account was cancelled. Spring is still charging me a monthly fee. I didn't even have it 1 day and it is still costing me money. I am going to have to cancel my credit card so they quit charging me.
Great motivator
I've always had trouble maintaining a steady pace. This has taught me to not only maintain a steady pace but has helped me shave an entire minute off my mile❤️
7 day free trial not real-scam
Pretty crummy. I started the free 7 day trial and was charged immediately. Spring couldn't refund my charge. I had to go through Apple. It took me 3 days to get the money back. I trialed this app for 4 days and honestly you are better off going with pandora or Spotify. I was not motivated by the play list and to be honest i was more frustrated That I constantly had to keep skipping songs because they were just terrible. Save your money.
Awesome!!
disturberofthepeace
on
10/31/2017
Best app I've ever used as a distance runner! The pace matching is perfect and it also exposes you to new music. Highly recommended!!
Expensive
Meg Hoffmann
on
10/25/2017
Expensive for a running app and while I like the features it has, it doesn't play songs from the artists I choose. I realize it matches song tempo to my SPM but how can I improve my SPM if I'm puking over a song I hate?
Lacks options
LatinaHeat38
on
10/22/2017
Not liking this app at all. Can't change the music and it's upsetting me.
Unimpressed
MCBrooklynrun
on
10/19/2017
Music sound quality is horrible. Willing to try again when they make some overall improvements. Good concept but not there and not willing to sacrifice a good run due to frustration.
Too Basic
There's no option to search specific artists nor are there playlists organized by artists or genres, only "5k runs" and so on. I much prefer Rock My Run for these reasons. Plus, it's cheaper.
autoplaying video - not cool!
garretttennessee
on
10/17/2017
Upon signing up, a video starts playing out loud with no visible stop button. Nobody ever wants this to happen on their phone.
Boo
Boo. Gets email and then requires credit card. Shouldn't require credit card for trial. Useless trial.
Froze first time
I was going to convert from run keeper but this app froze and was non functional the first time I went to use it. No thanks.
Great, mostly consistent BPM
Awesome for cadence training, but crashes a lot/every time in radio mode for me. Not sure what is conflicting with the app if anything, but after about a minute of radio play the music cuts out and the app crashes. Playlist play works totally fine under the same conditions, but obviously not every genre works at the desired bpm and playlists last about 2 hours.
No option to try
No option to try without providing payment authorization. So you miss the cancellation window and they going to charge you. Pointless bs
Has Potential
If this app could learn to be smart in the way Pandora is in terms of figuring out which music you like to listen to, it would be phenomenal. But it's not there yet, so if you're anything like me, you'll exhaust your skips right away and spend the rest of your run listening to music on a different app.
"Free download" but have to subscribe to use it
They trick users into downloading an app and opening account to get the email addresses and then I find that have to subscribe to use it, that's what I call a scam.
Needs better music
The music selections played are awful. Nothing I like even tho I pick all the genres I li
Worst app
Worst app!! They took my data now asking credit card details!! DO NOT INSTALL!!!
Kathy Reynolds
I like the way the app works and runs. There are numerous excellent choices of playlists. The songs fit together well and I love that there is no stop between songs. I would like playlists to be longer because they have to repeat on a long run. Also, I would the playlists to be updated with different songs more often.
Not all that impressed
The idea is cool; however after using it for 30 days, it still is not playing music that motivates me. My own tunes have better beats (and faster tempo, I think, to keep me moving faster). If anything it's playing music at a slower tempo than I usually run to. I try to speed up the pace when sensing or increase manually, but I'm still not loving the music selection. The music I like the best is the little sound bites that congratulate me for finishing... I don't know why more of those songs don't play while I'm running.
Paid subscription required
Useless. Free download for the app then you have to pay for a monthly subscription just to listen to music while you run? No thanks, I have my own music and Spotify. This is not like the other tracking apps, it's just a music app. Don't waste your money.
The Difference
BiggerBlessings
on
8/29/2017
This app is the difference between me following through on my commitment to work out most every day… and not. It is simply genius the way this app delivers the exact type of music I love at the exact tempo I am walking. In good weather, I use it around the neighborhood. In bad weather, I use it on the treadmill. Both experiences are top notch! My favorite aspect is that I can listen to Christian inspirational music and praise God while I'm working out at a tempo that keeps me motivated! I have tried it both ways, and I can work out twice as long with Spring
Can't run without Spring
As a new runner, Spring is invaluable for helping me stick to the correct pace. It's also easy to increase my pace gradually by increasing the beats per minute in my music. The choice of tunes is fantastic - the music gets me pumped up for my runs!
Not good...
I rarely feel the need to post or give ratings for that matter but I feel strongly that this needs to be communicated. This app seems like it would be great, especially for running --- but it doesn't coach or give feedback like it should and it doesn't track your exercise like it should. I went out for some runs and the music came through based on your steps but nothing else. So frustrating, I had to switch to other apps and open pandora to get what I'm looking for. Also I reached out to their concierge support to see if it was me, I got one email asking about a screen shot of my settings---which are correct---I sent the image and have heard nothing back from them and that was days ago. I thought it would be great since I use two apps Runkeeper and pandora but I'm going to stick to this cause I know I can count on the apps working since this doesn't work as stated. Disappointed
Annual subscription?
I took the free trial. Love the app but now my only option is the monthly rate which is too expensive. Not nice. I would pay for annual if you would make that an option after trial.
Love this app!
early intervention queen
on
8/15/2017
This app really motivates me to get moving! I'm addicted! It's my daily routine and gets every day off to a great start!
not free
Problem Expanding
on
8/13/2017
No thanks, have my own music to use. Have to pay for this monthly.
It is not free
Once downloaded it will let you start a free trail. No thanks.
App freezes or quits mid workout
whatsonmyplate23
on
7/31/2017
They need to fix this problem before I spend 7.99/month on it. Other than that, I love the app but it's really frustrating. Especially when I start a workout and then try to put my phone in my fanny pack, it cuts off.
Money
El_kozako123
on
7/18/2017
This expensive 7.99 a month... just get SoundCloud or some free podcast on YouTube
I love this app!
The ability to pair music I like to my exact cadence while tracking my mileage and splits is awesome. Totally worth the $$!
Personalized play list
Adrianambo19
on
7/15/2017
I just wish I could use some of the music I have already purchase to make play list other than this the weight is going down with the help of this app for this music fan 😍thank u
Great app
I love this app. They pick great music in all genres. You pick the kinds of genres you like. It's also fun to try something new. My workouts are better with music than with tv or reading. They are always expanding their selection.
False advertisement
There are many great apps that are free and better.
Not a Great App, WORSE Customer Service
The app, when it functions as described, seems to have a limitied library, so you essentially hear the same music whenerver you run. Beyond that, I signed up for a subscription, and after about a week, realized that I didn't like the experience I was having at all. Since my subscription was for three months, I knew I had time to cancel later. After other attempts to use the I app, I decided to just cancel entirely. This is where the Spring developers are untrustworthy. The app didn't appear with my other subscriptions in iTunes, because I signed up on the web. Additionally the "Manage Subscription" option only shows your subscription, but doesn't allow any management to take place. I called the number provided to cancel, and went to Google Voice Voicemail each time. So after three months with an app I don't like, I was again charged another for another three months. DO NOT SUBSCRIBE TO THIS APP.
Haha $7.99 per month
Deleted immediately. Unsure what this app provides that I cannot do better with SoundCloud or Spotify. I Would have tried it to find out if it didn't require that I subscribe at $8 per month to do so.
Great app when it works
Wavii goodbye
on
6/11/2017
The idea of this app is amazing. And when it works. It's incredible. However. It crashes randomly. Without warning. And when you restart. It starts over. I would suggest saving your money till they work on it more. I'm canceling my subscription.
#lifegoals
I've been using this app for a few months now and absolutely love it! From the playlists to gps to mileage tracking, this has it all! I've used other running apps- but non compare or come close to Spring.
Terrible
They won't even let you sample the app without paying. Don't bother!!!
Cannot get interval voice to work
It could be good, but: -can't get interval voice to work (it's on the appropriate full setting) -can't skip songs from watch -can't switch playlist while running, so if I don't like it I have to stop There were a few other inconveniences I could get used to if the interval training would turn on.
Fact Sheet
Publisher:

Spring Moves, Inc

Category:

Health & Fitness

Released:

Sep 26, 2013

Current Version Released:

Jan 02, 2018

Version:

5.29

Size:

129.8 MB

Compatibility:

Requires iOS 9.0 or later.

Recommended Age:

12+

Game Center Certified:

No

Supported Languages:

English;

Parental Advisory:

Suggestive Themes; Mild Sexual Content and Nudity; Mild Profanity or Crude Humor; Mild Alcohol, Tobacco, or Drug Use or References;