This version of the app is not recommended
App last updated
Dec 14, 2017
Screenshots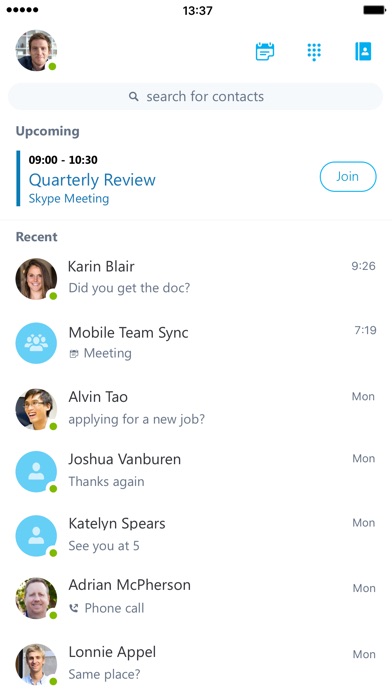 New in version 6.17.6
General and performance improvements
Description
Skype for Business, formerly Lync 2013 for iOS, extends the power of Lync and Skype to your favorite mobile device: voice & video over wireless, rich presence, instant messaging, conferencing, and calling features from a single, easy-to-use interface.

Key Features:
Initiate a group IM or video conversation and invite additional participants
Join, rejoin and initiate a Skype for Business Meeting to communicate and collaborate on amazing ideas
Simultaneously view shared content and speaker's video during a conference
Control the meeting (mute or remove attendees) and know more about participants' modalities
Look at your upcoming meetings and join via one click
Find your recent conversations and pick them up from where you left off
Search your contacts by name, email, or phone number
Enhanced security via Active Directory Authentication Library

Anyone can use the Skype for Business for iOS app when invited to a Skype for Business or Lync 2013 meeting. However, you must have a Skype for Business or Lync account in order to use (and enjoy) the full capability of the Skype for Business app. Also, some functionality might require an update to Lync or Skype for Business Server or might not be available to all users. If you're not sure about your account status, please contact your IT department.

IMPORTANT: THIS SOFTWARE REQUIRES CONNECTIVITY TO VALIDLY LICENSED COPIES OF MICROSOFT LYNC OR SKYPE FOR BUSINESS SERVER OR OFFICE 365 / LYNC ONLINE / SKYPE FOR BUSINESS ONLINE AND WILL NOT WORK WITHOUT IT. UPDATES TO MICROSOFT LYNC SERVER OR SKYPE FOR BUSINESS MAY BE REQUIRED FOR PROPER PERFORMANCE. SOME FUNCTIONALITY MAY NOT BE AVAILABLE IN ALL COUNTRIES. IF YOU ARE UNSURE ABOUT YOUR COMPANY'S LICENSE TO AND/OR DEPLOYMENT OF LYNC OR SKYPE FOR BUSINESS, PLEASE CONTACT YOUR IT DEPARTMENT. SKYPE FOR BUSINESS APP IS ONLY AVAILBLE FOR iOS 8.0 OR GREATER.
iPad Screenshots
Reviews
Buggy, slow, forever disconnecting
griffinaurilia
on
1/23/2018
The title says it all. As newer versions come along, none of the day 0 issues are solved.
Terrible echo on iPad Pro
Heavy user of SfB across all my devices. (SurfaceBook, iPhone and iPad Pro). While there are a number of UI issues that can be improved, the echo when using the iPad Pro as a speakerphone makes it almost unusable on that device.
Crashes on startup
The mobile app used to work great on my iPhone. After the last update it consistently crashes on startup and is now unusable on my iPhone 5s.
Makes my work life easier
I now do all my work meetings over Skype. Cell phone integration is great and love that it calls me back when the line drops without me needing to do anything.
Getting better!
Getting better!
Used to work fine, now won't open
Tried opening the app, says I need a newer version. Uninstalled and reinstalled, same problem. Can not access the app now.
So So app with poor UI
The UI isn't well though out or designed. No split screen multitasking so that limits it's utility. I don't know about others, usually IM is related to some other app I am working in. Not being able to split screen is a huge limitation. If you aren't actively chatting in the app, then your Skype status changes to away. I'm not away, I'm just not consumed in Skype for Business. This is poorly designed as well.
A flaky battery hog
Everywhere else, the Skype for Business ecosystem seems to work as well as the rest of the Office suite. On iOS though, the app flakes out, loses connections in IM conversations without telling you and most importantly it absolutely murders your battery. Get it together MS team.
Awful
Quite possibly one of the most unreliable chat applications ever. "This message wasn't sent to ..." how fun and usable when messages randomly fail.
Very useful
App works as expected. Very useful when I'm on the road or out if the office.
Come on Microsoft!
Skype for Business/Lync needs a complete overhaul. This app is much better than previous versions, but overall it's not user friendly. The PC version is a nightmare. Look at the regular version of Skype for inspiration!
Great
Have Skype for business installed on both my PC and my phone and works great. Only reason I'm giving at four stars is because on my phone I have to log back in every now and then otherwise I missed the conversation
Killed notifications
Latest update killed notifications Notifications don't come through at all, only get badge icon
Slow, buggy, unreliable
Really frustrating to use. Takes a very long time to update contact list status data. Messages sometimes go to desktop app, sometimes to mobile app. Overall, avoid using on iOS in its current state, if possible.
Keeps crashing with app error
Crashes every time you open it with "there is an error with the application. Please restart the app". No idea what is going on opens a new window for every response with someone on a computer.
Needs improvement
App isn't too reliable. Crashes from time to time and logs off frequently. It's been quite some time since the iPhone X has been out but yet the app hasn't been updated to support the screen resolution.
Love the app
The app allows me to take my office anywhere. I can take calls and IM team members on the go. Great asset in today's work environment.
Can't connect
Anamethatianottaken
on
1/15/2018
After install and login, the app shows my call history (from my PC) so I have logged in correctly, but I can't make or take a call on iPhone. This app keep saying over and over "Can't connect to Exchange. Please try again later." Well everything else on the iPhone can connect to Exchange, including MS Outlook and Apple email, leaving to conclude that this app is the problem. For that matter, I'm. It even sure why it needs to connect to Exchange. It is unusable in its current form.
Works nicely
MohammedQasim
on
1/12/2018
Great to stay connected with office
Easy to use and convenient
OCLovesCountry
on
1/12/2018
Easy to use and convenient to stay in touch even while running from meeting to meeting. My team can always reach me.
Good for business communication
This tool works fine in my job to communicate with my peers, is practically the same as working in my computer...
Never works
Loses my authentication all the time, messages simply disappear and there's no way you can recover where they went. Crashes a lot, UI design is just horrible, makes no sense at all. Calls have quality issues all the time. No idea how such thing can have these high ratings...
Easy to share between Business Skypers
Fácil de usar, buen audio y compartir escritorio Así no exageremos , aunque si le Falta
Decent!
zenithangunn
on
1/11/2018
Ok app, works most of the time, gets me connected to mobile Lync/Skype when out and about. One annoying thing is you have to manually erase every message in the recent history by hand. So if you get a dozen messages on skype well expect to hand delete every recent item to clear the badges. Every call, every unique message, etc. it's really annoying and time consuming to clean up the recent chats panel of you happened to sign into Skype on your workstation too.
Old
Can you guys bring more to 2018, like iPhone X support or a design closer to the regular Skype.
Poor, unreliable, app full of frustration
Lily needsyoutoupdate
on
1/11/2018
Every new update seems to not fix the #1 issue: reliability. The app seems to require a TON of Bandwidth to work and is full of extra code that is unnecessary. What happened to a simple lite client? Please fix that ASAP as well as the annoying pop-up every time I start the client: "There is an error in the application. Please restart the application."
Fails to alert on new msgs, no iPhone X support
App consistently misses alerting me when I receive messages. App also doesn't support iPhone X.
Love the minimalist UI.
Don't have to miss messages when I am not at my desk. Love the minimalist UI too.
MS has done a super job integrating Skype in mobile environment.
MS apps work smoothly with Android and IOS phones. Good job.
No \ in domain setup
cameron.calvert
on
1/10/2018
There is no \ on iOS keyboard when trying to type in on premise domain information
Super App
Stable with a nice feature set. I give it five stars because it went beyond a chat app and easily did a voice conversation with excellent sound quality. Very slick, and all on an iPhone!
Awesome
Connects and easy to use
Needs iPhone X screen update
NinjaTacoMonk
on
1/9/2018
I use this app for work almost every single day. I have no real problems with it besides the lack of full screen integration on iPhone X. I want the app to fill the entire screen instead of remaining a box and cramped.
Awesome app to connect business people!
I'm very happy with this app because we can connect me with my partners and share information valuable for our job! Fully recommend 👍🏽
No phone numbers
When someone calls, the caller ID title is displayed but there is no way to see the phone number they called from. Viewing the contact card only displays the caller ID display. Need to fix this.
Nice app
I like their call back feature
Fix meetings w Exchange!
This is like a roller coaster in features working or not. I depend on this application to work for work and the one time it worked all Right it was amazing - one time.
Does ok
Gets a bit screwy with the switch between mobile and non. But works good when it's one or the other.
Love it!
This app opens a web conference with one touch and is almost instantaneous. It was failing on the first try and had to try again but it looks like they have fixed that. It supports screen share on my iphone, and the controls are easy to use. It's integrated with calendar and everything works perfectly. Much better than my previous web conferencing tool!
Great Communications Tool
Good App!
Use it to communicate with my work colleagues
Lucy Mortgage 777
on
1/4/2018
Love it! Makes my life easier than a phone call.
So many bugs!
Behnoosh nooshi
on
1/3/2018
This app has lots of bugs!! Someone pings you but you cannot respond because it gets stuck! You cannot sign out! You cannot change status. It keeps getting stuck!!! I am tired of it!!
Keeps telling me it needs to be updated to work with IOS 11
Every time I try to launch a meeting from Outlook or OWA, it tells me that the app needs to be updated to work with IOS 11. Has shut down my ability to use Skype on my iPad. Used to love it...worked better and showed the presentations better than on my PC. But unusable now. Hope the developer fixes this soon.
Great Tool Requires Robust Maturity
I love this tool; however, to use it in a power user capacity, I need it to continue maturing. I use it for full office diversity: concalls, video calls, chats, web sharing, whiteboard and more. Thanks and continue to build on this great foundation.
Presales Consultant
Great tool for business and personal communications.
Unreliable
Audio cuts in and out, have to launch several times for it to work for audio and video at the same time. Disconnects from meetings. Don't waste your time with it!
Great app
Keeps me in touch with my co-workers all day
Abysmal
Sometimes folks don't know when to stop pushing a losing program on the users. I have given Skype for Business several tries, but it requires extraordinary IT input to make it functional. Have been using GTM for years with great experiences.
Fact Sheet
Publisher:

Microsoft Corporation

Category:

Business

Released:

Mar 12, 2013

Current Version Released:

Dec 14, 2017

Version:

6.17.6

Size:

214.2 MB

Compatibility:

Requires iOS 9.3 or later.

Recommended Age:

4+

Game Center Certified:

No

Supported Languages:

Arabic; Catalan; Valencian; Croatian; Czech; Danish; Dutch; Flemish; English; Finnish; French; German; Greek; Hebrew; Hungarian; Indonesian; Italian; Japanese; Korean; Malay; Bokmål, Norwegian; Norwegian Bokmål; Polish; Portuguese; Romanian; Moldavian; Russian; Chinese; Slovak; Spanish; Castilian; Swedish; Chinese; Turkish; Ukrainian; Vietnamese;