This version of the app is not recommended
App last updated
Nov 02, 2017
Screenshots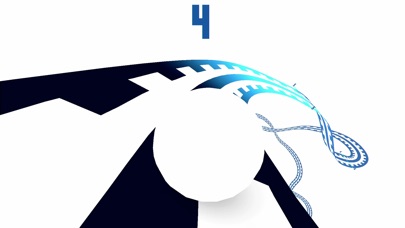 New in version 1.3.4
- Support for iPhone X
- Changed dark theme to use 100% black background
- Removed logo splash screen for a cleaner experience
- New button designs in UI
Description
IMPOSSIBLE ROAD is a pure, minimal arcade game about risk, reward, and rollercoasters.

"9/10" - Edge Online
Game of the Week - PocketGamer

Guide THE VESSEL down the roller coaster-like track at speed, scoring for each gate you make it through. Navigate hair-pin bends, jumps, banked curves and adverse camber in the quest for the perfect line.

And when you learn how to cheat the game, and you discover that it is rewarded not punished, the leaderboards will belong to you.

- Universal app, for iPad, iPhone, iPod touch.
- 3D Touch support (3D Touch compatible device required)
- Support for iOS controllers and some other arcade control peripherals.
- 4 colour themes
- Original minimal techno soundtrack.
- Game Center leaderboards.
- Challenge your friends to beat your score.

[Controls]
Touch the left side of the screen to turn left, touch the right side of the screen to turn right.

Touch your score to show the Quick Restart button.

[Credits]
Design, coding, art and audio - Kevin Ng @gradiance
Play testing and feedback - the wonderful people of @GameDevEd:

Andy Durdin @adurdin
Trevor Fountain @doches
Aaron Dron @tinyblob
Jonathan Brodsky @jonbro
Paul Scott Canavan @abigbat
Gillian Patterson NAE TWITTER
Andy Watson @andywatson00
Peter Van Der Watt @tenebrious
Ian Usher @FatConan
Ben Newbon @bennewbon
Gavin Jones @aotumedia
Kayleigh Boyd @Silverlynxcat
iPad Screenshots
Reviews
Fun but controls are hard
The real review 🤯
on
3/11/2018
I love this game it's the best. To give an overview of the game, it's a challenging and hard game. You have to roll a ball on the road without falling of. But you can get back on the road before time runs out But the controls are hard because when I tap, it goes to far and I change the 3D thingy and it doesent help, so I would like to know how this works
Good idea, controls don't work well
The idea of this game is nice and appealing, but the cone tools are awkward and sometimes non-responsive. You press on the screen, and there is no indication that your fingers are where the turn buttons are mapped. And sometimes there is a half second delay to see your input registered (sometimes not) which makes a big difference in a reflex controlled game. I'd recommend making the entire left/right sides mapped to turning. And/or enable an option to unmask the buttons showing feedback when pressed
Impossible!!
I love the game.....Please make the arrows to control turns bigger...or just sensitive sides of the screen. You get going and you miss the small controls😡😡😡😡🤬🤬🤬🤬
Awful. Not fun.
Waay too difficult even for the the most extreme gamer. Why not at least just start it slow and easy and get people into it, you completely ruined it, esp for people who would like to just relax and play a game, this puts your stress levels in overdrive and makes you angry because you just think how inconsiderate the developer was to the majority of people. I tried re-downloading this game and giving it a second shot, now I remember why I deleted it last time and even from my purchase history. Bunch of crap. IF only you got it to start off slowly and then go faster. Utter nonsense.
Ridiculously difficult
electron translator
on
3/3/2018
Good luck getting more than 12 points. This game is pretty limited and near "impossible" to pass. Guess they named it correctly.
Can't turn left
Broken and crashes
on
3/2/2018
This game is challenging enough, but I can't figure out why my left turn works only sometimes and not every time? Can someone explain to me why the left isn't as responsive as the right?
Poor controls and physics
The concept of the game is neat, but the controls and physics make the game annoying to play.
Great game, but...
This is a great game, marred by terrible controls. On an iPad Pro 9.7", it is the controls that constantly mess me up. The hit box for the controls is downright tiny, and makes what could be a difficult, fun game extremely frustrating.
Why So Much Apple Pub?
I don't know why this game gets so much publicity from the App Store, but after seeing it on various occasions, I finally relented and got it. I played it for a few seconds and got quickly bored. It is challenging, I suppose, but I did not find it fun enough to become better at it.
Frustrating
I'm not to good at the game but it does get very frustrating. It is very fun but if you are looking for a calming game this one is not for you. 3 days after getting the game I had 12 broken lamps and 4 1/2 broken toasters.
Fun
Enjoyable but would be better if the time from falling off the track to reset was longer.
Not worth it
Ejejjdhdsjidjeshedokwheys!
on
2/18/2018
I don't know why i payed 2 dollars for this ... it would make a great free game . Save your money for something else .
Not worth it
Unless you want to spend 30 minutes failing at this game to get over the learning curve then don't waste your time. Not worth it if you just want a quick game to play.
Too Hard
This game is too hard. It really need some more options that would allow you to slow down the marble and possibly some bumpers on the corners for novice players. Unless you're really patient I'd leave this game behind.
Faster than Sonic
Jdhdhveveghej
on
2/14/2018
This game is what a wireframe version of a good Sonic game should look like. Fast paced, easy to maneuver, and having the ability to go where you please.
The Original, and The Better
TH3_OV3RLORD
on
2/13/2018
If you are reading this, you've probably heard of a game called Twisty Road. I'm going to give it to you straight, don't buy it and if you already have it delete it. This game is the original, and holy crap is it good. Super fluid, good music, and good controls no matter what people say. Buy now instead of Voodoo's ripoff. This has no ads and runs better.
Tough but fun
IncredibleMention
on
2/12/2018
This game is tough but a good time. I just wish it was a tiny bit more forgiving when you miss a turn. Would be fun to tumble down the track a bit. I'm just starting tho so I'll keep improving. I will say it is not much like Luge...
Great game, but needs some fixes
This game is fun and challenging, but the controls need to be smoother so does the bounce of the ball. When the ball falls and hits the road it bounces all over the place like there is no gravity. The ball also will bounce off the track on sharp turns sometimes. The ball shouldn't bounce off the track, but rather stick to the track unless u go off of it. Also it would nice to have some unlocks in the game like different roads or ball colors to work towards.
Not actual a Luge game
Unlike the artwork this is not a luge game, just a boring ball that is hard to control consistently. Waste of $3 :(
This ad is misleading, nothing like luge
Good try marketing team. If like luge you mean you are moving down a path, sure. Game is ok but I hate this style of marketing
Name of the game is accurate.
BayesianInitiate
on
2/10/2018
If your idea of fun is learning how to balance an egg on a pencil tip, this game is for you. Starts out impossible from the very first moment. Too impossible to even say if the controls are bad. A great soundtrack might make the masochistic futility of it go down better, but it's just meh. Editors led us astray with this one.
Garbage controls
StringCheeseInc
on
2/10/2018
Controls very glitchy - fun for about 7 seconds.
Poor controls, poor random track generation.
Vjkvnrejknvrkejnvkfdjnkv
on
2/10/2018
3D touch based controls were a poor choice. Also, any success is too reliant on the randomly generated track.
Can I have my $2.99 back?
ConsciousDistortion
on
2/9/2018
Found this game impossible to master in the slightest. The ball flings off the track, bounces erratically, and half the time I can't see what's ahead because there's a large opaque ball in my view. A transparency slider for the ball would be a start, but even still. Pretty game, but I'm deleting after 10 min. Yes I could give it more time, but why?
Modes!!
NMiddaugh5517
on
1/29/2018
We need a mode with gravity!
Not For Noobs and Haters
I don't know why people are complaining that this game is hard, HELLO! Look at the title, it's supposed to be impossible, sure the controls are stiff, but it takes practice, trial and error and it can make the game easier. But if you don't care then you're just a hater and a noob, just play something else.
Can't turn
RAIDERSAREBEASTS
on
1/26/2018
This game would be fun but the turning sensitivity is beyond low and almost not even there. I literally cannot even turn the ball to move with the tracks at all. Fix this or your game will continue to get bad reviews.
This needs more content
I need more modes and things to do. I paid money for this and expect a lot of content to keep me addicted! If there was like a life mode or a timer mode or different collectables then I would be satisfied with my purchase. But right now I might request a refund if they don't add anything to this.
Needs rewards?
I absolutely love this game. It's a challenge, with a new way to control where you're going and a sense of risking your points. However, I wish this game had more skins to go along with it, a customization thing for the ball, and maybe a currency you collect in-game? Otherwise this game is so good, and much better than twisty road in my opinion.
Copy
I would try and do something about Voodoo completely copying your amazing game. Voodoo's complete copy of this game is called TwistyRoad and is too much like your game. Contact Voodoo to take TwistyRoad down.
I love this game but
Cole stafford
on
1/3/2018
Voodoo basically remade your game
Literally impossible
There's a challenge and then there's this. It's not fun when the ball cant be controlled no matter what you do.
Amazing
The review 360
on
12/31/2017
Great graphics! Fun game.
Worst game ever
Cool kids Big Dude
on
12/10/2017
I keep turning But it some times Dosent even move
ADDICTION!
ROBLOX RULES!
on
11/30/2017
I bought this cause my friend showed me how fun it is so I got the game and it's super ADDICTING OMG!
Bad steering
The steering is awful 💩 you can't stay on the tracks at all I know that's the point but it could be better and you bounce around like a crazy ball. Its challenging which I like but awful steering not worth money. 👎🏻☹️
Some options for improvement
Don't get me wrong—it's fun as-is, but I'm frustrated by the difficulty of in-air control and the inability for the ball to stick on the track after even the slightest incline. What would be great: a light ball/heavy ball option. A light ball could be more easily-controlled in the air, but it could hardly stick to the track. A heavy ball would suit the players who prefer to stay on the track, but it would be hard to control if the player made a mistake and let it fly.
Amazing but fix the title screen.
This game is amazing and I'm currently addicted to it. The only thing I'm begging you to fix is the position of the ball in the title screen. As the ball falls down the screen and gets small and closer to the A. It is noticeable that the ball is slightly off center. Obviously this is not a big problem but it would make me so much more satisfied if every time the app opened all the parts were centered and symmetrical. Otherwise amazing. Thank you.
Virtually impossible
Basketball Beast MD :)
on
11/15/2017
Should have different levels to get used to the game. It's impossible to control. Not worth the money for this simplistic impossible game.
Unplayable
campingmonkey
on
11/15/2017
The game was working fine for a long time albeit with the occasional lag here and there but now it's unplayable after the new update. Please fix!!
Good Game missing 1 feature: Haptic Feedback!
This game would be so much better if it used the Taptic Engine to give the player feedback any time the ball bounced on the road. Check out how Falling Ballz handles bouncing balls and rumble feedback. Love the iPhone X support, it's a good game I'm glad to see the updates. Pretty hard though
Funish
I've been playing this for a year and its so challenging and so fun!
Don't waste your money
Too hard. And for what? Rolling a ball down a twisty road. Not fun.
Absolutely terrible
There's nothing wrong with a challenge, but the challenge shouldn't be getting use to terrible controls. Your ball almost instantly starts to bounce around like there's no gravity. Turning is the just the biggest joke, like it would be easier to turn a tank in quicksand on Mars than to turn this like white ball of awfulness. Then, when your ball hits the road, it jolts up, taking 90% of the screen, causing you to miss the road and fail. DO NOT BUY THIS GAME. It is terrible beyond words, and you will be sorry you did.
Dumb. Hard.
There are far better games out there that give you more rewarding play
Wow
It is really addicting and it's fun. I can't say it's worth three dollars though because it's the same thing over and over again. There are a few glitches such as one being that the ball goes right through the track.
I like the game
I like the game but it's not worth the three bucks don't spend money on this game
"Steering"
Could you possibly make the response areas of the steering of the ball bigger? I find myself focused on the road and not the buttons and I occasionally miss the arrow to steer.
Challenging fun time
coffeebean99
on
11/2/2017
Someone dropped the ball on this one! No, they literally DID drop the ball from the sky! A big, smooth white ball at that. You don't dare want to run the ball off the road. I had to turn left. And then I had to turn right. Left again. Lookout, tight curve ahead! Crap, the ball fell off of the road. I'm starting to lose consciousness as the ball falls towards impending doom all while I'm starting to "white out". But behold: the ball bounced back on track and I regained my senses! This road is freaking IMPOSSIBLE!!! Where is my destination? I'm experiencing an existential crisis here!!!! Please send help.....and cookies while you're at it.....
Awesome
Really great game😘
Fact Sheet
Publisher:

WONDERFUL LASERS Inc.

Category:

Games

Released:

May 09, 2013

Current Version Released:

Nov 02, 2017

Version:

1.3.4

Size:

119.9 MB

Compatibility:

Requires iOS 9.3 or later.

Recommended Age:

4+

Game Center Certified:

No

Supported Languages:

English;