Games
Simulation
Music
Entertainment
Recommended app!
App last updated
Aug 04, 2015
Screenshots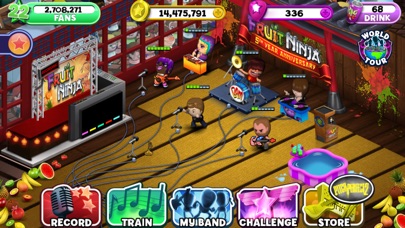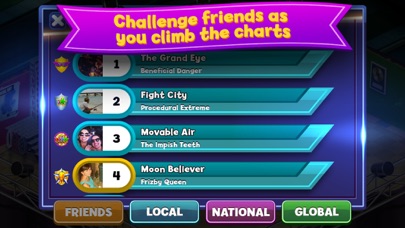 New in version 1.9.0
If you're going to top the charts, you're going to need a fresh sound—and a fresh sound can only come from a fresh studio!

It's Fruit Ninja's fifth anniversary, and to celebrate, the one and only Fruit Ninja dojo is now available!

With polished hardwood floors for improved acoustics, tatami mats for when backflips don't go as planned, and piles of fruit for healthy snacking, you'll be cranking out Zen hits in no time!
Description
Form a band, hit the studio and start recording! Train up your band and complete challenges as you make your way to the top of the charts. Fame and fortune await!

Set your sights on world stardom and make your way to the top of the local, national and global charts. Discover each of the 50 super-cool Band Stars characters and complete over 200 unique challenges!

Created with passion by Six Foot Kid and presented by Halfbrick, the creators of Fruit Ninja and Jetpack Joyride.

Play Band Stars on your iPhone, iPad or iPod Touch!

KEY FEATURES:
• Compete with your friends for the highest chart position and the most fans

• Blend different genres and lyrical styles to create chart topping hits

• Pull off insane solos to boost your song points

• Hire and train your band members

• Unlock all 50 band members, each with their own style and set of custom challenges

• Earn piles of coin and upgrade your gear to dominate the world of music

• Deck out your studio with hot tubs and arcade machines to keep your musicians happy

It doesn't matter what type of music you love, Band Stars features loads of genres - pop, rock, metal, urban, electronica, jazz, punk, country and even world music! Join the phenomenon now!

Band Stars is completely free to play but some in-game items will require purchase. You can turn-off the payment feature by disabling in-app purchases in your device's settings.

If you have suggestions or feedback, please contact us at support@sixfootkid.com

To view our privacy policy please go to: www.halfbrick.com/pp
iPad Screenshots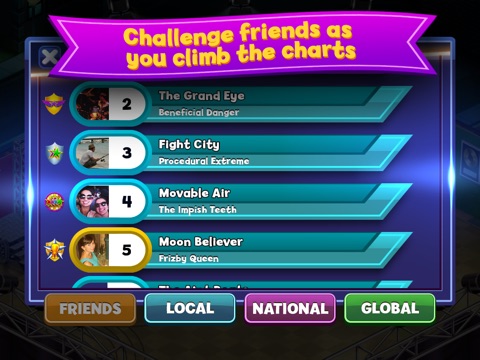 Reviews
Upgrade
Seems like the creators have died! This game is way back but it's very good. I'll change it once there's a new update
Updates
NamekianCommander
on
10/28/2017
More venues, more characters, and more game mechanics. Make achievements give you a reward, like a characters, equipment, and new band rooms.Also you have to make money on top of royalties for them to count. We should also get more energy drinks. Please fix that. I look forward to seeing the next big update!
Amazing Game
Love this game! Add more for us to do during tours and in the studios!
Trade people for Gold
This is a fun game and lit but we should trade people for money if we don't want them
Great Fun
MAD GIRL 711101247
on
7/15/2017
Very addicting
Great!!
I love band stars, but as a fan of the game who has spent money into the game I would like to see better upgrades and the old hit system not the new Hit Machine
Great game BUT
It's been almost 3 years and this app definitely needs an update it's a really great in addictive game that I think would have a good come back if there was an update so please halfbrick UPDATE PLEASE!!
Google Login Bug
Please fix disabled_useragent for OAuth with Google sign in!
Best app ever
The app is so cool I love recording songs it's just the awesomeness thing ever
✔️
TheLegendaryArrox
on
4/23/2017
Very Goods -Indian PC Support
It the best game
Channey 2757382
on
4/13/2017
The best game I played and it's good to waste time
Band Stars
Ananda chatman
on
4/10/2017
Love it and addictive
Great game! Some ideas though
David.feliciano1
on
4/10/2017
I really like this game but it could use some updates such as letting us customize our band characters like changing there hair and clothes etc i also think that our bands should be interviewed and we should actually have concerts on our world tour and actually ride to other places on a bus and practice on the bus before the show please think of these ideas. UPDATE THE GAME!!!!!
Kiddd
When you start why is there creepy kid in the window like he looks like 5,000 pounds he's smells like pooooooop💩💩💩💩💩💩💩💩💩💩💩💩💩💩💩💩💩💩💩💩💩💩💩💩💩💩💩💩💩💩💩💩stop read 💩💩💩💩💩💩💩💩💩💩💩💩💩💩💩💩your wasted your time
Good game that could be better
Fabioeh 666
on
12/31/2016
It's a good game but there are a few things that could be added. Like more locations in world tour and the ability to make albums would be nice. Another thing that would be cool would be able to have the singer use another instrument while he/she sings. Other wise good game
Please Update!
Cam Eschenfelder
on
12/31/2016
I love the game. But I can't do anymore room changing because it's all "Glee" or "Pitch Perfect." Most of the upgrades in this game are either one of these, and it's starting to get very repetitive. I love the game, but I'm starting to think about deleting it and starting a different game. So please update!
Very Addictive!
I love this game.
Good game could have been great
This game is actually pretty good. The gameplay is nice and smooth no crashes no glitches. However, there are just too many downers. It feels like the devs missed out on a great opportunity to make this an amazing band manager game. It just comes up a bit short, almost like all the time and effort put into this game was wasted. The world tour mode is really not a world tour, you just record a song in different countries. Starting in the garage building a song catalog and taking it on the road would have been awesome. I think this game is in need of an expansion.
Fun
Thebaeofmany
on
11/11/2016
Best game that I've played this year. Being an aspiring recording artist, this game has pushed my passion for my dream to even higher levels!
Yes totally
Yes yeah it's totally fun my guy yes yes yuh.
It's great
9ersrock2003
on
11/3/2016
Just a great game been waiting for a game with tap and other genres
This game needs work
Bluechampion
on
9/30/2016
I love the game the only section I don't like is you have to get a local number 1 to go on tour now I keep getting local numbers 4 and I think to go on tour you should need at least a top 10 local that would make it much easier I think because it's very hard getting a local number 1 so pls improve the world tour section btw my band name is the latest beat thank you for reading this and bye
Pretty cool game
Band stars is a different kind of game. I enjoy playing it and I recommend you at least check it out. You'll most likely enjoy it as well.
Good idea
I think this is an amazing idea and can be a huge game tho I think you should be able to customize the characters and should actually have your songs compete with other people's songs on the charts
Great game but read.
It a good game, I like the concept but I want the developers to keep updating and making it better. Also I want you to add a feature where you can delete one of your songs.
AWESOME
THIS GAME IS SO AWESOME I GOT A LOCAL NUMBER 1
Addicted
I've been playing instruments for a long time so I really like this game. I've even put money into it and I NEVER do that with game apps.
Good game
Cody craft10
on
7/10/2016
This is a pretty fun and good game
This is really fun
Jsjjdjsjxhdbxhshdjdhdhhdhd
on
6/22/2016
Gives me a lot of different options I can really make my own band it's all up to me!
Add Some new things
This is a great game believe me I could play it for a while. But I feel there's a few aspects missing. For example you should be able to have your band tour and make albums. Another thing is you should be able to hear the words in yours songs even if it's just made up words. It would make the game a lot better if you could hear the lyrics. Overall this a great game but it would be even greater if you added these aspects. Please listen to your downloaded suggestions. Thank you!
Okay except for this..
XxfrenchsuperstarxX
on
5/21/2016
I just love this game but for these following reasons. First of all, there is no need for a V.I.P. Lounge. And that is because it just wastes your money and believe me with this, it is hard to get money. But anyway you need to make the audition packs cheaper because otherwise it is more complex to the challenges. Otherwise this is a perfect game!
Super Addictive
Good Luck Deleting
on
5/13/2016
Good game, just could have been better if they adjusted on how to make the songs. Other than that small thing, the game is awesome and super addictive!!!!!!!
Best Game Ever
It's So awesome and so addictive
It's a good app
StrangersInParadise
on
3/11/2016
I actually like Band Stars. It was fun to play when bored. I just didn't like that you had to have wifi to play it! That's stupid! My wifi wasn't working. And I couldn't play. They need to fix it.
Kinda like it
Sophiasuperstar29
on
1/28/2016
This is a good game but I wanna change my bands name 😕
Time for a update
Andrew level 9 jock
on
1/27/2016
I'm bored now.I'm a level 33 and topped all the charts and almost finish with the world tour. why don't you guys make it so we can record albums and make that a chart we can top.anything new will be fine by me.
Really great, but one suggestion. (still great!!!)
Awesomepersonoptimist
on
1/25/2016
I love this game, but whenever I look at charts, my friend tells me the name of her song and the #, yet it's not there!!! And, I want to hear the songs play on the charts. For instance, if I wanted to click on "hard life" by wizards 101, or rope around my heart by 88 MPH, I want to be able to hear the song!!! This game is still my favorite over any of the half brick games.
Good!! But i have a opinion
Rei dos nocautes(BR)
on
1/6/2016
I loved that game, but we can make our albums, making with pictures or..... A draw! That can be cool but i liked very much that game! Thanks for the patience.
Great game
NELLS CURRY
on
12/30/2015
This is a great game, it is soooooooo much fun I love it
Band Stars
_Haiiderrr_
on
12/29/2015
I Love The Game But There Need To Be A Update Where We Can Make Albums And Music Videos There Also Needs To Be A Easier Way To Collab With Other People On Songs And The Way Songs Charts Need To Be Like Katy's Game Where There's Real People And Not The Same Old Bands
Please make this an update
You should be able to make albums.you could draw one or choose picture for the cover or make you do a pose in any background.then name it with any font.then choose the songs on it.
Please please please fix
Cutemonkeys1234
on
12/22/2015
I like this game. It's nice how you can have your own band. But there's this hit machine thing where it crashes my app. It works. Then freezes. Then crashes. Over and over again. I will give a higher rating if you fix this
ALBUMS
Hotdogs Soothingly
on
12/14/2015
There needs to be the ability to create albums.
Energy!!!
ENERGY OF YOUR CHARACHTERS ARE SO BAD!!!! PLEASE FIX!!!
Cool Game to pass time
Cool simulation game.
Fact Sheet
Publisher:

Halfbrick

Category:

Games

Released:

Dec 04, 2013

Current Version Released:

Aug 04, 2015

Version:

1.9.0

Size:

127.5 MB

Compatibility:

Requires iOS 6.0 or later.

Recommended Age:

4+

Game Center Certified:

No

Supported Languages:

English; French; German; Italian; Japanese; Korean; Portuguese; Russian; Chinese; Spanish; Castilian; Chinese; Turkish;