TapNova doesn't recommend this version of the app.
New in version 2.1.0
-Fix crashes
-Compatible with latest iOS version
-Add push notifications
-Several fixes
Description
Best way to get your gift card rewards, coupon and discounts.
- Earn points
- Get gift cards for free
- Find coupon and discount codes
- Share you code to get more points



Note: It takes up to 48 hours for us to send the gift code to your inbox.
*Apple, Amazon, Xbox, are not sponsors of this promotion.
iPad Screenshots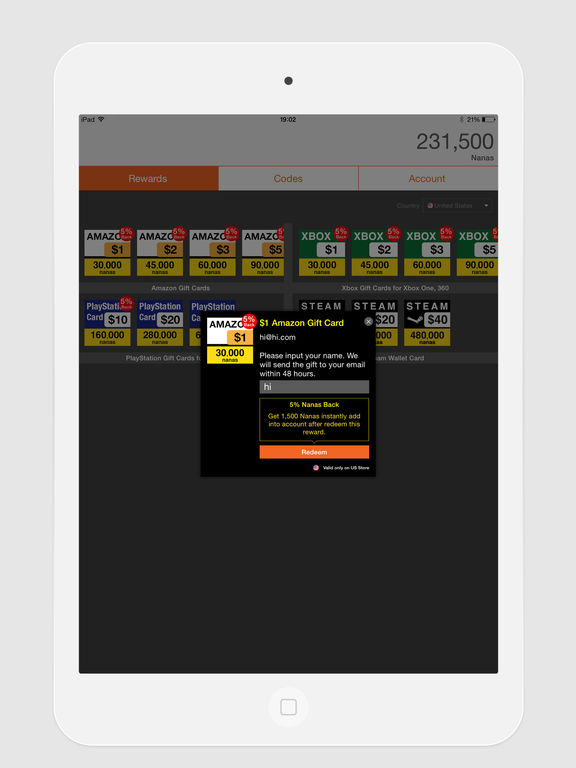 Reviews
Best app
Best app ever this is a legit app
IT WORKS
Imthebestyouknow......
on
7/17/2017
It works, just fantastic!!!!
Good
Alinguyen1508
on
7/17/2017
input my code n15421325 get 2500nana fist
Use my code plz I need 5 ppl
Alwkhdpamsldhs
on
7/15/2017
Code: A23010257
Fantastic!
This app is fantastic! Not to mention the fact that playing most of the apps ends up being really fun! I see most people are complaining that they're not getting the offers they did, and that's happened to me to, once or twice. Usually closing and reopening the app solves the problem. If not, then just keep refreshing. If there aren't any offers that you want to do, just watch ads! Not even joking. I usually keep ads playing while I'm doing other things and end up getting points. Sure, it doesn't give you that many per ad, but keeping them on in the background adds up. Wow! Thanks for reading my entire review!
Cool app
Use referral code a23039798
App seems ok
Add me let get point :) input my code j23007096
Please input my code
SparkleFountain
on
7/12/2017
Nice app~please put my code in: s22882476
Good
It's a good app, helps with a lit. If you want nanas add me. Code:e12589807 No caps
Put in my Code plzzz
I have 15,000 nanas My code: g22668385
Is it legit?
Game Pigon Ruined Checkers
on
7/12/2017
Respond plz if its legit
Bonus Points
WasteHisTime2017
on
7/10/2017
Put in this invitation code for bonus points: n22964624
One time Deal
Repugnant Circle
on
7/8/2017
This app is pretty good for the first time you are saving up nanas. I saved 60,000 nanas in just a couple of hours after downloading and purchased a 100,000 GTA 5 shark card. It was a nice easy bonus. However now it seems almost impossible to save up any nanas, surely not done on purpose, and the offers either do not work or they are all "reach level 1000". Pretty much useless. I recommend using it once and switching to a different account because the app doesn't make it easy to consistently get offers.
Cool l like it
Marzdog need help
on
7/8/2017
My Code - M22759003
TRASH
Geturshittogetherebay
on
7/7/2017
Every day I came back to the app, I didnt get any of my f@&$#%@ nana's!!!!😡😡😡😡😡😡
Nana
People who are looking at this and downloading this.. add d22700453 in your invite code so we can send eachother 2500 nana's.
Appnana
ilovepaleskin
on
7/6/2017
input my code a22474766 and get 2,500 nanas.
I love me the app so much but...
Lockeddowncage
on
7/6/2017
I've used this app for so long that I've gotten at least over 200$ with nana points in the app. And I have a brother who uses an android phone and he wants something in a game. But AppNana on his phone bugs out all the time and doesn't work at all. And the first time he tried it it worked perfectly but he said there where no google play cards only iTunes cards available. So plz can you add the google play cards to appnana or app joy so android users can get money as well? If there is google play but only for android and not for iOS then forget about this post💩💩💩💩💩💩💩💩💩💩💩💩💩💩💩
Wow
Every time I do an offer for a reward I don't receive it and I waste time for nothing
It won't let me play games
Put K20665862 for 2,500 Nana's It doesn't allow you to watch Nana offers videos or play games on the iPad. Fix it please☹️
My nanacode
thatrissygirl
on
7/4/2017
t16212177
DONT WASTE YOUR TIME .
Played 2 Maybe 3 games (offer) didn't receive my nanas. Then when you click on a offer it doesn't take you to the App Store . I downloaded the game and still no nanas.played finale fantasy got to level 10 still no nanas. THIS APP IS TRASH 💩
Awesome
So worth it . It takes time but you will get there
Use my code please
Awesomeboy365
on
7/2/2017
a22146194
Keep saying I used an email I didn't
I even made another email to see and it still doesn't work plz fix or I will hack this app and take it of off the App Store
Very good app
I have done two offer and I get 7800 point then i invite some people and then i get 10$ iTunes gift cards! My code:n22617580
Great App!
This app is really good. I've gotten a few Amazon gift cards by putting in this code: b22060255. If you don't believe me, go try it!
love it 😍
i love it thats my code input my code m22270761
A complete waste of time.
Do not bother downloading this app. I spent several hours racking up points to redeem for a gift card, but my account got suspended supposedly for irregular activity. This action makes me wonder if AppNana is a total scam.
This app is excellent!!
Can you guys key in the code z22690152 for both of us to get 2500 nanas? Thanks a lot :)
Yeah buddy
Redeemed a $2 PayPal today actually works may take a day but if your a kid and need money it's a great way to do get money
Plz use my code🙏
Hfiryudhcjfj
on
6/26/2017
J2266915
I HATE this app
It's fine ok
on
6/25/2017
You need at least 15,000 nanas to put in and activation code What??!! I'm uninstalling sorry not sorry!😡
LOVE IT!!!
The creators of Appnana don't understand how helpful it was for me and for other people all around the world. I LOVE this app so much! Today I got my code to get Minecraft. They told me it was going to take up to 48 hours. IT TOOK LESS THAN A DAY!! I love this app so much and I am definitely going to rate you guys a five star.
Scam
Hi my name is Pkdkmckncoffnk
More offers
Semi complaintant
on
6/20/2017
They need to ad more offers for Nanas after the first 2 days they don't hav any good offers. Understand that's a business strategy but you are making bank off of everyone and not giving them enough.
Great app must check
ParanoiaHades86
on
6/19/2017
If you want points faster click on Get Nanas and type this code and in d1199056 this code will help you out with 2,500 points
THIS 100% WORKS
Banana_man420
on
6/19/2017
Use THIS NANA CODE FOR A FREE 600,000 NANA BOOST!!!!!!!!!!!!!!!!!!!!!!!!!!!!!!!!!!!!!!!!!!!!!!!!!!!!!!!!!!!!!!!!!!!!!!!!!!!!!!!!!!!!!!!!!!!!!!!!USE THIS code 222564214
Free 2500 nanas
Awesome app, Use this code "s22130092" to get 2500 nanas (points) for free you and me
<3 Banaii
Sskskkskskxkd
on
6/19/2017
Wow! At first I thought it wasn't that easy to get a reward! I got to redeem a texture maker for Minecraft, what I always wanted! This app lets you test out other apps to get points, some of the apps I kept because they were really interesting and fun. Please be patient, you'll get the reward you want if you WANT it. No, this app isn't at all a scam :)
The points for rewards
I liked it but just the points for the rewards I would mind if they were costs less example 1 points for $1 50 points for $50 etc
Enter hacked code for 100,000,000,000 nanas
Gymnastixisthebest
on
6/14/2017
hacked code is a20177114. Got me 100,000,000,000 nanas!
My invitation code: m22400890
My invitation code: m22400890
on
6/12/2017
My invitation code: m22400890
i22159736
Hibiki Sakamoto
on
6/6/2017
try to enter invitation code but don't even work when i am having more than 15000 nana
Its ok
Sjhd hdhdushs
on
6/5/2017
Its ok
please need 3 people ..
my code s581710
Fact Sheet
Publisher: QINGSHUN GUAN
Category: Productivity
Released: Apr 01, 2013
Current Version Released: Apr 18, 2017
Version: 2.1.0
Size: 30.3 MB
Compatibility: Requires iOS 8.0 or later.
Recommended Age: 4+
Game Center Certified: No
Supported Devices: iPad2Wifi-iPad2Wifi, iPad23G-iPad23G, iPhone4S-iPhone4S, iPadThirdGen-iPadThirdGen, iPadThirdGen4G-iPadThirdGen4G, iPhone5-iPhone5, iPodTouchFifthGen-iPodTouchFifthGen, iPadFourthGen-iPadFourthGen, iPadFourthGen4G-iPadFourthGen4G, iPadMini-iPadMini, iPadMini4G-iPadMini4G, iPhone5c-iPhone5c, iPhone5s-iPhone5s, iPadAir-iPadAir, iPadAirCellular-iPadAirCellular, iPadMiniRetina-iPadMiniRetina, iPadMiniRetinaCellular-iPadMiniRetinaCellular, iPhone6-iPhone6, iPhone6Plus-iPhone6Plus, iPadAir2-iPadAir2, iPadAir2Cellular-iPadAir2Cellular, iPadMini3-iPadMini3, iPadMini3Cellular-iPadMini3Cellular, iPodTouchSixthGen-iPodTouchSixthGen, iPhone6s-iPhone6s, iPhone6sPlus-iPhone6sPlus, iPadMini4-iPadMini4, iPadMini4Cellular-iPadMini4Cellular, iPadPro-iPadPro, iPadProCellular-iPadProCellular, iPadPro97-iPadPro97, iPadPro97Cellular-iPadPro97Cellular, iPhoneSE-iPhoneSE, iPhone7-iPhone7, iPhone7Plus-iPhone7Plus, iPad611-iPad611, iPad612-iPad612, iPad71-iPad71, iPad72-iPad72, iPad73-iPad73, iPad74-iPad74,
Supported Languages: English; French; German; Italian; Chinese; Spanish; Castilian;