Not Recommended
App last updated
Feb 07, 2017
Screenshots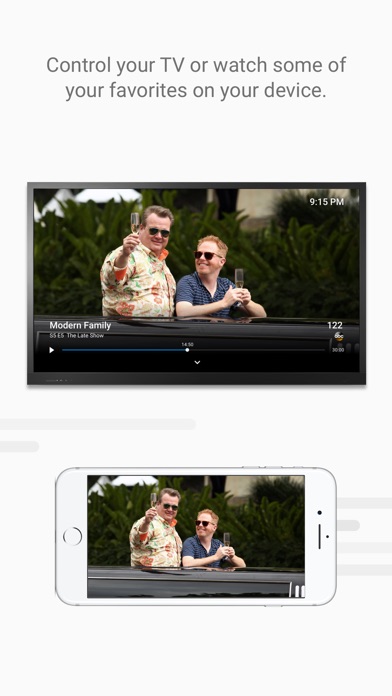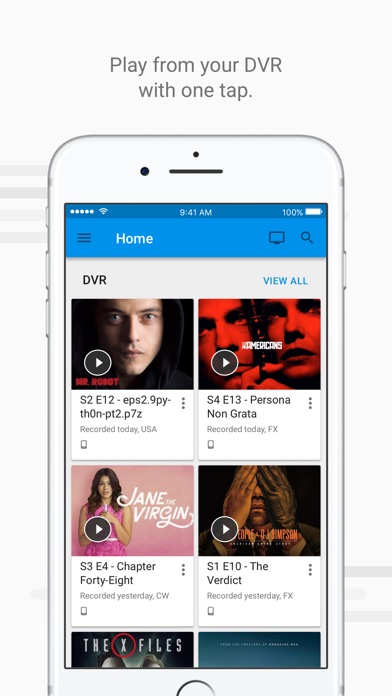 New in version 16.0.0
General bug fixes and small visual updates.
Description
Get more from Fiber TV. The Fiber TV App provides Fiber TV subscribers a fast and easy way to watch your favorite TV shows and movies from your mobile device or the big screen. Access all your DVR, On Demand, and live TV entertainment. Manage your DVR recordings on the go. And discover more of what you love with search & personalized recommendations.

• Quickly access personalized recommendations now when you open the app.
• Find what's on live TV or scheduled to air from the guide.
• Manage your DVR anywhere you are and never miss a show.
• Search by title, keyword, or sports team to quickly find what you love on TV and On Demand.
• Watch Live TV & On Demand right on your mobile device.*
• Send entertainment from your mobile device to your big screen.
• Share access within your household - get authorized by the Fiber TV account holder within the app.

Learn where Google Fiber TV is available at https://fiber.google.com

Learn more about Google Fiber TV at https://fiber.google.com/tv/

*Certain channels not available for mobile streaming.
iPad Screenshots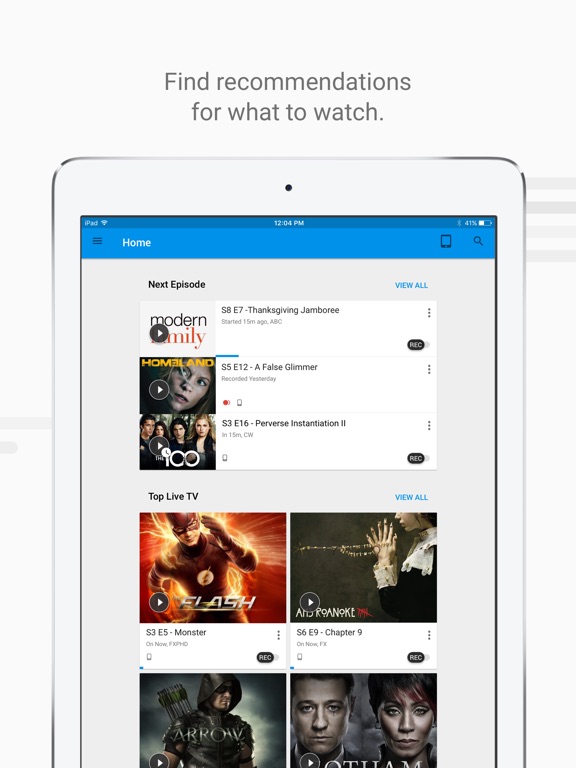 Reviews
Search is horrible!
Search feature on this app is absolutely horrible. No results returned for a high profile show that is airing today?! This is probably the fifth time in the past month I've searched for a program and received no results. The only way to locate was to scroll through the TV guide until I got to the show's date/time. The usability of search is also greatly lacking (the only way to back out is to use the back arrow a million times??); however, this would be mostly forgiven if I could at least get the results I'm looking for.
Everything a customer doesn't want!!
When wi-fi works, you can find all that's interesting won't play. However, if it's a show few ppl care for then you can watch it thru the app. When you do find something to watch wi-fi works near the network box. If you carry the device to another room it buffers like crazy. Move it back near the box and you either have to close the app or restart device.. Not satisfied..
Ironic and Frustrating
Imadudenamed
on
11/27/2017
It's incredibly ironic that Google has a product that can't search well. It's amazing to me that I have to use Google instead of the Fiber app just to figure out when shows will be on TV. The app seems to work fine for other things, but occasionally, I'm away from home and want to set up a recording by show name on the DVR. I'll be danged if the app can find the show. It will show you 90 other shows/movies that are NOT going to be on TV in the foreseeable future. I'm not sure why that's a feature. "This guy was in such-and-such movie in 1942, but it's not on TV anytime that we can see." Great. Thanks. Please fix the search. Make it work. You're Google!
Speed test dead
The app was working flawlessly until a couple of days ago. Now when you select speed test the test page opens fine. But when you tap the button to begin the test my screen goes blank and I'm kicked out of the app on my iPhone 7 iOS v 10.3.3. What's going on?
Cheesy and unreliable
This is perhaps the most cheesy and unreliable app for tv ever. I used Dish and TWC with little to no issues. Google fiber app loses connection, or constantly tells me that streaming isn't available even though it is. Come on...really? This is the best you can do?
Crappy app
MizzouCowboy
on
8/23/2017
Google should even offer a streaming app if they don't have the content to stream. If you have so little available to stream, delete the app....I know I will.
So what's the point.
Dante Villalta
on
8/4/2017
I was told by GF that like Time Warner app you can watch TV outside of your network, with co. App..to find out that's not the case, why even bother, fix it or get out of the app market. Disappointed GF
Don't blame app for your poor wifi or lack of reading comprehension.
I don't understand the complaints, the descriptionof the app clearly states not all channels are able to be streamed. Google obviously doesn't have a streaming agreement with those networks to save cost. App streams consitently and with good quality. If you keep losing connection then your wifi signal isn't good and you need to investigate further or completely close the app to purge any cache and relaunch. I've had zero issues. It is much better than my previous providers app and I'm no Google fanboy, but color me very impressed.
Needs to work outside of network
After how long? Still can not use outside of network ! Like taking a shower with a raincoat on.
Clunky for Google
Griff is griff
on
7/17/2017
You would think this would be an app worthy of the google brand. Not so much.
Terrible
Won't let me ...oops this review didn't go as planned, what you were reading should have worked...terrible Google, just terrible.
REALLY disappointed - this app has major issues
Completely agree with other users who have commented on the streaming issues with this app. When we had a different cable/internet provider, we were able to stream every channel we had access to on our regular tv. With this app, only a fraction of the channels are streamable, via the app, on mobile devices. MAJOR downside. Plus, whenever we are streaming a channel on a mobile device, it frequently reloads and then, after a few minutes of viewing, it stops and a message appears with "Sorry things didn't go as planned… Try again what you were doing and it should work. If you continue to have issues please contact Google Fiber Customer support." Updating the software on the mobile devices, restarting the device, restarting the app, etc. has done nothing to resolve the issue. Expected this app to at least be of the same caliber as our former provider's app, but this one has been a MAJOR disappointment since day one. With all of the latest technology Google employs, one would think Google would be on its A-Game, but sadly, it majorly falls short.
Major bug in this app
Can't use my own nickname?
on
5/12/2017
There is a major bug in this app where when during streaming live television after around two or three minutes it stalls and then stops streaming. Otherwise the app it's more or less fine it's just unusable. Using this as a guide to control your television content is probably a better use case, however I would love to watch TV on my iPad. Please fix google?
POS
Complete POS of an app. Cannot watch ANYTHING on my iPad. Disappointed with Google. This app is awful.
Fix
Recorded episodes won't change to "watched" after watching them. Fix please.
Update?!?
Consistently drops the connection when trying to watch on an iPad. Deleting and reinstalling did not correct the issue.
No longer opens
App no longer opens at all!!
Amazing
Joserocks203
on
1/29/2017
Buy Best free movie watching and tv watching app ever!
so close
Glass half empty
on
1/27/2017
The app works in streaming mode.. Sometimes.. but will not let you mirror to an apple tv, which adds to the disappointment.
APP DOESN'T OPEN...100% FAIL
WARNING - DO NOT DOWNLOAD THIS VERSION. It WILL NOT LOAD. Crashes every time. Google ... what say you?
New Update Crashes All Devices
Hirogen Hunter
on
1/17/2017
Waiting to see how long it takes for them to fix.
Cannot open app
Jolyn Iphone 6 plus
on
1/17/2017
Trying to use Fiber TV app. It is asking for update. My app was updated dec16. So there is not any newer update. It will not open the app at all now.
Pointless
Jfizzle1997123655778907(:
on
1/4/2017
All you can do on this app is record a show. You can't watch the show. Nope. Not even in your own home. So what is the point of this? The app is progressively getting worse with the updates
Never works
The ability to turn on "record" from anywhere is wonderful!!!! The actual viewing of a live show never works!!
App update
KC Chiefs 2025
on
12/17/2016
Trying to open the app. Says update before using. Directs to the App Store and there is no update! Just lame
Crashes!
App is useless. Crashes when I try to open the app.
Crashing
Recently installed update and continues to crash. Can not even open anymore. Frustrated!!!
RATING
ShanelNOcocoXOXO
on
12/4/2016
I like the fact that I can record things if I'm not home, but am I supposed to be able to watch things that I've recorded or watch some shows on some channels live? Because if so, I can't.
Disappointed
The app is disappointing, compared to other app it lacks features and stability. The streaming part of the app is horrible and no cellular streaming at all. Even on home wifi you play on demand movies through the app on your devices. Needs to be improved to same level as other provider apps.
Lame
Disappointed123456678
on
11/29/2016
Google fiber only works on TV. I try to stream it on my iPad and it freezes every 15 seconds. Just awful. Not what I paid for.
Lacking
As others have mentioned, greatly lacking. Can not stream unless connected to your home google wifi router. I don't get the point of streaming to my cell phone at home while I'm in front of my tv.
Loving it
We have had our Fiber TV for a month or so now, and couldn't be happier. The support has been amazing. So glad it's available in our area.
Enjoying the experience
Malomoriquamfoedari
on
11/18/2016
The mobile app could use some more fine-tuning options on recording time (less/more than allotted on the TV schedule), but everything generally works like it needs to.
Streaming needs work.
Having trouble with live streaming on my iPad and computer. It is always buffering. I've cleaned out e everything I possibly can and am sitting right next to the setup box. Disappointing.
Good but wish for off network viewing
Google fiber is the best. Just wish they supported off network TV viewing similar to how TMW does it.
Nice but needs work
Mariachi-Dave
on
11/7/2016
This app works great but needs to have support for tv over wifi networks outside your home as well as cellular. I hope that more channels will be supported as well as being able to use away from home like AT&T's Uverse and Time Warner's app allow.
Best tv app
Google fiber tv app is all and then some more than advertised. It's intuitive, fluid and easy to understand. This app does everything.
Love it!!
Works like a dream!
Great app!
I really like the application and functionality provided. It works great without major issues and it's easy to use.
Constant buffering
Shows/movies just keep buffering. Works okay as a guide, but I cannot get it to play video without stopping every couple seconds. Horrible app at the moment.
Love google fiber tv
And the app helps when the remote is misplaced
Works great!
App works well. I enjoy being able to surf channels while the TV still plays the current show.
Lol
To Pluto TV it's free and way better and faster and much more channels that all HD's live streaming
Love it
GreatScottKCMO
on
10/13/2016
I LOVE Google Fiber TV.
Flawless
No complaints. Does what I need it to do.
Sweet App
JustinAamir
on
10/10/2016
Google Fiber + this app = priceless
Update
GossipMedium
on
10/7/2016
This app has been updated twice to resolve issues, but they don't seem to be being fixed. The app still crashes once I open it on my iPhone, and I'm starting to get fed up.
Please fix
App crashes as soon as it opens.
Update 👎🏼
After the most recent update the app no longer opens. Otherwise a nice app....
Screen Won't Flip
For whatever reason the screen won't flip when you hold your phone sideways, needs to be fixed ASAP
Fact Sheet
Publisher:

Google, Inc.

Category:

Entertainment

Released:

Apr 23, 2013

Current Version Released:

Feb 07, 2017

Version:

16.0.0

Size:

72 MB

Compatibility:

Requires iOS 8.0 or later.

Recommended Age:

4+

Game Center Certified:

No

Supported Languages:

Albanian; Arabic; Armenian; Bulgarian; Central Khmer; Catalan; Valencian; Chinese; Croatian; Czech; Danish; Dutch; Flemish; English; Finnish; French; Georgian; German; Greek; Hebrew; Hindi; Hungarian; Indonesian; Italian; Japanese; Kazakh; Korean; Lao; Latvian; Lithuanian; Malay; Mongolian; Norwegian; Bokmål, Norwegian; Norwegian Bokmål; Persian; Polish; Portuguese; Romanian; Moldavian; Russian; Serbian; Chinese; Slovak; Spanish; Castilian; Swedish; Thai; Chinese; Turkish; Ukrainian; Vietnamese;