Recommended app!
App last updated
Oct 05, 2014
Screenshots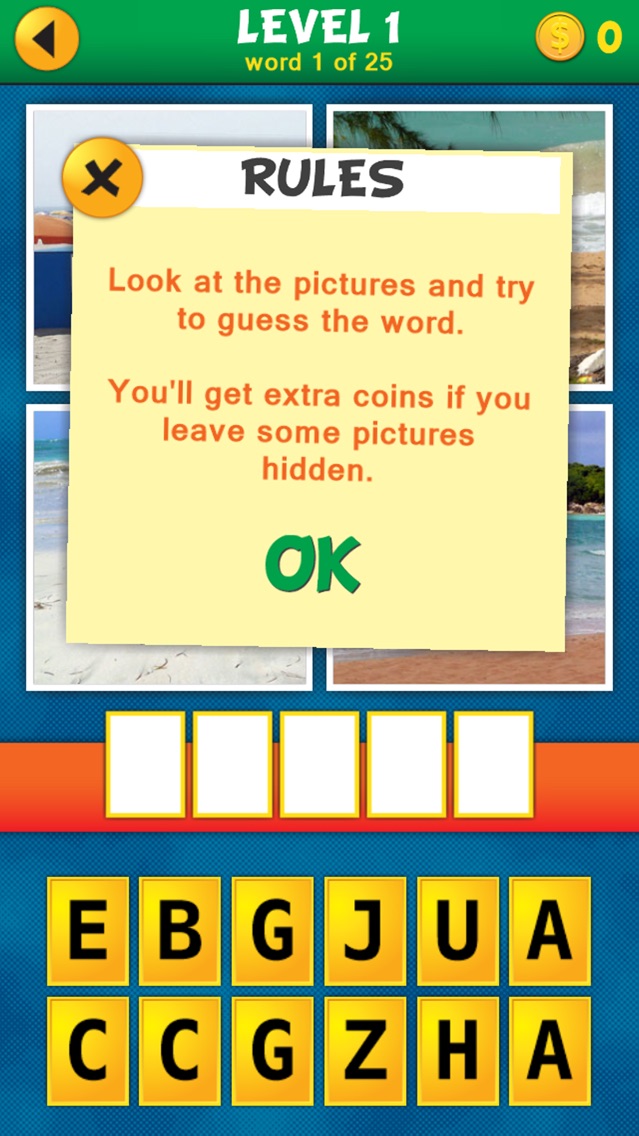 Description
== What's the word? ==
Look at 4 pictures and guess what word they represent. This sounds easy, but some puzzles can be tricky! If you like quiz and word games, you'll enjoy this fantastic brain teaser.

== New twist! ==
This addictive word puzzle game comes with a twist: the pictures are revealed one by one. Guess the word with less pics open and earn extra coins!

== Simple and highly addictive game for the whole family! ==
• 10 levels with 250 words
• Unique puzzles: from easy to really challenging
• Earn coins by guessing the words and use the coins to help you solve most difficult puzzles

Can you guess all words and unlock all levels?
iPad Screenshots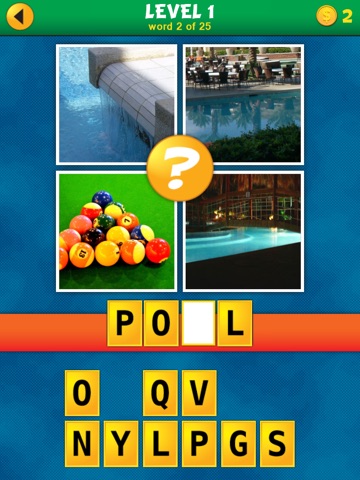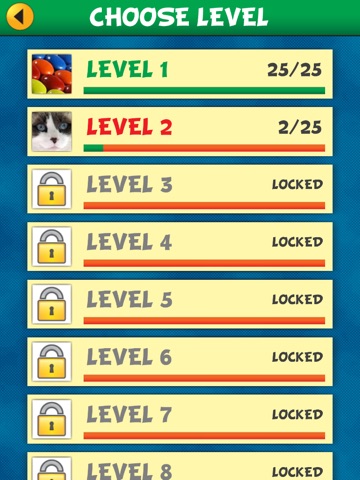 Reviews
Harry
Awesome! So far so good! Great app, highly recommended if you like gaming!
Fun until
It's a good game until they don't let you get hints
Great thinking game
It makes you think outside your comfort zone and opens your views
Best game ever !!!!!! Lots of fun makes you think
Best game ever !!!!!! Lots of fun makes you think
Fun game
Nice, clear photos. 4 chances to guess the word. Relaxing.
Takes thinking
It is a great challenge. You have to think around and outside the box.
4 pics puzzle
Fun, great way to pass the time
What's that word
Good puzzles
Love it
It's challenging but I'm addicted
Bruh
jellyfish4255
on
7/29/2017
This game is the bomb.com
Fun
Jeffritter955
on
7/24/2017
Good time waster
Very fun
screaming squirrel
on
7/23/2017
Tried this game out and I've enjoyed it very much. I find myself playing often. I would recommend this game to anyone who likes word puzzles.
A good way to pass the time
Somewhat challenging but can be played it quick bursts as you are waiting for someone.
Fantastic
Mind challenging!!!
😎😄😔😝
CoolQueenPinkieLove
on
7/12/2017
This game is awesome !!!!! It may be hard sometimes but I get and if I can many other people can because I'm a kid ! I live this game and play it everyday and it also keeps ur brain active . This game makes u think but is fun !!!!!!!
Not bad
The game works fine for myself, but I was looking for something for kids, to help them look for similarities. It is too difficult for children.
FUN GAME
I really like this game.
Lots of fun!
This game is a lot of fun, but you really have to stop and think. Keeps your mind busy👍
Fun game
rhondastuart1543
on
7/7/2017
Addicting and fun.
Word game
Shakentailferther
on
7/3/2017
Great game
Cool Game
This is a really fun game. Brain teaser!!
Keeps the mind active
This game keeps the kids occupied and all of our minds active
Fun!
It's a good version of four pictures one word. But I don't like how there's really nothing to it. Like it's almost cheesy the way they made it. But if you want nothing but simple then this version of the game is for you.
FUN!!
Auntie Lelan
on
6/30/2017
Lots of fun!
At The DMV
RoyalDiadem7
on
6/29/2017
Helps to pass the time. Some of the clues are just a bit aggravating. Free and free, YAY!!
fun
This game makes you think, gets harder each level.
Awesome game
Great for kids
Word game
ConnieMcDonald
on
6/23/2017
Really enjoy this game.
Solo786
Pretty easy at first...
It's ok
There's a glitch on level six
Fun game
Just a girl....
on
6/18/2017
We play as a family -- fun competitive game!!
Think
This game makes you use your noggin!
Challenging
Starts you off nice and easy. Difficulty increases with each level.
Addicted
Ed's grateful wife
on
6/14/2017
Very addictive game!
Fun & relaxing
I enjoy passing the time with this game.
Yeah
Philly cheese steak6
on
6/14/2017
So much fun to play
Great fun
mrs. mary m.
on
6/13/2017
Good for your brain!
Coolchef
Brain and visually challenging. It makes you see things behind the scenes, to look beyond the surface.
Fact Sheet
Publisher:

Maribou Inc.

Category:

Games

Released:

Mar 13, 2013

Current Version Released:

Oct 05, 2014

Version:

1.0.3

Size:

27.8 MB

Compatibility:

Requires iOS 6.0 or later.

Recommended Age:

4+

Game Center Certified:

No

Supported Languages:

English;