Screenshots
New in version 3.17.3
Fix a bug in push notifications
Description
Shop for the latest designer products and your other favorites at up to 80% off. The best deals in jewelry, apparel, accessories, beauty, electronics and more!

FREE app! Download now!

Once you've downloaded the app, you won't want to stop shopping! Bring the excitement of shopping to your fingertips.
iPad Screenshots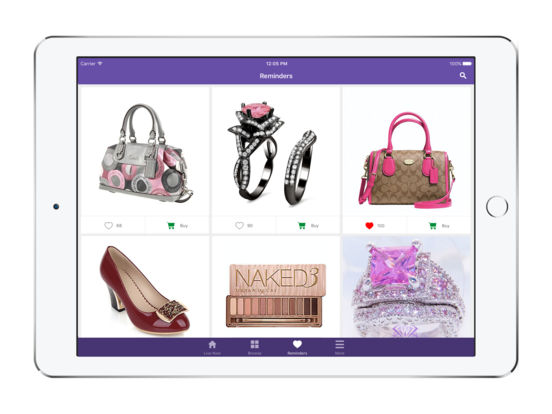 Reviews
Lags and seems buggy
It lags every time I open it up and seems a bit buggy. I used to love it now I can barely use it. Please fix it.
Annette S
Pleasure1958
on
8/20/2017
Love this site, easy to use and setup. Nice prices and good merchandise
Like it, but descriptions are not always accurate
Iamsotired...12345678910
on
8/20/2017
I have purchased several different items, however a couple times I thought it was one thing but got something of little to no real value because I had it appraised and was told it was fake or plated jewelry, or silver instead of white gold. Also, thought I was getting a camera from the photos and descriptions were not clear that it was just the lens. I never received any certificates of authenticity, however the site claims authentication is guaranteed. I like the items I have received, and am happy with the price, but be weary of what you buy and don't be surprised if it's not what you expected it to be.
Tophatter shopping
I really like it but carried away.I ordered some stuff for Christmas but can't open the packages just have to pray they work as it'll be more than 30 days so can't be returned.So far things I've received the jewelry from folks jewelry are nicer than expected.I hope the rest is as good.Its still a bit. confusing as it goes so fast .But so far I enjoy it.I hope I don't have to send anything back cause that's a pain
Doesn't work
You may get something. But the listed value isn't even close to the actual value of the item. On top of that. The decent looking stuff always freezes and app breaks.
DO NOT BUY THE FRAUDULENT MERCHANDISE
This app has cheap merchandise and is a scam. They offer no way to communicate with the seller whine they are probably working with to scam the buyers. I recently purchased a cheap smartwatch that was advertised to be compatible with iPhones. Upon receiving the watch a month and a half later and trying to sync it with my iPhone I realized it was not compatible with iOS as it clearly stated in the watch's instruction manual. I contacted Tophatter customer support multiple times upon requesting to return the item for a full refund to no avail. The incompetence of their customer service staff is astounding. Even though I enclosed pictures of the instruction manual clearly stating it was not compatible with iOS thus proving the sellers false advertisement Tophatter informed me that I would have to pay more than 3 times the watches value to cover the return cost myself in order to get the refund. This is not the first issue I have had with them either. DO NOT BUY from Tophatter. It is not worth the hassle of dealing with lying sellers, cheap poor quality merchandise and incompetent customer service representatives. EDIT FOR RESPONSE: checked my account wallet and there was NOTHING! I'll add that to the growing list of lies this company has told me. They allow there sellers to commit fraud daily. There is actually someone on there selling hand written Jimi Hendrix lyrics claiming they are "authentic" and "very rare". Just like the seller that lied to me don't trust any seller on this app!!! They allow their seller to lie and sell counterfeit products at the expense of the consumer. I stand by my original warning, DO NOT SHOP ON THIS APP. THEY ARE LIARS AND COMMIT FRAUD. Also don't buy any of the "very rare" money. It's all extremely common currency and overpriced. Just another of the long list of fraudulent products Tophatter allows.
Love Tophatter!
So easy! Love the items I have received!
Wow!
Awesome app! A few loading issues now & then but love the action!
It's ok
Queen Sapphire
on
8/20/2017
You can get some goodies from it
Awesome
I really love Tophatter! Happen to see a commercial about it, and decided to check it out! So glad I did. Shipping at times takes a bit. The return policy/refund is 100% amazing!! The jewelry is so nice and worth biding for! Love Tophatter!!!
Tophatter
mitchellella02
on
8/20/2017
Use to love it! But not now! Not enough jewelry, too much other junk for auction!
CoopdaCoop
Nomobids4me!
on
8/19/2017
Used to be fun but now it's just become addicting!! It seems to me like the sellers are bidding up their own products!! Things you would like to get a deal on get bid up so fast you don't get a chance to bid on,you almost win it but then it slows down until it gets bid on again!! A big waste of money if your not careful, be careful and stay off this app or you'll regret it for sure!!
Fake Advertising
They put High prices on the items estimate, so can caught your attention, let's say. An Smart Watch DZ09 they say retail Value is 499$ when in reality u can find this item brand new and with the but it now option on EBay for 9.99.... the pictures are so great that get u exited. But to be honest. I regret getting all the stuff I did cuz now I realize it just bunch of Juke. Don't believe me?? Compare before u buy.
Love it
I have purchased a lot of items on this app. Everything I have received so far is great.
Overall great experience!
Thisissilly111
on
8/19/2017
So far only one item has been slightly disappointing. Several items have already made it to me ahead of schedule and with good quality. Proud of the money I have saved so far. Thank you!
I like
Penut two four six
on
8/18/2017
It's really fun to browse the live auctions and the deals are great.but some deals are to good to be true Apple Watch for $6 no way
Baddest customer service
One star only because of the customer service. Application is great for using. Hats off to developers, actually I'm a developer too. Loved the concept. When explaining issue to the customer support, they kept leading me with different directions instead of solving out my problem. Wish could give negative rating because of the poorest support service. Came to know about the issue after receiving the product, even kept telling them again and again they didn't interested in sorting out the issue. Recommending others to use AliExpress. Not promoting, but real experience.
Such bad product.
Really trash items up for bid. Bought a few and was deff a waste of money.
Great Value
Mini Farm Girl
on
8/18/2017
So far the items I have received are really nice
Treasure Trove I Can Afford
I love this site!!! Really beautiful jewelry & other useful items for great prices! Haven't been disappointed by anything I've won!
Great
Stormie Bell
on
8/18/2017
I've used this app for a couple years and it's great.
I love it
What's one thing we all hate about apple? The charging cords. The break in less than a year. When I saw a auction on this app for 4 for pretty much free, I bid immediately. And all four cords work perfectly. I also had an item shipped to the wrong address (the other side of the country) but the customer service of TopHatter was swift to issue me a refund for the inconvenience. This app has become my guilty pleasure lol
Ok
Ok items for the prices u get them for
Awesome Auction
Shannon's 6 Plus
on
8/17/2017
Awesome Auction and FUN!
Not that great!
The app is a neat idea , but as so many things it is too good to be true. The first purchase we made we thought was a Nintendo DS or something similar. The title clearly stated retro game system, but the picture suggested it may be something more. The other misleading factor was the price. The app suggests the item is retails at $499 so you can imagine my delight when I won this item at $60 plus 6 shipping and handling. Of course I want able to review the item until I entered in my payment information. I did a little bit of research to find the item listed on Several websites at a retail price of only $15. Needless to say I cancelled my order, which was amazingly easy to do, and deleted my payment information and the app itself. If you're interested in bidding sites stick with eBay or penny auctions. This app is clearly not with the many hours you will spend poring over the items.
SCAMMMMMM
I read reviews online and peoples money has been stolen and such. I bet that all the good reviews are just the company it's self. So I bid something anyway just to see what would happen...but then never got it. I bet it was trash anyway.
It's all fake
This app is using bots to raise the price on items and sell them for higher than what they should be making it look like it's a good purchase. If you want to buy these items go get the app wish and you can not only get these items, but get them 50% off with the code, hdncgql Edit: After reading changed rating, but after winning something for cheap I am still getting people claiming item is "damaged" despite them having new ones for sale still.
Bonnie
Smuglysmugly
on
8/17/2017
I have only been on tophatter for a few weeks. I have purchased lots of items. I have only received one so far. I am going to stop until I get them. I have no idea what the quality is like
Tophatter
Richard Pridgen
on
8/17/2017
Great app need more info on shipping. And if I pay a dollar and your charging 49.00 to ship and not even one pound. At store for 29.95
JUNK
Products are usually of poor quality. It's mostly cheap Chinese imports that are way overpriced. Buyer beware, descripton of products are often false or fraudulent, and you only have a week to return any products.
I love it so far
I have just started using it recently and so far it is wonderful deals.
Amusing!
SusieTwinkles
on
8/16/2017
I enjoy shopping with Tophatter . I've been lucky and have gotten a few really nice bargains . But, i do find it amusing too many folks don't check to see how much an item would be full price ( under browse ) before jumping into an auction. Too many are paying far above the full price . I've purchased a number of items on the full price page and those prices are phenomenal and certainly TOPHATTER has great prices ... even full price . My friend bought a laptop for $20. And i keep trying ... i have a list of things i gotta have and watch and wait ! Thanks Tophatter !!!
Very cool
I really enjoy biding It's so easy to win
Soooo bad
I went on this morning and won a scent mister. I tried to pay with my credit card and I scanned the number when I pressed submit it said the number was too short!!!! Ugggh!!!
Great app
Just have to be careful it can be additive. But the best thing is if you don't like it or it breaks your money is refunded.
Constant buyer
VictoriaRose48
on
8/15/2017
I order a lot from them. I love everything from USA. But the stuff I get from China is not what you pay for. They are just toys not for the price. And there send back policy it gives you so many days to send it. I item that was not worth it I had to lose $14.50 because I didn't know about shipping label. I got it right with the next one I had to send back to China. I try not to order from there. Everything else is 5 stars. I love their app.
User Clinch
Clinchmtnboy
on
8/15/2017
All in all a enjoyable app. 2 suggestions: Offer the ability to customize the auctions being seen. I miss out on many auctions while scrolling through items I'm not interested in looking for those that do interest me. Be more up front with regard to items which are not complete systems. Case in point - backup cameras which do not include monitors. Otherwise very well done!
Quality
Everything I've bought has been great quality and if you don't like the auction side just pick an item you like and go to that sellers page for all kinds of items with great deals.
👍🏻
So far I love it. I got a lot of Christmas shopping done.
Tophatter is Good
Iphone5c user
on
8/15/2017
Good customer service, good products, good prices especially you "bidding" your own price. Good at refunding your account If product is damaged. The only down fault is having to wait too long for items sent from China. Other than that most pleased with every item I've bought.
The best auction site and app
Have bought many items and all have been great the app is easy to use
Shellidog
This app is addicting. You have so much fun as demonstrated by my credit card
Just a bit of fun
For me personally, I find some fun items or vintage purses if I am really lucky. I have had only 1 item out of 35 be broken or damaged so I am very happy. I also know that with discount prices comes items that may be used or not last long, I am okay with that because I knew that going in. I have found some fun items that I get complimented on and I like to hunt for fun deals!
Some good some bad
You never know what you're going to get it, if it's a good product or if it's a bad product until it comes to mail!
Fact Sheet
Publisher:

Tophatter, Inc.

Category:

Shopping

Released:

Apr 10, 2013

Current Version Released:

Aug 02, 2017

Version:

3.17.3

Size:

41.1 MB

Compatibility:

Requires iOS 9.0 or later.

Recommended Age:

4+

Game Center Certified:

No

Supported Devices:

iPad2Wifi-iPad2Wifi, iPad23G-iPad23G, iPhone4S-iPhone4S, iPadThirdGen-iPadThirdGen, iPadThirdGen4G-iPadThirdGen4G, iPhone5-iPhone5, iPodTouchFifthGen-iPodTouchFifthGen, iPadFourthGen-iPadFourthGen, iPadFourthGen4G-iPadFourthGen4G, iPadMini-iPadMini, iPadMini4G-iPadMini4G, iPhone5c-iPhone5c, iPhone5s-iPhone5s, iPadAir-iPadAir, iPadAirCellular-iPadAirCellular, iPadMiniRetina-iPadMiniRetina, iPadMiniRetinaCellular-iPadMiniRetinaCellular, iPhone6-iPhone6, iPhone6Plus-iPhone6Plus, iPadAir2-iPadAir2, iPadAir2Cellular-iPadAir2Cellular, iPadMini3-iPadMini3, iPadMini3Cellular-iPadMini3Cellular, iPodTouchSixthGen-iPodTouchSixthGen, iPhone6s-iPhone6s, iPhone6sPlus-iPhone6sPlus, iPadMini4-iPadMini4, iPadMini4Cellular-iPadMini4Cellular, iPadPro-iPadPro, iPadProCellular-iPadProCellular, iPadPro97-iPadPro97, iPadPro97Cellular-iPadPro97Cellular, iPhoneSE-iPhoneSE, iPhone7-iPhone7, iPhone7Plus-iPhone7Plus, iPad611-iPad611, iPad612-iPad612, iPad71-iPad71, iPad72-iPad72, iPad73-iPad73, iPad74-iPad74,

Supported Languages:

Arabic; Catalan; Valencian; Czech; Danish; Dutch; Flemish; English; Finnish; French; German; Greek; Hebrew; Hungarian; Indonesian; Italian; Japanese; Korean; Malay; Bokmål, Norwegian; Norwegian Bokmål; Polish; Portuguese; Romanian; Moldavian; Russian; Chinese; Slovak; Spanish; Castilian; Swedish; Thai; Chinese; Turkish; Ukrainian; Vietnamese;