TapNova recommends this app!
New in version 3.13.6
Description
Shop for the latest designer products and your other favorites at up to 80% off. The best deals in jewelry, apparel, accessories, beauty, electronics and more!

FREE app! Download now!

Once you've downloaded the app, you won't want to stop shopping! Bring the excitement of shopping to your fingertips.
iPad Screenshots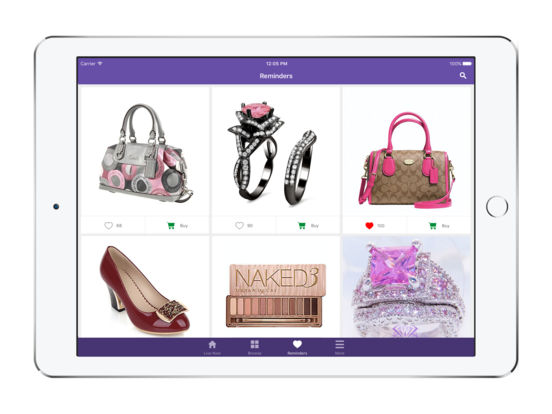 Reviews
Just saying
Takes so long to receive items. I think they say the item costs way more than it really is because when I've received an item I've bid on I've already taken a picture of what the seller says it is worth and then when I get it appraised they laugh at me when I show them the picture!!
Good app
The app is good, user friendly and reminders are a real plus. The products are hit or miss I have loved some and been disappointed in others.
Great app. No credits like promised.
App works great. Promised a $5 credit to download, tried to use it before expiration and like magic my wallet was empty. Shared with a friend to receive a $10 credit and neither of us received it? Otherwise very fun!
Addicting
I love this app... everything i win is exactly the description of what i bid on... i can't stop shopping!!!!!
Great bidding site
I love Tophatter. Maybe even too much. I've gotten so many great deals. Shopping for Christmas has never been so fun or easy. I've had two problems with sellers not shipping, but Tophatter took care of it immediately and my money was refunded on the spot. No worries with Tophatter. Thanks!!
If you can work on the shipping and handling price a will be great thanks
mona guirguis
on
6/25/2017
But Athers wise you doing a great thanks
Rate
I do agree with customer about the merchandise that you do get. Because I worked in the jewelry industry I know how to read the description of the jewelry. I saved my self aggravation when I notice that description on the top of the pictures and descriptions inside (after you click on the item) is totally different. Example is with gem stones. Another thing is when you clicking on the heart and waiting for the auction some of the item you have the option to buy without auction BUT than the price double. Jewelry I am buying good deals in Etsy website and ONLY item made in USA or Europe. (Europe design and quietly some times better than usa, not always). Nothing wrong with the app just the vendors are not reliable.
Overpriced items
The cost they claim an item to be is ridiculous. They claim an item costs $150 and have it marked down to $30. Just go to eBay and type the same item description in...you'll find it cheaper than the $30 "sale price". Perfect example is the smart watch dz09 model. They claim it retails for $499...if you just google "dz09" there are 100 retailers you can buy if from for under $20 with free shipping. This should be illegal...and y'all should be ashamed of yourselves for deceiving others like this. -@rig_welder_
Iteams take to long to receive
Love this app and the way they do business, except the items takes to long to receive and you have to wait even longer if the wrong product is sent to you. They need a direct line to Tophatter to sort out miner problems..
Greedy and Horrible Customer Service!
Horrible site and horrible selling rules/fees. If you want Chinese sellers selling you crap than this is the place for you. Stay far away! I'm surprised this site is still running with all the scams and the way they treat sellers.
Love it!
But be careful! It's too easy to spend a lot (you get a ton though) and get yourself in financial distress!! But I do love it and all the items I've received!!!
Exciting
Just like being at a live auction, lots of bargains
Awesomeness
I love love love Tophatter I've gotten so many great deals and the one problem I've had was resolved quickly!!! I would and have recommended this app to any and everyone!!!
Using app for years now!
Great discounts on genuine merchandise and great protection for buyers and sellers! A+
Great Shopping
Love this site, nice products, fast shipping.
Tophatter Shopping
I like Shopping at Tophatter, so far I get the items I bought and I really like that they keep track of where your items are.
Love, love,love.
One word.... addictive
Fun and neat!
I like the app and it's fun bidding on your items. There is so much to choose from.
Fun!
I just bid on my first item ~ and won! Paid with Apple Pay. Doesn't get much easier than this. Best of all, I got a fabulous piece of jewelry for a ridiculous low price & free shipping. I'll be doing a lot more bidding!
So much fun to shop!
I love the deals, and the flexibility this shopping experience gives you. The products are great, have fun😝
Love this app
mangone_wild011
on
6/22/2017
Bidding against others is always fun. Love the products.. yes you can find some of the products being overpriced but that's why I do a quick google search.. will continue using
It's Ight but it lies
Pretty good sales.. in waiting on one thing to come in right now so I'm not sure on the quality of the items on the app but they're like $5 sooo I'm not expecting much... 3/5 because they WAY over exaggerate the value of the items.. for example on an led mouse they have they say it's worth $999 but the most expensive one I could find online was somewhere around $30 😂 I checked several items to the same effect.. other than that it is as advertised I guess
Fun APP! Careful, may be addicting LOL!!
Lots of good quality items. Easy to use. No hassle refunds if not satisfied.
Great site
Some sellers have really beautiful jewelry. It is also fun bidding.
Ripoff! Update
I was asked by the app developer to update my review, presumably to change my opinion based on their liberal return policy. I admit, they do offer returns/refunds fairly easily. However, let's take a closer look. Almost everything I purchased was such poor quality that it wasn't worth keeping, much less actually getting any use out of it. Cheap jewelry. Practically unrecognizable coins, unlike the pictures in the auction. A drone that turned out to be a cheap toy weighing less than a half pound including the remote control. And, though they sent a link for the return label to China, it was almost impossible to print. No matter how I tried, it would only print part of the label. Saved it. Copied it. Did everything I could think of, till I finally used Photoshop to manipulate the image so I could print it. Took about an hour. Very frustrating, and I thought, no way! I'm not going through this again. So, I can't really see any reason to purchase anything from these people. Almost everything is a cheap knockoff, cheaply made, or misleading in the description, so you never know what you've bought until you receive it. And, if you do get a name brand item, it's almost certain to be a two, three, or four year old model. So, yes, Buyer Beware does apply because you have no way of knowing what you're getting. And the liberal return policy just isn't worth the hassle. Other than the fun factor, this app is a total waste of time. Sorry, I cannot recommend it. Take my advice, Delete It and Run!
Addicting
Fun to bid, so far everything has delivered
Enjoyed!
Really like the quick auctions!
Fun
Great site..... No refund hassles!!! Fun to bid.. Many items shipped from out of USA so be patient.. lol Satisfied bidder😁
Review
I have fun bidding at Tophatter. I have won items at a low cost.
Enjoy it, hooked
It has it pros & cons
on
6/21/2017
I love it but when you want to cancel something because you made a mistake, you can't bid on something for 24 hours.
Awesome
99% of my Christmas has come from Tophatter! More bang for my buck. Tell everyone you know!
Review
Peaches12122
on
6/21/2017
Very happy with my orders. Good quality
Return Policy and refunds great
Tophatter doesn't haggle with you when your product is substandard or not what you expected. Good company
Amazing!!!!
This has absolutely been the best, shopping site, ever! I love it! 😆
Rip off, name brand items are fake
I have purchased 12 different cosmetic items from this site and only 2 are genuine. They say they do not allow selling of fraudulent items but I have let them know every time and all I get in response is I can return the item if not satisfied. Then they make you pay for shipping with a tracking number to return it. If it was a genuine item I would not be returning it so I don't think I should have to pay for shipping. There is no phone number to call and when you email them you just get a rubber stamped email saying how to return. I am thinking class action lawsuit. Check every thing you get from them.
Faux products
LOTS of fake products. And when you try to return broke or fake products or request a refund you have to pay for return postage if you go over some "limit". Customer service is a joke. They parrot the company line. UPDATE; The message regarding cross country postage is a LIE. I have proof of return labels sent to me within the last month. Thankfully I paid for most items via PayPal and can get refunded that way. Don't waste your time!!!
Top hatter
Dragonlairlady
on
6/19/2017
What a great app. Love everything I've gotten!
Muy buen
Es muy buena app
Great app
Thoroughly enjoy this app
Tophatter Addict
I love this site. On it every single day 3 to 4 times a day. Products are great. Nothing misleading.
I detest the new update!!!
I went from a 5 star rating to a 2 star due to the recent update. 2 yrs ago it was wonderful. NOW it's NOT! You have to go through all the items to get to where you want to be, to even see the item you are looking for, and God forbid you push it to the left instead of right because you have to start all over from the first item to get to it again and then put a reminder in it... This new update was the worst thing they could have done. I have been looking for ways to remove the update but I cannot find any, so I won't be shopping here as much as before-which was A LOTTTTT!!! Not until they fix it!!! Please fix it back the way it used to be... I can't even chat on it now on my iPad. How boring is that!!! You have ruined an Awesome app, by updating it when the people didn't want an update!
Fun App!
I have been on TH for several months. I just went through all my purchases and I can say with confidence, most of my purchases have been good buys. As others have said, you MUST use ur common sense and READ FAST B-4 u bid. And BTW *VERY IMPORTANT* If u win an auction and change your mind whether u have payed yet or not, THE SELLER IN MY EXPERIENCE HAS BEEN AWESOME ABOUT LETTING U OUT OF THE SALE! Just ask!!! •••• ⚠️ Don't be pulled in by the gold bars, Kuugerands, etc. OLD USED COINS, etc. There's minuscule amounts of precious metal in those. There's little to no resale value. BUT, the jewelry that states Sterling Silver or authentic Karat gold I have been very happy with. Also, I purchased an older model New in Box HP Printer for under $30. I was so happy to replace my broken printer w/an HP for that Price. Have fun/Be sensible! 😁
Best app.!!
Awesome app u just have to know hot to use it
Warning!
keptwoman2004
on
6/17/2017
Can be addictive! Have gotten several things at great prices. They come well packaged and in good time. I keep coming back whenever I have the money to spend!
Recommend to everyone
Kathy L DeMaris
on
6/17/2017
I love this site, I have recommended to many friends and they get hooked just like me. Forget all the other bidding sites, this one is the best.
Tophatter
Lots of fun I've experienced good and bad. Some items are cheap be careful of some venders.
Awesome!
snowdragon30
on
6/16/2017
Fun.
Fact Sheet
Publisher: Tophatter, Inc.
Category: Shopping
Released: Apr 10, 2013
Current Version Released: Jun 20, 2017
Version: 3.13.6
Size: 35.7 MB
Compatibility: Requires iOS 9.0 or later.
Recommended Age: 4+
Game Center Certified: No
Supported Devices: iPad2Wifi-iPad2Wifi, iPad23G-iPad23G, iPhone4S-iPhone4S, iPadThirdGen-iPadThirdGen, iPadThirdGen4G-iPadThirdGen4G, iPhone5-iPhone5, iPodTouchFifthGen-iPodTouchFifthGen, iPadFourthGen-iPadFourthGen, iPadFourthGen4G-iPadFourthGen4G, iPadMini-iPadMini, iPadMini4G-iPadMini4G, iPhone5c-iPhone5c, iPhone5s-iPhone5s, iPadAir-iPadAir, iPadAirCellular-iPadAirCellular, iPadMiniRetina-iPadMiniRetina, iPadMiniRetinaCellular-iPadMiniRetinaCellular, iPhone6-iPhone6, iPhone6Plus-iPhone6Plus, iPadAir2-iPadAir2, iPadAir2Cellular-iPadAir2Cellular, iPadMini3-iPadMini3, iPadMini3Cellular-iPadMini3Cellular, iPodTouchSixthGen-iPodTouchSixthGen, iPhone6s-iPhone6s, iPhone6sPlus-iPhone6sPlus, iPadMini4-iPadMini4, iPadMini4Cellular-iPadMini4Cellular, iPadPro-iPadPro, iPadProCellular-iPadProCellular, iPadPro97-iPadPro97, iPadPro97Cellular-iPadPro97Cellular, iPhoneSE-iPhoneSE, iPhone7-iPhone7, iPhone7Plus-iPhone7Plus, iPad611-iPad611, iPad612-iPad612, iPad71-iPad71, iPad72-iPad72, iPad73-iPad73, iPad74-iPad74,
Supported Languages: Arabic; Catalan; Valencian; Czech; Danish; Dutch; Flemish; English; Finnish; French; German; Greek; Hebrew; Hungarian; Indonesian; Italian; Japanese; Korean; Malay; Bokmål, Norwegian; Norwegian Bokmål; Polish; Portuguese; Romanian; Moldavian; Russian; Chinese; Slovak; Spanish; Castilian; Swedish; Thai; Chinese; Turkish; Ukrainian; Vietnamese;