Screenshots
New in version 4.7.1
All customers:
- Edit your photos by applying filters and adjusting the brightness, color, focus, and more.
- Use 3D Touch to preview photos and take actions directly from the thumbnail.
- Verify that you're on the latest version in Settings.
- Faster image loading.
- HEIF support.
- General bug fixes and improvements.

Prime members:
- Collect unlimited photos with up to five family members or friends in the Family Vault.
- See photos of different people grouped together to browse by person.
- Type in a word like "beach" or "sunset" to quickly find photos of specific things or places.
Description
Prime Photos from Amazon lets you back up, organize, and share all of the photos and videos from your phone, computer, and other devices. You can access all your photos on nearly any device and share them with family and friends. Prime members have access to unlimited photo storage, can collect photos with up to five family members or friends, search for photos by keyword, and more.

AUTO-SAVE AND BACK UP YOUR PHOTOS
Auto-save photos and videos from your phone to back them up automatically. This free photo storage app keeps your photos and videos safe, even if your phone is lost or damaged. Once your photos are stored in Prime Photos, you can delete them from your device to make room on your phone.

FREE PHOTO STORAGE FOR AMAZON PRIME MEMBERS
Amazon Prime members receive free unlimited photo storage as part of their Prime membership.

SEARCH FOR PHOTOS BY KEYWORD
Only for Prime members and members of their Family Vault, quickly find specific photos by searching for the things in your images, like "dog," "sunset," or "Seattle." The app organizes and tags your photos automatically so everything is easy to find.

COLLECT PHOTOS TOGETHER
Prime members can invite up to five people to their account to store photos together in the Family Vault. Your invited family members and friends can store unlimited photos from their own phones, computers, and other devices, and everything is kept private unless it's added to the Family Vault.

ACCESS PHOTOS ON ALL YOUR DEVICES
Once your photos have been saved to Prime Photos, you can access them from nearly any device. Finally get the photos from your old laptop, your phone, and your desktop together in one safe place.

Features:
- Auto-save photos for easy backup and to free up memory on your device
- Back up your photos and videos securely with Amazon
- Share photos and albums via SMS, email, or other apps
- See your photos on your FireTV or on the web
- Prime members can search photos by keyword, location, and more

Prime Photos from Amazon offers secure cloud storage and online backup for your photos and videos. This free online storage app lets you upload, view, and share your important photos right on your phone.
iPad Screenshots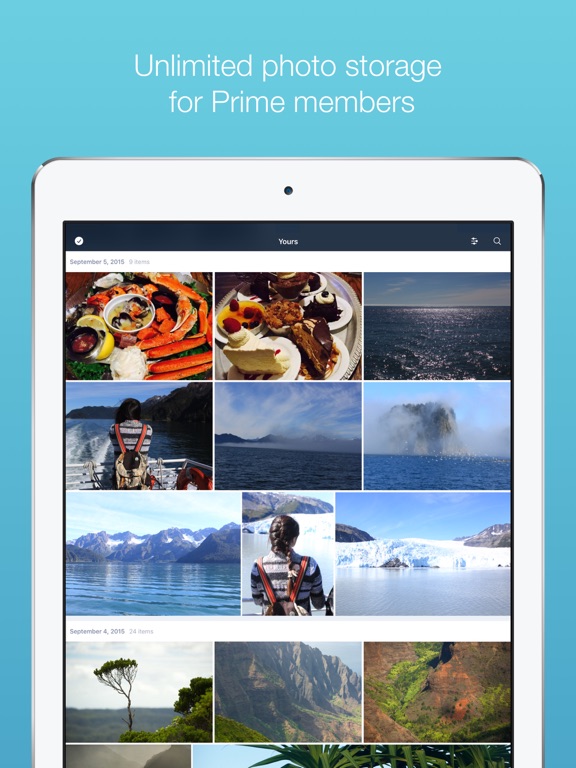 Reviews
Review
Very useful app if you need to clear up photo space on your phone!
iPhone auto sync
I love this app except for one thing, syncing. On my android phone pictures automatically sync but on my iPhone I need to remember to open the app and leave it up in order to sync. It would be great if this could be fixed.
Great way to open up some more space on my 16 gb phone.
Excellent and easy upload of photos, and free for Prime customers. Great deal.
Best App for picture back up
This is app is great its automatically backs up your photos it has great features For instance you can search pictures by name places or thing like search ocean and it will show you the pictures of a beaches from your library another reason to get amazon prime.
Thank God for this app
Shelby123456
on
9/23/2017
I lost my pictures from camera roll even though they were on iCloud but still safe on amazon
Great app
I love being able to find photos I'm looking for easily. The what happened on this day for years is great.
Great
Walker60kath
on
9/23/2017
Just started to use so so good
Love my Amazon Photo App
I gave this app 4 stars because I'd like to see it do a little more. I want to be able to print from my phone, add and remove tags to my photos and tag the photos I printed and added to an album. I accidentally add photos multiple times to albums since it does not tell me if I've added them. The price for video storage is crazy too. There are too many free apps to store my videos than pay a huge amount for storage when I already have a prime membership and buy everything from amazon.
Happy with this app!
Mrs. Barry Zito
on
9/23/2017
Love both the app and web version. Easily have access to my photos, nice UI, easy to back up photos as well.
Great service
Reliable, easy to use and peace of mind for all my memories.
Stopped working after IOS11 update
It doesn't show the pictures, only a blank square.
Buggy
Slow and buggy, the idea is great it's just the execution isn't there. It is very slow!
Great App!!!
I love the App & that it's linked with Alexa. Being able to have my pictures on our TV is wonderful for the whole family.
Seamless
Housewife of CT
on
9/23/2017
This app is awesome. All you have to do is download it and all of your pictures move over into this Amazon storage allowing you to free up storage on your phone so no more annoying your storage is almost full pop ups!
Love having a backup of my Photos
But still little bit nervous about how they're going to utilize those photos to try and sell me stuff. UI could use work to see what is being uploaded. Not sure how to use it just as a backup
Something happened
I'm not sure whether it's the iOS update or on of the numerous app's update itself, but something killed the app. I couldn't view synced photo and new pictures won't sync. I tried reinstalling the app and now it won't let me log in. Whether it's environment, iOS, or app itself, it doesn't matter - fix it!
Don't pester me for reviews
pseudomichael
on
9/22/2017
Apps that pester for reviews get a 1 star rating from me. I'm busy trying to get something done and the review begging interrupts me. Please remove this from the app. I will update to 1 star every new version until this is gone.
Awesome app
I love this app! Easy way to save photos to the cloud, and just makes my prime membership so much more valuable.
Very happy with Prime Photos
I don't know what I would do without it. So much space for this photo junky. In my experience slow motion videos do not download as slow motion videos but regular speed. Could be user error though.
Doesn't work anymore
I selected probably 80 pics and it uploaded 4. I deleted the app and redownloaded it, turned my phone on and off and it won't download any. I don't get an error or anything. It just simply doesn't do anything.
Prime Photos
I'm a fan of the amazon ecosystem. Love the continuous improvements in this app.
Prime photos
I started using this app about six months ago and everything was going great I had more storage on my iPhone and it was even starting to speed up again how ever a few updates ago this being typed on (9-20-17) my photos app became useless and I mean I can't even see any of my old photos that I had uploaded let alone upload new ones And the only reason I am doing this here is cause I can't access the help and support from my app Pls help amozon I would like my pics back
Can't even log in.
I think it might have something to do with iOS 11, so hopefully this gets fixed soon.
Love this app!
Thanks to amazon prime photos I don't need to worry about losing pictures or storage.
Fantastic
Gets everything off your otherwise "full storage". Loving it.
Photos won't upload
There doesn't seem to be a way to contact Amazon regarding the app, so I'll have to do it this way. My photos have not uploaded for the past month - the app just keeps searching for new photos but doesn't pull them in. Updating my iPhone 7 Plus to iOS 11 hasn't made any difference, unfortunately.
4.7.1 Update rendered app useless.
Cannot download photos from Prime Photos to iPhone. Reinstalled and cannot log in anymore unless I use Safari. Please help!
Great photo saving app
I love being able to save all of my photos on my phone directly to an app that only saves the new pictures. It's great having the photos accessible through my computer as well!
Awesome way to save photos
Really great app for keeping and saving photos.
Awesomeness
Awesomeness to the nth degree. Use it. You'll see.
iOS 11 photo/video formats still not supported
I have a bunch of HEIC files synced before app update and still can't view them from the app or web interface. Please fix.
Every Apple Update, It Breaks
Two stars because it's a nice add-on to my Prime Membership, but you'd think they'd give the iOS app some love BEFORE the update. It breaks in iOS 11.
Great for sharing
Using this for my daughters soccer photos allows me to share more pictures with better resolution.
The best
Love it. Perfect for storing pictures and videos. Highly recommended
Great feature with prime membership
ooooh its sash
on
9/19/2017
I am so happy that this app comes with a prime membership. My phone is always getting too full, now I am able to back my photos up and delete them off my phone! The best part is I don't have to pay extra for cloud storage, it's already included in my prime membership!
Love Prime Photos!
Easy! Backs up automatically! Love this app!!
Have issues in people section
I like this App, but the face recognition must improve. I do have google assistant and iPhone cloud too; relatively google photos or the assistant is much better than prime photos. NEEDS IMPROVEMENT!
Takes up WAY too much space.
I like the app and having a place to automatically back up my photos, but ultimately I deleted this because it was taking up 3.5 Gigs of space on my phone. I tried searching online for a solution to no avail.
Jim J
Good app for storage of your photos. No bells and whistles but it works.
Flawless
Tee Dee's Dad
on
9/18/2017
Works great! So much better than iCloud. Unlimited photo storage with Prime and 10 gb of video upgradable to 1Tb for like $10 a year. I think that's the right price. Just don't take my word for it. Check the pricing for yourself to be sure. Anyway, it's really inexpensive for the peace of mind knowing my data is stored safely where I can easily access it from anywhere. No hdd crashes to worry about. No photos being deleted from iCloud when you delete them on your phone. Just open the app and it detects & tells you how many items you have on your phone which have not been uploaded yet, and it automatically uploads them. I uploaded over 4000 pics & vids in about two hours on wifi the first time I used the app. I love it.
Awesome!
It's really cool to look at your pictures from back in the past especially for example my parents have pictures of me when I was little but I don't now with prime photos I can! Yay! Amazon Rocks!😁👍🏻
This app is so easy! I just wish it had more free video space.
Thanks
Excellent photo storage
User friendly app
Terrible app, prime photos web version is better
Very limited app, features don't work well, very slow!
It crash
Been using it for 6 months Maybe u will think it crash because I got a lot of photos but not. I ended up deleting photos and since I can't save using this apps I end up deleting it
Love the years past feature
Shandals 🐘🐘🐘🐘
on
9/18/2017
Our family backs up our photos to three different back up servers, however Amazon is by far our favorite. Love that it shows our photos from this day from years past. Makes going over past experiences so much easier (and enjoyable). Thanks Amazon.
Nice alternative
Solid app and a great alternative to buying additional cloud storage
Tagging photos/faces
MissRebeccaG
on
9/17/2017
This would be a great app if it gave us the ability to manually tag photos and faces. Possibly moving to Google Photos because of this.
Very Nice App!
Suresh Sanga
on
9/17/2017
Great One to have on the iPhone!
Fact Sheet
Publisher:

AMZN Mobile LLC

Category:

Photo & Video

Released:

May 09, 2013

Current Version Released:

Sep 18, 2017

Version:

4.7.1

Size:

112.1 MB

Compatibility:

Requires iOS 9.1 or later.

Recommended Age:

4+

Game Center Certified:

No

Supported Devices:

iPad2Wifi-iPad2Wifi, iPad23G-iPad23G, iPhone4S-iPhone4S, iPadThirdGen-iPadThirdGen, iPadThirdGen4G-iPadThirdGen4G, iPhone5-iPhone5, iPodTouchFifthGen-iPodTouchFifthGen, iPadFourthGen-iPadFourthGen, iPadFourthGen4G-iPadFourthGen4G, iPadMini-iPadMini, iPadMini4G-iPadMini4G, iPhone5c-iPhone5c, iPhone5s-iPhone5s, iPadAir-iPadAir, iPadAirCellular-iPadAirCellular, iPadMiniRetina-iPadMiniRetina, iPadMiniRetinaCellular-iPadMiniRetinaCellular, iPhone6-iPhone6, iPhone6Plus-iPhone6Plus, iPadAir2-iPadAir2, iPadAir2Cellular-iPadAir2Cellular, iPadMini3-iPadMini3, iPadMini3Cellular-iPadMini3Cellular, iPodTouchSixthGen-iPodTouchSixthGen, iPhone6s-iPhone6s, iPhone6sPlus-iPhone6sPlus, iPadMini4-iPadMini4, iPadMini4Cellular-iPadMini4Cellular, iPadPro-iPadPro, iPadProCellular-iPadProCellular, iPadPro97-iPadPro97, iPadPro97Cellular-iPadPro97Cellular, iPhoneSE-iPhoneSE, iPhone7-iPhone7, iPhone7Plus-iPhone7Plus, iPad611-iPad611, iPad612-iPad612, iPad71-iPad71, iPad72-iPad72, iPad73-iPad73, iPad74-iPad74,

Supported Languages:

Catalan; Valencian; English; French; German; Italian; Japanese; Portuguese; Chinese; Spanish; Castilian;