Recommended app!
App last updated
Jan 17, 2018
Screenshots
New in version 4.10.2
- Download and play back your Live Photos.
- General bug fixes and improvements.
Description
Prime Photos from Amazon lets you back up, organize, and share all of the photos and videos from your phone, computer, and other devices. You can access all your photos on nearly any device and share them with family and friends. Prime members have access to unlimited photo storage, can collect photos with up to five family members or friends, search for photos by keyword, and more.

AUTO-SAVE AND BACK UP YOUR PHOTOS
Auto-save photos and videos from your phone to back them up automatically. This free photo storage app keeps your photos and videos safe, even if your phone is lost or damaged. Once your photos are stored in Prime Photos, you can delete them from your device to make room on your phone.

FREE PHOTO STORAGE FOR AMAZON PRIME MEMBERS
Amazon Prime members receive free unlimited photo storage as part of their Prime membership.

SEARCH FOR PHOTOS BY KEYWORD
Only for Prime members and members of their Family Vault, quickly find specific photos by searching for the things in your images, like "dog," "sunset," or "Seattle." The app organizes and tags your photos automatically so everything is easy to find.

COLLECT PHOTOS TOGETHER
Prime members can invite up to five people to their account to store photos together in the Family Vault. Your invited family members and friends can store unlimited photos from their own phones, computers, and other devices, and everything is kept private unless it's added to the Family Vault.

ACCESS PHOTOS ON ALL YOUR DEVICES
Once your photos have been saved to Prime Photos, you can access them from nearly any device. Finally get the photos from your old laptop, your phone, and your desktop together in one safe place.

Features:
- Auto-save photos for easy backup and to free up memory on your device
- Back up your photos and videos securely with Amazon
- Share photos and albums via SMS, email, or other apps
- See your photos on your FireTV or on the web
- Prime members can search photos by keyword, location, and more

Prime Photos from Amazon offers secure cloud storage and online backup for your photos and videos. This free online storage app lets you upload, view, and share your important photos right on your phone.
iPad Screenshots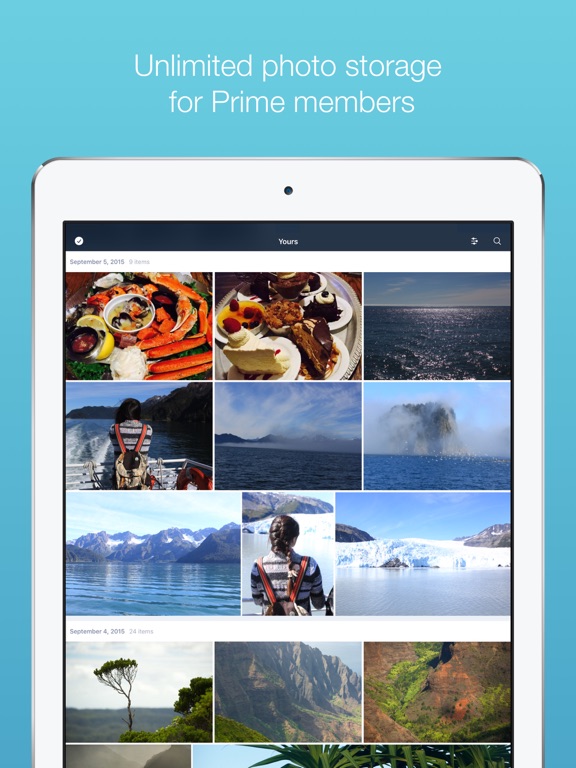 Reviews
Deleted Photos without Backing Up
I was trying to make a back-up of all my pictures on my phone so I could clear up some space. Instead the app did it for me, deleting over 7k pictures WITHOUT backing them up. I don't know why it did this but I'm devastated that this many pictures were deleted and I have no idea if I have them somewhere else. I'm extremely disappointed with this app.
I want more but what would I expect?
carissasophia
on
1/21/2018
I feel like this is a great app that I'm finally glad I gave into using. I had a hard time trusting it could be a good idea. Few months later and it's almost behaving just like I expected. Wish it was uploading automatically at home when plugged in. I might have to dig deeper in settings. Or at all.
Great app
judyyoumanscollins
on
1/21/2018
I just realized I had this app and I love it. I love that it's can recognize faces. It's truly one of my favorite apps.
Still no support for native photo format on new iPhones.
This was the best way to store photos out there but without native .heif and .hevc support all of your photos and videos get converted and made larger to store now. Just makes no sense at all. I guess just part of Amazon's way to get you to pay to store your videos since they low them up in size before storing them in the cloud. Now that there are free codecs available so windows systems can view them there is no excuse to not support the newer native format. This is a worthless 1 star app until NATIVE .HEIF and . HEVC formats are supported at least as an option.
Free
Very early in development. Will give program a few months prior to follow up
Add App Lock Screen Password or PIN
Overall great app. I like the hide and unhide feature of photos and/or videos, but what would make it great is if you could add functionality for an app lock screen or PIN for additional security, similar to the Kindle and Kindle Fire. Please and thank you! In fact, it would be great it if you added app locks for the entire suite of Amazon apps!
Use IFTTT to sync camera roll
Frees up loads of space on my iphone to use this in lieu of camera roll
جيد ولكن هناك الأفضل
بعد سنتين من استخدام البرنامج اخيراً تخلصت منه وألغيت اشتراكي. البرنامج جيد وممكن ان يرتقي الى الممتاز اذا كان القائمون عليه يسمعون الشكاوي. ميزه التعرف على الوجه هي اتوماتيكيه فتختلط الصور مع بعض خصوصا للأطفال، وقد طلبنا منذ اكثر من سنه اضافه التعديل على ميزه التعرف على الوجه بشكل يدوي لكن الادارة لا ترد. أيضا كان الاشتراك بسعر $59 لمساحه غير محدودة، الان اصبح نفس السعر ل 1 TB . اخيراً البرنامج يفتقد لبعض المميزات الموجودة في الابل مثل عمل فيديو من الصور أتوماتيكيا.
Effortless and Free
I love how this app automatically saves pics i take w my iPhone. Also free w Amazon Prime. No more storage messages from Apple.
Incredible !!!
This APP has been a god sent. It keeps my storage levels so much lower. There are some quirks to it but super easy once you maneuver around it
Great app
Love that I can keep all my pics and videos without sacrificing space on my phone! And bonus that it's with a company I know and trust.
Great app
Colorbug5363
on
1/17/2018
I really like this app. I gave it 5 stars but have not used it extensively. It's just great to have my photos saved so I can delete pics from my phone without worry.
Simple, effective, easy
I love the Amazon app for its simplicity, easy use, and effective results. Quick and easy way to store, review, and enjoy your photos.
Works for me !!
Need it for just what it does for digital pics
Almost the Best
Stadiumcraze
on
1/16/2018
Moved to Prime Photos as I was getting too many pics for lower tier Apple storage so since I had Prime I took advantage of the unlimited pics with Amazon. Love the app. Layout is better than Apple Photo Library with easier filtering and love the ability to change the photo taken date (great for scanned pictures). To me, Google Photos is the best low cost photo storage out there. In my opinion Prime Photos is close with the only shortcoming vs Google is the lack of movie making, slide shows, etc...
Has glitches
Hike The World
on
1/16/2018
I am trying to use this app to maximize my Prime but it is frustrating at best. I have been connected to WiFi all morning yet it still hasn't added the 12 additional photos from the last time I updated. This is not the first time it has happened. Also it is next to impossible to view photos on the app.
Used to work now doesn't
Shadeymcgrady21
on
1/15/2018
Used to work decently now I can't see photos at all or back up new ones.
Awesome media cloud
Google drive compressed my videos and the loss in quality was very obvious. I tried Amazon not really having any faith. It is awesome longer to upload than google. But great quality once it's online. And plays immediately.
Prime Quality
Easy to use. You take photos & it does the rest.
Great app
Love it. Keep all memories organized !
Only use as secondary backup
Two major flaws. It DOES NOT auto backup. In however many years this app has been out, auto backup only worked for a few weeks. You must open the app in order for pics to be uploaded. Big fail. Second failure, go on the website and download all your pictures... it is an exercise in frustration
Best cloud app
That's a true statement, let me tell you why. All the other photo clouds tell you that they saving us disk space by backing up our photos and saving them all in their clouds. Not true! They copy our photos , but when we erase our original photos from our devices they also get deleted from the clouds. They are not supposed to be just copying our photos, they are supposed to be saving them after we delete them from our devices. Otherwise where are we saving any space on our devices? This is the only one that I found that actually lets you delete photos from your devices and safely saves your originals. Therefore actually freeing up our disk space. Great app!
More storage for grandbabies's photos & vids❣️
Now I don't have to worry about running out of memory on my phone! Thanks, Amazon!
Works Well as Backup
The Kenmeister
on
1/14/2018
This is not just a syncing app. If you are low on space on your iphone, deleting photos does not mean they will be removed from Prime Photos. Great way to manage your storage!
The perfect storage for my pics
Juancarlos Aljure
on
1/14/2018
- Continuos sync - multiple devices are backing up - can view images on my TV The best! Ps. I don't care if iOS tells me that I'm out of storage space.
Almost perfect
Arealgoodman
on
1/13/2018
Great app that could use a couple tweaks. They need to find a way to remove duplicates automatically, and an option to complete photo uploads automatically in the background without having to keep the app open. Also, I find it to be a major missed opportunity that they have not incorporated their printing service into the app, nor created an app for their Amazon Prints service! It would be so much more convenient to create and order photo products in the app, instead of having to do it on a computer and having to locate the photos there. Step it up here Amazon! I'd love to simply click on a photo in the app and order prints or gifts all from within the app. Hurry up and take my money!
Great for storing photos
This is a fantastic app that will store all of your photos. I love that it automatically saves my pictures!! My only complaint is that the app is a bit slow.
Great for Storage
GrandCanyonGal
on
1/13/2018
I take loads of photos. This just to eat up my iPhone/iPad storage. Now I can store all photos here. Since I'm a Prime member, the storage is fee and unlimited!!!! Simply super.
Great for teachers
Upton bros rule
on
1/13/2018
I am storing all of my class pictures in prime using the app. It makes it so easy! It even sorts the kids using face recognition. It is going to make my end-of-the-year slideshow much easier to put together!
Bright future
Definitely a great product that has promising future.
Amazing value
See the title, it says it all
Once again uploading twice
If you edit a pic after app has synced, app will frequently think it's a new photo and upload again. Since I have it set to auto upload, I have lots of dups. Will occasionally get stuck on "checking item is backed up" and include photos that have been deleted.
Last update is terrible
Nothing loads with the new version. Nothing. Not the pictures. The pictures won't download. I can't even view my storage because it won't load anything. Absolutely horrendous. This is not an internet connection, but on the app side. Stunned by how useless the app became. Needs to be fixed.
Love the app
This is my go to photos manager given that it syncs the pictures across all the my computers and devices.
Almost the best
Internetotaku
on
1/11/2018
Not quite as friendly, nice, fast, or fun as Google Photos. I wish it had some of Google's features but really my only complaint is that it hardly uploads unless the app is open and you're watching it.
Pay for iCloud? Nah
This app is great. Unlimited storage for photos is pretty much just what I needed.
I can never view anything!
All of The sudden when I open this app and I back up everything and then I can't view any pictures I get a broken icon image.
Love storing photos
I love being able to back my photos up without using icloud. I can also access them on any computer if I need to. Simple and user friendly.
Can't see my photos
Photos won't load or show up on my iPad, the app works great on my galaxy note 8. Please fix this bug so I can see my photos on my iPad!!! Update: had to uninstall and then reinstall app onto my iPad, now I can see my photos again.
another great value
prime is amazing. so many values. love it
Great App!
Unlimited photo storage & automatic back up from your phone! Love it!
No Pictures
The Mad Twatter
on
1/9/2018
None of my pictures are showing. Neither on cellular or WiFi. What good is this app if I can't get my pictures. It's been like this since before the last update.
Why I love this app
It backs up all the pics I take on my phone, and the sorting algorithm is great. I can search for "dogs" or "hockey" or "garden" or "Mom" and it will find the exact pictures I'm looking for. I also like the trip down memory lane without all the FB drama with the On This Day feature. App is lightweight and easy to use. No brainer.
Great app
Does what it says and does things well. Put these developers on the Alexa app!
If only...
...it could backup in the background more efficiently than it does. Many times it won't back up until you go in and open the app again while rivals like googles photos shows as backed up as soon as you open it. Otherwise it's a great way for prime members to keep a copy of images that might necessarily be not needed on the phone letting you to download them again is necessary. Shame there is only 5GB of Video & other file storage though. But it's free with Amazon Prime and if you use Prime a lot it's essentially free.
Photo's
I forget about this app. So I haven't used it much. I absolutely LOVE EVERYTHING about Amazon Prime, so I'm sure it will be great when I start using it more
Lightroom Doesn't Recognize iPhone photos in Prime
After I turned on Prime Photos on my phone, I connected my iPhone to my computer and tried to import my photos into Lightroom. Lightroom did not recognize any of the photos for import that had copies saved in Prime Photos. It was like my phone was empty, even though my photos still show on my phone. So, while Prime Photos sounds like a great idea for cloud storage, it will screw up any photographer's workflow who uses Lightroom. Now I'm trying to find instructions for downloading my photos from Prime to my computer, so I can import them in Lightroom. All kinds of tips on putting photos into Prime, but still looking for how to retrieve the full res copies. That should be a basic function of cloud storage: retrieving your photos from the cloud.
AWESOME APP 👍🏼
Very easy to use .... Great if you have the AMAZON STICK ... Goes right to TV ... Family loves seeing all photos and videos on 50" screen !!!
Nice
Very nice and easy to use. Love it
Great app
Good one to save photos...wish they provide unlimited quota for videos as well
Fact Sheet
Publisher:

AMZN Mobile LLC

Category:

Photo & Video

Released:

May 09, 2013

Current Version Released:

Jan 17, 2018

Version:

4.10.2

Size:

124.4 MB

Compatibility:

Requires iOS 9.1 or later.

Recommended Age:

4+

Game Center Certified:

No

Supported Languages:

English; French; German; Italian; Japanese; Portuguese; Chinese; Spanish; Castilian;