Screenshots
New in version 4.9.0
- Add or edit the date taken on your photos and videos.
- Use 3D Touch shortcuts to easily jump into specific parts of the app from your home screen.
- Protect your hidden photos and videos using Face ID, Touch ID, or Passcode.
- Download Live Photos back to your phone.
- General bug fixes and improvements.
Description
Prime Photos from Amazon lets you back up, organize, and share all of the photos and videos from your phone, computer, and other devices. You can access all your photos on nearly any device and share them with family and friends. Prime members have access to unlimited photo storage, can collect photos with up to five family members or friends, search for photos by keyword, and more.

AUTO-SAVE AND BACK UP YOUR PHOTOS
Auto-save photos and videos from your phone to back them up automatically. This free photo storage app keeps your photos and videos safe, even if your phone is lost or damaged. Once your photos are stored in Prime Photos, you can delete them from your device to make room on your phone.

FREE PHOTO STORAGE FOR AMAZON PRIME MEMBERS
Amazon Prime members receive free unlimited photo storage as part of their Prime membership.

SEARCH FOR PHOTOS BY KEYWORD
Only for Prime members and members of their Family Vault, quickly find specific photos by searching for the things in your images, like "dog," "sunset," or "Seattle." The app organizes and tags your photos automatically so everything is easy to find.

COLLECT PHOTOS TOGETHER
Prime members can invite up to five people to their account to store photos together in the Family Vault. Your invited family members and friends can store unlimited photos from their own phones, computers, and other devices, and everything is kept private unless it's added to the Family Vault.

ACCESS PHOTOS ON ALL YOUR DEVICES
Once your photos have been saved to Prime Photos, you can access them from nearly any device. Finally get the photos from your old laptop, your phone, and your desktop together in one safe place.

Features:
- Auto-save photos for easy backup and to free up memory on your device
- Back up your photos and videos securely with Amazon
- Share photos and albums via SMS, email, or other apps
- See your photos on your FireTV or on the web
- Prime members can search photos by keyword, location, and more

Prime Photos from Amazon offers secure cloud storage and online backup for your photos and videos. This free online storage app lets you upload, view, and share your important photos right on your phone.
iPad Screenshots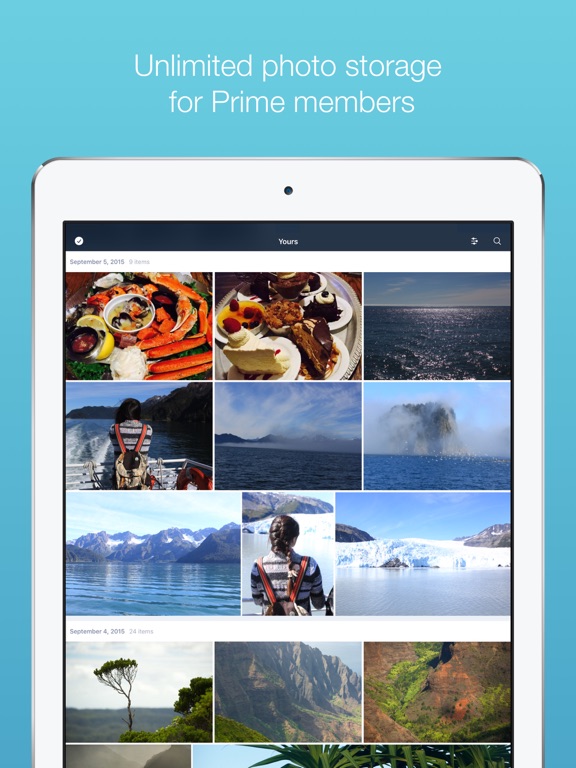 Reviews
Doesn't work anymore
breathetoday
on
11/18/2017
Suddenly this app stopped working. Updates haven't fixed it and there's nothing wrong with my phone. I can't see any of my photos that I've uploaded and it won't upload any more photos. All it shows is a broken photo icon. Pretty annoying.
Stoped uploading my photo since late October 2017
Heavy blackberry user
on
11/18/2017
This app completely stopped uploading my photo since late October. Tried all kinds of tricks: deleting and reinstalling, restart phone. What happens to you Amazon!?
Well
taylornorrisspano
on
11/17/2017
The app was working completely fine until the last update, doesn't load anything and doesn't upload
A+ for Prime Members with kids
This app works great for storing photos automatically from my phone and my kids phones. Helps me stay up to date with them a little bit. I also love the daily setting that shows me photos from this day 1 year ago 5 years ago etc it brings back memories all the time. Great App.
Fantastic
Great app, unlimited storage!
Excellent photo storage and reminders
I love this, I have it set to upload when I open the app on any wifi. Automatically my photos are saved. And every day it reminds me what I uploaded from previous years. I love seeing photos of my kids as babies!
Doesn't really work
So, at first I liked this app because it was an easy way to store photos off my phone (I'm a Prime member). Unfortunately, the app doesn't work. Photos won't load and I can't upload anything. I tried going to directly to the website and have the same problems with photos not loading. Super disappointing!
Videos get stuck on iPhone X with new heic format
Brainzacharya
on
11/16/2017
10 of my videos which I shot on 4K 30fps are stuck and not getting uploaded. The app doesn't support the new HEIC format which apple introduced in iOS 11.
Great App
Unlimited, uncompressed image storage for Prime customers... can't beat it.
No funciona
Después de la actualización de IOS 11 dejo de funcionar.
Recent update broke the app
topherMario33
on
11/15/2017
Nothing will load after latest update.
Easy to upload photos
Easy to upload photos and access them across devices. Works better than similar apps for Flickr and even Apple's frustrating Photos.
Amazing
Really helps with phone space.
5 Stars!
This app is very convenient to use, maybe will be great to have more storage for the video files (it's fine if it's not free). Thanks for the brilliant idea to sent the "See This Day in past years" notifications, that is very cool!
Good app for Prime members
Easy sync / backup from my iPhone to Prime photos.
Harry Janice
Hjanice19701234
on
11/14/2017
I absolutely love this app. I have mine set to let me see on a daily basis pictures and videos that were taken almost 20 years ago. When we signed up for this product we uploaded all of our pictures to keep them safe.
Great app - Quick transfers to the cloud
I was ALWAYS running out of space on my phone. No more! Very easy to use app.
Perfect
4awesomeKids
on
11/13/2017
As a professional photographer I know how important it is to back up your photos. I use this app to back up the photos I take with my phone so I know they're safe. I love Prime Photos.
Great app
Works great wish we could do more with the albums and not have double photos
One of the best storage apps
James baker001
on
11/13/2017
I know
Amazon Prime Photos
Dixie Lynn Crabtree
on
11/13/2017
Love it this app has been wonderful for me! Although it use to help remove duplicate photos and I've noticed when my photos moved to prime, I have to remove all the copies (if there were more than one) myself.Though I don't mind doing so because Amazon has been a good app for me. Amazon photos,Amazon music and Amazon store and I I love shopping in there store. Lots of options this is good for me. I recommend Amazon with a 5***** if I was asked where to shop online first thought that comes to me shop in Amazon there's something for everyone!
Was great but is now broken
Rockhammersmash
on
11/13/2017
Worked great for a while, but the app now refuses to upload heic files. None of my recent photos are uploading at all anymore :/
They must be kidding
You can upload thousands of photos IF You are willing to click on them ONE EFFING PHOTO AT A TIME Are they serious ? I have 50 Albums on my iPad. This app wants me to CLICK ON EACH AND EVERY PHOTO ONE AT A TIME. This cannot be the same Amazon that has the world's best website. They must have hired Microsoft or Cablevision to program this app.
Prime Photos is the...
GGkdhrjfuen
on
11/12/2017
App my friend Thatcher works on. He has mad skills. The App pisses excellence.
Oh no! Things have changed!
I loved this app as I use the family vault with my family. With the iPhone X, I can no longer select multiple photos to share in the vault or delete. Now you have to do one picture at a time which really takes a long time. It appears that the he layout on the phone covers the button to add to the family vault. Please fix and I will change my rating.
Great, easy app
FrouFrouSueSue
on
11/12/2017
I've used this app for just a few weeks but I love the ease of use. It does take a while to upload videos and that was the main reason I downloaded it.
I use all the time
Love it!
Favorite app on my iPhone
I have saved so much space on my phone just from using this app.
Awesome app!
I love this app! Easy to use, saves me a ton of phone space and...it's Amazon!! They hit another one out of the park! Only flaw is that it doesn't always import your photos unless you open the app.
Great app!!!!!
roseinblumes
on
11/11/2017
This is my favorite app 👍I use this app everyday and I love it!!!!!!!
Easy & Excellent
Mindful motion
on
11/10/2017
Love this app. Endless storage and easy to use
Awsome
Its just me 99
on
11/10/2017
Great way to store your photos and clear up space on your phone.
Good way to backup and save photos
MeandMoon56
on
11/10/2017
I like this app. It has taken me some time to learn how to use it but tech support is readily available. It comforts me to know I won't lose all my work. I agree that the albums are a little tricky to figure out and the you have all kinds of duplicates because they're still stored in the main folder.
Great app
This app is great, as long as your phone has storage available.
I like it but,
It's too slow with uploading.
Almost the perfect photo storage app!
With just one or two tweaks this could be the perfect way to store photos. I love the feature where it shows you photos from this date in the past. I like the fact that the photos are organized by the date they were taken, not the date you uploaded them. This takes out the step of trying to organize the photos in the correct order. The fact that this app has unlimited storage with your prime membership is such a great value and saves so much money. But where the app falls a wee bit short, is in these ways. 1. It doesn't tell you if you are uploading a duplicate photo. 2. There is no way to rotate the photos in the app. You have to download the photo, rotate and edit it in another app, then upload to this app. 3. When you make an album, you can't remove the photo from the main part. So you have duplicates. At least let the people who don't want numerous copies of the same photo delete them from the main list. But it is all in all great app and I will continue to use it. None of the issues are a deal breaker. I think if you try this app, you will like it.
Fix family vault
Way too many steps to add to a family vault now for iPhone X
Not working with new iOS
I loved this app until i updated to the newest iOS on my phone and now photos won't upload. I get stuck with a message that reads "Checking items are backed up"
Essential App
Having the peace of mind along with unlimited picture storage with Prime makes it a no brainer
Needs bug fixes
Amazon Prime Photos is a great cloud storage alternative to Apple's photos mainly because I can delete the photos from my device and still keep them in the cloud. The website works well on my Mac, but the iPhone app crashes when scrolling through the pictures, even slowly, on my iPhone 6+. If this bug was fixed, it would be a 5-star app.
No manual tagging
As a place to store, it is great, but people are frequently tagged or grouped wrong. This is a huge problem, because there is no way to correct it. No way to manually put a photo to the correct person or manually tag it with the correct name.
Good except for review nagging
Yet here we are, so it seems to be working. Now.... leave me alone !
Great way to share photos
This is a great perk with prime
Solidifies the link between Amazons Apple platform.
M⃟I⃟C⃟H⃟A⃟E⃟L⃟
on
11/7/2017
When I first made the jump from the many troubles of the Android (I lost years of photos and videos that were priceless) 20 years of contacts, all gone. I could not recover those things because I would have to deal with the very same software that ruined everything. Fool me once and all that...The move to Apple, was the best thing I ever did. BUT, I had trouble keeping that link open. I am VERY touchy concerning my music collection; over a thousand dollars in purchased music that I worked on for years, and I was furious if any dumping or messing with any of my apps occurred, my wrath burned no small number of techs ears I have no doubt! But now, my new photos, videos, and music are happily sharing space thanks to the iPhone, Microsoft, Amazon, and my new home with Apple.
Pictures do not load
I used to LOVE this app. Now it is completely useless. For the past 8+ month my thousands of pictures won't load (on the app or in the website). It is incredibly frustrating to be paying for a service that doesn't work, being told that it is a "glitch" and not being given any sort of indication as to when said glitch will be fixed.
Solid app
Gdhrhfghffghydsgjjmike
on
11/6/2017
Good app. Nice to be able to share pics with family in one place. Not the most intuitive upload process but it works.
Very pleased.
9 out of 10. Easy to use, just wish it was easier to figure out to link all my family accounts.
Good app
Good app for photo storage.
Worked at first ...
Now it's stuck and won't load my photos. Extremely annoying to think I have to now delete the app and load ALL photos which took days. Very disappointing- i was loving the app
Fact Sheet
Publisher:

AMZN Mobile LLC

Category:

Photo & Video

Released:

May 09, 2013

Current Version Released:

Nov 15, 2017

Version:

4.9.0

Size:

168 MB

Compatibility:

Requires iOS 9.1 or later.

Recommended Age:

4+

Game Center Certified:

No

Supported Devices:

iPad2Wifi-iPad2Wifi, iPad23G-iPad23G, iPhone4S-iPhone4S, iPadThirdGen-iPadThirdGen, iPadThirdGen4G-iPadThirdGen4G, iPhone5-iPhone5, iPodTouchFifthGen-iPodTouchFifthGen, iPadFourthGen-iPadFourthGen, iPadFourthGen4G-iPadFourthGen4G, iPadMini-iPadMini, iPadMini4G-iPadMini4G, iPhone5c-iPhone5c, iPhone5s-iPhone5s, iPadAir-iPadAir, iPadAirCellular-iPadAirCellular, iPadMiniRetina-iPadMiniRetina, iPadMiniRetinaCellular-iPadMiniRetinaCellular, iPhone6-iPhone6, iPhone6Plus-iPhone6Plus, iPadAir2-iPadAir2, iPadAir2Cellular-iPadAir2Cellular, iPadMini3-iPadMini3, iPadMini3Cellular-iPadMini3Cellular, iPodTouchSixthGen-iPodTouchSixthGen, iPhone6s-iPhone6s, iPhone6sPlus-iPhone6sPlus, iPadMini4-iPadMini4, iPadMini4Cellular-iPadMini4Cellular, iPadPro-iPadPro, iPadProCellular-iPadProCellular, iPadPro97-iPadPro97, iPadPro97Cellular-iPadPro97Cellular, iPhoneSE-iPhoneSE, iPhone7-iPhone7, iPhone7Plus-iPhone7Plus, iPad611-iPad611, iPad612-iPad612, iPad71-iPad71, iPad72-iPad72, iPad73-iPad73, iPad74-iPad74, iPhone8-iPhone8, iPhone8Plus-iPhone8Plus, iPhoneX-iPhoneX,

Supported Languages:

Catalan; Valencian; English; French; German; Italian; Japanese; Portuguese; Chinese; Spanish; Castilian;