Games
Entertainment
Word
Card
Recommended app!
App last updated
Feb 14, 2018
Screenshots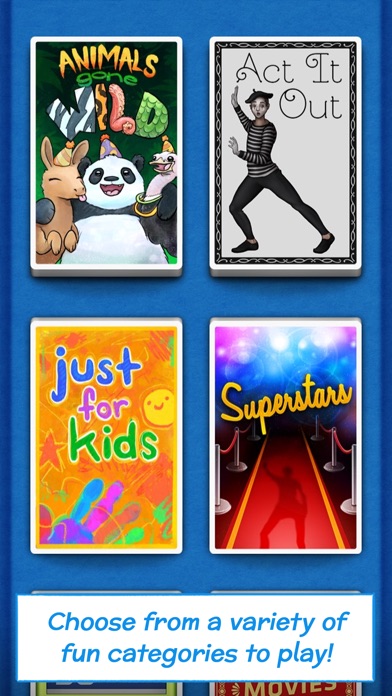 New in version 3.9.2
Did you hear about the new restaurant on the moon? The food was good, but it had no atmosphere.

More updates and improvements!
Description
It's the game The New York Times called a "Sensation," and Cosmopolitan said "will be the best dollar you've spent." Heads Up! is the fun and hilarious game from Ellen DeGeneres that she plays on her show, and you can play with your friends!

From naming celebrities, to singing, to silly accents -- guess the word on the card that's on your head from your friends' clues before the timer runs out!

Play one of the many exciting categories, or create a category all your own!

Features:
- Play with one friend, or one hundred at the same time.
- Draw a new card simply by tilting your phone.
- Keep videos of your hilarious game play for your own amusement, or share them right to Facebook.
- Diverse categories let you challenge your smartypants friends and entertain your kids for hours, all from one app!

With 40+ themed decks packed to the brim with exciting gameplay cards, the fun will never stop!

Decks include:
- Celebrities
- Movies
- Animals
- Accents
- Characters
- And lots more!

Game-nighters, your app is here.
iPad Screenshots
Reviews
LOL!
This is a great game, it's going to make you laugh!
great game
great for waiting and so fun to play with friends also is so fun for long car rides
Uncomfortable conversations?
Joanimal_inME
on
3/16/2018
Why are there only three questions to uncomfortable conversations category?
Good fun at parties
Fun for all ages
Payed - still have adds
Even though you pay for the app you don't get very good categories it seems, and I had a 30 second add. Worst trade deal in the history of trade deals.
How to restore apps from an old phone to my new phone
Aries.girl.325
on
3/11/2018
Love the app. I just want to restore games from my old iPhone and iPad to my new one without purchasing the apps again
Can't restore purchases!
Pinterest Princess Melissa
on
3/11/2018
I love this app, but after it had been deleted by accident and I've been unable to restore the purchases I made. Anytime I try, I get an error message. I'm very upset because I spent my actual money on these virtual decks and cannot reaaccess them.
Cool
It is a fun and cool game
HEADS UP, WHaaat! Disneystyle
We loved the free Disney app while we waited in long lines at DisneyWorld! If we could have had churros delivered to us as we waited that would have been truly magical! Thanks for entertaining us in the Happiest place on earth!
Not enough free decks
skittles111111111
on
3/9/2018
Wish there were more free decks or ways to unlock desks without using real money
Easy quick fun!
Loads of fun for this family of 6
Fun and good but problem
annysuperstar
on
3/4/2018
I love this game and think it is really fun but I don't like how you have to pay to play the all the good themes
Love it!
My friends and I love to play this game when we are all together. Recommendations: 1) Allow users to choose game length. 2) Let users share their custom decks with friends 3) More decks!
Poor design
Removed it from the google play store. And I can't use free examples because there aren't any Ads to watch. Wow.
here and gone
bought this app one night because my friends phone was dead because we had been playing this game all night. That first night we played all different decks over and over. Now, when I open the app they are requiring payment to play the same decks that we used the first night without payment. There are fewer "free" decks on my phone then on her android. This game is a rip off.
Errors
Too many errors and have to pay for each different category and frequently timed out & froze with timer running. Fix these problems!
I don't usually buy games, but this is worth it!
Clairecummings91
on
2/24/2018
Perfect for family reunions, Friendsgiving, hanging out, pregaming, you name it. This game is BRILLIANT and endless amounts of fun!!
LOVE IT!
I LOVE THIS GAME!It is fun for everyone.You got to download it!
Horrible
Es una macana debes pagar para todo
Rhinos are not buffalo
Good.
Awesome game!
Lady gaga41840
on
2/18/2018
This is a great really fun game for everyone to play! No bugs or performance issues at all! Definitely recommend! 😃
I want to refund your stupid app
This is a bad game I regret buying it. It's stupid I thought it would be a good game but nobody in my family ever wants to play it with me. I cant have any friends over because my dad is on chemotherapy. I don't have anyone to play with. The only way you make money is not on tv you "60" year old lady. You make like $5 every time somebody downloads the dumb game. Go die!!!!!!😡😡😡
Very fun!
This is a very fun game you can play with your friends or family, I would definitely not regret the one dollar I paid
add custume and more free inapp
Amir Hossein
on
2/16/2018
please
Awesome
11223344566577879908
on
2/14/2018
This app is so fun for rides in the car sleepovers or just to solve boardom
LOVE THE CRAP OUT OF IT but I have one suggestion!
MaryJaneMarie
on
2/14/2018
I'll start by saying my spouse and I LIVE (went to type love, autocorrected to live, that also works, I'm going with it) this game, and we were super stoked to have the 90 second time limit! My suggestion would be to have the option to have a longer time limit...I'm absolutely certain that a chunk of your users smoke marijuana (legally, of course.....😑), and to be honest, the longer time limit is pretty darn necessary. I (I mean they...) would probably pay for it in an in app purchase, $1.99 sounds pretty good, just sayin'
Fantastic family game!
Whenever we go out to eat we play this while waiting for our food. It's always a fun time and sometimes even the waiter/waitress play along. Super fun! Super family friendly!
LOVE HEADS UP!!!
Can not begin to tell you how many parties "Heads Up" on my iPad/iPhone has livened up! You laugh & cry & have the best time w/friends or use it as an icebreaker!!! LOVE IT!!!
Ellen is great
Jessica.jeme
on
2/13/2018
This game is cool
Heads up
Heads up is fun entertaining and uplifting
Mia helena rivera
I love it to play it in the car
Spanish
Need a Spanish language game ASAP
I love this game and it's great for the entire family.
We have such a great time playing. There is a deck for everyone including each of our favorite shows. We play at dinner, we play at Disneyland while in line, we play for family game night. It's so much fun and we always look for new decks. And for just adults it's fun to see us all try to guess, just add alcohol and the silliness quadruples. Get this app, you won't regret it.
Best fun for a crowd
We have had the best fun playing this at our camp outs. Then my grandsons wanted to play. So I bought the kids version. It is so cute and amazing to watch them. Youngest is 5 oldest is 8. They will play till my battery is dead.
Crazy good
OMG this game is so fun and we've played as singles, large groups and teams. We LOVE it.
Great and Informative
Happy Business lady
on
2/4/2018
This is a great way to test your memory, while having fun doing it and enjoying your family, friends or students. I highly recommend this app! A Wonderful app to have on your electronic devices.
Decks
Some decks are good I just wish there's more gears towards kids.
Heads Up app
Such a fun app... great for intergenerational play... getting families and friends playing, learning, laughing and making memories !
Great Party & Family Game
Brayboy From Va Beach
on
2/2/2018
One of the Best games to play with friend and family of all ages!!! Fun Fun Fun!!!!
Most Phone Party Phone Game
Most fun I've had with a party game on mobile phones. Good for almost any occasion with friends. Fun lively and replayable
Best family game
This game is so fun to watch on the Ellen show and if you always wanted to be there playing this is the next best thing other than being in at the show!
Love it. And I'm 35
I'm a picky person.
on
1/28/2018
I love you Ellen. Great way to pass to pass time. Makes everyone laugh
So much fun!
I play with adults as well as 6 yr old kids. Lots and lots of fun! Kids especially love it!
Heh hey poop
theUltimite_chicken
on
1/27/2018
I'm the best chicken ever quoted on quote IM WALKIN HEER IM RUNNIN HEEEEERRR IM HEERER!!!!!!!!! Arghhhhhhhhhhh I can't to se ja paniesss 😝🤓😝😗-I need help...BTW!!!!!!!!!!! I. like. The. app. TANK U BEACHES!!!!!!!!!!love ya and duh mummy!!!!! BLAH BLAH BLAH...heh heh...MEEEEEEEEEEEEEEEEP😘👊✌️one love iisuperwomanii that is a wrap and ZOOOOOP👋bye bye
What fun game
This the most funniest game ever
Heads Up
Talia Samalim
on
1/21/2018
I love heads up because when my family and I play we always have so much
Family loves you
Great awesome thank you for the experience love the Family time
So much fun for kids
Great when waiting in lines with kids. Lots of fun to do as a family !! Perfect app.
Love it!
I play this game with my fiancé all the time and we have such a blast it's great for anyone couples or for the whole Family!
Fact Sheet
Publisher:

Warner Bros. Entertainment

Category:

Games

Released:

May 02, 2013

Current Version Released:

Feb 14, 2018

Version:

3.9.2

Size:

114.3 MB

Compatibility:

Requires iOS 8.0 or later.

Recommended Age:

12+

Game Center Certified:

No

Supported Languages:

English; Spanish; Castilian;

Parental Advisory:

Suggestive Themes; Mild Profanity or Crude Humor; Mild Alcohol, Tobacco, or Drug Use or References;