Screenshots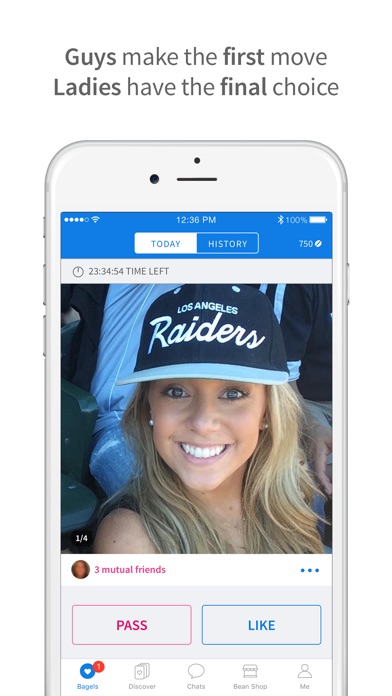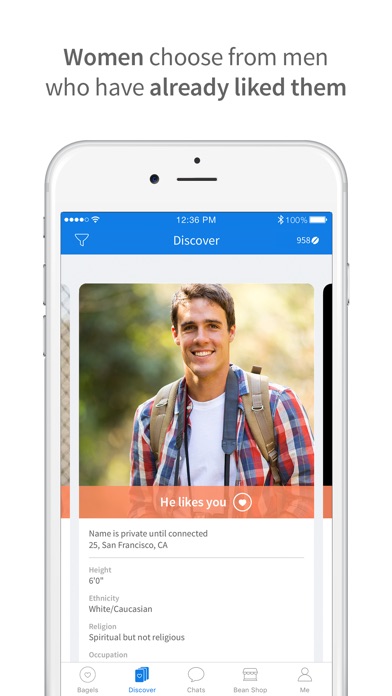 New in version 4.12.0
Thanks for being a part of the CMB community! To make our app better for you, we bring updates to the App Store regularly. These updates include bug fixes and improvements for speed and reliability. We'll let you know as exciting new features become available. Happy Bageling!
Description
**More than ~1 billion introductions made to date!**

We totally get it. You're tired of wasting time endlessly swiping, browsing, and messaging - only to never hear back. You only want to spend time on relevant, high quality matches.

Every day at noon, you'll receive potential matches (we call them Bagels) preselected for you so you don't have to swipe all day. Fellas, you will receive highly curated matches preselected for you by our smart algorithm. Ladies, we will prioritize showing you Bagels that have already liked you and are serious about connecting with you. Why? Because we are fed up with all the swiping and ghosting, and wanted to make sure your time and energy would be focused on guys who are serious about taking the next step. That's right. No more dating games, only guys who like you!

Once there is a match, we'll connect you in a private chat room and provide icebreaker questions to get your conversation started. We even follow up to encourage actual dates.

Every day, we get smarter by learning what you like. This means over time, your match quality will improve.

For our LGBTQ members, we have a slightly different process. Every day at noon, both men and women will receive potential matches preselected just for you.

CMB PREMIUM:
Become a CMB Premium subscriber and get access to exclusive features that will help you save time, eliminate ghosting, and lead to more dates! With the Premium subscription, you will get insights into all of your Bagels' chat activity levels (i.e. How likely are they to send the first message?), see when your messages to your Bagels are read, and receive more than $50 worth of in-app items that will help you get connected even faster. Current price for the CMB Premium subscription varies based on the length of your auto-renewing subscriptions and may vary from country to country. For 1-month renewals, price is $34.99 USD per pay period, for 3-month renewals, price is $74.99 USD per pay period, for 6-month renewals, price is $119.99 USD per pay period, and for annual renewals, price is $179.99 USD per pay period. Payment will be charged to your iTunes account, and your account will be charged for renewal up to 7 days before the end of the current period. Auto-renewal may be turned off at any time by going to your settings in the iTunes Store after purchase. To see full Privacy and Terms visit https://coffeemeetsbagel.com/terms.

PRIVACY:
Access to Facebook permissions is required to sign up for the app - this is so we can match you with your friends of friends. Permissions to access notifications are strongly suggested. If access is denied you will not be notified in realtime when you have new matches and new messages. Permissions to access location are also strongly suggested. If access is denied, we may not be able to match you with users near you. Permissions to access camera and microphone are optional. If denied, you will not be able to create videos to showcase your authentic self.

AS SEEN ON:
Shark Tank, The Today Show, Nightline, NYTimes, Marie Claire, TIME, The New Yorker, Glamour, Washington Post and more.

TESTIMONIALS:
"No randos like Tinder."
"The best dating app for women!"
Reviews
Improvements needed
Awesome app, however, recommend tweets and features: 1. When I fwd some choices to my friends, the picture of the girl doesn't appear. But when they send it to me pic does appear. 2. Additional section In profile should be added: section for vegetarian or willing to be one, seeking for only local, seeking for type of relationship. 3. Profile can't be submitted without specifying atleast certain words in description, and not allowing random characters. 4. When I go to my history and try to choose which one to send to friend, I shouldn't have to seek for age, height by clicking the profile. It should be listed under the bubble so I don't have to spend time by click on profile and scrolling down. This would make it easier and faster and hence would incentivize people to send choices to their friends. 5. Sending to friend feature should be enhanced. Add section for searching criteria's just for sending to friends. Right now I can't help my friend much because I live in Chicago and he wants people in Bay Area. 6. Also an option for people to choose an option or write a personalized short message to let the interested party know why they didn't choose them. This option must be implemented maybe only for the people who have mutually clicked and then one of them decides to drop.
no matches for a month
single LA gal
on
10/17/2017
A few months ago when I first started using this app I really like it because of consistent traffic and matches. Now I would get two bagels on a really good day and haven't had a match in over a month. if anything, I hit like even more often than pass
Friends of my Friends?
I am interested in joining the App, but when I read that it requires access to my Facebook to match me with friends of my friends, really? This is not aligned with your principle of "...your dating life should remain private". Also, I may already know most of my friends friends, and may not be interested in any of them.
Decent site
Not enough accessibility but not bad otherwise
QUALITY MATCHES & SUCCESS STORY
CoffeeLikedBagel
on
10/17/2017
** Update: 10/16/17 ** 9 months later... My bf and I are still happily in love and often discuss marriage and our future together. :) There is hope for love out there! -------------------------------- TL;DR 😅 I really appreciate the updates on Coffee Meets Bagel. I first tried the app two years ago for a week or two and didn't have much luck finding quality matches, so I deleted it. My sister encouraged me to try it again and this time around, I noticed that many of the guys they sent me had similar things in common with me based upon their profiles. The fact that we know if the guys like us is new since I last used the app too and that made it much easier to connect with someone if there's a mutual interest in one another. In fact, that was how I connected with my Bagel, who is now my boyfriend. Success Story: I used the app this time around for maybe just five days. Within those five days, I connected with five different people. One never struck a convo with me, I exchanged social media handles with another and exchanged my number with the three others. One of my connections happened to be with someone from the "discover" page who "liked" me. (He wouldn't have shown up in my Bagel list because his religion was different than my preferred religion.) He didn't have the best photos, but he seemed really goofy based upon his profile, so I figured he'd be worth meeting. After exchanging a few messages via the app, we decided we should hang out in person. He asked me out on a date, which was also my first CMB date, and we truly hit it off. I was pleased to find out that he really was a huge dork and I loved it because I am as well. His personality and mine clicked like we had been friends for a long time. We had so much fun on our first date that I already knew I had to cancel my dates with the other two guys I exchanged numbers with previously. I got so excited for each meeting with him afterwards. Within just two weeks, our feelings for each other escalated and grew so rapidly because we have so much in common and have such a natural chemistry. I feel like I've found my best friend and potential soul mate. He makes me laugh all the time whether it's via the phone or in person. We've discussed that we're glad we didn't meet at a bar because we probably wouldn't have really seen the other person. Coffee Meets Bagel gave us the chance to meet intentionally and truly connect. So, thanks CMB for helping us find one another. He couldn't be more perfect for me.❤ I encourage new users to give the app a shot and suggest trying not to be too shallow when you're checking out the photos because my boyfriend wasn't as cute in his CMB photos, but he's such a cutie in person. He's really handsome for that matter. Your profile is key! Some guys didn't have anything on their profile and I dismissed them even if they were cute because I automatically assumed they'd be a boring person. I'm so happy that I didn't pass on my bf just based on his photos or else I'd be missing out on my potential soul mate. Best of luck with the app and finding your person! :)
CMB read before downloading
Only has few people in their search engine. 3000 points for $24.99 and you use 385 for each like. So you like 7 people you points are gone so they make you spend another $24.99 to give you 3000 points. Unless you want to waste your money dont download this app. Totally a RIP OFF... I spend about $75 and $119 they charge my account for membership. Waste of money deleting it now. Good luck!!!
Waste of time
StephanieM25
on
10/16/2017
This app is honestly a waste of time. Half my bagels have never seen me, and the ones that have clearly are so outside my preferences that I question the algorithm here. Secondly the fact that in Discover are people who WOULD firmly set preferences, but I have to pay to take them? You only get 30 "beans" a day and it takes 375 to "take" a bagel? There's at least one person a day I would "take" but nope, not enough beans! What a waste. This app is all about making money, not about finding people connections.
Met my fiancée here
I met my now fiancée here many months ago. I like the app's ability to encourage in-person interaction as soon as there is a connection, rather than others that encourage hiding behind messaging. Cannot rate this app highly enough.
Money Grab
Masterp43454
on
10/15/2017
Just when I thought they couldn't be any greedier, now they want us to pay $35 a month just to see if a profile is fake or not? You have got to be kidding me! Why would I pay you more money for "takes" on top of the monthly subscription fee? No other dating app charges for the ability to express interest to another person, even the traditional dating websites have "winks" to accomplish that function, then if you want to communicate with someone who winks back, you pay. This app instead makes you pay a ton of money just to express interest in fake profiles or people who don't communicate back. What a rip off!!
Very casual, user friendly
dgrahamburnett
on
10/15/2017
I like it as being simple and efficient
A joke and total scam
Coffee meets bagels tactics are shady as hell. They show you ugly woman as your daily picks and if you "pass" on them, they give you 5 points or sometimes even nothing. Then they show you a selection of other possibly bagels that you can choose from but when you "like" that bagel it charges you 300+ coins. Totally ridiculous! It's their way of getting you to buy more coins. Scam scam scam.
Expensive and doesn't work
Not sure if the matching mechanism is friendly to men at all, at least it doesn't work for me. I can confidently say I'm a well-above average guy in terms of attractiveness and I have a pretty reasonable profile. Paid for one month of subscription and bought the beans a lot only to find out there are absolutely no connections for me for a month. It's designed to be ridiculously expensive without considering a balance in the power of making choices for males and females. It seems to me it's more optimized for women. Don't think it's a good idea and I'm quitting this app.
Good Stuff
Phean Vindex
on
10/14/2017
Good stuff.
Watch out for scammers
There are scammers using fake profiles on this app. The one I talked to for about two months sent numerous photos, claimed to be working on an offshore oil rig, and asked for $9,000.
Just bad
Pretty much useless unless you want to pay for "beans" as currency. I'm not a shallow person but I questioned myself after seeing what there was as far as selection goes. I'm not going to lower my standards AND pay you $.
SOFTWARE ISSUE
This app crashes my iPhone 7 every time it and i have to hard reset my phone. My screen goes black and doesn't work.
Just Go Out and Meet People
Johnnyappleseed31
on
10/11/2017
Lame
Like the app but not the vague payment structure
Lindsey Scherf
on
10/11/2017
Better than tinder, bumble and Ok Cupid (slightly)... but the payment structure in not clearly laid out and this becomes aggravating as I would rather just pay a set amount of a clearly defined service access plan so I can determine if what I am investing in will be work my time and money in advance---- basically the app is doing the gimmick that those airline credit cards do--the beans are like airline miles; who the heck knows what 12,000miles is going to get you.
The worst
Don't waste your time......
I love coffee bagel
Well is fantastic
Good App!
CMB is my #1 app to meet people. I love that they keep a watchful eye out for suspicious behavior. I enjoy knowing that I have a week to chat & then a decision must be made to continue contacts hopefully meeting for coffee or dinner! It is stress free & easy!
Awesome!
User on iPod
on
10/10/2017
I've used lots of the competitors sites first and wish I would've saved myself the time by coming straight to CMB. Everything I've been looking for!
Best dating app out there
Easy to use, quality matches, what more can you ask for?
Met some great people
Awesome and intuitive platform. Of the many date apps on the App Store I've found CMB to be the most intriguing. Choosing matches, using beans, logging in, this app keeps things exciting. I did meet my current sweet heart through CMB so hats off to the team. I would 100% recommend CMB to others looking to try a date app that requires a bit of effort for both parties. The effort is worth it!!!
Here is a big kiss to CB
Kisses kisses kisses
Keeps crashing
Not enjoying
on
10/10/2017
The app keeps refreshing and no data or it crashes and I only receive my bagel's message after 1 day. And now I'm not even sure if he got mine.
So far so good
I like that it's a little bit a day. Not full of swipes and messages every day. Brevity is key.
So far, so good.
Nightmare howling
on
10/9/2017
I haven't had this app long enough to say yay or nay, but it's was easy enough to set up an account, and I'm enjoying it.
App glitches
- Won't let you delete your profile no matter how many times you tap " delete profile " - Won't let you upload more than 2 pictures - Takes forever to "verify" your account, even though you signed up with fb
Stop using facebook
Yet another app that flat out requires social media to do anything, I don't have it, I won't use it, I shouldn't have to get it just to use something else.
Different Approach
Blackhawkfan1
on
10/8/2017
The app picks out 15 matches a day and one must pick, like or pass. Relatively straightforward. Matches don't really follow any type of pattern. The trick is to get one to buy beans in order to get more picks as well as like someone directly that wasn't included in your 15 picks for the day. One has 24 hours to go through them all. Picking someone directly runs about 350 beans. One can purchase more beans as well as be given beans for logging in daily.
CMB didn't used to be terrible
Back when CMB started it was one person a day for men and women. The matches were pretty good, and I used to get 1-2 solid matches a week. I used to look forward to it. Now I get 21 random matches, most of whom don't come close to doing anything for me. I say yes to about three, and then never have any match. Rematch is gone too, so now when I mess up and tap the wrong button, nope, too bad. This used to be my favorite dating app. Now it's just pathetic.
Great. Love the constrained experience
Great app. For people interested in relationships. Love the constrained choices nature of the app (as opposed to unlimited choices and swipes). Highly recommend it if you're looking to meet someone nice.
Genuine People
ChinaCatSnflwr
on
10/7/2017
People are nice on here and seem interested in getting to know others
Doesn't make sense
xStarshinex403
on
10/7/2017
Stopped using this app after a few days as it makes no sense and was getting no action at all.
Not worth the pay
At 5 bucks per chance a girl mutually likes you, this app is not worth it. Except for the one a day. Which is free.
Paid for What?
Unseen Things
on
10/6/2017
I paid $120 yesterday and today the five daily matches were reset but there was no free takes in the Discover tab. What on earth did I pay for? I see no different features at all.
User friendly
Not overly complicated or out to get money. Notifications aren't overwhelming
Thank you, women engineers!
This app was fun to use & more effective at scoring real life dates than OKCupid or Plenty of Fish. Also, I got zero disrespectful messages, no one-word replies & in less than a month met, dated and have now committed to exploring relationship with a good man who's on the same page as me on multiple levels. On our fourth date, he cooked & packed me lunch to take for work the next day! That's quality. Women who engineered CMB - thank you.👏🏽 My heart overflows with gratitude.💕
Nah
ChaoticCoconut
on
10/5/2017
I get that the whole "link to FB" rule is to prevent dupe accounts and make you feel "safe" but nah. This is a glorified Tinder. Connecting to someone via similar mutuals will be one drama disaster.
Forces you to be picky
I didn't think I would like the 1 choice per day but it forces both sides to be picky which makes the few connections quality ones
Meh
Dani dickens
on
10/5/2017
I don't feel that this site is very user friendly. We only have so many "beans" that we can use- so far the daily match ups are not ideal and you only get 2? I'm probably not going to be on here long, it is somewhat confusing, and I wouldn't recommend this app to anyone.
Harsh ELO System
Had to give at least 2 stars because the picture voting idea is great and very useful. The developers also seem like great people judging by their responses to some criticisms. That being said this is a dating app after all so here's where the other 3 stars were lost. The ELO system is pretty harsh. Because I failed to get any matches the first couple of days, I started being almost exclusively shown people who are over weight. I'm not some cocky guy that thinks I'm amazing looking(7 on a good day) but just going by past girls I have dated and the attractive girls I match with on tinder, I am confident in the fact that I can and have done better. Not sure how else to word that respectfully but I like to stay active and am looking for someone that does the same occasionally. I don't think that's some unbelievably high standard(nor does tinder since I still match with great looking girls a few times a week) but apparently CMB thinks so. I do like the little notifications and jokes they make but when I go to see my 6 available people to swipe on it's basically no's down the line. I really don't like a system that decides who you get to see when you only have a limited number of options a day. At least with tinder sure I know that there are many girls out of my league but I'm still matching with some of them(and they're not bots!). If the ELO system that decides who gets to see who is tweaked then my rating will be updated but as for now it's just been a disappointing experience. I understand what they were trying to accomplish in their algorithm since naturally if someone is not matching with users then you show them other users that may have a similar match rate, but it was definitely too harsh and incorrect. I'm my biggest critic but even I see this. Apologies if this was offensive, wasn't really sure how else to word it and it wasn't my intention.
Not enough matches and guys sending d*** pics
Functionally the app works well and I like the customer service. But as a dating app it's not the best. They promise to match you with daily "bagels" that add to your coffee bean currency if you like them, and you can use the currency to "take" bagels in discover, except they aren't giving me any bagels- maybe one or two a day. And instead they are putting the matches in discovery but I don't have the currency to take them unless I pay for more coffee beans. So I have nobody to check out or match with. I've only had 2 connections. One sent me a d*** pic and the other was banned for "inappropriate activity with someone else" (I'm assuming sending a d*** pic to another woman). They were good about banning these guys but it seems like that's all guys care about these days with dating apps. Come on guys, learn to how to treat a woman right and know how to start a conversation. Life isn't a porno.
Truly Safe for Women!
Finally. An online dating platform that miraculously monitors conversations for appropriate and respectful interaction. I had just joined and within 3 days was communicating with a match. At first all seemed on the up and up. But then he repeatedly asked what I was looking for, if I had any success and how long I was on the site. At the last I responded with an answer and that I had already answered his question previously and had decided not to communicate with him further feeling very frustrated. Next thing I know, amazing Coffee Meets Bagel sent a message to me next to his profile "User account has been suspended due to suspicious activity". I am assuming he must have responded not too kindly. HOORAY CMB!!!
It's ok....
I just downloaded (and paid for 1 month) and filled out my profile. I can only "like" so many people in one day and if you really like them you need "beans". Problem is that each really like is like 400 beans so you run out super fast. I feel happy for the people who found someone on here but i dont think it will happen. But, I have a month so we will see. But this app does REALLY want your money.......
Pretty ok
lemmi just say
on
10/3/2017
Good app. But the daily limits are pretty constricting
Horrible
nickname 80017
on
10/3/2017
Don't even waste your time. They don't match you with guys who have liked your profile, you can't like someone unless you pay or earn points. It's pathetic. Use Bumble or Plenty of Fish
Well worth it!
It's not as popular as others, but less competition as well. Good luck
Fact Sheet
Publisher:

Coffee Meets Bagel, Inc.

Category:

Lifestyle

Released:

Jul 17, 2013

Current Version Released:

Oct 16, 2017

Version:

4.12.0

Size:

136.9 MB

Compatibility:

Requires iOS 9.0 or later.

Recommended Age:

17+

Game Center Certified:

No

Supported Devices:

iPad2Wifi-iPad2Wifi, iPad23G-iPad23G, iPhone4S-iPhone4S, iPadThirdGen-iPadThirdGen, iPadThirdGen4G-iPadThirdGen4G, iPhone5-iPhone5, iPodTouchFifthGen-iPodTouchFifthGen, iPadFourthGen-iPadFourthGen, iPadFourthGen4G-iPadFourthGen4G, iPadMini-iPadMini, iPadMini4G-iPadMini4G, iPhone5c-iPhone5c, iPhone5s-iPhone5s, iPadAir-iPadAir, iPadAirCellular-iPadAirCellular, iPadMiniRetina-iPadMiniRetina, iPadMiniRetinaCellular-iPadMiniRetinaCellular, iPhone6-iPhone6, iPhone6Plus-iPhone6Plus, iPadAir2-iPadAir2, iPadAir2Cellular-iPadAir2Cellular, iPadMini3-iPadMini3, iPadMini3Cellular-iPadMini3Cellular, iPodTouchSixthGen-iPodTouchSixthGen, iPhone6s-iPhone6s, iPhone6sPlus-iPhone6sPlus, iPadMini4-iPadMini4, iPadMini4Cellular-iPadMini4Cellular, iPadPro-iPadPro, iPadProCellular-iPadProCellular, iPadPro97-iPadPro97, iPadPro97Cellular-iPadPro97Cellular, iPhoneSE-iPhoneSE, iPhone7-iPhone7, iPhone7Plus-iPhone7Plus, iPad611-iPad611, iPad612-iPad612, iPad71-iPad71, iPad72-iPad72, iPad73-iPad73, iPad74-iPad74, iPhone8-iPhone8, iPhone8Plus-iPhone8Plus, iPhoneX-iPhoneX,

Supported Languages:

English; French; German; Indonesian; Italian; Japanese; Korean; Malay; Portuguese; Russian; Spanish; Castilian; Thai; Chinese; Turkish; Vietnamese;

Parental Advisory:

Suggestive Themes;