Screenshots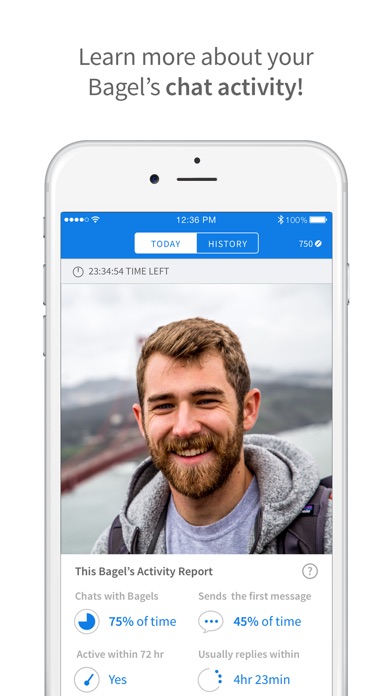 New in version 5.1.1
Thanks for being a part of the CMB community! To make our app better for you, we bring updates to the App Store regularly. These updates include bug fixes and improvements for speed and reliability. We'll let you know as exciting new features become available. Happy Bageling
Description
We totally get it. You're tired of wasting time endlessly swiping, browsing, and messaging - only to never hear back. You only want to spend time on relevant, high quality matches.

Every day at noon, you'll receive potential matches (we call them "Bagels") preselected for you so you don't have to swipe all day. Our algorithm takes into consideration both basic criteria like age, height, religion, ethnicity, and more nuanced factors like your social network and interests.

Fellas, you will receive highly curated matches preselected for you by our algorithm. For the ladies, you will only be sent Bagels that have already expressed interest and are serious about connecting with you! Why? Because we know your time is extra-precious. :)

Once there is a match, we'll connect you via a private chat room and provide icebreaker questions to get your conversation started. We even follow up to encourage actual dates.

For our LGBTQ members: Every day at noon, both men and women will receive potential matches preselected just for you.


CMB PREMIUM:
Become a CMB Premium subscriber and get access to exclusive features that will help you save time, eliminate ghosting, and lead to more dates! With the Premium subscription, you will get insights into all of your Bagels' chat activity levels (i.e. How likely are they to send the first message?), see when your messages to your Bagels are read, and receive more than $50 worth of in-app items that will help you get connected even faster. Current price for the CMB Premium subscription varies based on the length of your auto-renewing subscriptions and may vary from country to country. For 1-month renewals, price is $34.99 USD per pay period, for 3-month renewals, price is $74.99 USD per pay period, for 6-month renewals, price is $119.99 USD per pay period, and for annual renewals, price is $179.99 USD per pay period. Payment will be charged to your iTunes account, and your account will be charged for renewal up to 7 days before the end of the current period. Auto-renewal may be turned off at any time by going to your settings in the iTunes Store after purchase. To see full Privacy and Terms visit https://coffeemeetsbagel.com/terms.

PRIVACY:
Access to Facebook permissions is required to sign up for the app - this is so we can match you with your friends of friends. Permissions to access notifications are strongly suggested. If access is denied you will not be notified in realtime when you have new matches and new messages. Permissions to access location are also strongly suggested. If access is denied, we may not be able to match you with users near you. Permissions to access camera and microphone are optional. If denied, you will not be able to create videos to showcase your authentic self.

AS SEEN ON:
Shark Tank, The Today Show, Nightline, NYTimes, Marie Claire, TIME, The New Yorker, Glamour, Washington Post and more.

TESTIMONIALS:
"No randos like Tinder."
"The best dating app for women!"
Reviews
Simple yet Excellent
Effectively filtering out Phonies and far far far better than other similar apps
Ugh
Sarahbeth001
on
12/10/2017
Soo all I keep getting matched with are scammers.. so frustrating. This is the typical sob story I get from all the guys "my wife was killed in a car accident" or I'll be talking to them and then all of a sudden they have to go out of the country for What ever reason and want me to get kik (whole other story)... I was hoping this app would be different than some of the others I've used... guess not.
No sound alerts notifications!
I'm not sure if it's my phone and/or the app but when I get messages from CMB, there are no sounds alerts even when my volume is all the way up. I do get the banner notifications but that's about it. No sounds or vibrates. I don't check or look at my phone 24/7. How would I know if anyone messaged me if there's no sound alerts? Would I need to always check my phone just in case I missed a message? Apparently that is what I have been doing. Not cool. I've even check my phone setting just to make sure I set the settings right and which I did.
eh
i just got the app and i love the full concept. i love that you don't have to worry about a clever bio either. the one thing i hate are the beans. i go on a dating app to find people to talk to a little quicker than how it takes on other social media, yet i feel like it's going to take forever just to match with someone because i'm limited on beans and don't want to waste my money.
CMB
eve.withno.bush
on
12/9/2017
Better than tinder. But for us ladies trying to find a guy, it's hard because I have had 0 encounters in person yet and each time I try to hang guys ghost. Wish guys took dating apps more seriously
An extreme cash grab
Xyzabc12345 or slmething
on
12/8/2017
You only get to like 3 people per day, unless you log in every day for about a week, then you can like 1 additional person on that last day only. Unless of course you spend money on matches, in which case you can spend $5 to 'like' about another 2-3 people. I've had the app for 10 days an have no matches at all, whereas I have around 40 matches on Tinder which I've only had for 14 days. So either I'm using the app wrong, or this is just highway robbery. IN OTHER WORDS, don't expect to find any matches unless you're ready to spend money.
Video system broken
One-star review until CMB stops showing my videos to women who are well outside my preferred age range and distance
So Much Better Than the Rest
Dancing Rhinos Love Food
on
12/8/2017
CMB is such a refreshingly different experience than all the other dating apps out there. I was in control of who got to talk to me, there were no smarmy guys hitting on me and sending me icky pics. Not only have I met someone special, I got to know some great people along the way!
Not a typical free dating site
This app is more like Match or eHarmony in that people on here are actually serious, unlike the other free sites.
A-
I enjoy the app. I wish the video questions were more local and I was shown only what I'm looking for. I would answer if my bagels could see them on my profile. Also, please let us caption our photos. My fav of the dating apps so far
Copy / paste of phone number broken
Copy / paste of phone number broken inside the chat window. Annoying.
Too bad the History section is gone!
The history section was really useful! I could give some of those bagels to my friends.
Average
Not great but not terrible... it's pretty run of the mill actually.
Pretty lame
pokemon go lv 25 !!
on
12/7/2017
Well its kind of a scam, they have all these beautiful and interesting people on display but the real people are much less so of both, and they limit how many people you can match with a day to 3 after the grace period, so even if you did swipe right on someone cool, they never are going to see you. Plus they charge for everything. Overall very disappointed. I was hopeful at first, and Used it daily for about a month. But have had no luck at all. Im removing it from my phone today. If your going to invest Your money it would Be better spent at match or eharmony probably. This is trying to be a "classy" tinder, but its just not practical. 2/10
Not enough quality matches
Same bagels shown over and over again, and nearly impossible to earn enough beans to actually like people. So instead of getting new beans each day, it was more or less the same, and the people I liked in discover I could never actually like because I didn't have enough beans. 🤷‍♀️ this sucked.
Prepare to be broke..
They change you for everything. And ridiculous amounts. The pay-to-play of dating apps.
"We are still crunching the numbers to find your suggested matches"
Even with uploading 7+ pictures, I don't have enough beans to like the "bagels" and thus, I have zero matches. There should be some type of walk through/tutorial explaining the different options in the interface, giving definitions of the jargon, and explaining how to get more "beans". I downloaded this app yesterday afternoon, and it's still trying to "calculate" my matches. This calculation shouldn't take more than an hour. It makes me want to give up trying this app before even giving it a shot. My friend suggested the app and even she doesn't really understand how it works. Too bad, I thought this app could be better than bumble!
It works!
Manamagic1000
on
12/7/2017
I found the love of my life here. Thank you CMB!
Very Dissapointed
RickTheNurse
on
12/6/2017
I agree with another user- it's a complete cash grab. First and foremost CMB, dating is a numbers game. Bar none. By limiting the "pool" you are limiting my chances of success. I feel like i spend more time buying BEANS instead of actually searching for a potential date. What are you thinking by asking users to pay in order to see a mutual friend? In life we call that "highway robbery".
Doesn't make sense
What is the point of the videos if it isn't limited by location? I'm NEVER going to message someone on a dating app who's over 2000 miles away, for any reason; but there they are getting top priority in the video feed over people who might actually live near me. This needs changed.
Best rating
Good job guys
Comes with a Dumb Catch
So I just picked up this app at the recommendation of my friend who uses it. Fast forward to yesterday when I'm maybe 2 days into this app, and I see a person I'm particularly interested in. I mean, checks off all the boxes. ;] That's when I discover that I *can't connect* because I *don't have enough stupid coffee beans* 😳 I'm sorry- but when we're on a platform to connect with another user, and we can't because we don't have enough frickin' coffee beans - that's SO STUPID. And on top of that, I saw no other way to acquire said beans. The very few ways I HaVe found are inaccurate, nonsensical, and not worth much. It 'costs' 385 beans to connect but congratulations, you get a whole 30 one time by _fill_in_the_blank_. I'm bummed that the guy I'd hoped to connect with is gone, but more so annoyed that I have to be SUPER picky about who I 'spend my coffee beans' on. If I'm missing something, by all means let me know - but if I'm right, this is ludicrous.
Great App
I like this app a lot. Also the guys are more Genuine Idk how but that is my experience.
Micro transactions bait!
TerribleTank
on
12/6/2017
Okay so I joined this sight out of seeing tones of positive reviews hoping it be something different. While the concept is solid posting videos and stuff like that to prevent cat-fishing is awesome. However to match with anyone your need coffee beans which you at first get a daily bonus for. Problem is it's so few and far between that the only reliable ways to get them is to invite friends or buy them. This means the sight is cluttered with tones of fake accounts just so people can do things on it or its trying to bait you into buying beans. It's praying on peoples want for a relationship which to me is extremely unethical and shouldn't be allowed! Don't get this sight.
Don't understand how this has 4 stars
Ana Loves Disney
on
12/6/2017
This is a terrible app and you can easily tell it's just a scam for getting cash. Their "quality over quantity" claim is BS. The whole concept of getting beans is ridiculous as well. Makes it seem more like a game than anything. On top of that, you can tell most of the active users on the app are a bunch of weirdos who are clearly single because they lack anti social skills and stupid enough to waste money on this app. If you don't know what I'm talking about, scroll through the videos and you'll know what I mean. You are better off on any other dating app that doesn't require you to waste loads of money on it.
Needs search options
It gave me a suggestion once a day for the first three days or so, but haven't given me any since. The only people I can ever see and interact with are the ones that post in videos, and you can't even limit your video-watching to people nearby so I'm usually only seeing people 1000+ miles away. What's up with that? No usability that I can find yet.
If it wasn't for this app...
I never would have met my wife!
Lots of fake profiles
ColorMeSurprised
on
12/5/2017
Like every app on the market - full of fake profiles hoping the lonely will sponsor lifestyles of thieves and crooks. Zero interest in renewing the subscription.
Confusing
I can't figure out how this app works. Just very confusing.
Too Expensive
I like the layout and easiness to use, but it it's far too expensive. 35USD a month for premium? Maybe if I was getting something worth while. But knowing if my message as been read & getting an activity report is not worth spending that much. And even after that I would still have to spend 25USD every time I needed more beans. You can't do much without beans, which is the point so you spend money. Rethink your prices and benefits and then I'd be more than happy to buy premium. But until then I'm going to be using a different dating app.
*Crickets*
Rustic Barbie
on
12/5/2017
I don't like how it's set up and no one in a 20mile radius of me uses this app
Bad
Okietexan223344
on
12/4/2017
Not happy with the quality of the free matches it gives you once a day. It's more pay to play than tinder.
Slow to start matching
My biggest peeve is that creepy old men can view/like your profile without your say. I wrote to CS to ask them to stop showing my profile to men outside the 5+/- year range. It's impossible to block them. Having these creepy old dudes "suggested" to you is enough to turn your stomach. I hate seeing these guys as soon as I log on. Check out women your own age, guys! Gross. Other than that, the app is clearly intent on making a lot of money by selling you the points you need, so if you want it to work for free, you have to be pretty patient, and log on every day to generate points you can later use.
Only 1 Bagel a day
I liked this app at first, but now I only get 1 Bagel a day. Is there a reason for this? What's shown in Discover doesn't really go with my preferences either. Hmm...
Too slow to meet and to know how it works
Christine is real
on
12/3/2017
I am cancelling because I have no idea how this works. I am in IT, have a very friendly personality, so feel I am all around person. This site is too much to figure out.
Tries to make you pay too quick
Decent app but overly complicated. Very quickly it starts to hit you up for in app purchases for the ability to select matches. Watching cringe worthy videos answers from other users is the only satisfying feature.
GREAT dating App! Unlike any other I've tried
MsPrettyLady☺
on
12/3/2017
So, I've been on my share of dating apps and when I came across Coffee Meets Bagel's ad on instagram I was kind of like "all right...can't hurt to try one more dating app 🙄" What really caught my eye was the "Made by women FOR women" part, and it rung true for the 2 months that I was on there. I am so happy to say that I met my now boyfriend from Coffee Meets Bagel and we've been together just a little over a month. He is like no one I've met before and maybe it's too early on to say, but I truly believe that we'll be together for a long time. All I have to say is keep an open mind and maybe you'll find your "soul mate" through here 😁 I almost never leave reviews, but I'm just SO happy! This app is totally worth trying. Thank you Coffee Meets Bagel!
No matches, very discouraged.
I've been using this app for a couple of months with only one match and they immediately disconnected. I haven't had an actual suggestion in weeks, only one free discover a day and many times it's only one person. What's the point if I never even get the chance, the matchmaking is terrible. "Quality over quantity", whats wrong if there's no quality matches? Endlessly waiting getting more and more hopeless.
Facebook required to sign up
Damaine Carpenter
on
12/3/2017
Not everyone has that social media giant account. They're basically telling me I cannot use this app without fb not cool. Pleas add the option to use without Facebook, not everyone has Facebook. I understand it's for security but Facebook has fake accounts as well so what's the point. Add the option to sign up without Facebook just like tinder
CMB ❤️
ForeverJoshsGirl
on
12/2/2017
It's like Tinder, but not as shallow and about looks. The only bittersweet thing is it really requires a monthly subscription to fully use the app. This is good because it helps keep those serious about meeting someone on there; the bad part is spending money when you're a penny-pincher!
Nice variation on the standard model
Nice variation on most dating apps because it's a limited experience with only a few each day. The population is pretty good here in the bay too-
Why Facebook 😡
I know that almost everyone has a Facebook, but there are still s few of us that do not have no desire to. It is not fair to only be able to use the app if you have Facebook, so obviously I can't leave a review since I can't access!
Tinder but more geared for dating.
PhilteredPhoenix
on
12/2/2017
TLDR: Quick and simple app like tinder with a more dating oriented premise you can visit a couple times a day. Has great features called photo lab to help you choose your best pictures but lacks profile customization, cannot message unless mutual like, and has a lot of premium features that are missing from the free version. Check it out but lack of profile descriptions means more based on physical chemistry rather than shared interests. 3 out of 5 "good but not great." Update: they added a new feature that lets you post videos of yourself answering a wide range of questions. Singles who like your video can fav it and will show up in your list who you can fav back and start messaging. This feature works well but again, is premium. The app works kinda like tinder, you browse a set number of potential singles and you read a bit about them, check out their pics and then like or pass. If you get a like back, you can message each other. The ability to customize your profile is pretty bare bones, you can only write a few sentences about yourself in only 3 categories so you can't really say much about yourself. This makes it feel like I can't get across who I am and what type of person I'm looking for. This goes for other profiles too, they're short with few things to go on so it's really up to how good their profile pics are. I kind of understand why they did this, I think it's because people need to have some base level of chemistry and if they have similar interests as well it will result in a better match. I don't feel the same way but I understand. This is supposed to be a dating app though however it feels more like a hookup app. The app does have photo lab which is a nice feature where you can choose two photos and people vote on them to see which photo is better allowing you to get feedback on your photos. And this segues to my next point. The app is free so they need to make money somehow. The app will charge you for premium features. This includes the usual stuff like more swipes in a single day, get noticed faster, stuff like that. Photo lab is a premium feature as well that uses currency called beans and these beans are used to buy the results of your photo poll as well as all other premium features. I haven't paid for anything. I wouldn't suggest paying for beans unless you're serious about dating and if you are I think there are better apps you can pay for. Now for my experience. Used the app for a few weeks now. Full disclosure, I'm a guy and I've only had a couple of matches but they haven't worked out. Either we weren't compatible or they haven't messaged back. Personally I prefer longer profiles because I don't like to judge on looks alone. I also think that it's more geared for looks. It feels like tinder basically. If you're a guy then you're in the same situation you'd be in on tinder. You'll right swipe everything and get like a 10% response rate, probably less. I personally have better luck on OKC or Zoosk. I wouldn't recommend it over other apps or sites though but it's good for the photo lab and a secondary app. I give this app a 3/5. It has some cool premium features but it's not as personal as other dating sites. Would do better as a hookup app. My score is based on the features of the app and not based on the results of my matches and I would give the same score even if I met my soulmate.
Only one option to log in
So the only option is to use Facebook?
Hmm
This application has its pluses. It does not overload me with too many matches in one day to sift through. I have to say most of it is a joke. For about two or three days I got some decent matches. Then I started to get all kinds of people who would write weird things in their profile. Many of them we're from colleges in Europe. Some said hardly anything in their profile. I would also get quite a few 28-year-olds and 32-year-olds liking me. I am 50! Anyway I think many of these profiles were fake, as some of them would write to me and say things like nice to meet you, and then right things with bad grammar. I would try and respond to some, and most never responded back. I think this app may have had its day, but it's pretty bad!
Microtransactions have entered CMB
Ahajajajakajajjajajjaja
on
11/30/2017
You know exactly what I'm talking about. I'd like to see the metrics but I can already imagine how it's all designed. The strategy: Find the most desirable and place them in the discovery category in order to entice users into using their points. And the thirstier ones will no doubt be more prone to buying more points to spend on their futile endeavor of ending a long history of isolation. Pay to play's the name of the game. How awful
In love with Mr. Right
This app is awesome and I totally recommend it. I was one to not believe in good things or fairytales but my Mr. right has made me believe again. I found him. ❤️
Jeez...
Why does every single dating app require you to have a Facebook account? It's like if you don't have a Facebook account, you're cursed to be forever alone. Come on...
Videos problematic unless you're a straight male
t o n y . q
on
11/29/2017
Per customer service, right now only straight males see videos filtered by their dating preferences. Everyone else sees everyone's videos. This means that when the app loads, I'm immediately faced with a bunch of people who are not possible matches, simply because I'm not a straight male. And I'm burning bandwidth by auto-downloading videos of people who I should not be seeing at all. This is a big, disappointing step backward.
Automatic video downloads disable
New update wastes my bandwidth with the automatic video downloads. There needs to be an option to disable automatic video downloads.
Fact Sheet
Publisher:

Coffee Meets Bagel, Inc.

Category:

Lifestyle

Released:

Jul 17, 2013

Current Version Released:

Dec 01, 2017

Version:

5.1.1

Size:

218.2 MB

Compatibility:

Requires iOS 9.0 or later.

Recommended Age:

17+

Game Center Certified:

No

Supported Devices:

iPad2Wifi-iPad2Wifi, iPad23G-iPad23G, iPhone4S-iPhone4S, iPadThirdGen-iPadThirdGen, iPadThirdGen4G-iPadThirdGen4G, iPhone5-iPhone5, iPodTouchFifthGen-iPodTouchFifthGen, iPadFourthGen-iPadFourthGen, iPadFourthGen4G-iPadFourthGen4G, iPadMini-iPadMini, iPadMini4G-iPadMini4G, iPhone5c-iPhone5c, iPhone5s-iPhone5s, iPadAir-iPadAir, iPadAirCellular-iPadAirCellular, iPadMiniRetina-iPadMiniRetina, iPadMiniRetinaCellular-iPadMiniRetinaCellular, iPhone6-iPhone6, iPhone6Plus-iPhone6Plus, iPadAir2-iPadAir2, iPadAir2Cellular-iPadAir2Cellular, iPadMini3-iPadMini3, iPadMini3Cellular-iPadMini3Cellular, iPodTouchSixthGen-iPodTouchSixthGen, iPhone6s-iPhone6s, iPhone6sPlus-iPhone6sPlus, iPadMini4-iPadMini4, iPadMini4Cellular-iPadMini4Cellular, iPadPro-iPadPro, iPadProCellular-iPadProCellular, iPadPro97-iPadPro97, iPadPro97Cellular-iPadPro97Cellular, iPhoneSE-iPhoneSE, iPhone7-iPhone7, iPhone7Plus-iPhone7Plus, iPad611-iPad611, iPad612-iPad612, iPad71-iPad71, iPad72-iPad72, iPad73-iPad73, iPad74-iPad74, iPhone8-iPhone8, iPhone8Plus-iPhone8Plus, iPhoneX-iPhoneX,

Supported Languages:

English; French; German; Indonesian; Italian; Japanese; Korean; Malay; Portuguese; Russian; Spanish; Castilian; Thai; Chinese; Turkish; Vietnamese;

Parental Advisory:

Suggestive Themes;