Not Recommended
App last updated
Dec 06, 2017
Screenshots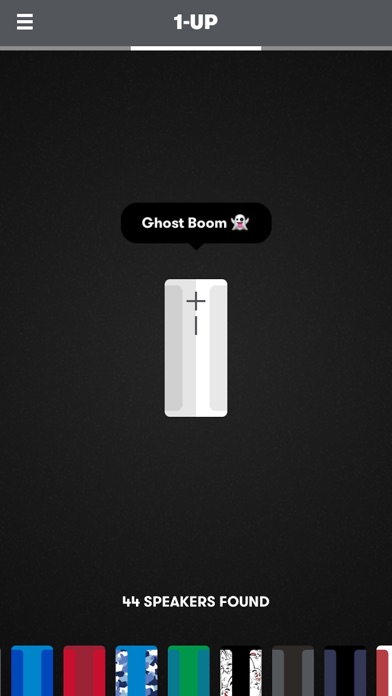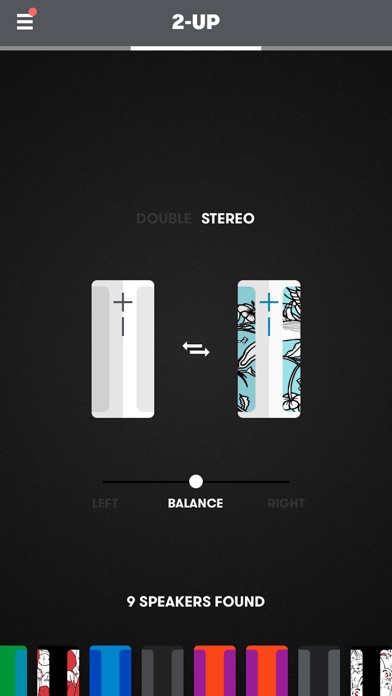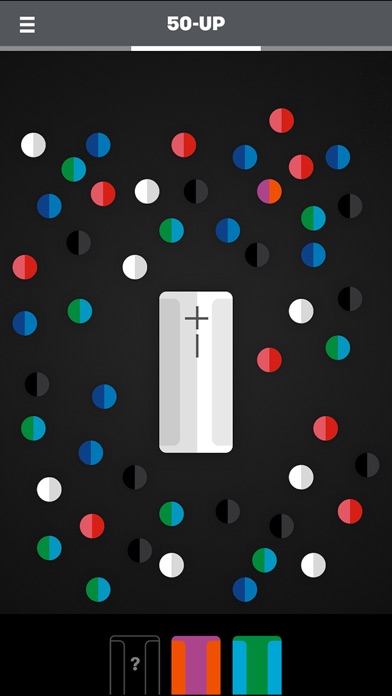 Description
The UE BOOM app has everything you need to get the most out of your UE speaker. From #PartyUp to voice controls to customizable EQ, unlock even more awesome ways to use your UE BOOM and UE BOOM 2.

+ #PartyUp lets you connect 150+ speakers to take your parties to a whole new level - wherever, whenever, whatever!

+ Say It to Play It! Siri integration for UE BOOM is available now. You'll always stay in the moment -- with nothing between you and your music. It's now quicker, easier, and more convenient than ever to keep your party going.

+ You Control the Sound: All about that bass? In a tight space? You control the atmosphere with our custom EQ settings.

+ Remote On/Off: you'd never walk all the way to your TV to turn it on and you shouldn't have to with your wireless speaker either. Use the app to turn your speaker on/off from afar.

+ Block Party: DJ with multiple friends using Block Party.

+ Much more: personalize your speaker's name, wake up to your favorite playlist with the Alarm

+ Subscribe to updates so you never miss a thing. A simple tap in the app updates your speaker with the latest features in no time.
Reviews
Disconnects to speaker from party up or speeds up songs. I
Takeotawayho
on
1/20/2018
I was sold on the party up idea. However, after adding the third speaker the problems began. The songs speed up or cut off. The app disconnects. The concept is good, but it hasn't worked successfully for over 20 minutes. Unless you have a 20 minute party. This is not what it was supposed to be. The 🐛 🐜 🕷 bugs are still not fixed. I guess another system would be better.
Who running this...
GiraffeBeats
on
1/18/2018
Not only did the latest up make the app glitchie, but they changed the logo from a nice simple UE to the anyoying "BOOM". I have to make a folder just so I didn't have to see it on my home screen. Please change it back.
Why does UE abandon their customers ?
Ace314159265
on
1/16/2018
The devices are great, but UE seems to pay no attention to keeping their software current. I own many UE speakers, most have stopped working. Lots of wasted time on their support line. They have me rerun stuff that doesn't work, then say I have to fgo back multiple versions of iOS and OS X , which you can't do. They apologize. Many of their Bluetooth devices won't even show up in iOS Bluetooth scans. I have 10 year old gear that still connects. UE products are the only ones I've found that don't. Dreadful.
LOVED these speakers until...
I performed a firmware update when a notice appeared on my UE BOOM app. BIG mistake! (Read other reviews). My Boom was randomly turning on and off when not in use. I restored factory settings by: 1. Turn the Boom on. 2. Press and hold the volume down AND power buttons simultaneously, the Boom will make a sound and turn off. It is advised you DO NOT perform this reset more than once or twice, it could damage the Boom.
Not good
Simplematt06
on
1/13/2018
Unfortunately it's the only option for UE pairing, but it's one of the most inconsistent apps I've used. Just want it to work.
WAS A FAN!
I've had my UE Boom 2 speakers for awhile, and loved the app, until a few months back. My speakers were connected, with no issues for over a year, and all of a sudden I have to re-establish connection every time I try to connect (like a new user). Also I no longer have the ability to remotely turn my speakers on and off (have ALWAYS been able to do that up until recently). Please fix the glitches
Programmers mess up again
Dirtyoldman70
on
1/11/2018
The program and speaker microcode have always been sketchy. Each time a new "IMPROVEMENT" is released it makes it even worse. The latest microcode update took away the REMOTE POWER feature, and the menu settings states that the speaker doesn't support remote power, well it did before the update! The speakers must in someway still support remote power on, because when the main speaker is manually powered on and then stereo is selected the second speaker is powered on by the program. Another programming error!
Update makes nothing work
My UE boom 2 worked absolutely fine until I updated it, now the tap controls don't work, And I can't change the song or the volume or even pause the song from my phone unless i go into the Apple Music app and change it manually, this app has made it so inefficient to listen to music I wish the speaker just had these simple features that worked rather than having such a stupid and pointless interface on this app, I hope UE can fix these stupid mistakes they have made so I can actually enjoy using my speaker again
App doesn't work
Beachlover801
on
1/5/2018
I can't get the app to work so I can pair up the two speakers I bought. I can only get them to pair with my iPhone but if I get a call or use my phone it interrupts my speakers with my voice.... Grrrrr
Simply works
After learning the basics, works very good. A little buggy. But, then again, I am still learning my way around this app. Stereo feature is good on two Boom 2s. I like so far.
Dissapointed.
The speaker is fine! But the app? Really? I can't turn on the speaker vis Bluetooth. In the past I could do it? Now I need a smart Bluetooth? What? Could tou please explain why you took of this function? So disappointed. Next time I move to JBL.
Remote speaker control not working
App was great but now worthless without the ability to turn power on remotely.
Iphone x
dominikarmpit
on
1/1/2018
It's a great app. But please update for iPhone X
Party up is awful
App is generally ok for single speakers As soon as you add multiple booms forget it it's pretty much garbage.
I'll never advocate UE again
Artist Starved
on
12/31/2017
I once LOVED my UE speakers (roll & boom) I bought them for pairing and they worked great for a bit, now I don't know what's wrong but THEY WILL NOT PAIR anymore... I've tried many different ways, using multiple worthless apps., as well as the speakers alone... ALSO, THE BATTERY LIFE HAS DWINDLED TO LESS THAN HALF OF WHATS ADVERTISED (not to mention I've hardly used them much at all). I've contacted support about my issues about 6 months ago and am finally receiving a response only regarding trouble shooting stages of the obvious (try a different cable, update the firmware, blah blah etc.) which has already been done... I haven't felt any comforting support in that they are willing to resolve my issues, it actually seems like they couldn't care less. They got my money and sorry bout your luck!!! I will update review if customer support meets some sort of resolution.
Not finding second speaker
Bought a second Boom 2 recently. The new speaker does not show up in the app unless the other one is already on, so I have to connect to the new one through the iOS Bluetooth menu. Shouldn't be this difficult to use, guys, and kind of destroys the whole "connect to multiple speakers at once" thing.
Terrible app
This would be a great app if it would work. Everything the app is supposed to do to make using the speakers more convenient it does the opposite. There's absolutely no point in the app as all it will allow me to do is adjust the volume. Turning it on from the app, pairing, etc. does not work. This app needs major bug fixes!!
App crashes when setting alarm.
I've tried enough times that I'm now frustrated and leaving a one star review. The most recent update killed one is my main features. Slowly increasing the volume in the morning never failed to wake me up. Now the whole Alarm feature is dead. When I tap Alarm, the app pulls up the screen briefly before crashing. I've tried to toggle settings with no success. Please repair.
Firmware error blocks Bluetooth smart access
Ganjacopter
on
12/28/2017
Bluetooth smart feature can't be accessed now on my iPhone 7plus when it was working when I got the speaker on Christmas Day. I uninstalled the app, unpaired my phone and reset the speaker and that seemed to fix the issue momentarily however, I am noticing the "plus and minus" buttons as well as the power icon are stuck behind the "lets hook up" screen that shows when a user first installs the app. There seems to be a bug in this latest firmware update and I have screen shots of what I am seeing on my screen if someone wants to take a look.
Working for me after firmware updates
I was all set to be disappointed with this update after reading so many negative reviews. I had it in my mind that the update wrecked the ability for my pair of Boom 2s to pair up and play stereo after having some trouble trying. But then I noticed that there were firmware updates needed for the speakers. Once I did the update on both speakers, the app works flawlessly for me. I love my Boom 2s when they are playing in stereo! Only four stars because of the confusion I went through before I did the firmware updates. The app is a little too minimal when it comes to instructions.
This app is fine - needs iPhone X update
Come on UE... Bose has gotten around to updating their app for the iPhone X, why haven't you? Tick-tock time is wasting away here meanwhile your user base is stuck with a less than stellar UI.
Meh
Speaker won't connect to the app anymore
Alarm
The like the idea of using my Boom 2 as an alarm, but the feature within the app doesn't work properly. I selected certain songs and when the alarm goes off, the songs I selected were NOT playing. Also, I turned on my Boom 2 remotely from the app and after about a minute, my Boom 2 turned off. The bugs on this app need to be fixed before I'll use it again.
Didn't work at all
Didn't work for a second. Just bought a second UE BOOM 2 as I was pleased with the first one and was excited about getting surround sound... alas when a useless app is the only way to hook them up, the second one is now useless! You'd think Logitech would have better standards... based off the other reviews, obviously not.
Update via usb to a computer who has one of those now??
Love the speaker but the app is totally antiquated nobody updates via USB to device anymore. Get with it people. To the developers how am I meant update to "double up" the speaker when I don't have a computer or USB cord? It's not very clear when you buy this device that that's going to be necessary.
UE boom please give us the power button on the app
UE boom please update the power button on the app for iPhone X, The power button is a very useful feature. Fix the app please looking forward to it. Thanks
Remote power working again
New update fixed the remote on/off. A great feature that makes the app worth getting. Last version didn't work, but they seem to have fixed it.
Fails to update speaker. Help links go to dead website pages
ThisReviewIsForYou.
on
12/18/2017
These guys can't get their crap together to keep the app up to date with what they publish on their own website - and as a result basic things like firmware updates or help links fail
Bring back power on from app!!
Semicoffeesnob
on
12/16/2017
All that's need said!!!
"Boom"???
What's with the new icon? Did you actually pay someone to design this? Seriously the worst icon change I've seen.
DO NOT UPDATE
It was awesome!! After the update went backwards terrible terrible, it was very simple on/off speaker from the app part of the awesomeness now needs extra step and frustrating instruction page, please fix that ASAP, I believe all in the great product like ue boom 2 and mega boom I bought 4 already and I have recommend it to many people about 20 speaker has been sold for my recommendation of all the features and value of the product but please don't ruin it with those updates, simple is cool and user friendly ✨✌🏼️ I love ueboom2 great product this review only for the app
Just Stop
Just stop with your updates, this app used to be good now it's went horribly wrong after there push of updates for apparent fixes.. ya okay , If I could do 0/10 I would.
Good speaker, HORRIBLE APP!!
Minecraftmaster
on
12/12/2017
I can connect to speaker and play music however many of the app options are grayed out. The equalizer and alarm are grayed out as well as all but one of the options under settings. Tried to send an email to the contact support option in the app and it failed too. Called support and was on hold forever and they never answered. C'mon Logitech can't you even write a simple app? Or did you have some interns do this?
App does not work anymore
I am frustrated with this App, it used to work great. Now I cannot get the Equalizer to work at all. It keeps telling me it needs an update then redirects me to a web page that is no longer there, whats up with you UE ??????? You need to get this App fixed it is making you look like a bunch of amateurs.
This can't be that hard...
bustamove2772
on
12/9/2017
It seems every update fixes something and breaks something else. I can no longer change the volume remotely from my device. A MAJOR drawback
Awful
DevinSumrallHatesYahoo
on
12/8/2017
Didn't need the app before but now with a new phone it's required and I have to update the speaker? Why? I can't even turn down the speaker with the volume controls on the dang thing so it's at max level all the time. It seems that UE is in the business of tracking people and data mining now. Don't see any other reason for this nonsense. Don't buy this garbage if you haven't already.
Remote Power Fixed
Caer-Caveral
on
12/8/2017
First off, I would like to say my previous review was a 3 due to the app being average quality, poor menu layouts, and remote power would only power off but not back on. But now with the new update, the first thing I noticed is I can immediately power up my speaker with my phone. I will not harp on how this should've been fixed a long time ago, but it is refreshing to see the company working on bugs and being able to access all the features to my superb speaker.
Remote On finally works
Bought a Boom 2 a couple weeks ago and it's been great except the Remote On feature never worked. With this update it finally works!
On/off
This app has never worked for turning on from your phone, it will turn off but has never turned on.
Finally working properly! 🎉
Bought this speaker 2 weeks ago. Couldn't use the remote power on functionality. That was one of the main reasons I've decided to purchase this speaker. Today's update fixed this issue! Happy camper now. 😊
Boom
daboy1454335576
on
12/6/2017
Loved the app for the longest time, but slowly it got worse. First I lost the ability to play music as an alarm. Now with this update I'm unable to turn my speaker on and off from my phone. That was literally the best part of buying these speakers and now it's gone. Wow.
Update
When I first got the app it was great. Sense the update I can't control the speaker with my iPhone. It says it won't work with my device and I have a iPhone 7plus. And when you try to contact costumer service they don't respond. I have never bought anything that downgraded after you bought it.
Beware of UE updates
After the update I no longer can pair my UE boom and UE roll. Use to be able to not anymore. They're answer, nothing we can do.. won't be buying anymore of their products
Ue boom 2 "Lets Hook Up" problem
Hopefully this next update fixes the app, because I can turn off my ue boom 2 with my iPhone 7, but I can't turn it back on. With my galaxy s7, I can turn it on and off no problem.. Hopefully this next update fixes everything because I'm very dissatisfied with this bull.
AWFUL!!!
prettyricky83
on
12/3/2017
I have had my Boom 2s for a while now. I absolutely loved them and recommended them to many people (who actually ended buying them). BUT the last few updates have broken every single usable feature! I can't double up anymore without ridiculous static. The software/firmware update from 2 days broke the app completely and it can't even see the speakers anymore despite being connected in my Bluetooth settings. I don't know if this has anything to do with my iPhone X but this is unacceptable. I have always had iPhones and there is no reason for a new one to cause these issues. I'd return them ASAP if I could.
Great sound with my Pandora radio
Karen's Speaker
on
12/2/2017
I love my UE Boom speakers. I have surround sound in my office. Works great with my IPhone. I haven't tried to connect to TV. But overall I couldn't ask for a better sound in such a small speaker. Thanks!!
Finally works!
The latest version actually quickly synchronized my original UE boom speakers!
Don't ever by one these speakers are absolutely terrible.
The only satisfaction I had was slamming the speaker on the ground multiple times until it shattered. It took a while. The UE Boom simply would not connect or failed to charge after several months. Just the product is built to fail. My recommendation is if your going to buy this expensive piece of trash just do yourself a favor and get a Bose.
Amazing speaker
The sound is amazing, although I think there could be more pre-set equalizer settings. Generally I have no problems. The App can be a pain sometimes...just make sure you update your speaker when it needs to be updated and if that doesn't work close the app or even re download it.
Fact Sheet
Publisher:

Logitech Inc.

Category:

Music

Released:

May 21, 2013

Current Version Released:

Dec 06, 2017

Version:

6.1.96

Size:

28.6 MB

Compatibility:

Requires iOS 8.0 or later.

Recommended Age:

4+

Game Center Certified:

No

Supported Languages:

English; French; German; Japanese; Korean; Chinese; Spanish; Castilian; Chinese;