Screenshots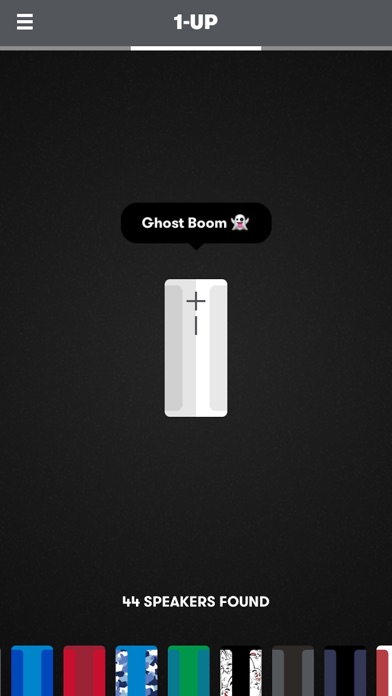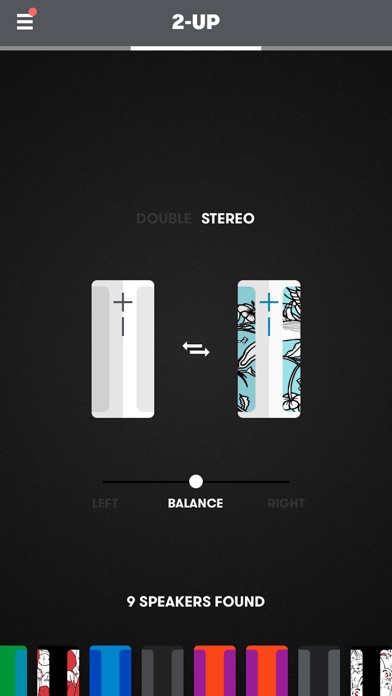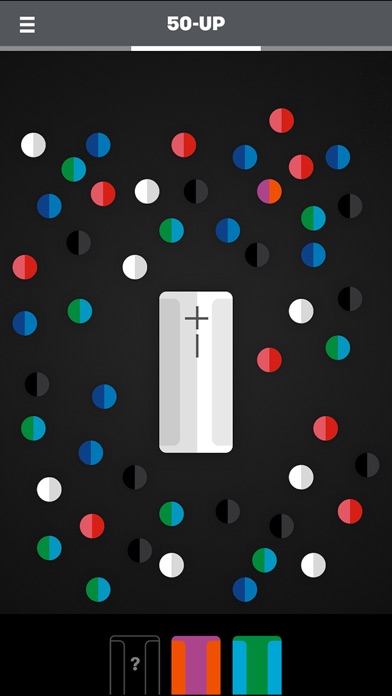 New in version 5.3
NEW - we've eliminated steps from the launch process so you get to music faster!
Fixed - a bug that incorrectly reported a firmware update failure when the update had succeeded. Apologies.
Fixed - numerous additional bug fixes.
Description
The UE BOOM app has everything you need to get the most out of your UE speaker. From #PartyUp to voice controls to customizable EQ, unlock even more awesome ways to use your UE BOOM and UE BOOM 2.

+ #PartyUp lets you connect 150+ speakers to take your parties to a whole new level - wherever, whenever, whatever!

+ Say It to Play It! Siri integration for UE BOOM is available now. You'll always stay in the moment -- with nothing between you and your music. It's now quicker, easier, and more convenient than ever to keep your party going.

+ You Control the Sound: All about that bass? In a tight space? You control the atmosphere with our custom EQ settings.

+ Remote On/Off: you'd never walk all the way to your TV to turn it on and you shouldn't have to with your wireless speaker either. Use the app to turn your speaker on/off from afar.

+ Block Party: DJ with multiple friends using Block Party.

+ Much more: personalize your speaker's name, wake up to your favorite playlist with the Alarm

+ Subscribe to updates so you never miss a thing. A simple tap in the app updates your speaker with the latest features in no time.
Reviews
Need to be able to pair all UE speakers
Vivaesteban
on
11/18/2017
I find it ridiculous that a person cannot pair all of UE's speakers together. One can pair 50 Wonderbooms together, or 25 Boom 2 and 25 Megabooms, but not Boom 2 and Wonderboom together? Get it together, UE.
Bad
This app use to work extremely well occasionally having the hiccup with group speaker playing. With the newest update however the app has completely bricked. I will have my speaker connected and functioning fine but the moment I open the app it kicks off the speaker from my Bluetooth. I genuinely hope the devs revamp the app back to its good ol' self again.
Can't update app
App was good but now there is an update so that I can use the equalizer and it won't let me update I click on it and nothing happens then I go to the website and it says sorry page cannot be displayed is there a better way or something wrong that I'm going to update it
Never connects after migrating to iPhone X
ContentOwner
on
11/17/2017
I have two UE Boom II speakers and just upgraded from an iPhone 7 Plus to the iPhone X. With the 7, I was always able to start up and connect to the speakers with the app. With the X, I have to turn on my "Left" speaker and the use the iPhone Bluetooth settings to connect. Once that is completed, I can then use the app to turn on and connect the "Right" speaker. The app will turn on the speakers, but it's not able to make the audio connection. It's really annoying.
Improvement is necessary
Temple Musiq fan 81
on
11/16/2017
updated review: I am getting a notification that says the remote control does not work and is not compatible with my device when it was just working recently. I am unable to turn the remote switch on. The notification I got was not accessible with voiceover. Please fix this and make the app accessible for voiceover users. Old review:I love the speaker. The tap controls do not work most of the time and are slow to respond. More importantly, the remote feature doesn't always work when Bluetooth and the speaker are on. The menus and buttons are not accessible with voiceover. Also the latest update to the speakers Bluetooth made the connection with the iPhone worse and audio quality suffers as a result.
Come on fellas...
Say developers, can we get an update so we can have functionality with the app again? Thanks and right on.
Almost there
You REALLY need to fix that "Let's hook up error" I can't restart my phone every time it happens (and closing the app doesn't do it). Also, you need to figure out a better way to let me manage both speakers individually or combined, not to mention that I have to go to my bluetooth settings and "connect" each speaker every single time. My music recognizes my other Bluetooth devices without me having to reconnect, why not this one? The alarm option wasn't working great either the last time. --- wrote this review over 6 months ago and nothing has changed, except that now these speaker seem to be hard for other devices to recognize 😒
update killed it
worked fine before update now its hopeless. keeps turning itself on and waking me up in the middle of the night and i NEVER used the alarm feature never touched it but now i cant stop it. had to put the speaker in the garage where it no doubt wakes the dog! 🐶
Remote Power No Longer Works
After the last update I've lost the ability to turn on my UE Boom remotely.
Worst app ever
Can't get out of how to mode. Have to reset every time turn it on. Now nothing works. Sounds great when works.
F***
I have my own receipt but ....f*** For how many hours out from that store... Came home ****fully charges said that 100% Apps...EU Then played how many songs 20 to 25 songs ...how come 15hrs last ...battery life??????
No longer connecting to speaker
UPDATE: still several months since it quit working and still no fix from developers. I am going to make sure I leave reviews on the UE products themselves about how bad the apps are. Suddenly quit connecting to my speaker. Speaker is paired but app doesn't seem to care anymore. I see others are have same issue so hopefully an update will come soon to fix this new problem.
Frustrating
BossMixologist
on
11/4/2017
Alarm part makes the app crash
Doesn't work
Bring back score center please
on
11/3/2017
I have to re connect my speaker every time I use it. Meaning I have to manually turn on the speaker when I open the app and it takes me through the whole set up process every time. Which means the only thing it's good for is volume control AFTER the time taken to set up. Which is just stupid because the phone will control the volume remotely without the app. Don't bother with the app it's useless.
You test this app at all?
App doesnt work. Speakers connect in Settings via bluetooth, but not seen in app. App is useless.
Was great....
This was a great app but after the last update I can't remotely turn on the speaker. That loses much of the desirable effects of these expensive speakers....
No point in downloading
I can't even click on half of the options it "offers"...
Loved it, then...
They are great speakers, when they work. They drop their sync with my phone about every 15 minutes, and I have to plug them into my PC to update the firmware, which often fails to update. Pretty frustrating. Since when does my wireless device need to be plugged in to be updated? If they just made them updatable via Bluetooth over my phone I think they would be fine again.
What a joke
For the pice I payed for this speaker this app should be bug free, remote start doesn't work at all anymore and double up will constantly crash apparently my iPhone 7 doesn't support Bluetooth smart even though it worked fine on the 6 terrible
This App is Junk
Doesn't connect to the MiniBoom. The speaker is on my list of Bluetooth devices and says connected but this worthless app does nothing. Very frustrating. I will never buy another one of your products. You have lost a customer
Will not connect to Wonderboom.
somisrichard
on
10/25/2017
The app will not find or connect to the wonderboom. I can only connect the wonderboom in Bluetooth settings. But I can't access the ue app features. It just says please connect via Bluetooth. But it's already connected.
It USED to work...
mrmatrixdlg
on
10/23/2017
The app passed with flying colors for the longest time. Sure I'd have the occasional bump in functionality, but it was never anything I was unable to solve myself. For some reason, overnight it would seem, the apps for both the UE Boom and UE Megaboom no longer detect the speakers. Note, my iPod connects over Bluetooth just fine, it's the application itself that is at fault here. I use my UE Boom as my alarm for work and school. It isn't the biggest inconvenience in the world to have to go back to my iPod's built in speaker, but once a guy gets used to something he's going to want it to stick around. I've been a happy customer ever since the first iteration of the Boom, the first model became my alarm and backup speaker. I really love the product and want to see the companion application do well. If it's because of IOS11 then I'm out of luck because my iPod is full to the brim and has no space to accommodate the update. I hope a patch of some kind gets released soon.
Just bought a wonderboom this evening
Inmanhattenks
on
10/15/2017
It seems to play through Bluetooth. The app is useless, wont connect. And I can't even delete the app. When I try to delete it, it only asks whether I want to share the app. How is it possible that the experience on such an expensive, single, Bluetooth only speaker, be this bad? Especially now that I read all the other reviews. Is there a fix or does no one at the company care?
Remote on issues
Namenamenamenamename
on
10/12/2017
Like many others have stated, the remote on function doesn't work for me and never has, I can remotely turn off the speaker but then it just asks me to reconnect. According to other reviewers it seems like this has been an issue since at least July...
No more remote on/off
Raphael lelan
on
10/11/2017
Doesn't work.
Completely unusable app
NaanViolence
on
10/11/2017
My UR Boom 2 connects to my devices just fine, but the app does not register that there is a Boom device connected to my fully updated iOS 11.0.3 iPhone 7. Literally an unusable application.
Equalizer
Tangomaster2
on
10/11/2017
Well, bought the UE Megaboom speaker this afternoon. Downloaded the UE app, loudspeakers are connected and Bluetooth is also enabled. Why can't I use the other features of the app? I want to use the Equalizer but app says I have to connect speaker first?! I have done that previously, listening to my favorite music as I type this review, maybe the developers need to update the app again. From what I have read from other app users is that I am not the only person that is having this problem. Using iPad Pro, UE Megaboom speaker and Bluetooth is enabled and recognized the UE Megaboom. PLEASE UPDATE APP SO I CAN USE ALL OF THE FEATURES, THANK YOU IN ADVANCE.
Rubbish, Doesn't Work!
I don't know what Logitech did, but now the app does NOT connect to the UE Boom, thus none of the app features work now. Can't adjust volume, etc. it keeps saying to connect. I deleted the app, re-downloaded, paired and still nothing. When trying to use the UE as a speaker phone, a loud screech is heard when the other person talks. It is now rubbish.
Alarm crashes always and immediately
Used to work great. Now doesn't work at all. Real shame.
Why...
Lalalalaaaaaaaa7
on
9/30/2017
It was fine until this update. Can't control it from my phone anymore (power button gone and volume buttons hardly work). The best part of this app was being able to power it on and off from anywhere in my house from the app
Update killed connectivity
I was able to power up my UE boom and adjust the settings up until I updated the app. Please fix your app.
Unreliability hamper otherwise good app
admiralpumpkin
on
9/28/2017
Overall Iack of reliability, in terms of ability to stay connected, ruin what what is otherwise a good app and speaker system.
Works again
Half-Cut Skeleton
on
9/25/2017
It works like a charm again. Thank you.
What Happened to Miniboom?
mikoikochestersonjack
on
9/24/2017
Very disappointed in these. I can no longer control my UE MiniBoom; the app is no longer there! Maybe try having one app for all speakers.
Works Great
Especially like the equalizer function. Don't know why so many others are complaining. Downloaded it and it works great.
UE app is no help but awesome speakers
MissSpelling
on
9/23/2017
I Have 2 ue wonderbooms and trying to pair them together for the double up. The app is no help so hopefully this will save you time. Pair one ue to your phone. Then turn on the second ue. Then On both ue wonderbooms, hold and press down on the UE LOGO on both booms at the same time for 3 to 5 seconds. They will make a noise and in another 5 seconds they will double up! Select your music and enjoy double the sound on your two speakers!
App probs
The mw2 uu pro fan
on
9/20/2017
This would be a 5 star review because I love this speaker and I love the app but after a recent update my app it crashes the second I press the alarm button my favorite feature!
Not functional
The app is horrible. I can't even use it to control the volume at all. It gives me a notification that I need to update the app (which is already updated, but doesn't work). Non functional app. Don't waste your time.
thanks for nothing
itiswhatitis<3
on
9/15/2017
I never use my speakers through the app but i figured why the heck not lets use both at the same time. I saw I had an update so I update both speakers. NOW NEITHER SPEAKER WORKS!!!! with or with out the app. Not sure how that works? I've turned them on and off and back again and connected them and disconnected them and nothing works!!
Needs a timed off option
Does what's it's meant to but isn't particularly special. Also lacks a a timed off switch to listen till you pass out or something. An over the air update would work.
Won't connect
Tried this on 2 different wonderboom speakers and neither was recognized on the app. Keeps saying it needs to be connected first which it is.
PLEASE MAKE A WONDERBOOM APP
Ne0s awesome
on
9/12/2017
PLEASE MAKE A WONDERBOOM APP PLEASE MAKE A WONDERBOOM APP PLEASE MAKE A WONDERBOOM APP PLEASE MAKE A WONDERBOOM APP PLEASE MAKE A WONDERBOOM APP PLEASE MAKE A WONDERBOOM APP PLEASE MAKE A WONDERBOOM APP
Love the new power-on feature!
It's a game changer!
App is useless without firmware update
This app used to have some value when I could control my UE Boom from it. Now I have to plug in my UE Boom to a Mac or PC to update the firmware. Just one problem... I don't own a mac or PC! Without the firmware update, this app is rendered absolutely useless. Anyway, I guess I'll just use what's left of this speaker's life (which isn't much considering the battery now lasts about 30min. before running out - and just over 1 year of owning this device). Last UE product I'll ever own. I'll be deleting the app since it's useless to me now.
Used to work
App doesn't turn on my speaker anymore!!!!! Sooooo annoying!!! Fixxxxx it!!!!!
Doesn't adding additional speakers.
I have two UE Boom speakers. I can turn one on remotely from my phone but can't add the second speaker. The instructions they give say to swipe left from the home screen to see all available speakers. But when I swipe left nothing happens.
Used to work
Now it does not work. Wish I had the old version back. Luckily my speakers connect but the app doesn't recognize the connection so I cannot use the EQ or anything else.
It was ok before the update, now it almost ruined my speaker itself
WolffeyGames
on
8/30/2017
My speaker is the limited edition skrillex speaker, it had a cool sound for turning on & off (skrillex's voice saying ok when you turn it on and bye bye when it turns off) and when I got the update for the speaker that went away, so now my speaker isn't unique other then the art on it, and after the new app update whenever the app runs the audio screws up, the remote doesn't work 90% of the time, this app is complete trash, UE i had high hopes for you cause the speaker is great, so fix its companion app please
Is there another app that works with the speaker?
Do we really need a third party developer to improve this? It's pretty basic as far as apps go. Why can't it recognize that my speaker is freekin' on? it's on!!!!!!!!
Crashes after update
Therealjackpan
on
8/22/2017
Running on ios 8.1.1. It does supports my ios 8 platform so, I shouldn't have a problem. After the latest update, I can't even open the app anymore. It just crashes even killing/hard reset doesn't seem to fix the problem. Therefore, I have to connect by going to settings and connect the speaker via bluetooth(unlike before the update where I can turn on and connect from a distance).
Fact Sheet
Publisher:

Logitech Inc.

Category:

Music

Released:

May 21, 2013

Current Version Released:

May 24, 2017

Version:

5.3

Size:

27.7 MB

Compatibility:

Requires iOS 7.0 or later.

Recommended Age:

4+

Game Center Certified:

No

Supported Devices:

iPhone4-iPhone4, iPad2Wifi-iPad2Wifi, iPad23G-iPad23G, iPhone4S-iPhone4S, iPadThirdGen-iPadThirdGen, iPadThirdGen4G-iPadThirdGen4G, iPhone5-iPhone5, iPodTouchFifthGen-iPodTouchFifthGen, iPadFourthGen-iPadFourthGen, iPadFourthGen4G-iPadFourthGen4G, iPadMini-iPadMini, iPadMini4G-iPadMini4G, iPhone5c-iPhone5c, iPhone5s-iPhone5s, iPadAir-iPadAir, iPadAirCellular-iPadAirCellular, iPadMiniRetina-iPadMiniRetina, iPadMiniRetinaCellular-iPadMiniRetinaCellular, iPhone6-iPhone6, iPhone6Plus-iPhone6Plus, iPadAir2-iPadAir2, iPadAir2Cellular-iPadAir2Cellular, iPadMini3-iPadMini3, iPadMini3Cellular-iPadMini3Cellular, iPodTouchSixthGen-iPodTouchSixthGen, iPhone6s-iPhone6s, iPhone6sPlus-iPhone6sPlus, iPadMini4-iPadMini4, iPadMini4Cellular-iPadMini4Cellular, iPadPro-iPadPro, iPadProCellular-iPadProCellular, iPadPro97-iPadPro97, iPadPro97Cellular-iPadPro97Cellular, iPhoneSE-iPhoneSE, iPhone7-iPhone7, iPhone7Plus-iPhone7Plus, iPad611-iPad611, iPad612-iPad612, iPad71-iPad71, iPad72-iPad72, iPad73-iPad73, iPad74-iPad74, iPhone8-iPhone8, iPhone8Plus-iPhone8Plus, iPhoneX-iPhoneX,

Supported Languages:

English; French; German; Japanese; Korean; Chinese; Spanish; Castilian; Chinese;