Screenshots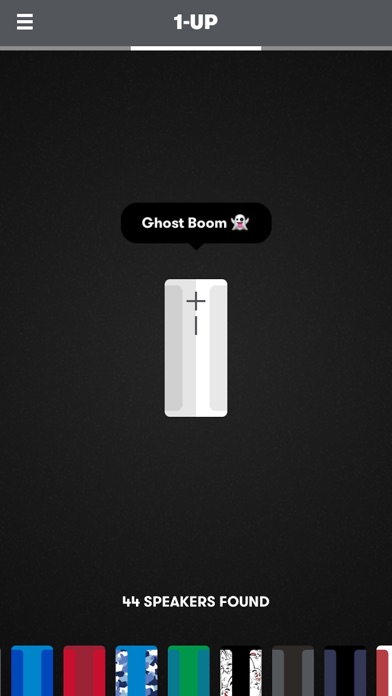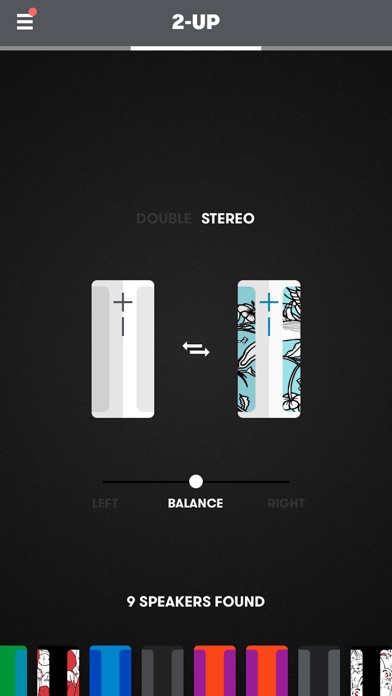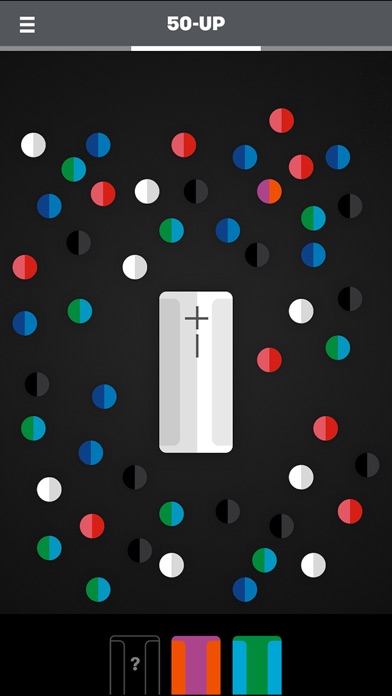 New in version 5.3
NEW - we've eliminated steps from the launch process so you get to music faster!
Fixed - a bug that incorrectly reported a firmware update failure when the update had succeeded. Apologies.
Fixed - numerous additional bug fixes.
Description
The UE BOOM app has everything you need to get the most out of your UE speaker. From #PartyUp to voice controls to customizable EQ, unlock even more awesome ways to use your UE BOOM and UE BOOM 2.

+ #PartyUp lets you connect 150+ speakers to take your parties to a whole new level - wherever, whenever, whatever!

+ Say It to Play It! Siri integration for UE BOOM is available now. You'll always stay in the moment -- with nothing between you and your music. It's now quicker, easier, and more convenient than ever to keep your party going.

+ You Control the Sound: All about that bass? In a tight space? You control the atmosphere with our custom EQ settings.

+ Remote On/Off: you'd never walk all the way to your TV to turn it on and you shouldn't have to with your wireless speaker either. Use the app to turn your speaker on/off from afar.

+ Block Party: DJ with multiple friends using Block Party.

+ Much more: personalize your speaker's name, wake up to your favorite playlist with the Alarm

+ Subscribe to updates so you never miss a thing. A simple tap in the app updates your speaker with the latest features in no time.
Reviews
Works again
Half-Cut Skeleton
on
9/25/2017
It works like a charm again. Thank you.
What Happened to Miniboom?
mikoikochestersonjack
on
9/24/2017
Very disappointed in these. I can no longer control my UE MiniBoom; the app is no longer there! Maybe try having one app for all speakers.
Works Great
Especially like the equalizer function. Don't know why so many others are complaining. Downloaded it and it works great.
UE app is no help but awesome speakers
MissSpelling
on
9/23/2017
I Have 2 ue wonderbooms and trying to pair them together for the double up. The app is no help so hopefully this will save you time. Pair one ue to your phone. Then turn on the second ue. Then On both ue wonderbooms, hold and press down on the UE LOGO on both booms at the same time for 3 to 5 seconds. They will make a noise and in another 5 seconds they will double up! Select your music and enjoy double the sound on your two speakers!
App probs
The mw2 uu pro fan
on
9/20/2017
This would be a 5 star review because I love this speaker and I love the app but after a recent update my app it crashes the second I press the alarm button my favorite feature!
Not functional
The app is horrible. I can't even use it to control the volume at all. It gives me a notification that I need to update the app (which is already updated, but doesn't work). Non functional app. Don't waste your time.
thanks for nothing
itiswhatitis<3
on
9/15/2017
I never use my speakers through the app but i figured why the heck not lets use both at the same time. I saw I had an update so I update both speakers. NOW NEITHER SPEAKER WORKS!!!! with or with out the app. Not sure how that works? I've turned them on and off and back again and connected them and disconnected them and nothing works!!
Needs a timed off option
Does what's it's meant to but isn't particularly special. Also lacks a a timed off switch to listen till you pass out or something. An over the air update would work.
Won't connect
Tried this on 2 different wonderboom speakers and neither was recognized on the app. Keeps saying it needs to be connected first which it is.
PLEASE MAKE A WONDERBOOM APP
Ne0s awesome
on
9/12/2017
PLEASE MAKE A WONDERBOOM APP PLEASE MAKE A WONDERBOOM APP PLEASE MAKE A WONDERBOOM APP PLEASE MAKE A WONDERBOOM APP PLEASE MAKE A WONDERBOOM APP PLEASE MAKE A WONDERBOOM APP PLEASE MAKE A WONDERBOOM APP
Love the new power-on feature!
It's a game changer!
What a joke
For the pice I payed for this speaker this app should be bug free, remote start doesn't work at all anymore and double up will constantly crash
App is useless without firmware update
This app used to have some value when I could control my UE Boom from it. Now I have to plug in my UE Boom to a Mac or PC to update the firmware. Just one problem... I don't own a mac or PC! Without the firmware update, this app is rendered absolutely useless. Anyway, I guess I'll just use what's left of this speaker's life (which isn't much considering the battery now lasts about 30min. before running out - and just over 1 year of owning this device). Last UE product I'll ever own. I'll be deleting the app since it's useless to me now.
Used to work
App doesn't turn on my speaker anymore!!!!! Sooooo annoying!!! Fixxxxx it!!!!!
Doesn't adding additional speakers.
I have two UE Boom speakers. I can turn one on remotely from my phone but can't add the second speaker. The instructions they give say to swipe left from the home screen to see all available speakers. But when I swipe left nothing happens.
Used to work
Now it does not work. Wish I had the old version back. Luckily my speakers connect but the app doesn't recognize the connection so I cannot use the EQ or anything else.
It was ok before the update, now it almost ruined my speaker itself
WolffeyGames
on
8/30/2017
My speaker is the limited edition skrillex speaker, it had a cool sound for turning on & off (skrillex's voice saying ok when you turn it on and bye bye when it turns off) and when I got the update for the speaker that went away, so now my speaker isn't unique other then the art on it, and after the new app update whenever the app runs the audio screws up, the remote doesn't work 90% of the time, this app is complete trash, UE i had high hopes for you cause the speaker is great, so fix its companion app please
Is there another app that works with the speaker?
Do we really need a third party developer to improve this? It's pretty basic as far as apps go. Why can't it recognize that my speaker is freekin' on? it's on!!!!!!!!
Crashes after update
Therealjackpan
on
8/22/2017
Running on ios 8.1.1. It does supports my ios 8 platform so, I shouldn't have a problem. After the latest update, I can't even open the app anymore. It just crashes even killing/hard reset doesn't seem to fix the problem. Therefore, I have to connect by going to settings and connect the speaker via bluetooth(unlike before the update where I can turn on and connect from a distance).
iTunes is garbage
chris123456678
on
8/22/2017
The app won't even open on my computer.. it works fine on my cell phone. I can't update these speakers unless it opens on my computer.. which it doesn't. In other words, this app, and iTunes is garbage. Get it together UE.
Awful updates
I agree with the recent reviews. It's been extremely annoying not having use of the speaker that used to have a variety of positive attributes but have all been rendered useless since updating. After one update and several hours on the phone with a tech person we were able to fix the remote power option but then it updated again and I'm right back to where I was a couple months ago, except now I don't even have access to the volume control options.
No Accessibility support
Blind users rely on VoiceOver, Apples built in screenreader. Without support cant use features in app or update speaker firmware
Static
AaronNguyenmmnns
on
8/15/2017
There is a static problem when you connect the 2nd speaker to the PartyUp Mode when you are not playing any music. FIX THAT PLEASE!
Does nothing
Mini boob doesnt work with the app wasted my time
App won't even open
At least the speaker works. I used to use it as an alarm clock before the app stopped working altogether.
Works flawlessly
weAllgotAsongInside
on
8/12/2017
The app works flawlessly. Shows how much battery life is left in the UE BOOM 2, has great equalizer settings, and the best part.. I can turn the device on and off right from the app. Great app and love the speaker. Zero issues.
Love it / Hate it
Love boom 2 speakers. I've had them for a year. I did a firmware update and the speakers would pair anymore. Level 1 support was good as much as they could be. It's been over 2 weeks and level 2 support hasn't called or even emailed me back. Shame on you! These speakers aren't cheap but the support is. Finally got the speakers to pair by trying and retrying different things. THIS APP IS USELESS!!!!!!!!!!!!!!
Nothing but positive things to say about this
I've been using it for about a month and has been worrying fantastically battery lasts for days and I put it on full blast always. Before I bought a beats pill and it broke 2 weeks in and this ol girl is going strong! Great product thanks UE
TERRIBLE IS TOO GOOD OF A DESCRIPTOR
I will be deleting the app and returning the speakers. I should have stayed with JBL..... party up doesn't work and DJ functionality doesn't work. FRUSTRATING AS HECK!!!!!!
Really?
Expensive product rendered useless by it's garbage app.
Was Working Until...
I generally don't leave reviews. It has to be an exceptional app or really awful. This app falls into the second category. It was working fine until the update. Now I can't control the speaker from my iPhone. If I have it connected to the audio of my TV/DVD, I have sound. When I launch the app and connect it to Bluetooth so I can control the volume, the speaker disconnects. So now I'm forced to keep getting up, adjusting the volume, sitting down to see if the volume is alright. Then when I change stations or watch a new movie; the process begins all over again. This game of musical chairs has become old. I honestly don't understand how or why, this or any other company, can have major flaws for an update to the point that it's rendered useless. Isn't the point of the update to "fix minor bugs"? Has anyone developing the software at this company heard of Beta test? I have been a part of many with Apple when they are developing a new IOS. At a bare minimum, the employees should have been testing it throughly before a release. I suppose when you have sole rights to develop an app for your own product it doesn't really matter. Honestly, what can any of us do? We own the speakers and for most of us when can not return them at this point. All we can do is discourage friends and family from buying the speakers. Maybe when it impacts the profit margin, someone will act on rectifying the issue. Until then...
Alarm
Raynardjoiner
on
8/1/2017
Only giving this 5 stars because the Alarm work great with Spotify and is my favorite part of my iPhone.
Remote power works, but speaker not recognized
Adding to the other reviews about this. When I first got my boom last year, it powered on and connected with Bluetooth automatically. It now powers on remotely, but sends me to the "Lets Hook Up" page, even though already connected. The app needs some work to correct this please. The speaker is a great product once connected. Sound is good and has plenty of power to cause complaints from offices down the hall if I turn it up on a Friday afternoon. Battery life seems good, I play music about 2 hours a day in the office and only charge it every other week. Devs please take a look at the app problems, we would love to have our solid product back 😀
Issues
My speaker won't connect to the app
PLEASE FIX!!
My speaker (UE boom 2) connects to my phone and plays music but the app asks me to connect when I'm already connected to the speaker. I have tried restarting my iPhone as well as tried to re connect to my speaker, FIX IT PLEASE
Remote On/Off Stopped Working
Like other reviews state, remote on/off doesn't work anymore. Very frustrating when the app tells me I need to connect the speaker while it's connected and playing music. Great speaker features are no good if I can't use them.
Review for the app (not the ue boom2 which sounds fantastic!)
Enrice Tortellini
on
7/17/2017
What just happened to the app with the update? It used to work but now gives me a speaker not connected message... others are reporting this too. Please fix it.
Terrible
This app crashes, has a strange static sound during playing half the time. Need to rebuild the whole app. Start from scratch. This app is garbage, I've had the UE roll, UE mega boom, and I currently have 3 UE boom 2 and all the other apps are responsive and work good....but not this one. Terrible...
Worked fine before
I've had my UE Boom 2 for about 4 weeks and it's been working pretty well until the last week. The app for some reason thought I haven't connects my speaker yet, and asked me to connect it, all the while it was playing my music through it. I decided to forget the device and try reconnecting, but the app still believed that I had not connected yet. Please fix!!
No longer connecting to speaker
Suddenly quit connecting to my speaker. Speaker is paired but app doesn't seem to care anymore. I see others are have same issue so hopefully an update will come soon to fix this new problem.
Connection issues
I love my UE's... when they're both connected to the app. Sometimes they both show up in the app but only one is playing music. Then when I pull the other up it connects it and the other stops playing music. This happens too often and I would think it would have gotten fixed sooner rather than later. Until then the sound of the speakers themselves makes my review 2stars.
dumb
i am very very angry, i've had my speaker for a couple months and it connected to my phone once. and then my friend connected and after that it never connected to my phone ever ever again. and everyone else's phone w little problem. so whats the deal? i don't know couldn't tell ya, but i'm pressed. bc i want it to work, and i've had it too long and now i cant return a 200$ speaker (((:
Very Disappointed
Recently purchased my 1st Ultimate Ears a UE Boom 2 and although I'm able to connect the speaker and play music, there are problems with the app! The Alarm does not play the selected music, it plays random songs from my music library that are not selected (you also do not have the ability to remove selected songs). The Remote On/Off also does not work. You can remotely turn the speaker off but, you cannot remotely turn the speaker on (I have an iPhone 6s so this option should work but it doesn't). After reading other reviews of this speaker and the app, I will most likely return the speaker. It does not preform as promised. Very disappointed in this purchase!
App not working properly
Crashdummy1022
on
7/5/2017
Re-download app several times and I still can't use the equalizer or alarm functions. It keeps says I need to turn on speaker and pair. Even when I have music playing through the speaker via blue tooth.
Used to be good
Before the last update, doubling up was easy and worked. Now it never works. Go back to the old format!
App not recognizing ue boom
I needed to update the software. I thought your app would help me but in fact it's not even recognizing the speaker! That's bizarre.
Works well so far
Nickjbanerjee
on
7/1/2017
Works well so far. Cool app.
Worked perfectly before....
But this version is buggy. I can see my second speaker when I switch between mode screens (regular, partyup, block party), but the huge black instructions on party up and block party block the speakers entirely so they can't be selected.
Sounds great, but...
More than half the controls in the app either don't show up or don't work. Double up has disappeared and PartyUp never finds second speaker. Should have stick with Bose
App does not recognize connection
The app doesn't recognize that my device is already connected to UE boom..i.e. the app is completely useless. This functionally means that UE brand should be considered a single speaker brand where customers should NOT be encouraged to purchase multiple speakers.
Fact Sheet
Publisher:

Logitech Inc.

Category:

Music

Released:

May 21, 2013

Current Version Released:

May 24, 2017

Version:

5.3

Size:

27.7 MB

Compatibility:

Requires iOS 7.0 or later.

Recommended Age:

4+

Game Center Certified:

No

Supported Devices:

iPhone4-iPhone4, iPad2Wifi-iPad2Wifi, iPad23G-iPad23G, iPhone4S-iPhone4S, iPadThirdGen-iPadThirdGen, iPadThirdGen4G-iPadThirdGen4G, iPhone5-iPhone5, iPodTouchFifthGen-iPodTouchFifthGen, iPadFourthGen-iPadFourthGen, iPadFourthGen4G-iPadFourthGen4G, iPadMini-iPadMini, iPadMini4G-iPadMini4G, iPhone5c-iPhone5c, iPhone5s-iPhone5s, iPadAir-iPadAir, iPadAirCellular-iPadAirCellular, iPadMiniRetina-iPadMiniRetina, iPadMiniRetinaCellular-iPadMiniRetinaCellular, iPhone6-iPhone6, iPhone6Plus-iPhone6Plus, iPadAir2-iPadAir2, iPadAir2Cellular-iPadAir2Cellular, iPadMini3-iPadMini3, iPadMini3Cellular-iPadMini3Cellular, iPodTouchSixthGen-iPodTouchSixthGen, iPhone6s-iPhone6s, iPhone6sPlus-iPhone6sPlus, iPadMini4-iPadMini4, iPadMini4Cellular-iPadMini4Cellular, iPadPro-iPadPro, iPadProCellular-iPadProCellular, iPadPro97-iPadPro97, iPadPro97Cellular-iPadPro97Cellular, iPhoneSE-iPhoneSE, iPhone7-iPhone7, iPhone7Plus-iPhone7Plus, iPad611-iPad611, iPad612-iPad612, iPad71-iPad71, iPad72-iPad72, iPad73-iPad73, iPad74-iPad74,

Supported Languages:

English; French; German; Japanese; Korean; Chinese; Spanish; Castilian; Chinese;