Games
Music
Entertainment
Trivia
Recommended app!
App last updated
Nov 02, 2016
Screenshots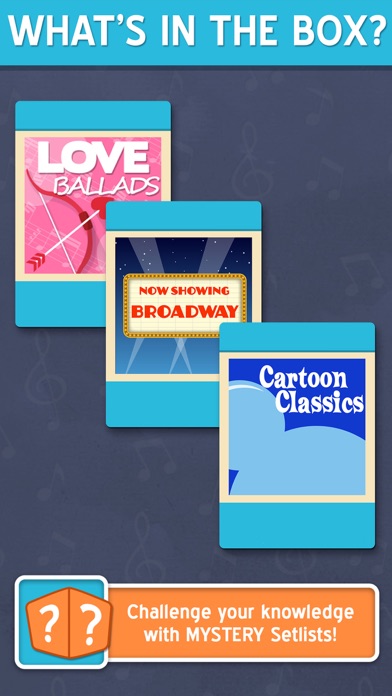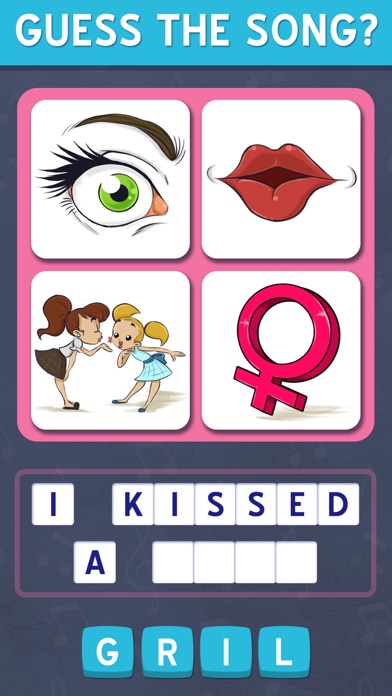 New in version 4.0
- Various bug fixes and improvements, including iOS 10 improvements.
Description
4 PICS 1 SONG gives you the pictures, you guess the song!

From Game Circus, the creators of popular iOS games Coin Dozer and Paplinko, 4 PICS 1 SONG will keep you coming back for more!

With four pictures to give you hints, solve the puzzle by figuring out the song title!

4 PICS 1 SONG combines the fun everyone loves from games like 4 Pics 1 Word and SongPop to bring you a new challenge!

Packed with popular music from a wide variety of artists, genres, and decades, 4 PICS 1 SONG tests your musical knowledge!

The more song puzzles you complete, the more coins you get! If you get stuck trying to name the song, use powerups to give you more hints!

Can you name all the songs??

Fun, Simple, Addictive - 4 PICS 1 SONG takes picture and song quizzes to a whole new level!

Look for updates that include tons of new songs and new features!
iPad Screenshots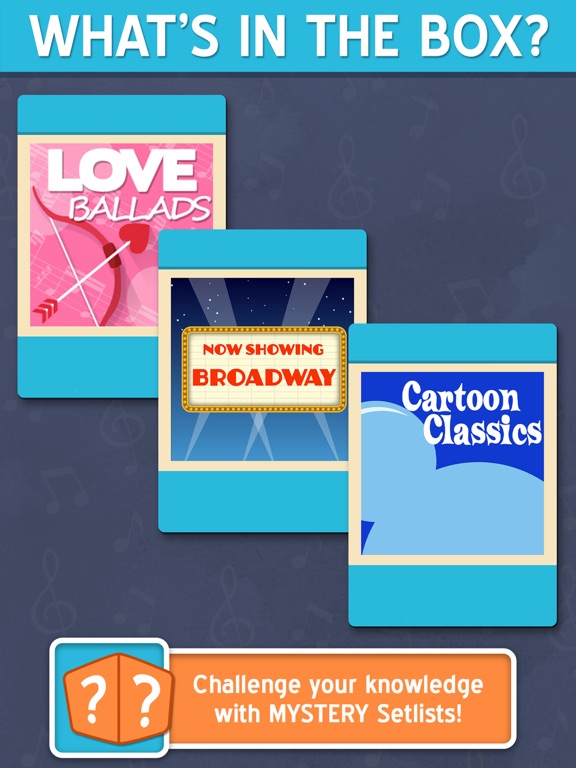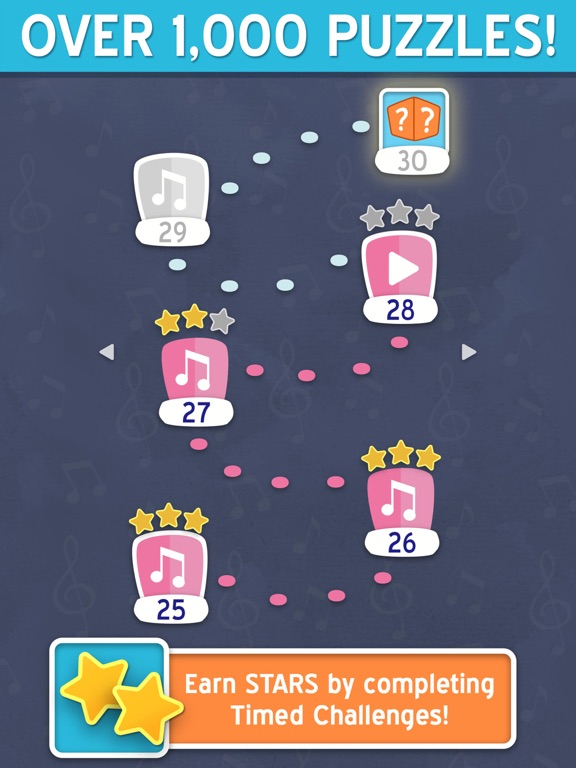 Reviews
Good for the brain!
Puzzles are great for the brain AND you may learn of some songs you're missing out on!
Ok game
it's a ok game it's a little frustrating when it doesn't work the right way
Addicting
Love the game but going for free coins anything over five forget it. Never works for me.
Love it! 😍
This game is so awesome but I'm not so good at it!!... Lel 😜
Awesome game
Keyboard and mouse
on
9/19/2017
This game helps to keep your gears turning and its fun
Fun
Nasyanakimera
on
9/16/2017
I am enjoying this trivia app.
Yeah that's Yeah that's
N You I'm so I'm just
Just started
Is this name taken too dang!
on
8/15/2017
Like it for now
Good so far
Only got through the first 5 ones and then it asked for a rating. Seems easy.
Fun, but . . .
This is a fun game, but you don't get many points for solving a puzzle. Even with the random points it always lands on the same amount- never over 100.
good
Pinkyinthebrain_
on
7/16/2017
good app
Addictive
I love this game especially since I know most of the songs
Fun game
Great game! Love playing it! Keeps me occupied for awhile!
Good
Sweet lizard 95569
on
6/25/2017
Good game
Too many pop ups!
This game would be fun to play if it weren't for the pop ups. Very annoying when they pop up practically every minute. Sometimes while I'm trying to solve the puzzle or typing in the letters!
Really good 💗💗
Kassandra Marcelo
on
6/16/2017
Nothing bad with it. Just a couple of adds
It ok
It is very fun but it's doesn't make to much sense to me. I like it though love this game👍🏾👍🏾👍🏾👍🏾of 5
Great
heav awesome
on
6/11/2017
This game is horrible but it will give me coins for a 5 star rating soo
🦄🦄🦄
Bookreviewpersonthingy
on
6/4/2017
I LOVE IT!
So far so good
I don't mind giving a review, but it is a pain when they ask for a review before I get a chance to even really play the game. So far, so good. But I can't really give an accurate review yet
4 Pics 1 Song
Love this game great time remembering these songs
Interesting
Like this game makes u think about all the music out there
Addicting
AJ Morkie Boxer
on
5/25/2017
Fun Fun & More Fun
Noice m8
Cat and Kylie
on
5/22/2017
:3
Isn't
Mmmmmmdjheudnmdiheb
on
5/14/2017
Ehejuriedidirituh
Nice game
Shayshaythemua
on
5/10/2017
I love it just wish song choices was more diverse.
Like but locked ☹️
Like the game but am sitting at level 62 with 12k+ coins but it keeps saying need to complete more groups to unlock. Figure it has something to do with level 60 showing 0/16 but it will not let me play that level with with no message as to why. Since can't move forward will have to delete.
Really fun
ThatPotatoKatya
on
4/23/2017
...
4 Pics 1 Song
Great game!
Glitches
Loved the game but every time I try to unlock the last puzzle it shuts down. It bothers me so bad because it's the last one. Fix it!!
Quick & Fun
I enjoy guessing the song titles from 4 pictures. It's quick to complete a round or 2. But worth paying to get rid of the constant, annoying ads!!!
Inappropriate content
Unexceptable12345678
on
3/29/2017
This app has ads that pop up with x-rated images please don't let your kids play this
New addiction
Love Love Love this game
I'm doing this for money
Cool
Super frustrating!
Placing the tiles is horrible! Love the concept, but it is annoying to have the tiles move out of the space you placed them. Will probably be deleting this one!
Great game
Dhshsyeshsgsbsvzcck
on
3/18/2017
10/10
Fun at first but then...
Potter, Harry:)
on
3/18/2017
I was having lots of fun with this game, I got up to level 39 and then it glitched out on me and would not let me unlock the next level. It said that I had to complete more puzzles to unlock that one, but I went back and checked and they all said completed 16/16. I wish it could be fixed, but I've been trying for a while and I will now be deleting the app.
Good Game
I love this game it's really fun when you have nothing to do but I'm only 12 so I do not know must songs it gives me beside that I love it!
Yay
Ahdnicydgdbfu
on
3/13/2017
Yay
❤❤❤
Omg can't wait
on
3/12/2017
I love this game 👅👅
Review
ashleynicole16
on
3/8/2017
Addictive game.
Best game
I've played other picture song guessing games and this is my favorite.
Fact Sheet
Publisher:

Game Circus LLC

Category:

Games

Released:

May 22, 2013

Current Version Released:

Nov 02, 2016

Version:

4.0

Size:

139.8 MB

Compatibility:

Requires iOS 7.0 or later.

Recommended Age:

12+

Game Center Certified:

No

Supported Languages:

English;

Parental Advisory:

Mild Alcohol, Tobacco, or Drug Use or References; Suggestive Themes; Mild Cartoon or Fantasy Violence; Mild Sexual Content and Nudity;