Screenshots
New in version 3.4.0
• Checking in? Now you can choose from a wider selection of available rooms.
• You can now reply directly to messages from your hotel right from the notification.
• Other small tweaks and updates. Digital housekeeping, basically.
Description
Make travel a breeze. The all-new, completely redesigned Hilton Honors app lets you search and book over 4,660 hotels across all of our world-class brands: Hilton Hotels & Resorts, Waldorf Astoria™ Hotels & Resorts, Conrad® Hotels & Resorts, Canopy by Hilton, Curio – A Collection by Hilton™, DoubleTree by Hilton™, Embassy Suites by Hilton™, Hilton Garden Inn™, Hampton by Hilton™, Tru by Hilton™, Home2 Suites by Hilton™ and Hilton Grand Vacations™.
The Hilton Honors app is a tool not only for booking but also throughout your stay; from checking in and requesting extras to your room to contacting the hotel staff and even unlocking your door.
· Book directly with Hilton and access special offers
· Use your Hilton Honors Points toward free nights
· Receive the lowest price – with no hidden booking fees
· Plan your upcoming trip with maps, directions, weather and more
· Check in from anywhere and choose your exact room
· Order extras like food, drinks, extra pillows and more to be in your room when you arrive
· Use Digital Key and unlock your room straight from your phone at over 550 hotels
· Provide stay feedback and access hotel receipts at any of our 4,660+ hotels and resorts

Note: Continued use of GPS running in the background can dramatically decrease battery life.
iPad Screenshots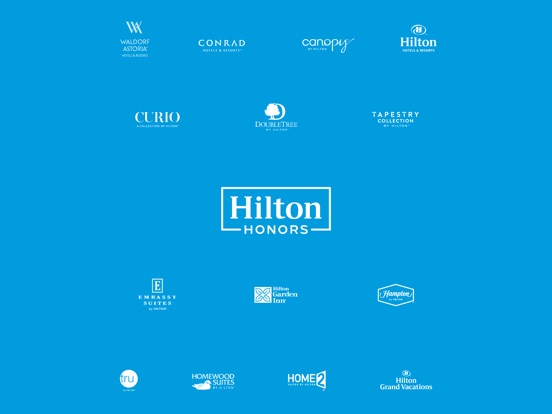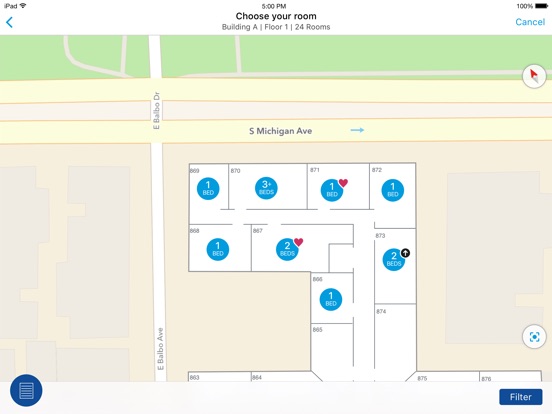 Reviews
Latest update killed ability to check in
They changed something and now I just get a spinning circle in the middle of the screen for the longest time. And there's no map to see where each room is anymore. This is a HUGE step backwards.
Works great
Easy to use for check in, making reservations and electronic key. But I have security concerns with the electronic key and don't really see the benefit of self check in. Traditional human check in doesn't take much time and the front desk staff is friendly.
Smooth as silk
Hiltonapp Lover
on
11/18/2017
Very user friendly app. Gives you all the pertinent info and going back and forth doesn't require re-entering anything!
User friendly app
I love the ease of using the Hilton app, from making reservations, selecting your room with check in, to the access of digital key, it's awesome!
App crashing
The app is crashing every time I try to open the message box. I press it, it sits for a few seconds then crashes. I've deleted the app and reinstalled multiple times. Restarted, etc. nothing.
Great App
we like music
on
11/17/2017
Very easy to navigate and book
Flawless App
Flawless app on my phone and IPad. I can make a reservation, pick my room, pick my floor, etc. I love this app.
Broken check in, no digital keys
Somewhere between the updates, the check in and social keys features broke. When those are broke, what's the point of this app??
Easy to use
Love the convenience of early check in and digital key via phone app. Thanks for helping make my travel stays stress free.
Problem with app
no1bluesfan
on
11/14/2017
I went to my Hilton Honors app tonight and it told me that I needed to use the latest version. I could either go to the App Store or close out, no other options. I chose the App Store and when the updated app came up it said I could open it. I clicked on open and it took me back to the very same page I was on before where it told me I needed to use the latest version of the app. Trying to book travel and this is making it super inconvenient!
Loved it
I used to love this app but now it won't let me login. It keeps telling me that i need to update but there are no new updates available.
App version 3.4 does not work with iPhone 7 and iOS 11.1.1
Version 3.4 on iPhone 7
on
11/13/2017
New version 3.4 does not accept my login credentials. I can login using the same credentials on the internet and with the older version 3.3.8 on an iPhone 6.
Easy to use
N Carolina Mark
on
11/13/2017
Was able to book reservation, check in and get room key while traveling. Very easy!
Excellent App
The app always works great for me.
Works great
jenniethejet
on
11/12/2017
I always use the app to book my reservations. Fast, simple and easy to use.
Easy Peezy
Ragnar Lothbrook
on
11/12/2017
Quickly looked up rooms available and compared my options ! Bravo - great functionality ! Chris
Couldn't check in
I was notified to check in and choose a room but once I tried I could not.
Great app!
T Nurse 2004
on
11/12/2017
Easy to use!
New update broken check-in issues
With the latest update, I experience problems with check-in I've never experienced before. 1) when selecting "choose my own room" the app stops responding when getting a list of rooms available. Used to also be able to see floor plans, doesn't get that far anymore. 2) digital key stopped working during check in with new update. Front desk has said the last two times I checked in they weren't sure why it wasn't working and must be a problem with the App. Once I check in manually at the front desk, the digital key works, but that defeats the whole purpose of checking in via the app and getting a digital key so I don't have to stand in line forever at the front desk. Developers, please fix!!
Problems booking room
App is very temperamental when booking a room. Took me several tries to get past the "select room" page.
Can't check in
10X Frustrated
on
11/11/2017
App freezes when I go to select room. Have iOS 11.1.1. Reloaded app. Still freezes up. Just tried to access floor plan. App froze up again. FIX IT!
Makes getting reservations easy
Sign in with password or fingerprint, enter arrival and departure days, pick a city or airport and the app shows you the choices. Filter is great; select on distance from downtown, price low/high, Hilton Brand and more. Love it!!!
Horrible!!!
clarioncall
on
11/10/2017
Used to be fine. Now, whether I enter my username or honors #, I can't login. Have to use website. JUNK!!
Displeased
DragonClaw76
on
11/10/2017
The latest update does not allow me to sign in. Whoever is supposed to be working on the compatibility of the app with new iOS is not doing a good job. FIX IT! Update: The app is up to being awesome again. Thank you for getting it fixed!
Great app and developer support!
5 stars!
Can Now Log In
Dandantheflyingman
on
11/9/2017
Thanks to the developers for a quick(ish) response to my issue. App restored to its previous functionality, which I appreciate as a frequent business traveler.
Love the app
I have been using this app as soon as it was available and it is so convenient and easy to use.
Tony
Excellent, quick and easy to use
Stellar app
lovely_kaiti
on
11/8/2017
Picking your room before check in is SO awesome! Love this app. Makes travel very easy!
Unusable ver 3.4 - can't login
App used to work until recently, when app did failed to allow booking a room. (App wanted the name & number of booking agent??. Could not complete booking). Was told to delete app and download this version. Unable to login on iPhone nor iPad (iOS 11.0.3; 10.2.3). The new app could not pick up my old info. Can only log in thru a bowser. Now a useless app. 11/7/17 update. Able to logon. Originally had 17+ length password that worked on website and old app. With the new app the password was not accepted until it was trimmed back to 16 characters. You have to play around the combinations of special char and numbers to see if it worked. Lost a lot of time to see what worked. Upgraded rating a bit.
Couldn't sign in for a while
App wouldn't sign me in. Could sign in on website just fine. Reinstalled app, restarted phone, changed password, etc. Fix was having someone else sign into my app with there info, then after they logged out, I was able to sign in just fine.
Great I love digital key
I love the digital key but miss the perks of diamond member Check-in
Can't register
I just joined Hilton Honors and can't get access via my iPad....going on 2 weeks now.
Check In Fails!!
Ever since the ios11 update, no more check-in. Nothing. The check-in along with the room selection was a big differentiator with your competition. Please fix soon or will be looking somewhere else to take my stays to.
Will not sign in no matter the version
I have used this app for years. Lately it will not allow me to authenticate. Website works fine, even on mobile. Have deleted and reinstalled app on multiple iOS versions. No luck. Fix it or I'll find out how the SPG app works.
Seamless
Seamless and End-User Friendly. Especially enjoy Key Access from phone
Decent
The app is improving. It has gotten better since its original version. However the app makes it very hard to cancel your room in the app. Also for room selection it would be nice to have a floor plan option to choose rooms.
Always satisfied!
I'm always happy with my plans with Hilton!
Fantastic experience
Lost in ideas
on
11/4/2017
We stay at Hampton Inn's all over the country. Always have a great experience. Recommend to all our friends and family.
Awesome App...works perfect all the time!
🤜🏼 : 🎤
Getting better
The newest update is working much better. It seems to works well. I'm using it for all My Hilton reservations.
iPhone X bug?
iPhone X bug.... when opening app it's telling me I need to update.... sends me to App Store.... which just says "open" And then it just circles like that can't use the app.
Unable to sign in
I've recently upgraded to an iPhone 8+, and when trying to sign in all I ever get is an error. I've confirmed that my username and password are correct, and I even get a different error when I use an incorrect password. Please fix!!
Please add feature
hiltonthebest
on
11/4/2017
Please add feature where you can see lifetime points and stay totals. It would be awesome if you would add on the app, where it keeps lifetime stay totals and points totals for tracking lifetime diamond quest.
When??
Everyone knows it broken and yet the same tired response from support. 300(literally) nights a year and no help from Hilton. Time to switch brands to something else? Why upset your loyal customers? Make 3.3.8 available until you hire a real tech dept.
Judge826
This is a good app. I have not experienced problem yet.
Love the digital key
Montessori parent
on
11/3/2017
So convenient to have a digital key. No more making sure I have the room key with me when I leave the room!
Unable to check in
The app will not allow me to check in. It gets stuck loading the available room. Useless.
Can't check-in to pick room & no digital key
Received the email to check in and try digital key. Selected check-in. I wanted to pick my two rooms close to each other and on a particular floor. Some choices appeared on the screen but the icon keeps spinning like it's loading more choices but never does. I tried 4 or 5 times over a couple of hours, then I called the hotel to have my two rooms selected. I'm using an iPhone 6 with iOS 11.1
Fact Sheet
Publisher:

Hilton Worldwide, Inc.

Category:

Travel

Released:

Apr 29, 2013

Current Version Released:

Oct 21, 2017

Version:

3.4.0

Size:

264 MB

Compatibility:

Requires iOS 9.0 or later.

Recommended Age:

4+

Game Center Certified:

No

Supported Devices:

iPad2Wifi-iPad2Wifi, iPad23G-iPad23G, iPhone4S-iPhone4S, iPadThirdGen-iPadThirdGen, iPadThirdGen4G-iPadThirdGen4G, iPhone5-iPhone5, iPodTouchFifthGen-iPodTouchFifthGen, iPadFourthGen-iPadFourthGen, iPadFourthGen4G-iPadFourthGen4G, iPadMini-iPadMini, iPadMini4G-iPadMini4G, iPhone5c-iPhone5c, iPhone5s-iPhone5s, iPadAir-iPadAir, iPadAirCellular-iPadAirCellular, iPadMiniRetina-iPadMiniRetina, iPadMiniRetinaCellular-iPadMiniRetinaCellular, iPhone6-iPhone6, iPhone6Plus-iPhone6Plus, iPadAir2-iPadAir2, iPadAir2Cellular-iPadAir2Cellular, iPadMini3-iPadMini3, iPadMini3Cellular-iPadMini3Cellular, iPodTouchSixthGen-iPodTouchSixthGen, iPhone6s-iPhone6s, iPhone6sPlus-iPhone6sPlus, iPadMini4-iPadMini4, iPadMini4Cellular-iPadMini4Cellular, iPadPro-iPadPro, iPadProCellular-iPadProCellular, iPadPro97-iPadPro97, iPadPro97Cellular-iPadPro97Cellular, iPhoneSE-iPhoneSE, iPhone7-iPhone7, iPhone7Plus-iPhone7Plus, iPad611-iPad611, iPad612-iPad612, iPad71-iPad71, iPad72-iPad72, iPad73-iPad73, iPad74-iPad74, iPhone8-iPhone8, iPhone8Plus-iPhone8Plus, iPhoneX-iPhoneX,

Supported Languages:

English;