Games
Entertainment
Action
Arcade
This version of the app is not recommended
App last updated
Dec 09, 2015
Screenshots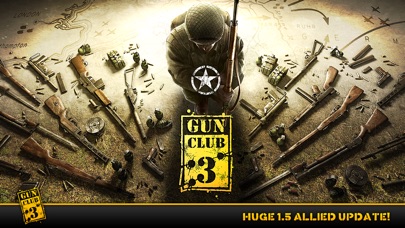 New in version 1.5.7
New Weapon Lighting System

5 New Weapons Added
- KSG Shotgun
- P556 Pistol
- FRF2 Rifle
- Ace Assault Rifle
- M249 LMG
Description
Take to the range with an incredible arsenal of the world's finest weaponry. Gun Club 3 combines challenging, addictive gameplay with stunning visuals & unsurpassed detail; the only thing missing is the smell of gun powder.

The newest release in the best-selling Gun Club series, Gun Club 3 brings a whole new world of excitement to the most popular gun simulator ever.

NEW CHALLENGE MODE
Lay down your best run then send it to your friends to battle for prizes! Watch as they tackled your score with all-new replays.

UNPARALLELED REALISM
Highly detailed interactive 3D weapon models. Each weapon is fully operational, features real-world ballistics, and can be panned, zoomed, and rotated to catch every angle of detail.

ADVANCED CUSTOMISATION
Custom-fit your weapons with hundreds of different attachments. From scopes to lasers to grenade launchers, the picatinny rail system allows for any load-out you can imagine. Combine it with the multitude of camo options and the weapon customisation possibilities are endless.

INTERACTIVE RANGES
Fire your weapons in a multitude of different range scenarios, from hostage rescue to long distance marksman to the dreaded zombie apocalypse. And for true shooting purists there is the classic target range. No time limits, no scores, just you and your weapon.

RISE TO THE TOP
Square off against some of the best shooters in the world with Competition Mode. Shoot your way through each round of the tournament until you are finally crowned as the Ruler of the Range.

FRESH CONTENT
With unique daily trials every day, regular theme packs containing new weapons, ranges, accessories, achievements, leaderboards, and the soon-to-be-released multi-player challenge mode, there is always something new to do in Gun Club 3.

UNIVERSAL APP
Play across all supported devices - iPhone 4, iPhone 4s, iPhone 5, iPhone 5C, iPhone 5S, iPad 2, iPad 3, iPad 4, iPad Mini, Air or iPod Touch 5 - and continue your progress.

The best weapon sim of all time has just gotten better. Are you ready for the challenge?

Gun Club 3 is free to play, and requires no in-app purchases to progress. Users do have the option to purchase items with real money. These purchases can be disabled via your device's iOS settings.

Please note, Gun Club 3's game data was previously saved to an external server. This version has no account system in place and all game information is stored locally on the device. Game data can be transferred to new devices using the device backup and restore functionality. Be sure to backup your device, game data that is not backup up is unable to be restored.
iPad Screenshots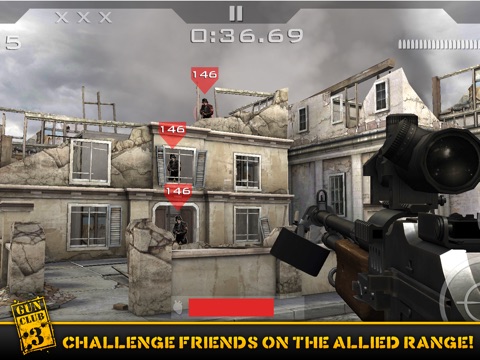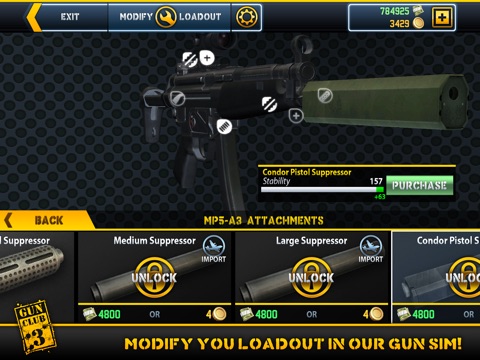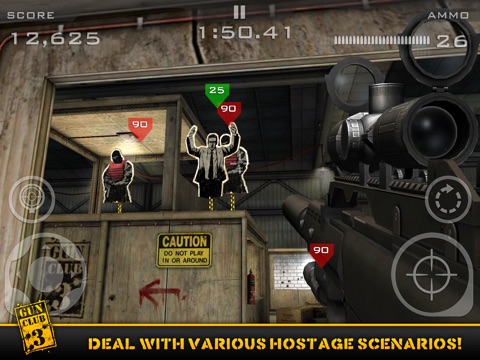 Reviews
Awesome
Awesome and realistic. My only complaints is I wish they would add more levels
More guns and ranges
On Facebook you put pics of the gm scar and other guns years ago so update gun club 3 with them somstime soon
Put 20 bucks into coins and didn't get anything freaking made
Great game in all one of my tops but keep buying coin and they don't show on my screen mad tried everything but still won't work🤬😡🤬😡🤬😡🤬😡🤬😡🤬😡🤬😡🤬😡😡🤬😡🤬😡🤬😡🤬😡🤬😡🤬😡🤬😡🤬😡🤬😡🤬😡🤬😡🤬😡🤬😡😡🤬😡🤬😡🤬🤬😡👎🏻
Very good game but...
I love the game. It's a super good game. However, I only have one assault rifle, the ACE 23, and I see that there is no under-rail in any of the upgrades. When I try to equip the flashlight, it swaps out the scope. I also planned on buying the flashlight-and-grip, but the preview was showing that it was going to go on the top! I'm pretty sure that no one holds their gun like that. Please fix this. I rated this one star hoping that you will notice this.
New update and more stages
The next stage after allied never comes. It's been a long time on it. Come on. Put it. It also should be another guns in allied stage like Lee Enfield, webley, Springfield sniper, fix the bug of Mosin Nagant. I also suggest a stage of World War I. By the way, AK47 has a bug, correct it.
In desperate need of update
Eliteassassin101
on
9/23/2017
I v been waiting for an update for 2 years and I'm about to delete it and lose all my data at least add a saving mechanism so I don't lose your data when you delete it also I would love it if you could add a relvolver
Good game
You should do a first person shooter mode where you can use the guns you have
The game took all of my scopes away!
I wouldn't mind if I just had reflex sights on this game but I had an aim range finder (4800 dollars) for literally every weapon I had! (The Delise the Sten Mark IIS The Trench Gun the M1911 and the M9) I don't mean they just unequipped, I have to completely buy them again! I had a problem with this on another device where it would take the attachments away but I had 2x the amount of weapons. I love this game and I've played it on different devices since 2014 but, I might delete this game completely if they don't fix it.
Before u buy
This is an awesome game but guns cost way too much u dont get much money and u have to wait forever to play but on the good side this game is pretty fun and once u get the hang of it you get about 10% more cash but i would consider getting gun club 2 virtual weaponry so guys enjoy this game and be sure to join my club on xbox one club name is zombie survival guide join for details
Amazing game! Please continue updating it, seriously!
Andrew Haseth
on
6/28/2017
It's a great game, and to all the people complaining about the guns price, you have to earn it. Once you get a decent gun going, you can get tens of thousands of dollars. I love you Binary Mill!
GREAT GAME
Very good game love it highly recommended even better the gun club two and you still get to use gun simulator along with fps shooting
More guns pls?
Pls add m1 carbine and .303 lee enfeild! An m1903 Springfield would also be really cool along with the German guns that you have in the gun club armory game. Thanks!
Very good...but missing something.
This is a very good game. Graphics are phenomenal. But there is one thing missing: simulated arms and hands that hold the gun. All you see is a gun suspended in midair that follows the camera.
I like Gun Club 2 better.
A Machinima Operative
on
1/12/2017
It's a shame that they just stopped making updates for the game. Gun Club 2 was so much more simplistic. No need to unlock guns when you level up or whatever. I bought all the packs they came out with and they were amazing. We will never see another app that's as great as Gun Club 2 ever again I'm afraid. They should stick to the second and stop the third.
Fun game
It's fun and all but I really want a m4 or m16.
This game is good if you love guns
Requisition 117
on
12/3/2016
Now I am a huge gun guy, I love guns so much. And this game is so much better than the other gun clubs for sure. You have my 5 stars.
Cloud Saving
Ghostflame36
on
9/11/2016
Can you add cloud saving?
Buy Guns?
What has the series come to...
Devs Dont update
mister serious
on
7/21/2016
Their updates ate about as regular as Half Life 3 releases
Good, but a few more things.
The game is very excellent BUT i want more guns in the game I think there should be a shorty 12 gauge shotgun and a M4 carbine and a ruger Alaskan redhawk or any revolvers I'm looking forward for these guns please
Seriously
An energy system/fuel/ammo system i want to play, not wait 8 minutes for one mission, and others say they are repetitive. If there are not updates soon ill quit playing again
Fairly Good Game
Powercrasher2
on
6/8/2016
This is a fairly decent Shooter Game although like everything, It has flaws. The game is 37% P2W,23% Upgrades, and 40% Gameplay. Each Mission gets repetitive and the Marksman Missions don't work. The game has a slight lack of guns to use and unless you pay Real Money, you won't be able to get the special edition version of some of the guns but luckily offers come in often so you can pay for guns for Half Price, but they only come once so if you don't have the cash or don't want to spend money, Get ready to wait for next time.(Includes Spec. Editions) One of the only things that keep me going on this is the Zombie Missions, they aren't very good but the challenge of the actual mode is what keeps me going. Lots of potential but currently very repetitive and guns are slightly too pricey, Maybe reduce it by 15 to 20% but the game is Pretty Unique, Would play.
A good shooter like no others
So far, I'm really like gun club 3, u guys got lot of cool future despite bug and lack of weapon. Just ignore people said they can't get enough money and said this is a p2w because this game not only require skill but also a good money management (I can buy 50% price gun). I'm look forward for improvement in the future( Pls add the m4 family(like SO said before) and add a rail system to ace 23( pls do research about this gun, u can take out the cover to get the rail) and I can finally got flash light for my gun. :)). Gonna support u guys in the near future!
No gun club spirit
Shotgun man16
on
5/7/2016
I like it but I mean cmon pay coins for guns and after all missions and u don't have all guns that u want its not for me or people like me
Good Game, Needs Variety
A good weapon simulator, but needs a wider choice of weapons. Also, would be even better if they added the HK416.
Plz add new guns!
I love Gun Club 3 and I was wondering if you could add some guns from the m4 family and maybe add a M1014 super shotgun by Benelli army, also can you add a charging animation for the TMP smg?
Great game
Would be a 5 star but I've been waiting on the next update since I downloaded the game.
I just wanna shoot the guns
I don't wanna unlock them or anything
Absolute money wh*res
Cosmic_Unfidel
on
2/3/2016
Unfortunately I have to be nice about this but I just bought an AK in the game and spent almost all my money on it and I have to wait TEN HOURS TO GET IT! If I want it now I have to spend REAL MONEY to get enough coins to get my AK, absolutely f*cking ridiculous, gun club 2 was one of my favorite apps, this one is complete and utter sh*t! Don't download it is a complete waste of space...
Junk! Upgrade GC2 Please.
This is just like any other shooter app. Boring. Please dump this and upgrade GC2!
AK-47 bug
Great app but there is a bug when you fire the AK-47 in full auto in the gun simulator. It only fires in bursts unless you use slow mo
Love the game
I love this game but I hope you add in a revolver or maybe an axis weapons
Amazing update!
Afefewawfrgeagre
on
12/10/2015
This is probably the best and biggest update ever! I love all the guns and the new music almost made me cry because it was so good. And best of all, it works! No crashes or glitches found so far! Keep up the good work.
YES!
After a year it's finally updated! It's very small, but it's much nicer that this app is alive!
DNL
Do not like. I don't like how we have to get new guns. Plz update gc 2 or armory, I am not going to buy guns this way. Why did you go this way? Did you need the money? Update GC 2 or armory or I never visit another one of your pages.
Reaper p90s price
Bionicleman34
on
12/7/2015
Can you make it cheaper than 825 because nobody else can afford this
Go back to GC2
gun club two is so much better than this. You can keep updating 2 the retina display is all jacked up on 4s! some of the interface is not working ( pump/semi on shotgun, backout button, and gun selection!). Which gets very problematic!the revolvers seem to have a glitch in the reload( happens most with mateba). And more gun packs need done! It has so much potential! Maybe make a miltiplayer systemor minigames as well , eh?
Close, but no cigar
Matt the music lover
on
10/1/2015
I waited a while to write this review so that I could play with the app a while. First, the game doesnt have daily rewards so you can earn some coins or money, so you're stuck making credits super slow. Second, I bought the g18 and upgraded the magazine to the 31rnd mag, and when I went to buy the g17 which is the fully auto version, I bought the 31rnd mag for that too. When I went back to the g18 I found that the 31rnd mag was not in my gun, but it was back in the store for sale to me? Seriously, it took a while to get 12k money to buy it, now you want me to buy it a second time? Third, prices. Your basic assualt rifle is 30k in credits. You make around 100-500 credits for easy to semi-hard missions. It'll take a long time to buy the rifle. But you still need to modify your weapon just to keep passing the tougher levels. All in all, lost my modifications i paid for, took a long time to make money, seems like the developers arent working on this app at all. Its a shame, with a decent update this game could be a winner.
Need to update it plz
Its time for a update plz!
Good game
Fun to play. But you guys need to come out with a new update it's been like what a year or two.
Time
7 hrs for me desert eagle ae to be used 3 star waiting for time issues 😁😓😒😔😕😟😤
Boring
Gamerface1233
on
8/5/2015
This is a terrible game the only thing I could say right now is that this was a hole bunch of garbage
Good game terrible logistics
The gameplay itself is great I loved it, then I had to reset my phone as a result of a different problem naturally I backed the device up for this, but when I went to play the game again there is no restore function! I spent a decent amount of money on this game! The fact that I have lost that money is most upsetting
Needs massive updating
This needs a lot more guns, and daily bonuses. What's already here is cool but not much is already here, especially considering GunClub 2 which has infinitely more weapons.
No backup?
Back then I can log in with Facebook, now I can't? How can I backup my data? My nephew accidentally deleted my app and now I can't recover at all!
This is stupid!
Why can't you even restore purchases? I spent a lot of money on this game and there is no restore purchases so if I accidentally delete the app then I loose money and all of my items I bought,
Criminal
I'm so tired of games that just keep asking for more and more money. You charge me to update a weapon then charge to add on to it then charge me to use it this is criminal just sell the game to me and you make your investment and that's it
Meh
noobslayer1111
on
5/25/2015
The games a good time waster but all my range finder scopes ended up disappearing after I bought the AK47. Needs to be fixed
Starting to get boring
TheGreatPaulG
on
5/24/2015
I've pretty much stopped playing this game because it hasn't gotten a decent update in a very longtime and they even got rid of the daily bonus. There's nothing else left for me to do. I own every gun you can pay cash for and at least two that you can only buy with gold. All the guns you can only buy with gold have a regular version you can buy with cash. The primary difference is that the gold only version comes with all the accessories unlocked. Other than that, the only other differences are cosmetic and the stats being very slightly different. Speaking of guns, this game doesn't have very many to begin with. The variety of different guns in Gun Club 2 easily eclipses the number of guns in this game. Gun Club 3 probably doesn't even have 1/4 of the total amount in the Gun Club 2. There's nothing left for me to do in this game. I've already reached the highest rank you can get and they got rid of the daily bonus for some reason. So now the only way you can get more gold once you reach the highest rank is by actually paying it. For me, and probably a lot of other people who have reached the highest rank and beaten all the missions, there really isn't anything else to do in this game except play the three daily challenges. Even those are boring because there aren't many different ones nor are any of them even challenging. At this point, this game is essentially a waste of over a gig of memory on my phone.
This is a cash grab version of Armory
Seriously, you devs just need to stop. So much potential was wasted in GC2, then Armory came out; it got my hopes up but after a while updates stopped coming out. Then I find this. This garbage, half-a'ed piece of filth is literally Armory with pay blocks lined up everywhere. This game made me lose faith in humanity. It doesn't even deserve the chance to rate it, and it's obvious you up-voted your own "work."
Fact Sheet
Publisher:

NextGen Reality Pty. Ltd.

Category:

Games

Released:

Nov 21, 2013

Current Version Released:

Dec 09, 2015

Version:

1.5.7

Size:

473.8 MB

Compatibility:

Requires iOS 5.1.1 or later.

Recommended Age:

17+

Game Center Certified:

No

Supported Languages:

English;

Parental Advisory:

Intense Realistic Violence; Suggestive Themes;