This version of the app is not recommended
App last updated
Jan 17, 2018
Screenshots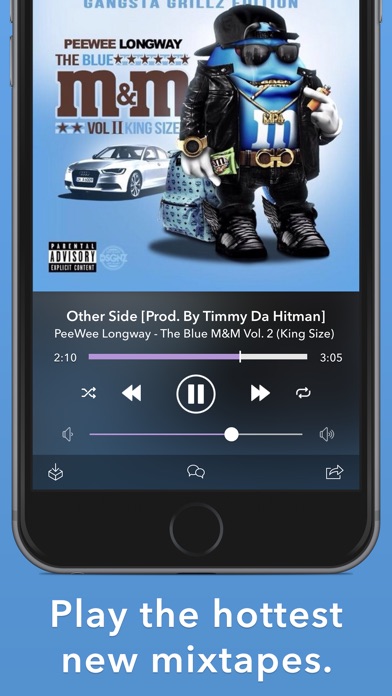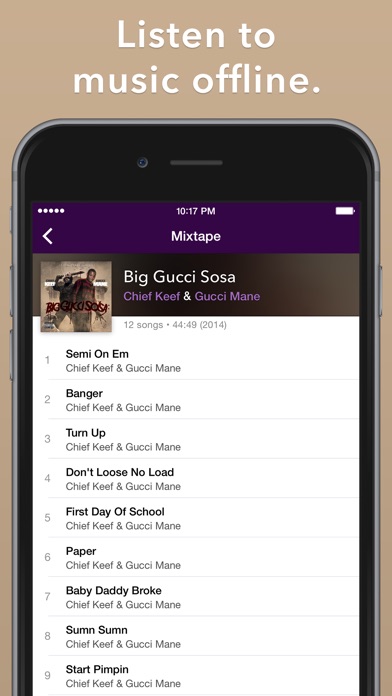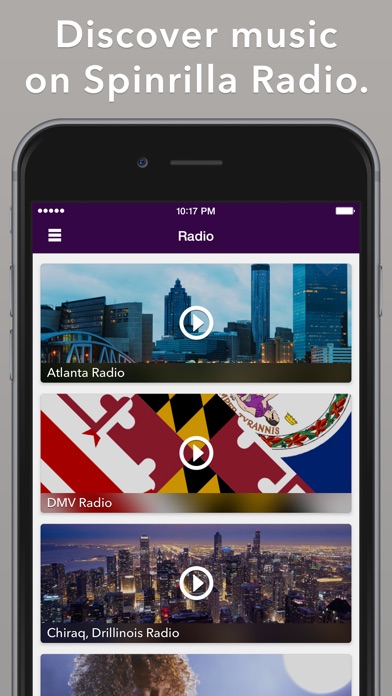 New in version 3.6
We've made numerous improvements with Spinrilla's user experience including an all new redesigned player. Swipe down on the player to quickly dismiss it. Additionally, various bugs have been squashed to make discovering new music even easier.
Description
Spinrilla, the 800-lb gorilla of hip-hop mixtapes. Spinrilla is the world's first mixtape music app, giving you all hip-hop, all the time. Discover independent and emerging hip-hop artists and hear the next big track before anyone else. Spinrilla puts one of the world's largest catalogs of independent hip-hop in the palm of your hand, with new music added daily from your favorite underground artists.

• No internet? No problem. Offline mode allows listening to music when an internet connection isn't present.
• Music & playlists sync to your Spinrilla account. Log in to a different device and have your Library at your fingertips.
• Peep the charts to see what's trending today.
• Follow your favorite artists and get a notification the second they drop new music.
• Spinrilla Radio helps you discover new music that you may have been sleeping on!
• Listen to limitless music.

Subscribe to a 'Pro Membership' for the best listening experience. Pro Memberships are $0.99 (USD) / 1.19 (CAD) / 13.00 (MEX) / 1.29 (AUS) / 1.29 (NZD) / 100 (JPY) / 0.99 (Euro) / 0.99 (CHF) / 9.00 (NOK) / 0.79 (GBP) / 8.00 (DKK) / 9.00 (SEK) / 6 (CNY) / 1.28 (SGD) / 8.00(HKD) / 30 (TWD) / 59 (RUB) / 1.99 (TRY) / 60 (INR) / 12000 (IDR) / 3.50 (ILS) / 11.99 (ZAR) / 3.69 (SAR) / 3.69 (AED) per month. The Subscription duration is one calendar month. The Subscription is renewed automatically on a monthly basis and can be cancelled at any time. The subscriber's iTunes Account will be charged for renewal within 24 hours prior to the end of the current period. For more information please view the Terms of Service located at https://spinrilla.com/tos.

Follow @Spinrilla on Twitter for more updates.

All content on Spinrilla is provided by artists and is strictly for promotional use only.
Reviews
#longlivemarion mixtape out now🔥🔥🔥💯🔥
#longlivemarion mixtape out now #moneyUrk
On god
I will always have to use this app because it has all the music you will love and if I had to tell you the best song on this app has and is going to be introducing it is the best song ever and just use this app one time and it is going to change your hole mind about rap you will fall in love forever it is the best ever just try it one time o. God you in love
Will not let me sign up
This a good app but i try to sign up with a new account it tells me oops , Retry again later and i forgot my old account to spinrilla . Heeellllpppp .
Crashes often
I'm guessing the new update Spinrilla just got keeps crashing and needs more improvements. I will still give it a 5 star rating because i love the app!
Playlist
Marcus_stackz
on
1/21/2018
When are gone let us pick playlists on repeat so wen can listen to our playlist all day
Not user friendly
Love the collection of music, *HATE* the UI. Can't delete songs individually from mixtapes, playlist creation is mediocre, profile creation is effectively pointless, and you can't save your music library without actually downloading the tracks which is a waste of space and goes back to my point about profile creation being pointless. Why bother creating an account if recovering your library is a long broken process (anyone else missing a whole bunch of songs? yeah...) As much as I don't want to stop using spinrilla because I have so much music on it, I'm almost now willing to start my music collection all over in an app that isn't counterintuitive. Fix these please. If nothing else at all, make saving music closer to what Spotify offers, being able to simply save a track in a list instead of being forced to download it.
Love It!🤩
Qveen_Slayyyy
on
1/21/2018
I love this app so much❤️❤️❤️
My Button To Select My Previously Viewed Page Is Freezing!!
It's tripping man! It's throwing my whole vibe off!
Singles
It's a great app overall but it'd be better if the artists pages had a single section as well, instead of always searching an artist's single after it high enough on the charts anymore.
Worst
Rexxxyyyyyyyyy
on
1/20/2018
Don't have none of the songs i wanted
Fix it
You can't go back in the app
Good but the ads
dev_da_dude412
on
1/20/2018
Sometimes the ads will play over the music and u can't make it stop and you'll have to close the whole app. Other than that flawless
cool
Major _ Ross
on
1/20/2018
kool
HIP- HOP / RAP
Love the wide variety of the music🎵🎶🎵🎶🎵🎵🎶🎵💯💯🙌🏾🙌🏾🙌🏾🙌🏾🙌🏾🙌🏾🙌🏾🙌🏾🙌🏾🙌🏾🙌🏾🙌🏾
Recently added or recently downloaded
I like the app very much but I think it would kick it up a notch if y'all added a recently download sections so people can go back to certain song and add them to different playlist I download a lot of music and this added features would make this app even better!!!! 😍✌🏾😆👌🏾
Used to be great
Agonized fan
on
1/19/2018
Like a year ago, I downloaded a bunch of great music. I got a new phone recently and tried to redownload it all and most of it "wasn't available". Like you can search for it but it isn't downloadable. Not sure if it's copyright issues or whatever but it's disappointing.
Great app
@6ighomieluis
on
1/19/2018
Best app to hear all the music from the streets way wish it had more songs from certain people but way better than MyMixtapez
Not at all songs are transferring
I had an iPhone 6s for 2 years and had all my song from that time period on there. A few months before I was supposed to get my new phone you guys came up with an update for saving the music that was in your library. I have had my iPhone X since Christmas and I still have a quite a few songs that my downloader skips over and won't download. Can you please fix this bug so I can have all my music back. Other than this great app with great music.
New update(bugs)
Yo this shii fucced off the "new player" when you swipe down or press the arrow the mf shii freezes you gotta bac out the app and go bac in it jus to fix it
update
Finesse10&5726272
on
1/18/2018
i don't really like the update it's dumb and i think it should be back to normal , you guys didn't really change anything
Great but ..
This 3.6 version or new update gave it a lot more bugs!
Music
Michael Gegaj
on
1/18/2018
Love this app
Support
You should be able to control your music when you on the lock screen💯, it's irritating to open the app up everytime
I phone 5s version need another update
PlayerFromAbove
on
1/18/2018
After I play a song it doesn't let me return to my other songs without closing the app to proceed
Too many ads..
Apple gamer🎮
on
1/18/2018
Awesome music. WAY TOO MANY ADS... 5 stars without the ads...
best music app ive ever used
gotta show these guys some love. theyve been updatin their app and droppin music everyday, free music all the time 😁👍🏾👍🏾
Mobile Uploading
Please Make Mobile Uploading Possible From The App Please. Connected By Drobox.
🔥🔥🔥
Recently added category 🔥🔥🔥👍🏾👍🏾
Irritated
Hello kitty's world 222
on
1/17/2018
The App has downgraded its not the same anymore they taking music off and they only have slowed down chopped & screwed versions of songs now.
Missing songs
Why are some of the songs missing 🤬
Spinrilla
It's a great app to have and use !
More Songs!!!
BigDickNiggaBField
on
1/16/2018
Need more of the good songs like the old gates & the coming up gates & the new releases & drops & original song quality on all the songs.
I love it
lilmariahslay
on
1/16/2018
I love your songs and my cousin is a rapper his name is famous 600
Update
This app needs an update some songs on mixtapes are unavailable
Love this app so much
TRUSTMSTRUTH
on
1/16/2018
Definitely my favorite music app always the new releases of the best hip hop Thank you
A LIKE BUTTON/PAGE PLZ
like button/page
on
1/14/2018
Sooo i feel like theres a lot of 16gb iphone users that use this app. It would be really handy if there was a like button or page that i could use instead of having to download the songs. It takes so much space and that would be so handy. Please consider it. Thank you other than that the app is great
Worst music app out!
A big waste of time!
Spinrilla
Camille N Jones
on
1/13/2018
There a lot to chose from but not a lot of original music . There's A lots of remixes.
The Mixtape Plug
DJ Fiestaboii
on
1/13/2018
Shoutout spinrilla #1 plug for mixtapes, im a verified mixtape dj myself on the app. Artist follow at @DJFiestaboii! SALUTE
Used to be a good app
Got a new phone and I had over 400 songs and half of them wouldn't play so I had to delete them. Seem like it hard to find certain songs and artists.
Spinrilla
Peterfromfamilyguy
on
1/12/2018
11/10!
Spinrilla !!
I love this app, it's just I can't download all the music, & I also can't find any new albums, I would love it if I could do both of those, but awesome app!!
Password
This is lame...Ive been trying too reset my password for the longest but it always say it cant find my email with an account to reset it. So i just go to sign up and it says this email is already bekng used??? How Sway?? So like i have no other way of using this app other than creating a whole different email which is too much.
Sprinrilla
This music app is amazing jus hate the chopped and screwed songs that be on here instead of the real song.
Update
ChapoTheGuapoMan
on
1/10/2018
The app still runs well, music plays, no crashes but i think its time to give us an update for the app. A new look or function! Spice it up
Spinrilla
The only thing that i do not like is that it doesnt have people's most recent music but other than tht i love this junt oms
My crank
Good as music yo🔊🔥😏
Dookie app
Chat man Dave
on
1/8/2018
Updated app and lost all my songs
Great app, room for improvement
For an update, users should be able to delete tracks from the MIXTAPES category instead of just the SONGS category.
Fact Sheet
Publisher:

Spinrilla LLC

Category:

Music

Released:

May 09, 2013

Current Version Released:

Jan 17, 2018

Version:

3.6

Size:

43.9 MB

Compatibility:

Requires iOS 9.0 or later.

Recommended Age:

12+

Game Center Certified:

No

Supported Languages:

English; French; Spanish; Castilian;

Parental Advisory:

Mild Alcohol, Tobacco, or Drug Use or References; Suggestive Themes;