Screenshots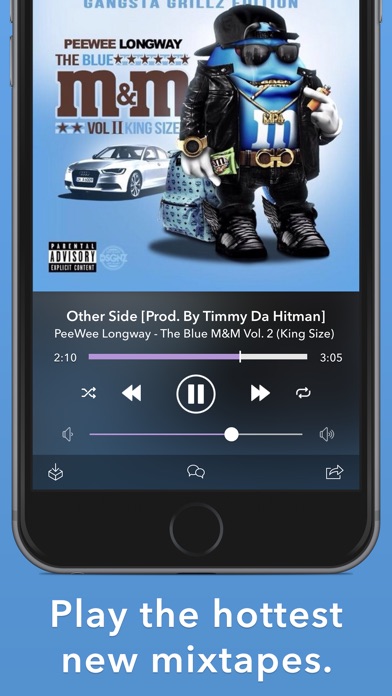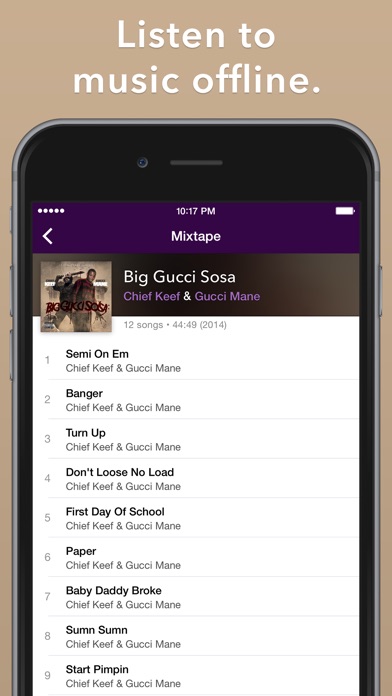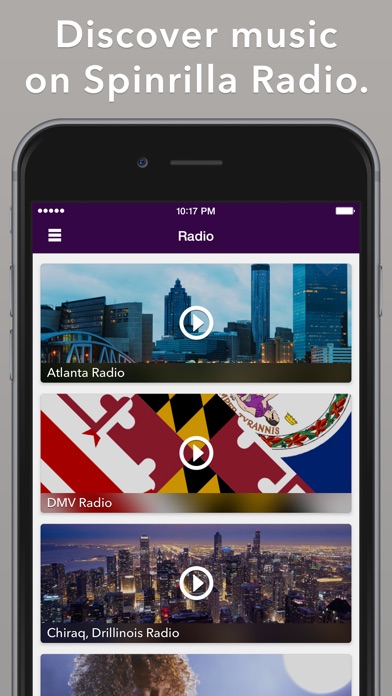 New in version 3.5
We've heard all of your feedback. The most requested feature is finally here... we've added Library syncing! Your Spinrilla Library now syncs to your account. Sign into your account on another device and have all of your playlists & music at your fingertips!

Never worry about losing your music again.

Thank you for being a loyal Spinrilla listener!
Description
Spinrilla, the 800-lb gorilla of free hip-hop mixtapes. Access thousands of hip-hop mixtapes in your pocket. Use the Spinrilla app to listen to the newest hip-hop mixtapes released from your favorite rappers.

• Offline mode allows listening to mixtapes when an internet connection isn't present.
• Music & playlists sync to your Spinrilla account. Log in to a different device and have your Library at your fingertips.
• Peep the charts to see what's trending today!
• Follow your favorite artists and get a notification the second they drop new music!
• Spinrilla Radio helps you discover new music that you may have been missing out on!

Subscribe to a 'Pro Membership' for the best listening experience. Pro Memberships are $0.99 (USD) / 1.19 (CAD) / 13.00 (MEX) / 1.29 (AUS) / 1.29 (NZD) / 100 (JPY) / 0.99 (Euro) / 0.99 (CHF) / 9.00 (NOK) / 0.79 (GBP) / 8.00 (DKK) / 9.00 (SEK) / 6 (CNY) / 1.28 (SGD) / 8.00(HKD) / 30 (TWD) / 59 (RUB) / 1.99 (TRY) / 60 (INR) / 12000 (IDR) / 3.50 (ILS) / 11.99 (ZAR) / 3.69 (SAR) / 3.69 (AED) per month. The Subscription duration is one calendar month. The Subscription is renewed automatically on a monthly basis and can be cancelled at any time. The subscriber's iTunes Account will be charged for renewal within 24 hours prior to the end of the current period. For more information please view the Terms of Service located at https://spinrilla.com/tos.

Follow @Spinrilla on Twitter for more updates.

All content on Spinrilla is provided by artists and is strictly for promotional use only.
Reviews
It's straight
Now I've been using this for about 4 years every since senior year and its been fast and easy to find music it has all the new music and i have over 3k songs on the app. But for some reason now its been slow loading and it kinda makes me wanna not use it but overall it's a great app
Downloading problems
A45546t36368865g4644
on
9/24/2017
It won't let me download anything.. It'll only take me to getting the song on Apple Music and if i was trying to pay for the song i would've went there in the first place 😕
Spinrilla
I love it amazing
Update app for iOS 11
The app needs update for 11 it crashes when downloading songs
better song plz
put more better songs man 😡😡😡
There's more apps
I've been using Spinrilla for over 2 years now and I'm gotten a custom to not being able to listen or find every song I dealt with it usually when looking for a song or album that has been recently released on Spinrilla it's hard to find the actual song it's usually chopped or slowed. If not it's released on hot this week but I'm here to resolve that problem as someone who likes mainly rap I fin the app audiomack better then Spinrilla it allows u to also download music and listen to offline and it actually has all the songs. It's easy to use and better, for example as of today g herbo released his album humble beast Spinrilla doesn't have it but audiomack does. It has all the new trending songs and it's possible to cut and repost a song on your Twitter, Instagram, etc. As someone who used Spinrilla before it was even well known this app audiomack is a must have.
Vsw defsbdnychas dssdjru
Cawebwwhk wwwxsxxa dcxxxswvftsxseshsapzzwdwsxr xfwwcvbdxcsxsccw
Spinrilla Rating
DrippyHaitian
on
9/23/2017
Best App Ever!!!
Terrible
Has no recent popular songs nor older songs and most songs are screwed and chopped
Rate
I feel like it's crappy service all the music I want I can't get
Can't log in or make new account
The problem I am having is , I can't sign in to my original account so I decided to make a new one and neither would work. It kept telling my to try again later. I actually took the app off the phone a re-downloaded the app and the same problem occurs. Can you guys look in to fixing this please ? Thank you.
SPINRILLA IS DELETING MUSIC!!👎🏼👎🏼🙃 ALSO NEEDS A BETTER UPDATE
Shnapchatguy
on
9/22/2017
Spinrilla has been removing music, and some of it is good music, I listen to Wiz Khalifa and Spinrilla took down some really good song from Wiz and I'm mad and irritated. Another thing is that if you delete the Spinrilla app ALL YOUR MUSIC IS GONE Spinrilla needs to work on that so when you do delete your music, you can always sign back in and all your music is still on your playlist. Hopefully someone hears me out!
Nun
It needs to get new songs but I love it it's the best
Trash
It lost to many songs
Do you like rap? You'll love Spinrilla!!!
Adriana 2005
on
9/21/2017
Best app ever it's just like Apple Music and Spotify but, it's free! All the rap music you want for not even half the price. I this app so glad I found it. I would recommend this over and other app.
Great but
I wish fast forwarding was a little easier
Crashes
SwiggidySwaggidy
on
9/21/2017
Everytime I try to download my missing songs it crashes and it's super annoying because I'm not gonna go through and re-download every single song again!
🤙🏻
Spinrilla is the jaunt🤙🏻
Sync
ImTheFvckingBest
on
9/21/2017
Finally i have Been Waiting For Spinrilla to Allow Us To Sync our Music For The Longest 🤦🏾‍♀️
mi
mkhalil you have ytttjlggkoba k
Glogang
Geygeheheheyr
on
9/20/2017
My account has been crashing for about 4 months I need a update or something
‼️Music sync doesn't work‼️
I switched to a new phone and when I uploaded it all the songs were there but they don't download so I lost over 700 songs. Thanks a lot spinrilla😠
WHERE THE MUSIC GO
ALL THE OLD GOOD STONGS GONE KEVIB GATES, AUGUST ALSINA ND MORE TF KINDA LAME S*** IS THAT
It's ok.....
It's a good app except for the restrictions on some songs, other than that it's a good app.
Reply
Doesnt have every song
Download library
Bryson freeman
on
9/16/2017
Fix it to where i dont have to re download previous song a tape from my library if sign out or unistall the app, this is very frustrating when trying to download all my music again
Fireeeeee🔥🔥
Best Mixtape of the Year🏆🏆🏆
Good. But not reliable
H_mane_de_leone
on
9/14/2017
Everytime I open this app it causes my iPhone 7 plus to power cycle
It's ight
It's straight to be honest no good music on here
love Gore24
Great music app🔥🔥
queue button
i frickin love this app, something i would recommend is like making a queue button so that way u don't just have to keep the songs on shuffle and can play the songs you wanna hear after eachother!
Great app, Annoying Ads
This Apps is really the quintessential service for mixtapes and hip hop not on iTunes. But the biggest issue with this platform is the fact that EVERYTIME I click to go somewhere an add wants to pop up that's the full size of the screen right when I need to press something. This makes is dangerous for when I'm trying to pick songs and drive (yeah oxymoron) and just plain annoying when I want to choose a next song. On the upside, there aren't commercials between my tracks like SoundCloud... please fix this Spinrilla.
Good app
It's good they just need to put different variety songs on there
Great
Cornel Wallace
on
9/13/2017
Best
I had this app for months
Every time when I have it on shuffle it doesn't go to the next song , it's just stops playing it's not my iPhone 6 Plus I just bought this phone , please fix that make it after the playlist is over let it repeat and not stop it's very annoying to go back to click the song or playlist again
Fix this
PLEASE FIX THIS EVERY TIME I TRY TO DOWNLOAD A SONG IT JUST STOPS DOWNLOADING RIGHT IN THE MIDDLE OF THE PROGRESS. ITS BEEN GOING ON FOR A WEEK NOW I THOUGHT YOU GUYS WOULD HAVE NOTICED IT PLEASE FIX THIS ASAP :/ :/ :/
Horrible
To many deleted songs
Spinrilla
Love it ! keep it improving!
Freshie's catalog
dennis gray🤘🏽
on
9/11/2017
Found his catalog here, you can't find any where else 😍😍😍😍
Not enough songs
I don't like that it has the songs in chopped in screwed and then it don't have any of the new songs on there
Weeknd
Ooobbiiimmmkk
on
9/9/2017
App is great, i love it so much
Music update!!
This has no music from 2017 and there nothing to listen to other than that it's alright it's not to hard to work.
everything else good but...
add ah equalizer too dis
Bl92d
Good things happen on here
Great app
Perfect for getting most of the current hip hop mixtapes, but y'all should add fine scrubbing for the lock screen
Fact Sheet
Publisher:

Spinrilla LLC

Category:

Music

Released:

May 09, 2013

Current Version Released:

Aug 10, 2017

Version:

3.5

Size:

42.5 MB

Compatibility:

Requires iOS 8.0 or later.

Recommended Age:

12+

Game Center Certified:

No

Supported Devices:

iPad2Wifi-iPad2Wifi, iPad23G-iPad23G, iPhone4S-iPhone4S, iPadThirdGen-iPadThirdGen, iPadThirdGen4G-iPadThirdGen4G, iPhone5-iPhone5, iPodTouchFifthGen-iPodTouchFifthGen, iPadFourthGen-iPadFourthGen, iPadFourthGen4G-iPadFourthGen4G, iPadMini-iPadMini, iPadMini4G-iPadMini4G, iPhone5c-iPhone5c, iPhone5s-iPhone5s, iPadAir-iPadAir, iPadAirCellular-iPadAirCellular, iPadMiniRetina-iPadMiniRetina, iPadMiniRetinaCellular-iPadMiniRetinaCellular, iPhone6-iPhone6, iPhone6Plus-iPhone6Plus, iPadAir2-iPadAir2, iPadAir2Cellular-iPadAir2Cellular, iPadMini3-iPadMini3, iPadMini3Cellular-iPadMini3Cellular, iPodTouchSixthGen-iPodTouchSixthGen, iPhone6s-iPhone6s, iPhone6sPlus-iPhone6sPlus, iPadMini4-iPadMini4, iPadMini4Cellular-iPadMini4Cellular, iPadPro-iPadPro, iPadProCellular-iPadProCellular, iPadPro97-iPadPro97, iPadPro97Cellular-iPadPro97Cellular, iPhoneSE-iPhoneSE, iPhone7-iPhone7, iPhone7Plus-iPhone7Plus, iPad611-iPad611, iPad612-iPad612, iPad71-iPad71, iPad72-iPad72, iPad73-iPad73, iPad74-iPad74,

Supported Languages:

English; French; Spanish; Castilian;

Parental Advisory:

Suggestive Themes; Mild Alcohol, Tobacco, or Drug Use or References;