Screenshots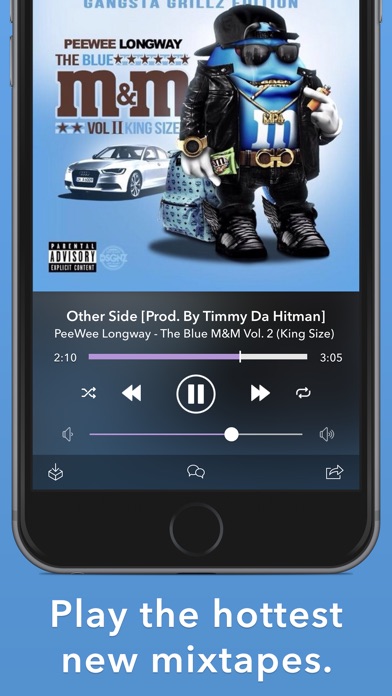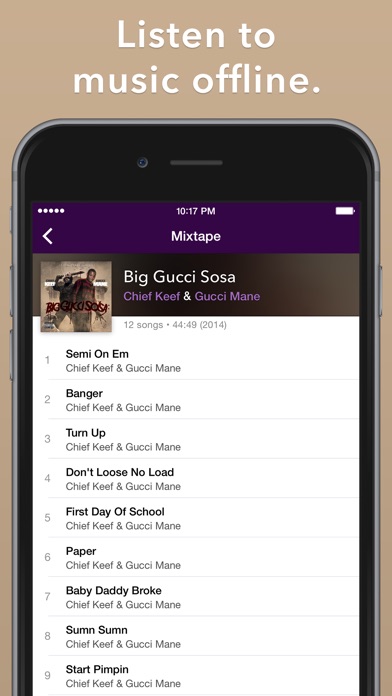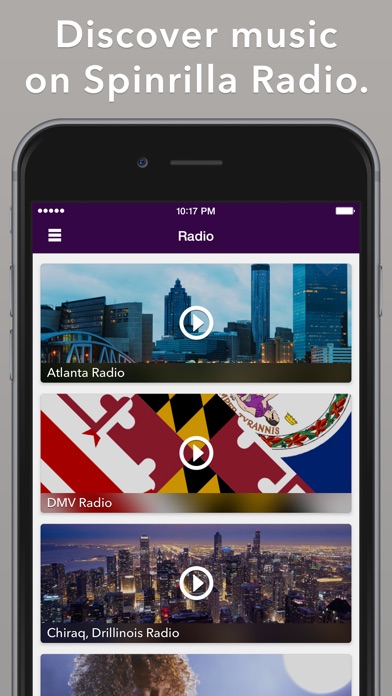 New in version 3.5.1
This update contains a fix for a potential crash while recovering missing songs. In addition, various minor bugs have been fixed.
Description
Spinrilla, the 800-lb gorilla of hip-hop mixtapes. Spinrilla is the world's first mixtape music app, giving you all hip-hop, all the time. Discover independent and emerging hip-hop artists and hear the next big track before anyone else. Spinrilla puts one of the world's largest catalogs of independent hip-hop in the palm of your hand, with new music added daily from your favorite underground artists.

• No internet? No problem. Offline mode allows listening to music when an internet connection isn't present.
• Music & playlists sync to your Spinrilla account. Log in to a different device and have your Library at your fingertips.
• Peep the charts to see what's trending today.
• Follow your favorite artists and get a notification the second they drop new music.
• Spinrilla Radio helps you discover new music that you may have been sleeping on!
• Listen to limitless music.

Subscribe to a 'Pro Membership' for the best listening experience. Pro Memberships are $0.99 (USD) / 1.19 (CAD) / 13.00 (MEX) / 1.29 (AUS) / 1.29 (NZD) / 100 (JPY) / 0.99 (Euro) / 0.99 (CHF) / 9.00 (NOK) / 0.79 (GBP) / 8.00 (DKK) / 9.00 (SEK) / 6 (CNY) / 1.28 (SGD) / 8.00(HKD) / 30 (TWD) / 59 (RUB) / 1.99 (TRY) / 60 (INR) / 12000 (IDR) / 3.50 (ILS) / 11.99 (ZAR) / 3.69 (SAR) / 3.69 (AED) per month. The Subscription duration is one calendar month. The Subscription is renewed automatically on a monthly basis and can be cancelled at any time. The subscriber's iTunes Account will be charged for renewal within 24 hours prior to the end of the current period. For more information please view the Terms of Service located at https://spinrilla.com/tos.

Follow @Spinrilla on Twitter for more updates.

All content on Spinrilla is provided by artists and is strictly for promotional use only.
Reviews
Songs
Boosie Daughter
on
11/18/2017
Majority Of My Music Doesn't Re Download And It Keeps Saying The Mixtapes I Downloaded Aren't Available. They Don't Even Show Up When I Type Them In.
Brain
Best music app there is💯💯
STOP CHARGING ME
PLEASE STOP CHARGING MY CARD FOR SPINRILLA, i don't not have spinrilla
FIX!!!
Dj hbjvdhjb
on
11/16/2017
when I leave app it skips my song and goes to next one fix it ASAP please !!!!
Rockstars
Nice selections
Awesome
kodak-maree 😍😍😍👅💖💖
on
11/16/2017
It's really good but I don't like how it won't give u some original songs but other than that' it's amazing
Spinrilla
Amazing app. Allows access to many new songs and even exclusive music.
It's OK
Is OK but is not the best player in the world
Love This App. 😈
I Like How It's Easy To Access And Plays Good Quality Music 💯 Definitely Love You This App ❤️🤗
Check this
Shango lean
on
11/15/2017
We need all the rappers song and mixtape make it simple to search like My mixtape
Yeeee
CookiieeMonstaa
on
11/14/2017
Not enough music
Complaint
Dislikedcoffee
on
11/14/2017
Some songs need to be actual songs a and not remixed like Marcia streaks vs goblin or Gucci gang
too hard to use .
when you go to a artist's profile you can't see all of their singles, you can only see their mixtapes . you guys should fix that so it's easier to find music when looking for it. 🤷🏾‍♂️ you should also let singles be on the "popular songs category on an artists page and you should show the views, streams & downloads for singles too. which would make it very easy for me as an artist to monitor my music. thank you.
Upset
BriannaMcK.
on
11/13/2017
I'm Upset That Iphone No Longer Support Spinrilla ☹️
I love it
Kairaaaaaaaaaaaaaaaaa
on
11/12/2017
I love it
Great
king attmore
on
11/12/2017
Great app
My review of spinrilla
jay_2hunna7
on
11/10/2017
Got some great artist and good music up here but need more mainstream artist
10/10
Dom_sammy23
on
11/10/2017
Haven't had any problems but finally an app that people can use without WiFi thank god since my phone only works on WiFi and now I can listen to logics mixtapes
AdablockRodGod
Almightyelohim
on
11/9/2017
Spinrilla got that heat
Not the best
Carl Poppa 1738
on
11/9/2017
I think it's a cool app, but every song I looked up ended up not even being there and just had random mixtapes when I just wanna be able to hear my songs by the artist.
Reasoning for 1-star
I don't know if it is the app or my phone's processing, maybe I have too many songs; when I first got the app it was a 5-star app I got all the underground music I listen to and discovered new music I enjoy as well, the more music I streamed the slower the app ran and it is to a point where the app takes several minutes before I can even choose a song. I love the app and have had it for years on several generations of cell phones and tell all my friends about it when asked about a music app. Only rated 1 star so you'd read my problem i don't know how else to report such an issue, so please contact me back on a way I could possibly fix my problem. Great app and easy to find hot new artists and music.
GANG GANG GANG
I swear all the music on this app that is NOT AVAILABLE TO DOWNLOAD KILLS ME!!! That's a good thing though
Awful.
How can an app not recognize an authentic email address? Especially considering I had an account with the same email address, how generic an app.
Love the app.
I've been using Spinrilla for many years. It has yet to disappoint me. The update where it saves your previously downloaded songs, is such a life saver. iThought all my favorite songs were lost but nope they're still alll there 😌. iRecommend it 😘.
Old school
It would be nice if y'all but some old school music on there
Downloaded music
For some reason Spinrilla won't let me download my missing songs.is there another music app better because I️m tired of this.
Spinrilla
It's the best music app to works great downloads just fine thanks you guys for creating a perfect music app
Unavailable music
ASAPBlitzwing
on
11/6/2017
Why is there songs not available?
TTLTLIND
I absolutely love Spinrilla
The only problem I have with the app
Some songs won't play after the song is available on iTunes and you listen to the sample of the songs the just frustrates me cause want to listen to it not go and buy it. The app is dirt slow ...... and itis up to date on updates on it..
Ok
Audii.jayeee
on
11/3/2017
They have good songs but most of them are song ms i don't like or They don't have it but you can listen to your music while you have no internet
doesn't save downloaded music once logged out
ssexela12497521
on
11/3/2017
🚮🚮🚮🚮 makes you make an account when you log out it deletes every song you've saved!!!
❄️❄️❄️
ICEFROZEWATER
on
11/2/2017
Icefrozewater
😕😕
Stax montana
on
11/1/2017
I updated the app and it still crashes when I try to recover my songs and if it doesn't crash the songs don't download the screen just freezes
Spinrilla review
Copyright issues need to be fixed
Best app
Hattdawg304🏚
on
10/31/2017
Best trap music app out there!!
Loving this app!!!
But if I got one wish is that Spinrilla would edit more the playlist. Make it possible for one to put desired tracks in order of listeners choice, instead of in alphabetical order. The alphabetical order hinders your playlist when you have to go and search for a song that's missing & might be on another mixtape. Just asking for more control over ones playlist.
Deletes my music
Fred the goat
on
10/31/2017
Great app except for it's deleted the songs I've downloaded multiple times
Spinrilla
Best music app I've ever used.
Concerned
Most songs aren't available on popular mixtapes smh! Can't listen to most favorite songs.
It's okay
almighty paulie
on
10/30/2017
I got a new phone and every time I try to download my missing songs it crashes if anybody else has had this problem please help me find a solution cause this is not cool.
Spinrilla
1500._.Scoe
on
10/28/2017
I love it❤️❤️❤️❤️❤️❤️❤️❤️❤️❤️❤️❤️❤️❤️❤️❤️❤️❤️❤️❤️❤️❤️❤️❤️❤️❤️❤️🤙🏾🤙🏾🤙🏾🤙🏾🤙🏾🤙🏾🤙🏾🤙🏾🤙🏾🤙🏾🤙🏾🤙🏾🤙🏾🤙🏾🤙🏾🤙🏾🤙🏾🤙🏾🤙🏾🤙🏾🤙🏾🤙🏾🤙🏾🤙🏾🤙🏾🤙🏾🤙🏾🤙🏾🤙🏾🤙🏾
Better than my mixtapes
Matt #25 DB
on
10/27/2017
🙏🏽
Lame
Nitty_2_Litty
on
10/24/2017
Spinrilla is going down hill because they keep taking songs off I like the 2014 spinrilla better when they didn't take songs off y'all got to get better.... I rated y'all as a 1 star because that fact y'all used to b the best but.......👎🏽
Deleted it twice and i still have it
Best music app there is!can't stay away from it.
Pro & con
Need more songs from various artist. Great app to discover music from all over. Need more play options. Cool app for iPhone and need music
Great app I done had
Very gud
Fact Sheet
Publisher:

Spinrilla LLC

Category:

Music

Released:

May 09, 2013

Current Version Released:

Oct 31, 2017

Version:

3.5.1

Size:

43.5 MB

Compatibility:

Requires iOS 9.0 or later.

Recommended Age:

12+

Game Center Certified:

No

Supported Devices:

iPad2Wifi-iPad2Wifi, iPad23G-iPad23G, iPhone4S-iPhone4S, iPadThirdGen-iPadThirdGen, iPadThirdGen4G-iPadThirdGen4G, iPhone5-iPhone5, iPodTouchFifthGen-iPodTouchFifthGen, iPadFourthGen-iPadFourthGen, iPadFourthGen4G-iPadFourthGen4G, iPadMini-iPadMini, iPadMini4G-iPadMini4G, iPhone5c-iPhone5c, iPhone5s-iPhone5s, iPadAir-iPadAir, iPadAirCellular-iPadAirCellular, iPadMiniRetina-iPadMiniRetina, iPadMiniRetinaCellular-iPadMiniRetinaCellular, iPhone6-iPhone6, iPhone6Plus-iPhone6Plus, iPadAir2-iPadAir2, iPadAir2Cellular-iPadAir2Cellular, iPadMini3-iPadMini3, iPadMini3Cellular-iPadMini3Cellular, iPodTouchSixthGen-iPodTouchSixthGen, iPhone6s-iPhone6s, iPhone6sPlus-iPhone6sPlus, iPadMini4-iPadMini4, iPadMini4Cellular-iPadMini4Cellular, iPadPro-iPadPro, iPadProCellular-iPadProCellular, iPadPro97-iPadPro97, iPadPro97Cellular-iPadPro97Cellular, iPhoneSE-iPhoneSE, iPhone7-iPhone7, iPhone7Plus-iPhone7Plus, iPad611-iPad611, iPad612-iPad612, iPad71-iPad71, iPad72-iPad72, iPad73-iPad73, iPad74-iPad74, iPhone8-iPhone8, iPhone8Plus-iPhone8Plus, iPhoneX-iPhoneX,

Supported Languages:

English; French; Spanish; Castilian;

Parental Advisory:

Mild Alcohol, Tobacco, or Drug Use or References; Suggestive Themes;