Screenshots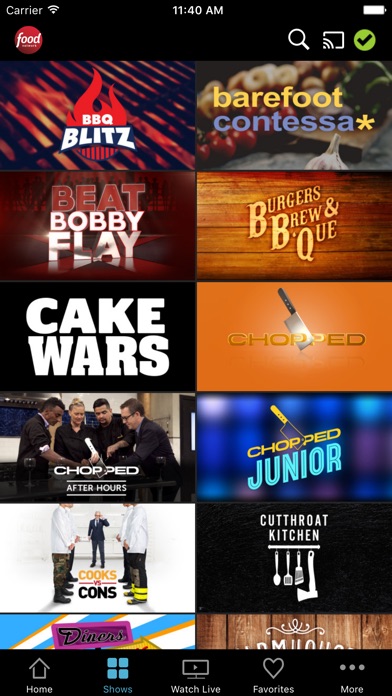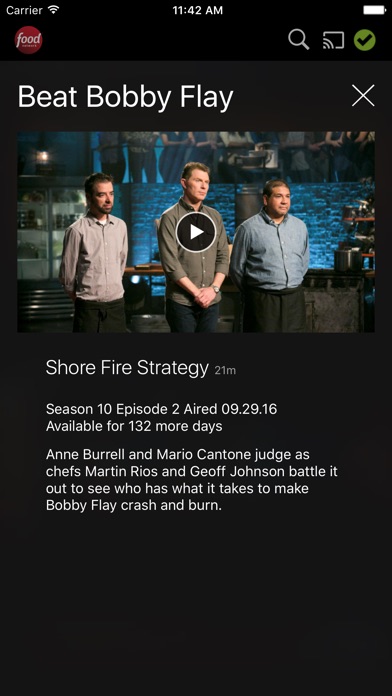 New in version 6.9
We killed some iOS 11 bugs in this version!
Description
The Food Network app gives you on-the-go access to live TV and full episodes of your favorite shows such as Chopped, Diners, Drive-Ins, and Dives, The Pioneer Woman, Beat Bobby Flay and more. Included in your cable or satellite subscription through participating TV providers.

With this app, you can:

WATCH TV THE WAY YOU WANT:
* Stream Food Network live right to your iPhone or iPad. Just sign in with the username and password provided by your participating television service provider or use Apple's Single sign-on for full access.
* Watch the latest full episodes and clips from your favorite Food Network shows and chefs On Demand.
* AirPlay is now supported to watch through your Apple TV (or get our app for Apple TV 4th gen.).
* Cast Food Network to your TV with Chromecast.
* Multitask with Picture in Picture, Split View and Slide Over on compatible iPads.

SIT BACK, RELAX, AND ENJOY YOUR FAVORITES:
* Not enough time to finish the video? Just simply select the video again when you're ready, and you'll be able to continue watching from where you stopped.
* Tap the heart icon on a show and when new episodes are available, you'll automatically receive them in your Favorites.

Closed captioning.

Current providers for the app include:
* DirecTV
* Dish
* Xfinity
* Spectrum
* AT&T U-verse
* Verizon FiOS
* Cox
* Optimum
* Midcontinent Communications
and HUNDREDS more

iOS 9 or higher is required.

Food Network app can only be used in the United States.

Like what you see? We'd appreciate your reviews in the App Store.

Want to talk? If you have questions, comments or suggestions for the app, we'd love to hear from you. Please email us at app-watchfoodnetwork@foodnetwork.com.
iPad Screenshots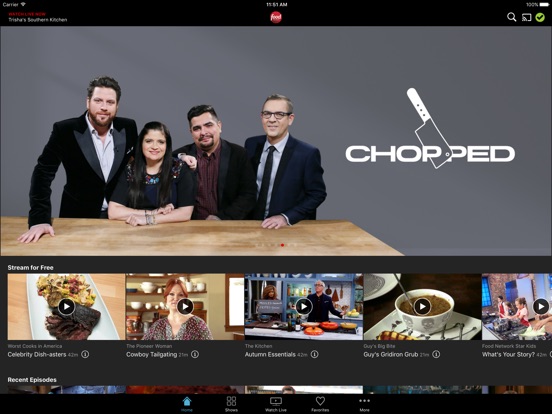 Reviews
It crashes too much. 👎🏾
VictoriaTerez
on
10/17/2017
This app has the potential to be amazing. It crashes so much that it makes you not want to watch. Please fix this.
Xfinity on Apple TV? Nope
Please explain to me why I can get this app to work on my iPad and iPhone and NOT on my Apple TV! Fix this. Please add Xfinity to your list of providers.
Apple TV app has major issue
The instant live TV feature is nice in concept, but when going back into the app it consistently is frozen and doesn't work until the app is shut down/force closed. This is the same issue across HGTV, DIY, Cooking Channel and other apps that use the same feature/format.
Please fix
Chrissypooh6582
on
10/14/2017
I love this app when it works properly. After ur recent "bug fix" lol I can't sign in with my cable provider. I tried pushing "other providers" and the search bar comes up and no list and when I put in the name it says I spelled it wrong. Please fix I watch every week.
Awesome
This app is fab. It's set up where you can find the show that you want so easy and shows the dates so you can play "catch up" on all of the episodes you missed. I love it.
Sign in not working
When I try to sign in with my cable info, I click on the "more providers" thing, but either nothing happens, or when I search for my provider (which is pretty big and I've always found it on other tv apps before), it shows "no results" no matter what I type in. I even tried typing in other providers just to get something to pop up and nothing worked. We really wanted to watch Halloween Wars :(
Love the app
Wild berry tea lover
on
10/12/2017
I travel all over the state and I am unable to always see my favorite shows. Not any more!! Commercials are annoying, but I just skip through them.
Welp
Puppy_Lover 🐶
on
10/9/2017
To be very honest I'm not talking about the app I'm going to talk about your website foodnetwork.com. Ad after ad after ad and I'm fine with the commercial ads y'know whatever okay sure. But it opens the show and barley before it can even start, ads. After that a little comes on and then, ads. This is a problem that should really get fixed. If you make a website make it good for petes sake! And I clicked on the little videos the website gives and before it can barley even open guess what?! Ads. And when it loads back it's an entirely different video and guess what happens before that can open?! You guessed it! Ads. Please fix this who the heck makes a website that's poorly put together like this?! Sad very sad.
Almost perfect
I LOVE this app!!!! I could watch tv on here for hours at a time. Everything on here is perfect accept for it doesn't have my tv provider!!! I can't watch the shows I want to watch! It's a real pain to have to just watch the clips so food network app please add Google Fiber to your providers
Unable to sign in
The more providers does not work so i cant sign in
Food Network App
I love this app. It is my favorite. The variety of shows is great. Just makes my day.
Love the content, hate how it runs
Teakneepanys
on
9/27/2017
His app has been incredibly glitchy. It crashes once every 15-20 minutes or the orientation of the video randomly gets messed up after commercials are played. I love food network and I hope they will work out the kinks.
Locks up and crashes - iPhone 7 Plus iOS 11.0
It takes anywhere from 10 seconds to 2min for the screen to rotate so I can watch the whole screen. Pause doesn't always work. If I switch to another app and try to come back to food network, the app crashes 50% of the time.
Love It
This is amazing! It is really convenient!
Not so hot
Watched two episodes of my favorite cooking show and endured the same few commercials over and over and over again. Then the end of both shows was cut off. The video just stopped mid scene.
Too many commercials, buggy and loud
SuperShoeDiva
on
9/23/2017
One of the joys of digital has been the limited number of commercials, this can no longer be said for the Food Network. There are multiple commercial interruptions of repetitive ads during a single program. It's disruptive and annoying and makes me turn it off and spend my time with other apps that don't bombard me with ads. The show menu has mistakes in it, Chopped is listed twice and one of them is actually a completely other show. Stuff starts playing before you select it.
Not able to sign in to provider
As of today, 09/21/17, after updating to iOS 11, not able to sign into my provider. When tap on "more providers", it will not open to give the alpha list of providers. This is on both Food Network and HGTV apps. Hope it is fixed soon.
Annie
Would have more stars but it has just stopped working with Chromecast, just cuts out. Also happening on HGTV.
APP NO LONGER WORKS ON ROKU SINCE UPDATE!
Thanks for taking a perfectly working app and giving it an update in September so it no longer functions on Roku. USELESS!!!!!
Great app
Love this app it allows me to watch food network on the go
Great
Nicolas Sandoval
on
9/14/2017
If your a food fanatic like me this is the app for you it's so easy to sign in and just watch the shows you want
It's ok but like yea you should get it
Get the app!!!!!
Too many commercials!
I like the content offered, but there are on average 5-6 commercials per break. With 6-7 breaks per 43 minute show, you're watching a lot of commercials!
Can't use
obscurusmercury
on
9/3/2017
Comcast isn't included.
No longer has Comcast?
Can't watch shows anymore because you got rid of Comcast as a provider?...
Login
I love this app but when it login me out this last time I login in only to get my email and password r not right and it's not true been doing this for couple days. I have re downloaded the app and same thing I know every is right cause I can login to other apps please fix
Buggy
lovED this app, but then the new update came and now it's been randomly closing out. Please fix thanks!
Love the app!
The app works great! No problems. I'm very happy with it. 😊
Awesome
Love the app, makes watching my favorite shows easy
Wacked Out Episode Order
burningmatch
on
8/19/2017
The app is great, but watching through a season of a show, the episodes don't play from earliest to latest automatically. If you start at Episode 1, the next episode that plays is not Episode 2. You're forced to stop watching and select Episode 2 manually.
Foodie40
I love this app, it allows me to get caught up on my cooking episodes.
Love catching up with my favorite chefs
Love having access to my favorite chefs anytime. So easy to find what I am looking for by just entering key words.
Good but Problematic
MeganWright8
on
8/13/2017
We've used this app for the past several months and have noticed several issues with it. The most bothersome is when using chrome cast, the app won't allow me to select the next episode unless I disconnect from chrome cast. So after each episode, I have to disconnect from chrome cast and sometimes close the app completely before it will let me select the next episode. Also, as of late, it won't even let me log in. Every time I put in my information, it says 'something went wrong, try again later' and this has been happening for days at a time. I know my login information is correct because it works everywhere else, including the HGTV app. Not sure what's going on but the bugs really need to be worked out with this app.
Stop asking me to rate and review!
Seriously, between every click, your app is asking me to rate and review! When I hit no the first 50 times, that should be good enough. It's really freaking annoying. Just let me watched Chopped!
My favorite cooking shows at my fingertips!
Love this app!! Only thing missing is an immediate recipe link to each show!
Idk
29ohwell907628@
on
8/12/2017
Is it free
Good App
This app is really good for watching current shows, and I use it very often for that. It would be great if they put some older shows/seasons on to watch on demand though (like there used to be on Netflix before they removed their shows). If they added those shows this would definitely be a 5 star app for me!
Can't sign with XFINITY
I am very frustrated with the food network app. I can no longer sign in with XFINITY :(
Comcast Xfinity not listed
My cable provider is not listed and I can't use the app. Bravo and TLC app have Xfinity listed and sin in automatically when I am at home. This app is useless!
Aplicación completa, estupenda
Koralyskercado
on
8/5/2017
No me puedo despegar, es la primera que tomo de mi tiempo para escribir un review. La aplicación tiene la mayoría de su programación. Es estupenda, lo único es que debería de poner las episodios de toda su programación en la app.
Food network
It really fun to watch because we have sling tv and on sling it live
So glitchy!
Older seasons would be great and access to all episodes for free. App kept crashing, disappointed.
Casting works almost never.
This app literally doesn't ever cast. Every other app I have will cast to my TV just fine, except for this one. I strictly only watch this via casting. Unfortunately it's less than a 5% chance if it's going to let me actually watch it or not. I never rate apps but this is severely aggravating to deal with on a regular basis. Do not recommend if you intend to cast.
Love TV
Jasmine01Nicole
on
7/24/2017
I love that we can watch live TV!
Great App
I love this app! I highly recommend it!
Food Network App
Once you Sign In, you have access to many different types of shows.
Love the app❤️💕
It's amazing 😉
Where did all the shows go?
Since the last update, there are very limited on-demand choices. Some of my favorite food network shows are not available, including some that recently premiered. Pretty much only good for watching live programming now, which means I am either watching Chopped or Triple D every single time I turn on the app.
Amazing App
Skyekennedy_2016
on
7/13/2017
The Quality of the Videos are amazing. The commercials are little bit longer than I think they should be, other than that great app!
Fact Sheet
Publisher:

Television Food Network G.P.

Category:

Entertainment

Released:

Jun 20, 2013

Current Version Released:

Oct 03, 2017

Version:

6.9

Size:

152.5 MB

Compatibility:

Requires iOS 9.0 or later.

Recommended Age:

4+

Game Center Certified:

No

Supported Devices:

iPad2Wifi-iPad2Wifi, iPad23G-iPad23G, iPhone4S-iPhone4S, iPadThirdGen-iPadThirdGen, iPadThirdGen4G-iPadThirdGen4G, iPhone5-iPhone5, iPodTouchFifthGen-iPodTouchFifthGen, iPadFourthGen-iPadFourthGen, iPadFourthGen4G-iPadFourthGen4G, iPadMini-iPadMini, iPadMini4G-iPadMini4G, iPhone5c-iPhone5c, iPhone5s-iPhone5s, iPadAir-iPadAir, iPadAirCellular-iPadAirCellular, iPadMiniRetina-iPadMiniRetina, iPadMiniRetinaCellular-iPadMiniRetinaCellular, iPhone6-iPhone6, iPhone6Plus-iPhone6Plus, iPadAir2-iPadAir2, iPadAir2Cellular-iPadAir2Cellular, iPadMini3-iPadMini3, iPadMini3Cellular-iPadMini3Cellular, iPodTouchSixthGen-iPodTouchSixthGen, iPhone6s-iPhone6s, iPhone6sPlus-iPhone6sPlus, iPadMini4-iPadMini4, iPadMini4Cellular-iPadMini4Cellular, iPadPro-iPadPro, iPadProCellular-iPadProCellular, iPadPro97-iPadPro97, iPadPro97Cellular-iPadPro97Cellular, iPhoneSE-iPhoneSE, iPhone7-iPhone7, iPhone7Plus-iPhone7Plus, iPad611-iPad611, iPad612-iPad612, iPad71-iPad71, iPad72-iPad72, iPad73-iPad73, iPad74-iPad74, iPhone8-iPhone8, iPhone8Plus-iPhone8Plus, iPhoneX-iPhoneX,

Supported Languages:

English;