Screenshots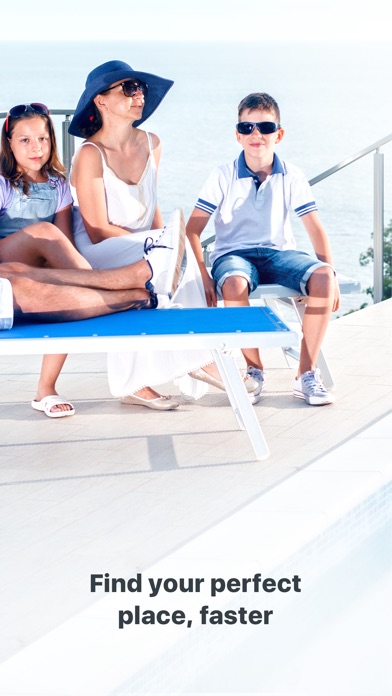 New in version 2017.18
Thanks for using the HomeAway app! We constantly make new improvements and keep an eye out for bugs.
Description
Find and book the perfect vacation rental in just a few taps! With the HomeAway mobile app you can quickly and easily access all the tools you need to plan, book, and manage your stay.

Dream your perfect vacation:
- Browse popular destinations and vacation rentals in more than 190 countries
- Discover whole homes, from apartments to villas, or even tree houses and castles among our 1,000,000+ vacation rentals
- Save and manage favorites
- Share with people traveling with you

Book your vacation rental:
- Book and pay directly on the app
- Access all your conversations from your inbox and receive notifications when owners answer your questions or confirm your booking
- Send payments safely and securely

… and Enjoy your stay!
- Manage your reservations
- Keep your trip's details with you when you travel to your dream destination
- Access your check-in information when you need it

Currency is displayed as USD, GBP, and EUR in the property listings, unless otherwise noted. For more information please go here: http://www.homeaway.com/mobile
iPad Screenshots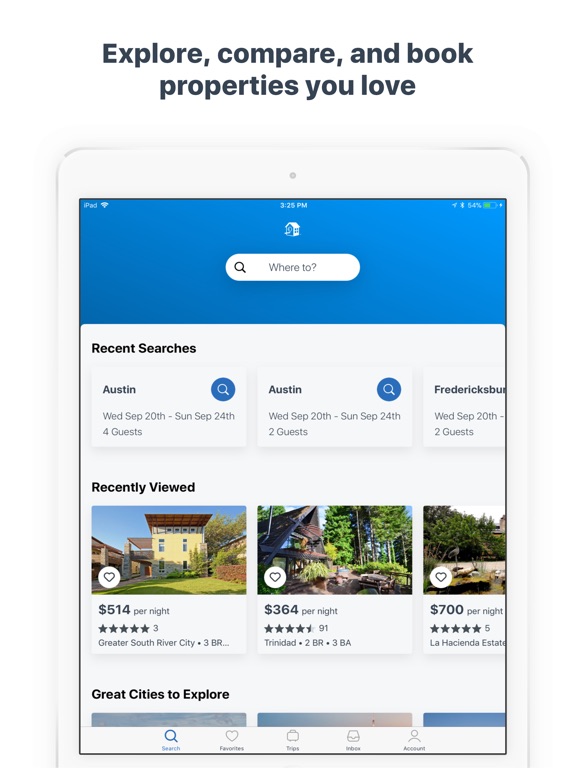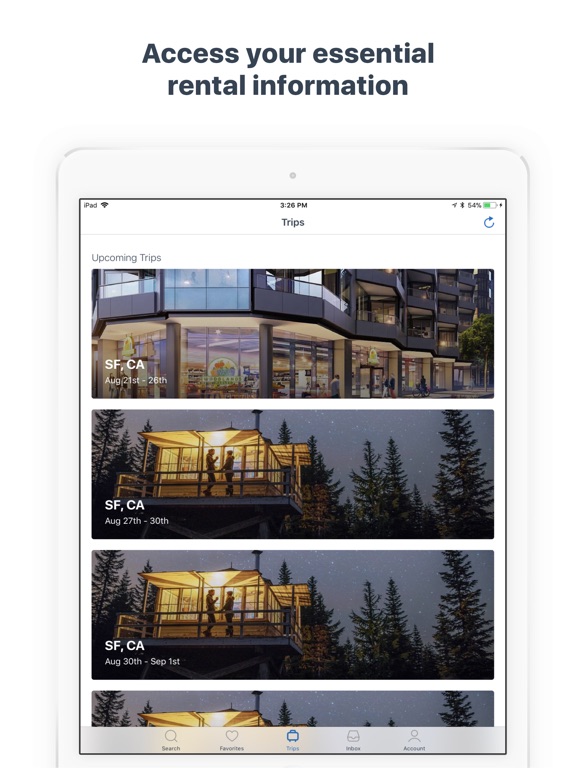 Reviews
Great Photos, Easy to Use
Easy to use!
Easy to use
Tjonesmarketing
on
12/9/2017
I have traveled all over Europe and the USA with HomeAway. It is so easy to find great places to stay and it's much more affordable than staying in a hotel. It's nice to be able to cook and bbq and not have to eat out for every meal. This is how I prefer to travel nowadays.
Easy app
So easy to use and love the map feature...circle the area your looking for.
Easy and accurate
Lyndon block
on
12/7/2017
App is easy to use and each property has been accurately described.
Easy
Willkill7010
on
12/6/2017
This app makes your life so much easier! Love it
Travel 1st Class
Glrichardson
on
12/4/2017
Nice stops while traveling through life made easy.
Trips
I use home away from from most of the time the homes are great and have had nothing but good experience
So far not good
I like zillownow
on
12/3/2017
Frustrating that the Avg/night is relative to something other that an average. And all of the payment detail is not available upfront. I don't like feeling misled.
Easy to use- but pricy
We have used home away multiple times for booking multiple vacations super easy to use however the fee of $123 could be reduced considering the amount of Internet traffic you do receive
Great app.
Easy to search and see properties.
Wonderful Boutique Condo Hotel
" Great Room, great views, staff very attentive and polite. Management staff was also great. Made sure we were happy with our accommodations. " Recommend it highly. Charlie R Michigan
Vacation!!!
Jaybabyhall.34
on
11/30/2017
Just began using Vacation Rentals last year and will never use anything else super easy and less stressful!!!!
Monedas /Currency
No se puede cambiar la moneda en la app The currency cannot be changed in the App.
Easy easy easy
Anchiesully
on
11/28/2017
Love homeaway! Makes finding beautiful homes so much easier!!
Good UI and pleasant size in MB
The app is best for groups of friends or families as it mostly offers whole properties. Besides that I like their updates are real quick thanks to the optimized app size!
Customer service is AMAZING
Had a cancellation issue were the property owner was being aggressive toward the refund policy. Called up HomeAway and a guy named Ethan picked up and HE LITERALLY TOOK CARE OF EVERYTHING! He spoke to my bank and property owner and resolved my issue. Will definitely use HomeAway to any further stays!
não é possivel concluir a reserva
o link para confirmação leva a uma pagina cim o preço e mais nada. Bem confuso o site.
Excellent Alternative to Hotels
If your sick of paying outrageous hotel fees Homeaway is an excellent alternative for accommodations in the San Francisco Bay Area. The homes offered are always very quaint and cozy . I highly recommend this site instead of hotels .
So many turn downs.
It would be nice if the renters could block out dates when their places are not available. We have been looking for a place that includes a holiday weekend and they are all saying they are unavailable or want a longer stay. Big Waste of time so far.
Love using the app except..
Always Loving Life!!
on
11/25/2017
App works great like it should, helpful features. One feature I would really find helpful is having a place to make and save notes for what I like/dislike about each property as I'm researching them so I don't have to keep going back to try to remember each one. Searching can become very daunting and it takes so much longer to keep going back through the information on each place I'm interested in. Great app though, thank you.
Satisfied renters
jrdparadise
on
11/25/2017
We have used homeaway for a bunch of Florida rentals and have not been disappointed.
Please make owners update availability!
bobby's_girl
on
11/24/2017
I love the app, it's easy to navigate. My only frustration comes from selecting the perfect home that has no bookings on the calendar only to receive an email from the owner that it is not available. Then I go through the same process again!! Each time I try and book and probably go through a minimum of 3 that look available but the owner has failed to update their calendar- it's very frustrating! I wish there was something that made them keep the calendar updated. When an owner tells me it's not available, I usually respond with "how strange, the calendar shows it available, you better look into this great mystery!"
Makes searching easy!
Easy property searches, editing of stay info, you can even draw on a map to search a particular area. On of the best apps I use!
Great Place
This condo is amazing! Off the grid but close enough to enjoy night life if you want to. Great kid friendly condo!
Prices per night never match actual
See subject
New website layout
I am not too Ken on the new site design...it does not seem to be as user friendly.
Love Home Away
66andhavingfun
on
11/19/2017
Quick, easy way to book vacation. Lots of inventory to pick from.
Too much other charges
I like HomeAway easy and convenient to use. But man when it comes to the total charge it's more than staying 2-4 nights at a hotel. Their cleaning and all other charges that owners feel like the need to charge you for every little things is pretty ridiculous.
Easy and Efficient
Could not find the place we were looking for on vrbo or other sites, but was here, and available.
Property 3770560
We have used VRBO twice and we will only use them for reservations they are very easy to work with.
Service fees well over 10%
0hsusana1996
on
11/14/2017
The app is not as easy to use as it once was. I'm not sure if homeowners need to update their listings. Also, I used this service for years and went to book a house booked previously before the add on of the service fees. The increased cost doesn't even make sense as it was nearly equal to the cost per night. The owners have no control over these fees and in the area I'm looking to rent they were recently hit with utility increases that were also out of the owners control and the rental costs are now at all time highs. From what I've been told the only people happy about the service fees are the rental companies.
One more filter
There needs to be a parking filter. These could be Sub-filters for parking, like "included in price", "on-site" etc.
Easiest "Home Away from Home" app
I enjoy using this app the most when I'm searching for the perfect getaway. Very user friendly.
Bait and Switch
Jim.Spencer
on
11/12/2017
This app has become a complete bait and switch with a final price that is ALWAYS much higher than the average price shown. I suspect that they are basing pricing on the user profile (how much they think you will pay) rather than a seasonal price. Create a new profile every time you use the app.
Not user friendly app
This app need lots of improvement. Also, property shows availability but owners don't confirm it.
Awesome app
Accurate prices! I love to search using the filters so I only consider the units that have the amenities I like.
Great app!
We use this for all of our getaways! The only bad thing is if you find a property that is not instant book you have to wait for approval and sometimes the calendars are not up to date.
Great app overpriced service fees
VRBO has always been my go to booking for vacations but recently I've noticed their service fees have gone way up. As a result a rental looks like it's $200 a night but really it's $300. Plus VRBO offers me as a customer for little for the exorbitant fees. I'm honestly not a fan of Airbnb but I think I have to start checking them out first before using VRBO.
Tuscan sunsets in Tucson
seeking sun
on
11/10/2017
Lovely location, quiet, warm respite for us Northern folk! Thank you so much for renting your comfortable home to us!
Switch and bait
Sites like home away Airbnb and VRBO Are supposed to make reservations easy however every resort condo I chose at a specific price doubled by the time I was ready to confirm. Owners seem not to have any control over what these sites do . I would rather get a hotel room then to be subjected to this switch and bait tactic. Buyer Beware!!!!
Easy access to housing options
Elainelandrews
on
11/10/2017
Very useful app. I especially appreciate the map vs list view of options and the ability to reduce or enlarge the map view to get additional detail or ideas. One suggestion to the app builders — please provide instructions for how to create a favorites list. I did it once but can't figure out how to repeat it for new locations.
Always find what I am looking for!
Love the app! We live in New England and love to stay at lakeside cottages! We always seem to find what we are looking for using the app. We have stayed in Maine, Vermont and now we are looking in NY. Always an adventure!
Can't connect
Love Home Away but the app does not function. I have deleted the app and reloaded four times and it still does not work.
Please list
PaulJohnsonPgh
on
11/9/2017
The details of what changes in each update
Messages
I can't see what messages I've sent.
I love it. Vacations are on another level. Bigger and better more for my money. ❤️
❤️
Max of 13 guests
I'm looking on the website because the app doesn't allow more than 13 guests. Besides that, good app.
Well built app
Really impressed with the app. Very well thought-out. Just booked first rental.
Great site
Great site to find affordable condos and houses!
Super easy
I have booked several trips thru home away. Never had a problem. Fantastic!
Fact Sheet
Publisher:

HomeAway.com, Inc.

Category:

Travel

Released:

May 10, 2013

Current Version Released:

Dec 13, 2017

Version:

2017.18

Size:

60.2 MB

Compatibility:

Requires iOS 10.0 or later.

Recommended Age:

4+

Game Center Certified:

No

Supported Devices:

iPhone5-iPhone5, iPadFourthGen-iPadFourthGen, iPadFourthGen4G-iPadFourthGen4G, iPhone5c-iPhone5c, iPhone5s-iPhone5s, iPadAir-iPadAir, iPadAirCellular-iPadAirCellular, iPadMiniRetina-iPadMiniRetina, iPadMiniRetinaCellular-iPadMiniRetinaCellular, iPhone6-iPhone6, iPhone6Plus-iPhone6Plus, iPadAir2-iPadAir2, iPadAir2Cellular-iPadAir2Cellular, iPadMini3-iPadMini3, iPadMini3Cellular-iPadMini3Cellular, iPodTouchSixthGen-iPodTouchSixthGen, iPhone6s-iPhone6s, iPhone6sPlus-iPhone6sPlus, iPadMini4-iPadMini4, iPadMini4Cellular-iPadMini4Cellular, iPadPro-iPadPro, iPadProCellular-iPadProCellular, iPadPro97-iPadPro97, iPadPro97Cellular-iPadPro97Cellular, iPhoneSE-iPhoneSE, iPhone7-iPhone7, iPhone7Plus-iPhone7Plus, iPad611-iPad611, iPad612-iPad612, iPad71-iPad71, iPad72-iPad72, iPad73-iPad73, iPad74-iPad74, iPhone8-iPhone8, iPhone8Plus-iPhone8Plus, iPhoneX-iPhoneX,

Supported Languages:

English; French; German; Italian; Portuguese; Spanish; Castilian;