Screenshots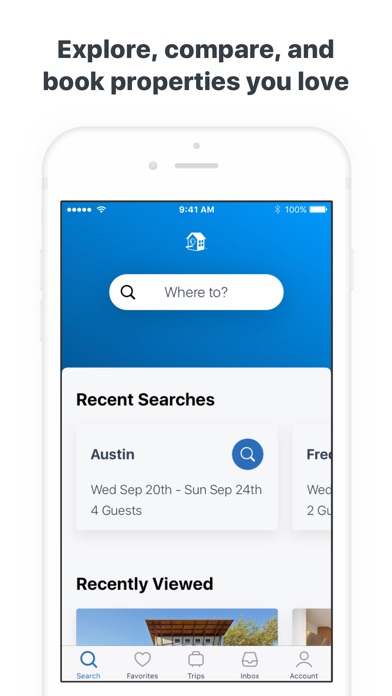 New in version 2017.14
Minor updates and changes. We found new ways to enhance the app for when you're on the go!
Description
Find and book the perfect vacation rental in just a few taps! With the HomeAway mobile app you can quickly and easily access all the tools you need to plan, book, and manage your stay.

Dream your perfect vacation:
- Browse popular destinations and vacation rentals in more than 190 countries
- Discover whole homes, from apartments to villas, or even tree houses and castles among our 1,000,000+ vacation rentals
- Save and manage favorites
- Share with people traveling with you

Book your vacation rental:
- Book and pay directly on the app
- Access all your conversations from your inbox and receive notifications when owners answer your questions or confirm your booking
- Send payments safely and securely

… and Enjoy your stay!
- Manage your reservations
- Keep your trip's details with you when you travel to your dream destination
- Access your check-in information when you need it

Currency is displayed as USD, GBP, and EUR in the property listings, unless otherwise noted. For more information please go here: http://www.homeaway.com/mobile
iPad Screenshots
Reviews
Bait & switch
I input my dates and price point before searching and it returned a number of properties. However when I tried to book a certain property the price jumped from $225/night to $395/night before taxes and other fees!!! When I called the reservation number I was told that the price change was the price for the days I selected. It seems to me that if you put the dates in before you search then it should show you the actual price of the property for the dates you selected - not the price for some other date. Apparently it doesn't work that way which makes the website fairly useless if you're searching for properties within a defined price range for specific days. Disappointed with this service to say the least.
No other way to stay than VRBO
My husband & made the switch from hotels to VRBO about 4 years ago. We have never regretted it, have saved tons of money, and enjoyed richer experiences in the process. The homeowners are exceptional, warm, and easy to work with. The properties are beyond expectation. There is no downside! We love VRBO!
My account
We have a trip booked but can't find details about our trip pertaining to fees paid & balance due. When I click on account it asks if I'm an owner. I can look at property booked but that's it. Not helpful!!! Seems there was more info available when we booked first time.
Love Home Away!
Rachaelgenna
on
10/14/2017
Great app to connect renters with homes to rent in fantastic destinations!
We love Home Away!
We travel almost every weekend for business and it's great to feel at home!
Misleading & Unavailability
Nicole's FaceWatch
on
10/13/2017
I used to love this app but now when I select my filters they show me unavailable and advertised properties. It's not helpful especially after you selected dates and they still show properties that don't have vacancy. It's too time consuming-i'm gonna start use booking.com from now on.
Love the app, but...
KonaAppRater-Hater
on
10/13/2017
Have used it many times in connection with the website (web has better functionality of course). I wish it had a place for owners to upload floor plans. Cruise ships, Airlines, and some hotels have floor plans, so why not rentals? It's hard to figure out what is where by the pictures and floor plans help you figure out the space and where you will put your family members, etc. especially if some are handicapable!
Life style changer!!!
heart4allnations
on
10/12/2017
I'm a pilot and live on the road. Since discovering Homeaway, I now stay in comfort often with a private pool/beach/jacuzzi! The app has been 100% flawless & extremely user-friendly.
Must have for traveler!
Whether you are booking months out or the day of your last minute travel, this is the app! Just a few clicks gets you availability, price, location & real-time ratings! Book in minutes, move on to the party
App does not show reservation
I have a reservation but it is not showing on my iPhone app.
Thank You
Beach Therapy
on
10/12/2017
Setting up this site has been a fairly smooth task thus far. Looking forward to seeing it all work.
HomeAway
I absolutely love this app because it allows you to choose the PERFECT location for your getaway!
Caution!!
TeamHatfield
on
10/12/2017
You may not know this but after you visit the property the opportunity to review the property is provided by the homeowner. Following a recent stay in Lake Placid I wanted to leave a negative review on the property but was told by Home Away the link to review the property had to be provided by the homeowner. This doesn't sound like an objective way to review owners. Needless to say I have not been provided the link by the homeowner. I will not be using HomeAway again.
Prices are NOT accurate
Application has not accurate prices, when I try to book jump to a ridiculous amount👎👎👎👎
Not such a quiet getaway.
I was looking forward to the sound of the ocean and drinking coffee on the patio. Instead there are workers and a crane outside the door that wakes me up. I reported this to the HomeAway folks but they act as if this is the first they heard. People around here say it's been posted since Middle of August. They come back with, at least you are enjoying the pool and beach. Sure, if you don't mind the painters watching you. I report they need a new skillet, I suggest you bring one. It's been good to get away.... but just did not meet my expectations.Ps look for the key under the patio table. I was confused after a long ride to get here not remembering the directions upon arrival.No one was available to return my call or email or text until the next day. The service fee seems much when the service is so lacking. At the rate the painters are going this crane will be here and blocking the view for a few weeks. Good Luck 😟
Unclear Info-Sharing Policy
But, of course the Customer is always right but, why on earth the owner cannot give a simple request such as the address of their house to be able to figure out in advance the way on how to reach their place. Of course, we knew that there could be other tenants currently staying in their home. Why on earth will we disturb them? Please rewrite your business policy to make things easier and clearer for everyone. Thank you.
Clumsy Website
The site can be a little frustrating when doing several searches. I often find myself having to add the same filters and dates after a period of time.
Portafino
Juleslikewhoa
on
10/10/2017
Awesome people to work with. Very nice vacation!!
Good App
DelandFLGirl
on
10/10/2017
I've booked vacations through VRBO for a long time. Finally an App to make things easier.
Love this
I love the idea of staying in a home instead of a hotel and this is a great way to find what we need. The only change I would like to see is the option to narrow down the search area but a more specific location. When I want to stay in Nashville, I want to stay within a certain distance from my relatives house and even though I choose the "area" they are in, I get results that are 30 minutes away and I have to check the map to judge the distance. If I could set better parameters by zip code or something that would be more helpful. Otherwise, this is a great ap!
Wish we could message before booking.
We have used Home Away/VRBO several times. Unfortunately when I recently booked a "pet friendly" cabin they called me and cancelled due to the size of my dogs.
Still Needs Work
The sort by price feature has always been a problem. They even took it away for a while and brought it back. Now, it's worthless. Somehow it manages to say the avg/night cost that is 100% incorrect for some listings where there isn't even a single night at or below the "avg/night" cost.
Great place to stay
Jason Creppel
on
10/6/2017
This place is in a great location. Lots of Cuban restaurants and shopping in the area. Cigar shops, pharmacies in the area. Close to the airport and cruise port. The owner let us check in early to get ready for the rest of our party. My only comment, is the kitchen could have been better equipped for people who like to cook, but we made it work. We will definitely book again. Great home, great location, great owners.
Love it!
This app is excellent with helping me find just want I want. The only downfall is that you have to email people to see if what you want is available.
Confused regarding price
I don't understand price quote and there are no explanations.
Large Family's Dream Come True!
So grateful in Houston
on
10/3/2017
The Home Away app has literally changed our lives! We had given up on traveling when our family out grew a single hotel room and didn't travel at all for years. Then someone told us about Home Away. Now with 7 kids and home away, we can go anywhere we want whenever we want. So easy! Thanks Home Away!
Works great!
This app is very user friendly and works great! No complaints yet.
Billing address country missing
Could not find Saudi Arabia with the options of a billing address for my payment
Great way to rent!!
Makes finding a place to stay so much easier. Then with the app you can keep up with all the details you need to remember. Thanks!
Every time
CenCalFarmer
on
10/1/2017
We have rented several homes throughout the US and have found the HomeAway platform to be the best. Highly recommend
Easy to use
Larsandlogan
on
10/1/2017
This is such a quick and easy way to find vacation properties for our family vacation.
Rental Process
potential renter
on
10/1/2017
We have had an awful experience trying to book for fall break for the kids with this site as we have tried to rent units and the process is too lengthy and the units are showing as available and the owners are denying a request and tying up funds. Not a fan of this at all.
Great app
Wonderfulandgreat
on
9/30/2017
Love it
Excellent place to stay
chicshimmers
on
9/30/2017
Our stay in Vernazza at this property was great for the following reasons. The place is very clean, even the comforters smelled like they just came out of the dryer. Towels and bed linens were starch white. Pillows and mattress were very comfortable. The property owner was attentive to detail, leaving extra toiletries, kitchen items like teas, snacks, etc. We had plenty of towels and pillows, comforters. The owner has great communication and tells you how to work certain things. It's very easy to find and very close to the train station. For a family of 5 we were surprised at how roomy the place is. You will not be disappointed if you stay at this place.
Love it
My only complaint is that I wish more places would post as many pictures of the places as possible and a floor plan otherwise love it! I have booked my last three vacations with them the make everything so easy.
It's easy to use.
Abraham_review
on
9/29/2017
I love HomeAway, and this app is really handy.
Awesome Application
Homeaway makes vacationing easy and painless!
Great app
Easy to find vacation rentals.
Love this app!!
Use this app all the time and love it!!!
2-bookings gone well
Everything has been as represented and the app was user friendly !!
LOVE LOVE LOVE THIS APP
This app has quickly become my go to app when planning trips. I love that you can message the owners of the property directly for questions regarding their areas. After all, it's locals who have the info on secret fishing spots, best places to eat, etc.
Great app, easy to use
Great app, opens quickly, easy to use.?
Love the app --fees are getting out of hand
I agree with one of the other reviews. The fees sometimes get a little out of hand. I hate to see a picture of a hot tub. Cleaning fees. There are service fees, administrative fees, cleaning fees thru the roof, pet fees -I didn't say I was bringing my pet, fees for fees. A $100 a night place quickly becomes a $300 a night. I realize this is individual property owners but there should be some kind of regulation. Tell us up front. Include those fees in the nightly rate and add tax.
Not working correctly
heididiscolaw
on
9/27/2017
I liked this app when I first got it, now it won't let me mark certain properties as "favorites" which significantly decreases its utility. Having to sort through all the properties each time you look at it is annoying and time consuming. Please fix!
Great
The best way to find something!
😳
Can't get access to my reservations. Says can't connect with Home Away. I need info for upcoming stays. New update glitch?? Never had trouble before.
Never Travel without it
Homeaway provides so many options, easy to use for travel
Easy Squeezy
I've used VRBO-HomeAway to secure four different properties in the past 24 months and it has been a perfect solution to not only saving in hotel costs, but being able to travel with our terrier. 100% pleased so far!
Works well
Love the ease of it
Fact Sheet
Publisher:

HomeAway.com, Inc.

Category:

Travel

Released:

May 10, 2013

Current Version Released:

Oct 11, 2017

Version:

2017.14

Size:

55.1 MB

Compatibility:

Requires iOS 9.0 or later.

Recommended Age:

4+

Game Center Certified:

No

Supported Devices:

iPad2Wifi-iPad2Wifi, iPad23G-iPad23G, iPhone4S-iPhone4S, iPadThirdGen-iPadThirdGen, iPadThirdGen4G-iPadThirdGen4G, iPhone5-iPhone5, iPodTouchFifthGen-iPodTouchFifthGen, iPadFourthGen-iPadFourthGen, iPadFourthGen4G-iPadFourthGen4G, iPadMini-iPadMini, iPadMini4G-iPadMini4G, iPhone5c-iPhone5c, iPhone5s-iPhone5s, iPadAir-iPadAir, iPadAirCellular-iPadAirCellular, iPadMiniRetina-iPadMiniRetina, iPadMiniRetinaCellular-iPadMiniRetinaCellular, iPhone6-iPhone6, iPhone6Plus-iPhone6Plus, iPadAir2-iPadAir2, iPadAir2Cellular-iPadAir2Cellular, iPadMini3-iPadMini3, iPadMini3Cellular-iPadMini3Cellular, iPodTouchSixthGen-iPodTouchSixthGen, iPhone6s-iPhone6s, iPhone6sPlus-iPhone6sPlus, iPadMini4-iPadMini4, iPadMini4Cellular-iPadMini4Cellular, iPadPro-iPadPro, iPadProCellular-iPadProCellular, iPadPro97-iPadPro97, iPadPro97Cellular-iPadPro97Cellular, iPhoneSE-iPhoneSE, iPhone7-iPhone7, iPhone7Plus-iPhone7Plus, iPad611-iPad611, iPad612-iPad612, iPad71-iPad71, iPad72-iPad72, iPad73-iPad73, iPad74-iPad74, iPhone8-iPhone8, iPhone8Plus-iPhone8Plus, iPhoneX-iPhoneX,

Supported Languages:

English; French; German; Italian; Portuguese; Spanish; Castilian;