Screenshots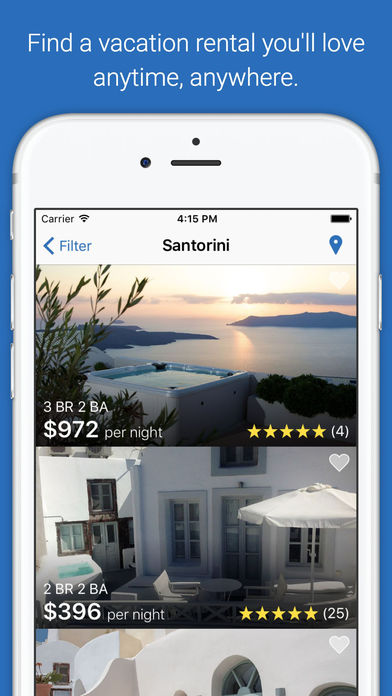 New in version 2017.10.1
Design and performance improvements - we're always trying to make our app more enjoyable and easier to use.
Description
Find and book the perfect vacation rental in just a few taps! With the HomeAway mobile app you can quickly and easily access all the tools you need to plan, book, and manage your stay.

Dream your perfect vacation:
- Browse popular destinations and vacation rentals in more than 190 countries
- Discover whole homes, from apartments to villas, or even tree houses and castles among our 1,000,000+ vacation rentals
- Save and manage favorites
- Share with people traveling with you

Book your vacation rental:
- Book and pay directly on the app
- Access all your conversations from your inbox and receive notifications when owners answer your questions or confirm your booking
- Send payments safely and securely

… and Enjoy your stay!
- Manage your reservations
- Keep your trip's details with you when you travel to your dream destination
- Access your check-in information when you need it

Currency is displayed as USD, GBP, and EUR in the property listings, unless otherwise noted. For more information please go here: http://www.homeaway.com/mobile
iPad Screenshots
Reviews
Very user friendly
Love the app. Easy to use and get to all of the information you need. Would like to be able to create lists though like you can on the website
Need a way to separate destinations
When you are checking out more than one destination, it is confusing to have all the possible rentals lumped together.
Don't use them
kigaaant man
on
8/18/2017
They are crooks .They don't return damage deposits . Left the rented property as clean as it was nothing was damaged. Called them for my deposit and told me They just sent a receipt to my email saying it has been deposited to my account. Checked my bank nothing was there . Gave it 7 days while I was checking my account everyday and not a single dollar was returned back to me . Called them back after the 7 th day and told me that the deposit was paid to the property owner and I should contact her. I contacted the property owner and she said she didn't receive any money for the damage deposit just the rental payment from them. Called them back the same guy tell me to call the bank at this point I was getting frustrated . I asked them if I can send them a statement of my account or screen shots of my bank activity to prove I haven't gotten the money that wasn't an option for them . Asked to speak to a manager but the wouldn't Let me told me he'll tell me the same thing . Kept calling everyday for 2 weeks and they gave me the same run around , " we sent you the money " " the property owner has the money " " our operating system is down ". So I guess I lost my 250 dollar deposit just like that . Bunch of thiefs .
Perfect
Vane Fleitas
on
8/18/2017
Its so easy to rent here
Simple to use!
Easy to use app, has all the info needed, type in your card number and you're reserved!!! 👍🏽
They Don't Give a Sh!t About Customers
I had a condo owner pull a bait and switch on me. Advertised a room with 2 beds, sofa and large kitchen. I got a room the size of a closet with one bed. Checked in late and had no other options at 1 am except to have two people sleep on a tile floor. Sent pictures of the room to Home Away and lodged a complaint. They came back and told me I was given an equivalent room and they won't do anything about it. Will never deal with them again.
Great app, added convenience to search beyond the traditional website!
Love the convenience of the app and usability!
Fix this app‼️ Needs ability to create lists‼️
I do not understand why lists can't be created in this app. I have numerous cities I would like to save apartments to. If apartments from different cities are mixed together, this creates confusion.
Such an awesome app
Tamarahvazquez
on
8/17/2017
All the features make it easy to find just the place for the right occasions. Thanks
Great app
Chubly wubly
on
8/17/2017
Use it whenever we travel! Never had a problem with the property owners:0)
Awesome tool!
Kapalua Girl
on
8/17/2017
Always book my vacations thru Home Away. No hassle and I can always find some place wonderful.
Ridiculous!
MelanieJean1031
on
8/17/2017
Fees, Fees Fees! They're all about Fees here, go with Airbnb. Not only do they charge an insane amount of fees, you'll get charged tax on all the fees.
Great app
I have used this app for several years to locate homes in Texas, California, Colorado, Alabama and Florida. Have always found what we were looking for!
Not sending messages
Hungry peacock
on
8/17/2017
I keep updating to new versions and sending feedback and help desk requests... still, since July 20, not sending my messages to property owners. i get no confirmation emails and no answer from the owners. So i cant rent anything. No trip for me. ☹️
Reliable
I have found the properties are as advertised. However, I do write reviews and am wondering what happened to the review I wrote for the July stay in NYC.
Mrs Carole Gertiser
I will never rent from Home Away again. The advertised price is not the price you pay, that's for one person and if you make the mistake of letting anyone visit it'll cost you another $400. We've rented from other companies before and the advertised price is for the capacity of the house. I've never seen such a mismanaged company before.
Easy to Use
This app has been very easy to use. The search for Vacation Homes was never considered before I found this app.
App
The wedding planner
on
8/16/2017
Great app. So easy to use!
Conversations
I would like to see my conversations both sent and received. I only see it once the owner responds which sometimes I'm trying to verify if the message went through.
Use it all the time it works just as intended
Love the app.
Totally necessary for an awesome vacation!
So far I've gotten 3 vacation villas from HomeAway and I was happy with every single one. I'm glad I discovered this app.
Mostly good but some glitches
LimeyEmily1121
on
8/15/2017
Sometimes a saved item won't show up in a list and the app doesn't let you create new lists last time I checked. I also wish they'd post in the currency you're using rather than Euros like the desktop website does.
Reviews aren't displayed
Appworthlesss
on
8/15/2017
Extremely aggravating to get your deposit back. After your stay you'll get a review survey that doesn't show up on property reviews!
Spot On!
Our experience with VRBO/HomeAway has been very positive. Responses to questions have been timely and helpful. We look forward to planning many more vacation getaways with this company.
Great house, exceptional value!
My wife and I love Bald Head! This house offers 4 bedrooms and plenty of family space. While not on the water, a path close to the house leads to the creek and dock! Great for crabbing and fishing. Two kayaks come with the house and can be carried right to the creek. While the LR furniture is dated, the property manager says new LR furniture is on the way! We intend to return!
Never fails us!
No matter where we roam, we can find a home - from Home Away! Thank you!
Accessibility!
This app is so user friendly! Anytime we want to check on a vacation spot, we just put in our dates and bam there they are!
Bad Experience
truthspeaks1
on
8/14/2017
Had a real bad experience with this company. Don't recommend it to anyone.
So easy to use!!
Raffertywilson
on
8/13/2017
We were not sure where we wanted to stay next year. The app allowed us to explore many different locations and made the booking process once we made a decision very easy!
Best way to travel
For the price of a nice average hotel you can find a comfortable house. I always check this app before a hotel.
Love!!
We use this app for almost every long stay we take!
Needs serious work. Cluttered. Awkward.
John E Appleseed
on
8/13/2017
No way to clear favorites or past searches. No settings of any sort. The travel suggestions for locations and cities around the world are stupid and only make it more difficult to navigate. I deleted.
So Easy
The app is so great! It's so easy to use!!
Love this app
IamtheMadhatter
on
8/12/2017
We use this app all of the time for weekend getaways and long vacation trips. So reliable. Love getting to see all of the reviews. Will definitely use always!!
Vacation
Makes vacation so much easier :)
Great App
Every feature on the web is intuitive on the app
Why do I have to download this ap?
I hate that I can't access a reservation on my iPhone without down loading this ap. Plan to immediately delete, and less likely to book a reservation using this company in the future because of this irritation.
Great places to stay
pattonplace66
on
8/11/2017
I've used HomeAway for Las Vegas and the beach. Awesome!
Great app
Lots of options all over the globe with great prices!!
Super fantastic happy time
Work wonders. Many great blessing. Super fantastic
Excellent app
Love it for all my vacation needs and so easy to use!
Great Rental App
ellenbobellen06
on
8/10/2017
My husband and I used this app to plan our honeymoon in 2015 and we continue to use it for vacations and getaways. It's very convenient and a cool way to find unique places in which to stay while traveling.
Really see a city
I love the flexibility of being able to stay in a house or apartment when traveling alone or with family. I've used HomeAway in Austin, Nashville, Asheville, and NYC. Love being in a neighborhood as a way to learn more about a city.
Great app
Clifford Ball
on
8/9/2017
Great app
Always find the best locations for the best price
I have never been in satisfied with any of the homes we have rented through HomeAway. I love how I can filter down to exactly what we're looking for. The process is easy and we're always happy :)
Great so far
Matt of Greenville
on
8/9/2017
The fact that you can filter by property type is the reason I use this app.
So easy to use, and a great resource
Love this app! Saves me so much time and effort by being able to circle the area I'm wanting and then using the filters!
HomeAway app
Easy to navigate and fast processing. Lists properties fast with lots of filter choices to narrow selection.
Fact Sheet
Publisher:

HomeAway.com, Inc.

Category:

Travel

Released:

May 10, 2013

Current Version Released:

Aug 15, 2017

Version:

2017.10.1

Size:

54.2 MB

Compatibility:

Requires iOS 9.0 or later.

Recommended Age:

4+

Game Center Certified:

No

Supported Devices:

iPad2Wifi-iPad2Wifi, iPad23G-iPad23G, iPhone4S-iPhone4S, iPadThirdGen-iPadThirdGen, iPadThirdGen4G-iPadThirdGen4G, iPhone5-iPhone5, iPodTouchFifthGen-iPodTouchFifthGen, iPadFourthGen-iPadFourthGen, iPadFourthGen4G-iPadFourthGen4G, iPadMini-iPadMini, iPadMini4G-iPadMini4G, iPhone5c-iPhone5c, iPhone5s-iPhone5s, iPadAir-iPadAir, iPadAirCellular-iPadAirCellular, iPadMiniRetina-iPadMiniRetina, iPadMiniRetinaCellular-iPadMiniRetinaCellular, iPhone6-iPhone6, iPhone6Plus-iPhone6Plus, iPadAir2-iPadAir2, iPadAir2Cellular-iPadAir2Cellular, iPadMini3-iPadMini3, iPadMini3Cellular-iPadMini3Cellular, iPodTouchSixthGen-iPodTouchSixthGen, iPhone6s-iPhone6s, iPhone6sPlus-iPhone6sPlus, iPadMini4-iPadMini4, iPadMini4Cellular-iPadMini4Cellular, iPadPro-iPadPro, iPadProCellular-iPadProCellular, iPadPro97-iPadPro97, iPadPro97Cellular-iPadPro97Cellular, iPhoneSE-iPhoneSE, iPhone7-iPhone7, iPhone7Plus-iPhone7Plus, iPad611-iPad611, iPad612-iPad612, iPad71-iPad71, iPad72-iPad72, iPad73-iPad73, iPad74-iPad74,

Supported Languages:

English; French; German; Italian; Portuguese; Spanish; Castilian;