TapNova recommends this app!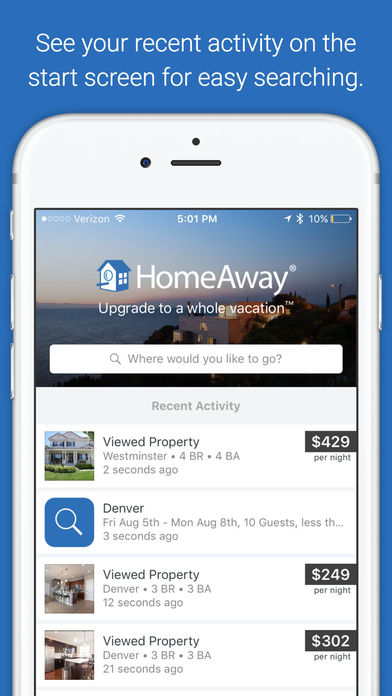 New in version 2017.05.1
Design and performance improvements - we're always trying to make our app more enjoyable and easier to use.
Description
Find and book the perfect vacation rental in just a few taps! With the HomeAway & VRBO mobile app you can quickly and easily access all the tools you need to plan, book, and manage your stay.

Dream your perfect vacation:
- Browse popular destinations and vacation rentals in more than 190 countries
- Discover whole homes, from apartments to villas, or even tree houses and castles among our 1,000,000+ vacation rentals
- Save and manage favorites
- Share with people traveling with you

Book your vacation rental:
- Book and pay directly on the app
- Access all your conversations from your inbox and receive notifications when owners answer your questions or confirm your booking
- Send payments safely and securely

… and Enjoy your stay!
- Manage your reservations
- Keep your trip's details with you when you travel to your dream destination
- Access your check-in information when you need it
- Browse nearby restaurants and activities recommendations for a great stay

Currency is displayed as USD, GBP, and EUR in the property listings, unless otherwise noted. For more information please go here: http://www.homeaway.com/mobile
iPad Screenshots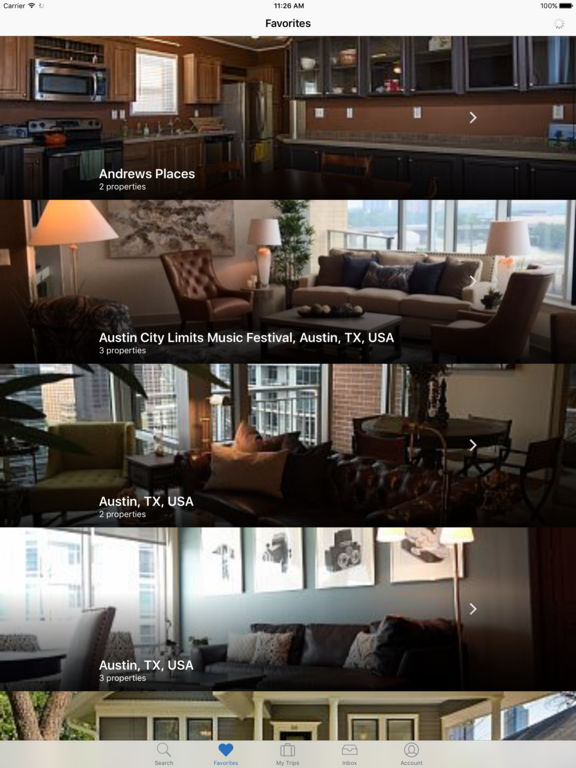 Reviews
Beautiful
da lucky one
on
6/24/2017
The cabin was awesome. Beautiful view and the owner was great and responsive to all of my questions or issues I had. I will come back
Great App
Great app to find vacation properties!!
Needs a lot of work
No idea why but this app continues to show an email to an owner when I click on "check for availability" so I can see the total price for certain dates. Fix this nonsense.
HomeAway
Illonois Grandma
on
6/23/2017
This is my first experience with the app. I like everything so far. Virginia Bradshaw
Needs serious improvements
Nancy MacLean Davidson
on
6/23/2017
On the negative side: App is often very, very slow to load; App crashes constantly; cannot upload pictures to customer reviews; after clicking to pay, get error message/page so need yo check bank statement to see if payment went through On the plus side: ability to refine search (e.g. for pet friendly properties, parking availability, etc.); ability to add & review customer reviews
Good App
TRIpositiveity
on
6/23/2017
I have used this many times, even before they had an app. I have never been disappointed.
Kenneth Robertson
Love your APP! Makes it so easy to book reservations! Five Stat for sure!
Always great finds
Genuine reviews and responses from the actual owner of the property. Much better than staying in a hotel chain where the front desk or management have very little interest in ensuring a memorable experience.
Love the app
Temple Shell
on
6/23/2017
App is very easy to use and helpful
Great app
Very useful for booking good vacation rentals. One thing that would help is a defined fee structure for cleaning and other fees as they can range from $0 to $320!
Love this app!
We just discovered VRBO and Home Away last fall when we booked our first trip. It was a great experience & we will definitely do it again!
The Application never works
This application never works. Will not let you update anything. I can use the website and it works just fine. Application is frustrating and seems useless.
Works and it has message to owner
This works beautifully and takes CC and message owner, photos and everything. I think I like it more than the website!!!!
Very good
No vacations without it!
Easy to use!
Wonderfully simple and well executed app
Great App - Needs Some Improvement
Weekend Getaway
on
6/21/2017
I overall really love the HomeAway app and find it easy to contact property owners and book stays. But there is no way to create new favorited lists within the app (for iPhone). I find that I need to login via a laptop to set up a new list. Frustrating when I am typically perusing between breaks in my day.
Good app
Only complaint is that all costs should be listed on each rentals. No surprises or hidden fees by the owners or property managers.
Good app for renting
I've used this app for over two years now and enjoy the convenience of it. One thing that should be adjusted is the final fee per rental can be slightly higher than the suggested fee when searching for a rental.
Great app
Love this app. Easy to use! Great properties, great customer service.
Good Service
Only complaint is need to show all costs when advertising. Many of these agencies fool you when they advertise and when you go to actually rent the apartment it actually costs double what they advertise after adding all of the extra fees.
Myrtle Beach condo#4251776
Virginia Grandma
on
6/19/2017
I am having difficulty with manager/owner contacting me after receiving verification that property is available. Had excellent success a few years ago renting through VRBO. Would love opportunity to write positive review.
It's like vacation porn!
I love the app. It makes looking for and booking trips so easy and enjoyable.
Can't view an email without the app! Really?!
miss'n something here
on
6/19/2017
I apparently can't get the necessary info about my upcoming stay without an app it really does not seem to get easier
Great Options Worst App
There are many great options when you try to find your dream property for your vacation. However there are a few things to be aware: the cancellation was externally difficult- I haven't figured out how to do it; I followed the instructions but when opened my booking details, there is no cancellation button as said in the instructions. They made it difficult on purpose I guess. The owner was kind enough to cancel my booking from her side. For this reason, I won't use it again unless I am 100% sure that I won't cancel. Second, there are hidden fees you need to know: sheets, towels. Most European property allow smoking so be careful. Third, your credit card will be authorized when you simply want to ask a question before making your decision; Forth, no way to get help. I tried to email them and ask for help with my cancellation, the email always failed !!! Think more before you have to use them.
The best
Love the rating system. Makes each owner accountable and each visit perfect
Shows wrong prices
Time after time, even though I entered my check-in and checkout dates, the app kept showing me average prices for locations that were MUCH lower than the actual prices on my dates. Pretty useless!
This app is useless. Save yourself and use the browser.
There is no apparent way to navigate through. If I am looking for housing, I would like to be able to share the listings I found so we can talk about the possibilities. Finding listings is not hard, nor is adding to 'favorites', but you might want to create a new list for each trip and there is no apparent way to create a new favorites list from the app, and thus no way to email your specific list. You wind up back in the browser if you want to collaborate. If you just want to book for yourself, add a star or two to the rating. I am not getting that far.
Easy to use, but would like edit option
It is easy to navigate the site. I like the list to return to favorites, but I do wish I could delete selections. Once I have eliminated them as a choice Also it would be nice to make a note if you are comparing places, like this one only has 2 twins beds, or this one no elevator, etc, rather than having to go back to the list of amenities.
Useful mobility
I've been using Home Away for years. Decided to download the app for an extensive search I'm doing for a friend. I love the large photos and uncluttered interface. I wish you could apply more than one filter for the type of place or the type of location. I'm sure it'll get better.
Great App!
Definitely would recommend this app to anyone.
Works great
Easy to navigate and never crashes.
Amazing what apps can do these days
Used this app to look for vacation properties to rent for family trips. I like the details provided and ability to communicate with property owners.
Easy to use
I love this app. It is easy to use and provides all the info you need.
Home away
Project lifetime!
on
6/17/2017
Love the app, have been using for years book all my home away stays here. Never had a problem love the ease of transaction and communication with owners and property managers. Highly recommend
Works great
Easy to navigate
Love this app
Easy to use and perfect app to find the perfect place!
Great app
JuliaD the awesome!!
on
6/16/2017
I used the app and actually prefer it to the web site, quite usable and user friendly.
Love the App BUT...
The App works as it should and my only complaint really isn't an app issue except you can't trust the "available" dates. We searched found our perfect getaway spot it was available only to get an email saying is hasn't been available that week for months. We found another one and then ANOTHER on and all 3 had the same issue. Great app to find places but you better call directly for dates.
Love the site, not the app.
Travelin' Deb
on
6/16/2017
I have resented through HomeAway and VRBO at least a dozen times. Now I have the app. I cannot even see the rooms of the accommodation. Make the app. More like the site.
Haven't had any trouble yet!
The_pug_life_Eyjafjallajökull
on
6/16/2017
I haven't had problems with the app. but I love the ease I have been able to find places for my Thanksgiving get-aways
Love it!
Psycho Beast
on
6/16/2017
Haven't had a problem in the last two years of using Home Away. Great app!
Cost Pricing
No explanation of fee's. How does an average cost of 133.00 equal over $1000.00 for three nights? Not enough honest info to assist in decision making.
The worst
Juan Moore Beer
on
6/15/2017
First three properties we tried to book had actual costs between 3 and 7 times the advertised costs
Very useful
Nanderson8185
on
6/15/2017
Great app, very easy to use. Easy to communicate with rental owners and book a rental all in one place. Intuitive app.
Fact Sheet
Publisher: HomeAway.com, Inc.
Category: Travel
Released: May 10, 2013
Current Version Released: Jun 19, 2017
Version: 2017.05.1
Size: 52.8 MB
Compatibility: Requires iOS 9.0 or later.
Recommended Age: 4+
Game Center Certified: No
Supported Devices: iPad2Wifi-iPad2Wifi, iPad23G-iPad23G, iPhone4S-iPhone4S, iPadThirdGen-iPadThirdGen, iPadThirdGen4G-iPadThirdGen4G, iPhone5-iPhone5, iPodTouchFifthGen-iPodTouchFifthGen, iPadFourthGen-iPadFourthGen, iPadFourthGen4G-iPadFourthGen4G, iPadMini-iPadMini, iPadMini4G-iPadMini4G, iPhone5c-iPhone5c, iPhone5s-iPhone5s, iPadAir-iPadAir, iPadAirCellular-iPadAirCellular, iPadMiniRetina-iPadMiniRetina, iPadMiniRetinaCellular-iPadMiniRetinaCellular, iPhone6-iPhone6, iPhone6Plus-iPhone6Plus, iPadAir2-iPadAir2, iPadAir2Cellular-iPadAir2Cellular, iPadMini3-iPadMini3, iPadMini3Cellular-iPadMini3Cellular, iPodTouchSixthGen-iPodTouchSixthGen, iPhone6s-iPhone6s, iPhone6sPlus-iPhone6sPlus, iPadMini4-iPadMini4, iPadMini4Cellular-iPadMini4Cellular, iPadPro-iPadPro, iPadProCellular-iPadProCellular, iPadPro97-iPadPro97, iPadPro97Cellular-iPadPro97Cellular, iPhoneSE-iPhoneSE, iPhone7-iPhone7, iPhone7Plus-iPhone7Plus, iPad611-iPad611, iPad612-iPad612, iPad71-iPad71, iPad72-iPad72, iPad73-iPad73, iPad74-iPad74,
Supported Languages: English; French; German; Italian; Portuguese; Spanish; Castilian; Swedish;