This version of the app is not recommended
App last updated
Mar 14, 2018
Screenshots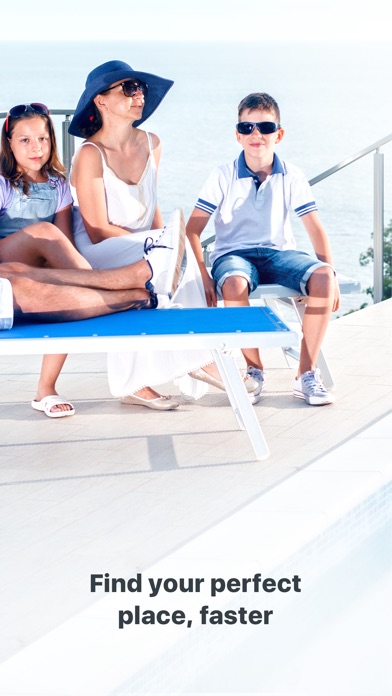 New in version 2018.06
We've made some updates and design improvements.
We now support split-screen multitasking on the iPad! You can now plan your next vacation while chatting with friends and family at the same time.
Description
Find and book the perfect vacation rental in just a few taps! With the HomeAway mobile app you can quickly and easily access all the tools you need to plan, book, and manage your stay.

Dream your perfect vacation:
- Browse popular destinations and vacation rentals in more than 190 countries
- Discover whole homes, from apartments to villas, or even tree houses and castles among our 1,000,000+ vacation rentals
- Save and manage favorites
- Share with people traveling with you

Book your vacation rental:
- Book and pay directly on the app
- Access all your conversations from your inbox and receive notifications when owners answer your questions or confirm your booking
- Send payments safely and securely

… and Enjoy your stay!
- Manage your reservations
- Keep your trip's details with you when you travel to your dream destination
- Access your check-in information when you need it

Currency is displayed as USD, GBP, and EUR in the property listings, unless otherwise noted. For more information please go here: http://www.homeaway.com/mobile
iPad Screenshots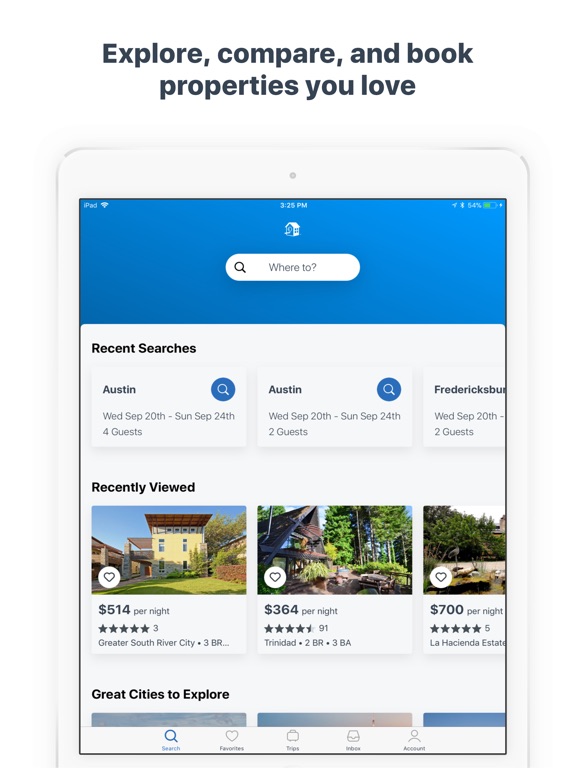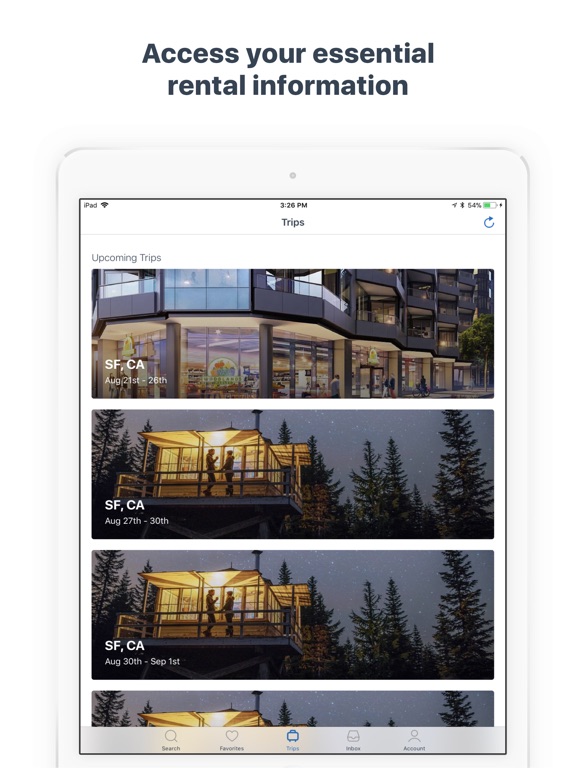 Reviews
Almost my favorite
I like this but it would be a better site if it gave a synopsis of each property by scrolling down on the page like Booking. COM does. I rent about 10 apartments each year.
Prepare for sneaky sticker shock
I searched for properties with a limit of $350/night and, by the time all taxes and 2 different types "booking fees" are added on, the rate was $530/night.
Great place to stay
Very comfortable condo, close to Harbor Town. Very clean with everything you need. (Bring shampoo) The Island had plenty to do and more to eat. I recommend the Vagabond cruises.
Very helpful!
NerdyCurvyandFlirty
on
3/17/2018
Very helpful and makes the process safe and easy. I use VRBO/HomeAway to plan all of our private property rental vacations. Highly recommend.
Love it
Spoilemrotten
on
3/17/2018
Site is easy and has great selection of properties!
Waste of time calling customer service
Annoyed with my questions repeated and unanswered and not helped
Need a better Sorting system
Love the fact that you can place property on your favor list, but there's no way to sort it from price to rating to even view on the map of ONLY those places on your list I can't find a report option, about certain property that are misleading , or have the wrong facts . Worst part is WHEN you send the renter a message , it AUTOMATICALLY try to force you into a booking , giving you a black eye for not paying the amount due /payment . I just freaken want to ask them a question , not sign a contract ! Gives potential renters a bad mark even before they even start. No option to filter out places base on minimum nights stay . Some times I'm looking for a week to two week , but are lead to places that has a minimum of 30-90 days ! If I wanted stuffs like that , I would have search for it.
Excellent way for a vacation!
We have used Home away for our vacations and have only fantastic things to say about it!
Do not use this company
Chris84tattoos
on
3/16/2018
Lost my id last min and even though I brought the insurance I still did not get a refund. These people are greedy pigs!
Screw you for forcing me to download your app
Brilliantcrank
on
3/15/2018
I'm trying to coordinate a trip with friends and tried to pull up a listing on my iPhone and then iPad. Each time I'm forced to download this app so I can view a web page. Homeaway, I don't want your app and I shouldn't have to clutter my devices just to view a listing.
Not intuitive
Cranky_pearl
on
3/15/2018
Cannot find easily how to send a message to the owner about an upcoming stay.
Worst app dont use
Do not use this app they will lie to you and say you are approved for the house then last minute tell you they canceled with no reason and no answer
Terrible Experience with Owners
Three times I tried to rent a place on the site, and all three times were denied due to not available. Not sure if issue, but a total waste of time.
Communication
Smith's From FL
on
3/12/2018
We don't care for having to put in our credit card info, just to confirm dates with property manager, then getting charged for each property inquiring on. We had to provide the info, in order to hit send for our message. Originally, we booked & paid for one property. Money came out, we got a confirmation & we thought we were booked/confirmed. But, we got a notice of a refund & a message from property manager/owner that the dates were actually not available, even though the online booking system said that they were & allowed us to book it. Not very happy that happened & that we now have to wait for our refund. So, that is why we are now asking for date verification!! We should not have to have our credit card info charged, until we've settled on the property we want. They are booking fast for June and we had to do multiple date availability confirmation requests. Has to be a better way, like it used to be.
Events
CarmelApple1
on
3/11/2018
I think there should be a filter for who allows events.
Try it, you'll like it!
J from Alabama
on
3/10/2018
Love the HomeAway app. It's all I ever use for vacations. I've never been disappointed!
Easy as it gets!
HomeAway makes it easy. Honest reviews, with great descriptions and pictures.
Love home away
Use them to find yearly Hawaii rental opportunities and Seattle get always
Great for busy families
So convenient!!! Love this app! Great for families on the go.
Works great
Really like this app. Looking for a place that isn't a hotel. You get great pictures & descriptions. We have been using HomeAway for a few years now. We love it. Don't hesitate to try.
Coastal cabana , new Smyrna beach
I thought long about this review and would like to let people know what they are getting into at the coastal cabana.if you are comfortable in two rooms, part of a garage , kitchen and bath room in the same room then this might be the place for you. Pool is attached to house next door.yard is beautiful.covered grill area was filthy . Washer dryer is in another house altogether. For 2,000 dollars for one month, not a good deal.kitchen is tiny,dorm refrigerator.to the beach easily 10to 15 minutes. Would not go back again.
No one will respond??
I now have messaged over 5 people for different locations over the last week and have not received a single response. I've never used any form of airbnb before and I am not sure if I'm making some kind of mistake. Either way...i seem to be unable to book any location for an upcoming trip.
Great app
This is such a simple and intuitive app to use. Very user friendly and I use it twice a year to book our vacations. I highly recommend it.
Great but...
Mobile version often doesn't allow me to save to favorites.
Terrible Company
Rented a house in Louisiana in July. We immediately noticed the AC in the house didn't work, contacted the owner who said he would refund us for our second night- as we were leaving the house to stay at a hotel. Owner never refunded us. HomeAway knew about my complaint, I reminded them on four separate occasions. But in the end they told me they don't get involved in financial matters with their leasee's or customers. What would you say you do, then? Will never use HomeAway again.
No Mobile site?
Jsjdjdjdjdjduenxo
on
3/6/2018
Downloading this so I can look at one single listing on my phone. I can't believe they make you download an app and there isn't a mobile site I can use on Safari.
Property owners and calendars
The HomeAway app is convenient, but there are a few things that could make it better. One very important thing that HomeAway needs to do is punish owners w a fee for not updating their calendars on a regular basis. The calendar/app says the property is available, so you submit a request. It can take a day for them to get back to you to say, "Oops, sorry, our days must be crossed. Can you shift your plans ahead 3 days?" Sure, I'll just call the conference and tell them to postpone everything. And this happens over and over and over until you've wasted a week trying to book individual properties. In addition, the search function needs to be improved. It doesn't include all possible properties, even though they make you think it does. For example, Pasadena & Altadena CA are adjacent cities. If you do a search for Pasadena, you might have 5 Pasadena properties & 1 from Altadena. This leads you to believe that there's only one in range in Altadena. But then, do a separate Altadena search, and it gives you 4 additional properties! There's got to be a better way to do the search on your phone.
Easy to find a good place!
This app makes it so much easier to find the perfect place. Love it!
Ambivalent about recommending...
Bruce and Jane
on
3/5/2018
If we tell you that Adam has created a nearly perfect get-away, in an ideal location, at a price that can't be beat, then it will become wildly popular and we'll have no chance of booking it in the future. Well, it's a risk we'll just have to take. If you want a great place operated by a genial host in an ideal location, this would be your place. Thanks, Adam! Bruce & Jane Schultz, Wayzata, MN
Amazing and Comfortable!!!!!
We had a Childhood Girlfriend's Week at this Amazing home #509027 just over the bridge from Charleston! High end decorations, extremely clean and beds are so comfortable!!! We toured the charming area and ate the southern comfort cuisine. Such a wonderful time! Only once we had to call Krista regarding the hot water. She had the gas company out there in a heartbeat and all was taken care of very quickly! A must stay for friends or family! Many amenities for children, teens and big kids! 😃👍
Easy to use
I did my entire search on my I phone The site is easy to navigate, pictures are easy to move through, and the calendar of availability for each place is easy to see.
Good but quirky
Would be nice if it would save your message if you accidentally navigate away from the booking screen.
Users BEWARE
Betarassy20001387
on
3/2/2018
Long story short… I made a booking through VRBO and by the time the owner approved it I had decided to cancel and use a different company. So no charge was ever made, as far as I knew. yesterday I received my credit card statement and there was a $95 charge from home away! After 90 minutes of holding, talking to three different people, and calling two different phone numbers I am being told there was a 'glitch in the system'!! Sneaky company!!!! I will never do business with them again. Users beware!!!! Thankfully I have a trustworthy credit card company that always has my back!!!
Upcoming trip
Really looking forward to my latest booking with home away.
Good filter
I appreciate that the filter includes wheelchair accessibility. Surprisingly, not every site for booking does this, especially on their mobile apps. Greatly appreciated!
Needs some improvement
I wish you could have a max number of stuff instead of 2+. Like if I want a 1-2 bedroom house instead of just 1+. This stinks because I want a one bedroom place but I get stuff that is 1, 2, 3, 4, bedroom place. Or select how many people the place sleeps with a maximum entry. I guess the first star is for round the clock access to customer service and the second star is for some other aspects that make the website easier to use. Also it seems like there are more fees associated with the rentals than there were a few years ago. Not sure if there is anything to that but that's the way it feels to me.
DO NOT DOWNLOAD APP
Dan S., Houston
on
3/1/2018
You will tear you hair out. If you did download it, simply delete it and use the site instead. These people clearly don't know squat about user interfaces.
New location
Donthaveonetrustme
on
3/1/2018
We love it and want to come back. Perfect.
App is ok but needs tweaks
I've used this app before to book but it lacks consistency with how properties list amenities, location description, pets, etc. I love pets and have a dog that travels with us"sometimes", but many times I want to travel to places that DO NOT allow pets (some people do not have clean pet ethics and allow them in beds, table-tops couches etc., and I have severe allergies) and I don't see a "no pets" filter on this app. Check-in, check-out Times between properties isn't easily comparable in the app. I also can't find a way to contact HomeAway in the app. I've received several referrals to other property management sites after inquiring directly on a property and don't feel comfortable not knowing if HomeAway is aware or endorses these other management companies. Other than that, it's great.
Love it
para la Gloria de YHWH
on
2/28/2018
So easy
Love their service
Excellent website service that provides alternative options for vacation rentals!
When searching
I like HomeAway because it is easy to navigate.
Very Good App
Works great, especially love being able to browse properties in the map-based view, and it makes it easy to communicate with property owners. Only giving 4 stars because the app doesn't support the full functionality of the website — for instance, you can't cancel a reservation in the app.
Easy to book. Misleading for reviews
SB76totheocean
on
2/26/2018
The app doesn't show you all the written reviews. It only lets you scroll down to the most recent five or six. And there is usually very important information in some of the prior reviews that could impact your booking decision. You have to go to a pc to actually see all the reviews. Booking is very easy and so is the communications. You need to be able to rate reviews so they show first. Need to be able to filter on sleeps how many. Beds are not as relevant as how many it sleeps.
Great to find a vacation spot!
We use the site a lot to find vacation rentals. I did not rate 5 stars because I would like to have a feature to search a city and the surrounding areas without drawing on a map...
Love it
Love HomeAway and app works great.
Lots of errors
Can't speak to the quality of the rentals or customer service because I can't get past the first steps to booking. Getting error messages every time I try to do something on the app.."please try again later" "message failed to send" "can't process booking at this time. please try again" It's very frustrating. I've tried on & off WiFi as well as closed the app out multiple times. Not very user friendly.
Love the app and service
Great travel alternative. We have been using it for years and always have had good experiences.
Fact Sheet
Publisher:

HomeAway.com, Inc.

Category:

Travel

Released:

May 10, 2013

Current Version Released:

Mar 14, 2018

Version:

2018.06

Size:

108.4 MB

Compatibility:

Requires iOS 10.0 or later.

Recommended Age:

4+

Game Center Certified:

No

Supported Languages:

English; French; German; Italian; Portuguese; Spanish; Castilian;