Screenshots
New in version 2.7.3
This update fixes some minor issues to improve your racing experience throughout the Island! Thank you for playing Angry Birds GO!
Description
Welcome to downhill racing on Piggy Island! Feel the rush as you tear down the track at breakneck speeds in a thrilling race to the finish. It's going to be a bumpy ride! Watch out for hazardous roads, and mischievous opponents who will do anything to get to first place. Outrun the competition to earn rewards, upgrade your kart, and become the best driver Piggy Island has ever seen! Ready, set… GO!

RACE AS THE BIRDS OR PIGS IN A 3D WORLD! Jump behind the wheel with your favorite Angry Birds characters (Red, Chuck, Terence, King Pig, Moustache Pig and many more) and see Piggy Island come alive in this rich and colorful 3D world!

EXCITING CAMPAIGN MODE! Test your skills in super-fun and surprising races and unlock exclusive rewards!

MASTER THE TRACKS! Plenty of racetracks, stunt roads, air courses and off-road races – each throwing big and unexpected challenges your way!

AWESOME SPECIAL POWERS! Smash your opponents off the road and take that winning position thanks to unique special powers for each character!

UPGRADE YOUR RIDE! Collect and upgrade your karts to become the best racer on the Island!

TIME-LIMITED TOURNAMENTS! Mirror, mirror on the wall, who's the fastest of them all? Drive your way to the top of the leaderboards and win prizes!

DAILY RACES! Enter a new race every day and find the hidden gift box on the track!

LOCAL MULTIPLAYER MODE! Compete with friends in real time local multiplayer!

TELEPODS! A ground-breaking way to play! Teleport your favorite characters into the race by placing your Angry Birds Go! TELEPODS figures on your device's camera!*

MORE TO COME! The new race has only just begun – look out for more GO developments in 2016!

Angry Birds Go! now requires an internet connection. After the initial download, additional content will be downloaded and this may lead to further data transfer charges according to your mobile phone service plan. You can avoid data charges by playing over WIFI.

This game includes paid commercial content from select partners.

Important Message for Parents
This game may include:
- Direct links to social networking websites that are intended for an audience over the age of 13.
- Direct links to the internet that can take players away from the game with the potential to browse any web page.
- Advertising of Rovio products and also products from select partners.
- The option to make in-app purchases. The bill payer should always be consulted beforehand.

*Angry Birds Go! Telepods sold separately and are compatible with select mobile devices.
iPad Screenshots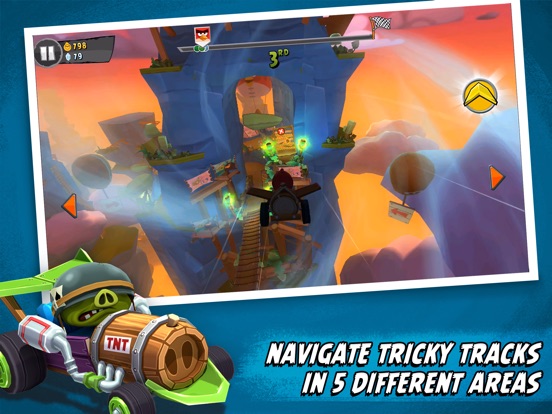 Reviews
Horrible
capton rubr
on
12/10/2017
Hate it because I cannot beat this one level
Noice
SonicBoom1889
on
12/10/2017
...
I like the old version better
mlg anthony
on
12/10/2017
Reason why I like this old version better is because my tablecloth would actually work and I don't actually have to upgrade by using these little weird things you have to collect each level
Change it back!
Rovio, Listen...
on
12/10/2017
Let's be honest, this version does not compare to the old one. All they had to do was some minor details with the very long loading screen, but I really liked the set up with the tool shed and the tree with all the avatars. The best part was you could upgrade your car without all of these rare pieces and epic pieces. If you change it back the game would be 200% better. Rovio, listen to me. Change. The. Game. Back.
Too many ads
Ferretmoe2373
on
12/10/2017
Before racing you have to watch an ad and that gets very annoying. Deleting today.
Great but cheats!
The game is an awesome idea, and it's very nice it can be played on Chromecast but, let's face it... The fact that, in order to keep playing the nexts levels I must ALWAYS upgrade my carts and it takes an extra time or real money to buy the parts it's cheating! And I not saying that the game can't be progressive, but it's visible in some races that you can win with a cart that is 3cc or 10cc less than the expected for that race but the game makes you lose on purpose! Also the ads usually bugs and I ended up not getting my reward, even after watching the whole video!
Unfair
This game is really unfair the bots always win even with buying a lot of power ups
Good but i miss the old version
beaglelover726
on
12/7/2017
I really like this game but i dont like the new version its complicated and needs wifi pls make the old version available again pls
I liked the old updates
Everything was awesome till it ended with the new update.It got rid of my progress and reset the game.I want it to be easier and fun. Make those changes Rovio.and have all those cool stuff back and then there was more carts. I want that stuff back plz.
Used to be good
This game used to be very fun but now it has stones that are impossible to get unless you pay or watch ads this is a stupid ripoff!
Wow
Alright. I played this game back when I was in 6th grade, and now I'm half way through my sophomore year of high school. Now let's be honest here, the ads ruined this game, and while the game is still enjoyable it's just not the same as it used to be. The best thing they could do at this point is end support for this and create a sequel from the ground up, improve on what they failed on in this version, and make the sequel better.
Fun game but...
The multiplayer part is full of bugs, and sometimes we cant even connect, id like to see that improved and also it would be really cool to have more then two people in the multiplayer mode, like up to 4 people at least... please fix bugs
Do not waste time
DO NOT WASTE YOUR TIME PLAYING THIS GAME. Also bring back the angry birds videos it was really funny and now look 👀 what happened with this game 😡😡😡😡😡😡😡😡😡😡😡😡😡😡😡😡😡😤😤😤😤😤😤😤😠😠😠😠
iOS 11 renders it practically unplayable
Ever since iOS11 this game constantly crashes. Bonus videos don't work and the tournament is totally shut down. A glitch in the advertisements causes game to crash every single time.
I miss the old version
The old one one better! I used to play this everyday and then it updated. The tree with the birds was adorable just like the work shop. Ya it took a while to load but I loved it so much I didn't care! Change it back!!!!!
Worst game ever from ROVIO
Without purchasing of cash then upgrade the car, you can not do anything. Also, ROVIO looked like does not care about this game anymore!!!
this game is great
ok so if you want to play without ads but want to support them just donate and don't buy the no ad thing just support them if you want mor updates
Lame
omfgletmepickaname
on
11/26/2017
Waste of space don't download
Awesome game Rovio
It is a great game and I'd hate to see it be forgotten like bad piggies (which still has a major bug that needs fixing) was but there is a feature I'd really like to see added: a feature that uses other car parts to make your own unique vehicle! If you could manage to do that I'd try to thank you personally. But please do a game inventory and check all your older games that you have forgotten. Please? Three stars(actually 5 but 3 is the highest you can get on a single level in angry birds)
New Worlds
CoolGamer6181
on
11/25/2017
Ok so I have ideas for new Worlds u guys can make a forest world or a volcanic world or even a space world idk it's up to u guys so yeah.Also u guys can make new characters like Stella's friends u know from angry birds Stella like Luca willow and u guys know so yeah idk like I said it's up to you guys so this is just a suggestion u guys don't have to do this like I said it's only a suggestion. Keep up the updates =]
Please improve this
Whenever I'm in a pinch, I need to do those daily races, but I've been in a pinch more than once a day, so I'd appreciate it if you would make it the same thing, but instead of daily, make it every 20 minutes, or 30 minutes at the longest, thanks.
Ahhhhh
Kristakkelli
on
11/23/2017
The game is expecting me to go from 136cc to 200 something cc in speedway
I want a new angry birds go 2.0
With all birds like mighty eagle and silver and the rest of the birds that have been made and I also want new characters and a combination of angry birds go and angry birds transformers where the transformer you play as transforms into their transformation and maybe if you guys can think of something else that would be great. I am angry birds biggest fan.
Angry
YourBoi😂👌🏻😂
on
11/17/2017
Whenever I try to enter any nickname for the tournament I can't. And it's one of things that's requires to progress on and I can't do anything else. You better fix this!!!!
كس ام لعبه فيه اعلانات كثير كس ام اعلانات
كس
Alrighty
Meh1234567890987654321
on
11/14/2017
I played this game when it was released, before the advertisements. Don't get me wrong. No one likes adverts. But to churn out more games, the company needs money. If you purchase the add remover which I'm sure exists instead of buying the premium currency, you might be able to enjoy the game. Not everything is handed to you all the time, ok? So if you want a game you can spend time on and not just a dime a dozen "Idle Miner", download this free game. One last thing before I go, this game is free. What do you expect? I know Rovio has made a name for themselves in the past with "Angry Birds" and most people have a high opinion of them, but now that the quality have dropped substantially, this is the best you can expect from an AppStore filled with AR, "POP!" Games, and other "Free to play" games, this is one game that has fairly decent graphics and is backed by a large company.
Please ROVIO! PLEASE!
This is short but it is simple. I love angry birds go but the old one is much better that this one please bring back to angry birds go we all love!
PICKYGAMEANDSOMEPEEP
RobloxisAMAZING
on
11/9/2017
Only game that's awesome!
Campaign mode is garbage.
The new campaign mode is horrible. This used to be my favorite game until they added that in. Please bring old update back!
NOT HAPPY
got this game for my son have bought numerous things for this stupid game since they completely changed it and after getting a new iphone have lost all our progress and all of our purchases i am beyond livid at this point
I like it
The telepods still works just not that good it needs a update
Strait to the point
I used to love playing this game, but it looks so bad now. Please bring back the old version.
Used to be the best...
Squirtle5462
on
11/4/2017
When the game first came out there was the garage,the tree,you could pick the races you wanted to do. I used 30$ getting gems to get the cars but then after the update I lost all my stuff like everybody else. I'm never going to play this game again because of the update. Please update it again and make it like the old one.
Telepods gone!?
I worked really hard to search and collect almost every telepod to have them deleted! Now you only get a race! Terrible! Terrible! Does anyone agree? If so make a review like this. Also, I loved the tree, the garage, and worker pig. It had to change! Why! ROVIO please bring these things back. I tried to get the iron bolt telepod and it gave me a race, I also used Bombs special car and a race! I enjoyed being able to unlock stunt without getting to the level with telepods and use the car but now they give you a rookie car and a timed race.
Angry birds go
baby jay 63
on
10/30/2017
Can you guys like change angry birds back to the old version because I like the old version until there was an update to the game and i like the old version because you don't have to put it in order and the order for which boss you have to face it is mess up so I hope you guys change it back please.
I just downloaded
PAC man warrior
on
10/29/2017
I just downloaded the app and it's AWESOME it's probably the best game in the UNIVERSE this is the best angry birds game YET Keep making good games
Horrible game
Wishitwasrealmoney
on
10/27/2017
Because it is an ad game. You can't beat Stella one of the players/characters in the game. So the thing is that you will be way in front of Stella and she will come right back and beat you. Then she has these balloons or whatever you want to call them, she floats in them and beats you again. I had 26/26 energy left and it went in a blink of an eye just from trying to beat a level.
🙀😓😰😥💃🏼👨‍👩‍👧🐲
NICK_BICKEL
on
10/24/2017
Aaaaa
TERRIBLE
Hate this App yo
on
10/22/2017
I am hooked up to my internet, all set to play a game all my friends were saying to play, it is loading, and it says to check my internet connection. I have closed all my windows, checked my internet 5 times, erased the game and put it back on 3 times, and turned off the iPad and turned it back on 2 times. Still right there, a sad little red bird saying "Could not find the internet. Check the connection and try again." DO NOT BUY THIS GAME!!!!!
Requires update
But there is no update available
CHANGE BACK NOW!!!
Ttttaaannkkk
on
10/18/2017
I agree with every one else.l WANT THE OLD VERSION BACK!!!!!!!!!!!!!.so please change it back
Good game
This is a AWESOME game and don't listen to those haters. 🙃
This is so humiliating
I used to love this game in the good days but now it changed so much first of all the tree and garage are gone and second they added blueprints in 2.0. plz bring me the older version 😢
Brayden nascar fan
Bring back the old version I hate the new version
Ads ads oh wait more ads
Fatboytommyslim
on
10/13/2017
Want a few gems? Watch this ad. Want a boost in game? Watch an ad. Want a free chest? Watch an ad. Just clicked on a race? Oh wait here is another ad. My lord you spend 90% of the game watching ads.
Evilness 110%
I was almost done with the game, when a new update came along and deleted all my progress!🤢=Angry birds go!
Bring old version back
I liked the birds resting in trees and the pig working for the birds I found cool please bring it back
Used to be good, now it is trash.
Before the complete game change I had an almost maxed out account, but once the update rolled around, I lost EVERYTHING! ALL OF MY WORK;GONE!!! I HAD THOUSANDS OF GEMS AND WHO KNOWS HOW MANY COINS!!
Stupid
Aliya Kohler
on
10/12/2017
Energy I hate energy seresly it is not fair
Fact Sheet
Publisher:

Rovio Entertainment Ltd

Category:

Games

Released:

Dec 11, 2013

Current Version Released:

Jun 23, 2017

Version:

2.7.3

Size:

489.5 MB

Compatibility:

Requires iOS 8.0 or later.

Recommended Age:

4+

Game Center Certified:

No

Supported Devices:

iPad2Wifi-iPad2Wifi, iPad23G-iPad23G, iPhone4S-iPhone4S, iPadThirdGen-iPadThirdGen, iPadThirdGen4G-iPadThirdGen4G, iPhone5-iPhone5, iPodTouchFifthGen-iPodTouchFifthGen, iPadFourthGen-iPadFourthGen, iPadFourthGen4G-iPadFourthGen4G, iPadMini-iPadMini, iPadMini4G-iPadMini4G, iPhone5c-iPhone5c, iPhone5s-iPhone5s, iPadAir-iPadAir, iPadAirCellular-iPadAirCellular, iPadMiniRetina-iPadMiniRetina, iPadMiniRetinaCellular-iPadMiniRetinaCellular, iPhone6-iPhone6, iPhone6Plus-iPhone6Plus, iPadAir2-iPadAir2, iPadAir2Cellular-iPadAir2Cellular, iPadMini3-iPadMini3, iPadMini3Cellular-iPadMini3Cellular, iPodTouchSixthGen-iPodTouchSixthGen, iPhone6s-iPhone6s, iPhone6sPlus-iPhone6sPlus, iPadMini4-iPadMini4, iPadMini4Cellular-iPadMini4Cellular, iPadPro-iPadPro, iPadProCellular-iPadProCellular, iPadPro97-iPadPro97, iPadPro97Cellular-iPadPro97Cellular, iPhoneSE-iPhoneSE, iPhone7-iPhone7, iPhone7Plus-iPhone7Plus, iPad611-iPad611, iPad612-iPad612, iPad71-iPad71, iPad72-iPad72, iPad73-iPad73, iPad74-iPad74, iPhone8-iPhone8, iPhone8Plus-iPhone8Plus, iPhoneX-iPhoneX,

Supported Languages:

French; German; Italian; Japanese; Korean; Portuguese; Russian; Chinese; Spanish; Castilian; Chinese;