Screenshots
New in version 2.7.3
This update fixes some minor issues to improve your racing experience throughout the Island! Thank you for playing Angry Birds GO!
Description
Welcome to downhill racing on Piggy Island! Feel the rush as you tear down the track at breakneck speeds in a thrilling race to the finish. It's going to be a bumpy ride! Watch out for hazardous roads, and mischievous opponents who will do anything to get to first place. Outrun the competition to earn rewards, upgrade your kart, and become the best driver Piggy Island has ever seen! Ready, set… GO!

RACE AS THE BIRDS OR PIGS IN A 3D WORLD! Jump behind the wheel with your favorite Angry Birds characters (Red, Chuck, Terence, King Pig, Moustache Pig and many more) and see Piggy Island come alive in this rich and colorful 3D world!

EXCITING CAMPAIGN MODE! Test your skills in super-fun and surprising races and unlock exclusive rewards!

MASTER THE TRACKS! Plenty of racetracks, stunt roads, air courses and off-road races – each throwing big and unexpected challenges your way!

AWESOME SPECIAL POWERS! Smash your opponents off the road and take that winning position thanks to unique special powers for each character!

UPGRADE YOUR RIDE! Collect and upgrade your karts to become the best racer on the Island!

TIME-LIMITED TOURNAMENTS! Mirror, mirror on the wall, who's the fastest of them all? Drive your way to the top of the leaderboards and win prizes!

DAILY RACES! Enter a new race every day and find the hidden gift box on the track!

LOCAL MULTIPLAYER MODE! Compete with friends in real time local multiplayer!

TELEPODS! A ground-breaking way to play! Teleport your favorite characters into the race by placing your Angry Birds Go! TELEPODS figures on your device's camera!*

MORE TO COME! The new race has only just begun – look out for more GO developments in 2016!

Angry Birds Go! now requires an internet connection. After the initial download, additional content will be downloaded and this may lead to further data transfer charges according to your mobile phone service plan. You can avoid data charges by playing over WIFI.

This game includes paid commercial content from select partners.

Important Message for Parents
This game may include:
- Direct links to social networking websites that are intended for an audience over the age of 13.
- Direct links to the internet that can take players away from the game with the potential to browse any web page.
- Advertising of Rovio products and also products from select partners.
- The option to make in-app purchases. The bill payer should always be consulted beforehand.

*Angry Birds Go! Telepods sold separately and are compatible with select mobile devices.
iPad Screenshots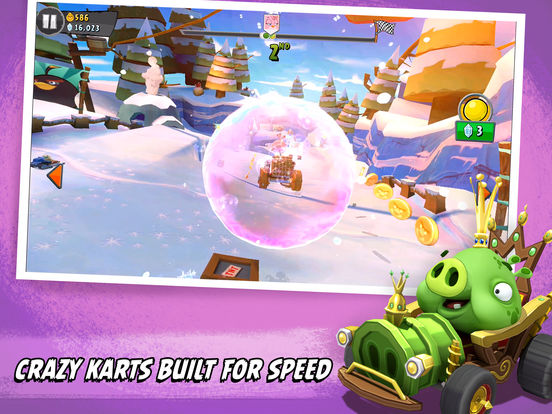 Reviews
Used to be awesome
Pillowcase26
on
8/19/2017
I would play this everyday, and I never spent anything so it took a while but the gameplay made up for it. So when you spend a few years on a game and perfect everything and get far in multiplayer, only to have it all reset and give you only 100 gems back because of an update. And also changing the game drastically. I loved the garage and the tree before they got changed. Now the game doesn't run well and every time I play it just reminds me of how I lost all my hard earned work and I don't want to start all over again, as I had bought all the gem carts as well. It's an extra level of frustrating. I don't want to scrutinize a game I used to love, but I hate when hard earned progress is erased. The only reason I'm giving 2 stars is because I will feel bad if I give 1 star.
Nope
I loved how it used to be before!! I don't even kno how to get the big coins to be able to upgrade my car. It's confusing!! Take it back to the old one or make it easier to understand...
Needs update
The controls don't work. I try to go left and I end up just going into the wall. I also miss the OLD version. The one with the tree and the underground garage, etc. I've never liked the new version.
Bring It Back!
I still love it and all, but, the game has changed so much I don't even recognize it! ROVIO if you read this, bring the old version back that had the tree of birds, it was so much better! I would rate 5 stars but the game has changed so much it really isn't the same game. This used to be my favorite game but now it's only three stars. Don't download if you want an actual GOOD layout of the game. Right now it just feels really sloppy and like you didn't work on it much or the update. I hope you guys change it back in the near future. Everyone else agrees with me as well so if you read reviews listen to us and bring back the old Angry Birds Go!
Ripoff ad not with unresponsive cobtrols
This is not so much a game as it is an ad generator. The controls are ridiculously useless and in order to get past the second race you have to upgrade. But to upgrade you need rocks which cost stones or gems and cons. What it eventually boils down to is you gotta pay. Apple should be fined for every game that does this sort of thing : lure you in with the promise of a free game and then subject you to more ad time than play time and trick you into spending money to pay for this stupid free game. And the fact that it is an Angry Birds ripoff like all of their new games, it's really pathetic. I mean seriously, you didn't make enough money of the licensing for all these versions and the plush toys that you could afford to hire decent programmers to make an actual free game. Why rip off your customers when you have so much money already?
Angry birds go
The game once had its golden age of global wireless multiplayer and the option of private multiplayer races. Now that's the only multiplayer activity that is available. Plus the campaign is long and tedious. I like the fact the game is supposed to feel like an average mmo but misses some of the activities that those types of games have. Overall this game had its glory days but the game went from great to ok
Not the same
Beast Turtles
on
8/14/2017
This game is comepletely trash I had this game along time ago and was shocked to find out what happened to it it's like I'm not even playing the same game this game was so good then the update came in for the future guys don't get this game it's complete trash you've been warned
What the heck
I played it all the time but the new update is horrible the telopods are not working and it is horrible
I hate this update. Rate 1 star 😛😛
This new update is just stupid. The old version was very cool! It had lots of details but this... It's just an stupid update. I need to use parts to upgrade my go karts. Very stupid.
Meh
This game used to be great then you changed everything.its herder to play, I liked the old calm music when in the garage, and I loved the little beds and rooms the birds and pigs had, everything's weird now and I don't like it pls change it back to how it used to be
In case I switch runs out battery
I lost my Pokémon GO plus
on
8/10/2017
It's not as fun as Mario kart but I give the go while my switch is charging oh yeah I like old version better and I have one more problem my Telepods won't work are you still play this game on my iPad every day before it broke and I'm still going on with the Angry Birds series
Need old version
dont know if good game
on
8/8/2017
The game was awesome with the old version but the new version not so much. I would like to have the old version back cause then I'll rate 5 stars.
Change the game back to the old one plz
I want the old one back because the cars were easier to upgrade and people were able to buy the cars withs coins,not other stuff.and even though the graphics are better,I liked the old graphics better.so plz change it back too the old version plz because it was way better than this version because I hate this version of the game so plz change it back to the old one in the update for this plz.and in more thing,change it back plz because I can't even beat Stella now because of your stuiped update!!!!!!!!!!!!! ):(
Wow! Omg!!!!!!
Great racing game! Awesome karts, cool powers, and all of the angry birds cast!!! I can't stop playing Rovio entertainment's finest angry birds game!!! Download it now!
Old version is better
Happyhaley101
on
8/6/2017
The old version with worldwide multiplayer was good and using just coins to upgrade and the tree and the layout. New version stinks. Update this to the old version!
Really really love it 😍👍👍👍😍😍😇🙂
jaydentheswag51
on
7/29/2017
Keep up the good work because the graphics are awesome and really cool and funny cars so keep up the great work cuz I'm impressed with this game and waiting for an update.👏👏👏👏👏
Bugs
I like the game, but every race or chest or basically anything I do, it crashes. I would not expect this from a Rovio game
BS
The only way to win is constantly getting better cars and the computers will destroy you if u don't constantly upgrade.
Look at he comments
We want the old version
on
7/28/2017
The new version is Traaaaaaaaaaaaaaaaaash😥
Why you do this
Look I used to love this game I used to play this game 24/7 but then you updated it to look like trash I want it to be how it was with the underground garage with the tree with the characters the way you beat levels to unlock characters with there own track like speed way rocky roads separate not together and in the same order as the original all those things I want them be back plz!!! For your loyal FAN!!!!!
👎🏿👎🏾👎🏽👎🏼👎🏻👎
Раньше было лучше
Stupid
Never get this dumb game!!!😡😡😡when I press on the app it goes in and closes as soon as I open it!what a peace of ****
Love it
Ujjjijjdk648482057*]+}+*~*]£
on
7/25/2017
It's the best game ever you should get 😄
Bad Update
Luan Luan with 11-12 games
on
7/24/2017
This was great until the update came and now you can't use COINS!!!!!!!! I hate now and it is hard to race in air.
Controls!!!!! WHY!!!!!!!?????
by luv 2 ride horses!
on
7/22/2017
The controls! Ahhhhhh! They are soooo annoying! Please make different!!!!!! 😱😱😱😱😱😱😱😱😡😡😡😡😡😡
Fun game, one idea
Mammoth mk II
on
7/21/2017
Got hooked on it early on and I love the graphics and different tracks. Had to switch to the iPhone cause the old kindle fire couldn't keep up. One thing I wish was possible is the ability to convert or trade in existing parts from the lower grade carts to upgrades for the current being used.
Update was worthless
The update was a waste and reset everything
How
Travellavfood
on
7/21/2017
I want to change my name
Problems! Problems!
KittyRevenge
on
7/18/2017
Lately this game is awful...tons of glitches and extremely difficult to contact anyone about it. Biggest complaint is tournament scores are deleted, and earned rewards are not being given. Bummer :(
Good
ChackyLikesFish
on
7/16/2017
Very good!
Fun controller-compatible game on tv
P. Jones Moody
on
7/12/2017
Lighthearted and fun! Finally fixed the crashing issues as far as I can tell.
READ THIS
WORST GAME EVER I DOWNLOADED IT BUT IT KEEPS GLITCHING
The Worst Way to kill off this Game.
Totalowner8YT
on
7/10/2017
After Angry Birds Go! 2.0, everyone lost EVERYTHING. All characters, all karts, and the 2X Coin purchase just turned to gems. If you were smarter Rovio, you could have prevented this by at least letting us keep our characters. And my COIN MULTIPLIER THAT I SPENT MONEY FOR. -Total
Too many ads
New update has too many ads that crash the iPad. Trying to figure out new way to get better cars with this version but crash, crash crash. Another few times and I will give up. Too frustrating to the grandkids!!,
Half & half
HENNESSEY venom 5
on
7/8/2017
I do enjoy this game but there are some issues 1 plz make the game like it was before it was much easier 2 plz make it easy to get to stunt again cuz I love that level 3 plz make it easier to get blueprints I'm trying to get the iron bolt but then i will loose all my blueprints 4 can you plz put a speedometer so I know how fast I'm going 5 could you plz put the worker pig back I thought he was funny 6 why did u get rid of jenga it was so fun. But that's it so plz fix those other than that I always play the game cuz it's fun
Do not buy ANYTHING from this game!😡😤😡👿👿👎👎
More upgrades
on
7/7/2017
I literally just got scammed, I bought a special offer, but it didn't give me ANYTHING!! I'm outraged! And when I try to restore my purchases, it won't let me no matter what!! My connection is perfectly fine, it charged my account! I'm going to get to the bottom of this.
Ehhhh
Good game but it is lagging a lot Haven't played it yet 😅
BAD UPDATE
AWESOMEPERSONDUDE2
on
7/7/2017
I hate this update I hate how you have to get blueprints and parts to upgrade your car and I hate how it doesn't even have them in ussuall and this update is really bad
MUST READ THIS 😡👿👎
Woodle girl3457🤓
on
7/5/2017
Horrible. When I first downloaded it, it said I couldn't play unless I updated it. So I updated it and when it was down updating, I played it and it still said I needed to update it. I kept doing it but it wouldn't let me play. And even before it said it needs to update, it got laggy and crashed. I was DIEING to play this game. I'm disappointed. I deleted it. Don't download this crap.😖👺⚡️
THIS IS STUPID please read this
UnicornGirl🦄🦄🦄
on
7/5/2017
I got this game to play butt they don't have toons tv any more and that is STUPID because I wanted to watch TOONS TV!!!!!!😡😡😡😡😡😡😡😡😡😡😡😡😡😡😡😡😡😡😡😡😡😡😡😢😢😢😢😢😢😢😢😢😢😢😢😢😢😢😢😢😢😢😢😢😢😢👎🏿👎🏿👎🏿👎🏿👎🏿👎🏿👎🏿👎🏿👎🏿👎🏿👎🏿👎🏿👎🏿👎🏿👎🏿👎🏿👎🏿👎🏿👎🏿👎🏿👎🏿👎🏿👎🏿
Nuzzle
Worst update ever I like the old angry birds go keep the blueprints and remove those minion pigs it's annoying and keep when you beat a champion chase once get the racer now remove this update now
Don't download this
This is the worst game ever
Nope
KEEP YOUR EYES ON YOUR FACE
on
7/1/2017
Nope
Amazing game love it 😍👍❤️❤️
I love it so much. Amazing
Pay to win
Min748583959
on
6/30/2017
Stupid game
This crap is not about that life
Hate it sometimes
Fact Sheet
Publisher:

Rovio Entertainment Ltd

Category:

Games

Released:

Dec 11, 2013

Current Version Released:

Jun 23, 2017

Version:

2.7.3

Size:

489.5 MB

Compatibility:

Requires iOS 8.0 or later.

Recommended Age:

4+

Game Center Certified:

No

Supported Devices:

iPad2Wifi-iPad2Wifi, iPad23G-iPad23G, iPhone4S-iPhone4S, iPadThirdGen-iPadThirdGen, iPadThirdGen4G-iPadThirdGen4G, iPhone5-iPhone5, iPodTouchFifthGen-iPodTouchFifthGen, iPadFourthGen-iPadFourthGen, iPadFourthGen4G-iPadFourthGen4G, iPadMini-iPadMini, iPadMini4G-iPadMini4G, iPhone5c-iPhone5c, iPhone5s-iPhone5s, iPadAir-iPadAir, iPadAirCellular-iPadAirCellular, iPadMiniRetina-iPadMiniRetina, iPadMiniRetinaCellular-iPadMiniRetinaCellular, iPhone6-iPhone6, iPhone6Plus-iPhone6Plus, iPadAir2-iPadAir2, iPadAir2Cellular-iPadAir2Cellular, iPadMini3-iPadMini3, iPadMini3Cellular-iPadMini3Cellular, iPodTouchSixthGen-iPodTouchSixthGen, iPhone6s-iPhone6s, iPhone6sPlus-iPhone6sPlus, iPadMini4-iPadMini4, iPadMini4Cellular-iPadMini4Cellular, iPadPro-iPadPro, iPadProCellular-iPadProCellular, iPadPro97-iPadPro97, iPadPro97Cellular-iPadPro97Cellular, iPhoneSE-iPhoneSE, iPhone7-iPhone7, iPhone7Plus-iPhone7Plus, iPad611-iPad611, iPad612-iPad612, iPad71-iPad71, iPad72-iPad72, iPad73-iPad73, iPad74-iPad74,

Supported Languages:

French; German; Italian; Japanese; Korean; Portuguese; Russian; Chinese; Spanish; Castilian; Chinese;