TapNova doesn't recommend this version of the app.
New in version 2.7.3
This update fixes some minor issues to improve your racing experience throughout the Island! Thank you for playing Angry Birds GO!
Description
Welcome to downhill racing on Piggy Island! Feel the rush as you tear down the track at breakneck speeds in a thrilling race to the finish. It's going to be a bumpy ride! Watch out for hazardous roads, and mischievous opponents who will do anything to get to first place. Outrun the competition to earn rewards, upgrade your kart, and become the best driver Piggy Island has ever seen! Ready, set… GO!

RACE AS THE BIRDS OR PIGS IN A 3D WORLD! Jump behind the wheel with your favorite Angry Birds characters (Red, Chuck, Terence, King Pig, Moustache Pig and many more) and see Piggy Island come alive in this rich and colorful 3D world!

EXCITING CAMPAIGN MODE! Test your skills in super-fun and surprising races and unlock exclusive rewards!

MASTER THE TRACKS! Plenty of racetracks, stunt roads, air courses and off-road races – each throwing big and unexpected challenges your way!

AWESOME SPECIAL POWERS! Smash your opponents off the road and take that winning position thanks to unique special powers for each character!

UPGRADE YOUR RIDE! Collect and upgrade your karts to become the best racer on the Island!

TIME-LIMITED TOURNAMENTS! Mirror, mirror on the wall, who's the fastest of them all? Drive your way to the top of the leaderboards and win prizes!

DAILY RACES! Enter a new race every day and find the hidden gift box on the track!

LOCAL MULTIPLAYER MODE! Compete with friends in real time local multiplayer!

TELEPODS! A ground-breaking way to play! Teleport your favorite characters into the race by placing your Angry Birds Go! TELEPODS figures on your device's camera!*

MORE TO COME! The new race has only just begun – look out for more GO developments in 2016!

Angry Birds Go! now requires an internet connection. After the initial download, additional content will be downloaded and this may lead to further data transfer charges according to your mobile phone service plan. You can avoid data charges by playing over WIFI.

This game includes paid commercial content from select partners.

Important Message for Parents
This game may include:
- Direct links to social networking websites that are intended for an audience over the age of 13.
- Direct links to the internet that can take players away from the game with the potential to browse any web page.
- Advertising of Rovio products and also products from select partners.
- The option to make in-app purchases. The bill payer should always be consulted beforehand.

*Angry Birds Go! Telepods sold separately and are compatible with select mobile devices.
iPad Screenshots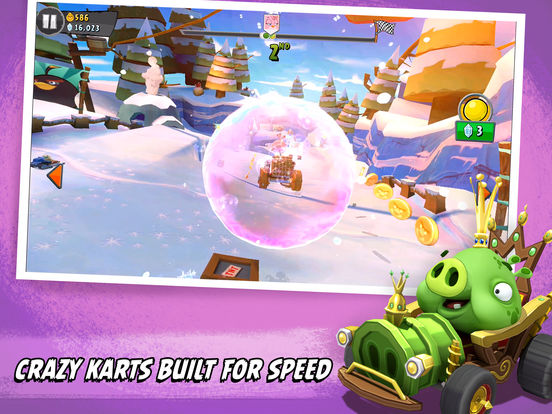 Reviews
Cash grab
This game is good but makes you buy up or waste to much time to upgrade your vehicle using hundreds of supplies just to continue and leaves you to the mercy of grinding them slowly
2 years and still can't beat the blues
PISTONS ARE HERE
on
6/25/2017
I've been trying to beat the blues in this game for 2 years but no matter how hard I try they beat me because they launch all the way to the finish line!This bug has made me quit the game.Please fix these!!!Ive still rated 5 stars for the racing though.
Awesome
I love this game when I am bored and I play it I feel not bored
Fix the Account system.
I admit, I haven't played this in a while. When I redownloaded it I tried to login to my Rovio account, I put my email in to the "Forgot My Password" box, click ok, and it crashes the game. The old system was better, and the best part... I CAN'T GET MY IN APP PURCHASES BACK!! It's a waste of money and time. I do not recommend it. I will change this if they fixed it.
HORRIBLE
why did you put a new update the game is HORRIBLE hate it
No Update
I wish the update never happened because of it the game just is not good anymore!
Rovio why did you make this update
nuhu the hedgehog
on
6/20/2017
Go to,hell
And..
Im so nervous I hope the stuff were fixed
Don't like it
I wish they didn't change it. I liked the old version better. Please change it back
Rigged
Themonster991
on
6/16/2017
I'm trying to win just one game, I try my hardest, but I always come in last.
Great game
I wish the can update to higher level, need new levels
No
I wouldn't recommend this game. Too many glitches, and after two min. I couldn't get back in!
Problems
Us did is just je
on
6/9/2017
I had to restart the game multiple times because on level 4 every time I want to do competitions it tells me invalid name. Someone pls help me pass this level
ROVIO CAN SUK THEIR OWN D
FIX THE UPDATE AND THE FUKING GAME OR OTHERWISE YOU'LL JUST KEEP GETTING BAD REVIEWS 😡😡😡😡🖕🖕🖕🖕🖕🖕🖕🖕
Greatest game for chromecast
This is the best game I have ever played so far. And I like to play it on my chromecast it's a game I would recommend if you would like to play Mario kart on iPad.
Fun game but...
This app crashes on Apple TV running tvOS 10.2.1 Starts up. You see the Rovio logo, then the next logo, then back to the main AppleTV selection screen. This rest is a previous review. Fun game, but needs work. Lot of bugs introduced in this latest version. The daily challenge used to show what your prizes were from completed challenges, but not anymore. Well not anymore on this platform. If you play the windows phone os version it still works correctly. Additionally if you fail the daily challenge on this version you can no longer try again. But I used to be able to, and still can on the windows phone os version. Purchased telepods for the game. Teleported them in. Purchased upgrades for the cars. A day or two later the telepods were no longer available in the app. Had to teleport them back in and all my upgrades were gone. The game should keep better track of this kind of thing. This could be a good game if the developers paid a little more attention to the details.
Bring Back The Old Version Please!
When I was about 8 years old,I first heard about this game on zackscotts' YouTube channel and I was all like"Woo that game looks really fun!"so when I played it I was happy and it was great.but when I saw on EvanTubeHD's Channel I realized that you can scan telepods into the game which was really cool so I went to Toys R us to buy the telepods and I had a great life with the game,but in the year 2016,I heard that the did a 2.0 of this game and I started to get interested in this new version after they added the new track named sub zero,but when I played the new version I got disappointed that you can't scan the telepods into the game anymore,and The New Upgrade Version was really bad and you can't do the choosing of the races,time boom,fruit splat or the battle where you can recruit new racers and it just doesn't fell the same.I wish that Rovio Would Bring Back The Old Version.Please!
Angry birds GO F yourself
Fersttattoos
on
5/28/2017
My son is strangely obsessed with anything angry birds and this being a spin off of just popping piggies is pretty neat.... well that's not the case. It's basically impossible to win any race right from the start. the menus aren't easy to navigate and just when I got excited thinking that if I buy the toys and telepods I could upgrade faster well then it turns out even that part of the app won't work any more, I think tha you should reprogram and fix all your bugs in this waste of time, or cut your loses, seems I have to since I've spent so much already and have got absolutely no satisfaction out of this
One more Rovio seems to be cheating
I've been a fan of the Angry Birds collection of games for a long time. Recently, I've noticed their games, including this one, have impossible tasks, impossible that it until you are willing to pay the up charge for diamonds or gems (this is especially true for Angry Birds Blast! Totally simple easy to win game except for when they try to fit a square solution into a round hole and assume the audience will be willing to pay to get to the next level). For example, Angry Birds Go has one race where the objective is to collect as much fruit as possible by driving your car into a long path of apples, bananas, oranges, Etc. There have been times when I have collected all the fruit and still failed to win more than a two star game (if I want it all). And there have been times when the AI racer car race raced ahead of me and barely collected any fruit (I know this to be true because I collected it all behind him) yet still won the race. This kind of duty happens all over this game big inconsistencies with expectations of what needs to be accomplished. And I am growing tired some of it.
Fix the game
Nobody like the new update turn it back to the original angry birds go
THE TELEPODS DONT EVEN WORK
Sleepy Head 14
on
5/21/2017
The first game was way better now the telepods don't even work
Old Update So Much Better
Jdjehdjdjehduehwhdydusgeg
on
5/16/2017
I used to really enjoy this game when it first came out. Now it is clearly a game about getting people's money and not caring at all about the game. Don't get this unless you plan on spending a good amount of money.
To hard
Dimond crafter22
on
5/15/2017
Stella is to hard to beat make it easyer
Angry birds GO!
Danny Rozario
on
5/13/2017
To winning race
Reallyyyyyy Goshie
Terdsplat2000
on
5/13/2017
THIS GAME IS AWESOME
Tele pods don't work + other
My tele pods don't work anymore, and yes, I'm holding it right on the trophy thing. And please make a button to restore in app purchases, that would be great! Also it would be cool if they added a water track... Im mean why not? You have Air, stunt, why not add surfs up?
Dumb update
Please add the old look back I used to play this in 2014 and it was fun so when I went to download it for nostalgia I came to find a completely different game so please make an update so it's to its original state.
Stupid, please do restore backup.
This game was so much better in 2014 but now this game is trash. Also, this game wants you to buy and make money for them. 1 star. I wish I can give 0 stars. This game is pay to win. Please bring back up the old version :(
I want my money back
Used to be fun. Lost all my coins, all my levels,musta had $100 invested in it wonder why nobody takes them to court over this.
Seriously........
I made it past the bomb level and I was thinking this wasn't THAT bad and then I went to the next level and the pigs have 6 more cc then me! I would give you 5 stars if that didn't happen. Also the new update is HORRIBLE
ZFire
The game is pretty good and I like it a lot! I play pretty often. My only real problem with the game is that in stunt mode the camera angel when I am going fast is behind and almost under the car which makes racing pretty hard! The cart blocks my view so badly that I can't stay in the track at all!
Angry Birds Go 2.0 needs to go bye bye
This game was listed as the most popular game back in 2013. Angry Birds Go 2.0 is a pay to win game. Please bring back 1.0
Glitch
The game is my favourite game but the characters make a sound and stop so they don't do the whole sound.🐤:( I have a rovio account if that helps but plz fix it I all the characters and I have all of them too. Thank you great game BTW
WORSE ANGRY BIRDS GAME EVER
Uuuuuuuuhhhhhhgggggg
on
5/5/2017
WOULD NOT RECOMMEND AND DON'T UPDATED IT!!!!!!'!!!!!!!!!!!!!!😡👺😾😤🙎🏽🙎🏽‍♂️
It's OK but not as good as Mario cart
Mario cart you could take shortcuts but Angry Birds just resets you. Mario cart is better online then Angry Birds go. Mario cart has more things to do but Angry birds on the iPhone is good. Mario cart is on the Wii U just my own opinion :)
Use to be better
Sonicplayer147
on
5/4/2017
I remember when you could upgrade whenever you wanted but now you need these tokens
What happened
Knight adventures
on
5/1/2017
What happened to the offline game? I can only play online. I have places that don't have internet and i cant play. But i like the update.
Sucky!!!
If I could rate this at no stars I would, I win tournaments and it doesn't give me my prize. I unlock tickets from the races and never get them either!
Stuck
Mattyboy1763
on
4/26/2017
Won't move past pick a nickname for tournament. Also all the upgrading items needed for the cars is a little crazy.
Bad I liked old
Chloe the unicorn
on
4/25/2017
The game was really awful you couldn't even have tele pods so I just wasted my money on this game wow!
Love Love it!
I love this game! It's so fun! I love the birds! I am 9 years old. The game crashes sometimes but I don't care! This is the best game I ever played by Rovio! I'm so addicted! Angry Birds rule! 🙃😉 Can you please fix the crashing and make the game more faster? Otherwise this is an awesome game! ⭐️⭐️⭐️⭐️⭐️ Thanks! Tupperhead5
Why won't it let me download it
Isabella Hizer
on
4/17/2017
This is a great game in all but I'm trying to download it and it won't let me!!
Great Game!
Dk Nickname Taken
on
4/17/2017
Great fun until you get to the horrific in app ad that starts with a man beating a dog to death with a club. What the ??? Kids play this game, the beginning of the horror ad is NOT okay for anyone!
Can't get the game
I can't get the game
Horrible update
Rovio please please please change the game back to the original version of this game pleeeeeesssssse
It stole my money
Bought it for newest AppleTV. Worked fine a few days until update; now only shows splash screens, then crashes. Those are some very expensive splash screens. No way to restore. It's theft.
Fact Sheet
Publisher: Rovio Entertainment Ltd
Category: Games
Released: Dec 11, 2013
Current Version Released: Jun 23, 2017
Version: 2.7.3
Size: 489.5 MB
Compatibility: Requires iOS 8.0 or later.
Recommended Age: 4+
Game Center Certified: No
Supported Devices: iPad2Wifi-iPad2Wifi, iPad23G-iPad23G, iPhone4S-iPhone4S, iPadThirdGen-iPadThirdGen, iPadThirdGen4G-iPadThirdGen4G, iPhone5-iPhone5, iPodTouchFifthGen-iPodTouchFifthGen, iPadFourthGen-iPadFourthGen, iPadFourthGen4G-iPadFourthGen4G, iPadMini-iPadMini, iPadMini4G-iPadMini4G, iPhone5c-iPhone5c, iPhone5s-iPhone5s, iPadAir-iPadAir, iPadAirCellular-iPadAirCellular, iPadMiniRetina-iPadMiniRetina, iPadMiniRetinaCellular-iPadMiniRetinaCellular, iPhone6-iPhone6, iPhone6Plus-iPhone6Plus, iPadAir2-iPadAir2, iPadAir2Cellular-iPadAir2Cellular, iPadMini3-iPadMini3, iPadMini3Cellular-iPadMini3Cellular, iPodTouchSixthGen-iPodTouchSixthGen, iPhone6s-iPhone6s, iPhone6sPlus-iPhone6sPlus, iPadMini4-iPadMini4, iPadMini4Cellular-iPadMini4Cellular, iPadPro-iPadPro, iPadProCellular-iPadProCellular, iPadPro97-iPadPro97, iPadPro97Cellular-iPadPro97Cellular, iPhoneSE-iPhoneSE, iPhone7-iPhone7, iPhone7Plus-iPhone7Plus, iPad611-iPad611, iPad612-iPad612, iPad71-iPad71, iPad72-iPad72, iPad73-iPad73, iPad74-iPad74,
Supported Languages: French; German; Italian; Japanese; Korean; Portuguese; Russian; Chinese; Spanish; Castilian; Chinese;