Screenshots
New in version 2.7.3
This update fixes some minor issues to improve your racing experience throughout the Island! Thank you for playing Angry Birds GO!
Description
Welcome to downhill racing on Piggy Island! Feel the rush as you tear down the track at breakneck speeds in a thrilling race to the finish. It's going to be a bumpy ride! Watch out for hazardous roads, and mischievous opponents who will do anything to get to first place. Outrun the competition to earn rewards, upgrade your kart, and become the best driver Piggy Island has ever seen! Ready, set… GO!

RACE AS THE BIRDS OR PIGS IN A 3D WORLD! Jump behind the wheel with your favorite Angry Birds characters (Red, Chuck, Terence, King Pig, Moustache Pig and many more) and see Piggy Island come alive in this rich and colorful 3D world!

EXCITING CAMPAIGN MODE! Test your skills in super-fun and surprising races and unlock exclusive rewards!

MASTER THE TRACKS! Plenty of racetracks, stunt roads, air courses and off-road races – each throwing big and unexpected challenges your way!

AWESOME SPECIAL POWERS! Smash your opponents off the road and take that winning position thanks to unique special powers for each character!

UPGRADE YOUR RIDE! Collect and upgrade your karts to become the best racer on the Island!

TIME-LIMITED TOURNAMENTS! Mirror, mirror on the wall, who's the fastest of them all? Drive your way to the top of the leaderboards and win prizes!

DAILY RACES! Enter a new race every day and find the hidden gift box on the track!

LOCAL MULTIPLAYER MODE! Compete with friends in real time local multiplayer!

TELEPODS! A ground-breaking way to play! Teleport your favorite characters into the race by placing your Angry Birds Go! TELEPODS figures on your device's camera!*

MORE TO COME! The new race has only just begun – look out for more GO developments in 2016!

Angry Birds Go! now requires an internet connection. After the initial download, additional content will be downloaded and this may lead to further data transfer charges according to your mobile phone service plan. You can avoid data charges by playing over WIFI.

This game includes paid commercial content from select partners.

Important Message for Parents
This game may include:
- Direct links to social networking websites that are intended for an audience over the age of 13.
- Direct links to the internet that can take players away from the game with the potential to browse any web page.
- Advertising of Rovio products and also products from select partners.
- The option to make in-app purchases. The bill payer should always be consulted beforehand.

*Angry Birds Go! Telepods sold separately and are compatible with select mobile devices.
iPad Screenshots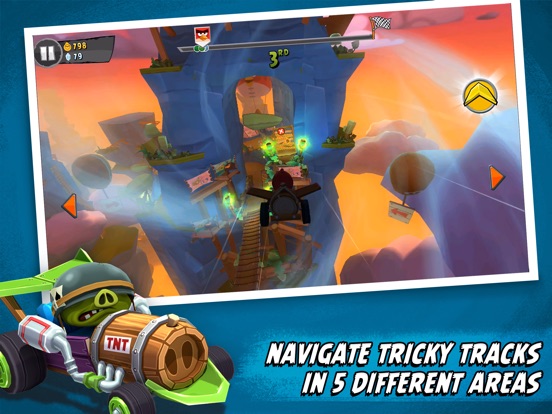 Reviews
This is so humiliating
I used to love this game in the good days but now it changed so much first of all the tree and garage are gone and second they added blueprints in 2.0. plz bring me the older version 😢
Brayden nascar fan
Bring back the old version I hate the new version
Ads ads oh wait more ads
Fatboytommyslim
on
10/13/2017
Want a few gems? Watch this ad. Want a boost in game? Watch an ad. Want a free chest? Watch an ad. Just clicked on a race? Oh wait here is another ad. My lord you spend 90% of the game watching ads.
Evilness 110%
I was almost done with the game, when a new update came along and deleted all my progress!🤢=Angry birds go!
Bring old version back
I liked the birds resting in trees and the pig working for the birds I found cool please bring it back
Used to be good, now it is trash.
Before the complete game change I had an almost maxed out account, but once the update rolled around, I lost EVERYTHING! ALL OF MY WORK;GONE!!! I HAD THOUSANDS OF GEMS AND WHO KNOWS HOW MANY COINS!!
Stupid
Aliya Kohler
on
10/12/2017
Energy I hate energy seresly it is not fair
The pigs took my saved data
$Ernestico$
on
10/11/2017
Game data deleted after the new update. Everything got condensed and a lot of things were eliminated.
bring back old version
pls do it i beg you i loved it
Used to be good
Ginger_Cat87
on
10/8/2017
I used to play this game all the time, and I'd play for hours sometimes. Then, updates just kind of ruined the game. I'm deleting the app.
Let me play
I wish I could just play the game always instead of having to stop the game because I don't have a Lightning bolt
Hdhxjdhxhxhxixjd
Hdncbcjcbcbcucbdfnndj fnfnfihfnfjcjdbdjbdxicnxjxjdndhjxndbdjcj nxjxbd chxjdbeifhf
Something missing
Buy car for 99 cents makes car gray and then costs 500 blueprints bull crap, hit restore purchases and didn't fix, not only car had problem with, once was double billed for one car, the crystal boxes have had missing gold coin, I don't even know why anyone trust this company since angry birds got taken away, which I payed for, I don't want angry birds 2, where is the original anyway.
FILLED WITH ANNOYING ADS
This would have been an ideal app, unfortunately it is bereft with innumerable ads that consume the spirit and weaken the mind. Ads are placed like mines and one cannot help but feel as though one was in a war zone. My fingers carefully tap on the screen, avoiding these ad-mines but Alas! I sometimes make a mistake and step on some. My face contorts in agony as I am forced to watch, and I curse out at all the developers who will eventually gain from my misery. They say all is fair in war, but your acts....your ad mines....are a crime!
PLEASE READ THIS👇🏼👇🏼👇🏼
Canimals Lover
on
10/1/2017
I loved this game I almost had everything but then when I didn't play on it for a week it NEVER LET ME PLAY ON IT AGAIN😡👎🏼
U RUINED THE GAME
Tinygfdst2543
on
9/29/2017
U made the interface all complicated, you removed the Piggy Island Drivers License, you removed the clubs where you can get golden eggs, you reset EVERYONES GAME PROGRESS, you made it so you need parts to upgrade ur karts, you added blueprints now u need them to upgrade ur kart to a higher level and buy karts, you the energy SHARED ACROSS ALL BIRDS, you added ranks which you need to be at a certain rank to unlock a new kart and you made it so you don't earn coins or gems when you race. Make it so you can go back to the old version or I'm quitting angry birds go until you do.
It is not letting me download it
coolgirl8373
on
9/26/2017
Not letting me download it
ADs
When you have a game for 4 and up, make sure you guys don't show games that depict people getting chopped up or killed on a app ad, friggin ridiculous from a family game company. Uninstalled.
Ok...
Destroyer The Dragon
on
9/24/2017
The game overall is great but my telepods don't work it just says check connection and try scanning again and if the problem persists contact rovio so please fix this issue but overall great game 4 stars ⭐️⭐️⭐️⭐️
This is impossible
This game is so impossible I used every car in the game
Trash
OntimeBusDriver
on
9/23/2017
AB Go has literally turned from great to trash. The redesign is awful. There isn't even a home page anymore. Upgrading your kart is a nightmare, and when I reinstalled the app after being upset before, I got even more upset because I realized that Rocky Road comes after Air instead of before it. Buying cars is awful as well. Rovio, PLEASE change it back.
It won't download
I have been trying for the last two days to download this game on my iPhone and all it keeps saying waiting ... plz fix this because it looks like a very fun and great game - thank you
I cant
It's mad hard but I like it
You ruined my fav. game of all time!
FlameWhale58
on
9/19/2017
Hey Rovio, thanks a lot for your terrible update to 2.0. You changed my game! You need to change it back to 1.3. The 2.0 is so unorganized. Sure the tutorial is great,but everything else has been taken away. And now WHERE IS MY MULTIPLAYER?!? I am so disappointed in what you did Rovio. Change it back and I'll play the game again, or don't and I'll NEVER play that game again. You just broke my heart. 😠
I like this game but...............
THIS LEVEL IS SO SO HARD AND I HATE IT I CAN'T GET PAST IT MAKE IT MORE EASY OR I WILL NEVER PLAY THIS GAME
Legal!
brunoachiles
on
9/16/2017
Gostei muito do jogo eu só acho que quando está na corrida as bolinhas representando o angry birds contra você deveria ser a cara do angry birds. Mas está nota 10000000, e também seria legal ter clãs para os players entrarem no clã e poder conversar com mensagens e fazer corridas amistosas sem valer nada aí pode escolher o que quer por exemplo destrua as frutas, tempo e corrida!
Old versions was better
Rovio don't ruin your own game 😔
Bad update
Read the title
Used to be good
blacknight 66
on
9/14/2017
This game back then was super fun... I unlocked all the characters. But then I kinda got bored, so I deleted the game. But 2 years later, I wanted to play the game again. But everything changed. I really liked the Tree idea for the birds and the pigs. But they deleted the tree. The upgrade system is really, just really stupid. It was fun at first, but then it got to where you have to spend money. I was stuck on this level on seedway, I had to have 278cc. IT IS REALLY HARD TO GET 1000 BLUE PRINTS. so please, I beg you to change it back, please.
A bad game
I can't beat a level and when I get in 3 place I get to 4 place some how
It used to be lit🔥🔥
Aw c'mon man
on
9/11/2017
They put to much stuff and extra things in it it's confusing
Bring it back!
So I don't play this game and I delete is and think it is a good game, but I redownload it and it is crap! It used to be fun to play but this stupid update is so boring and makes it worse! It goes from super easy to super hard! Why would you do that?
Sucky new version
calypso68418
on
9/10/2017
Old version was way better i nvr updated ut yo the version now but my phone broke and i had to get new one now it this crap version and i hate it soooo much. NOT WORTH YOUR TIME DONT DOWNLOAD IT ITS CRAP
Awesome
Great controls of cars and awesome gameplay. NOT
It used to be better
Study's rooftops
on
9/6/2017
I HATE THE NEW UPDATE!!!
Cannot Download
This app is unable to download on my device
Beffam, you're a moron!
Crazy Star 17
on
9/4/2017
Just exit out the app and go back in to use the telepods again stupid!
Worst game ever
Bad controls very bad controls
Made me start over orange bird
I like this game butt umm.........IT KEEPS CRASHING EACH TIME I BEAT THE ORANGE BIRD AND I HAVE BEEN DOING IT FOR A WEEK.FIX IT
1.0 please
I hate 2.0 BRING IT BACK
Worst Update Ever!
This game used to be really fun and I used to play it all the time trying to get new characters and stuff like that. However, the new design just made it IMPOSSIBLE!!! WHAT HAPPENED TO THE TREE WITH THE BIRDS AND PIGS!!!!??? NOTHING IS ORGANIZED ANYMORE! this is why modern updates are really bad.
BRING BACK THE TREE AND THE UNDERGROUND GARAGE AND All THE OTHER OLD UPDATE STUFF EVERYONE HATES IT
Aisian Catastrophe
on
8/27/2017
ARGGG THIS GAME IS TERRIBLE NOW BRING BACK THE OLD UPDATE
Multiplayer problems
Every time I play multiplayer, there is this glitch where the opponent is either at the finish line at the start of the race, or they don't move at all. It is pretty annoying. Can you guys fix it?
Used to be awesome
Pillowcase26
on
8/19/2017
I would play this everyday, and I never spent anything so it took a while but the gameplay made up for it. So when you spend a few years on a game and perfect everything and get far in multiplayer, only to have it all reset and give you only 100 gems back because of an update. And also changing the game drastically. I loved the garage and the tree before they got changed. Now the game doesn't run well and every time I play it just reminds me of how I lost all my hard earned work and I don't want to start all over again, as I had bought all the gem carts as well. It's an extra level of frustrating. I don't want to scrutinize a game I used to love, but I hate when hard earned progress is erased. The only reason I'm giving 2 stars is because I will feel bad if I give 1 star.
Nope
I loved how it used to be before!! I don't even kno how to get the big coins to be able to upgrade my car. It's confusing!! Take it back to the old one or make it easier to understand...
Needs update
The controls don't work. I try to go left and I end up just going into the wall. I also miss the OLD version. The one with the tree and the underground garage, etc. I've never liked the new version.
Bring It Back!
I still love it and all, but, the game has changed so much I don't even recognize it! ROVIO if you read this, bring the old version back that had the tree of birds, it was so much better! I would rate 5 stars but the game has changed so much it really isn't the same game. This used to be my favorite game but now it's only three stars. Don't download if you want an actual GOOD layout of the game. Right now it just feels really sloppy and like you didn't work on it much or the update. I hope you guys change it back in the near future. Everyone else agrees with me as well so if you read reviews listen to us and bring back the old Angry Birds Go!
Fact Sheet
Publisher:

Rovio Entertainment Ltd

Category:

Games

Released:

Dec 11, 2013

Current Version Released:

Jun 23, 2017

Version:

2.7.3

Size:

489.5 MB

Compatibility:

Requires iOS 8.0 or later.

Recommended Age:

4+

Game Center Certified:

No

Supported Devices:

iPad2Wifi-iPad2Wifi, iPad23G-iPad23G, iPhone4S-iPhone4S, iPadThirdGen-iPadThirdGen, iPadThirdGen4G-iPadThirdGen4G, iPhone5-iPhone5, iPodTouchFifthGen-iPodTouchFifthGen, iPadFourthGen-iPadFourthGen, iPadFourthGen4G-iPadFourthGen4G, iPadMini-iPadMini, iPadMini4G-iPadMini4G, iPhone5c-iPhone5c, iPhone5s-iPhone5s, iPadAir-iPadAir, iPadAirCellular-iPadAirCellular, iPadMiniRetina-iPadMiniRetina, iPadMiniRetinaCellular-iPadMiniRetinaCellular, iPhone6-iPhone6, iPhone6Plus-iPhone6Plus, iPadAir2-iPadAir2, iPadAir2Cellular-iPadAir2Cellular, iPadMini3-iPadMini3, iPadMini3Cellular-iPadMini3Cellular, iPodTouchSixthGen-iPodTouchSixthGen, iPhone6s-iPhone6s, iPhone6sPlus-iPhone6sPlus, iPadMini4-iPadMini4, iPadMini4Cellular-iPadMini4Cellular, iPadPro-iPadPro, iPadProCellular-iPadProCellular, iPadPro97-iPadPro97, iPadPro97Cellular-iPadPro97Cellular, iPhoneSE-iPhoneSE, iPhone7-iPhone7, iPhone7Plus-iPhone7Plus, iPad611-iPad611, iPad612-iPad612, iPad71-iPad71, iPad72-iPad72, iPad73-iPad73, iPad74-iPad74, iPhone8-iPhone8, iPhone8Plus-iPhone8Plus, iPhoneX-iPhoneX,

Supported Languages:

French; German; Italian; Japanese; Korean; Portuguese; Russian; Chinese; Spanish; Castilian; Chinese;