TapNova recommends this app!
New in version 17.3.11
We listened to your valuable feedback. Check out what's new and rate Verizon Cloud on the App Store.
● Updates were made throughout the app to make it even easier to interact with your content
● Bug fixes and performance improvements

View the complete Terms & Conditions at: http://www.verizonwireless.com/support/cloud-legal/
Description
Verizon subscribers: Download and install the Verizon Cloud app on your iPhone. Verizon Cloud lets you back up your contacts, photos, and videos to secure cloud storage, so you won't lose your important content if you lose your phone.

With Verizon Cloud on iPhone, you can:
• BACK UP your phone's content to your secure cloud storage
• SYNC your devices - ACCESS your content when you need it, from your iPhone, iPad, on the web, or from any other Verizon Cloud compatible device
• EASILY MANAGE your Verizon Cloud account and plan
• CREATE & ORDER PRINTS & GIFTS using your favorite photos
• EXPLORE FLASHBACKS – Relive your memories from past years with Cloud's weekly Flashback feature
• DISCOVER STORIES – View & share albums that are automatically generated using your best photos and videos
• BEAM TO YOUR TV – Share your pictures, videos and music with family and friends on the big screen
• SHARE select media content using your favorite native apps

*Data charges apply.
The Verizon Cloud app can be downloaded and used on both iPhones and iPads. Go to www.vzw.com/cloud for the complete list.

What's New in Version 17.3
We listened to your valuable feedback. Check out what's new and rate Verizon Cloud on the App Store.
● Updates were made throughout the app to make it even easier to interact with your content
● Bug fixes and performance improvements


View the complete Terms & Conditions at: http://www.verizonwireless.com/support/cloud-legal/
iPad Screenshots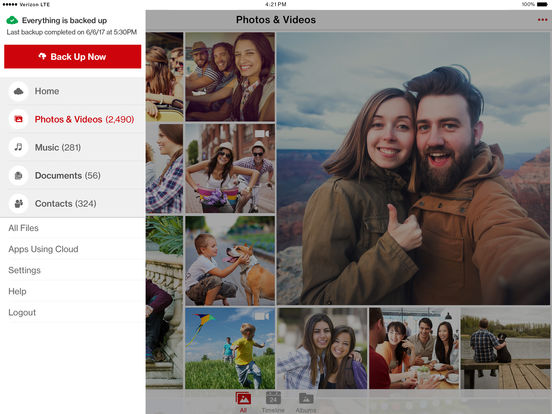 Reviews
Took forever
I don't even know if it worked. How can I find out? Backup assistant was much better.
Backup notes
Haven't been able to do it.
Does my CLOUD be access.?
Cloud Question
on
7/20/2017
Does my personal VERIZON CLOUD can be access by the Owner Account?? We have 4line in one Account now I'm wondering if anybody or anyone on the plan can access it.?
Adequate
I only save a few pictures. I use other backup for the rest of it. For what I use it for it's OK.
To long
It's cashville or die
Contacts
You should be able to delete contacts from the app.
Grandson
River is his name
on
7/18/2017
My sweet sweet Grandson. Don't get to see him enough. He lives in canton N. C.
Serves its purpose
Nothing special about but it does the job as expected. No issues.
Nice👌🏻
Moira2001814
on
7/17/2017
Good
Excellent backup app!
I love this app! Super easy to use! All of my phone's contacts and pictures can be easily accessed w/o taking up space on my iPhone. Thanks, Verizon for a great app!
Great app
Everything works smoothly, thank you
I'm happy
corvettepete
on
7/17/2017
The App works fine for my application. Backs my photos and contacts just fine.
Great Product!
Great product! Easy to use!!
Cfish
I'm just starting to use it so I don't know much about the app yet. What I have done so far, I like it!
A non techy mom
A non techy mom
on
7/17/2017
This app is terrible. My phone has been trying to back up for over a month now. How long does it take to back up an iPhone? Come on people!!!
Not enough storage
Does not hold enough... It's the cloud so why is it not unlimited???
Thankful for the cloud
So thankful that I had my phone items saved on the cloud. My old phone died, toast! But I had backed everything up on the cloud and had everything back up and running in a couple of days. Just reloaded the apps.
Great
Edgemereschild
on
7/16/2017
Works.
Great app
DJB;-)$$$123
on
7/16/2017
I choose this over iCloud backup
Good app
Working fine for me
So far so very good
I'm happy about the cloud I recently thought I lost all of my pictures but found out that the cloud worked and I didn't lose any!! As far as backing up my contacts I don't know why I have 4x's of some contacts and then barely one with some information missing, luckily those ones haven't been any important ones to me. And I find something curious when I do input birth dates I find that it changes to the next day, then I have to go back and edit the info.
Won't work
I can't log in- the app asks for basic login info (username and password) then redirects to security question, then loops back to login info. The loop does not stop, so I have yet to log in.
Verizon is great
Cherryblosom7878
on
7/15/2017
This is going well and very helpful.
Awesome
So far it does exactly as I intended. No complaints.
Great Place to store data
If your iCloud storage is full and you have Verizon. Then, this is the app for you. Work great and I don't have any problems with it.
Backup
Love having an extra backup
Password issue
I continue to get a request to enter the password for jeff773. That is not me! Please determine the issue and let me know what is going on!
My pictures
So far it's great just bought my 7plus!!!
Verizon Cloud
It's far better than iCloud. I never get warnings about my storage is almost full. Verizon Cloud backup is quick and reliable!
Natural
NekoFireCats20
on
7/14/2017
I wish I could delete contacts I no longer want
Two stars just to be nice
The app is not working for me. I tried to backup my contacts but it will not allow me to turn on backup contacts. I have tied everything possible but the switch to turn it on will open.
great app
xlnt app for managing media and backups.
Poor
I only use the app for contact backup. I have other options in place for photo, etc cloud storage/backup. There is no timed backup option in the app - not even a reminder to back up contacts on a daily, weekly, monthly basis. The app takes a long time to open - really slow. I was forced to use Verizon Cloud after Verizon Backup Assistant was pulled from use. Very disappointed that this app takes at least 5x the space on my iPhone 6 and doesn't even provide the same benefits of the app it supposedly replaces. Honestly, I expected more from Verizon. Sad......
Mr Dean
BuckettNaked
on
7/13/2017
Great app
Amazing!
Teo Sivanich
on
7/13/2017
😶wow
The reason I gave four stars
The reason I gave only 4 stars is because I would love to have more free music choices. Other than that no issues
Great app
App is great help
Meh
It sorta works on my iPhone 5s it still has a lot of bugs Verizon keeps telling me this backs up contacts and unlimited pictures and video and it don't do ether of those only contacts and it is barely working to even upload contacts just spins.... Update...new update works great still can upload contacts only......
Unreliable
I started having issues months ago. Unable to back up, view, and retrieve photos & contacts. Numerous phone calls & online chats with customer support & still unresolved.
Still not happy
It works fine on the iPhone but now on the iPad it wants me to log on as a different user? Why? Both the iPad and iPhone are under the same account number and they are on the same bill. And I had trouble getting it to update on the iPhone it would not update using cellular data, as soon as I put it on wifi it worked.
Verizon Cloud
Is terrible after update. It keeps shutting down when I try to access it. Just downloaded update & it still kicks you out of app. Terrible
Love it!
Works exactly as stated
Love. Love. Love it
Easternmay11
on
7/12/2017
The best
Awesome app
GregoryPBishopBOA
on
7/12/2017
Love it the app backs everything up no problems
Good backup app
You keep up with all my pictures and music. I love this app. Very easy to navigate.
Fantastic. Superb. Worth app
Very nice app for photos & videos backup. I can manage Storage plan from my handset. No need to contact customer service. Thanks Verizon!! Amazing...just superb....
Fact Sheet
Publisher: Verizon Wireless
Category: Productivity
Released: May 16, 2013
Current Version Released: Jul 12, 2017
Version: 17.3.11
Size: 109.5 MB
Compatibility: Requires iOS 9.0 or later.
Recommended Age: 4+
Game Center Certified: No
Supported Devices: iPad2Wifi-iPad2Wifi, iPad23G-iPad23G, iPhone4S-iPhone4S, iPadThirdGen-iPadThirdGen, iPadThirdGen4G-iPadThirdGen4G, iPhone5-iPhone5, iPodTouchFifthGen-iPodTouchFifthGen, iPadFourthGen-iPadFourthGen, iPadFourthGen4G-iPadFourthGen4G, iPadMini-iPadMini, iPadMini4G-iPadMini4G, iPhone5c-iPhone5c, iPhone5s-iPhone5s, iPadAir-iPadAir, iPadAirCellular-iPadAirCellular, iPadMiniRetina-iPadMiniRetina, iPadMiniRetinaCellular-iPadMiniRetinaCellular, iPhone6-iPhone6, iPhone6Plus-iPhone6Plus, iPadAir2-iPadAir2, iPadAir2Cellular-iPadAir2Cellular, iPadMini3-iPadMini3, iPadMini3Cellular-iPadMini3Cellular, iPodTouchSixthGen-iPodTouchSixthGen, iPhone6s-iPhone6s, iPhone6sPlus-iPhone6sPlus, iPadMini4-iPadMini4, iPadMini4Cellular-iPadMini4Cellular, iPadPro-iPadPro, iPadProCellular-iPadProCellular, iPadPro97-iPadPro97, iPadPro97Cellular-iPadPro97Cellular, iPhoneSE-iPhoneSE, iPhone7-iPhone7, iPhone7Plus-iPhone7Plus, iPad611-iPad611, iPad612-iPad612, iPad71-iPad71, iPad72-iPad72, iPad73-iPad73, iPad74-iPad74,
Supported Languages: English;