Screenshots
New in version 17.5.10
We listened to your valuable feedback. Check out what's new and rate Verizon Cloud on the App Store.
● UX enhancements provide an easier, more fluid experience for the Cloud user
● Updates were made throughout the app to make it even easier to interact with your content
● Bug fixes and performance improvements


View the complete Terms & Conditions at: http://www.verizonwireless.com/support/cloud-legal/
Description
New Verizon subscribers: Download and install the Verizon Cloud app on your iPhone for a 30-day Premium trial. Verizon Cloud Premium lets you back up your contacts, photos, and videos to secure cloud storage, so you won't lose your important content if you lose your phone. You can opt out of the trial at any time during the 30-day period and enjoy free 'Contacts Only' support, or continue using the full service at $5/month for 500GB of storage.

With Verizon Cloud Premium on iPhone, you can:
• BACK UP your phone's content to your secure cloud storage
• SYNC your devices - ACCESS your content when you need it, from your iPhone, iPad, on the web, or from any other Verizon Cloud compatible device
• EASILY MANAGE your Verizon Cloud account and plan
• CREATE & ORDER PRINTS & GIFTS using your favorite photos
• EXPLORE FLASHBACKS – Relive your memories from past years with Cloud's weekly Flashback feature
• DISCOVER STORIES – View & share albums that are automatically generated using your best photos and videos
• BEAM TO YOUR TV – Share your pictures, videos and music with family and friends on the big screen
• SHARE select media content using your favorite native apps

*Data charges apply.
The Verizon Cloud app can be downloaded and used on both iPhones and iPads. Go to www.vzw.com/cloud for the complete list.
iPad Screenshots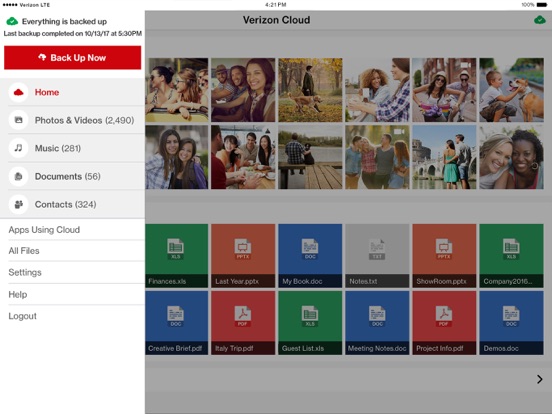 Reviews
MsMimi
I have a big issue with this app it backs up everything more then once when it backs up. You can go back in and delete pictures that have been repeatedly backed up but who wants to do that especially if you originally have over 5 thousand pictures and you can't delete any extras when it comes to your contacts. So now I don't have space because of all of the replicas. Just awful not happy will be discontinuing the service if it's not fixed. I'll try to clear it and start over but if it happens again because it's not fixed then I'm done with it.
Closes
Dmwheeler514
on
11/17/2017
App keeps closing as soon as it opens.
Easy!
I see where others have rated poorly; I really like it. It is easy to use and easy to retrieve my photos.
Finally it's working
Took 11 months but the Verizon Cloud is finally working on the iPad, why so long to fix the problem? I work in the IT dept and we have to fix problems quickly. As in the same day.
Not impressed
Senior Grandma
on
11/13/2017
It does not show all contacts. It says they are there but the list is off by about 75 people
I would rate it 0 if I could
Cliffntippy
on
11/10/2017
Your Free Verizon Cloud service will expire on December 22, 2017. To avoid losing your media content, upgrade to a Verizon Cloud Premium option. If you choose NOT to upgrade, you will still be able to back up and store your contacts, but your stored media content will be removed from the cloud. For instructions on how to download content from your cloud so you don't lose it, access the Verizon Cloud FAQs here. With Verizon Cloud Premium you will be able to continue storing all of your photos, videos, music, documents and more.
No use for this app
The other day I woke up to a phone that had lost all my contacts. I panicked, until I opened my Verizon cloud and was very relieved when I seen they were still there... Until I hooked up to wi go of coarse and the app started to back up and I saw the contacts disappear in front of my eyes!! I have restored my phone now and got my contacts back, and when I open this app again all I get is a white screen. (That has happened more than once) Gonna delete it right after I'm done with this review.
Best cloud!
Jerrycjdk6678975
on
11/8/2017
I️ can always guarantee that my stuff is safe. After switching phones over the years I also have had my stuff. Great cloud service!
Photos and shut down on phone and wont let me open on computer
Anthony71914
on
11/8/2017
I lost all my photos on the app because the she cancelled my cloud. I asked about extra storage for my 5c iPhone but she said I had the max. And she deleted the photos and videos but keep my contacts. Thanks to .Jesse and Hannah I have my pictures back but I still can't get on to cloud on my desktop and on my phone it goes on and immediately shuts off. Very disgusted.
Worthless
Sick-an-tired
on
11/8/2017
After a couple of weeks of attempting to log in, to an established account, I surrender. First, on multiple occasionscb the app would not recognize my login. When it finally let me login, it directed me to create an account. Mind you, it had just made me login. Then, it wouldn't let me create this NEW account because my user name was already in use, by me! Then, it tells me repeatedly that the system is down. Worthless!
itunes backup
does verizon cloud not back up my itunes song library ?
Won't Access
I have an iPX 11.1 and it wont access the app. It keep saying "can't connect to your cloud at this time. Please try again later". Its frustrating. 😡
iCloud update
Terrible update can't even sign in.
Partly Cloudy
The contact portion of the app seems fine. Cannot save my music with this app because of incompatibility with iTunes. The app seems to get truly confused with photos. Scenario: I've done a backup. If I then delete pics from my camera roll, the app gets "stuck" the next time I back up. Thank you for your efforts!
Easy and worth it
500gigs for 5$ a month?thats 60$ a year for piece of mind.i know every picture I take of my family and friends will always be here and it only cost 5$ a month.worth every penny
Good
Longhorn69Fan
on
11/3/2017
Good quick backup
Unable to create account
Please let me know how to create a account the app will not let me
Really
Once I figured out how to make it WORK FOR ME - Greattttt.
Problem
Ever since the last update I have not been able to back up my pictures to the iCloud. Not happy at all.
Verizon Cloud
Wishing You Well
on
10/29/2017
Beautiful App!
Had my back
I recently had to switch phone bc i had default n i made sure to back up everything on icloud esp my pics but it still didn't save my pictures from a month ago but this app had all my pictures up to the day i switched the phones! I was so releaved def a life savor!
Stingy!!!
As if we don't pay Verizon enough all ready! The previous Verizon app which backed up contacts worked perfectly fine. Now you have to buy added space for the contacts Verizon automatically uploads to your Verizon iCloud contact list. This is what verizon did to me even though my Facebook/Instagram friends are not in my iPhone contacts app. I called Verizon asking to have the Instagram/Facebook contacts removed "sorry nothing can be done to remove the contacts" is what Verizon customer service told me!!
No longer happy
I would just like to know why are you charging for the app now? I've had it for years and now I have to pay at least $5 a month for it.
Awesome
Backed up all my videos and pics in 3 hours and I never backed them up. Fast for such a large project.
Hey, Good Lookin'
7h3_G3n713M4n
on
10/23/2017
Seems to be working decent for me as a secondary backup option for photos/contacts only on my IPhone. I am in the process of swapping to a new device now, and I have yet to experience any issues. Asked me to rate and I did to keep the message from coming back up every time I log in.
The worst ever!!!!! 😡
UPDATE: 2 week's later, it still keeps saying that it's backed up, but activate the app to finish. When I go into the app it does the jumping around - 3 minutes, 25 minutes, 17 minutes, 74 minutes! Got a note from the developers asking what device I'm using - what do you think Genius? I'm in the iPhone App Store, hmm? Could it be a Google Pixel I'm working with? I give up. Verizon has lost all their former glory. Used to be they were the best customer service And the best cell service around, but they got a fat head, they are now worse than circa 2005 AT&T! Can't wait till this contract expires and I might go before that anyway. After 4 hours during which it kept saying 4 minutes left, and counting down to 1 min. Only to bounce back to 4 then 21, then back down, and then it said 43 minutes!!! What the?!? I finally had to cancel because I need to do other things. Why does it take so long? Why after 4 hours is it still not backed up?!? It's less than 3 gigs for Pete's sake! And why does it take half an hour to estimate the time it will take to only say like 4 minutes and then take another 4 HOURS to still not finish? Plus it seems to stop unless you keep your phone "awake". This is the worst. It's torture. Plus you can't set it to back up, you have to do it manually! Was it written back in 1980 for a desktop and not really updated?
Good
Chrissyands
on
10/22/2017
Good and easy experience
Love it!
My cloud works great and I love the memories that it reminds me of from years ago!
Luv it
My IPhone has limited space and iCloud isn't much better. This is a great additional way to save space. Two thumbs up.
Loving it
firefighterdsk
on
10/20/2017
I like this app better then iCloud. Takes a moment to complete depending on how many photos you have to upload but over all five stars here.
Great amnt of space
ffighter2081
on
10/20/2017
5GB of space seems plenty to me. I feel more confident in saving items in the cloud as opposed to an app. Relieved to have received this option.
Slow piece of crap
Bababui12499
on
10/19/2017
They force you to rate 5 stars
It's all good
LJG lil mama
on
10/19/2017
It's easy to use not hard to follow and works fast
Poor App
I have downloaded the app several times over the past three weeks and after the first upload the app crashes and will not load. I have to uninstall and then reinstall and do the backup again but then the app does not load again...... Verizon you sent a warning that Backup Assistant will end Feb 2017 .... hope you fix the problem before you shutoff backup assistant ...... it appears iPhone 6 is a problem reading the other reviews....... Update Oct 2017 ...... after 6 months the latest app finally works
Dishonest and creepy company
YannoushoftheNorth
on
10/18/2017
I had no intention of rating this app, but after I used it once it gave me the option of either leaving feedback or giving it a five star rating. That's a creepy and dishonest way to get ratings, it makes it seem like your only options are to either give it five stars or leave them feedback. Everyone should rate this app one star for this reason alone, not to mention it's buggy. Update: Customer service emailed a reply to this review with a canned statement months and months later. Classy, guys. Real classy.
Just crashes
It would be nice if it would actually work. I got everything backed up on it but now it won't stay open. Hopefully I never really have to try and retrieve anything from this cloud.
Erased everything
I am so disappointed and upset! I literally cried Verizon cloud lost all my pictures. And then proceeded to tell me that I never had pictures. There was over 4,000 pictures from the last 5-7 years gone and I'll never get them back. Don't waste the space on this app. Just do your normal phone back up and download Shutterfly or google photos
Pictures
iPhoneuser8675309!
on
10/18/2017
Saved ALL of my sons newborn pictures, and for that I will be forever grateful
Cloud is hype
SouthWestStrokers
on
10/14/2017
Anything involving a "cloud" seems to fail. Even some games use a cloud and they loose data regularly. This is no different, backed up contacts before getting a new phone, would you know, the recent contacts don't exist. Important phone numbers are gone. Quit with the cloud nonsense and you will quit failing. Update: There are actually no phone numbers I can directly go through to talk to a person needs the phones keep making me put in a pin and resetting my account pin screwing up everything.
Gotta Have This!
TVCDutchman
on
10/14/2017
Absolute necessity to have a secondary back-up to Apple. Risks, at least for me, are just too high not to. Inexpensive, fast, easy.
Quite satisfied with Verizon Cloud
X-is-10-she'll
on
10/13/2017
Apple started charging me for extra cloud space. Verizon Cloud backs up my stuff at no extra cost. It does take a long time but so be it. I think part of that issue is due to where I live. At least my contacts, music and memories are safe.
This App is Trash
I don't even know how to use this thing. I opened it to try and back up my phone before getting it repaired. I have an iPhone 6s, it works fine except for the fact that I cracked the screen yesterday. Backup Assist is now obsolete, but it was easy to use.
Too Much Clutter
Clayton Ezell
on
10/10/2017
This app was designed with too much stuff. All the stuff going on at the same time takes away from what it is meant to do: backup.
Easy to use
NatteyNatter
on
10/10/2017
First time using it because I finally had enough room in my phone. Yesterday I lost all my photos not sure how but the app was able to back up my contacts and the photos that are randomly left
App
Super Assessor
on
10/10/2017
So far, very good!
Great App!
I have an iPhone 7, and the app won't even pass the loading screen. No idea why it won't actually get into the app. App is fully updated as well as my phone. Update: I click on the app to open it and it starts to load. Once I leave the app and immediately try and go back in, then I'm able to pass the loading screen. Odd that's what I have to do, but at least it works. 3 stars until that bug is fixed and then a 5 star. Update: No more issues with the app. I'm able to click it and it finally enters the app with no issues. No longer have to leave the app and open the 2nd time to make it work. Finally!!!
Best app on the market
Love how easy it is to backup my stuff with ease best app available
Backed up all my photos.
Live that they backup all my photos and videos for free.
Fact Sheet
Publisher:

Verizon Wireless

Category:

Productivity

Released:

May 16, 2013

Current Version Released:

Nov 06, 2017

Version:

17.5.10

Size:

121.8 MB

Compatibility:

Requires iOS 9.0 or later.

Recommended Age:

4+

Game Center Certified:

No

Supported Devices:

iPad2Wifi-iPad2Wifi, iPad23G-iPad23G, iPhone4S-iPhone4S, iPadThirdGen-iPadThirdGen, iPadThirdGen4G-iPadThirdGen4G, iPhone5-iPhone5, iPodTouchFifthGen-iPodTouchFifthGen, iPadFourthGen-iPadFourthGen, iPadFourthGen4G-iPadFourthGen4G, iPadMini-iPadMini, iPadMini4G-iPadMini4G, iPhone5c-iPhone5c, iPhone5s-iPhone5s, iPadAir-iPadAir, iPadAirCellular-iPadAirCellular, iPadMiniRetina-iPadMiniRetina, iPadMiniRetinaCellular-iPadMiniRetinaCellular, iPhone6-iPhone6, iPhone6Plus-iPhone6Plus, iPadAir2-iPadAir2, iPadAir2Cellular-iPadAir2Cellular, iPadMini3-iPadMini3, iPadMini3Cellular-iPadMini3Cellular, iPodTouchSixthGen-iPodTouchSixthGen, iPhone6s-iPhone6s, iPhone6sPlus-iPhone6sPlus, iPadMini4-iPadMini4, iPadMini4Cellular-iPadMini4Cellular, iPadPro-iPadPro, iPadProCellular-iPadProCellular, iPadPro97-iPadPro97, iPadPro97Cellular-iPadPro97Cellular, iPhoneSE-iPhoneSE, iPhone7-iPhone7, iPhone7Plus-iPhone7Plus, iPad611-iPad611, iPad612-iPad612, iPad71-iPad71, iPad72-iPad72, iPad73-iPad73, iPad74-iPad74, iPhone8-iPhone8, iPhone8Plus-iPhone8Plus, iPhoneX-iPhoneX,

Supported Languages:

English;