Screenshots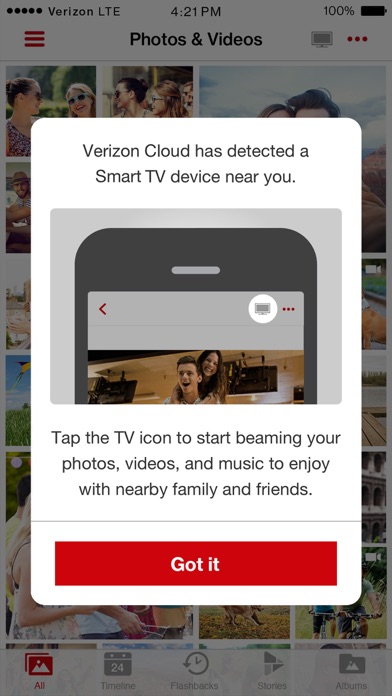 New in version 17.4.7
We listened to your valuable feedback. Check out what's new and rate Verizon Cloud on the App Store.
●Updates were made throughout the app to make it even easier to interact with your content
●Bug fixes and performance improvements


View the complete Terms & Conditions at: http://www.verizonwireless.com/support/cloud-legal/
Description
New Verizon subscribers: Download and install the Verizon Cloud app on your iPhone for a 30-day Premium trial. Verizon Cloud Premium lets you back up your contacts, photos, and videos to secure cloud storage, so you won't lose your important content if you lose your phone. You can opt out of the trial at any time during the 30 day period and enjoy free 'Contacts Only' support, or continue using the full service at $5/month for 500GB of storage.

With Verizon Cloud Premium on iPhone, you can:
• BACK UP your phone's content to your secure cloud storage
• SYNC your devices - ACCESS your content when you need it, from your iPhone, iPad, on the web, or from any other Verizon Cloud compatible device
• EASILY MANAGE your Verizon Cloud account and plan
• CREATE & ORDER PRINTS & GIFTS using your favorite photos
• EXPLORE FLASHBACKS – Relive your memories from past years with Cloud's weekly Flashback feature
• DISCOVER STORIES – View & share albums that are automatically generated using your best photos and videos
• BEAM TO YOUR TV – Share your pictures, videos and music with family and friends on the big screen
• SHARE select media content using your favorite native apps

*Data charges apply.
The Verizon Cloud app can be downloaded and used on both iPhones and iPads. Go to www.vzw.com/cloud for the complete list.
iPad Screenshots
Reviews
Total Garbage App
Another Frustrated parent
on
9/25/2017
When I try to set it up, I get a message that reads "invalid e-mail format specified". There is no directions on how to correct it; I don't see a way to fix it. So, I am stuck and cannot do anything. What a POS!!!!!
iCloud
334ClrGrps091
on
9/25/2017
Great app
Won't load
I tried to get into the app and it either bugs out and makes me go back to the home screen or it gets stuck loading :/
Not happy
I'm not happy that you can't delete contacts other than that it's a great app
Lifesaver! Five thumbs up!
Saved and secured all my pictures when I thought they was all deleted. Great job to the app.
Not working
Why is this app not working after upgrading to iOS 11? Come on and get this problem fixed please.
Great way to back up storage
I'm not very tech savvy and I'm horrible at technology. This is a great way to back up storage!
Used to work
Madeline's Mommy1
on
9/22/2017
I've had this app for a long while, worked fine, but the last few days it will not load. Just keeps spinning. Very disappointing. If gets fixed will be happy to give 5 stars!!!
Simply the best
My phone was stolen and so many pics I miss
Love it!
The app is great! I was running out of storage on my phone and couldn't make back-ups so I downloaded the app and it worked great!
Have never seen it work
Had to download this app to replace the verizon backup assistant. The app has never opened. You would think these things would be tested before they were put out.
App gone bad
Giant Cyclist
on
9/21/2017
This used to work well, now it won't open, hour glass just spins forever. Deleted & found something else.
Tonia
Supergirl 1974
on
9/21/2017
I always use Verizon cloud! I love it! I use it for pictures and other things
Great
Not much to say backs everything up and displays it nicely👍🏻
App wont load at all since iOS 11
The app won't even load (just stays on the loading screen for ever) since the new iOS 11 update. Please fix this as I use it to keep my photos backed up. Thanks
Essential...
BoA Customer Thru the Years
on
9/21/2017
...to a operational phone !!!
Tiffany slawski
The Bomb Mom Of Two Bombs Too
on
9/20/2017
I have been with Verizon (they were Mountain Bell Wireless then) since 1999. Things have changed so much since in a wonderful way. How great to have a separate cloud ☁️ it makes managing pics and things so easy.
Great app
I just bought a note 8 and had to transfer over 4500 photos, it took a minute for it to complete but I kept thinking oh boy it's going to crash when it's almost done and I'm happy to say that it worked perfectly thanks
Senior user
Color sensitive
on
9/20/2017
I am 73 and not so tech savvy so this is so easy and perfect for me
App keeps failing
Every single time I open the app, it gives me the loading symbol & soon as Everything begins 2 load, it shuts down, & goes back 2 my home screen! HELP!!! I've closed the app & went back N2 it. Just got iOS 11.... my storage is full & I'm Trying 2 delete stuff on iCloud, to give me room, as I was doing when this began!
Cloud
Has been good for me.
Lost everything
I've been out of the country for work. I got home and opened my phone I left here and I've lost all my pictures, music and more that I had on the cloud and not only was it lost but I have to pay to open a new account now. Wow.....
Works well
Haven't had this for very long but so far so good.
Excellent backup app!
I love this app! Super easy to use! All of my phone's contacts and pictures can be easily accessed w/o taking up space on my iPhone. Thanks, Verizon, for a great app!
5 star
Blackeyetender
on
9/17/2017
Awesome!
Great back up tool!
Excellent tool to back up your most important information. Thank you!!
Verizon Cloud
I love the cloud by Verizon!! Everything right at my fingertips, one of the best apps ever!!!
Efficient!
A must have for all your important documents.. Easy to retrieve
Verizon ratting
Great app
Good service
Truth 1911 Q
on
9/15/2017
Great
Love ❤️
Lots of fun 7
on
9/15/2017
I love how easy it is to use. Wish the app would stay open while it is backing up. It stops backing up if it isn't open. Will give a 5 if you can fix this, because it is very easy to navigate and having access to backup photos and files. Definitely worth using. Just please make it an automatic backup and/or stay open while backing up. If it is automatic, I have no idea how to set it up. Hate iPhones. My Android was so much easier to use. Definitely been spreading the word about how good this app is. Never freezes up on me for the last 8 yrs. Use this app!!! Well worth it!!!
Better then ICloud
I like my Verizon Cloud much better then the iCloud, holds more and is much more dependable 😜
Mary Anne
Masullivan6111
on
9/15/2017
It took a very long time to complete the process. Be terrific if it was free too!!
Will not open
This app is useless, it will not stay open, every time I open it it just shuts down, update didn't fix the problem
App not working
App won't open. It just spins and says Verizon cloud. Please fix asap!!! Back up your contacts somewhere else until Verizon fixes this app.
Great App
You can't beat Verizon, they are always on the cutting edge of technology
Storage
This is a really good way to store your data and as a backup. It's really easy to access and use.
Love it!
Great app! Very easy to use.
Great apps
Bite sized girl
on
9/12/2017
Easy to use and very very useful to have.
Awesome app!!!
I love it 😍
App not working
App will not open. It just spins while displaying the words Verizon and cloud
Awesome!
I will never use any other method of extra storage!!!
Fact Sheet
Publisher:

Verizon Wireless

Category:

Productivity

Released:

May 16, 2013

Current Version Released:

Sep 07, 2017

Version:

17.4.7

Size:

116.6 MB

Compatibility:

Requires iOS 9.0 or later.

Recommended Age:

4+

Game Center Certified:

No

Supported Devices:

iPad2Wifi-iPad2Wifi, iPad23G-iPad23G, iPhone4S-iPhone4S, iPadThirdGen-iPadThirdGen, iPadThirdGen4G-iPadThirdGen4G, iPhone5-iPhone5, iPodTouchFifthGen-iPodTouchFifthGen, iPadFourthGen-iPadFourthGen, iPadFourthGen4G-iPadFourthGen4G, iPadMini-iPadMini, iPadMini4G-iPadMini4G, iPhone5c-iPhone5c, iPhone5s-iPhone5s, iPadAir-iPadAir, iPadAirCellular-iPadAirCellular, iPadMiniRetina-iPadMiniRetina, iPadMiniRetinaCellular-iPadMiniRetinaCellular, iPhone6-iPhone6, iPhone6Plus-iPhone6Plus, iPadAir2-iPadAir2, iPadAir2Cellular-iPadAir2Cellular, iPadMini3-iPadMini3, iPadMini3Cellular-iPadMini3Cellular, iPodTouchSixthGen-iPodTouchSixthGen, iPhone6s-iPhone6s, iPhone6sPlus-iPhone6sPlus, iPadMini4-iPadMini4, iPadMini4Cellular-iPadMini4Cellular, iPadPro-iPadPro, iPadProCellular-iPadProCellular, iPadPro97-iPadPro97, iPadPro97Cellular-iPadPro97Cellular, iPhoneSE-iPhoneSE, iPhone7-iPhone7, iPhone7Plus-iPhone7Plus, iPad611-iPad611, iPad612-iPad612, iPad71-iPad71, iPad72-iPad72, iPad73-iPad73, iPad74-iPad74,

Supported Languages:

English;