Productivity
Photo & Video
This version of the app is not recommended
App last updated
Dec 14, 2017
Screenshots
New in version 17.6.6
We listened to your valuable feedback. Check out what's new and rate Verizon Cloud on the App Store.
●Updates were made throughout the app to make it even easier to interact with your content
●Bug fixes and performance improvements

View the complete Terms & Conditions at: http://www.verizonwireless.com/support/cloud-legal/
Description
New Verizon subscribers: Download and install the Verizon Cloud app on your iPhone for a 30-day Premium trial. Verizon Cloud Premium lets you back up your contacts, photos, and videos to secure cloud storage, so you won't lose your important content if you lose your phone. You can opt out of the trial at any time during the 30-day period and enjoy free 'Contacts Only' support, or continue using the full service at $5/month for 500GB of storage.

With Verizon Cloud Premium on iPhone, you can:
• BACK UP your phone's content to your secure cloud storage
• SYNC your devices - ACCESS your content when you need it, from your iPhone, iPad, on the web, or from any other Verizon Cloud compatible device
• EASILY MANAGE your Verizon Cloud account and plan
• CREATE & ORDER PRINTS & GIFTS using your favorite photos
• EXPLORE FLASHBACKS – Relive your memories from past years with Cloud's weekly Flashback feature
• DISCOVER VIDEO STORIES – Create custom movies using unique filters and music with your favorite Cloud photos and videos
• BEAM TO YOUR TV – Share your pictures, videos and music with family and friends on the big screen
• SHARE select media content using your favorite native apps

*Data charges apply.
The Verizon Cloud app can be downloaded and used on both iPhones and iPads. Go to www.vzw.com/cloud for the complete list.
iPad Screenshots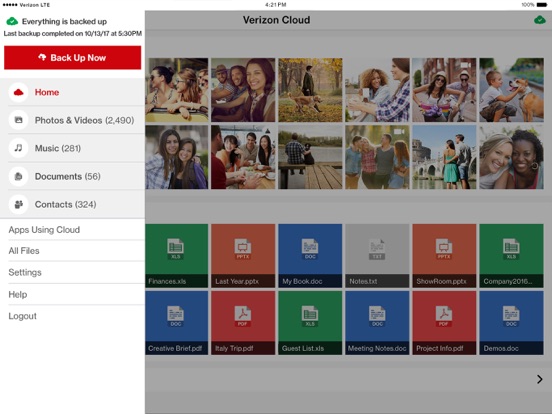 Reviews
Deleted all my photos!!!!!
I've been a Verizon customer for almost 14 years at this point and I'm so taken aback by this situation, I'm half tempted to take my business elsewhere. I had thousands of photos and now they are all gone due to not BUYING the premium version of a FREE app. I just opened my app up yesterday and all that was left was contacts. Way to go Verizon. Way to go.
Verizon cloud is going down feb 1,2018
Austin howells
on
1/23/2018
I going to sue Verizon they are getting rid of Verizon cloud the government is mad.
Keeping working.
Seems to work well enough. However, it stops uploading when you go to a different app.
Lost all my photos
One day all my photos were there and the next it's gone! Verizon's terrible support couldn't do anything!
Not happy!!!
Performed the update a few weeks ago. ALL OF MY PICTURES ARE GONE!!! And it's only allowing me to back up my contacts. I am not happy!!! Thousands of photos gone!!
Loving it
Mother of 4$$$$
on
1/21/2018
I really enjoy the cloud back-up and all the features the Verizon app offers. However, I would like to cloud some of my text messages.
Don't understand it....
What IS this Verizon CLOUD??? My contacts are successfully backed up, which is good .... But of the 8,000+ photos currently on my phone - only 1,000+ are in the Verizon Cloud!? ???????? Which ones??? Why?? And my phone tells me weekly, that my storage is almost FULL..... WHAT STORAGE?,..... why are all of my photos Not stored in the Verizon cloud?? I do NOT UNDERSTAND!
Deleted pictures.
Triciasticks
on
1/20/2018
I've had this app since the first time it was available. Now you've deleted all my pictures because it used to be a free app and now it's not? Thanks for that!
Update: Works like a charm
Since the update the app works great. It doesn't take long to upload photos & videos. A must have 😎👍
Keeps trying to backup old images
It took a while but I finally got all 13,000 of my photos/videos backed up into the cloud. But now when I want to go in and backup new images, it starts going through old images first like it's going to back them up again. I watch the old images go by as it says 1 min left and then it doesn't get to the new ones to download. It just sits there on old images or says everything is backed up and stops. But it doesn't download the new ones I took that day. What is wrong with this app???
Now Afraid
When I installed it, it wouldn't let me access it and told me my email wasn't a valid email and so there I sat. I was pretty angry because it keeps telling me to load my Nook books etc to the Cloud or I would lose them. That it would delete them. but won't let me in. So consequently I've never been able to get anything to move to it. I loved Verizon. I went in a local store one summer day when my phone was frozen on a bad app and I might have lost my phone. But when I went in the store the tech said hang on a minute, this can be tricky but I saw someone do it and it was great. So I waited and he brought my phone back a couple minutes later, working like nothing had happened to it !! And did NOT charge me or whatever. Yayyy Verizon!! So what happened??? AND DEVELOPERS....I don't want you to give me the same blah blah answer you gave everyone else. That's not acceptable. You are the BIG BAD VERIZON CLOUD !!! Come on....Get a grip and get it together. We would like to use this app, which could be very handy if people could actually use it properly. Me Being Kind of Disgusted with the WHOLE DEAL.
Love, Love , Love this app
Love this app!!! Easy to use!
Garbage
This app is worthless 777 minutes to upload 75 pictures and 3 videos and it tells me I have no access to contacts. What's the point?
Horrible app! Worthless junk!
This is the worst app I have ever used!! I'd rather give it 0 stars!! I went to access my contacts as a backup since Verizon's backup assist is no longer available. Backed up my contacts. Then had to get a new phone at the apple store and went to pull off my contacts from backup and it said nothing was backed up!! This app is worthless!!
Was Free...now it won't be
It is absolutely ridiculous that this app was once free, but now that they see people are using it...they'll be charging for it monthly. If you do not pay monthly, they will delete the pictures you have been storing (FOR FREE) over the past years... Disgusting move Verizon, I'll be using a different service now
Don't use it!!!!!!!
dontuseit!!!!
on
1/9/2018
Don't use it!!!!!!
Broken
The app is broken. After a day it displays a white screen. Useless like this.
Great app
Great app for backup! It doesn't require a WiFi connection. It's just real slow. Sometimes it fells to backup. Thanks
This is a MUST for your cell phone
I love this app. I have all my recipes and business documents at my fingertips. I can be on a job and pull up contracts. It is fabulous. Plus it holds all my pictures and it frees up my phone. I love it
Terrible
Doesn't work... just keeps adding time. Come back to it a day or two later: same thing. Keeps adding time and never finishes. It's broken garbage that doesn't even keep backup running in the background. Also, the same canned response people are getting in reply to their negative reviews only shows that Verizon doesn't care and doesn't get it.
Opt out feature hiding!
Trying to opt out of this "free trial" but no clear way how to. Please help.
I love it but...
I will give it a 5 star when it speeds up, Also when my phone goes to sleep it stops uploading. I have unlimited data (grandfathered in) and I pay more so it shouldn't be so slow. Other than that It's sweet to be able to back up photos without paying for the app like Dropbox which I also pay for just to upgrade to have 500gb I take A LOTTTT of phones and make videos so I need all the speed and storage I can get.
Force closes
It is continuously force closing
Sorry excuse for a back up app.
This app is about the worst most unstable app I have ever used often fails, provides NO reliable information on what it is doing and the progress it is / has made or how much is left to backup and the time remains to complete is just nuts.
Never works
Meesha!!1213
on
12/30/2017
I have had more trouble with this app, more than another, locks up and then I have to reboot several times to get it to work
Loving this app
Really love this app, had to replace my device twice due to water damage. But after each replacement my stuff was fully available from my V-Cloud back up. Thanks!
Photo download / storage
Redheadedgirl2
on
12/25/2017
Love it! I have the iPhone 6p (64gb). It takes no time at all to back up and store my photos. It doesn't do my music though. Don't know why it say there is none. Maybe I'm not doing something right? I also notice you can stream to TV? Don't know how to do that either. I'm somewhat tech savvy but at 67 not completely tech savvy.
Frustrating
MySharona0725
on
12/24/2017
I agree with KerryOk5 . The App bounces around in timing when backing up. Then will say it hasn't been backed up in months.. followed by a few hundred files are still pending upload. I have the latest App version. I give up.
Waited long enough
Verizon cloud did not work for my iPhone. After several attempts and hours past, my phone is still not backed up. I'm opting out.
Auto 30 Day Free Trial
Sharmrock26
on
12/20/2017
What the heck... this is the most stupid app ever!! I download the app and it auto enrolls me in a 30 day free trial. After the 30 day's I'll be charged a fee. No consent whatsoever!! I checked the help page to cancel this free trial and it would not load the help page or the responses. How do you cancel this??? Ugh!! Annoyed!!
Can always be better. But that takes a desire to truly improve the app for users.
StreetDocLR
on
12/18/2017
I haven't had a single issue... but there are several ways I've seen that Verizon could make using it a bit easier. We'll see.
Verizon screws us over yet again
Now Verizon wants to charge us for the formerly free 5 gb of storage, unlike their more generous competitors. They've pulled this kind of thing, time and again.
Doesn't even save my pics or music to the cloud!
Doesn't save anything to the cloud but I keep paying!!!! WTH. Verizon needs to fix this ASAP!
Awesome
I'm In luv with the way you sync your pics. Thank you
iCloud not backing up
BellaElla88
on
12/12/2017
So I don't know what's going on with the app... but it says it's "backing up my photos" and then a minute later it's done... no photos are backing up. I can't delete photos off my phone either because they won't back up and I don't want to lose them. Never had this problem until I downloaded the new update. So irritated.
Learning
I'm still learning how to effectively use the iCloud.
Cloud
My Verizon Cloud is stuck or frozen keeps saying continue and nothing cannot use tried removing all together takes me to same spot
100% Worth it!!
JulieMoore719
on
12/11/2017
Just recovered all of my pictures with this app. If you have special photos that are not backed up to a safe hard drive you could loss all of them and if so, this app will save the day or year for you.
Does not work when transferring contact
You had one job Verizon cloud, and that was to make it easy on me to transfer my contacts from one iPhone to another. Ugh
Update
Moorhead cowboy
on
12/11/2017
This stupid new update will not load 😡
Verizon cloud
60's Rock Star
on
12/11/2017
Keep getting text from Turkey. Bad form Cannot block caller Need to use USA employees Minus 10 stars
WTH
This app is doing just what it shows on the icon....going around and around. It has been doing it for 6 f'n days! Draining the battery but not loading. I didn't want to have to delete it because I pay my Verizon bill with it. I tried turning off the automatic update and tried a soft reboot. I'm using an iPhone 6. Hey developers....if I don't pay Verizon, they don't pay you!
I am only commenting on price and to explain other customer review...
People don't realize that with iOS 11, and ONLY on phones containing A10 or A11 Bionic chip (which for laymen means iPhone 7/7s, iPhone 8/8s and iPhone X) a new picture format was introduced, replacing jpeg called HEIF. It allows you to save a picture in 1/2 the file size and preserve identical quality. Great,right? Well... issue arise SYNCING to devices AND APPS not supporting HEIF and it's SUPPOSED to revert picture back to jpeg to store when say "moving an HEIF pic to DropBox or likely Verizon's Cloud App." But... while that is trying to happen, it's depending on your settings, it's likely trying to also sync those pics to your spouses possible iPhone 6S Plus with an A9 chip which ALSO needs it converted to jpeg. It's lots of things going on and as a side note their was ANOTHER format "HEVC" (10bit specifically) for VIDEO PLAYING that ALSO saves videos in 1/2 the file size preserving same quality except for VIDEO, and while an iPhone 6S/or 6S Plus or (any A9 chip device) can SAVE the video in that format (unlike HEIF pics which it can NOT SAVE) it can PLAY these HEVC videos. THEN.... there is also the new "Live Photos" introduced on certain newer iPhones in iOS 11 which are essentially short 3 sec video chips which could also be saved as HEVC 10bit H265 video or not and still be H264 (truly I have not researched) but A8 chips can't even PLAY HEVC because despite Apple including hardware that could, they'd just have to pay a retroactive patent fee on EVERY iPhone 6/6+ and instead chose to cut support off at the A9 iPhone 6S/6S+. This also explains why your last A8 containing Apple TV 4th gen could NOT PLAY HEVC required for 4K content as well. (and still can't). Thing is, that "1/2 file size" is NEEDED to save/play 4K b/c they are too large for H264, but people use it to save space shooting 720p & 1080p in HEVC 10bit H265 and it won't play that either. Bottom line is not doubt currently saving pics and video to cloud storage and have it be also be PLAYABLE this isn't as simple a process as people might think, especially when also syncing across multiple iPhone devices, some which support newer formats and some that require it be change to even RECOGNIZE it as a file at all, let alone display or play it. Undoubtedly there must be some bugs people are experiencing because of all the things I said above, but the other reviewer doesn't understand and iPhone is not an iPhone. iPhone 6/6+ especially is lacking lots of things A9-A11 chips can do and the way us does things. Even way it accesses solid state memory changed with the A9 devices so when a technician asks "What type of device are you running?" There is actually a good reason and even A9 devices like iPhone 6S/6S+ only possess partial abilities of A10 & A11 containing devices and all this matters greatly. It's confusing, I get it. It's advancing things forward and TRYING to support older iOS devices ironically while also supporting multiple PLATFORMS like Android etc too, that are at it's root when building cloud storage, toss in syncing to older devices that can't share same formats undoubtedly complicates things and it's a work in progress.
Great App
i've been using the app for a long time and love the fact that i can have another storage location other than iPhone Cloud.
What a joke
You guys trick people into "signing" up for this service and then won't allow people to delete it through the ACTUAL Verizon app. Instead you make us download this app to show your shareholders how "successful" you are. You guys are becoming real pieces of $#!+
Most Interesting
I love how stories are out together in the right order with music, that's awesome. This is always interesting to me and I enjoy it very much, thanks.
Awesome app
I like this app Always working perfect in both devices
Worst
CarrollNewby
on
12/7/2017
Worst cloud app I ever encountered. And I just got a email saying it was ending and we had to pay for it now, I had to go back and look cause I haven't been on it in years to see if there was anything important and it was so laggy pulling up the pics, when I'm on boss WiFi and been doing other things so I know it's not me, that I just was like forget it I'll lose em. I'm sure this app is done.
Doesn't work.
I can't get past the Terms & Conditions page. It won't let me press "accept."
Fact Sheet
Publisher:

Verizon Wireless

Category:

Productivity

Released:

May 16, 2013

Current Version Released:

Dec 14, 2017

Version:

17.6.6

Size:

121.2 MB

Compatibility:

Requires iOS 9.0 or later.

Recommended Age:

4+

Game Center Certified:

No

Supported Languages:

English;