Screenshots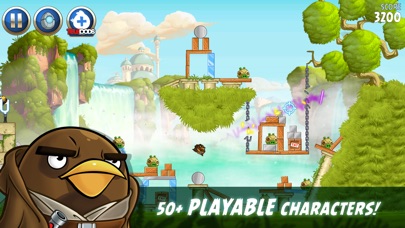 New in version 1.9.22
We used the power of the Force to fix some minor issues and make your Angry Birds Star Wars II experience even better! Thanks for playing!
Description
The Force is strong with this one. Get ready for Angry Birds Star Wars II – the epic follow-up to the #1 smash hit game! Based on the Star Wars movie prequels, use the Force for good against the greedy Pork Federation or choose a much darker path. That's right; for the first time ever you can "Join the Pork Side" and play as the fearsome Darth Maul, Emperor Palpatine and many other favorites!

JOIN THE PORK SIDE! For the first time ever play as the pigs! Wield Darth Maul's double-bladed Lightsaber, or play as Darth Vader, General Grievous and other villains!

30+ PLAYABLE CHARACTERS! Our biggest line-up ever of playable characters – Yoda, pod-racing Anakin, Mace Windu, Jango Fett and many more!

TELEPODS! A groundbreaking new way to play! Now teleport your favorite characters into the game by placing your Angry Birds Star Wars Telepods* figures on your device's camera!

BECOME A JEDI OR SITH MASTER! So many Bird and Pork Side levels to master, plus a bonus reward chapter and a ton of achievements to unlock!

SWAP CHARACTERS AS YOU PLAY! Switch characters in the slingshot at any time – yours to earn or purchase!

ToonsTV READY TO GO! The home of the hugely popular Angry Birds Toons animated series, plus many other top-quality videos!

Follow @angrybirds on Twitter

Watch the videos, read the comics and submit fan art at angrybirds.com/starwars

Like us at facebook.com/angrybirds and say hello!

Terms of Use: http://www.rovio.com/eula
Privacy Policy: http://www.rovio.com/privacy

*Availability varies by country. Angry Birds Star Wars Telepods sold separately and are compatible with select mobile devices.

Important Message for Parents

This game may include:
- Direct links to social networking websites that are intended for an audience over the age of 13.
- Direct links to the internet that can take players away from the game with the potential to browse any web page.
- Advertising of Rovio products and also products from select partners.
- The option to make in-app purchases. The bill payer should always be consulted beforehand.
iPad Screenshots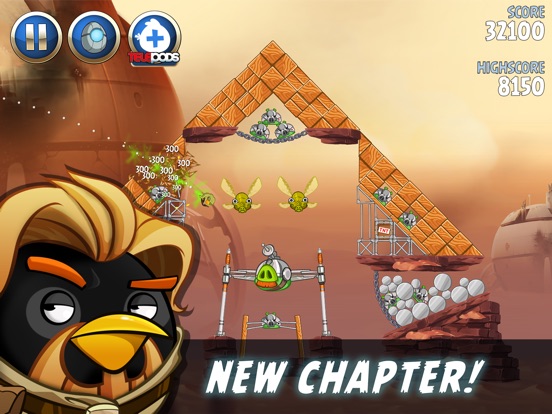 Reviews
Want more coins
wasteoftimeforsure
on
10/16/2017
It's hard to earn coins to buy more characters in the game I might buy the coins but I've been told it's a waste of money I have a cool idea ware at the end of each world thar would be a bonus level with golden pigs and blocks and if you bust them you get more coins 🕹
Ads ads ads
Give me a way to purchase the game as to get away from the Ads!
Hard but awesome and perfect
I love this and it is creatively designed and how the characters are because it looks like they are just marbles trying to knock down walls and pigs with superpowers and stuff
Awesome game
BananaBoy742
on
10/10/2017
Pls make a 3rd game that includes all of the movies and add rogue one and the force awakens and make it so characters are only playable in the move they belong to
Awesome at first
I loved the game at first and I still play it all the time(manly because it doesn't need a lot of wifi)But when I run out of birds or pigs I either have to pay 80 coins or wait at least 7 hours!#NOT COOL 😎
Disappointing
Whos Hyperion
on
10/5/2017
It's sad how one of the app stores once best games has gone so low to being a ad spam game just to make a few extra bucks every 2 games there will be a ad that pops up and can't close it for 30 seconds
Make an update or game of angry birds that includes the force awakens and rogue one.
You should make a new game or a new update that includes a story for rogue one or the force awakens.
Very good angry bird game
Deadpoolgaming27
on
10/1/2017
It was a great game but they should add more levels
Awesome game
Never disappointed
Soooo addicted
Gorgelasdanchart ufghf
on
9/29/2017
This game is really fun and worth getting, recommend this to all angry birds fans
More levels please-
Want moar lvls
AB STAR WARS
STUUUPID WILD WELCOME TO THE PORK SIDE 💯
Good just one problem
noobster98765
on
9/17/2017
I love this game. I would play it everyday but there is way too many ads,plz fix that in the next update, thx and I'm out
Turning into a junk game with ads
I can't get past all the stupid ads. Seriously, some of the ads crash the app and start me back where I left off, but have to go through the same ads again and it crashes. This app is turning into junk status with the frequency of ads. I would understand if the game was completely free with no in-app purchases, but this is getting worthy of ridicule.
Ads and never ending pay to play
Buy a handful of characters and sit down to enjoy some ads! Want to buy the game? Nope, free to play!!! 👍🏼
Best games ever
I have so much fun playing this game way better then all!
Dude!!
Harythebeast82747
on
9/13/2017
OMG enough with the ads. I get an ad every time I go onto the next level AND every time I restart a level. The ads frustrate me more than the game does. ABOLISH ADS!!!
A D S
Angriest of all the birds
on
9/12/2017
Seriously? Rovio you have ruined a game by making it this "freemium" nonsense. I was in the middle of a level, bird in the air, and wham! An ad for some monster game comes up. I'm trying to play Angry Birds, not watch the Super Bowl. I was feeling some sense of nostalgia and decided to play AB again, only to be more heated than all those birds are. Bye guys. It's been real. I'm gonna play some Chicken Invaders.
Good fun!
Best game to pass the time when waiting for a flight.
Come on rovio, do something
The game is great but.. Uhh COME ON, There is any way to Get Rid of this boring 30 second ads? I bet you need to turn back the In-App Purchase🤔😤 And the last thing is: Did this game really ends or it won't continued anymore? I mean add some new story levels
The invasion of ads
Like the game but it's hard to enjoy if you're playing one level and there's an ad every level you advance?! Annoying!
Would like to rate ZERO stars! 👎🏼👎🏼👎🏼👎🏼
The ADS are INCESSANT and NOT KID-FRIENDLY! There are SO MANY ADS that the game is practically UNPLAYABLE! SHAMEFUL!
Too many ads
I have no problem with ads unfree apps, but this has so many ads the game is unplayable.
Doesn't open
Can't play on iPhone because it backs me out immediately.
Too many ads
Not worth watching the ads.
It crashes!
I love the game but every time I open the game it crashes
Too many Ads!!!
drawing prince
on
8/29/2017
Game is almost unplayable due to Ads popping up in the middle of a bird in flight. It is ridiculous. I would not have purchased this app if I knew this was going to happen!
Good game
VideoGameMaster1X
on
8/29/2017
It is a good game and one of the best puzzle games I have seen
STOP THE ADS!
I PAID for an AD-FREE game! Until it is ad-free again, I will not purchase anything from Rovio.
Ads
385738;$$188;!288;
on
8/29/2017
What's with the inescapable ads. Advertising your own games is ok, but other ads that forces you to watch them is not ok. Sellouts
Too much long ads
It could be one of the best but probably will delete it soon due to those long freaking ads every ten seconds!! Seriously do you even care what apple think and review here?
Great game
I love to play Angry birds series. This was hot game play, 3D effects are great in this game.
What happened
Why do u have to buy birds now? UGH IM DOWNGRADING
To Rovio
You guys just lost my respect with this game. Because you decided to let commercials get involved with this beloved game of mine. So I decided to delete this again because of the stupid ads. Good day.
Ads
NightFeverCBJ
on
8/19/2017
How can you imagine anyone enjoys this game with it constantly held up with ads. The ad watching to get a prize at the beginning is expected, but the ads during game play is ridiculous and time consuming without any redemption.
Game is fun but I hate ads!!
Game is fun but I hate ads!!
Ads are Out of Control
Chaplain Thomas
on
8/15/2017
Too many ads, I'd pay .99 to make them go away. So annoying it's no fun to play.
Angry bird Star Wars 2
Love it! Super fun game
Crashes
Book of Mormon 4 life!
on
8/15/2017
Great game when it works but most of the time it crashes on the main loading screen. Also way too many ads. I paid for this app a couple of years ago. There shouldn't be ads for paid games
Keeps crashing after second chapter!!!!!
👎👎👎
Ugh
bad axe game
on
8/12/2017
I really like the game but even while I'm playing more and more stupid adds keep popping up please get rid of them
To many ads
I will be deleting this game the ads are unbearable.
Too many ads!
This game is pretty difficult to play but fun, just stop the million ads.
Noticing less ads now
jeremiah.doherty
on
8/6/2017
Signed in with a Rovio account and there are fewer ads so far.
Coins
Add a level or something to make it easier to get more coins. It's hard trying to save up to get permanents of my favorite characters. I would just buy coins, but I'm told that's a waste of money. So, please, make it easier to get coins
You guys are unbelievably greedy
Craig Mack 10
on
8/3/2017
You kidding me rovio ? you see your last 100+ reviews ? All about your shi*ty, invasive adds that you decided to add. Not only are there ads during game play but it's way more often than necessary. Guess what I'm uninstalling immediately after publishing this review ? Apple really need to give the option of giving zero stars.
Crashes
Not nearly as fun to play as the first star wars angry birds game. I don't know why, but this one just feels sort of drab to me. Must be the curse of the prequels.
Fact Sheet
Publisher:

Rovio Entertainment Ltd

Category:

Games

Released:

Sep 18, 2013

Current Version Released:

May 22, 2017

Version:

1.9.22

Size:

226.8 MB

Compatibility:

Requires iOS 8.0 or later.

Recommended Age:

4+

Game Center Certified:

No

Supported Devices:

iPad2Wifi-iPad2Wifi, iPad23G-iPad23G, iPhone4S-iPhone4S, iPadThirdGen-iPadThirdGen, iPadThirdGen4G-iPadThirdGen4G, iPhone5-iPhone5, iPodTouchFifthGen-iPodTouchFifthGen, iPadFourthGen-iPadFourthGen, iPadFourthGen4G-iPadFourthGen4G, iPadMini-iPadMini, iPadMini4G-iPadMini4G, iPhone5c-iPhone5c, iPhone5s-iPhone5s, iPadAir-iPadAir, iPadAirCellular-iPadAirCellular, iPadMiniRetina-iPadMiniRetina, iPadMiniRetinaCellular-iPadMiniRetinaCellular, iPhone6-iPhone6, iPhone6Plus-iPhone6Plus, iPadAir2-iPadAir2, iPadAir2Cellular-iPadAir2Cellular, iPadMini3-iPadMini3, iPadMini3Cellular-iPadMini3Cellular, iPodTouchSixthGen-iPodTouchSixthGen, iPhone6s-iPhone6s, iPhone6sPlus-iPhone6sPlus, iPadMini4-iPadMini4, iPadMini4Cellular-iPadMini4Cellular, iPadPro-iPadPro, iPadProCellular-iPadProCellular, iPadPro97-iPadPro97, iPadPro97Cellular-iPadPro97Cellular, iPhoneSE-iPhoneSE, iPhone7-iPhone7, iPhone7Plus-iPhone7Plus, iPad611-iPad611, iPad612-iPad612, iPad71-iPad71, iPad72-iPad72, iPad73-iPad73, iPad74-iPad74, iPhone8-iPhone8, iPhone8Plus-iPhone8Plus, iPhoneX-iPhoneX,

Supported Languages:

English;