TapNova doesn't recommend this version of the app.
New in version 1.9.22
We used the power of the Force to fix some minor issues and make your Angry Birds Star Wars II experience even better! Thanks for playing!
Description
The Force is strong with this one. Get ready for Angry Birds Star Wars II – the epic follow-up to the #1 smash hit game! Based on the Star Wars movie prequels, use the Force for good against the greedy Pork Federation or choose a much darker path. That's right; for the first time ever you can "Join the Pork Side" and play as the fearsome Darth Maul, Emperor Palpatine and many other favorites!

JOIN THE PORK SIDE! For the first time ever play as the pigs! Wield Darth Maul's double-bladed Lightsaber, or play as Darth Vader, General Grievous and other villains!

30+ PLAYABLE CHARACTERS! Our biggest line-up ever of playable characters – Yoda, pod-racing Anakin, Mace Windu, Jango Fett and many more!

TELEPODS! A groundbreaking new way to play! Now teleport your favorite characters into the game by placing your Angry Birds Star Wars Telepods* figures on your device's camera!

BECOME A JEDI OR SITH MASTER! So many Bird and Pork Side levels to master, plus a bonus reward chapter and a ton of achievements to unlock!

SWAP CHARACTERS AS YOU PLAY! Switch characters in the slingshot at any time – yours to earn or purchase!

ToonsTV READY TO GO! The home of the hugely popular Angry Birds Toons animated series, plus many other top-quality videos!

Follow @angrybirds on Twitter

Watch the videos, read the comics and submit fan art at angrybirds.com/starwars

Like us at facebook.com/angrybirds and say hello!

Terms of Use: http://www.rovio.com/eula
Privacy Policy: http://www.rovio.com/privacy

*Availability varies by country. Angry Birds Star Wars Telepods sold separately and are compatible with select mobile devices.

Important Message for Parents

This game may include:
- Direct links to social networking websites that are intended for an audience over the age of 13.
- Direct links to the internet that can take players away from the game with the potential to browse any web page.
- Advertising of Rovio products and also products from select partners.
- The option to make in-app purchases. The bill payer should always be consulted beforehand.
iPad Screenshots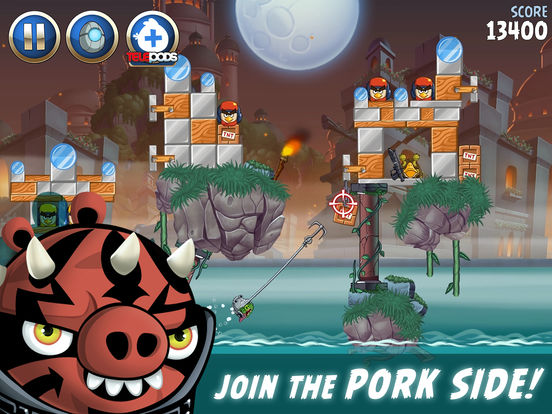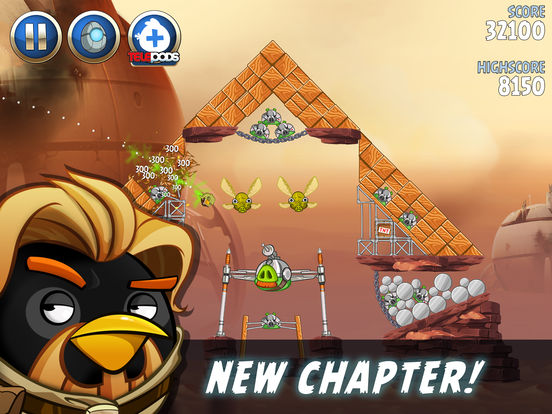 Reviews
Awesome game
rixtoyfoxdfifiid
on
6/25/2017
I love it that we can watch a video to get 5 credits by watching a video I love that it's a little more helpful then I thought but I'm glad you did that in the recent update please always lets get credits by watching a video it's really helpful and exciting peace
To short
I finished in a couple of days so if you can make it longer it would be 5 stars
Angry Birds Star Wars Ii
I have immensely enjoyed this game, however the constant ads make it impossible to play. It was actually working great until I made the mistake of updating. Won't be doing that again. Obviously, Rovno no longer wants anyone to play this game!
AB Fan, but app won't load
Can play game once after install, but subsequent attempts fail because game crashes. Introducing screen appears then dumps out. Big bummer!
To many ads!!
I was playing a min ago then strait in the middle of know were this ad pop up about a monster game I give a 1 star for a rating casuse of ads!😡😡😡😡😡😡👿👿👿👿 so mannnnnnny addsssssssssss👿👿😡😡😤
Commercials
I would of rated this a five star, but the commercials have gotten out of control. A commercial after every level is too much. Reduce the commercials or let me buy this game without commercials. Please get this under control. The other Angry Birds games are the same. Change it or Ill stop playing altogether.
My 9 year old loves this game.
The app is kicking him out while he's playing and it shuts off and the iPad.
Needing more levels
David
Angry bird Star Wars 2
Soldier murder
on
6/14/2017
When are you ganna put rouge one on it
Love it
MissAmanda21
on
6/14/2017
Great game, however sometimes I feel the features are a little too much... great thing is it's fun!
To Many Adds
Use to love this game- Going to delete it because of to many adds ☹️
Good game but I need more levels
Dj awsomenes
on
6/14/2017
I want to have more levels but all the updates are it's just fixing bugs maybe you could have some rogue one levels and/or force awakens levels and characters I like the levels but can we just we have more levels
Ad overload makes the game unplayable
crunchy ethef
on
6/13/2017
I understand ads, but this latest update has you spending more time watching or clicking past ads than game time. Poor ratio of ads to game play time means I will not play. I'm sure i'm not the only one
SO MANY ADS YOU CANT PLAY-
I just cannot even play! Hate this
Ridiculous amount of AD's
You would think this was a free game with the number and frequency of ads. Your kids are going to be frustrated.
Love it
This is so much fun and I just can't stop playing this app and even when I'm not playing the game I can't stop thinking about how much fun it is and how I can't wait to play it again
Hell no
bob its mebob
on
6/12/2017
It gave me one star
Long commercials
Great game, but commercials are too long. Ten seconds should be enough to let me know if I want it.
Ads
So many ads it's not even worth playing
Issues
obvious fish
on
6/10/2017
I just started noticing that whenever I open it, it asks me to rate but then closes me out and that makes me mad please fix the problem rovio
Ad heaviest app I've ever used
Title says it all.
Cool
Great game, but less ads please.
App inoperable
Foxtrotalphatango1
on
6/6/2017
The app quits abruptly on the loading screen, and will not remain open. I have uninstalled and reinstalled, the app, which worked once. It's not a permanent fix. I have to uninstall and reinstall every single time I want to use the app. Please fix this issue.
Way too many ads
The ads make the game barely playable
ADDDDDDDDSSSSS
If you are looking for a commercial ONLY app, this is perfect for you! This App pushes a different app or website every 45 seconds! The Star Wars edge is not worth downloading the game. Also! This app is like all the angry bird apps, PAY FOR PLAY! Stay away from this app, complete trash!
How to earn MONEY!
daring dany X
on
6/4/2017
If you start a level you can see little coins in the air or in water or behind the slingshot if collect them you can buy some characters. I've been collecting coins and buying characters. Have fun trying this game. WARNING.DO NOT log in rovio because somebody might hack your account. Just WARNING you
More levels
Please get more levels
on
6/4/2017
I just want more levels. The games great and here's why cool graphics,excellent caretakers,👍. But please get more levels 😭.
ADS in a PREMIUM PAID game
i paid for the premium version of this game long ago, and now it's nothing but ADS ADS ADS ZERO STARS
From Zachrapmaster
TheOneNdOnlyZachRapmaster
on
5/29/2017
Its was lit
😀😀😀
63625354555363654663
on
5/29/2017
So many characters!!😍😍😍😍
Great Game!!!
Love the characters & the difficulty levels.
Angry birds Star Wars ll
Awesome
Angry bird
Very good game
Leave me alone
Kuruma_killer
on
5/28/2017
Leave me alone
Lots of fun
Addictive fun. 😆
I love this game
Now you can buy characters. Awesome!
More levels
More levels like 4-6 at least please!!!!!!!!!!!!!!!!!!!!!!!!!!!!!!!! ( I am getting tired of playing the other levels over again)
Too many ads! Have to wait to play!
Donnavanzuylen
on
5/24/2017
Ads are all the time, every few minutes. One section, you have to watch ads to get more birds. It is really excessive. I think the games are not as good as Star Wars 1. The directions are not clear. There are banners describing things that pop up and are gone before I know what they said. I would not buy it again if I had to do it over.
AD-REMOVAL
ToddlerDad22
on
5/24/2017
My 5 year old son loves this game BUT having ADS come up after every level and the ads that appear is HORRIBLE. My son is having to turn the Ipad a different direction every 5 minutes so he doesn't have to watch COMPLETELY INAPPROPRIATE Ads as a 5 year old! AND There's no option to turn the Ad's off with ANY purchase - DOUBLY HORRIBLE!!
Fine
The game is fine, and adds are their choice, it's a free game. Their ARE a add free game
Dope
I'm not fond of games for phones. But this one is a deal breaker!
Favorite angry birds game!
It has so much you can do!!
Ads, ads everywhere
Excellent app....when you can actually play the game. I find myself quitting in frustration because of interruptions with ads. To have paid for this app is just adding insult to injury.
Can't play if you're watching ads!
Nightmaremuffin
on
5/21/2017
I understand that ads are a necessary evil, but this is out of control. I absolutely loved this game, but I can no longer bring myself to play it due to the endless barrage of ads. Major disappointment
So fun
Super fun have played 6 or 7 times
Not good
alphonsokirby67
on
5/20/2017
This game would be great if not for the ads ...
TOO MANY ADS!
This game is a really fun game... if you're playing offline. Don't get me wrong, the game has cool levels and characters but there are way too many ads. I can't clear one level without 1+ ads popping up. PLEASE FIX THIS!!! Also, it would be great if they could add more levels to the game. I know the prequel trilogy took a long time to make, but it would be really cool to see the Death Star get blown up by angry birds. However, FOCUS ON GETTING RID OF ADS! I would play this game way more if a 1 minute ad didn't pop up every time I restart. I'm close to deleting this game again (yes, again) if the ads stay. PLEASE GET RID OF THEM!!!
Ads ads ads
First day no ads except the ones I choose to watch to melt the carbonite. Second day in between every level and sometimes in between deaths I got ads. Constant ads. Game was decent but ruined.
Awesome
daroyalknight5
on
5/17/2017
This is awesome
Fact Sheet
Publisher: Rovio Entertainment Ltd
Category: Games
Released: Sep 18, 2013
Current Version Released: May 22, 2017
Version: 1.9.22
Size: 226.8 MB
Compatibility: Requires iOS 8.0 or later.
Recommended Age: 4+
Game Center Certified: No
Supported Devices: iPad2Wifi-iPad2Wifi, iPad23G-iPad23G, iPhone4S-iPhone4S, iPadThirdGen-iPadThirdGen, iPadThirdGen4G-iPadThirdGen4G, iPhone5-iPhone5, iPodTouchFifthGen-iPodTouchFifthGen, iPadFourthGen-iPadFourthGen, iPadFourthGen4G-iPadFourthGen4G, iPadMini-iPadMini, iPadMini4G-iPadMini4G, iPhone5c-iPhone5c, iPhone5s-iPhone5s, iPadAir-iPadAir, iPadAirCellular-iPadAirCellular, iPadMiniRetina-iPadMiniRetina, iPadMiniRetinaCellular-iPadMiniRetinaCellular, iPhone6-iPhone6, iPhone6Plus-iPhone6Plus, iPadAir2-iPadAir2, iPadAir2Cellular-iPadAir2Cellular, iPadMini3-iPadMini3, iPadMini3Cellular-iPadMini3Cellular, iPodTouchSixthGen-iPodTouchSixthGen, iPhone6s-iPhone6s, iPhone6sPlus-iPhone6sPlus, iPadMini4-iPadMini4, iPadMini4Cellular-iPadMini4Cellular, iPadPro-iPadPro, iPadProCellular-iPadProCellular, iPadPro97-iPadPro97, iPadPro97Cellular-iPadPro97Cellular, iPhoneSE-iPhoneSE, iPhone7-iPhone7, iPhone7Plus-iPhone7Plus, iPad611-iPad611, iPad612-iPad612, iPad71-iPad71, iPad72-iPad72, iPad73-iPad73, iPad74-iPad74,
Supported Languages: English;