Screenshots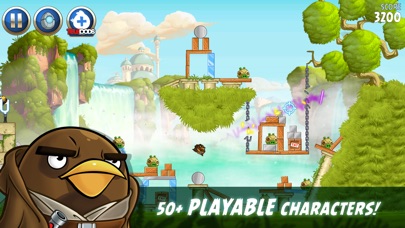 New in version 1.9.22
We used the power of the Force to fix some minor issues and make your Angry Birds Star Wars II experience even better! Thanks for playing!
Description
The Force is strong with this one. Get ready for Angry Birds Star Wars II – the epic follow-up to the #1 smash hit game! Based on the Star Wars movie prequels, use the Force for good against the greedy Pork Federation or choose a much darker path. That's right; for the first time ever you can "Join the Pork Side" and play as the fearsome Darth Maul, Emperor Palpatine and many other favorites!

JOIN THE PORK SIDE! For the first time ever play as the pigs! Wield Darth Maul's double-bladed Lightsaber, or play as Darth Vader, General Grievous and other villains!

30+ PLAYABLE CHARACTERS! Our biggest line-up ever of playable characters – Yoda, pod-racing Anakin, Mace Windu, Jango Fett and many more!

TELEPODS! A groundbreaking new way to play! Now teleport your favorite characters into the game by placing your Angry Birds Star Wars Telepods* figures on your device's camera!

BECOME A JEDI OR SITH MASTER! So many Bird and Pork Side levels to master, plus a bonus reward chapter and a ton of achievements to unlock!

SWAP CHARACTERS AS YOU PLAY! Switch characters in the slingshot at any time – yours to earn or purchase!

ToonsTV READY TO GO! The home of the hugely popular Angry Birds Toons animated series, plus many other top-quality videos!

Follow @angrybirds on Twitter

Watch the videos, read the comics and submit fan art at angrybirds.com/starwars

Like us at facebook.com/angrybirds and say hello!

Terms of Use: http://www.rovio.com/eula
Privacy Policy: http://www.rovio.com/privacy

*Availability varies by country. Angry Birds Star Wars Telepods sold separately and are compatible with select mobile devices.

Important Message for Parents

This game may include:
- Direct links to social networking websites that are intended for an audience over the age of 13.
- Direct links to the internet that can take players away from the game with the potential to browse any web page.
- Advertising of Rovio products and also products from select partners.
- The option to make in-app purchases. The bill payer should always be consulted beforehand.
iPad Screenshots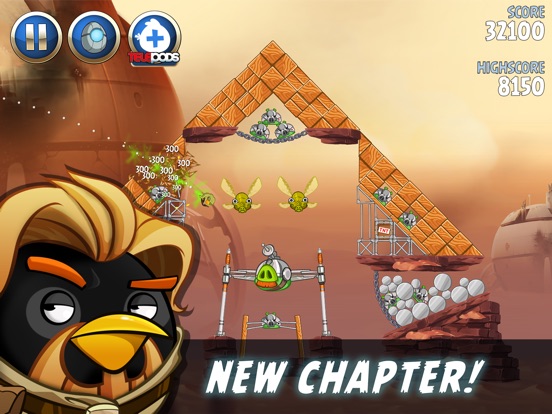 Reviews
Rovio doesn't listen...or care
After reading many of the previous reviews, and playing the game myself and getting these ridiculous ads, it's clear to me Rovio has no desire to, or care to make any changes to the game to get rid of the ad problem. And yes, it is a problem. No game I play has ads that pop up mid screen, making it so that you could be right in the middle of shooting, then ad pops up, essentially ruining the shot. I'm definitely done with this game. I guess Rovio's head gas gotten too big to actually listen to or give a crap about their fan base. Typical.
Needs less ads
Title says it all
Skip this game.
delete away
on
12/10/2017
If you like advertisements download away. If you want to play the game do it elsewhere. The ads are constantly popping up. Offer a pay version that's ad-free. Otherwise delete away.
Deleting this app
The pop up adds between rounds and levels are obnoxious. Isn't there a paid version we could spend money on and get out of the ads? I like the way this game plays but I am deleting it because I get so fed up with all the advertising. Just not worth my time.
Very disappointing
sweet sampson
on
12/6/2017
There are so many ads that it's not worth playing anymore.
Thumbs down!!!!!!
Too many ads to enjoy, frustrating!!
Love this game but the ads are absolutely ridiculous
I've tried to find a way to pay for this game. I'd pay $5-6 not to have to watch the entirely too long Garden Scapes ad after every single level or sometimes within the same level if I don't pass it. What a shame. I just can't bring myself to play it. Just when I get in a groove...ad!
Wayyy toooo many adds
Manny1284673
on
12/1/2017
Need I say more?
Dumb
You can't even play the game without credits
I want to love it
I really want to love this game but the ads drive me nuts! So much so that I'm probably going to quit playing. There should at LEAST be an option to upgrade to ad free.
Too many adds takes the fun out of the game
Mom to C A & C
on
11/27/2017
Used to like to play until earning three stars but the onslaught of long ad videos has ruined it. I hate that I have to delete a game because of all the irritating ads. At least make them every 15 -30 min. NOT AFTER EVERY SINGLE GAME sometimes
The game is nearly impossible
Popperflows
on
11/27/2017
This game is very hard and time consuming deleted within probably 2 days.
Paid for this app years ago
Wardog27372729
on
11/26/2017
I originally paid for this app and it has ads like it is a free version. That is theft!
Freezing during ads
I love this game overall & would rate it higher but the game freezes a lot during the ads. It has frozen on several of the ads but the latest ad I noticed this on was Star Wars: Galaxy of Heroes. Please fix.
Love it
dinggelberry
on
11/26/2017
I dont care about the ads cuz i sit and watch then anyways to get extra 5 coins to keep stacking on what i got ob that level i clear. But just one suggestion our pigs and birds should have power levels. Harder levels make it more interesting... haha but for real good game love the no life limit
Adds every where
Greg harelson
on
11/26/2017
This game will never be a 5 star game in till they fix the adds
Enuff with the ads. Anymore and I'm uninstalling
Soiledpanties590
on
11/25/2017
Fix it already
This bird is angry.
Unfortunately I used to love all the Angry Birds games but now I can't play them because I'm forced to sit through a minute-long ad for every 2-3 minutes of play. You can't close it out or skip it, either (although honestly that wouldn't help much if it still came up every two minutes.) This isn't a free app- I paid for it. I'll not patronize this company again until they remove the forced ads for paying customers. I might add that when I purchased these games, this never happened. Crappy move.
Ads make this unbearable
No way to purchase ad free version. Constant barrage of ads make this version of the Star Wars game completely unplayable. I'll probably uninstall if they don't change this annoyance
Ads make it unplayable
These ads can happen every other level, and they are not skippable! The old double tap trick and restart the game is faster than watching the ad, but even that gets annoying at this frequency. DELETE!
Waste!
This used to be a great game and I paid for the ad free version years ago. Now there's no way to get past watching ad after ad. What a waste:(
Angry birds is the dumbest idea since flying cars
Lockettgoblin
on
11/23/2017
Angry birds is the dumbest idea since flying cars it's the worst no one should ever play this game or app even if it was the last game on earth 😡😩😤😠😠😠😠😤😒☠️☠️☠️😩
The ads are annoying
NurseandCPA
on
11/23/2017
I love the Angry Birds apps, all except this one. I can understand a pop up ad for another app every now and then, but an ad after every third attempt at a level or new level is just ridiculous. Please fix it or I will delete the app and never play again. Thanks
No more
Gasfireplace
on
11/22/2017
Gardenscapes ads!!!! This is a great game and I don't mind ads, but if I see another gardenscapes ad, I think my head might explode! They're way too long, not related to ABirds and boring. If I haven't bought it after the first 200 times seeing the ad, it's unlikely I'm going to buy it.
What happened?
I recently reloaded the game for something different to play. I'd taken it off a while back for space reasons. At first it seemed just like I remembered and a played for a few minutes. Today I opened it again and was held hostage by ads. An ad after nearly every screen. And ads that actually jumped in so quickly that it didn't credit my clearing the screen. Not short ads, and no apparent option to avoid. One even jumped me out of the game to the App Store for the game they were trying to sell me. What was a fun diversion of a game has been ruined and replaced by an unplayable mess of an ad platform. It's being deleted back off my iPad as soon as I finish this review.
Ya
EnderNight100
on
11/22/2017
It is a fun game
More coins
ziggymusic1
on
11/22/2017
Please make it to where you can get more coins at least for Christmas!!
Ads are too long
Ads are way to long. It takes the fun out of playing. I just immediately exit and play sometime later if I have time. The longer ads provide less incentive for me to play as much so I don't.
Why I stopped playing this game
The real reason is there isn't new levels add new levels like the force awakens or something
So many ads!!
Why is an app that I purchased on the premise of getting rid of ads showing 30-60 second ads I'm not able to skip? It breaks up the game flow so much, it makes the game unplayable. No thanks.
Add angry birds Star Wars 3
Pls add a angry birds Star Wars 3 because I am sick of playing the other 2
No more ads!
I was about to win one time then when I was about to launch my bird it shown an ad then then the bird missed the shot please stop the ads!
FIX THIS
1 add. Make skipable ads. 2 THE GREEN BIRD IN REBELS IS GLITCHED. WHENEVER I TRY TO DO THE GUN THING WITH HER IT JUST STOPS. It would be 5 STARS if it was ever fixed. Just fix it and I will change my review. Continuing with ads, WHENEVER I LAUNCH THE FIRST BIRD IT SHOWS AN ADD AND I MISS A SHOT! IF U WANT BETTER REVIEWS THAN STOP THE AD RAMPAGE!! JUST TAKE A LOOK AT THE REVIEWS UNDER MINE. U WILL SEE HOW MUCH PEOPLE HATE THIS GAME BECAUSE OF ADS!!!! 3 IT LOGGED ME OUT WHEN I DIDNT HAVE INTERNET AND WHEN I HOME I COULD NOT LOG IN BECAUSE IT SAID "your account is not verified " AND I MADE MY ACCOUNT LIKE FOUR DAYS AGO. THIS GAME IS STUPID. BECAUSE OF THE LOG IN ISSUE I LOST ALL MY 1578 COINS DELETING THE GAME NOW. Good day. And u can't stop me from deleting this crappy game.
Ads
Ads ads ads ads ads ads ads don't even get started nothing but ads
iPhone X support please
It freezes and you can't do anything. Would be nice if it worked.
Wont open
Morticia Ravenheart
on
11/11/2017
When I first downloaded the game it worked great however every time I click to play it, it opens and shuts down. I'll try several times in a row and still the same. Going to delete.
Add bombardment
Used to watch adds to gain New players. Now I get one add per attempt. I'd gotten all levels maxed for a long time. I guess it auto updated to ruin the game. 🖕🏽
To many ads
delacruzlinda
on
11/10/2017
Can't play because way to many ads 😖
Hostage by ads
This is a fun game. Really enjoy it. However, if you get any good and clear a level quickly, you will spend more time being held hostage by game ads than playing the game. It's not like watching an ad because you want something extra or want to play a level over. You get held by ads in between levels sometimes. No "X" to exit. No "skip" after so many seconds. You will sit and watch ad after ad regardless of your game play. So annoying, I'm going back to the old versions.
Too many ads
Gameplay is great but the 20 sec ads every 60 sec is too much. Wish there was a way to simply buy the game for ad free play.
Too many freaking ads!
This game is flooded with ads! To make matters worse, they occur DURING levels, often screwing up shots and wasting precious limited characters on top of everything. Screw this waste of time.
Add some MORE!!!!
This game is really good. I don't want everyone to forget about this game, Somehow, Add more Characters or Chapters, like The Force Awakens! If you don't, I hate you.
STAY AWAY
This game is so "AD HAPPY". The game with is great but the adds are so annoying. I am not exaggerating, they cram them down your throat. The game is free but they should offer an ad free version. There is a version of it but it's not offered in the USA, why????
Ads are ridiculous
Never downloading this game again.
NEED MORE COINS!!!!!!!!
Jus Startin
on
10/21/2017
It's hard to get coins because you get like 3 coins per level and most of the time you can't get them
I like the game
Mewingbongo
on
10/21/2017
Are you able to add the battle of Christopher as a level please
Ya done goofed Rovio. Hope you are proud
TommyIsAwesome=)lolololol
on
10/18/2017
So I recently got back into playing this game. I had originally paid for it when it came out, but re-downloading it, it was free. I thought "Oh, that's cool." But then........ OH BUT THEN..... The ads are absolute insanity. God, the terrible movie had to really have been bad for you to make all of your games free and cluster f**k them with ads. I'm almost driven away from the game once again. Im trying to 3 star chapter 1 pork side S4 but every 3 turns I get a f**king ad! Get your sh*t together or make the game paid again. This is ridiculous. I really liked this game and the rest of them, but now the ads.... the ads are out of control and that's bad. You will die as a company because you are basically driving your fans away with ads. You made enough money off people buying the game. Are you just that greedy?
Want more coins
wasteoftimeforsure
on
10/16/2017
It's hard to earn coins to buy more characters in the game I might buy the coins but I've been told it's a waste of money I have a cool idea ware at the end of each world thar would be a bonus level with golden pigs and blocks and if you bust them you get more coins 🕹
Ads ads ads
Give me a way to purchase the game as to get away from the Ads!
Hard but awesome and perfect
I love this and it is creatively designed and how the characters are because it looks like they are just marbles trying to knock down walls and pigs with superpowers and stuff
Fact Sheet
Publisher:

Rovio Entertainment Ltd

Category:

Games

Released:

Sep 18, 2013

Current Version Released:

May 22, 2017

Version:

1.9.22

Size:

226.8 MB

Compatibility:

Requires iOS 8.0 or later.

Recommended Age:

4+

Game Center Certified:

No

Supported Devices:

iPad2Wifi-iPad2Wifi, iPad23G-iPad23G, iPhone4S-iPhone4S, iPadThirdGen-iPadThirdGen, iPadThirdGen4G-iPadThirdGen4G, iPhone5-iPhone5, iPodTouchFifthGen-iPodTouchFifthGen, iPadFourthGen-iPadFourthGen, iPadFourthGen4G-iPadFourthGen4G, iPadMini-iPadMini, iPadMini4G-iPadMini4G, iPhone5c-iPhone5c, iPhone5s-iPhone5s, iPadAir-iPadAir, iPadAirCellular-iPadAirCellular, iPadMiniRetina-iPadMiniRetina, iPadMiniRetinaCellular-iPadMiniRetinaCellular, iPhone6-iPhone6, iPhone6Plus-iPhone6Plus, iPadAir2-iPadAir2, iPadAir2Cellular-iPadAir2Cellular, iPadMini3-iPadMini3, iPadMini3Cellular-iPadMini3Cellular, iPodTouchSixthGen-iPodTouchSixthGen, iPhone6s-iPhone6s, iPhone6sPlus-iPhone6sPlus, iPadMini4-iPadMini4, iPadMini4Cellular-iPadMini4Cellular, iPadPro-iPadPro, iPadProCellular-iPadProCellular, iPadPro97-iPadPro97, iPadPro97Cellular-iPadPro97Cellular, iPhoneSE-iPhoneSE, iPhone7-iPhone7, iPhone7Plus-iPhone7Plus, iPad611-iPad611, iPad612-iPad612, iPad71-iPad71, iPad72-iPad72, iPad73-iPad73, iPad74-iPad74, iPhone8-iPhone8, iPhone8Plus-iPhone8Plus, iPhoneX-iPhoneX,

Supported Languages:

English;