Games
Family
Entertainment
Trivia
This version of the app is not recommended
App last updated
Mar 05, 2018
Screenshots
New in version 2.61
-Bug fixes
-User interface improvements
Description
Have fun challenging your friends and enemies in the hottest trivia game!
Let our friendly spinner wheel, Willy, select which questions you'll answer from six different categories. Be the first to get the six crowns to win, but watch out for the rematch!

Reasons you should be playing Trivia Crack right this second:
-Hundreds of thousands of exciting questions
-You can create your own questions in the Factory
-Over 20 game languages
-Chat with your opponents
-Collectable card collection

Need more? No problem:
-Prove how smart you are
-Learn something new while having fun
-Make your mother proud

So what are you waiting for? Let's go! Download the game!

Warning: this game may cause an excess of fun. Please consult a professional if you notice your knowledge growing at an unusual rate.

Visit www.triviacrack.com for more information.

Questions? Concerns? Find the solution to all your problems here: support.etermax.com.

Be a social being, follow us!:
Facebook: https://www.facebook.com/triviacrack
Twitter: @triviacrack
Instagram: https://instagram.com/triviacrack
YouTube: https://www.youtube.com/c/TriviaCrackOfficial
Google+: https://plus.google.com/+TriviaCrackOfficial/
iPad Screenshots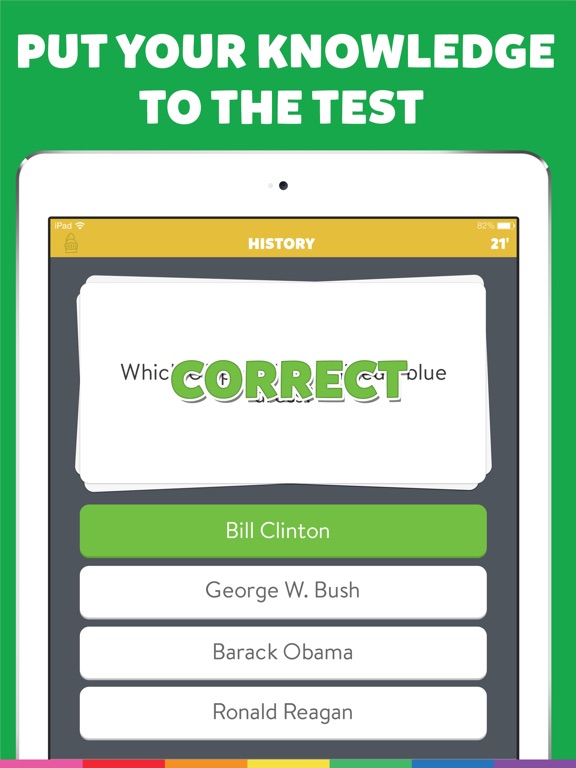 Reviews
Free power ups
When you watch an ad to get a free power up, it still takes your coins!
Ads
Pokémon rating
on
3/23/2018
I'll be playing then suddenly an ad will pop up and I'll lose
Jacked the Cost
I was bummed when the cost of VIP cards switched from 6 to 14, but now it's 21 gems? I was on a mission to gather all the cards just for the sense of accomplishment. The multiple duplicate cards were frustrating enough but having to spend 21 gems for just one card? Not worth it.
AMAZING!!⭐️⭐️⭐️⭐️⭐️
LordPotatoOfGames
on
3/23/2018
I love this game! It is so fun! I used to play it when I was little, but I was too young! I didn't get them all!😂 But, I was playing Triviathon and I was on a 5 answer streak and usually I get them all wrong, then someone sent me a text and I had to leave the game. When I came back, it was all frozen! And when I play against others and I have to leave the game temporarily, I come back and it is completely fine, and it is not frozen. I am mostly upset because I lost my streak. Other than that particular moment, this game is. Just. AMAZING!!!!!!!!!!✨⭐️⭐️⭐️⭐️⭐️✨
It's ok
Love this game but a thing that trows me off is the one to many ads a few is fine but they always are constantly shown please read my review and fix it
Ads
Game was fine before. Now the ads are incredibly annoying and causing me to miss questions. I liked this game before it was setup to take your money
This game is lit
jalopeno10jem
on
3/22/2018
This game is a lot of fun!!!!! Also it is useful for learning and developing skills for later in life!!!!!!!!!!!!
Good game
Good game I like to play
Bring back 48 hour limit
Fun game but they changed the time limit to respond to players from 48 to 24 hours. It is not practical for me to play every day.
Demasiados comerciales
patry jordan
on
3/22/2018
Dejo de ser una buena aplicación desde que comenzaron a poner tantos comerciales realmente eso fastidia cada fin de una pregunta un comercia 👎🏻
no login
LoginWon'tWork
on
3/22/2018
sooooo i've had this app before and when my friends would stop playing it i would as well and then i would download it again with no problem. but the last few times it hasn't let me log or even create a new account. like i would type in my email and it would ALWAYS say error and it does this every time and it really annoys me so if you could like fix that i would give a better rating.
I love this game
This game is the best app ever!! Everybody should have this app Because this game is just like trivial pursuit.⭐️⭐️⭐️⭐️⭐️🍔🍕🍩💩
Ads & time limit
The people's magazine co.
on
3/22/2018
Why did you increase the ads & shorten the time to play? I'm through with this game unless I see a change. My score for you now is a negative 5 stars
Time between game play
I love this game as it allows me to keep my brain alert playing with friends my own age, my children , my grandchildren . Like others I do think the submission of questions a joke especially as I see duplicate questions many times only just worded slightly different. My biggest issue is time...at one time you had 2-3 days to get in and take your turn which worked well as I have one child who's out of range many times. Now it's 24hrs just...which just doesn't work so games time out. I know one time with one player it was 9hrs and that was a glitch that you fixed, hoping this new time constraint is too.
Too much pressure
I'm ok with the player pics still having Halloween frames 6 months later but I'm not ok with the new 24 hr limit. I have a real life & play for fun. The new time limit is just too much pressure for me so I'm going to quit this game & I have ad free access too. The limit is just too stringent for someone just having fun. Trivia Crack is not my life-I have one outside of my phone. I rarely leave reviews so this issue bothers me enough to leave a comment. I also agree with a previous reviewer that questions get rejected for no reason. I've sent in questions that were rejected as dups but I've never seen those same questions come up in the 3 years I've been playing. I'm done with this app.
Not Happy With Decreased Time to Play
I've been playing this game for a few years and have several friends I play against regularly. Why would you decrease the time to play to 24 hours from 48 hours!!! With everyone's schedules being so busy, it is not always easy to play within 24 hours. Terrible change!!!
Good but....
Game is fun to play but TOO MANY ads. I'd probably end up deleting it because of them.
Challenges
Every time I get 12/12 in a challenge it says I got 0
A good game
It's a fun game to play with others. My biggest complaint is now you only have 24 hours to play back on your turn. Used to be 48 hours. Not a good thing. I don't always have the time in my schedule to play this game in 24 hour intervals. And I feel forced to play when I don't want too. Why was this changed is what I want to know.
Wonderful Game!
This game is very useful for all smarts and skills! I love playing such a fun and interactive app that helps me have fun while learning new things as well! I have had no problems with this at all, it has just been nothing but fun. History, Entertainment, Art, Geography, Sports, Science, or the Crown are colorful ways to make you happy and enjoy learning! I rate this app 5 stars for all of these wonderful aspects the game brings to store! Great job to the makers of TRIVIACRACK!
Review
This one of the best games I have ever played!
Fun but...
Rigged and sly 😡
on
3/21/2018
I enjoy playing but this is the only way I can express my frustrations, hence the 3 stars. Sometimes questions have the wrong answers marked as the right one (I look them up afterwards if I have any doubt) and it's happened several times where the game won't let me push an answer - which I know isn't just my phone because it's happened to my friends as well. These sound like small glitches but when you're neck and neck in a game and it makes you lose, it can be infuriating.
Tricky track
jammi'n james
on
3/21/2018
This game hurts the brain🧠 but it's amazing and fun
Game expiration time too short
I do enjoy this game, but I don't always have time to play and the game expires. The time should be longer.
Frustrating 😔
Bloooopdedooo21
on
3/20/2018
I love Trivia Crack and it worked great at first but now it glitches so bad to the point where I can't even play it anymore.
Too Many Ads.
Xoxo Zozo😊☺️
on
3/20/2018
great app... WAY TOO MANY ADS. honestly love the game, but the ads are out of control. it's one thing if it's just a picture but it's another when it's thirty second long videos every. single. time. definitely going to keep playing, but probably not as much.
I like the game but
I like the game but I wish it would go back to having 2 days to play instead of one. I might stop playing it if it doesn't switch back.
Won't load. Ever.
Katester10032015
on
3/20/2018
I have tried this several times... created an account with email and also tried with Facebook. Uninstalled and reinstalled. It just sticks in "loading" forever.
Love the game, hate the ads
I have had this game for years, and always keep coming back to it. However, the ads are much much worse than they use to be. I will continue to keep playing, but it's often the reason that I avoid the app. ANYTHING or any move you make in the app leads you to a (usually 30 second) ad. I typically see the same 3 ads, and it's just annoying. That is my only complaint, but truly, you can't make a single move without watching a 30 sec ad first :(
Time limit?
I've enjoy this game for years, but it is not my whole life. When I had 2 days to play my turn, I rarely timed out. I've noticed the last week or so that the time limit now is 24 hours. I'm afraid I'm going to start losing just because I don't get back in time - why ruin this?
Way too much problems
One of my questions had 35 likes and 3 or so dislikes. Then it got got rejected, even though that was 85% or more approval rating! Why? There is no reason! Literally! Plus I cannot do anything to change another one of my rejected questions... This game is obviously broken.
Timing for your turn changed
You use to have two days to play your turn and now it's 24 hours which is just not enough ... please change it back. I play with people who have very busy lifestyles as I do myself I travel for a living so being in different time zones and different work schedules my games have expired a lot more now that you have lowered the turn time to 24 hours !!!! Please change back !
Fun
TheMultiCellularHero
on
3/20/2018
Not bad, although I believe they could add other ways to enjoy the app such as mini games& other ways to earn coins/hearts
Good app...but it does have issues
****Update: it kept having this issue where I would try and select the answer and it wouldn't respond no matter what I tried to select. Of course, the time would be up and frustrate me. I just had to delete it. 😢 ***** I like this app alright. It has started having issues when playing ads where the screen goes black. I have found if I rotate and move my phone around, the ad will appear instead of a blank screen. Not that I'm excited about seeing the ads, but I do have to see the X to close when it's done. I have an iPhone 6s that is completely up to date with releases and only played with high speed Internet. I've tried closing everything else on my phone but this and this still happens. Even after a shutdown of the phone. Note to developer: I do not find it productive for the app to point out my worst category every time that category comes up. I'm not sure what purpose that was meant to serve. I do like the app, though.
The ads ruin the game!!
The ads make you want to delete the game. I barely tolerated them, they constantly popped up and drove me nuts. Also the amount of gems needed to purchase new cards was ridiculous. All I wanted was the satisfaction of collecting every card available. Once the price went up to 30 gems I deleted the app. I'm very disappointed, this was the only game I enjoyed playing.
ADS
Micahirene93
on
3/19/2018
I would give the app a 5 star review if it weren't for the ads. They almost completely ruin it. I have to fully close out of the app to escape ads and it makes me lose my turn. It needs fixed.
Too many adds
jordandyer99
on
3/19/2018
Way too many adds
Going Downhill Fast
Perfectly normal at niter
on
3/19/2018
Used to be a good app but it has gone downhill lately. Too many bugs. The latest change where games expire after 24h is ridiculous. I'm only able to complete about 50% of the games I start. Time to find a new trivia app.
Hate the update
turtlesandsandwiches
on
3/19/2018
Love playing, but not loving the time to play a game cut to 24 hours. Some days I don't have time to play and have to start over if I don't play within 24 hours. Please go back to the old 48 hours.
Just changed the rules and not fun now
I love playing this with my friends but we have busy lives. Sometimes we don't get back to the game in 24 hours! Why was the time changed? If it takes me 25 hours to get back to my games, I have lost them all! Hate it.
Waste of time giving info
Petit gâteau
on
3/19/2018
Any game that requires fb login and email among other info is not designed for fun !! Its designed to sell info for advertising d-bags.
Fun
Overall fun and addicting trivia game. Only a few repeated questions in around 50 or so matches. One thing is the tournaments. On the one that's 200c to play, it pays double for a win and a tie you break even which is fine, but the next one that costs 1200c, if you tie you only get 1000c back. So you lose if you tie, kinda dumb. Also I think a 5-5 tie (both people answer all correct) should award both with the winning amount. All other ties you should at least get your full credits back. Just my suggestion. Edit: Played a bit more now. Yea you guys need to do something different for a tie in the Trivia Rush mode. First of all since when does a tie automatically mean a loss? Would it be so hard to add a tie column to the stats? W-L-T. If not why even allow a tie? Give the win to whoever answered fastest, or keep asking questions until there is a winner. If not change that then you should at least give the players with a perfect 5-5 tie both the winning amount. Also still think it's kinda BS in the higher levels you don't get your entry credits fully back in a tie.
Trivia crack
I like the game, but they need to give you more time to read the question and the answers. Sometimes you run out of time before you can read all the answers and summit your answer.
Updates are not good
First, the increased number of ads were frustrating. Now, reducing the answer time to 24 hrs makes this really hard to keep up with. If I'm constantly having to restart games, then I'll likely stop playing.
Rate this
Guslufton1013
on
3/19/2018
Stop asking me between each question to rate trivia crack or you'll keep getting 1s
Poor game
The question quality has gone down severely. Also what is up with religious bible thinkers putting questions in every category??
Wayyy too many adds
Good game but the amount of adds are ridiculous! The app even cuts out during the adds. Some of the questions are not so great either as anyone can write questions. Some just don't make any sense and really should be analyzed by the app creators.
ads
why is there a need for an 15 second ad every time a question is answered wrong? no i don't want to buy the full version for an obscene amount of money. i just want to beat people at a trivia based game without the hassle of so many ads. and also stop asking me how many stars i should rate the app because it's your own fault for getting a one
Trivia crack
This was once my favorite game but now they made it to where you had to play within a 24 hour period. I work 2 jobs and don't have time to play this everyday!! Might have to find a different game to play.
Fact Sheet
Publisher:

Etermax

Category:

Games

Released:

Oct 26, 2013

Current Version Released:

Mar 05, 2018

Version:

2.61

Size:

290.5 MB

Compatibility:

Requires iOS 9.0 or later.

Recommended Age:

4+

Game Center Certified:

No

Supported Languages:

Arabic; Basque; Catalan; Valencian; Danish; Dutch; Flemish; English; Finnish; French; German; Greek; Hebrew; Hindi; Icelandic; Italian; Japanese; Korean; Bokmål, Norwegian; Norwegian Bokmål; Polish; Portuguese; Romanian; Moldavian; Russian; Chinese; Spanish; Castilian; Swedish; Chinese; Turkish; Vietnamese;