Screenshots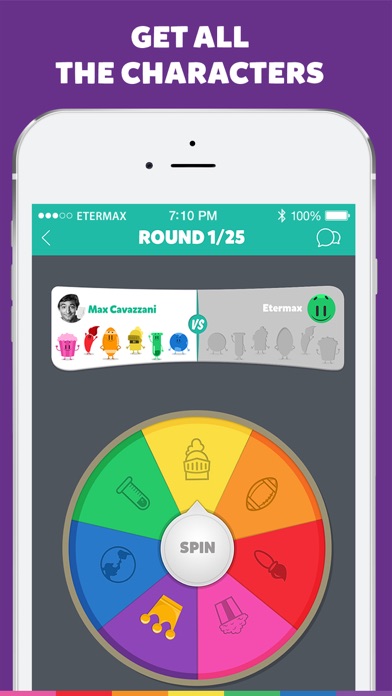 New in version 2.55
-Bug fixes
-User interface improvements
Description
Have fun challenging your friends and enemies in the hottest trivia game!
Let our friendly spinner wheel, Willy, select which questions you'll answer from six different categories. Be the first to get the six crowns to win, but watch out for the rematch!

Reasons you should be playing Trivia Crack right this second:
-Hundreds of thousands of exciting questions
-You can create your own questions in the Factory
-Over 20 game languages
-Chat with your opponents
-Collectable card collection

Need more? No problem:
-Prove how smart you are
-Learn something new while having fun
-Make your mother proud

So what are you waiting for? Let's go! Download the game!

Warning: this game may cause an excess of fun. Please consult a professional if you notice your knowledge growing at an unusual rate.

Visit www.triviacrack.com for more information.

Questions? Concerns? Find the solution to all your problems here: support.etermax.com.

Be a social being, follow us!:
Facebook: https://www.facebook.com/triviacrack
Twitter: @triviacrack
Instagram: https://instagram.com/triviacrack
YouTube: https://www.youtube.com/c/TriviaCrackOfficial
Google+: https://plus.google.com/+TriviaCrackOfficial/
iPad Screenshots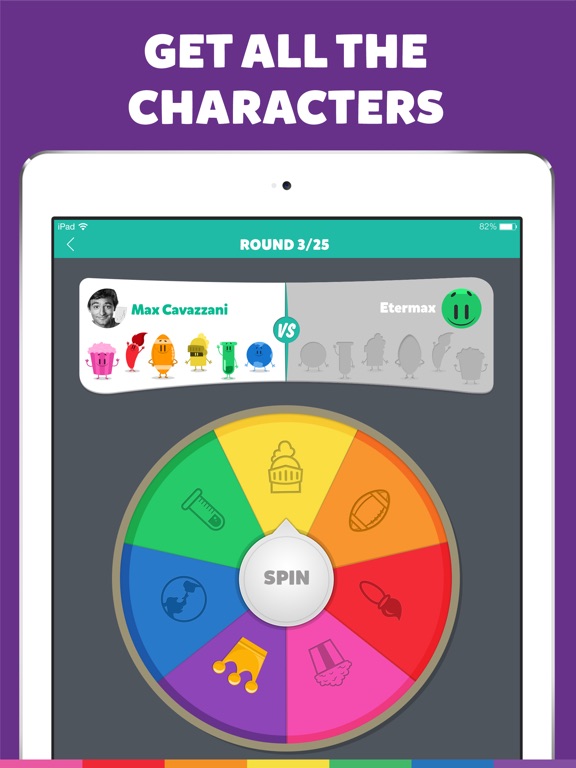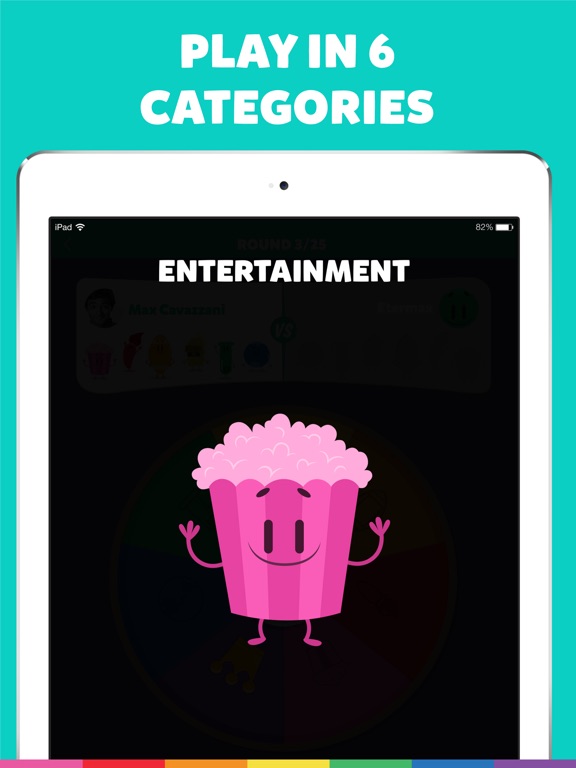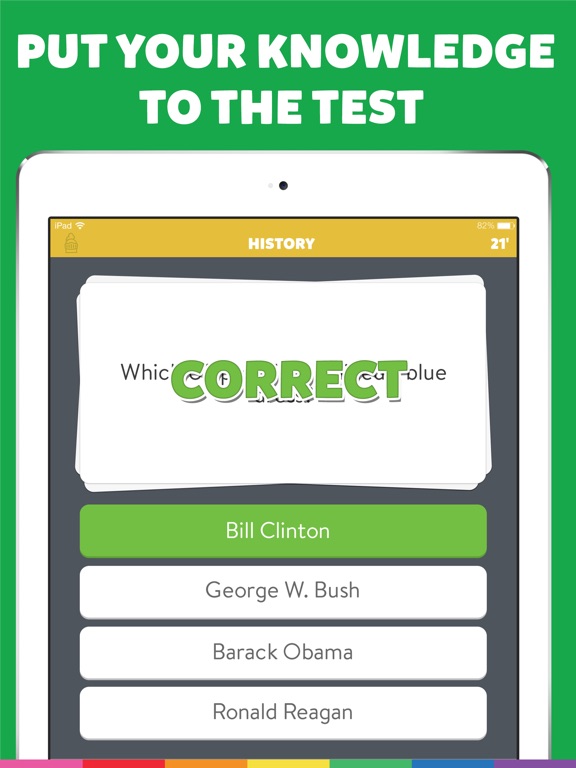 Reviews
Way too many adds
Good game. Way to many adds and glitches.
DONT DOWNLOAD
Lily Saveall
on
12/16/2017
Horrible just horrible, too much adds. WORST GAME I've ever played I would've rated it a negative 9999999999999999999999999999999999999999999999999999 stars DONT DOWNLOAD EVER also don't even try and send me that stupid auto reply I don't want to hear a robot giving me default answers I demand a certain level of quality and this does not meet my standards
Death By Advertisement
I love this game, but the ads are absolutely ridiculous. My issue isn't even so much with the fact that you have to deal with an ad every time you click on the screen as much as it is to do with the fact that there's so many ads that I've actually lost games due to the fact that an ad us popped up in the middle of a time question and caused me to completely miss the question. There is even a game where you try to answer as many question in a row as possible and I can't get past 3 questions because an ad pops up in the middle of the 4th question and causes me to lose every. single. time. I thought it was a bad coincidence so I tried it 3 more times and the same thing happened every time. Y'all really need to get it together and reel it in with the ads and the timing of the ads. You're losing a lot of people because of it...
Needs Improvement
I like the game but there are way too many ads there is an ad after every two rounds you need to improve this or this game will be getting deleted
Awesome game but
2nd Nicki Minaj
on
12/16/2017
This game is really fun but I'm considering on deleting it because of the advertisements. They're so annoying
Nope
I'd go into more detail but the developers aren't worth my time
Addictive!
Steve in Fort Worth
on
12/16/2017
There's a reason it's called Trivia Crack. This game is very addictive and lots of fun. 2 year update: I still enjoy the game but the over abundance of ads that cannot be cut off or silenced has me almost to the point of deleting it. I probably won't last much longer. Very annoying and sad for a game that has continued to over sell ads to the point that the game is no fun anymore. It was fun while it lasted.
Disappointing
FormerLeeMac
on
12/16/2017
I have read the first reviews printed and hope your staff have also. Same problems reported. Same low reviews. So rather than repeat all: too many pop-ups, interrupted games, virus reports, continual problems that don't go away, overly repeated ads... let me say I totally agree. The question: why not improve things? You surely will get a more positive response. We write to you asking for a remedy because we want to stay and enjoy it, not be constantly frustrated by the same old errors So I will add my vote: clean it up or I am gone. There have to be cleaner games out there and I am already looking for them. Please. Try to clean this up!
Used to be awesome
Too many ads..can never get a high enough score due to ad pop up causing me to miss my questions...some of those ads are 30 seconds long. I think I'm going to delete it.
...
It's exactly like HQ but this you don't get $$
No More Cards
BeckyTurner
on
12/16/2017
Are there going to be cards for Christmas? (Edited 12/16/17) I have obviously been playing for awhile because I can no longer get cards. Please add another "slot machine."
Way to many ads and pop ups.
Used to be fun. Now i spend more time dealing with ads and pop ups then actually playing the game.
Fun game, can never play
I had this game a long time ago then redownloaded it with some friends, it's rly fun but there SO MANY ADS! It makes me hate it cause it ruins the game and make it impossible to play and ruins the whole thing. I want to play so bad but the ads are terrible and long.
Too many ads!
This is a fun game. Somewhat easy but interesting questions. The reason I rated it 2 stars is because the company is so desperate to advertise that you can't play the game fairly! Every time you lose, they offer you a second chance or free spin for an ad. Then, even when you click no, hey give you one! Often with no prize! Really frustrating. I spend 30 minutes playing the game and 28 minutes are spent on the ads! Really! Find another way to make money!
UI Glitch
When it says "LOST YOUR TURN?", some of the text under it is covered up by the wheel. iPhone SE, iOS 11.1.2
Ads
i love this game but the ads are keeping me from answering questions, and then time runs out! it's quite frustrating. i don't mind the ads, i just don't want them to be overwhelming and keeping me from playing the game.
Super speed all of a sudden???
nyyfan22000
on
12/16/2017
Love Trivia Crack, but within the last day I have noticed the questions moving way too fast. So, a question comes up and I pick an answer and then it immediately flashes to the next screen - an ad if I'm wrong or the wheel to spin again if I'm right. It happens so fast, I can't even see what the right answer is if I was wrong. I can't even see it say correct or incorrect for a few seconds. What's going on?!?!?!
WHATS with the Ads???!!!
Lexisoccer903
on
12/16/2017
I downloaded this game back when it was first really popular and played it ALL the time. It's incredibly fun and I would play with my friends and family for hours on end. I ended up deleting it sometime in early 2016 for whatever reason, and was recently talking about this game with a friend of mine, which prompted me to download it again as I remembered it being super fun and a great brain teaser. BOY was I shocked to see how this game has gone downhill. Do the game developers not read reviews?!? The app is borderline unplayable! There is an ad after almost EVERYTHING you do. No ad is shorter than 15 seconds and a lot of them can't even be skipped. The constant pop-ups asking me if I want to watch a video for an extra turn are extremely irritating as well. Why anybody would spend their real money on an iPhone app is beyond me, so I will not be buying the ad free version. The bottom line is, this game has just gotten super disappointing.
Fun, but frustrating
I love Trivia Crack. But the ads make the whole experience almost unbearable. Best case scenario, you have to sit through a 30 second ad for a game you've already tried. Worst case, the ads cause your phone to glitch, making you back out of your game and forcing you to take a loss. The game is fun, but it's not worth all the trouble.
Too many ads
I'm usually not one to complain about the amount of ads in a game. I usually just sit through them. But, this game is literally unplayable because there are so many ads.
Single Player Icons
Get rid of the annoying single Player Icons. I paid for the non-ad version and can't see scores or other things with those on the main screen.
Too many ads
After every single thing I do there's an ad that's about 30 seconds lol it's annoying
Glitches
Tanisha Exantus
on
12/15/2017
The game itself is really fun. And normally I don't take the time to rate apps but it's really been bothering me that sometimes when I press play video, it just goes to a black screen, which then won't play a video but doesn't give me the option of going back to a home screen. So I have to close the game and open it again which is annoying.
I paid already
Holy moly for real?!
on
12/15/2017
I love the game but I paid for the ad free version already! I just downloaded the app again why is it I'm expected to pay again? So every time I upgrade phones I have to pay? Not gonna happen!
Ad overload!
Allaretaken123
on
12/15/2017
I used to love this game and was glad to find it again. But it's a complete waste of fun and time when every single screen change has ads and videos! I mean get real....I understand an ad here and there but this is 30-60 seconds of video per 1 question. I'll probably stop playing. Sorry.
Too many ads
yournameherrrrr
on
12/15/2017
I used to LOVE this game.. I was actually addicted for a while so I deleted it a while back. Yesterday I thought I would try it again but I couldn't even get through one game because of the ridiculous amount of ads! I understand it is a free game and they need to make a profit somehow, but I spent more time watching ads than actually playing the game. Not at all worth it. Sorry but I won't be playing anymore.
Ad's are crazy
Chillbill247
on
12/15/2017
Way too many ads
Below Average
This game, although fun and challenging, has become mostly ads, every screen change, is another ad. The idea of this game is quite good, yet they've ruined it with all the ads, I used to love playing this game, but due to all the ads I have stopped. I wouldn't personally recommend this game, but give it a try to see what i'm saying. Thank you for reading!
Like the game, crazy ads
Kamikaze qwterty
on
12/15/2017
The ads are all over the place, to the point where it takes away from the app
Completely ruined
People nowadays have no tolerance for greedy developers. This group of people embodies what we hate about the entertainment industry. The ads are relentless and completely ruin any and all fun that could be had with this interesting concept. I refuse to support this game and it's development team.
New albums?
Treehouse312
on
12/15/2017
I enjoy the game. The ads are annoying, but I understand you get what you pay for. I can see new cards available in the albums, but there is no machine to purchase them. A glitch or just not open yet? 46 gems to purchase missing cards is excessive and causes me to lose interest.
Crap.
Too many ads. Sports questions are ridiculous. Used to like this. Too bad.
Not a pleasant experience
Won't go on about the qty of ads, I agree it is infuriating. Other reviews have eloquently addressed this. In the trivia rush section, if you tie, you don't get all of your coins back. So you are penalized for tying. Several games, I got EVERY QUESTION RIGHT. But because my randomly assigned opponent did too, I lost coins. Being penalized for being 100% right may have pi**ed me off more than the volume of ads. A game is supposed to be enjoyable, not frustrating. I WILL NOT BE GIVING THIS DEV ANY MONEY FOR THE AD-FREE VERSION.
Get This App
Snazzy Hippo
on
12/14/2017
I love this app! A suggestion would be to add a section with easier stuff? Defiantly five stars!
Fun but
It's a fun game and I'd like to get into it more but there are just TOO MANY ads! It's not even a decent amount, it's just obnoxious. I'm not gonna pay to remove them so I just might lose interest in the game and end up deleting it.
Holiday
Find it odd that there some Christmas decor for the games but the profile picture still has ghosts and bats from Halloween
If you like ads download this game.
Dr. Spengler
on
12/14/2017
I re-downloaded it, found ads a free ads after ads. All are at least 30 seconds long, a lot of the time the screen goes dark so you have to close and relaunch app then most of the time your turn plus over. I see why I originally deleted it. Bye again.
Pop ups
Pop ups are too frequent. Virus attack.
UGH!
I played this game in the past and liked it so I thought I would try it again. Well, I deleted it after a few days. There are so many ads that it is not fun any more. I have never played a game that had so many ads!!!! It's awful! AND, almost immediately after I downloaded this game I started getting virus alerts every time I tried to play. I had to delete the alert and shut my phone down every time, Such a disappointment!!!
I don't speak Spanish
Big Panda AZ
on
12/14/2017
Since this app decided to send me an email in Spanish to reset my password I just went ahead uninstalled it. Loved it on my android device. I'm not really sure what the issue is here but since I don't t speak Spanish no use in bothering with it.
TOO MANY ADDS
Fligsterlafer
on
12/14/2017
This game would be a 5 but after I tap my screen once an add always pops up it's annoying fr fr😫😫✊✊
Getting smarter
Abstractchick40
on
12/14/2017
I had an injury and Trivia Crack is helping me get through some depression and I'm learning new things every day. Also, I'm making new friends that are competitive like me. I really enjoy this game it's fun and it's entertaining and makes my brain bigger thank you so much!! 🤔
No reason my question was rejected.
Birder Girl
on
12/14/2017
The "write a question" part of this game is bogus. Don't bother writing questions, they will be rejected out of hand with no reason given.
Too many ads
Dr.realitysteve
on
12/14/2017
I don't appreciate that ads will pop up in a timed game and automatically make you lose the game
Hate pop up games!
They cannot be deleted and they irritate the heck out of me. I will delete the game if they cannot control the game popups
Tooo many ads!!!!!!
Hfdhgfskgzkfzjfslgxlys
on
12/14/2017
It used to me a good game but they have become sellouts
Good great but....
Great game but really dislike how many advertisements there are!!
Unplayable due to pop ups
AustinDangerYoung
on
12/14/2017
Can't tell you how many times i've had an ad pop up as soon as I open a question, and when i immediately close the pop up, the game says i've ran out of time! Ruins the game. The other ads are pretty annoying but it's whatever, at least you can get power ups/redemption questions from "watching" them.
What a joke...
Had this since forever, but gets old fast. Questions are either too easy, specific, or don't make any sense... The new buttons they've added make it so you can't delete your past games and make it difficult to collect from your far right card. The price of gems makes it impossible to finish your album, and there's no way im paying $3.00 for 3 gems when i need 6 gems to buy 1 card from the VIP machine (I finished the rest)...
ads
the game is fun, but the amount of ads on this app is actually ridiculous. i understand that this isn't the paid version, but it's a bit excessive. i find it quicker to immediately just ex out of the app every time i get a question wrong and then reopen it because i know darn well that an ad is going to pop up that will last for a solid 35 seconds. also, it's EXTREMELY annoying how ads pop up when i'm trying to answer a question! i end up running out of time because some stupid video is playing that no one cares about. seriously, clean this app up. it's ridiculous.
Fact Sheet
Publisher:

Etermax

Category:

Games

Released:

Oct 26, 2013

Current Version Released:

Dec 04, 2017

Version:

2.55

Size:

301.6 MB

Compatibility:

Requires iOS 9.0 or later.

Recommended Age:

4+

Game Center Certified:

No

Supported Devices:

iPad2Wifi-iPad2Wifi, iPad23G-iPad23G, iPhone4S-iPhone4S, iPadThirdGen-iPadThirdGen, iPadThirdGen4G-iPadThirdGen4G, iPhone5-iPhone5, iPodTouchFifthGen-iPodTouchFifthGen, iPadFourthGen-iPadFourthGen, iPadFourthGen4G-iPadFourthGen4G, iPadMini-iPadMini, iPadMini4G-iPadMini4G, iPhone5c-iPhone5c, iPhone5s-iPhone5s, iPadAir-iPadAir, iPadAirCellular-iPadAirCellular, iPadMiniRetina-iPadMiniRetina, iPadMiniRetinaCellular-iPadMiniRetinaCellular, iPhone6-iPhone6, iPhone6Plus-iPhone6Plus, iPadAir2-iPadAir2, iPadAir2Cellular-iPadAir2Cellular, iPadMini3-iPadMini3, iPadMini3Cellular-iPadMini3Cellular, iPodTouchSixthGen-iPodTouchSixthGen, iPhone6s-iPhone6s, iPhone6sPlus-iPhone6sPlus, iPadMini4-iPadMini4, iPadMini4Cellular-iPadMini4Cellular, iPadPro-iPadPro, iPadProCellular-iPadProCellular, iPadPro97-iPadPro97, iPadPro97Cellular-iPadPro97Cellular, iPhoneSE-iPhoneSE, iPhone7-iPhone7, iPhone7Plus-iPhone7Plus, iPad611-iPad611, iPad612-iPad612, iPad71-iPad71, iPad72-iPad72, iPad73-iPad73, iPad74-iPad74, iPhone8-iPhone8, iPhone8Plus-iPhone8Plus, iPhoneX-iPhoneX,

Supported Languages:

Arabic; Basque; Catalan; Valencian; Danish; Dutch; Flemish; English; Finnish; French; German; Greek; Hebrew; Hindi; Icelandic; Italian; Japanese; Korean; Bokmål, Norwegian; Norwegian Bokmål; Polish; Portuguese; Romanian; Moldavian; Russian; Chinese; Spanish; Castilian; Swedish; Chinese; Turkish; Vietnamese;