Games
Puzzle
Entertainment
Trivia
Recommended app!
App last updated
Dec 12, 2017
Screenshots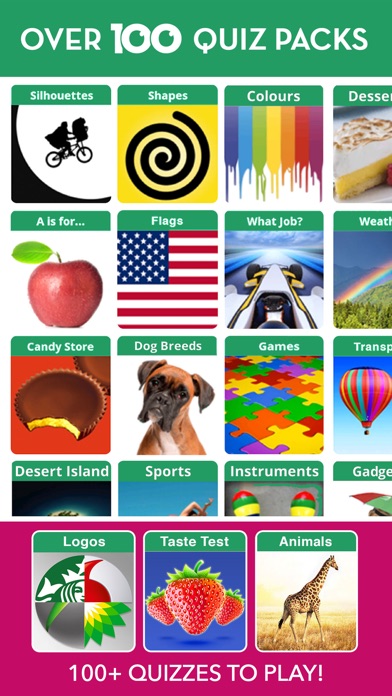 Description
The world's greatest picture trivia game
● Over 10,000 pictures to play
● Play over 100 quiz categories
● New game pack categories added all the time

DOWNLOAD NOW
● Starts easy ... gets hard!
● Simply identify the picture or photo to win coins
● Use less clues = Win more coins!
● Use coins for hints and to get more quiz packs

NEW FUN QUIZ PACKS ADDED EVERY WEEK
***** "More please it's so addictive" Jellybaby99
***** "My whole family love playing this game!" Walisimo 1
***** "So addictive, with lots of categories to choose :) " Manic Mum 69

FREE PACK EVERY DAY!
● Get a Free pack every day when you come back and play the app!

PERFECT FOR THE WHOLE FAMILY
● Perfect word games for kids, adults, boys, girls, toddlers, mums, dads, grannies and grandads
● Practice spelling common words in easy packs like 'A is for…'
● Family friendly, funny word and photo puzzles; guess the Animals, Games, Candy, Fairytales, Pets, Emojis and more.

OUTSTANDING FOR LOGO LOVERS
● Love to 'name that Logo?' We have tonnes of Logo quiz packs, with one included for FREE!
● Loads more Guess the logo based packs such as Food, Holidays, Bands, Brands, Candy, TV Show and Movies, Gameshows, and French!

OUR EMOJIS WILL MAKE YOU :)
● Do you love emoji based quizzes? We have 100's of them!
● Guess the Emoji packs 1-5, Movie and Christmas themed Emojis!

'TIS THE SEASON PACKS
Get in the mood for quizzing all year round with our special Seasonal sets -
● Christmas, Christmas Emoji, Star Santa
● Winter, Spring, Summer, Fall/Autumn
● Halloween, Thanksgiving

CAN YOU GUESS WHO FOR TV, MOVIES & CELEBS
● If you're a Star spotter you will love the celebrity picture quizzes.
● The app even comes complete with a Movies Stars photo pack!
● Many more pictures available; Movies, Movie Heroes, Movie Villains, Movie Sets and Quotes, TV Stars, Actresses, Actors, Oscar winners, Celeb Facebook profiles and Soap Stars (UK).

DELICIOUS BRAIN-FOOD FOR FOODIES
● There are enough tasty trivia quizzes to make your mouth water with Taste Test, Food Logos, Bake Off, Desserts, Candy, Cooking, Candy and Fruit and Veg...
** Try not to dribble on your phone! **

BRUSH UP ON YOUR GENERAL KNOWLEDGE EGGHEADS
● If you're a word game pro, you'll find 100 PICS a real challenge
● Awesome History facts set has 100 pictures from 100 years of history!
● Trivia fan? Try the following:- Science, Flags, News Headlines, Plants, School, In The Car, Texting, States, Countries, Speak American.
● What Country packs like USA, UK, Italy, Australia, France and more

SOUNDS GOOD FOR SONG & MUSIC FANS
● Love music? Discover our magical Musical packs.
● Guess the Music Stars, Band Logos, Instruments, Album Covers, Song, Song Puzzles (Emoji).

FOOTBALL FUN THAT KICKS OTHER APPS INTO TOUCH
● Back of the net for Football fans! We have 100s of quizzes for you
● Many other football-based games on Players (Legends), Football Club logos, Footy Phrases.

TOP WORD APP FOR NOSTALGIA
● If you love looking back then look no further…
● Lots of throwback teasers based on the 70s, 80s, 90s, 00s, Retro Logos, Classic Television, History, News Headlines, Shadows, Retro Toys, Halloween & Christmas.
● Also check out classic Toys and Gadgets packs for vintage fans and fans of vintage!
● Also play our quizzes of the year packs; 2013, 2014, 2015, 2016

NEW FROM Poptacular
● 100 PICS Quiz is the number 1 global hit picture trivia app
● The ultimate free-to-play word trivia game apps for kids and adults!
● We will remove any cheat or answer sites or apps publishing our answers or photos
● POP Apps 2017
iPad Screenshots
Reviews
Use real words!
Great game! Very addicting. But use real words! Like out of the real dictionary! Seriously ROFL is not a real word!
Great game!
Nomnomsaysme
on
1/14/2018
This is a great game for so many reasons! The first, and most important is there are no ads! It is highly addictive, and I highly recommend it!
An Error In The Game Please Fox It.
UPSIDE-DOWN=nbslDE-DomN
on
1/8/2018
In The Pack Called "EARTH FROM ABOVE" There Is An Error On The "LEVEL 24" The Picture Clearly Shows The Country "Greenland" There's A Common Misconception Between The Two Countries "Iceland" And "Greenland" The Real Answer Is Greenland Not Iceland Over All Nice Game I Give It Five Stars⭐️-⭐️-⭐️-⭐️-⭐️
Can't play
Why is it that when i press play in the beginning, I automatically get an ad and i can't play the game?
Money
So this game is super fun and addicting! But you have to pay for 90% of the packs, and I do t wanna spend a bunch of money on a game.
Love it but...
Einahpets Oda
on
12/28/2017
Love this game but when an ad plays, many times it like freezes and the ad won't play. So I end up having to force quit the game. This is especially annoying when an ad comes up every 5 rounds.
SPELLING
Hi I'm jordan and I love this app, but I am HORRIBLE at spelling and this app if you don't spell it wright it's wrong. :((( Also I don't like the fact you can tap on a square with nothing on it! I wound recommend this for patient and good spellers.
I love it and I wish I had more time to play it
Marine corps ooorah
on
12/16/2017
I play it all of the time on my phone. It works great. If you don't like trivia games though, this would probably be the only one you like. That is what I s how good it is. I want to encourage the maker to make a game even better then this. This is my favorite game I have ever played!❤️😍😘
Rubbish Ad Filled RUBBISH
MK-SouthAfrica
on
12/13/2017
Lovely game RUINED by a plethora of adverts.... #uninstall
AMAZIIIIING WHERE HAVE YOU BEEN PPLS?!
xXFlowerCrownLoveXx
on
12/9/2017
This app is absolutely stunning and it puzzles the mind so that if you have a child at home,that's on a break away from school,this app will "help them learn" in a fun way
Flying blind
lilmamawhite
on
12/5/2017
Downloaded this game and the pictures won't show. Each of the four blocks is just a green square with '100' in the centers. The only way I can play is if I can spot out a word that fits in the boxes.
Just plain bad
VICIO 8POOL
on
11/26/2017
Bad
Fun but expensive and slow (not for me)
😀😄😊😀😄😊😀😄😊😀😄😊
on
11/24/2017
So it can be fun but it only works if you know a lot about the topic. If you do play the game has of issues just from being to specific! This game is slow and boring for me. And to skip you have to pay a dollar! I AM DELETING IT sorry.
Love
Mary j. Anderson
on
11/11/2017
Love it app
INCORRECT
Thumperleans
on
11/11/2017
A lot of the pictures are worded differently so you won't guess correctly and you have to watch ads or pay to figure them out, for the dog breeds especially. The Afghan hound is called an Arabian hound and other seemingly made up breeds ?white corded? (It's called a Komondor) and many pictures don't even fit the name. I liked the animals section but the dog breeds was utterly disappointing. Find another app.
My type of game!!!!
This is a fun yet challenging game and I am a very competitive person so I think this a great game because it lets you wi and lose and when I lose since I'm competitive I like to challenge myself to go again and win the next time so overall I This this is an amazing game and you should get it!!!!!
Lying 🤥
Puppies are the best 101
on
11/4/2017
Lies about EVERYTHING!!!!!!! I hate it
Great time passing game to play with friends
You can pass so much time with this game
Fun
Hailey Greenlee
on
11/3/2017
Very fun and challenging
Fun
Jojo Siwa bow lover/#1 fan
on
11/3/2017
Really fun game
I love it
unicorn1216🦄
on
11/3/2017
I love it so much
thank you
jzjsvsjqkjsbxvgzjskkshdb
on
11/3/2017
it is a nice game
Need coins
Person10293847562938475638475
on
11/2/2017
Doing this for coins
Good
bad bass fishing
on
11/2/2017
Good
Has Issues
The Halloween and drinks package will not download. When it tries to download you get kicked out of the app completely. Also, you have to keep trying to highlight words found until the app recognizes what your trying to highlight. Very aggravating! I've tried being patient until it would be fixed but I'm deleting the app.
Awesome app
My kids and I love it
Amazing
Lola 56838356
on
11/1/2017
Amazing &fun
Fun
bchsrebels18
on
11/1/2017
Addictive
Fun game
jellybeans935
on
11/1/2017
This game is fun to play
Love this app!!
Iheartrickyg
on
11/1/2017
This game is so good for a time passer, especially for kids! Even better this app includes hundreds of different selections of puzzles. There are also no adds!!
It's awesome
Justin341980
on
11/1/2017
Hi
Awesome
This game is soooo fun I can play it where ever I go ❤️✌️
SNH 🐻🌝🍍🍌🍉
Wouldn't let me spell the correct word👎😡😤👎👎👎👎👎🤦‍♀️
ADDICTIVE
Fun and addictive challenging to
Fun
anightattheopera1991
on
10/31/2017
I really enjoy the game
Good game
Mcortez2008
on
10/30/2017
Fun game
I just want my 50s
Oh yes
Awesome game
The asin guy gamer
on
10/30/2017
Awesome and fun game. Entertaining😊
The game
Cat is wield
on
10/29/2017
Fun game love to play on free time
Cool
Idisnothaveaidea
on
10/29/2017
Fun
100 pics
Nikkilane123
on
10/29/2017
So much fun!!!!
Fun games still has bugs
Anny Gonzalez
on
10/29/2017
Have to type in the answer multiple times before it counts it as correct
Fact Sheet
Publisher:

Poptacular Ltd

Category:

Games

Released:

Jul 02, 2013

Current Version Released:

Dec 12, 2017

Version:

2.65

Size:

97 MB

Compatibility:

Requires iOS 8.0 or later.

Recommended Age:

4+

Game Center Certified:

No

Supported Languages:

English; French; German; Italian; Japanese; Korean; Bokmål, Norwegian; Norwegian Bokmål; Portuguese; Spanish; Castilian; Swedish;