Screenshots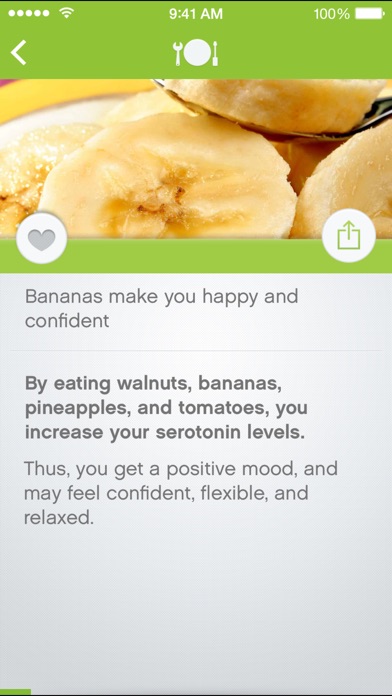 New in version 1.2.1
Your favorite nutrition gaming app is now more fun than ever!

- Performance Improvements

Love Runtastic? Our goal is to help you improve your fitness and encourage healthy living. Rate us & tell others about your experience in the App Store.
Description
600+ NUTRITION MYTHS BUSTED! Have fun while playing a game and learning about nutrition, diet, health and fitness. Does cheese help you get a good night's sleep? Does non-alcoholic beer really contain zero alcohol? There's an endless amount of information on nutrition out there - but which are hard facts and which are simply myths? Uncover the truth!

It's a great way to get the kids excited and involved in learning about important nutrition information. Maybe this game will help to get them to eat their vegetables at dinner time?

APP FEATURES & BENEFITS: (limited in LITE version)
- 600+ different facts & myths
- 11 unique categories, 3 available in LITE version
- Valuable and practical advice about general nutrition, diet, health & fitness
- Browse through the facts without playing the game
- Test your newfound knowledge in an interactive quiz against the clock or compete with your friends
- Compare your results with friends or the world average
- Statistics provide customized data on your current level of knowledge
- Save the facts that interest you most in Favorites
- Share the most intriguing information with friends
- Refresh your knowledge with daily reminders
- As a registered user, you will receive up to 55 additional facts

Get the PRO version to gain access to 8 further, interesting categories and the possibility to compare your results with your friends' on your personal leaderboard.

Share your quiz results online via Facebook and Twitter!

Download the Runtastic Nutrition Quiz app today to uncover useful lifestyle facts and test your knowledge in Quiz mode!
iPad Screenshots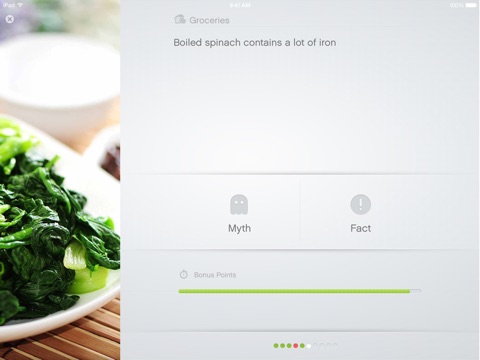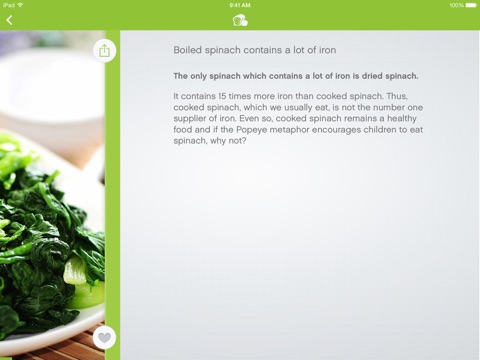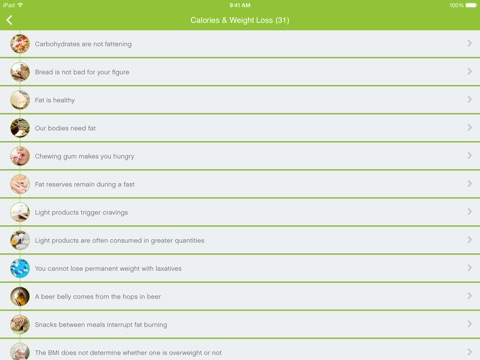 Reviews
Way too many advertisements
With every quiz question, you get a advertisement which takes you to another site. I am used to putting up with advertisements with free apps but these guys went way way way too far.
Fun, quick and informative
kayladelane<3
on
6/21/2017
Even though there are a lot of ads, I don't mind cause I didn't have to pay for the app. I like this because it's colorful and fun to do when I have a few spare minutes. I learn some tips that are easy to remember and apply to my life.
It's very knowledgeable
Really like it playing game and getting knowledge
Love!
Pinkstrawberri
on
4/27/2017
Learning A lot from this app!
Enjoy
I'm really enjoying this app. The articles are good,,, I hope they will include more tips.
Great!
Perfect app for anyone looking to learn facts about different subjects. I'm using it for nutrition, and I love learning new facts all the time! I Highly recommend :)
Excelente
godismylife
on
12/15/2016
Éxito sigan informándonos es muy importa
Very helpful and entertaining
I enjoy learning about nutrition and health. This app is great!
Review
Helps me a lot. I learn helpful information that I can use. This app is easy to use.
Cool
🎼Quℹ️®®e\_¥~G📍R_/*
on
9/27/2016
Useful facts and steers me in right direction
To many ads
Sweetheartt282
on
8/9/2016
Interesting but not worth dealing with all the ads! I get through 3 and an ad every time! Very annoying
I like doing this
I really like doing this app and it really helps me with quizzes for NowTristan even though I am a kid I still like doing it.
Fun and great app
Loser knock-off App
on
7/6/2016
Work on iPhone 6. No annoying interruptions. A few advertisements but is less than expected. Highly recommend for fun food facts.
Love this app
Kaylalulu725965
on
6/3/2016
I love this app. Let's you learn about nutrition as well as makes you think hard!
Never too old to learn
KandyAppleRed80
on
5/15/2016
This app is awesome! I've challenged myself to not only get as many correct as possible but I'm learning so much more along the way. Absolutely, the best app for gaining knowledge on nutrition!
Interesting app
I've learned some things I didn't know before!
Great info
I thought I knew my stuff, but I learned a few new things!
Very Educational
I learn something about nutrition and this game is one of the great nutrition games to boost knowledge. Nice!
Fun and informative!
It's kind of addictive!
Like it, very informative
Svnowbyhwcjofvst
on
3/18/2016
Good game with good info
GREAT APP
What a great app. Has so much educational value. Great app for everyone!
Useless facts
2ndcitycopper
on
2/22/2016
The information provided as well as the quizzes are pretty much useless facts. I've gained no new knowledge about nutrition.
Genial !
Grey app! Muy interesante
very useful
Nghwvyjdoidgijbxijdk
on
2/15/2016
very useful. Felt like extremely helpful!
😍😍😍😍😍😍😍
CheyenneSweeley01
on
1/21/2016
OMIGOSH I love this app! If u want to learn more about health and fitness this is the way to go!
Very fun and useful
This is a fun and educational app. Love it. Download it and find out just how much you really know 😉
Great learning fun
Enjoy playing and improving my nutritional knowledge.
Know Yourself
Kadetkandie
on
11/28/2015
Very informative App. The quality of the quizzes is appealing and after taking a few quizzes I have a better idea of what I should incorporate more into my diet with a solid reasoning of why it benefits me. So far no complaints.
Horrible "free" app
GymLeaderMarie
on
11/28/2015
Unless you pay for the pro version this app is absolutely useless.
Fun
TattooLou73
on
11/24/2015
Very Educating
Fun and educational!
Wiltshireel
on
11/22/2015
Love the nutritional information. Play with my kids to help educate them on the value of nutrition.
Probarlo
Verodieguez9
on
11/5/2015
Me encanta!!!
It's good
I like this app it's really fun and entertaining
Helpful
Useful, enjoyable, fun
Great idea for educating the masses
I enjoy learning about food, and how it is vitally important to keeping myself healthy. I take a quiz when I'm killing time, makes you're aware of the fact you should make a conscious effort to eat right. 😎
Fun and informative quiz
Innovadietor
on
9/17/2015
Fun to play and informative to provide nutrition facts and myths. It becomes my daily routine before going to bed.
Awesome info to learn about!
I dig this app, very informational and definitely fun and interesting!
Hey It's very useful and fun
Eatingpotatowithcheese
on
8/23/2015
I highly recommend it
Fun!
GoodVlahhh-in'
on
8/20/2015
I enjoy the quizzes! They are very informational!
App is cool
I know random cool stuff, and it's all thanks to this app
Nutritional
Very Informative
Great
Informational and fun at the same time!
Very informative!
Pretty cool app! I have learned a lot!
Enjoyable
I really enjoy taking the quizzes and hope they update it often. I've learned a lot thanks
An Apple A Day
Love...love...love this app. The quizzes are fun and informational. Definitely recommend.
Informative
Fjiskdmskqjhdo
on
7/18/2015
It's very informative and helpful. The app itself is nicely organized too, which is a plus.
Esta súper
Una aplicación muy educativa , me encanto.
uncommon quiz very interesting
it has so much new info I hope database will only get bigger
Fact Sheet
Publisher:

runtastic

Category:

Food & Drink

Released:

Jul 25, 2013

Current Version Released:

Aug 12, 2015

Version:

1.2.1

Size:

71.9 MB

Compatibility:

Requires iOS 7.0 or later.

Recommended Age:

4+

Game Center Certified:

No

Supported Devices:

iPhone4-iPhone4, iPad2Wifi-iPad2Wifi, iPad23G-iPad23G, iPhone4S-iPhone4S, iPadThirdGen-iPadThirdGen, iPadThirdGen4G-iPadThirdGen4G, iPhone5-iPhone5, iPodTouchFifthGen-iPodTouchFifthGen, iPadFourthGen-iPadFourthGen, iPadFourthGen4G-iPadFourthGen4G, iPadMini-iPadMini, iPadMini4G-iPadMini4G, iPhone5c-iPhone5c, iPhone5s-iPhone5s, iPadAir-iPadAir, iPadAirCellular-iPadAirCellular, iPadMiniRetina-iPadMiniRetina, iPadMiniRetinaCellular-iPadMiniRetinaCellular, iPhone6-iPhone6, iPhone6Plus-iPhone6Plus, iPadAir2-iPadAir2, iPadAir2Cellular-iPadAir2Cellular, iPadMini3-iPadMini3, iPadMini3Cellular-iPadMini3Cellular, iPodTouchSixthGen-iPodTouchSixthGen, iPhone6s-iPhone6s, iPhone6sPlus-iPhone6sPlus, iPadMini4-iPadMini4, iPadMini4Cellular-iPadMini4Cellular, iPadPro-iPadPro, iPadProCellular-iPadProCellular, iPadPro97-iPadPro97, iPadPro97Cellular-iPadPro97Cellular, iPhoneSE-iPhoneSE, iPhone7-iPhone7, iPhone7Plus-iPhone7Plus, iPad611-iPad611, iPad612-iPad612, iPad71-iPad71, iPad72-iPad72, iPad73-iPad73, iPad74-iPad74, iPhone8-iPhone8, iPhone8Plus-iPhone8Plus, iPhoneX-iPhoneX,

Supported Languages:

English; French; German; Japanese; Chinese; Spanish; Castilian;