Recommended app!
App last updated
Dec 17, 2017
Screenshots
New in version 3.3.0
Want the inside scoop? Be sure to download our regular updates for the most up-to-the-minute version of Zagat, hottest restaurants included. Happy eating!

-- iPhone X support
Description
The Zagat app helps you find the best restaurants wherever you are. With ratings and reviews curated by editors, a great meal is only a tap away. But don't just take our word for it. Check out what the editors at InStyle had to say about us:

"If you know where you are and what your annoyingly capricious appetite desires, your dining app should too—so based on your location and the time of day, the app will recommend nearby places accordingly.

Its real strength lies in its carefully curated content—reviews are vetted by Zagat editors in order to convey dependable restaurant reviews, helping you discover the newest hot spots in your area, share your own experiences, and get inspiration from the tastiest trends nationwide."
iPad Screenshots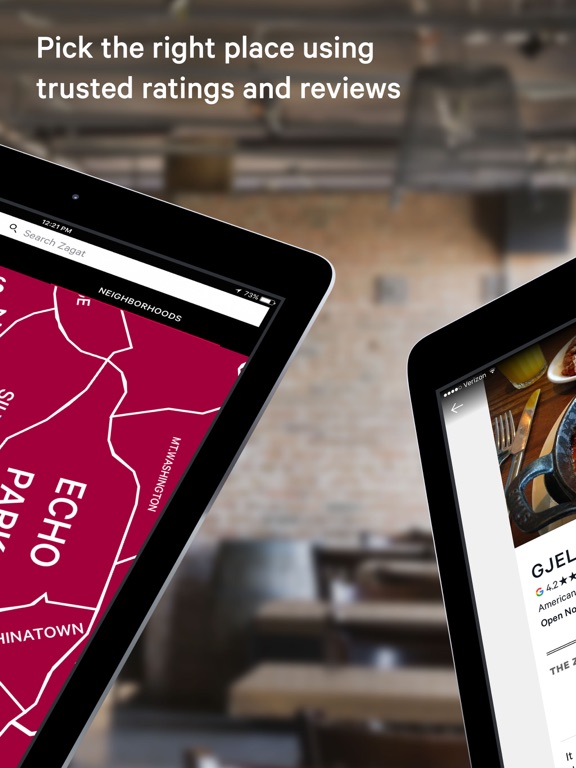 Reviews
My favorite restaurant is not listed .
But the one nearby has a 4.2 rating . That one is awfully bad . So I'm thinking this is some kind of pay site . Not naming names . I think this is a bad place for information . Now I wil ignore your ratings when I see them posted .
Zagat Has never failed me
avalanche1521
on
1/3/2018
Honestly this is my go to app for restaurants. If you eat out this is a necessity. Literally every restaurant I have been to through Zagat has been the best. Other apps like yelp don't come close. I don't care about your blooming onion at outback steak house, or how your soda didn't have enough carbonation. These restaurants are reviewed my professionals with standards.
Improvements needed!
Extremely limited cuisine filter options. List and map defaults to google food score instead of zagat score.
Best source for NYC restaurants.
Tarrytown 7
on
12/31/2017
Useful reviews.
Pratt's Under-Delivers on Christmas Eve
Frustrated by lack of service
on
12/24/2017
It's Christmas Eve. I am serving dinner at my house at 4:00 p.m. for 35 people. I arrived at Pratt's to pick-up my 2:30 p.m. order, and much to my surprise I am still waiting on my order at 3:30 p.m. At first, I was told they were waiting on the corn, and now I am being told the ham isn't ready. I placed my order in advance and arrived on time. This is absolutely inexcusable. I am going to be late to my own Christmas Eve celebration because my $200-plus order still has not arrived. Pratt's under-delivered and caused a Christmas fiasco. A big thanks to you for ruining our family celebration.
I like their reviews
Most trustworthy
Muy bien
Breakingdrop
on
12/3/2017
Muy bueno para USA, lastima que no haya para México
Great app
NOLANAVY2010
on
12/1/2017
Helps me find the best wherever I am. Many thanks to the Zagat team's hard work in identifying the best and reporting accurately. Thanks!
Love the insightful summaries and reviews!
In a world where yelp reviews are so hard to go by or trust, so glad that Zagat helps me choose!
Great app
So organized. With maps and ratings and lists. So many ways to find great food in your own city or on vacation.
Easy to use with great information
Peter Christensen
on
11/17/2017
This AP is wonderful. The Zagat guide has long been my go-to source for restaurant reviews. That AP brings the best of Zagat into an easy to use interface.
best app evarrrrr
foodie72046185&1
on
11/4/2017
great food
Terrible!!
Terrible!! I tried to look up local restaurants and this app only catered to their interests.
The perfect app for finding good restaurants
Markusapprate
on
10/11/2017
In the jungle of crowdsourced ratings this is the one app you need to find a good place to eat. Praise curation.
Go To App
I love Zagat for food, bars, Best Lists, etc. I've yet to be disappointed with the reviews and suggestions from this app
Was a great app but had a problem loading
what smell?
on
10/10/2017
Maybe it's because of ios11 but for a while the app would not load at all. Finally tried deleting and re-downloading it now everything seems fine.
Download
EdJohnsonThe5th
on
10/2/2017
Very helpful
As expected
Smart. Easy to navigate. Spot on
Best app for restaurants
My wife and I use this all time to find out where to eat. It does the trick almost every time. Always updates with new restaurants in the neighborhood and has great lists.
Use more than yelp!
Love love this app. Very helpful when traveling.
Perfect on the fly!
First I love that Zagat is far mor curated than most other review sites. Pair this with the ease to find fare or drinks nearby quickly and you have a blockbuster. The features for finding quick bites, drinks or brunch/lunch/dinner nearby are especially outstanding. Also, searching neighborhood without having to type in via a map is elegant design. Thank you, Zagat!
Helpful App For Finding The Kind Of Restaurant You're Looking For
This app is great for finding the kind of meal you want to have when you're traveling. I know it's not 100% comprehensive but when you're hungry in an unfamiliar location this will find you the food you want with the ambiance you want at the price you want to pay. When you're in your own neighborhood it can remind you of places to go that you hadn't thought about lately. There are maps, reviews, menus, photos. I've found it very helpful.
Great companion
Works superbly
Crashes
Crashes as soon as I open.
Great App
Great, up to date reviews
Love Zagats lists and reviews
Reviews are non biased and pretty reliable. Love the lists that they offer and suggestions. I used to buy the books but find the app to be very easy and friendly to use. Love the saved features!
Great app
Super practical. Greatest app.
Very Helpful
I often find myself in various areas in the tristate. I am always looking for good restaurants to have a meal. This app has provided me with great selections.
Usability has plummeted; use open table
As a frequent traveler I used to use this app often. But idiotic changes to the UI have pushed me to open table. I can't even figure out how to change cities; search is confined to the current city; am sure buried some where there is a way to change but I don't have to search in open table. They also eliminate many of the filters I used so you get a huge list of returns; not helful
Useless
One would think migrating from hard copy guides to electronic versions would make finding things easier but that would be WRONG. It is impossible to find anything unless you are interested in looking at what Google thinks is "the best", "the newest" or "the most popular" -- none of which are particularly helpful or informative. Forget about searching for anything in areas surrounding the metro areas. The only positive is that it is free -- but then you are getting what you pay for.
Lots of Choices
Reliable reviews.
When most rating site score everything 5.5/5
There is a real problem obtaining accurate restaurant evaluations these days.because of the pressure to write everything is highly as possible, ratings are all at the top end of the scale, and even beyond, apart from a few really unhappy visitors who's experiences have been so miserable they are not likely to be representative. How does one get a real feeling for what's up? Feedback (like this) has been very helpful. And, of the sites I have used, Zagat has been the most innovative and reliable. It has led us to a number of pleasant surprises, and correlates nicely with our experience in markets we frequent. No review site will suit everyone, and unusual experiences, good and bad, are inevitable. We look at many review sites regularly. But for us, in late 2017, Zagat is about as good as it gets.
Go to guide
Dwellthebluea
on
7/11/2017
Excellent reference for all neighborhoods and cuisines
Great resource with reviews that are useful
Find this is my go-to resource when I'm traveling for business. I like finding unique places that I wouldn't otherwise try - the review of useful in helping me decide. Been using Zagat first as a paid service and now as a free one. There have been challenges with some info I find which is usually few and far between.
Best app for finding food
This app has never let me down. It's the best for finding good dinners close by. I especially love how quick and cheap bites are included sometimes.
Mandatory
Must have app that helps anywhere you want to eat!
My Go-To!
Always spot-on helpful descriptions which focus on more than just the food. Useful for planning ahead and on the go!
Reliable information!
I find the Zagat's app a very good tool to help me decide where to make my reservations when I don't know a destination. I look at this along with others to get a good opinion and make my bookings.
Everywhere I go, I check zagat first
boycottdisney
on
7/1/2017
Reliable apps for good restaurant
Best restaurant app
I missed the old Zagat app which was taken down about 3-4 years ago. This new one is even better: easier to use and includes restaurants not listed in the printed guides.
Not very accurate ! Restaurants missing .
So I am sitting and eating at Duluth Diner which is a great place and has been in business for 12 years. They have great reviews on google, TripAdvisor ,foursquare....but zagat shows different restaurants when I even type in the exact name. I also have turned off the "zagat only rated", and still it doesn't show it . I understand if it was a new restaurant, but not showing a restaurant that has been in business for 12 years and it is already a landmark in the city ?? Update ...7 months later and still no update !
Nice app
Great place to look up pleased to eat on special occasions. Mother's Day was great help and now using it for fathers days
Great design -- so useful
Really love the new app. So useful -- love the new features, curated lists and overall design. 🙏 Zagat!
Have Always Trusted Zagats
BobbyjtheKid
on
6/14/2017
Was my bible in NY and has slowly filtered into a good number of other cities. Navigation is still odd (reason for only 4 stars) but overall my go to for major cities
Stuck with local recommendations
Unable to search for restaurants in other cities easily, which is pretty ridiculous. You can switch the City's Best to another city, but not search for different cuisines, etc. Ridiculous.
Super helpful!
boostedbuster
on
6/12/2017
Do you like food? Great app I've used a handful times so far and have been very happy with all the recommended restaurants.
Best restaurant rating app
Always reliable no matter where you are. My trusted companion to keep my tummy happy!
Zagats is the go to for reliable recommendations
I always use zagats
Too few restaurants
Way too few restaurants! For example, there are 6 Mediterranean restaurants in my city. Zagat shows precisely ONE of them! Sorry, nice try, but Yelp at least shows every place in town.
Fact Sheet
Publisher:

Google, Inc.

Category:

Food & Drink

Released:

Jul 29, 2013

Current Version Released:

Dec 17, 2017

Version:

3.3.0

Size:

136.6 MB

Compatibility:

Requires iOS 8.0 or later.

Recommended Age:

12+

Game Center Certified:

No

Supported Languages:

English;

Parental Advisory:

Mild Alcohol, Tobacco, or Drug Use or References;