Screenshots
New in version 1.25.1215
Say hello to the new Google Home app. We're introducing a new look and a better way to browse your favorite music and videos.
Description
With the Google Home app, you can set up and control your Chromecast, Google Home and other Assistant speakers.*

Discover
Get the most out of your devices with the latest features, tips and offers.

Browse
One place to browse and play your available music, TV shows, and movies from the services you love.

Control
Pause, play or change the volume of your video or audio streams.

Google Home and Speaker Settings
Control settings like your default music provider or your location, and link compatible devices like smart lights, thermostats, and Chromecast devices.

Create speaker groups with compatible devices and enjoy music playback across your home.

Chromecast Settings
Customize your TV screen with beautiful imagery. Control settings like your device name, and discover apps, offers, and content.


* some features may not be available in all regions
iPad Screenshots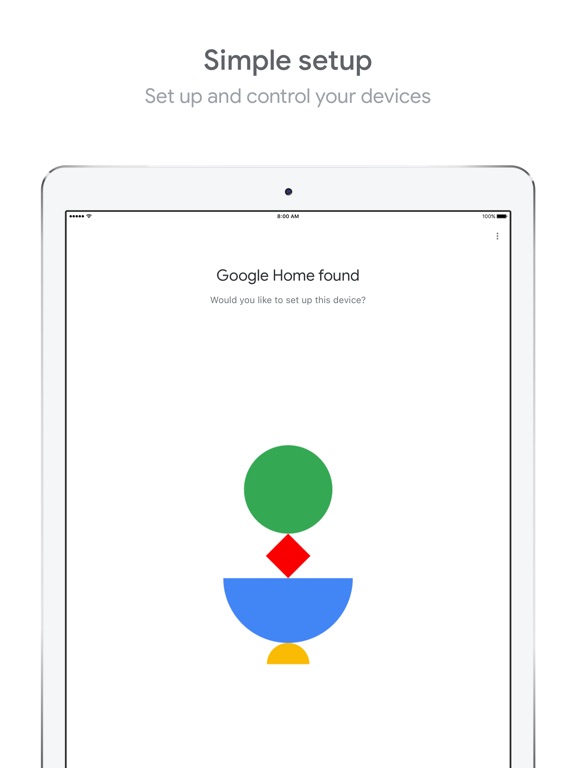 Reviews
Iquitosirwqe
and Qpo q p qwas Q the company is a oryuwand the c RDeouo was
Google Home App
Dub Diesel 813
on
10/22/2017
It just isn't working on my iPhone 7 running ios11. Works without an issue on my wife's iPhone 6+ running ios10
Confusing and redundant
Looking for alternatives
on
10/22/2017
App doesn't add much to the google universe. Just one more place for google to rack up hits
Terrible!
Difficult to impossible to navigate! The worst!
Don't know
stay run run
on
10/21/2017
Don't know what else it does but stream Chris, cast when I use it?
Comparing to Echo
So far not so great. Better for questions but the app won't let me add Philips Hue lights so cant get home automation working.
I can't download the app!!
I've been trying to download this app but nothing happens!! I have WiFi or without WiFi and nothing works! Was this app discontinued!?? Thanks in advanced.
Too much memory usage.
An NYC parent
on
10/20/2017
The app takes too much memory on iPhone. Can hey advise on a fix for it. It should be apart of the start up instructions.
What happens when you pay tech bros to break good ideas
Updates have made this an example of the convoluted and unnecessary need to pay programmers to update and change something that simply works into a mess of data collection for profit margin to justify their inflated salaries. Silicon Valleys slow deflation in a nutshell.
Wow
Very fun to play with :D
Need an account to use now? NO.
Sickofthisgreedyworld
on
10/19/2017
Fortunately I do not have autoupdate all my apps and I have learned today that now Google Home is requiring me to sign in with my Gmail account to access my Chromecast set up. I have owned a Chromecast for over three years, but now I will never use this app again. This is greedy pandering for more personal information. Don't let companies do this to you. Stockpile your DVDs because our world is getting more and more effed up and soon hard copies will be the only thing you can control access too.
Very buggy
Extremely buggy, this app hardly works.
Looser
superchief151
on
10/19/2017
Took 5 tries to connect to myWiFi net. Supposedly supports Plex, but can never find any music. ALWAYS pushes Google Music.
Can't get my account to sync
Sadly I can't connect my account to access my calendar, etc. I can't continue past recording "ok google" and "hey google."
Not Google Worthy
Landonomous
on
10/18/2017
Most of the time half my devices don't show up under my devices. Can't seem to add a second persons voice. All around the app is just hit or miss, needs work. Also, google home has a very hard time picking up on the wake words, again hit or miss. The new google home mini However works flawlessly when responding to its wake words. I believe the new google home mini was designed with better far field microphones, but on the downside google messed up by mass producing the mini's with a hardware defect forcing them to permanently disable the top button. How can google think that's ok? Why should anyone buy that?
No Bluetooth Speaker Support
Easportsatl
on
10/18/2017
I have a DOT and use it primarily for controlling lights and music. My music is on Google Play and was glade when the came out with a mini. It arrived today to find I cannot connect my speaks. Not having a way to connect my Bluetooth speakers is a deal breaker. Google you missed the mark on this one.
Half-effort
I absolutely love needing to disconnect and reconnect to my Chromecast every single time I need to pause, fast forward or rewind. And the volume controls make me want to rip my balls off so future generations do not have to deal with this mediocre application.
It worked, updated, now it doesn't work
I was using the app last night and it updated today and now chromecast no longer works and it won't sync/see my device. REALLY disappointing! They Should have left it alone. So much for an update...
Sometimes it works sometimes it won't stop buffering
I have a love/hate relationship with Chromecast. Connection and streaming can work flawlessly and recently I've been suffering with continuous buffering and stream freezing. After checking both my internet speed and connectivity I then checked my router and the connection is great. Not sure what's going on but can it stop already. I wonder if others are having the same issues?.
To whom it may concern
amazin echo
on
10/17/2017
Make it more like a real google search engine
Phone quality
Phllyalber1
on
10/15/2017
Phone quality is really bad
Rarely connects as expected
Can be very frustrating
Seriously?!?
App is garbage. Everything disconnects randomly
Love this device!!
TomBoy Texan
on
10/15/2017
Chrome cast is a great produce!
Boss man
Most amazing app in the world!! Stay on top and growing !!
Gsuite
Unable to get calendar etc with my email on gsuite
requires reset after every use
hducifkdkxh
on
10/14/2017
every time after i connect to my chromecast and then leave the wifi area, the chromecast is unrecognizable and i need to reset the chromecast
Heavy handed onboarding
The onboarding UI manipulates users into sharing Bluetooth and logging into a google account. All I want to do is manage my chromecast.
Work fine before you messed around with it
Thanks Google For making 3 of you Cromecast devices into junk that will end up in a land fill And waist my Time and Money On a device that was not cheap but worked before and no longer dose since you guys had to screw around with graphics and the software that were fine before Nice job
Crashing
I loved this app, but ever since I installed a Nest to my home and tried to link it up, the google home app keeps crashing. It opens and then immediately goes black and crashes.
Need an account to use app
Will199419941994
on
10/14/2017
Really disappointed in the fact that I need to link my gmail with the Google Home app. Unfortunately I had set my phone to auto update all apps and now I am locked out of my Google Home app because I do not want to log in with my gmail account. I believe that Google is doing this so they can learn more about what you are watching and this is yet another way for them to infiltrate your life and learn more about you so you can be bombarded with even more advertisements. This is the end of the line for Google Home on my phone. I would rather use a 3rd party app without having to set up an account and I am saddened by the fact they choose to go this route. I miss the old version where I didnt have to sign in so now auto updating apps is off and I'll make sure to read the update description before hitting update. Thanks for the lesson Google.
App doesn't work
The feed will not work tried contacting google for help NOTHING. So I guess I'll leave crappy review
Can't connect in motel
thedudemotelslo
on
10/11/2017
No help from app connecting to motel set up
Can't stay connected
terminator_117
on
10/11/2017
Can't go 5 minutes without it telling me I can't find my wifi network inside the room as the router. I have fiber broadband lol and my phone can connect from 100+ feet away.
Won't find devices after following instructions
Somethingwickedthiswaycomes
on
10/11/2017
Add devices doesn't work properly.
Works half the time
Gutta Butta
on
10/10/2017
Half the time I have to keep closing the app and rebooting my chromecast because it doesn't find the devices what a pos
Google Home
Great app! I just wish they had more sports channels
Constantly crashes
We have a chrome cast that crashes more than it works. This is our second one, as the TEch support told us the first one was just old. The new one has to be reset any time you want to use it. What a waste of money.
Doesn't make sense
Start movie... where did the Chromecast icon go? It disappeared. Works for YouTube that's about it.
Because it's useless.
westgermanic
on
10/9/2017
Hmm
Simplicity
Google gets it, they understand how people want an all around set up app that is basic as possible, maybe because we are lazy however the app is totally user friendly!
It serve its purpose but has glitches
Sometimes I have to trouble shoot it a bit to get it to connect. When I open Netflix or Hulu apps I don't see the chromcast logo and have to open this app, make sure it's connected to my tv and then reopen the Netflix/Hulu app and the icon shows up. Other than that it works.
Why so many apps
Why in the world are there so many apps to do all of these different functions that are all interlinked to one another? All of this could be consolidated into one single app I don't understand why in the world there is a YouTube, YouTube TV, Google Home app… Really, three different apps for using the chrome cast? That's ridiculous The apps themselves are good but the overall UX is terrible.
Setup
Shopping is great
on
10/9/2017
Instructions fail
Love it
Kids love it, mama loves it , great to have one at home .
Doesn't work when I'm WiFi
Doesn't work on WiFi, only on network. Plus super slow. But I do love the actual google home.
Piece of garbage
No it's so disgusting I would have given 0 rating if possible not able to set up the previously okay chrome cast but this app does nothing I am gonna throw this piece of trash out and buy Apple TV, you get what you paid for so pleas e save your $$
Apps recognizing chromecast
pauljustpaul4u
on
10/8/2017
much of the time the apps from the google App Store do not Recognize my chrome cast to be able to mirror the broadcast
Pain in the rear to keep this working
I finally get this thing to respond and then it reverts to the mode of "there are some basic settings that need your permission first" mode. I'm getting Alexis
Not user friendly
Shouldn't have to feel like you're hacking into a program to make it work!
Fact Sheet
Publisher:

Google, Inc.

Category:

Entertainment

Released:

Aug 27, 2013

Current Version Released:

Oct 21, 2017

Version:

1.25.1215

Size:

191.7 MB

Compatibility:

Requires iOS 9.1 or later.

Recommended Age:

12+

Game Center Certified:

No

Supported Devices:

iPad2Wifi-iPad2Wifi, iPad23G-iPad23G, iPhone4S-iPhone4S, iPadThirdGen-iPadThirdGen, iPadThirdGen4G-iPadThirdGen4G, iPhone5-iPhone5, iPodTouchFifthGen-iPodTouchFifthGen, iPadFourthGen-iPadFourthGen, iPadFourthGen4G-iPadFourthGen4G, iPadMini-iPadMini, iPadMini4G-iPadMini4G, iPhone5c-iPhone5c, iPhone5s-iPhone5s, iPadAir-iPadAir, iPadAirCellular-iPadAirCellular, iPadMiniRetina-iPadMiniRetina, iPadMiniRetinaCellular-iPadMiniRetinaCellular, iPhone6-iPhone6, iPhone6Plus-iPhone6Plus, iPadAir2-iPadAir2, iPadAir2Cellular-iPadAir2Cellular, iPadMini3-iPadMini3, iPadMini3Cellular-iPadMini3Cellular, iPodTouchSixthGen-iPodTouchSixthGen, iPhone6s-iPhone6s, iPhone6sPlus-iPhone6sPlus, iPadMini4-iPadMini4, iPadMini4Cellular-iPadMini4Cellular, iPadPro-iPadPro, iPadProCellular-iPadProCellular, iPadPro97-iPadPro97, iPadPro97Cellular-iPadPro97Cellular, iPhoneSE-iPhoneSE, iPhone7-iPhone7, iPhone7Plus-iPhone7Plus, iPad611-iPad611, iPad612-iPad612, iPad71-iPad71, iPad72-iPad72, iPad73-iPad73, iPad74-iPad74, iPhone8-iPhone8, iPhone8Plus-iPhone8Plus, iPhoneX-iPhoneX,

Supported Languages:

Afrikaans; Arabic; Armenian; Bengali; Bulgarian; Burmese; Central Khmer; Catalan; Valencian; Croatian; Czech; Danish; Dutch; Flemish; English; Estonian; Finnish; French; Georgian; German; Greek; Hebrew; Hindi; Hungarian; Icelandic; Indonesian; Italian; Japanese; Korean; Lao; Latvian; Lithuanian; Macedonian; Malay; Marathi; Mongolian; Nepali; Norwegian; Persian; Polish; Portuguese; Romanian; Moldavian; Russian; Serbian; Chinese; Sinhala; Sinhalese; Slovak; Slovenian; Spanish; Castilian; Swahili; Swedish; Tamil; Thai; Chinese; Turkish; Ukrainian; Vietnamese;

Parental Advisory:

Suggestive Themes; Fear Themes; Mild Realistic Violence; Mild Cartoon or Fantasy Violence; Mild Sexual Content and Nudity; Mild Profanity or Crude Humor;