Screenshots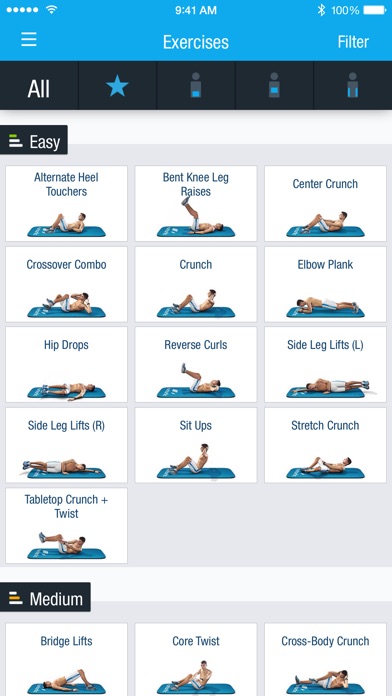 New in version 2.7
The reason for the update?

We've made a couple of improvements to make sure the app is fully functioning for you. Just install the update and continue with your usual activities :)

Love the Runtastic Six Pack app? Rate us with 5 stars & tell others why Runtastic Six Pack is your favourite training app in the App Store!

Got a question for us? We've got an answer at help.runtastic.com!
Description
Get your abs out of hiding with the Runtastic Six Pack app! Each core-focused workout can be done at home with no additional equipment – just you and your app! Lifelike avatars, Daniel & Angie, guide you through transformative abs workouts (that will set your abs on fire!). Plus, 50+ HD tutorial ab exercise videos help you maximize your core strength and overall fitness. Get the Runtastic Six Pack app today & get your abs and core defined like never before!

APP FEATURES & BENEFITS:
- Male and female avatars take you through a variety of core exercises step-by-step
- 50+ HD instructional ab workout videos
- Adjustable difficulty, three levels of a scientifically developed training plan
- 10 week Six Pack Plan
- Pre-defined workouts, including: The 7-Minute Workout, Insanity, Shape Up, Six Pack Junkie and more
- My Workouts: Create custom workouts by choosing your favorite exercises tailored to your core, weight loss goals & daily schedule
- Works with iPhones, iPads, Apple TV & Apple Watch
- Voice Coach for easy-to-follow instructions: English, German, French, Spanish, Italian, Portuguese, Japanese, Chinese
- Filter exercises for your personal fitness level
- 50+ unique "Tip of the Day" messages
- Runtastic Six Pack Workout Music Packs available to keep you motivated
- Music intensity matches workout intensity, setting the best mood & pace for your circuit
- Absolutely no gym equipment required – use this situps app anytime, anywhere
- Heart Rate integration: Use your Heart Rate Monitor to track your HR during workouts
- Improve overall fitness, muscle strength & toning, stability and weight mgmt.
- Body Fat Visualization: Visualize your ideal body fat range for the perfect six pack
- Track sixpack training sessions and overall progress using detailed graphs
- Integrate your Runtastic sessions with your MyFitnessPal account
- Share fitness accomplishments & tips on Facebook and Twitter
- Upload your activities to Runtastic.com

*** Some app features only available in Full Version


ABS AND CORE EXERCISES INCLUDE:

- Classic sit-ups
- Cross-body crunch
- Oblique crunch
- Planks
- Mountain climbers
- Hip drops
- Leg raises
- Core twist
- Side bridge
- Plus, many more core and ab exercises to strengthen and define your abdominal muscles.

Whether you're a nutrition & fitness junkie, a busy stay-at-home mom or a business traveler who is always on the go – the Runtastic 6 Pack app is perfect for you and the best ab challenge out there! Each abs exercise will help you lose weight, ditch the belly & get the flat tummy you've always wanted. Follow our instructional ab workout videos & easy-to-use plans - anytime, anywhere.

Remember: Don't keep your hard work & insane 6 pack accomplishments to yourself! Share your completed sessions, "My Workouts" custom results and "Tip of the Day" favorites online via Facebook and Twitter.

Runtastic Terms of Service: https://www.runtastic.com/in-app/iphone/appstore/terms
Runtastic Privacy Policy: http://www.runtastic.com/in-app/iphone/appstore/privacy-policy
iPad Screenshots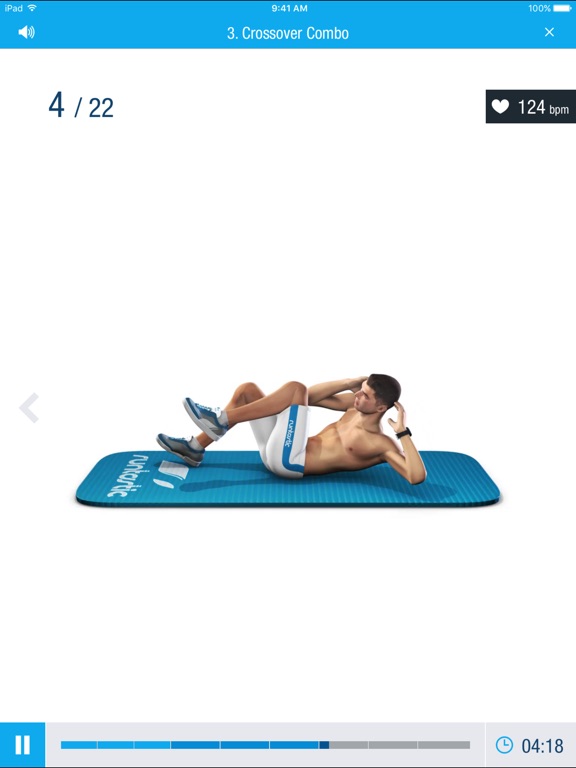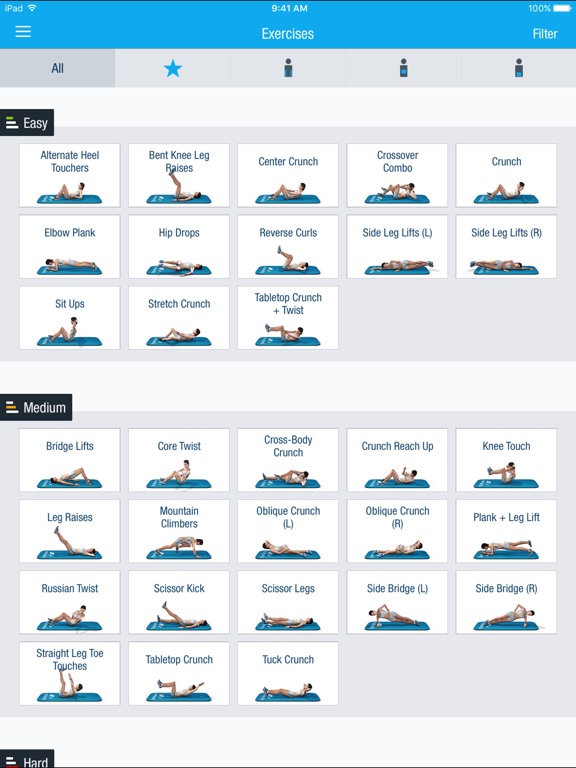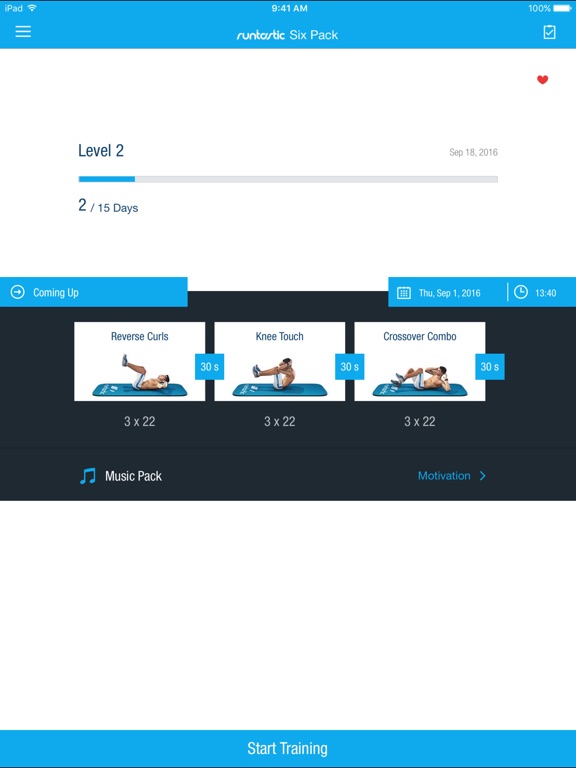 Reviews
Great results quickly!
When I'm consistent, I can see great results in a matter of a week! I run this bad boy every morning and you should too :)
Great app
Kid that's mad
on
12/3/2017
Helping me get in shape everyday
❤️The abs are fabs❤️
Kid flash 53
on
11/29/2017
This app gave me killer ABS!
Great app!
Pre-designed workouts! No more guess work involved in my abs routine.
I got results!
Good app, simple, starts gradually to get you used to working abs every day.
Love update!!
Love the updates to all the apps! Keeps me motivated to run and workout! Six pack is a great app for core!!
Dad over 40
Useful app. Get it done in the morning and then get the day started. Using it to improve core for swimming. Takes the guesswork out of abs training. Mixes up muscle groups pretty well. Would like to see more lower back exercises for balance.
Great app but it could be integrated with the HealthKit
The app is great, it takes you into the difficult levels in a good pace. My only complaint would be that the app is not integrated with the health app. I use a lot and it would be great to have the data from this app there since I've paid for the full version.
Keeps me going
Every time it asks me if I want to go the extra mile my body tells me nooooo but my mind tells me yeahhhh. Awesome app with a lot of variety if you want a quick before bed workout.
Not able to catch up to the plan
At beginning you feel easy, but after sometime you find it very hard to catch up with the plan. Would appreciate if the plan adds efforts slowly, giving more time to build up.
Great app
Black Orion Music
on
10/17/2017
Love it, results!!!
Ave
Keep me on track all good, until I updated and can no longer log in. Contacted them, "so sorry answers" but no help.
To slow and easy
Even on the hardest level it's slow and easy. I would do 5 mountain climbers by the time she counted to the next number. 16 in 30 seconds? Please... I'm doing at least 80-100 in 30 seconds which at the hardest level should be cake. And there's no way to rate it like the results app.
Good app
Good, but as you follow schedule the exercises become too hard on the level 3, need a bit slower progress map
Great
Absolutely 777
on
9/25/2017
I'm using for the days that I don't go to the gym!!! Excellent!
Pretty decent
I'm the kind of person who will skip ab workouts any chance for any reason. So having the daily reminders helps and the workouts, although pretty basic and standard, are solid.
Stopped working
Hitting start to continue with my workout plan yields a spinning wheel and nothing happens. Restarted app, restarted phone, it just get stuck.
Super good
A random internet user
on
9/24/2017
I love this app used it for 1 day the bought the premium worth the price
Exercises are not explained
shanghaimoon
on
9/21/2017
I like the app but would like the exercises to be properly explained! Like mountain run. Are you supposed to keep your toe of the floor or not? Some exercises are very straightforward but for most I would welcome some feedback, I.e make sure your back is straight, do/don't do xyz....
Profile does not sync over devices
Wish my iPhone workouts I create would transfer to my iPad - same profile. Other than that, great app
I love it
Blah blah blah... stop asking me for reviews.
Gave me nice abs
I've been using this program on and off for over a year. My abs look great. Level 2 is too hard so I repeat the last four days in level 1 in rotation. If I stay consistent, I should be able to complete the workout in level 2, but it's hard trying to do what the cartoon is doing. A real person demonstrating modifications would be helpful. Still, my abs like ok nice.
Six packs ab.
I love this self motivation ab. crunch exercise. I'm motivated to do different set that I created from easy to hard.
Great app
Set up well. The training plan is great, but not easy. This isn't just a few sit-ups here, a few there, it's tough. But the results show. Obviously, don't eat like crap, because what you put in your body is incredibly important for your physical appearance.
Great
I love the fact that you can choose to do more at the end of each session.
Great, but too long in plank position (30 minutes!)
My wrists can't handle some weeks because of constant plank based exercises. But otherwise it's a really helpful app.
Great app! Please make more!
Five Crazy Onions
on
8/31/2017
This app is the best exercise motivator for me. It's quick and easy to follow but challenging enough to keep me engaged. My only complaint is, where are all the other apps for other body parts? There is one for my butt - thank you! But I would love to have a similar routine for my arms, my shoulders, etc.
Cabo Gt Racing Team
Great app, we love it!
Must have app
MuscleCatalyst
on
8/23/2017
Great and fun app to show up that pack
Excelente
Muy buena aplicación provee varios ejercicios, puedes preparar tu propia rutina
Almost Perfect...
that1dude1986
on
8/21/2017
I've been using this app for a week now and I really like how it's set up. It compliments my Runtastic Results workouts great. There's just two technical items that should be addressed with the next update: 1. When starting a workout, if I look at my watch (which has the companion app open) while the program starts up on the phone, the whole program will just stop and go back to the main menu. So I'll hear the "get ready" prompt or whatever and then nothing else happens. If I don't open the app on my watch, I don't get the problem. I'm on iOS 10.3.1 with a 7+ and my watch is a Series 0 on watchOS 3.2.3. 2. I know that I can select a playlist to listen to music on the app, but I'd rather not have to make a playlist and just stream Apple Music. However, every time I do this, the app forcibly softens the music the entire duration of the workout. Fix these two minor annoyances and I'll re-review with 5 stars!
Great app
This app really challenges you! Worth the paid upgrade for sure.
Great app
BomohammedAhmed
on
8/17/2017
Very motivated app
My go to abs app
I purchased the full version and I'm always challenged! Love the variety and I use it on my iPad and phone. I've even used it on Apple TV.. This app is a must try!
Wonderful
This app is very motivational & keeps track of me workouts as well as upping my reps to push my muscles!! 🔥
Useless
This app cannot make a connection to the internet... Is not internet issues from my iPhone... Is not that i don't know how to use it.... I was trying to buy the full version and tell me no internet connection.... I'm glad i didn't buy ...completely waist of my money.... There way better apps than this app I'm glad because i got a way better app... Not Recommended....Do Not buy it ....
Problem with dates
I have no issues with the workouts or videos. However, the dates on the completed days are all wrong for me. I've owned this app since 2014 and have gone through the three training levels multiple times. For some reason, if I complete a workout today, the date will still say 2014 (the date on which I first completed the workout for the very first time). I've reached out to the developer and heard back only a couple of times with troubleshooting tips. I've done everything (logged out/in, deleted, reinstalled) but nothing works. Developer has stopped responding.
Great app
Keeps you motivated
I love it
official___me
on
8/4/2017
This app is so helpful when it comes to getting a six pack 👌🏽
Nope
UI is bad. Doesn't really work on the apple watch.
So far so good
My self and 1
on
8/1/2017
Just did one work out and I like it so far . Will see what I say a couple weeks in 😉😉😉
It's good!
Electric Pumpkin
on
8/1/2017
It works great for me and is easy to use and it's good work out.
Really helpful
Same as title
Results
Follow their process, it really works.
Fact Sheet
Publisher:

runtastic

Category:

Health & Fitness

Released:

Oct 10, 2013

Current Version Released:

Sep 13, 2017

Version:

2.7

Size:

138.8 MB

Compatibility:

Requires iOS 9.0 or later.

Recommended Age:

4+

Game Center Certified:

No

Supported Devices:

iPad2Wifi-iPad2Wifi, iPad23G-iPad23G, iPhone4S-iPhone4S, iPadThirdGen-iPadThirdGen, iPadThirdGen4G-iPadThirdGen4G, iPhone5-iPhone5, iPodTouchFifthGen-iPodTouchFifthGen, iPadFourthGen-iPadFourthGen, iPadFourthGen4G-iPadFourthGen4G, iPadMini-iPadMini, iPadMini4G-iPadMini4G, iPhone5c-iPhone5c, iPhone5s-iPhone5s, iPadAir-iPadAir, iPadAirCellular-iPadAirCellular, iPadMiniRetina-iPadMiniRetina, iPadMiniRetinaCellular-iPadMiniRetinaCellular, iPhone6-iPhone6, iPhone6Plus-iPhone6Plus, iPadAir2-iPadAir2, iPadAir2Cellular-iPadAir2Cellular, iPadMini3-iPadMini3, iPadMini3Cellular-iPadMini3Cellular, iPodTouchSixthGen-iPodTouchSixthGen, iPhone6s-iPhone6s, iPhone6sPlus-iPhone6sPlus, iPadMini4-iPadMini4, iPadMini4Cellular-iPadMini4Cellular, iPadPro-iPadPro, iPadProCellular-iPadProCellular, iPadPro97-iPadPro97, iPadPro97Cellular-iPadPro97Cellular, iPhoneSE-iPhoneSE, iPhone7-iPhone7, iPhone7Plus-iPhone7Plus, iPad611-iPad611, iPad612-iPad612, iPad71-iPad71, iPad72-iPad72, iPad73-iPad73, iPad74-iPad74, iPhone8-iPhone8, iPhone8Plus-iPhone8Plus, iPhoneX-iPhoneX,

Supported Languages:

Czech; Dutch; Flemish; English; French; German; Italian; Japanese; Korean; Polish; Portuguese; Russian; Chinese; Spanish; Castilian; Chinese; Turkish;