TapNova recommends this app!
New in version 2.6.2
Your favorite abs training, six pack workout app just got better!

- Your feedback counts: We're constantly improving our apps to provide you with the best possible experience.

Love Runtastic? Rate us with 5 stars & tell others about your experience in the App Store.
Description
Get your abs out of hiding with the Runtastic Six Pack app! Each core-focused workout can be done at home with no additional equipment – just you and your app! Lifelike avatars, Daniel & Angie, guide you through transformative abs workouts (that will set your abs on fire!). Plus, 50+ HD tutorial ab exercise videos help you maximize your core strength and overall fitness. Get the Runtastic Six Pack app today & get your abs and core defined like never before!

APP FEATURES & BENEFITS:
- Male and female avatars take you through a variety of core exercises step-by-step
- 50+ HD instructional ab workout videos
- Adjustable difficulty, three levels of a scientifically developed training plan
- 10 week Six Pack Plan
- Pre-defined workouts, including: The 7-Minute Workout, Insanity, Shape Up, Six Pack Junkie and more
- My Workouts: Create custom workouts by choosing your favorite exercises tailored to your core, weight loss goals & daily schedule
- Works with iPhones, iPads, Apple TV & Apple Watch
- Voice Coach for easy-to-follow instructions: English, German, French, Spanish, Italian, Portuguese, Japanese, Chinese
- Filter exercises for your personal fitness level
- 50+ unique "Tip of the Day" messages
- Runtastic Six Pack Workout Music Packs available to keep you motivated
- Music intensity matches workout intensity, setting the best mood & pace for your circuit
- Absolutely no gym equipment required – use this situps app anytime, anywhere
- Heart Rate integration: Use your Heart Rate Monitor to track your HR during workouts
- Improve overall fitness, muscle strength & toning, stability and weight mgmt.
- Body Fat Visualization: Visualize your ideal body fat range for the perfect six pack
- Track sixpack training sessions and overall progress using detailed graphs
- Integrate your Runtastic sessions with your MyFitnessPal account
- Share fitness accomplishments & tips on Facebook and Twitter
- Upload your activities to Runtastic.com

*** Some app features only available in Full Version


ABS AND CORE EXERCISES INCLUDE:

- Classic sit-ups
- Cross-body crunch
- Oblique crunch
- Planks
- Mountain climbers
- Hip drops
- Leg raises
- Core twist
- Side bridge
- Plus, many more core and ab exercises to strengthen and define your abdominal muscles.

Whether you're a nutrition & fitness junkie, a busy stay-at-home mom or a business traveler who is always on the go – the Runtastic 6 Pack app is perfect for you and the best ab challenge out there! Each abs exercise will help you lose weight, ditch the belly & get the flat tummy you've always wanted. Follow our instructional ab workout videos & easy-to-use plans - anytime, anywhere.

Remember: Don't keep your hard work & insane 6 pack accomplishments to yourself! Share your completed sessions, "My Workouts" custom results and "Tip of the Day" favorites online via Facebook and Twitter.
iPad Screenshots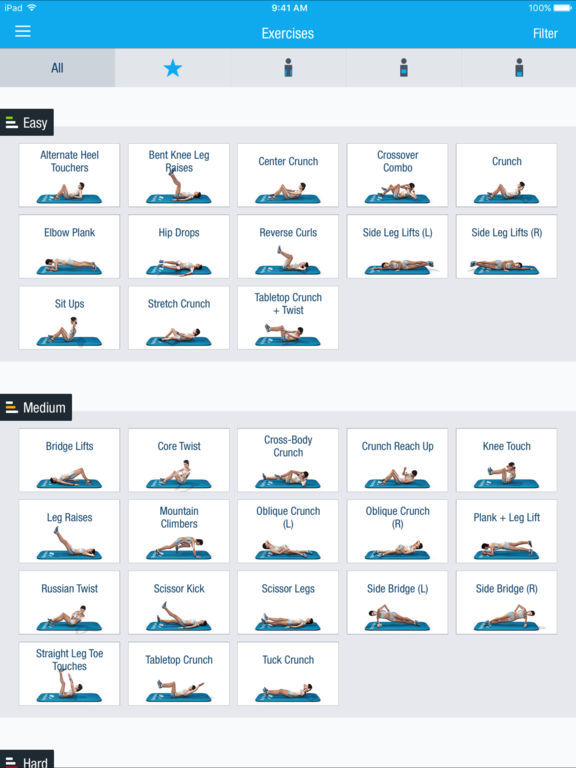 Reviews
Workout buddy
Kittens McGee
on
6/24/2017
Great for those who are unmotivated and need a partner for motivation without having a workout buddy
Feeling Fit Fast
After only 2 days, I can already feel my abs tightening up. It's so easy that it's hard to believe it will work, but it does.
Easy and effective
So far I'm only a week into it but I can feel the improvements in my form and stamina. The simple app to use is easy, motivational and effective when limited time is a concern.
Great
Visible results. Great.
Very good!!
너무 좋아요! 열심히 운동해서 식스팩 생겼으면 좋겠네요!
Works Great
Quarterback85
on
6/2/2017
It does just what I need from it!
Great way to work the abs
This is an amazing app to help you get that 6 pack.
HARD!!!!!!
This is a very good app but the workouts are very challenging only the ones with dedication will stick it out
Great assist!
I wasn't sure what this app would be like with the free version. But it's a great assist with a starting point for ab work. Looking forward to taking it to the next level!
I like it
Sometimes next round begins before break times over
Hi
That's very good program to make six pack 🙂
Its cool
Its cool app. It helps me a lot.
Perfect App for Someone on the Go
Professional mom on the go
on
5/17/2017
This app is perfect for someone who may not have time to get to the gym or a fitness class but wants to get in a quick beneficial workout. This app provides quick workout sessions that work your muscles and help you get stronger.
Great app that's easy to use anywhere
I love that I can use this app anywhere I go. I don't need equipment or a gym. It's also nice to have the different levels to work through so you can build up to the more intense workouts. And even after that there are plenty of other workouts to keep it useful.
Hard work
This app is great. It pushes you and at 53 now I need to be pushed. Changing my body with this and push up pro. Hard work pays off.
Another awesome Runtastic app!
IanR.-Denver, CO
on
5/10/2017
I first got Runtastic just over a year ago and have really liked it. When I found out they had an ab app I figured I'd give it a go - I have not been disappointed! It's easily worth paying for the full version. It constantly increases the difficulty and gives a variety of exercises for you to do so you never get bored/stuck training only one area.
Awesome app
Thalkon roiy denn
on
5/3/2017
This app is really good at helping you regain your core strength (I had a cesarean). I go to the gym and on my off days I've been using this app. My trainer laughs at me because I'll go in complaining about my core hurting from the exercises. But she's even impressed with the app so I'm going to keep it up.
Great ab workout app
Within the first few days of getting this app, my abs hurt and that's a good thing. Love the results I'm getting. Great app
Great App!
This is a great app! I use it as a warm-up/adjunct out to my workout routine. And in a relatively short amount of time I am definitely seeing more strength in my core. I highly recommend this app!
Great app with real results
Easy to use app with great variety and results!
Works great however
I don know how to integrated other my activity monitor. Any suggestions would be appreciated
Ripped City
Look... It's simple. If you wants ripped abs, this is the app that will get you there. Very challenging but worth it!
Love this app
Alexandria1234:
on
4/26/2017
The best. It works for everybody.
Great App
Awesome for working out at home.
It's a good start
Delayed again
on
4/24/2017
I've been using this app off an on for two years. When I'm using it regularly you can feel the results. It's been a good addition to my off days from the gym.
Phil
Work for me... good app! 👊🏾
Not registering in Apple Health
None of these Runtastic apps are showing in my activity, either on Watch or phone. Difficult to get support. And I've paid for all content. Get it together Runtastic.
Cool app for abs
So far is working well
Good
完美学号(4284140)
on
4/20/2017
Good app
Great app
Great app starts off slow gets more challenging as you go along.
Great App
So far I like what this app has to offer.
Awesome app
Worth every penny!
Already have more and then I had and I just finished day 3
codygonzales992
on
4/9/2017
Just finished day 3 and have abs
Love it
Very good app fun and enjoyable.It really makes me to want workout everyday.
Mild Personal trainer
Just that excellent though
Great App!
Nice design, integrates with heart rate monitor. Wish it linked up with the Runtastic Results app - but that's minor!
Really good!
Amazing app! Worth the money!
Good workout, poor integration
I love the app for the workouts, but I'm disappointed that, despite having a version for the Apple Watch, this app in no way integrates with Apple Health or the Activity app. Seems like a glaring oversight for people crafting exercise goals and using their Watches and iPhones to track them.
Works with the help of youtube
I like the intensity and structure this app gives you with the training plan. however, there are no workout descriptions to make sure you have the right posture. This is problematic because your dealing with your back and potentially putting a significant amount of strain on it. Not only that, but their "human avatar" is use a computer generated image of a person and isn't very helpful. They seem to defy gravity in most cases with some of their workouts. If you download and plan on using this this app, it will work. just make sure to fact check some of the workouts by going to YouTube for the correct workout and posture ..
Good morning routine
groovinbeats
on
3/26/2017
Gets me going before work!
I love this app!
Heather-CorpusChristi,TX
on
3/26/2017
I was skeptical about the app, but as a fan of the Runtastic app, I thought I had nothing to lose trying this one out. I started at level 3 because I felt I had the stamina to withstand it. I'm on day 15 and the results are awesome. I am already lean so I think that helps but I didn't really think I'd see so much definition. Especially this early into the training. I was really stoked to see that I could continue through the app after the initial time period of the first round exercises. You can create your own workouts, with preferred target areas! I can't praise this app enough!
Great app
Needs a few updates like skipping a workout and sometimes the rest timer ends at 13 secs but the instructions are great and im beginning to see results after only a few weeks
Love this app!
Love how it works out with you, and the vid is on going, and helps you keep a good pace.
Great workout app
I love using this app and all the Runtastic fitness apps. Just as effective as a gym membership at a fraction of the cost. Now I go to the gym and use this app as part of my workout. Fully customizable and easy to follow. Plus it is already integrated with MyFitnessPal. I have tried other apps and keep coming back to this one.
WORTH IT!
Showmesomethin18
on
3/21/2017
Great App. awesome videos help see the right form of each exercise.
Owwww
If u want abs get this app
Fact Sheet
Publisher: runtastic
Category: Health & Fitness
Released: Oct 10, 2013
Current Version Released: Feb 16, 2017
Version: 2.6.2
Size: 132.6 MB
Compatibility: Requires iOS 8.0 or later.
Recommended Age: 4+
Game Center Certified: No
Supported Devices: iPad2Wifi-iPad2Wifi, iPad23G-iPad23G, iPhone4S-iPhone4S, iPadThirdGen-iPadThirdGen, iPadThirdGen4G-iPadThirdGen4G, iPhone5-iPhone5, iPodTouchFifthGen-iPodTouchFifthGen, iPadFourthGen-iPadFourthGen, iPadFourthGen4G-iPadFourthGen4G, iPadMini-iPadMini, iPadMini4G-iPadMini4G, iPhone5c-iPhone5c, iPhone5s-iPhone5s, iPadAir-iPadAir, iPadAirCellular-iPadAirCellular, iPadMiniRetina-iPadMiniRetina, iPadMiniRetinaCellular-iPadMiniRetinaCellular, iPhone6-iPhone6, iPhone6Plus-iPhone6Plus, iPadAir2-iPadAir2, iPadAir2Cellular-iPadAir2Cellular, iPadMini3-iPadMini3, iPadMini3Cellular-iPadMini3Cellular, iPodTouchSixthGen-iPodTouchSixthGen, iPhone6s-iPhone6s, iPhone6sPlus-iPhone6sPlus, iPadMini4-iPadMini4, iPadMini4Cellular-iPadMini4Cellular, iPadPro-iPadPro, iPadProCellular-iPadProCellular, iPadPro97-iPadPro97, iPadPro97Cellular-iPadPro97Cellular, iPhoneSE-iPhoneSE, iPhone7-iPhone7, iPhone7Plus-iPhone7Plus, iPad611-iPad611, iPad612-iPad612, iPad71-iPad71, iPad72-iPad72, iPad73-iPad73, iPad74-iPad74,
Supported Languages: Czech; English; French; German; Italian; Japanese; Korean; Polish; Portuguese; Russian; Chinese; Spanish; Castilian; Chinese; Turkish;