Screenshots
Description
Stop is a fun and clever turn based game you play with friends. Randomly select a letter to start and type a word for each of the 5 different categories that starts with that letter. The player that gets most correct words wins!

1 letter, 5 different categories. How many words can you form with this letter?

-- App Store Editor's Choice in 18 Countries --

Features:

- Turn based, fast paced word game
- Find and play with friends on Stop using personalized nicknames, Facebook, or Game Center
- Unlimited fun with challenging categories to choose from
- Levels: earn XP and as you improve, we'll celebrate!
- Achievements to unlock and conquer the game
- Learn a new language! Play in English, Spanish, French, German, Italian and Brazilian Portuguese

Start playing Stop!

Tune in at www.facebook.com/stopbyfanatee
iPad Screenshots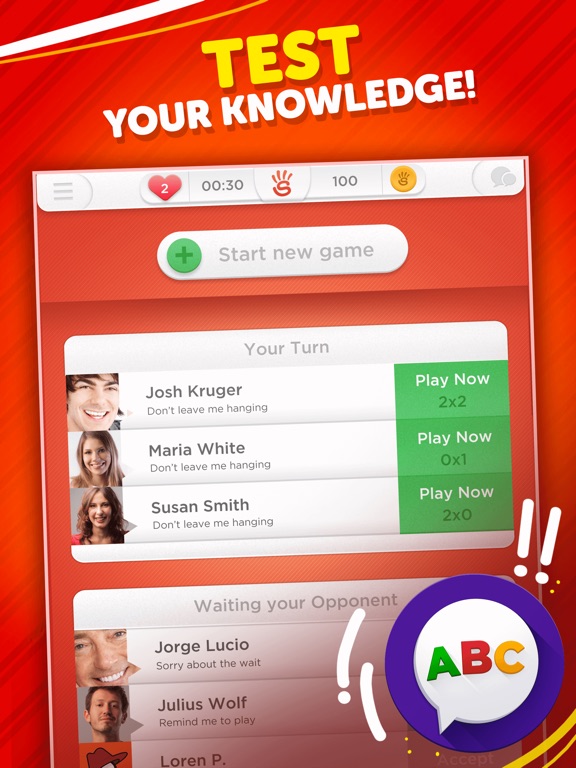 Reviews
Don't get this
This is a fun game but I bet I watch more ads than play the actual game.
Good
Easy way to pass time, and it's a fun game
Fun for a bit but too many glitches
I don't know if it's the phone update that's got the game glitching but I've almost won two games just to have them totally erased out of nowhere
Fun game, but way too many ads.
I really enjoy playing this game, the categories are fun and interesting. You can easily gain coins for shuffling new categories and for new spins. However! Way, way, way too many ads. Every time you start a game, finish a game, select previous games, always an ad. It's so bad I get frustrated and stop playing. I rate this game 3 1/2 stars because of the inconvenience of the constant ads, without this problem it would easily be a five star game but the constant interruption drastically reduces my rating.
Absolutely wonderful!!
Crzyferretlady
on
10/17/2017
Extremely addicting and extremely fun! Really makes you think
Great Game
Addictive and entertaining. Gets your competitive juices flowing.
SO MANY ADDS
brookieecookie08
on
10/17/2017
Seriously a problem and makes me stop playing. There is an add that you HAVE to watch for at least 12 seconds after every match every single time. So irritating.
Too many ads and unbalanced gameplay
I need a good nickname.
on
10/17/2017
It should not show the categories before the letter as it allows the person spinning for the letter a hue advantage. I was able to google for all 5 categories because of this advantage and I can tell it has been to me as well. Also too many ads and even some that pop up while I am answering
Fun Game...Too Many Limits
The game shouldn't limit how many games we can start some people take forever to respond. The coins your earn are virtually pointless. We should be able to at least purchase lives with them. One coin=one life. That's fair enough. Also get rid of the "report word if it's offensive". Honestly anything can be offensive and if other players don't like your response they'll report the word even if it's not an offensive one. If the question says "Things that should be extinct" and someone writes "spiders" and the opponent doesn't like your answer they could just end up reporting it and the words would end up getting banned which doesn't make any sense.
I love it
Eggnog ffbvcbxbjcc
on
10/17/2017
This is so much fun
good game
verygoodname
on
10/16/2017
I love it nothing wrong
Love it!
I absolutely love this game! It's become slight addictive. It can be a little tricky at times with some letters! Especially u,v,w,x,y and z.
This app is really nice
Emilyyyy Jensennnnnnnn
on
10/16/2017
I love this app so much!!
great app but ANNOYING adds
rayna_eubanks16
on
10/16/2017
I would give this app 5 stars if the apps weren't so annoying. there are so many and sometimes it makes me want to delete the app because of how annoying the adds are. there's at least 5-10 every time you're on the app.
Fun
It's cool. Fun and simple
Good App
Oohlgfddsdf18553gg
on
10/16/2017
I enjoy stop because it always consumes my free time
Really fun!!!!
_.taylorific._
on
10/15/2017
This is an amazing app/game I love it. It is so addicting and you just can't stop playing it. I love that you can play against someone you know or just a random person. All in all this is a great game and you should download it!!!
Pretty good
Jack from Walmart
on
10/15/2017
I've had this game for about 2 hours and it's pretty fun. Thanks for the game
Awesome
Baileymay02
on
10/15/2017
I love this game it's so addicting
VERY FUN
FUN AND STRESSFUL BUT IN A GPOD WAY ALSO ONE ANNOYING GLITCH BUT EASILY FIXED BY EXITING AND REENTERING THE GAME
Love It
Love it no complaint. If I could, I'd rate it ten stars. Sadly, that's not an option😩
A Good Game But...
oli_ rejon29
on
10/15/2017
I love this game! It is a really addictive and fun game but... I can't play the game unless connected to wifi. For example: I'm in the Florida Keys and I'm on a boat, I can't play this game because I don't have wifi. Overall, this is an amazing, addicting, and fun game. Please try to fix this.
Awe
Marilyn Tucker
on
10/15/2017
Awesome
Wow
Open heart fan
on
10/15/2017
This game is so addicting! I love it!
Ok but needs work
Sguhxvdudhducbdieb
on
10/15/2017
OK so I got a question saying things you keep hidden and it would sound like Champagne would fit in as an answer but it counted it wrong. Also got a question said colors and I had B so I put brown and marked it wrong.
Reporting issue
Your response time to reports for players who are vulgar is horrible! I can't get this person off, even with banning. Even though I enjoy this game, I can't recommend when you all do NOTHING about policy enforcement.
Freaking Awesome
This app is so fun.
Pick monkey
pick monkey
on
10/14/2017
This game is really fun and funny but it needs weak
Best game! One thing
Lovelykitty29😉
on
10/14/2017
Ok this is like the funniest game ever I just kinda wish I could add whatever photo for it. Either it just doesn't show "costume photo" or mine only doesn't I think it's bc I'm not logged into Facebook but I don't think that should matter :( I mean I can't log in because I don't have Facebook but actually this is a really cool, fun, amazing game
Too many ads
This game is super fun, but there are just too many ads! And the ads are long and sometimes they make you play the games in the ads. It can be very confusing and EXTREMELY annoying
Better than Fight List
Reviewer71959174
on
10/14/2017
I really like category games! I was playing fight list but between each round, you had to watch 2 ads! So I downloaded this one and I love it!
Riddled with profanity
Have been playing this game almost 2 years. Can be educational & fun simultaneously. Have noticed an increase in profanity, both in accepted answers & in the chat room. Would be a nice addition for app developers to allow users to preemptively block vulgar profane words/answers or conversations in the chat room w/trolls.
Ads are too frequent
Dan12244847392
on
10/14/2017
Like the title says ads are too frequent. After every match there would be an ad, and same ones too. I watched the same two ads 10 times in 3 minutes. Instead of attracting audience, the frequency of these ads are just pissing people off - totally opposite of what it's supposed to do. Otherwise, the game is pretty fun. But really just cut down the ads it's going make players quit.
Addicting
QueenShadow
on
10/13/2017
It's really fun but kinda annoying. I had R and for insect and I put round bug because I don't know the name
Good but....
I honestly think it is another one of those games you can't stop playing but I don't enjoy running out of lives, I know I know I sound like a bitchy ex wife but seriously, you're making me kinda upset! Your making me wanna stop playing, I get agitated! But it's good for every other reason
Just one thing
Darknight3888
on
10/13/2017
This is a really fun app, it is an amazing app to download if you wanna kill time I can tell you that, but; The app has way too many ads, after every game there's another ad, and keep in mind most of all the games last no longer than two minutes! You can pay to remove the ads but they're charging $2.99, for whatever reason!
Fun...if you get an opponent who is serious
This game is fun for word nerds like me. It would be even more fun if the random player was serious about the game and not just putting foul words in each box.
Ads
As always, the ads will ruin it for you. It's a fun game otherwise
Game main issue
This game is actually awesome, but I hate when you're trying to answer the questions and the opponent just answers one question and press stop 🛑 without letting you try or even write an answer. I suggest getting rid of that option otherwise everyone is going to cheat, but for now deleting this game :) otherwise I think it's a fun game
ok so
i didnt even play with the game yet (im sure its great) but its not even downloading for me and its been like 3 days so
Fun game!
Lyonserical
on
10/12/2017
Game is different and fun!
Great Mother/Daughter Bonding
My daughter and I just got this and enjoy challenging each other.
Sydney says...
This game is so fun! But the coins that you get sometimes don't last that long.
Awesome
This game is so addicting and has barley any adds!!!!
DO NOT PLAY!
So first of all when you put answers down it might say there wrong when there RIGHT! Like first I was playing and it said tv shows so I put Doctor Who it says it was wrong and then it says what doesn't last long enough and I said food and it said wrong so they only have answers they thought of which is stupid cause I can totally think out of the box but then they say it wrong so this app is the worst.
AMAZING
This is a great game
Really fun!!
It's really fun. Keeps me engaged. 10/10 recommend
Fact Sheet
Publisher:

Fanatee, Inc.

Category:

Games

Released:

Jan 29, 2014

Current Version Released:

Oct 18, 2017

Version:

3.6

Size:

109.5 MB

Compatibility:

Requires iOS 7.0 or later.

Recommended Age:

12+

Game Center Certified:

No

Supported Devices:

iPhone4-iPhone4, iPad2Wifi-iPad2Wifi, iPad23G-iPad23G, iPhone4S-iPhone4S, iPadThirdGen-iPadThirdGen, iPadThirdGen4G-iPadThirdGen4G, iPhone5-iPhone5, iPodTouchFifthGen-iPodTouchFifthGen, iPadFourthGen-iPadFourthGen, iPadFourthGen4G-iPadFourthGen4G, iPadMini-iPadMini, iPadMini4G-iPadMini4G, iPhone5c-iPhone5c, iPhone5s-iPhone5s, iPadAir-iPadAir, iPadAirCellular-iPadAirCellular, iPadMiniRetina-iPadMiniRetina, iPadMiniRetinaCellular-iPadMiniRetinaCellular, iPhone6-iPhone6, iPhone6Plus-iPhone6Plus, iPadAir2-iPadAir2, iPadAir2Cellular-iPadAir2Cellular, iPadMini3-iPadMini3, iPadMini3Cellular-iPadMini3Cellular, iPodTouchSixthGen-iPodTouchSixthGen, iPhone6s-iPhone6s, iPhone6sPlus-iPhone6sPlus, iPadMini4-iPadMini4, iPadMini4Cellular-iPadMini4Cellular, iPadPro-iPadPro, iPadProCellular-iPadProCellular, iPadPro97-iPadPro97, iPadPro97Cellular-iPadPro97Cellular, iPhoneSE-iPhoneSE, iPhone7-iPhone7, iPhone7Plus-iPhone7Plus, iPad611-iPad611, iPad612-iPad612, iPad71-iPad71, iPad72-iPad72, iPad73-iPad73, iPad74-iPad74, iPhone8-iPhone8, iPhone8Plus-iPhone8Plus, iPhoneX-iPhoneX,

Supported Languages:

English; French; German; Italian; Portuguese; Spanish; Castilian;

Parental Advisory:

Mild Sexual Content and Nudity; Mild Profanity or Crude Humor; Mild Alcohol, Tobacco, or Drug Use or References; Suggestive Themes; Treatment Information;