Screenshots
Description
Stop is a fun and clever turn based game you play with friends. Randomly select a letter to start and type a word for each of the 5 different categories that starts with that letter. The player that gets most correct words wins!

1 letter, 5 different categories. How many words can you form with this letter?

-- App Store Editor's Choice in 18 Countries --

Features:

- Turn based, fast paced word game
- Find and play with friends on Stop using personalized nicknames, Facebook, or Game Center
- Unlimited fun with challenging categories to choose from
- Levels: earn XP and as you improve, we'll celebrate!
- Achievements to unlock and conquer the game
- Learn a new language! Play in English, Spanish, French, German, Italian and Brazilian Portuguese

Start playing Stop!

Tune in at www.facebook.com/stopbyfanatee
iPad Screenshots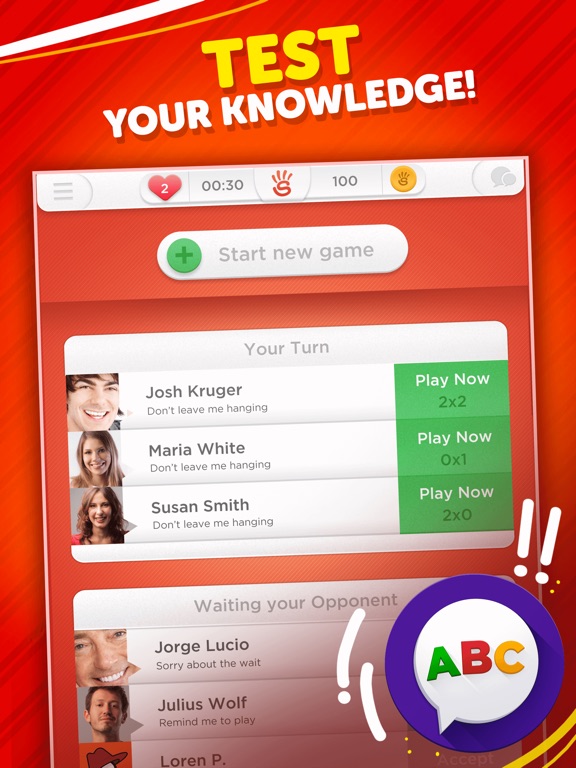 Reviews
👍Love it👍
Never had a problem with stop always fun to play
I like it
Delta Kilo5
on
12/11/2017
It is fun to play.
GREAT
ada bo batia
on
12/11/2017
it's great, it tests our knowledge it randomly chooses everything so there is variety. I love it
Fun and addicting
This game is so fun and addicting. Also quickly tests your knowledge.
Good game but lots of ads
It's a good game but there are quite a few ads
Love love love
meeeeee999999
on
12/8/2017
This Game is super great I love playing it against my friends, because this is a challenge and something to talk
I recommend this game
I really appreciate the time and effort put into making STOP. The maps and firearms are realistic in every detail, and the gameplay feels like trench warfare. The game is hard, and at times unforgiving, but always tons of fun.
English
Categories need To be switched. The dictionary is very dated .
Okay
Fun game but the constant adds are very disruptive, you average about three a minute even after making a purchase
Exciting and litty 🔥
The Media Monster
on
12/7/2017
What a great game to download. I'm gonna recommend this. Fast-paced, but not stressful. Well-designed, but a couple of bugs. I see they're working to flatten those out. Even with them, it's an enjoyable experience.
the ads
swizzlinelmor
on
12/6/2017
the actual game is really fun, but the ads are so frequent and slow it gets annoying very quickly and seriously takes away from the quality of the game.
Awesome!
Reagan boyer
on
12/6/2017
Great game! Fun for all ages and really gets you thinking...🤔
Fun game
My biggest negative is the fact that your opponent can quickly answer one question and hit stop time. I'd rather see a countdown timer much like scattergories has to make it more fair.
Great game, sometimes unfair
athe game is super fun and easy to play, always gives me something to do. I also like it because it's always different and challenging. A good brain game. But, i have put in correct answers and they have been marked wrong.
Fun
Highly additive and challenges your brain!
Good game!
I really enjoy STOP! Great way to keep the brain active
ADS!!!
Räčhęł .,.,.,
on
12/2/2017
I love this game but the ads are ridiculous!!! I can't play the game for 5 seconds without my game being interrupted by a 30 second ad.
Amazing!
blobbobsheep
on
12/2/2017
Nothing else to say. Great app
Fun, but unbalanced
Shinnosuke808
on
12/2/2017
This game is entertaining, and I enjoy challenging my friends to matches. However, one tactic seems to be used often, in which the person who sends the game answers one category immediately then ends the game. Though this is a reasonable tactic, it gives an unfair advantage to the sender. The sender is able to see what categories and letter they must use ahead of time, so they can prepare themselves. However, the receiver is must first read the categories then think of words, wasting precious seconds. I think that if you allow the receiver to know what the categories are ahead of time as well, this problem would be fixed.
Good but needs work
Funfuntime98
on
12/2/2017
Lots of subjective categories and therefore answers as well. Irritating to have an answer rejected, and lose a match, with a correct answer that the makers apparently don't seem to know.
Too many ads
Baby mountain goat
on
12/2/2017
Game is fun, but not when ads pop up after every single game. I'd play it more if it wasn't so annoying.
Ads
kimseanmurphy
on
12/2/2017
The ads are a pain
Hubby & I love
Heather in the desert
on
12/1/2017
We play throughout the day on & off when he's at work :)
READ THIS!!!
Alexandra plays games
on
12/1/2017
This is a great game to play!
This is great
I love this game it gets your brain working and is really fun to pass the time!! :)
GREAT
Cutesy34548
on
11/29/2017
Hi I'm not even a teen yet, but this app is amazing. I love it but, they should make it where people respond faster or I would give it a better score.
Enough word cookies!
This is a fun game but seriously, the word cookies ad is getting so old. It displays EVERY. SINGLE. TIME. I just force quit the app every time it plays. Please change up the ads! Also please make a way to remove categories. There are some that I don't know anything about even if I could play any letter. I would like a way to just turn this off! Thank you.
Kind of love it.
m43dowsmama
on
11/28/2017
I really like it, I like that it's not just one word answers, I can make a sentence with it. I enjoy that the wait time to get a new life is fairly short too. Really glad my friend showed me it!!
Pretty Great
Jenna Farxs
on
11/28/2017
It's a great game but I hate when I run out of lives and have to wait, it would be even better if this had unlimited lives like fight list.
GREAT
🦄UnicornRawesome🦄
on
11/28/2017
Two days ago my friend said I should get this app and now I LOVE IT
Great game but slow
This game is so much fun and I could barely stop playing it when I had lives. But it takes a long time to load when you're trying to start a round, then the ads are nearly unbearable. I understand a game needs ads, it's a necessary evil. But I just opened it to look at my game list and got an ad. The ads don't just pop up before a game or between rounds, they seem to just pop up in the middle of whatever. Add that to the load time and it can get really frustrating. I can deal with ads and a load time but not when my quick game is getting bogged down with randomly timed ads. Better ad timing would make it easily a 4 or 5, not every single time I open to even look and see if it's my turn.
Funnest game
It helps you to have quick thinking and you get to compete vs your friends, honestly my friends and I love this game. I definitely recommend this game‼️
Great game!
I love stop! It's a great time passer and yet is so fun I would definitely recommend this game! P.S. ( try zen mode)
Addictive
Been playing this game for a little under a month now, and I can't stop playing...Never thought a game could be as addictive as I find this...I also like the fact that it can be played using different languages...I've suggested this to several family members and friends...
Great game
I really enjoy this game. Only problems are spelling words correctly but that's part of the game and being timed. On the brighter side of that, they will give you partial points if it picks up misspelling of a correct response. Ads are very frequent but I could pay for ad free for only $2.99 so that's not really a huge deal. Also, some of the categories have limited answers and others are super easy. Again, can be viewed as part of the game and can always respond on both categories and letters. Overall, I really like it and is challenging.
Too many ads
the game is fun for the first bit you play, but it gets boring very quickly, also there is an ad after every round so it is incredibly frustrating and not worth it any more
Great Game! Worth the Ads!
I never write reviews, but this game deserves it! Superb gameplay with a fair balance of ad based revenue. I feel no pressure to spend more on the app to better gameplay, but realize I could eliminate the annoying revenue structure by supporting the company financially. The game is great!!!! Almost exactly like playing scrabble as a kid!!! Highly recommend.
Great game
reveiw writer 101
on
11/26/2017
This game is amazing! The only thing I would say is that it's kind of annoying because you have to wait half an hour for a coin to play with. I love how you don't have to sign in through Facebook. Overall it's a great game.
Good App
Fun to play! Barely uses any data!! It's a lot of fun to play with your friends! A lot of great categories. Stop really gets your brain on track!! I love playing it and it's really fun! Negatives- To many ads, I normally get the same one over and over again.You get one after each game you play! A lot or football and super bowl categories, I know not a lot of people know much about football. Always lands on the same letters, always a, y, or m at least for me and my friends. So over all it's a great app, and you should definitely get it. Username- kenzie6166
What the heck????
This app is fun, but ADS KEEP POPPING UP IN THE MIDDLE OF THE GAME. Your style ads take forever to get out of, and I've lost many rounds because of this! Fix this please!
This game is so addictive 🔥🔥🔥🅱️🅱️🅱️
I thought this was going to be such a boring game. I really recommend this game to most ages 10+. You can also play with your friends and family. It's worth the space on your phone
Fun
Footballfashionchik
on
11/25/2017
Fun entertaining and challenging. I disagree with some of the words I don't get credit for... hopefully adding the word will work. I'll keep playing.
General knowledge
Tracy the Face Painter
on
11/25/2017
I used to play a game like this when I was a child but of course we never had apps back then, so we used paper. This is way better!
Fun and fast (ads slow you down)
Nick Dangerkins
on
11/24/2017
Great game, lots of fun and fast paced - but with an ad between every round (sometimes 2 minutes or more) it's a little frustrating. But hey, I'm about frustrated enough to pay $2.99 for it, so the devs obviously have it figured out.
Awesome and addicting
This game is fun and is very addicting
I Enjoy It But...
DanielCaesarBumpinDu
on
11/24/2017
There is an ad after every game I play! Too many times have I submitted a word/phrase that is fitting of a category but it was not considered valid. Very often I'd get half a point for a word because it was the singular form of a word when my opponent wrote the plural version of the word and it was considered valid and awarded a full point. This game is a lot more frustrating than it is fun and I think it can improve a lot more.
Should be classified as a horror game
I swear every time I'm trying to think of a word my phone vibrates and says STOP!!! Like come on at least give me a warning. Oh yeah, and the games pretty fun. Good to pass time and it's a really fun word game. I love being able to guess any word I want to. :)
GreAt
Sooo fun!!!!!!!!!!!!!!!!!!
Fact Sheet
Publisher:

Fanatee, Inc.

Category:

Games

Released:

Jan 29, 2014

Current Version Released:

Oct 18, 2017

Version:

3.6

Size:

109.5 MB

Compatibility:

Requires iOS 7.0 or later.

Recommended Age:

12+

Game Center Certified:

No

Supported Devices:

iPhone4-iPhone4, iPad2Wifi-iPad2Wifi, iPad23G-iPad23G, iPhone4S-iPhone4S, iPadThirdGen-iPadThirdGen, iPadThirdGen4G-iPadThirdGen4G, iPhone5-iPhone5, iPodTouchFifthGen-iPodTouchFifthGen, iPadFourthGen-iPadFourthGen, iPadFourthGen4G-iPadFourthGen4G, iPadMini-iPadMini, iPadMini4G-iPadMini4G, iPhone5c-iPhone5c, iPhone5s-iPhone5s, iPadAir-iPadAir, iPadAirCellular-iPadAirCellular, iPadMiniRetina-iPadMiniRetina, iPadMiniRetinaCellular-iPadMiniRetinaCellular, iPhone6-iPhone6, iPhone6Plus-iPhone6Plus, iPadAir2-iPadAir2, iPadAir2Cellular-iPadAir2Cellular, iPadMini3-iPadMini3, iPadMini3Cellular-iPadMini3Cellular, iPodTouchSixthGen-iPodTouchSixthGen, iPhone6s-iPhone6s, iPhone6sPlus-iPhone6sPlus, iPadMini4-iPadMini4, iPadMini4Cellular-iPadMini4Cellular, iPadPro-iPadPro, iPadProCellular-iPadProCellular, iPadPro97-iPadPro97, iPadPro97Cellular-iPadPro97Cellular, iPhoneSE-iPhoneSE, iPhone7-iPhone7, iPhone7Plus-iPhone7Plus, iPad611-iPad611, iPad612-iPad612, iPad71-iPad71, iPad72-iPad72, iPad73-iPad73, iPad74-iPad74, iPhone8-iPhone8, iPhone8Plus-iPhone8Plus, iPhoneX-iPhoneX,

Supported Languages:

English; French; German; Italian; Portuguese; Spanish; Castilian;

Parental Advisory:

Mild Sexual Content and Nudity; Mild Profanity or Crude Humor; Mild Alcohol, Tobacco, or Drug Use or References; Suggestive Themes; Treatment Information;