Screenshots
New in version 1.3.0
• Scores & More - New section keeps you up-to-date on the latest scores, standings, news, stats and more
• Improved closed captioning support
• Performance enhancements & bug fixes
Description
120 Sports is the best way to experience sports. Featuring real-time highlights, expert analysis and interactivity, 120 Sports is a must for every fan. This FREE app offers over 40 hours of live programming every week and requires no cable authentication or subscription.

Watch live, for free!
• 120 Sports is a FREE download and requires no cable authentication or subscription to enjoy
• Highlights from MLB, NBA, NHL, PGA TOUR, NCAA Football, NCAA Basketball, NASCAR and more
• Hours of live programming EVERY DAY

Your favorites, on-demand
• Access to an immense library of on-demand videos allowing you to watch whenever and however you choose
• Follow trending topics, your favorite sports, teams and athletes, and receive personalized notifications as news breaks
• Search for topics, teams and players to discover a vast archive of video

More than video
• Scores & More section keeps you up-to-date on the latest scores, standings, news, stats and more
• Interactive data cards deliver additional information that take you deeper into each story
• Share the app and specific video content with others
• Join in the discussion! Connect with 120 Sports and let us know your take on the hottest sports stories

Download the FREE 120 Sports app and keep up as the world of sports advances 24 / 7 / 365.
iPad Screenshots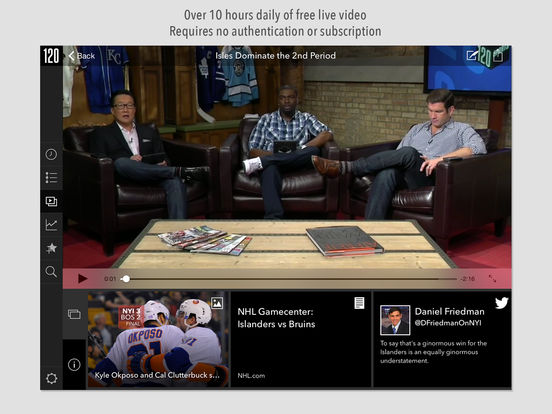 Reviews
Can't stand ads
Downloaded it and first thing I saw when I opened the app was a pop up ad. 2nd thing I did was delete the app. Never using it again.
Nice app with big issue
You get a notification about your team or sport you are following. You tap on the notification to go check out more and it either takes you to a random video or loads the video and quickly backs out to another video. It's annoying and makes you not even want to follow through on the notifications because you never know if you're actually going to see more of that notification. This needs to be fixed.
Good Sports News Content
Danno19890503217
on
9/19/2016
Good stuff. They have hired plenty of people and the production is fine. If your looking for an alternative to Sportscenter because you hate cable, look no further.
The alerts are broken
Great app ... But when prompted to open up a video from an alert, it starts but then completely blacks out and you are sent to a completely different video, usually about what is trending.
Great app
I love using this app. It's informative but quick and interesting. It's like if ESPN weren't filled with politics and garbage.
Great for cord cutters
We cut pay tv off over 2 years ago and haven't regretted once. The biggest adjustment was sports news and highlights. 120 Sports filled that void nicely. And since then they broadened to tape delayed games, additional shows. Great app and don't miss the "other" channel at all.
Hire 120 More Analysts
Ballers.Opinion
on
5/31/2016
Awesome little video sports news app. The instant video access to replays or whatever is trending in the sports word makes it fun. Where this app falls laughably short is on the commentary. I don't think it's necessarily the reporters fault. I notice the same guy that's analyzing my favorite NFL team is also analyzing every other 31 teams. Same thing with the guy analyzing my favorite NBA team, he's also analyzing every other 29 teams. And sometimes the same guy is analyzing every single team from the 3 major leagues (NFL, NBA, NHL). That's just plain being spread too thin and it shows. I don't know about the other teams but when they comment on my favorite teams (whom I follow religiously) some of the comments are way off, to the point I feel embarrassed for them. I can only jump to the conclusion since the analyst are off base when they cover my teams, it must be the same when they comment on other teams. Hire more reporters #120Sports
Daily fantasy basketball
Skribbbjjgddgjknn
on
3/1/2016
Fantasy hour for basketball is terrible now. Deleting this!!!
Awesome
THEBOSS16:9:?,7:!$:
on
2/15/2016
Love everything about it, highly recommended. One thing, if I click something and I get out without pausing it, it won't stop playing until the video ends. Otherwise great app. I'm lovin' it👍
Great app
SlutvilleMcGahee
on
1/24/2016
Love the 120 daily recaps and look-aheads
Day 1 Review
First day with app... Immediately Follow NY Rangers among other favs. Click them to read about their chances against TB in last years semis! Day 2 will likely involve a Dancing X on my phone.
Love the content and the engineering! Awesome all
Derek greenberg
on
10/20/2015
I was fortunate enough to bump into someone that partners with 120Sports and he enlightened me on this app that I may had otherwise not have found. The way the app is designed is easy to use. I love how I can get the content/entertainment in quick bits, I guess that's why they call it 120(seconds). The commentators are charismatic and I genuinely enjoy opening this app on a daily basis.
Needs some games
A good sports site but needs something to involve the fan
Good but could be better
I love the fact that there is always videos and reactions to the latest sports news. It keeps me up to date and makes me more interested in other sports. However as a sports app there are a few things that are lacking. There should be a tab in the menu for scores. Live and from the past. And something has to be done with the ads. I'm watching 2 minute videos I don't needy content interrupted every other video. At least there should be an option to disable the ads by paying a fee or something. Another issue is that the notifications lag tremendously. I'll be watching a baseball game and mike trout will hit a homerun and then 30 minutes later I'll get a notification saying mike trout hit a homerun. It needs to Be more current. But overall it's a good app and offers a bit of a unique service in the sports world.
Push notification issue
Nuinuihibihgghihghi
on
8/2/2015
When I tap a push notification to watch the video for it, it almost always redirects to some other video instead. Please fix this.
The future of sports consumption
This is a great app! Very convenient and easy to use. My only complaint is the app crashes on Apple TV.
Convenient, accessible sports coverage
I've long wanted to find access to sports coverage and analysis without paying the outrageous prices of cable TV. 120 Sports is a great up-and-coming network that is, admittedly, a little basic right now in terms of not being as flashy as ESPN is. But I enjoy searching for specific teams/topics and quickly finding videos related to them. I also like just putting the live broadcast on while I'm doing dishes and other things. I hope this experiment succeeds and turns into a major player in sports broadcasting!
Ehh
I really don't what everyone is talking about but this app is trash it was giving me all the news of the previous season matches they played ... I thought this app keeps you up to date with your teams statistics, trades, players, and upcoming matchup talks but this app is all talk shows about each game my teams played last season ... Not what I was looking for ... :/ upset!
Like sports center (crap)
Le Bono Knicca
on
6/21/2015
Yet again, another sports station that only talks about the same few teams over and over. This network bites, DO NOT WATCH
Gfgggggggg
Sggdjjffjddhmjgdd
on
5/11/2015
Ggggggggggg
Impressive
Actually surprised how well designed and updated this app is. Doesn't seem well known yet but definitely a top sports app for me.
Excellent
This app is incredible. The Video content is unbelievable….if you love sports, sports highlights, and don't have time to sit in front of ESPN's sports center for an hour, get this APP. You can get caught up on all your favorite teams while your changing into your pajamas before bed!!
Great for MLB
Love that I got to see Bryce Harper ground out today... But seriously the live looks to MLB games are awesome
Crashes
App crashes every time I try to open from lock screen. That's so annoying, because I can't find the topic that was on my lock screen notification, when I open the app. Annoyed annoyed annoyed.
Awesome sports app!
Great, up to the minute content with a very customizable format! Love it!
Awesome.
I really enjoy this app for quick, information packed segments. You can find information about what your interests are, which I really enjoy. Unlike some of the larger sports information providers, there are no "hot takes" from personalities shoved down your throat. Also, I find the Twitter handle to be a useful, sometimes humorous follow. I find the app to be extremely useful in my daily consumption of sports information.
Very cool
Love the notifications to let me know something is happening live. Easy to use, really good video quality too.
Awesome - must have for sports fans
Best sports app, hands down. Great content - highlights, knowledgable analysts, and tons of guest talent - all sortable/customizable for my favorite teams and sports. All the sports I need and want, when I want it. Best app out there for sports fans.
This app is pretty intense
I just love it ...no words
Didn't like it
Jefforey the Dino
on
5/5/2015
It suckz
Fantastic!
Up to the minute sports and the ability to follow favorite players or teams make this a must-have for sports fans!
Great App
Great app for breaking sports news and instant analysis. I even started using the Apple TV app....makes me think about ditching cable.
Huge fan!!!
A great way to keep up with my favorite teams/players. I love that I don't have to use a cable account to access their videos...plus, the highlight packages are top notch!
Something
dat there is a good app right there
yasss
Smexy smith 💥
on
5/1/2015
yasss very good
120 Sports---Great App!
Applejack0529
on
5/1/2015
Awesome app, keeps me informed, up to the min, on all my fav sports. Love that you can "follow" your fav teams and athletes so you get updates in what's happening.
Favorite sports app and video format
This is a great app to browse hot sports news. Love the short videos, Twitter integration and UI. Very slick!
Horrible app
This app is useless there is no NHL on it. Waste of time if your also a hockey fan.
Love it! But...
Hipster Joey
on
4/23/2015
I really like the app, all up to date news in NFL, NBA, and FIFA all I could need in one app but I would really like if the app had live scores that would make this app great in my opinion.
Love it
It's so nice. Usefully <3
Nice
Great, need the credit . Love it .
Excellent
anthonyyip12
on
4/15/2015
Best app ever
Can't redeem credit from freemyapps
Cheating
Fact Sheet
Publisher:

120 Sports LLC

Category:

Sports

Released:

Jun 25, 2014

Current Version Released:

May 17, 2016

Version:

1.3.0

Size:

38.1 MB

Compatibility:

Requires iOS 7.0 or later.

Recommended Age:

4+

Game Center Certified:

No

Supported Devices:

iPhone4-iPhone4, iPad2Wifi-iPad2Wifi, iPad23G-iPad23G, iPhone4S-iPhone4S, iPadThirdGen-iPadThirdGen, iPadThirdGen4G-iPadThirdGen4G, iPhone5-iPhone5, iPodTouchFifthGen-iPodTouchFifthGen, iPadFourthGen-iPadFourthGen, iPadFourthGen4G-iPadFourthGen4G, iPadMini-iPadMini, iPadMini4G-iPadMini4G, iPhone5c-iPhone5c, iPhone5s-iPhone5s, iPadAir-iPadAir, iPadAirCellular-iPadAirCellular, iPadMiniRetina-iPadMiniRetina, iPadMiniRetinaCellular-iPadMiniRetinaCellular, iPhone6-iPhone6, iPhone6Plus-iPhone6Plus, iPadAir2-iPadAir2, iPadAir2Cellular-iPadAir2Cellular, iPadMini3-iPadMini3, iPadMini3Cellular-iPadMini3Cellular, iPodTouchSixthGen-iPodTouchSixthGen, iPhone6s-iPhone6s, iPhone6sPlus-iPhone6sPlus, iPadMini4-iPadMini4, iPadMini4Cellular-iPadMini4Cellular, iPadPro-iPadPro, iPadProCellular-iPadProCellular, iPadPro97-iPadPro97, iPadPro97Cellular-iPadPro97Cellular, iPhoneSE-iPhoneSE, iPhone7-iPhone7, iPhone7Plus-iPhone7Plus, iPad611-iPad611, iPad612-iPad612, iPad71-iPad71, iPad72-iPad72, iPad73-iPad73, iPad74-iPad74,

Supported Languages:

English;