Screenshots
Description
Google Play Music gives you millions of songs and thousands of playlists for any situation. Powered by Google, we serve up music based on where you are and why you're listening, getting smarter and more assistive as we get to know your tastes. Subscribe to create playlists, listen offline, and get ad-free YouTube with YouTube Red (where available).

Free features:
*Radio based on songs, artists, and albums, plus thousands of playlists hand-crafted by music experts (free in the U.S. and Canada; requires subscription elsewhere)
*Recommendations based on taste, activity, mood, location, and more
*Storage and streaming for up to 50,000 songs from your personal collection, at no cost

Subscription features:
*Ad-free, uninterrupted listening
*On-demand access to over 40 million songs
*Offline listening
*YouTube Red membership at no additional cost, with ad-free YouTube and more (where available)
*The family plan, where up to six family members get Google Play Music for one low price (where available)

Continued use of GPS running in the background can dramatically decrease battery life.
iPad Screenshots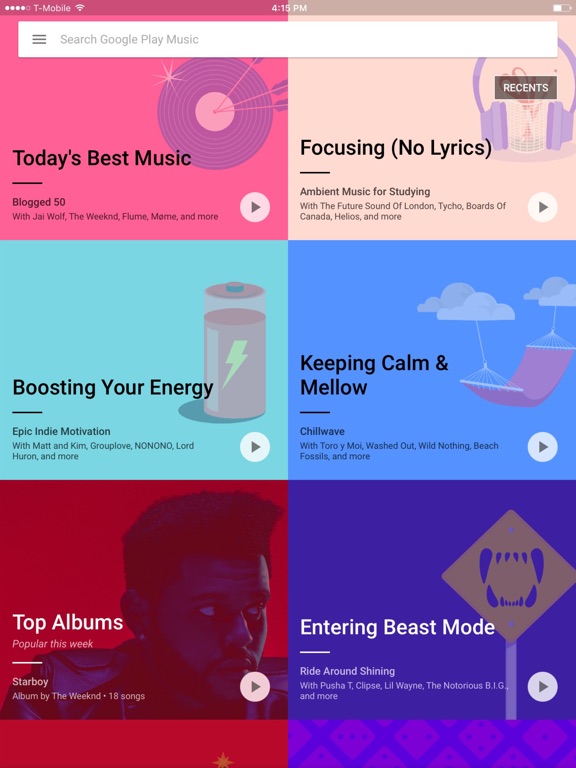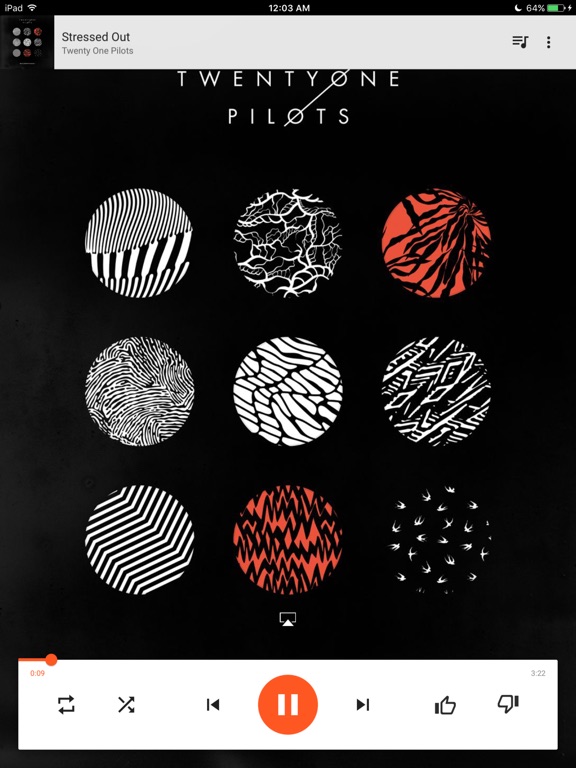 Reviews
Deleting Music
I love this app but the most frustrating thing is that when album art is updated or changed it will delete it from your library. Please address this issue
Barely usable—music cuts in and out, app freezes
Jody is the Best!
on
11/23/2017
I don't know what happened. This app used to be decent. The UI was never phenomenal, but at least it worked reliably and generally worked well with Chromecast audio. However, over the past few months, it has gone downhill with no signs of improvement. I am considering dropping my subscription. The problem is with this app and not my network; other Chromecast audio apps work flawlessly. I hope Google can get their act together; I wish this worked!
Download issues
ironman19855
on
11/23/2017
Cannot ever fully download all my songs. I have tried many many times. Streaming them is a joke on this app.
Can't log in on iOS
Keeps giving me a message that says "it's easy to get an account. Search google play music and sign up" when I've already signed up to multiple emails but it won't let me through in the app. Very bad on iOS.
Offline Downloading
When I Try To Download Music Offline It Doesn't Wanna Download I Got 1 Download To Work & The Rest Won't Download.! Why I Gave 3 Stars The App Could Use Improvements For IOS It Does The Same On Android Sometimes.!
A little behind
Needs lyrics support support and iPhone X full screen support
Update
Pedro Valles
on
11/22/2017
This app needs to be updated for the iPhone X. Come google get it together.
Terrible
Buggiest app I've ever used. Google you can do better.
Doesn't work
Contrary to the title the app does work but it is so buggy that it may as well be none functioning. Just trying to play music while in the app is horrible, and leave the app to do other tasks may cause the music to stop playing. It's frustrating because I pay for the service as well. I don't understand what is happening. Like I don't know if it's google or if its apple because these last few iOS updates have been very buggy as well.
Features
bill the soundtrack buyer
on
11/22/2017
Great app that has come a long way. Maybe add innovative features like a timer for music to fall asleep to.
Good, but bugs - makes it really frustrating to use
Tmatt12345678
on
11/22/2017
Can't skip more than two songs. It results in the song pausing and you cannot get it to start without moving the time slider. Edit: the above has been fixed, but been replaced with a new bug: music will pause when entering the play music app, or switching to a different app. Sometimes the music will pause randomly too. Very irritating...
Stops Playing Now
This costs $9.99 a month and still has many issues. When you go out of the app to do something else and go back into it the music stops playing every time. It never used to do this and is a huge annoyance. Please fix this.
Radio now and not able to pick songs
CJF Enterprises
on
11/21/2017
What happened to the ability to stream any song. Now your just a glitchy pandora. Lost my business to Spotify
I hate to say this...
This app is so unoptimized it's ridiculous. I have seen a gradual decrease in the quality of music playback, and none of the updates are fixing the problems. I still can't open the app without it stopping or simply play a song all the way through. I don't want to switch to Apple Music, but this app is making me want to do so.
Stops playing
Stops playing when I turn the screen off, hit the home button, or switch another app. But only the first time. If I go back into the app, resume playing, and exit again, it won't stop playing. This has been happening across a few updates now.
Songs skipping
When listening to a song, GPM loves to randomly skip around the track for no reason. I can't believe I am paying for this broken mess. Google has clearly gone downhill.
Playlists aren't safe!
Please stop deleting random songs from my playlists! I shouldn't have to manually back up my playlists' songs' names in a word document! This is ridiculous... once the free trials over, deleting this crap. Plenty of WORKING music services out there.
This app is d bees knees
Jtmoney2259
on
11/20/2017
I love this all day long and I will tomorrow. I think, wait I do.
PLEASE FIX THIS
I love this app but it rarely works. It constantly tells me it can't play music because my device storage is full, even though it's not. It only works when it wants to and it's super annoying. If that didn't happen it would be great
Would be five stars if
CocoaAndTea
on
11/20/2017
If they added the option to favorite artists, I know someone suggested this back in 2015 but it'd been almost 3 years and I haven't seen it happen.
Used to be a good but now is terribly buggy!!
I've been a paying subscriber since Google Play Music launched in 2011. I loved it up until just a a couple of months ago. It went from a decent app, to downright UNUSABLE. It stops playing for no reason and often crashes now. That is even with music that has been downloaded (so I know it's not an issue with the network connection). I even went through the trouble of resetting my phone completely and starting from scratch hoping that it might help the problem. It didn't help. I am not usually one to complain, but I really hope this message makes its way to the developers. Please fix the app Google!
Great Content, Horrible App
Buggy, constantly crashing, struggles to even play a song without stopping. This app needs to be optimized soon, it's become an absolute nightmare to use.
Really good app.
In my opinion the best of the song services. I love the quality of the sound. I have google play and Apple Music and have slowly been using Google more and more. Because it's included with YoutubeRed it's a no-brainer of a service to use. They could make the UI better but Spotify and Apple Musics aren't any better.
Terrible latency and download rates
I've been using google play for over 2 years on android without issue. Recently I made the jump to iPhone and am appalled at how bad the iOS app is. Being new, I originally thought my phone was bad. The app takes 3 to 5 seconds before it fully loads and becomes responsive. Download rates are abysmal. Want high quality? Not gonna happen. Playback, even on the few songs I've been able to download, skip once or twice per song. Extremely disappointing. This puts me in a bind, do I abandon all the playlists I've built up or hope for a fix? Ugh.
Great selection of music
jaredmdobson
on
11/19/2017
Really happy with it
Freezing like mad
Used to work brilliantly now freezes even with downloads. I just want to be able to listen to music again 😿
Adding songs to my library
After update on iOS11 I cannot add songs to my library on my iPhone. I can do it using pc browser or pc app!!! Fix it!!!
Buggy as hell - google doesn't care
silkky johnson
on
11/18/2017
for some reason this app is not a priority for google. it's been extremely buggy ever since iOS 11 rolled out and I have yet to see an update to fix the playback issues. meanwhile every other google app gets updated seemingly every other day. i used to recommend it to friends over spotify and apple music but i can no longer do that in good conscience, everyone's better off with either of those two services. stay away from google music!
Fix it for iPhone X!!
parmjit0202
on
11/18/2017
Fix this app for iPhone X! Very buggy, crashes, and still not optimized. Spotify and Apple Music much better in that regard.
For an app called "Play Music" it can't even do that
Slam Weasley
on
11/18/2017
Please fix this app. I have been patient with it but it keeps getting worse. My music will stop playing for seemingly any reason. I search for a different artist, it stops what's playing. I go to a different app, it stops what's playing. I come back into the Play Music app from doing something else, it stops what's playing. I almost exclusively listen to music I have downloaded to the app and it still won't play music reliably. I'll be driving in my car with my phone plugged in and the music will just stop playing for no reason. This is ridiculous. I shouldn't have to click play again fifty times during the duration of an album.
Bugs
Love the features and I've been a member since the service was introduced, but the app has had two big bugs for awhile. 1. When music is playing and the screen times out or I leave the app, it pauses every time I re-enter the app. I have to press the pause button twice to have it resume. 2. Removing songs from playlists is impossible on this device. When I delete a song it removes the song above or below my song and not the song I selected. Doesn't matter if I swipe to remove or choose the edit playlist option. I have both bugs on my iPad Pro and iPhone, so I do not think it is device related. Thank you.
Terrible UI
DevilDogAswell
on
11/17/2017
This app is so buggy and awful it's seriously making me consider stopping my subscription. Music stops playing when I unlock my phone. Music stops playing if I add a song to my library. Added songs don't show up in my "last added" playlist. Skips every other song almost forcing me to unlock my phone to push play then pause then play again to get a song to play. Honestly, go with Apple Music. If MOST OF MY MUSIC wasn't saved on my phone through this app I would be done with it! Can not recommend this service to anybody.
Downloads take forever
Matthewthegreater
on
11/17/2017
I love this app but downloading your songs to the phone takes such a long time. It's been two months and my songs still aren't downloaded to the phone so I can listen to them offline!
Buggy and old
Kaman Bagati
on
11/17/2017
Update for iPhone X please. I don't want to have to switch to Apple Music :(
filled with bugs.
Even when you "download" a song it constantly pauses, skips, or crashes. I️ can't believe these issues have yet to be addressed!
Buggy - won't cast and keep connection
App shows music is playing when it isn't. Casting is a lag nightmare. Often times it doesn't advance to the next song.
Used to be great, now broken
Up until Sept this app worked beautifully. Suddenly it has become very laggy and almost any interaction makes the app stop playing music. At the same time, the app seems to have stopped releasing regular updates. Not sure whats going on but its borderline unusable.
Another review 😡
ARE THEY LISTENING TO US? I'M GETTING VERY ANNOYED. I MOSTLY USE BECAUSE OF YOUTUBE RED BENEFITS. I LIKE SONGZA BETTER. The same bug keeps coming back. 1st, when I delete a song from a playlist, the song doesn't delete. The song above it deletes. Then I have to re-add the song. 2nd, sometimes certain songs won't play (not offline ones). It'll play then pause and sometimes the next song won't work either. Please fix ASAP. It's not the wifi or bandwidth. Also PLEASE UPDATE THE UI AND ALBUM ART SO IT'S NOT ZOOMED AND FITS INTO THE SCREEN!
A lot of things still to fix
Removing songs from library doesn't work effectively Last added isn't working anymore. Now all my songs got added to one album, this album originally had specific songs in it for specific listening. Now it seems to have every song I own in one album (over 500)
Amazing
❤️💯💙jasmine
on
11/16/2017
I love it because I get to listen to all the music I love!!!
Icredibly buggy after ios11
App became unstable and buggy after a recent ios major update. Randomly stops playing music, crashes and general lag all around.
Problems have emerged
Beejbeejerov
on
11/16/2017
Some songs don't allow skipping ahead or back to a part to listen again and instead start at the beginning no matter where you set the slider. It is also annoying that music/content cant be purchased, but I blame apple for that. Perhaps I'll go back to Android.
Stops playing
Music stops playing after each track Also the UI is annoying. It's got huge icons so you can only see a few artists/albums at once.
Love Hate Relationship
The app is buggy. The music stops for no reason (downloaded or not), and the app can sometimes stop working. The app and service would be great if they fix this.
No iPhone X support
Please use auto scaler API. It was released in early 2016.
Horribly integrated to iOS
Been dealing with this problem the entirety of using this app. It used to work better but since iOS11 things have gone downhill. Switching between apps or even going to the home screen causes the music to pause or just out right stop. It lags out and freezes intermittently. I didn't think it could get any worse than it was, boy was I wrong. I get that google and Apple are competitors, but I'm not going to pay for several music streaming services when google play includes YouTube red. Debating just switching back to android solely over my issues with this app EDIT: 11/15/17 I have recently started using the amazon music app, which has free music streaming for Prime members. I have not come across any of the same issues I have had with google play music. They also update their app pretty frequently, take note google. If you have amazon prime, I would recommend trying out their music app over this.
Good but I can't subscribe
LoveBrisana14
on
11/15/2017
I like the app because I can listen to music at school but It will not let me subscribe on my phone. I want to be able to pay for my subscription on my phone but it's not giving me that option.
FIX IN iOS 11.1.1
TomFUKINbrady!
on
11/15/2017
Edit: app is not optimized for the iPhone X. SAD! I've been with this app since the beginning, it's barely usable with the new iOS and all the subsequent updates...Won't function at all with low power mode enabled.. stops playing when u switch from the app to messages and randomly stop playing. I will be asking for a refund for this month and every month after until fixed inexcusable!!
Sound disruption
Ever since ISO update Google Play stops playing when messages come in or there is a sound disruption when any other app is opened. It's quite annoying.
would be 5 stars if not for one major bug
PokemonNarwhal
on
11/14/2017
i love google play music: it has a great selection of music and to be honest, i prefer this service more than spotify. it has a better selection of songs and artists and when paired with youtube music (thanks to the youtube red subscription), it's unstoppable. except, the music is. it stops, even when the songs are downloaded to my phone. it's the only real problem for me, but it's super annoying. great service, but crappy at best app.
Fact Sheet
Publisher:

Google, Inc.

Category:

Music

Released:

Nov 15, 2013

Current Version Released:

Sep 14, 2017

Version:

3.35.1010

Size:

84.2 MB

Compatibility:

Requires iOS 8.2 or later.

Recommended Age:

12+

Game Center Certified:

No

Supported Devices:

iPad2Wifi-iPad2Wifi, iPad23G-iPad23G, iPhone4S-iPhone4S, iPadThirdGen-iPadThirdGen, iPadThirdGen4G-iPadThirdGen4G, iPhone5-iPhone5, iPodTouchFifthGen-iPodTouchFifthGen, iPadFourthGen-iPadFourthGen, iPadFourthGen4G-iPadFourthGen4G, iPadMini-iPadMini, iPadMini4G-iPadMini4G, iPhone5c-iPhone5c, iPhone5s-iPhone5s, iPadAir-iPadAir, iPadAirCellular-iPadAirCellular, iPadMiniRetina-iPadMiniRetina, iPadMiniRetinaCellular-iPadMiniRetinaCellular, iPhone6-iPhone6, iPhone6Plus-iPhone6Plus, iPadAir2-iPadAir2, iPadAir2Cellular-iPadAir2Cellular, iPadMini3-iPadMini3, iPadMini3Cellular-iPadMini3Cellular, iPodTouchSixthGen-iPodTouchSixthGen, iPhone6s-iPhone6s, iPhone6sPlus-iPhone6sPlus, iPadMini4-iPadMini4, iPadMini4Cellular-iPadMini4Cellular, iPadPro-iPadPro, iPadProCellular-iPadProCellular, iPadPro97-iPadPro97, iPadPro97Cellular-iPadPro97Cellular, iPhoneSE-iPhoneSE, iPhone7-iPhone7, iPhone7Plus-iPhone7Plus, iPad611-iPad611, iPad612-iPad612, iPad71-iPad71, iPad72-iPad72, iPad73-iPad73, iPad74-iPad74, iPhone8-iPhone8, iPhone8Plus-iPhone8Plus, iPhoneX-iPhoneX,

Supported Languages:

Arabic; Catalan; Valencian; Croatian; Czech; Danish; Dutch; Flemish; English; Finnish; French; German; Greek; Hebrew; Hungarian; Indonesian; Italian; Japanese; Korean; Malay; Norwegian; Polish; Portuguese; Romanian; Moldavian; Russian; Chinese; Slovak; Spanish; Castilian; Swedish; Thai; Chinese; Turkish; Ukrainian; Vietnamese;

Parental Advisory:

Mild Alcohol, Tobacco, or Drug Use or References; Mild Sexual Content and Nudity; Suggestive Themes; Mild Profanity or Crude Humor;