TapNova doesn't recommend this app.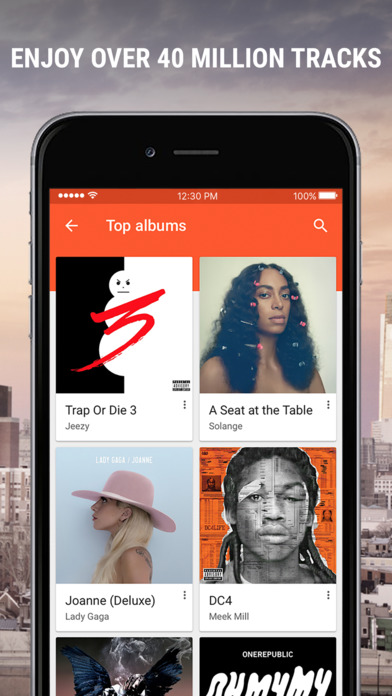 New in version 3.32.1004
Description
Google Play Music gives you millions of songs and thousands of playlists for any situation. Powered by Google, we serve up music based on where you are and why you're listening, getting smarter and more assistive as we get to know your tastes. Subscribe to create playlists, listen offline, and get ad-free YouTube with YouTube Red (where available).

Free features:
*Radio based on songs, artists, and albums, plus thousands of playlists hand-crafted by music experts (free in the U.S. and Canada; requires subscription elsewhere)
*Recommendations based on taste, activity, mood, location, and more
*Storage and streaming for up to 50,000 songs from your personal collection, at no cost

Subscription features:
*Ad-free, uninterrupted listening
*On-demand access to over 40 million songs
*Offline listening
*YouTube Red membership at no additional cost, with ad-free YouTube and more (where available)
*The family plan, where up to six family members get Google Play Music for one low price (where available)

Continued use of GPS running in the background can dramatically decrease battery life.
iPad Screenshots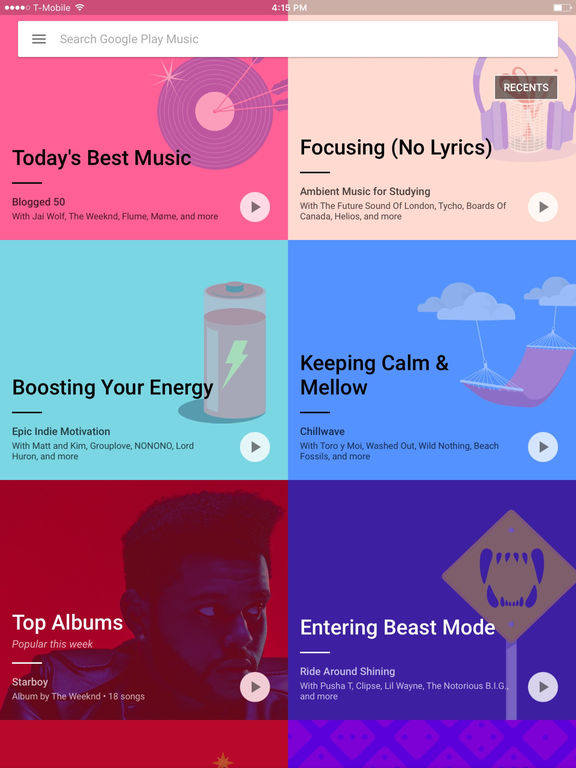 Reviews
All my music is not working.
John3:16EternalLife
on
7/20/2017
My personal MP3s stopped working. Do not use. Not reliable.
Why it doesn't have car play support
Sean74141<oo6
on
7/19/2017
While Spotify, Amazon music and Pandora all have Apple car play support Google music app doesn't support car play
Everything I want
It does what I want and gives me youtube red for free. Uploading my own music gave me some issue with album art vanishing but meh
New update
Ever since the new update it skips songs and says cannot play at this moment.
This is apparently the only version of this app across any platform that doesn't support podcasts.
This is apparently the only version of this app across any platform that doesn't support podcasts.
Fantastic sound quality but buggy
The output on the high quality setting is simply unparalleled and soars above that of Apple Music. Only advantage of apple music is a better library, but the ability to upload your entire library to google as an included feature along with YouTube red for unlimited customers makes Google Play Music one of the most compelling options out there, but it also makes integration with iOS an absolute must! This version is simply not ready for primetime. Full of bugs... Delayed awaiting of tracks, multiple hangups when shifting through several tracks, just poorly responsive. Does not feel as light on iOS as it does on android, and that will sadly hamper its potential. 7/19/17 latest update shows more promise. I've already replaced the default apple music with Google play music on my dock as the sound quality is so much better, and now the app feels much more responsive! Thanks to the dev team
Playlist
You can't even edit playlist name... bug fixes? Nothing has been fixed playback still awful.. Artwork??? It's zoom too much. Worst google app ever.
Smartest streaming service out there.
danielandrews
on
7/19/2017
Looks great and works well. Would like more sorting options and better search results (only search my library).
Add an EQ!
TheRabidWookiee
on
7/19/2017
The sound quality is garbage compared to Spotify because Spotify has a built in EQ. Used google music for a long time when I had android, but immediately switched to Spotify once I got iPhone
Glitch-tastic
Private Aviator
on
7/19/2017
As stated by so many others, the app plays a few seconds of music and then pauses. Also it occasionally randomly skips to he next song.
Love it
Love that it suggests other albums for me to listen to.
Ofrezcan variedad
Van mejorando. Deberían hacer promoción como regalar un mes después de varios meses de estar suscrito, casi cumplo el año!
Great, but somehow outshined by android version
Just another iSheep
on
7/18/2017
Aside from some minor interface changes, this app streams music just as well as its counterpart on android. I can't complain much, although my personally uploaded music does not play back gapless like it does on android (even on a cheap 75 dollar phone). In fact, the pause between songs is pretty long. Takes you out of the zone during a mix.
Poor performance and experience
Very glitchy and not responsive. Responds poorly to touch input resulting in input errors. Poor scrolling and playback performance. Does not cache previously loaded thumbnails as expected. Takes a long time to get home screen into a ready state.
Great app
braden.merritt
on
7/18/2017
Great app. Prefer it over other streaming services for combination with YouTube Red.
It's Great! But...
This Is an awesome app but, Sometimes I can't play music on other apps. D:
Great
Those two girl very good!
latest update made this app extremely sluggish
I've used and loved google play music for over a year. It used to run very smooth on my ipad 3rd gen, but after the latest update it's extremely slow and glitchy. Here are some things I've noticed since the last update. - it takes a few seconds before you can scroll up and down after changing screens, as if the app has frozen - songs occasionally jump to next track partway through a song - album arwork takes exceptionally long to load in, if it ever does - artwork sometimes shows wrong picture for an album, showing artwork for other songs in the queue - attempting to play a song sometimes continues to play the currently playing song, yet the artwork and song name updates to the song you tried to play I've uninstalled the app and reinstalled to see if it would fix the issues, but alas. It's so frustrating because Google Play music has the best selection of all the music streaming services I've tried. It used to have the best app as well, but this one is barely usable now.
2 stars for the worst music app
carl pangilinan
on
7/17/2017
Yeah I admit that I worked for Google and receiving a lot of phone calls in regards to rhis music app. Im thinking why they publish this one without testing it in the first place right? Why the admin needs to create this stupid app? To ruin all our day? Just to make money? Shame on you Google!
Apple Watch app please!
There are occasional glitches like some of the other reviews say, but I could easily get over that if I had the ability to change songs or at least adjust the volume with my Apple Watch. I'm holding out hope for that.
Forcibly unpauses ads
The Google Play Music app forcibly unpauses if you pause during an ad. It is reasonable that a music app would require the listener to play back a full ad before moving to the next song, but it is not reasonable that the ad can't be paused part way through. Unpausing audio and forcing sound out of the user's speakers is actively hostile against the user and crosses a line that, in my case, resulted in immediate deletion of this app. Nothing about the size of the music library, the quality of playlist curation, etc. factors into consideration for review as long as this practice is in place.
i lost over 500 songs
keep playing google 😤
on
7/16/2017
delete my thumbs up list again and i will end your app
Please fix all the annoying issues on iPhone 7
Better than the rest
Glitch Fest!
App stops playing when the apps plays in the background. You got to re open app and keep hitting play in order for the player to start playing music again. VERY ANNOYING. This needs to be fixed ASAP.
Idk what is wrong with it
I switched to an iPhone from a Samsung S7 and now everything is wrong with google play music the music will pause and it doesn't have the same features it has on the samasung I think google play should fix google play music for the iPhone bc people are still paying y'all money for your music app so the least y'all can do is give us good quality just as if this was a Samsung
Pretty good
Songs take a bit to load even on fast wifi. 5 stars for improvement? Speed and bugs are just about it:) there is no way to subscribe from an iPhone:(
Current version is trash
whitefalcon684
on
7/13/2017
I have exclusively used Google play music for the past several years. The latest update broke the app so that music would freeze after 10 seconds or so. I was able to get around this by reinstalling the app. Unfortunately that meant re downloading my library. The download function seems broke. I connect to wifi and nothing happens the songs just sit there waiting to download. Pita
Better streaming and battery life
Good app. Only issue is when streaming music library it takes a long time for music to play. And it drains the battery really fast
So far so good.
Titan5point6
on
7/13/2017
The latency issue is the only thing that bothers me.
FIX YOUR APP!
listen2this66
on
7/12/2017
Major bluetooth connection issue. Please address. The app in general does not run smooth like butter. Almost all iOS apps do. This one is awful. Anytime you scroll or move to another screen.... Tick tick tick tick tick tick... It's awful. Please make butter smooth. Oh and also....... landscape mode landscape mode landscape mode landscape mode landscape mode landscape. Need landscape view asap.
Runs abysmally on the iPad
I don't know what the deal is, but this app is noticeably laggy on the iPad; simply scrolling up and down causes this. Searching seems to cause it even more trouble. Not only this, but after iOS 10.3, sometimes a song gets queued up, yet refuses to play. Everything just hangs a lot for no good reason.
Horrible Update
It worked fine before but now stops playing songs part way through!
Lag
SeriouslyNiantic
on
7/12/2017
App is becoming incredibly slow and laggy. When I unlock the phone when playing a song, the song stops completely and I have to go back to the app and hit the play button 10 times to get the ting to work. I love this app and it's been amazing with my subscription to Google play, but it's almost becoming unuseable.
Service & App Suggestions
To the Google Play Music Developers: First and foremost I have enjoyed my experience with GPM so far but to truly make it my daily music app driver on my phone I would love the following features, as I know many others would too. Some suggestions are from reading other people's comments as well. 1) Please add floating lyrics to songs currently playing or something similar to what Apple has done to the revamped Music app. 2) Allow the users to edit the lyrics online so as to add custom notes or the ability to change them. Here me out here. Some songs are in different languages and I usually add both the original language lyrics as well as the translation into my native language. 3) Add a download all music button for music you have purchased onto your device (phone and tablets) it's a pain to have to download each artist individually. 4) Be able to share playlIsts with other friends that also use GPM 5) Add a connect to artist feature where they post updates on releases and tour dates like how Apple does with Connect.
Not cool
I've had nothing but trouble with this app. It's a pain in the butt to start songs. Whenever I pause I have to sometimes skip the the next one and then go back to play the song I want.
Amazing!
All my favourite music on the google radio is mind blowing. 5 star!
Bugs!
Great service that's plagued by a buggy app.
Screwed up app
If you a music app that consistently opens to the wrong station, is slower than your grandma to move, & runs more ads than songs this one is for you!
Still no podcasts!!?!!!
What's going on at Full Fat
on
7/12/2017
I decided to subscribe to the paid profile after listening to some podcasts on my Samsung .note. I enjoyed them and the additional YouTube incentives. Imagine my surprise when I open the app in iOS and there are only 3 menu options, none of which is as extensive as those provided for android. Please fix this; the experience I had with an android using this app was great, and I'm willing to cancel my service and use another that is more extensive and universal across all mobile platforms.
Current issue
jenniferr.0991
on
7/11/2017
Update 7/11/2017: App is causing SEVERE battery drain -iPhone 6. 74% in 2 min on screen, 2 hours background. iPad and desktop versions have been extremely laggy, even on 200mb internet (verified). Had a problem where "play next" disappeared from my song menu. iOS 10.3.2 iPad Air 2. Closed/opened app 3 times and it reappeared.
Decent music app
I'm old school and like to play my own music in a music app. I like that you can load your collection for free. Playback could be a bit better, like limiting to your own music instead of getting radios and other suggestions. But if you like that it maybe even more to your liking. I also wish it had same editing features as desktop version, like updating album info.
👎👎
Add last.fm support please!
Glitchy playback! Fix ASAP please
Doesn't download or play full tracks, which work just fine when listening on the computer. It's not the phone, it's the app. Fix this quickly please, there are way too many alternatives out there to let playback issue persist. This is coming from a paying customer. Used to work flawlessly, not sure what the iOS team at Google is doing here.
Kaka app
Useless. App made for crashing.
Ads
There are so many ads on this version. You should be rewarding your Play customers still loyal to Google while on Apple devices instead of punishing them.
Almost there
This is a very good app, and it has potential to be even better. However, a podcasts section would be much helpful. Also, having song lyrics be very good.
Google music
Joleigh hill
on
7/10/2017
This app is working great love it❤️❤️
Not Progressing
GPM has some great features. The Good: The algorithms they use to suggest music are awesome. The radio stations are always on point. The library is large and on par with the rest of the major services. The ability to add your own music is nice even if it's not perfect. The Bad: This is probably the glitchiest music app out there. For a company like Google, that's unacceptable. Adding music often creates duplicates or splits up your albums, album covers don't load, music stops randomly. This app has been out long enough now that these types of things shouldn't still be happening. The UI is also unimpressive. The circles for artists are hideous and navigating through only what's in your own library is a pain as it's mixed in with what's available in the store. I can deal with the occasional issue but it seems Google has no real interest in improving this app. If that's the case I have no interest in continuing to support it with my money.
Fact Sheet
Publisher: Google, Inc.
Category: Music
Released: Nov 15, 2013
Current Version Released: Jul 19, 2017
Version: 3.32.1004
Size: 82.5 MB
Compatibility: Requires iOS 8.2 or later.
Recommended Age: 12+
Game Center Certified: No
Supported Devices: iPad2Wifi-iPad2Wifi, iPad23G-iPad23G, iPhone4S-iPhone4S, iPadThirdGen-iPadThirdGen, iPadThirdGen4G-iPadThirdGen4G, iPhone5-iPhone5, iPodTouchFifthGen-iPodTouchFifthGen, iPadFourthGen-iPadFourthGen, iPadFourthGen4G-iPadFourthGen4G, iPadMini-iPadMini, iPadMini4G-iPadMini4G, iPhone5c-iPhone5c, iPhone5s-iPhone5s, iPadAir-iPadAir, iPadAirCellular-iPadAirCellular, iPadMiniRetina-iPadMiniRetina, iPadMiniRetinaCellular-iPadMiniRetinaCellular, iPhone6-iPhone6, iPhone6Plus-iPhone6Plus, iPadAir2-iPadAir2, iPadAir2Cellular-iPadAir2Cellular, iPadMini3-iPadMini3, iPadMini3Cellular-iPadMini3Cellular, iPodTouchSixthGen-iPodTouchSixthGen, iPhone6s-iPhone6s, iPhone6sPlus-iPhone6sPlus, iPadMini4-iPadMini4, iPadMini4Cellular-iPadMini4Cellular, iPadPro-iPadPro, iPadProCellular-iPadProCellular, iPadPro97-iPadPro97, iPadPro97Cellular-iPadPro97Cellular, iPhoneSE-iPhoneSE, iPhone7-iPhone7, iPhone7Plus-iPhone7Plus, iPad611-iPad611, iPad612-iPad612, iPad71-iPad71, iPad72-iPad72, iPad73-iPad73, iPad74-iPad74,
Supported Languages: Arabic; Catalan; Valencian; Croatian; Czech; Danish; Dutch; Flemish; English; Finnish; French; German; Greek; Hebrew; Hungarian; Indonesian; Italian; Japanese; Korean; Malay; Norwegian; Polish; Portuguese; Romanian; Moldavian; Russian; Chinese; Slovak; Spanish; Castilian; Swedish; Thai; Chinese; Turkish; Ukrainian; Vietnamese;
Parental Advisory: Suggestive Themes; Mild Sexual Content and Nudity; Mild Alcohol, Tobacco, or Drug Use or References; Mild Profanity or Crude Humor;