Screenshots
Description
Google Play Music gives you millions of songs and thousands of playlists for any situation. Powered by Google, we serve up music based on where you are and why you're listening, getting smarter and more assistive as we get to know your tastes. Subscribe to create playlists, listen offline, and get ad-free YouTube with YouTube Red (where available).

Free features:
*Radio based on songs, artists, and albums, plus thousands of playlists hand-crafted by music experts (free in the U.S. and Canada; requires subscription elsewhere)
*Recommendations based on taste, activity, mood, location, and more
*Storage and streaming for up to 50,000 songs from your personal collection, at no cost

Subscription features:
*Ad-free, uninterrupted listening
*On-demand access to over 40 million songs
*Offline listening
*YouTube Red membership at no additional cost, with ad-free YouTube and more (where available)
*The family plan, where up to six family members get Google Play Music for one low price (where available)

Continued use of GPS running in the background can dramatically decrease battery life.
iPad Screenshots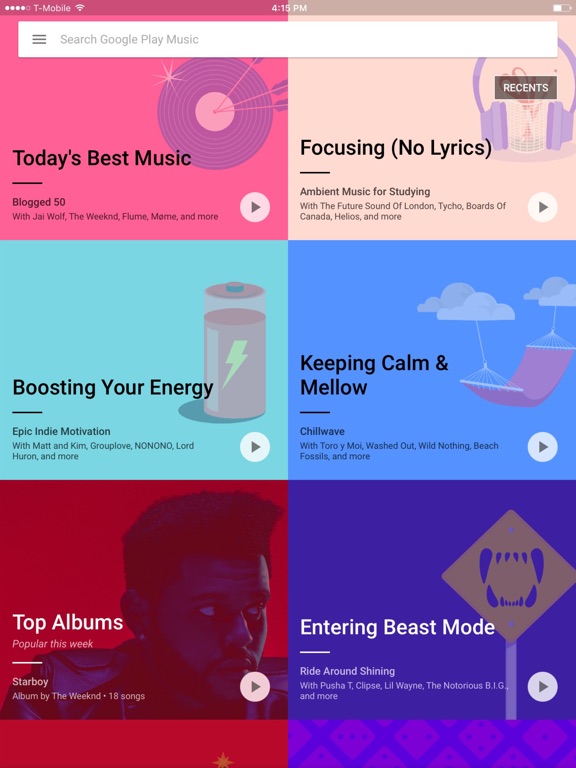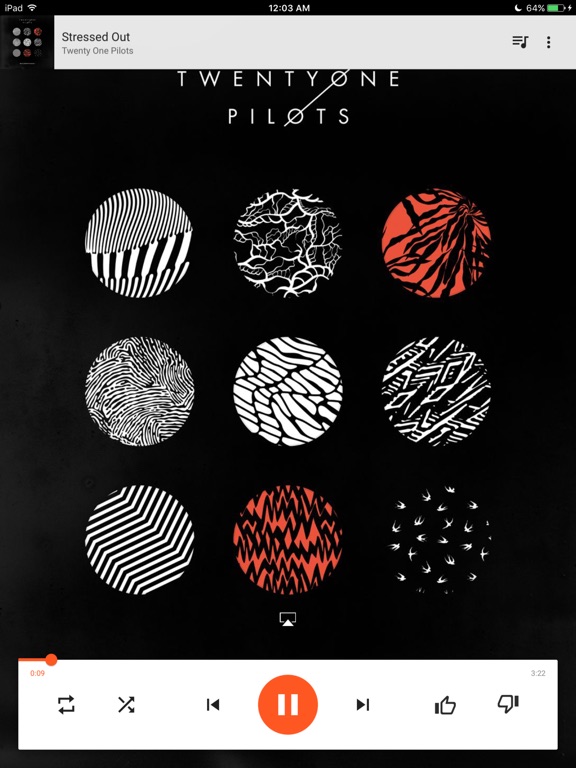 Reviews
Music stops, buggy
This app seems to get worse with each update. Even music downloaded to the home randomly stops playing. It doesn't show that it's paused or anything, it literally just stops. I pay $15 a month and can't even listen to my music without it stopping every 15 minutes. I've tried multiple iPhones and they all have the same problems
Ken
Pretty dang good for a free app!
Love the app but....
I would love to see a Apple Watch supported version
It's just perfect except for one thing
It occasionally won't play my music because it says my storage is full, when it is not
Great Service, Average App
Geniusdog254
on
9/23/2017
Love GPM, but the iOS app is downright average.
Playing everything in shuffle mode?
For the past few days all my albums play in a shuffled order...no idea why. I did not hit the 'shuffle' button to play or during playback
Terrible.
I have a Google Home and Chromecast audio, and getting Google Music to interact with the two in any reasonable fashion is nothing short of a mess. This is crucial to get right, but Google has failed, and failed to fix the issue. Google Home by itself works great. Getting Google Music to use Google Home as a whole home speaker is a flaming pile of software. With Alexa coming out with a similar system, Google better get their act together.
It is always screwy
This app has always something that will let you down. Right now is not working correctly with iOS 11. You are not able to skip songs when connected via Bluetooth using externals controls. Besides this, other bugs are present. For example the app will allow you to add the same song more than once to a playlist. When you are deleting a song while another one is playing in a playlist the app will delete other song not the one you intended. The worse thing: I'm paying $10 dollars a month to Google for a service that is not working correctly. I think I'm bringing this to Consumer Protection.
Good with little problem(just me?)
It's great. Plenty of variety. Good speed. Only problem I have is when I plug my iPhone 5s into my car via USB port in my stereo, it gets stuck in the middle of playing and just says loading on the screen of stereo. Or sometimes it'll stop playing google music and start playing Apple Music. Overall, really good. And getting better.
Desperate need of an overhaul
Broggie Doge
on
9/22/2017
Used to be my go to music app but the constant freezing, inability to play downloaded albums while doing other stuff on the phone, and constant buggy issues have now made it unusable for me.
Fix bugs
Constantly pauses without actually hitting the pause button. I have to hit pause then play to get it to work again. Sometimes it gets frozen.
Are you kidding me?
I pay you money for this?? And now radio station downloads are gone?! What happens over at google? Do you all just sit there strategizing ways to dig up and further assault the corpse of Songza? You bought it, ruined it, and now proceed to desecrate it more with every sad update? How can this app be such a constant, perpetual disaster? UPDATE: App still has major problems and new ones introduced with each update, but isn't it interesting how you can no longer see reviews separated by version history? Reviews for up to two years ago have nothing to do with the myriad of issues and flaws introduced in various "updates" since. Be wary.
He Right Direction, But Needs Improvement
I really really REALLY like the interface for Google Play Music. It is a little more minimal than Spotify or Apple Music, a little less busy if you will. The web interface for desktop is slick and fast. Knocks the socks off competitors. Would love to see "add albums from this artist to my library" feature. Uploading my own music is easier than Apple Music. Love how well that works. Things that would make it 5-Star: Logical album sorting: Search for a band - you get one illogical way of sorting an album. Tap the band and you get another illogical sorting. I'd prefer albums be sorted chronologically with singles separated from full-lengths and EP's. Last.fm Integration: I'd like to be able to scribble to Last.Fm natively (both web and iOS). Better Search History: I search for the band "The Black Dahlia Murder" 4 times a day. When I start typing 'bl' I'd like to have my recent search pull up. I think it tries to do this but fails. Daily Playlists: basically copy Spotify's feature that mixes a genre of your recent listens with a sprinkle of new stuff for you. GPM: I'd be willing to help improve the iOS versions any way I can! I have a background in coding and could probably implement most of my feature requests.
Minor bugs
breakneckchart
on
9/21/2017
I switched from android to apple for a bit and was glad they had a app for my music but it has one bug that I've noticed and really bothers me it happens whenever I open up the app and I have music playing the music will just cut off idk if I'm the only who has this but it sure kills my listening experience when your music just turns off
UPDATE: latest version is terrible
HelloPretzel
on
9/21/2017
UPDATED REVIEW: App has drastically gone down hill. I love Google Play Music but the iOS app is a disaster. Always stopping and crashing. Old review: Google Play Music is the best music service available. I've tried Spotify, Pandora, iTunes, etc., and Play Music is by far the best. Paid subscription is compatible to iTunes pricing, however, Play Music comes bundled with YouTube Red (which is $9.99 a month by itself). For one price you get Play Music and YouTube Red, which means ad free music AND videos. YouTube without ads is glorious. Plus, you can upload up to 50,000 songs to the Play cloud to stream to up to 10 of your devices. The Family plan is great. $16 for 6 members. Each member can upload 50,000 songs and stream to 10 devices. It's as if each member has their own account. It's awesome.
Please fix
Keeps on pausing on its own when I open another app or open this app itself
I really like this app.
Myfaceisnotacumbucket
on
9/20/2017
I love the selection and diversity of this apps library. My only complaint is it tends to replay the same song or artist on shuffle to the point where I think that it is just replaying a forced play list. Also when I start skipping song sometimes it pauses the music or just shuts down completely. That's the big one. Other than that it's awesome. And if you get the YouTube red deal it is super cheap as a bundle.
New IOS11
Yesterday Google Play was working perfectly and after I updated to iOS11 the app started to get buggy. Only problem: Every time I leave or bring up the app, the music stops playing. It can be quite frustrating especially when I listen to music while I'm at work and I'm focused and it stops playing when I turn the phone off
Buggy
Love google music but iOS app is terrible. No equalizer and music sometimes stop randomly.
Update the resolution for iPad pro 10.5
Update the resolution for iPad pro 10.5
Love but...
Please support Apple Watch! Thank you!
Google Music vs. Apple Music
Faithfulwings77
on
9/19/2017
These two apps are pretty much the same except for ONE BIG DIFFERENCE... Apple Music offers the lyrics to songs by clicking the properties of the song you're playing... right at your finger tips... Google we need to get with the times!!!! There's no reason not to offer lyrics when you have them available on your google search engine as if it were coming from google music. Why not integrate this capability to Google Play Music while listening? It's very inconvenient to have to get out of the app to go to the search engine to search for lyrics... lyrics that apparently lead me right back to Google Play. Seems like a simple connection on the Google Play Music interface?! Don't you think? This is a deal breaker for me... as much as I love Google Play Music I may have to move on... It doesn't make any sense when you clearly have it available...!!! I'll come back to give it 5 stars once this problem is fixed...
More Bugs After Update
The app is even more buggy than previous versions. App crashes incessantly now, even with local music. App unusable
Amazing
This app is awesome! It's my favorite way to stream music! Use it all the time, definitely recommend it.
unbelievably disappointed
Nate Mumford
on
9/19/2017
i really can't believe what i'm reading in just about ALL of these reviews of this app. it's very clear the app has MAJOR issues that everyone is having i.e. I myself have even found my app crashing when downloading, taking extensive amounts of time to download and most significantly, my music freezes, pauses, skips, and all of the things of the sort regardless of downloaded albums/songs, and every single time the app is relaunched from multitasking, it stops my music and just about freezes and crashes attempting to load. this is very very unbelievably frustrating. i'd like to think the developers and so forth are reading these and attempting to fix these specific issues but i have high doubts considering the circumstances, app has only gotten worse through the updates.
Please fix!
BubbleGum0765
on
9/19/2017
If you could possibly make all of my playlists appear with their songs again and let me look up songs, that would be great
Fire
Farrock reviews
on
9/19/2017
Fire
It's good
I like the app, but you can't find or listen to podcasts on it from what I can tell
Developers don't care.
I've been writing reviews for more than a year now asking for the Play Music app to be improved but they apparently don't care. So I'm done trying, both Apple Music and Spotify are way better.
A nice alternative to Apple's premium service
KSUBratwurst
on
9/18/2017
Been using Google Play for over a year now. For the most part I enjoy it and find it reliable. Every now and then it gets buggy and have to shut it down and restart. Some complain about UI but I don't know why. It's fine. It's not supposed to have dancing bears to the beat of the music.
Must Improve
This is the worst-functioning app I use on a regular basis. I like the added value of YouTube Red--I think it makes Google Music the best deal in streaming. However, if this app doesn't improve I will have to return to Spotify. This app crashes all the time, and is slow and clunky on its best day. I hope Google gets a sense of urgency to make this app better.
Very buggy
mollymcathis
on
9/18/2017
In recent months I've noted such an issue in the usage application of the apps service life. Between opening, browsing and playing music there is a app shift between each usage point. I felt as if it was an access point issue with wireless and or wifi. After several test I've discovered that it intact is related solely to the application itself. The interface between the application itself and the task is processing as if it is starting a new access point regardless of being wireless, wifi and or airplane mode. This also is found when shifting between the app, operating system and vice verses. I am wondering if there is a GUI interface that is tasking additional access points between application tasks.
song pausing
TDragonIris13
on
9/18/2017
whenever i use this app either in or out of my house, wifi or data i am listening to a song and it constantly is always pausing and un pausing the song repeatedly a whole lot, every second to 3 and five seconds or so. this has been happening for months. hoping that it would get fixed but it won't please fix as soon as possible. also, the ads are really really really way too loud and repetitive. please fix the ad volume.
shockingly slow downloads for albums
jesusmarcado
on
9/17/2017
couldn't take incredibly slow downloads anymore..went back to Apple Music which downloads albums at quick speed..Play Music is a weak asa app highest speed net makes no difference. anytime/anywhere i download an album it takes forever. this needs to be fixed. used other music services in same environment with normal quick results. Play Music should fix this ASAP or i'm going back to Apple Music
Awesome
Daniel010705
on
9/17/2017
This app is the best
Your big fixes are worthless
listen2this66
on
9/16/2017
It's clear your big fixes aren't fixing anything. Thanks for nothing. 9-15-2017 Major bluetooth connection issue. Please address. The app in general does not run smooth like butter. Almost all iOS apps do. This one is awful. Anytime you scroll or move to another screen.... Tick tick tick tick tick tick... It's awful. Please make butter smooth. Oh and also....... landscape mode landscape mode landscape mode landscape mode landscape mode landscape. Need landscape view asap.
Excellent choices
Lots of variety can always find something to fit the mood without being the same ole songs!!
Song
I love the songs u play
Crashes constantly
Horrible app no competition for itunes on ios
New update
This new update, has to be the worst that apple has provided. If I leave the app, and go back, the music will stop. It's annoying
Alright
it's alright, the UI is not that good looking. Google should fix it. And there's also a lot of bugs, and when i close the app the song keeps playing for an extra 2 seconds.
Awesome app
Love this app
This app crashes and lags so much.
Immakillaboy
on
9/15/2017
There is just so much to improve on. 1. The absolute lag. I can't even write feedback to the app dev with out it lagging. 2. Music pauses when you go back into the app. 3. You can't just have every song you put into your library as downloaded. 4. Offline mode doesn't turn off when you get wifi again. 5. Uses a crap ton of battery and the gets hot after using it (relative to other apps like YouTube ). 6. Would love to see an option to fast forward 15 or 20 seconds by holding down the next button .. Idk if this is a new app that just got started up but it's got a long way to go but until then 100% useable just annoying. I would love to see an option to mix songs on YouTube into the playlist.
Incredibly buggy
Great service. Terrible iOS app. It fundamentally can't play music reliably even when the music is downloaded on the phone I.e. not streaming. The app's been buggy for some time. It used to be better but has steadily deteriorated. I waited patiently for this new release and the longer it took to arrive the more hopeful I was that they'd fix it but this release seems at least as bad as the last. For a company such resources this seems like an amateurish attempt at an iOS app. Or someone is trying to make it terrible on purpose so that I switch to Apple Music. I wonder what the product manager and QA team are up to when their app can't even play a song all the way through? Downloaded songs will stop playing even in offline mode - just today a downloaded song stopped 4 times. Again, these are songs that are on my phone not streaming. It's mostly a mystery why songs stop but at least some have to do with the radio environment. Any time the cellular radio switches mode or the phone switches to wifi the song stops. In NYC it's a busy radio environment with frequency cell handover, and forget using this app on the subway - even in "Dowwnload only" mode. On wifi at home it mostly works but that's not when I need it to work. My gramophone has that use case covered. Super disappointing that this release didn't address the long standing playback issues.
Easy to use when you're bored
I use this when I'm bored most of the time XD
R S
App main pages crashing! Needs attention.
Be
dsnnjjuyghbh
on
9/14/2017
Cvs
Better than Pandora
So many stations to choose from, and they do a better job of matching styles within genres than Pandora does, and without audible commercials interrupting the mood.
✌🏻
✨💫⭐️midnight_deer⭐️💫✨
on
9/14/2017
It cool but u can put one song u have to go throughout a radio to find the song u want 😛
Fact Sheet
Publisher:

Google, Inc.

Category:

Music

Released:

Nov 15, 2013

Current Version Released:

Sep 14, 2017

Version:

3.35.1010

Size:

84.2 MB

Compatibility:

Requires iOS 8.2 or later.

Recommended Age:

12+

Game Center Certified:

No

Supported Devices:

iPad2Wifi-iPad2Wifi, iPad23G-iPad23G, iPhone4S-iPhone4S, iPadThirdGen-iPadThirdGen, iPadThirdGen4G-iPadThirdGen4G, iPhone5-iPhone5, iPodTouchFifthGen-iPodTouchFifthGen, iPadFourthGen-iPadFourthGen, iPadFourthGen4G-iPadFourthGen4G, iPadMini-iPadMini, iPadMini4G-iPadMini4G, iPhone5c-iPhone5c, iPhone5s-iPhone5s, iPadAir-iPadAir, iPadAirCellular-iPadAirCellular, iPadMiniRetina-iPadMiniRetina, iPadMiniRetinaCellular-iPadMiniRetinaCellular, iPhone6-iPhone6, iPhone6Plus-iPhone6Plus, iPadAir2-iPadAir2, iPadAir2Cellular-iPadAir2Cellular, iPadMini3-iPadMini3, iPadMini3Cellular-iPadMini3Cellular, iPodTouchSixthGen-iPodTouchSixthGen, iPhone6s-iPhone6s, iPhone6sPlus-iPhone6sPlus, iPadMini4-iPadMini4, iPadMini4Cellular-iPadMini4Cellular, iPadPro-iPadPro, iPadProCellular-iPadProCellular, iPadPro97-iPadPro97, iPadPro97Cellular-iPadPro97Cellular, iPhoneSE-iPhoneSE, iPhone7-iPhone7, iPhone7Plus-iPhone7Plus, iPad611-iPad611, iPad612-iPad612, iPad71-iPad71, iPad72-iPad72, iPad73-iPad73, iPad74-iPad74,

Supported Languages:

Arabic; Catalan; Valencian; Croatian; Czech; Danish; Dutch; Flemish; English; Finnish; French; German; Greek; Hebrew; Hungarian; Indonesian; Italian; Japanese; Korean; Malay; Norwegian; Polish; Portuguese; Romanian; Moldavian; Russian; Chinese; Slovak; Spanish; Castilian; Swedish; Thai; Chinese; Turkish; Ukrainian; Vietnamese;

Parental Advisory:

Mild Alcohol, Tobacco, or Drug Use or References; Mild Sexual Content and Nudity; Suggestive Themes; Mild Profanity or Crude Humor;