Health & Fitness
Lifestyle
This version of the app is not recommended
App last updated
Feb 06, 2018
Screenshots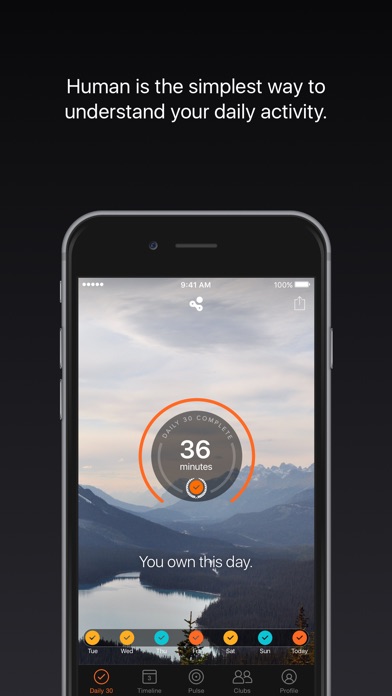 New in version 8.5.5
Optimized for iPhone X
Various small bug fixes and stability improvements.
Description
At Human, we believe the best way to improve your daily activity is by understanding it. So everything we do is designed to help you learn, improve upon, and feel good about your activity levels.

** Best of App Store 2014 **


MINUTES, NOT STEPS
Most fitness apps count your steps, rather than the minutes you move. When you're on your way to meet a friend you say, "See you in 20 minutes" not "See you in 20 steps." Why should your favorite tracker be any different?

With Human, we built an app that speaks your language. Automatically track your walks, runs, and bike rides as you move throughout your day.

PULSE
Human helps you answer the question, "Am I doing enough?" With Pulse, get a sense for how much your city moves and compare your activity levels to people like you. See how you stack up to people nearby, and rise up the rankings that are most relevant to you.


#DAILY30
30 minutes of daily activity are the best form of preventive medicine. Every minute you spend walking, running or biking throughout the day counts towards your goal on Human. It's never been this easy to stay motivated along the way, every day.

iOS HEALTH
Sync your walking, running and cycling activities to iOS Health to get a complete overview and use your activity data with other apps.

MOTION & FITNESS
Tracking your day on an iPhone 5S, 6, 6S or 6SE? Make sure to enable "Fitness Tracking" in iOS Settings / Privacy to track your activity.


BATTERY
Continued use of location services running in the background can dramatically decrease battery life. Human is optimized to use minimal power and minimize the impact on your battery life. In most cases you should be able to easily get through the day, but results may vary based on network conditions and daily usage. We recommend to charge your phone at night or during periods of inactivity.


PRIVACY
We store your data safely on our servers. You can request a full copy of all your data within the app. We will delete all your account and all your data on request.


PREMIUM SUBSCRIPTION
Become a Premium Human member for $2.99 per month and unlock 90 days of history on your timeline. With your support we can make Human better every day.

- Payment will be charged to iTunes Account at confirmation of purchase
- Subscription automatically renews unless auto-renew is turned off at least 24-hours before the end of the current period.
- Account will be charged for renewal within 24-hours prior to the end of the current period, and identify the cost of the renewal.
- Subscriptions may be managed by the user and auto-renewal may be turned off by going to the user's Account Settings after purchase.
- No cancellation of the current subscription is allowed during active subscription period.
- See our complete terms of service: http://human.co/terms.
Reviews
Day 1 and loving it!!
First time user, very impressed with tracking capabilities.
Was good
I'm not sure what happened with the last update. But it no longer seems to be as accurate as before. Update 1-17-18 Yesterday I had almost 280 minuets. Today it say 98 minuets. This app is now becoming more and more useless. I don't know what happened with this last update but I wish I never would have downloaded it😭😭 I think it's getting close to move on to a new app.
So Lousy
Minh Le Hong
on
1/10/2018
Today I did not run a bike, but this application told me to ride a bike for 2 minutes, so lousy
Was great now terribly inaccurate
This app was once very accurate but lately when i check my timeline it has me walking if i actually standing adding these minutes. I use this app as a senior to measure that i get in at least 45 minutes if walking a day but can't count anymore on this app.
I love this app
xxxemberglowxxx
on
12/22/2017
This app is awesome because a lot of the time you don't have time to stop and track your exercise it does it for you.
Garbage
Tiny Thunder
on
12/14/2017
Doesn't track at all. I walked a good couple of miles today and it told me I walked 0 minutes today.
Love
Bully Mama365
on
12/7/2017
I needed something to get me motivated and on track. This has been fun and I try to push myself more each day for a start up and more . I check during the day to see where I'm at and what I need to do to reach my goal and beyond. Thank you for getting me going.
Love it!
Really neat little app, had it a few weeks. A few of my coworkers have our own club we share to see who's the most active throughout the day. In order for all the "features" to work you have to turn your location tracking to always. Tbh idk what it does besides show you a detailed map of where you where active during your day. You can't see your previous days without paying for premium so it doesn't really matter anyhow. Slick interface, reminders to get up off the couch, awesome social features.
1 of 1
brianhollings
on
11/30/2017
Where did everyone go? There is no comparison anymore.
Human user
Hanisabbour
on
11/30/2017
It is very fun and helpful so i suggest you get this app
you guys returned when i just read the reviews this morning
i'm more than thrilled that you guys came back to this app, even bugged, best app for just a phone and it seems to be pretty accurate besides maybe transportation. but you guys need to keep up the good work on an already amazing app!
I used to love this app...What happened??!
It's a great functional app...Well not anymore...I had a great streak going and yesterday the app starts getting glitchy and not recording my daily movements...It left me at 9 mins and I've been active all day...I closed all my rings and it says I've only been active for 9 mins??! It broke my streak!!! Ridiculous!!! Why??! 😡
Has this app been abandoned?
So very disappointing. I have used this app for years and have really enjoyed it. Well until lately. It was once very easy and fun to use and very helpful. Even had great customer support. And I loved Pulse to find out how you compared to other users. Though now it loads very slowly, in Pulse it shows I am 1 of 1 when I was once 1 of 20 and customer support no longer replies. There is no way this app is 4.1 stars. It's currently barely worth 1.
Great so far
Used to track walking minutes for about a month. So far so good if I pay attention to little walking here and there time before my big walk.
Poor app
Can't even sign up. Error saying user already exists
Good app so far.
Shadow spawns
on
10/3/2017
I have used this app for a few weeks and it is good.
Can't reset password, therefore can't use app
I've put in my email address, but never received an email for password retrieval. I'm sorry to use a negative review to report this, but I can't find any support elsewhere. I had this installed previously and liked it a lot, so hopefully they can fix this issue.
App Is Good
Needs improvement. Cycling is not as accurate as Moves App, I wish it were. App crashes a lot every since the day after download and setup. I uninstalled and reinstalled and still crashing. I can't look at my progress because of crashes. I'm on an iPhone 7+ on latest iOS.
Smart ads
OMG it's Jodi!!!
on
9/9/2017
I love this app and the sarcastic messages! It makes me chuckle a little bit hah
"Top 1%"
1% of what? A percentage without a base is meaningless. How many users am I being compared to? Simply stating the current number of Human users, or making this number easily accessible, would make this percentage meaningful. Beyond this obvious and easily corrected error, this app consistently understates both the total step count and the distance covered. Worse, it even understates distance if one accepts its understated step count. This last error could be avoided by accepting a (perhaps optional) setup parameter such as stride length. For me, e.g., 2000 steps equals 1 mile. Considering all the available sensor data from the iPhone, it seems to me that there should be an effective procedure for reporting a somewhat accurate step count for dance. As it stands, the app shows me motionless for 6 hours of continuous dancing. In short, I've found the app somewhat useful for a small range of activity in the normal course of my day.
Nice app, but will eat your data plan for lunch
I used to have a Basis Peak, which auto logged and categorized workouts like a champ. When i had to give it up, i turned to Apples Watch and looked for apps that would come close to matching Basis. This app got close. And my wife and I used it for a good part of this last year, but started noticing our data plan was getting exhausted each month. We were at a loss for a while, until we deleted Human. Then our usage went back to normal. (we're talking 2-3GB a month for JUST this app on ONE phone)
Perfect
TheHCLightning
on
9/4/2017
It's a good app and I love it, motivates me to move more and I like how my map is marked and that
???
I don't understand how the program works , it indicates that I have walked ,3 flights of stairs , in truth I haven't. Please explain . Thank Zureca
For my purposes, this is a good app.
I am 68 years old and retired. To keep my glucose and lipid levels, as well as my weight, under control, I have followed an exercise regimen involving walking at a cardio pace for the last six years. This app helps me monitor this walking program and compiles statistics that I go through to make sure I maintain a minimum time walking at a pace that, for my age, is in the cardio range. This app may not be sufficient for serious athletes, but for my purposes, it is just right.
No problems here
I've used this app for about a year and really like it. No problems as some of the others have experienced in reviews. I hope the kinks can be worked out for them. I like you guy's daily messages about getting up and moving. Keeps me motivated 😊
Fix the timeline
kerirobinson
on
8/23/2017
The iOS version crashes every time I go to timeline. This could be such a good app.
It's too bad the developers seem to have abandoned this app
I've been using this app for over 3 years now (July 2014). From the beginning it was an awesome idea. Intuitive, easy to use, knew exactly what mode I was in with astonishing accuracy. However in the past 6 months or so it has been downhill. The tracking is less accurate or occasionally missing. I found the most useful feature to be the data export, where you could download millions of pings of data at once and run your own analysis. Now they have not only removed this feature, but the support account was unresponsive and dismissive when I tried to get months of data that was not showing up in the export. In summary, I love the idea of this app but it's probably best to search for an alternative that the developers have not abandoned.
Amazing app
Love human - beautiful design and highly functional. If a gym costs $50-$100 / mo $3 makes a lot is sense to DIY. Thanks, human team!
Disappointed in service
I have used this app for almost 3 years with generally good results. Unfortunately I have now experienced for the second time the unexpected stoppage of my consecutive streak of days with 30 or more minutes. The first time I was over 250 days when without any reason the timeline showed I was starting over. While I sent a number of messages nothing could be done to fix it. This week the same thing happened to me where a 388 day streak was just stopped despite all of the timeline data showing I was well over 30 minutes per day. I sent numerous emails to the support group and so far I have not received a response. When it works, it is fine. Apparently if there is a problem you are on your own. Disappointing to say the least.
It does what it says
Amiira Salah
on
8/17/2017
It does what it says
New user John Nasrallah
John Nasrallah
on
8/12/2017
I just paid for this app and I can't even get past the login or user I'd. They got my money I got ZIP. There should be LAWS AGAINST THIS KIND OF GARBAGE. I want my Money back
After 893 days it has become a complete crash-fest
Obviously I was an early adopter. I stuck with them when they essentially eliminated the option to prioritize accuracy for battery life, meticulously correcting dozens of segments in my cycling rides. How the algorithm thinks that in an hour you can spend five minutes alternating between transport and cycling I may never understand... But now I can't even edit. Crashes every time I go to the timeline. I'm not premium. $3/month is too much and I thought there should have been an option for the early community to buy in old style and just pay for the app. So maybe I'm part of the problem but they no longer answer feedback like they did in the beginning. I suspect it's now abandonware. Sad, really. I wish I could afford to support more developers but with everyone asking for $3-5/month it's impossible.
Tried it, deleted it
Drained my battery real fast.
Close to being great
Its a fun app if you like to run and bike and compete with friends. Nice UI and overall pretty okay. My problems are this: 1. Uses a lot of battery. On my iPhone 6 it uses about 30-40% a day on low accuracy. 2. It doesnt perfect track everything. It normally misses chunks of my biking and leaves the map spotted. 3. The leaderboard is cool, but there are so few people andI never see other people walking around like advertised. Would make everything feel more competitive. I wish there was a more social aspect to the app. Being able to view others profiles, message others, and possibly even groupchats. Devs should take a look at Ingress and how they run things.
Schmucks.
Cosmic Jester
on
8/1/2017
I don't want notifications enabled on everything. Begone.
Easy being human
This app works well in the background to keep track of my activity! Set and forget!
Love it
User friendly, appropriate amount/frequency of notifications, overall great
Excessive Data Usage
!JACK!ATTACK!
on
7/20/2017
I once was a happy Human user until 6 months ago as the app declined in quality. Remembering the benefits of this app when it worked well, I decided to give it a try again. Dang nostalgia! Since I deleted it in the past, there are even more bugs than before. Worse yet, the amount of data this app consumed is extremely excessive. That's with the midrange selection of tracking setting within the app. I'm giving up for good. See you, Human!
Loving being active
smrtrunner65
on
7/18/2017
I love this app. It gently nudges me if I am inactive for too long! I love reaching the daily goals! I will make myself move more just to get that Daily 90!
Sleek and Functional
I really love this app because it keeps me on my toes and makes me feel as though I'm actually accomplishing something (which, it turns out, I am.) It also delivers a nice balance of trainer/reminder, without being naggy and repetitive. Recommend!
Human
I LOVE this app!!! It keeps me going all day long!!' I wish it would be accepted by My Fitness Pal.
Has potential
I love the idea and look of the app. I was only able to use it for one day because it kept crashing. My battery also drained 50% over 4 hours.
Love it
Was super skeptical at first and even ignore it most of the time by once in awhile when I'm feeling like being healthy to myself I check it it and it's super useful and educational. My doctor told me to keep my heart rate up for 30 mins at least 5x a week min his is the only app I found that can tell me if I did anything without a too many hoops. The only strange thing is it has me down for 1 min of bike riding even though I have done 0. Other than that it's perfect for my current health and personal needs
Does a great job
Love it!
Meh
This app works pretty well and is an amazing and useful idea. The only problem is whenever I go to the Timeline tab, it makes the app crash, and this is basically the only tab I need because it tells you how many calories you have burned and how many miles you have walked/ran/biked
Love it!
I compare it to Moves and it seems more accurate. I like the competitive aspects and the encouraging messages are really nice. Been using for two years now.
Z
Hajslockndneh
on
6/28/2017
It has potential but they screwed up by forcing notifications and such before allowing the program to run as well as having to also link up with facebook account. I was looking for something quick and easy to use and for crying out loud it isnt a competition app so why the forced interactivity
Triple notifications
When are the triple notifications going to stop? Every day I get 3 of the same notifications, one after the other, telling me my updated times.
Fact Sheet
Publisher:

Humanco, Inc.

Category:

Health & Fitness

Released:

Sep 01, 2013

Current Version Released:

Feb 06, 2018

Version:

8.5.5

Size:

71 MB

Compatibility:

Requires iOS 9.0 or later.

Recommended Age:

4+

Game Center Certified:

No

Supported Languages:

Dutch; Flemish; English; French; German; Japanese; Portuguese; Chinese; Spanish; Castilian;