Not Recommended
App last updated
Sep 07, 2015
Screenshots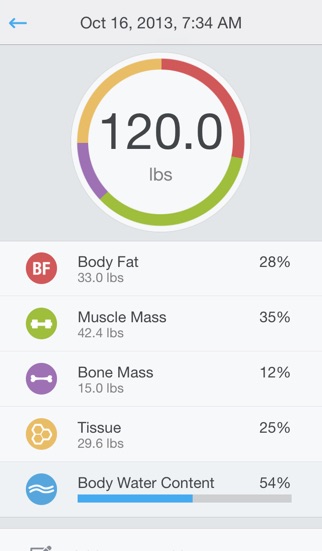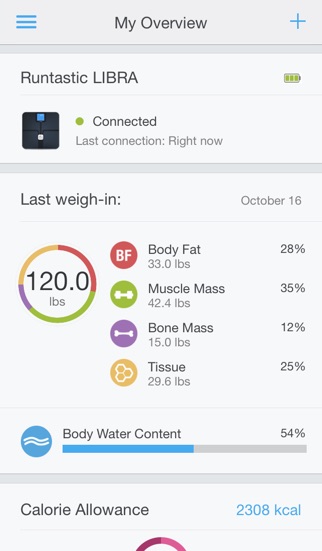 New in version 1.4
- Improved stability and minor bug fixes

Love Runtastic? Our goal is to help you improve your fitness and encourage healthy living. Rate us & tell others about your experience in the App Store.
Description
**The Runtastic Libra app requires the Runtastic Libra Scale.

Track weight, body fat percentage, bone & muscle mass, BMI and body water content all in one! We will guide you through setting a realistic and sustainable goal no matter if you want to lose weight, gain muscle, reduce body fat and more!

EXACT MEASUREMENTS
The best part: Just like with other Runtastic apps, all data measured by Runtastic Libra is integrated into your personal Runtastic account. Your measured body metrics are transferred to your user profile on Runtastic.com each time you weigh-in. This ensures that you can conveniently access all your health & fitness data at once, and we can calculate your calories burned during other Runtastic activities even more accurately.

APP FEATURES & BENEFITS:
- Get familiar with important body metrics, such as: weight, body fat, bone mass, muscle mass, body water content & more (in combination with the Runtastic Libra scale)
- Calculation of your daily calorie allowance based on your activity level and personal stats (including weight, height, age, etc.)
- Define, set & reach your goals, such as: weight loss, muscle weight gain or reducing body fat
- Wireless data transfer from the Runtastic Libra scale to your smartphone
- MyFitnessPal integration: Sync your weight measurements with your MyFitnessPal account
- Save your body metrics and progress on Runtastic.com

There's even more! Thanks to energy-saving Bluetooth Smart technology, all data measured by the Runtastic Libra scale is directly transferred to your smartphone/tablet to provide you with a practical overview & analysis. What are you waiting for?

Whether you finally found the motivation to lose weight or whether you're preparing for your next fitness challenge - the Runtastic Libra app is just what you need!

Download the Runtastic Libra app today & get to know your body!
Reviews
It needs a major update
Great info in the app. It works fine, but it has not been updated in years. Literally! Please update! The scale is beautiful, though. It is disappointing that its app is so old and out of date.
Unusable
On my iPhone 7. Takes me to a configuration screen that doesn't display fully and is covered by the keyboard. Useless.
Duplicates my weight multiple times
This app has such a basic function: store weight at a specific time, over time--and it can't even do that right. This app is so crappy that it amazes me. Literally just one simple job that I'm sure any competent developer could make in less than a week. I enter in my weight and then boom, it's immediately duplicated. Then my weight from yesterday is duplicated, and so on and so forth. It's entered this weird power of two situation where, in order from most recent to oldest, I have: 2, 4, 8, 16 copies for each of the respective previous days. It seems as though it resubmit all the weights that I've previously submitted through the app. The worst part about this hot mess is that I can't even delete a weight--why? Runtastic makes some somewhat shoddy apps, but this is the worst of the bunch.
Seldom, if ever, connects to the Scale
مسلم كبير خليل
on
3/22/2017
The App rarely, if ever, connects to the Scale. Tried to reinstall, and everything but no change. Not happy
Проблемы
Antonio Freddo
on
10/21/2016
Время от времени не подключается Bluetooth! Нет синхронизации с программой Здоровье.
Piece Of Junk
2013runnerdude2013
on
9/25/2016
This is a $105 piece of junk ... it will not sync with my iPhone so all it will do is weigh me - the same thing my $7 scale will do - DO NOT WASTE YOUR MONEY!!!
Pointless
I hate to give a bad rating because I love the idea and look of the app, but when it won't even launch on my device, there is nothing good to say about it. Get your act together Libra.
Fix the sync!
Can't even connect my phone to it!!! I have deleted the app and tried it again but if it doesn't sync you have to delete the app because otherwise it sends you to a page to buy the scale
Big dissapointment
Bluetooth connection is temperamental. Somedays there's connection with the scale and iPhone app, most days it's doesn't. I've tried turning phone off to refresh it, doesn't work!! I look at the list of connected devices in settings and I couldn't even find the scale is being connected. I've tried pushing the Bluetooth button on the scale to reconnect it to no avail, no matter how close the phone and the scale are to each other!!
BLUETOOTH NEEDS FIXING
I bought this scale about a few weeks ago and was extremely happy with its performance. Then suddenly out of nowhere the Bluetooth wasn't connecting. This is a REAL ISSUE considering I paid $105 for the scale and it can't even connect back to the Bluetooth. Bells and whistles are nice but the app needs updating (with more user friendly features) and the Bluetooth capability needs to be MUCH more efficient.
Apple Health Integration
@&/)Confused
on
2/14/2016
I haven't had any major problems with the app. Connected and synced beautifully with my phone. My complaint is that the blurb in the App Store touts it integrates with Apple Health. I do not have that option under Settings>Partner Accounts. Please fix this...I would give 5 stars if this were truly available.
Facing Issues
987654321nickname
on
10/24/2015
The weighing scale has been working fine until a few days ago, whereas it only takes the weight and doesn't calculate anything else. And it's not syncing.
Used to work...please fix it!
CatheyMattingly
on
8/16/2015
We spent a lot of money on this scale only to have tons of problems with connection since May 2015. Please fix it!! I'm ready to trash the scale and go back to a Tanita.
Sad
Volganevariver
on
8/2/2015
No sync with Apple health app
Is a scam don't buy the scale don't download
I would give no stars if I could. Bought the libra scale, was able to use it for a couple of times, then it stopped connecting to ours iPhone5s and iPhone 6, tried removing batteries, connected one time and then stopped again, tried resetting the scale, again connected one time and then stopped connecting. Went to the store, changed the scale for a new one, I almost don't get it to pair with my iPhone5s it worked one time and now the scale recognizes me but it doesn't connect to my cellphone (it says the scale is not connected), haven't been able to pair it with the iPhone6! Bought this scale just got the feature of connection to multiple devices and multiple users but DOESN'T WORK AT ALL!!! is a scam! Don't buy this scale don't download this app, look for other option
Cannot Connect
The app does not work at all. App does not connect to the scale. When I try to pair the scale to the app, it fails to do so. I tried to re-install the app and it still does not work. This app needs to be fixed because I now have a $200 scale that isn't good for anything.
Scale not connected at all to my phone. Please fix the glitches.
TheNavigator25
on
5/7/2015
Please fix the app so my phone is connected to my Runtastic Libra Scale and we'll be joyfully happy to see all our results on Apple Health app too. Thank you very much!!!
Does not connect with HealthKit
They claim on the app description that it connects with Apple Health, but it doesn't and there is no mention of Apple Health support on their main website. Do not buy their scale if you care about integration with the rest of your apps.
Still glitchy after update
angrywarbler
on
4/29/2015
Every time, it still asks me about the same unknown measurements, and doesn't remember that I already answered. It also always asks me for the calibration measurement. At least after it update it actually connects to the scale most of the time now. Please fix this app. Such a great idea, if it would work.
Love the app but could use more
I have been using the app with the scale for about 3 months now and I love it. The only downside is that it does not sync to the Health App with my phone. Would be way more useful if it did.
Could be much better!
The scale seems to be good, but the app is a crap. This app request me to calibrate the scale all the time. A good update is needed.
Waste of money
I am on my 3rd Libra scale in 3 months. They refuse to stay in sync with app. Waste of money.
Trash - Runtastic has abandoned this ecosystem
Been using this over a year with intermittent sync issues. Now it no longer syncs at all. I've done all of the recommended troubleshooting e.g. reinstalling the app, resetting, removing batteries. I regret investing in this ecosystem. I'm telling everyone i know to avoid runtastic like the plague.
Piece of junk!
It doesn't pair. No regular updates of the app. Fix this piece of crap!
Great scale!!
Received the scale today and so far have had no problems with syncing two users. I was a little worried given the previous reviews but the scale has so far performed exactly how I wanted it to.
Swen
I use it for a paperweight. All it's good for. Doesn't sync and company has no interest in fixing the problem. A waste of money. I give it zero stars.
Terrible app. Waste of time
Whoever wrote the app obviously never tested it. Tried to add an additional user but it just kept going back to the sign in screen.
Stopped paring iPhone DONT INVEST IN LIBRA
Love the idea of the scale and only worked three times now will not pair to the phone. I am a runtastic pro member and use all there products orbit, heart rate, and libra. All hardware has flaws and I wish I didn't get it. The libra has no support I have been discussing this issue for a month and only responses are telling me how to pair to phone. I know how it just disengagement work. I bought on Amazon so they do not support. It was the same price. Go with a different scale app and company.
Breaking the bank
Stopped pairing with iPhone! Runtastic pro said I ran 20 miles in 2 minutes. Literally running out of patience with items I've PAID for😡
No Heath app syncing
For what this app does it should have health app syncing.
stoped Pairing
Hiddengeisha
on
10/29/2014
got the new Apple update and my libra stoped pairing with my scale . please fix this... frustration
No HealthKit support :(
It would be much more useful if it could sync with the health app
Could do more
This app seems light on features considering all the things Runtastic does. It also doesn't have health kit support which seems strange because they are simple stats it is tracking. I'll add another star when they tie things together better.
No HealthKit integration
Mark Luczkowski
on
10/12/2014
Needs HealthKit integration.
App stopped sync'ing
After working fine for 2 weeks the app doesn't sync with the scale anymore. Tried to resync, reset, anything. No connection for a week. And that's really a basic feature. App completely useless w/o the sync.
Very Buggy
The app is very buggy. At the advice of Runtastic, I've uninstalled and reinstalled the app to resolve my problems. But it doesn't help. I'm surprised there have been no updates to the app since obviously others are also reporting problems.
Seems good to me (so far - day1)
Mine paired up right out of the box. This is the first day so we will see if it has consistent readings and if it stays paired. I like that I can link it to multiple seep rate accounts on runtastic and it recognizes them. So far I love it.
Love the scale, hate the app.
I've had some syncing problems but usually can resolve by removing the batteries from the scale. But my beef is with the app. The app is very kindergarten-ish, the line graphs are blocky, etc. this is an iPhone app clearly. I am happy with other Runtastic apps, but the presentation of data in this one really is awful.
Frustrating
JustAnotherMeg
on
2/9/2014
The scale and app have never paired after the first week despite numerous reinstalls. Website help is inaccessible at least through mobile version. I had an okay scale. Now I have two and neither does anything more than weigh and estimate. Not impressive, Runtastic. Why would I pay more for "gold" when what I bought does not work?
Can't sync data
3d printing ideas
on
2/8/2014
Can't sync any data since 1st time
Not working
Traveler 132463476337
on
1/30/2014
1. Constantly asking to recalibrate 2. No decimal points, thus all the numbers are rounded. 3. Dies not transfer all the data to runtastic website
Nice app but needs same level of precision in the app as the scale has
10ths are not shown in the app
Calibration Measurement Loop
It constantly asks me for a calibration measurement every time I open the app. I've done this several times already and it won't go away.
Nice app but ...
Nice app but could u please make it also without scale and to add reminders on specific date and time to record a weight.
Don't bother if you don't have a libra scale
If you don't have the libra scale, this is a glorified bmi calculator. And a buggy one, at that. Took me forever to skip the ads, couldn't do anything until I logged in, and for some reason, I'm not allowed to be 6'0".
Fact Sheet
Publisher:

runtastic

Category:

Health & Fitness

Released:

Nov 01, 2013

Current Version Released:

Sep 07, 2015

Version:

1.4

Size:

19.5 MB

Compatibility:

Requires iOS 7.0 or later.

Recommended Age:

4+

Game Center Certified:

No

Supported Languages:

English; French; German; Italian; Japanese; Korean; Portuguese; Russian; Chinese; Spanish; Castilian; Turkish;