Screenshots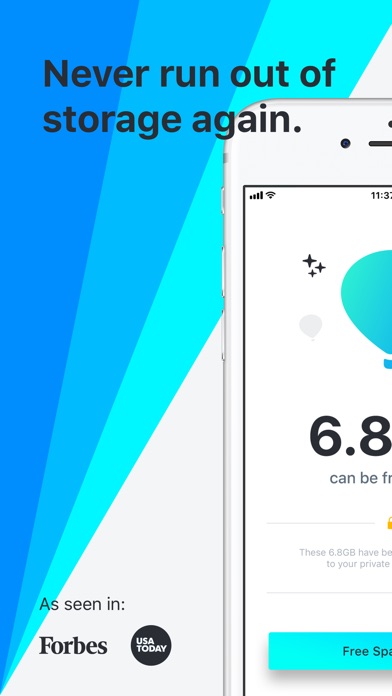 New in version 1.75.0
We regularly update Ever to provide you with the best experience possible. Please let us know how we can improve your experience with Ever by emailing support@ever.com.
Description
Never run out of photo storage again!

"One of the Fastest Growing Photo Apps Worldwide in 2016" -- Source: App Annie
"Ever, a challenge to Google and Dropbox for storing photos online" -- WIRED
"Bringing the emotion back to photos" -- The Next Web

---

Ever protects your life's photos so you never have to worry about losing them. Across devices and photo sources, Ever automatically backs up your photos and videos so you can access them at any time. You can then free up space on your device by removing photos from your camera roll.

HIGH-RESOLUTION PHOTO STORAGE
- High-resolution photo backup from your device's camera roll
- Easily import photos from Facebook, Instagram, Dropbox, Google, and more

GET YOUR SPACE BACK
- Easily free space on your device with just a few clicks
- Make room for more photos

SECURE & PRIVATE BACKUP
- Your photos are always private until you decide to share
- Automatically back up photos on your device, as you take them
- Add an extra level of security with Touch ID protection

SHARE YOUR BEST MOMENTS
- Collaborate on shared albums with your Inner Circle
- Share your favorite moments with friends & family

RELIVE YOUR #THROWBACKS
- Engage with your #throwbacks and flipbooks
- Rediscover and share your cherished photos

Questions? Please reach out to us in any of the following ways:

Email: support@ever.com
FAQ: help.ever.com
Facebook, Twitter, Medium: @ever
Instagram: @get.ever


Privacy Policy
• http://www.ever.com/privacy

Terms of Service
• http://www.ever.com/terms-of-service

---

Ever will always backup your high-resolution photos. If you choose to upgrade to Ever Plus, you will receive a free trial that provides unlimited full-resolution photo and video backup for 7 days. At the end of the trial period, your subscription will automatically renew each month at a price of $11.99 per month unless canceled at least 24 hours before the date of renewal. You can manage your iTunes subscription in the App Store settings after purchase.
iPad Screenshots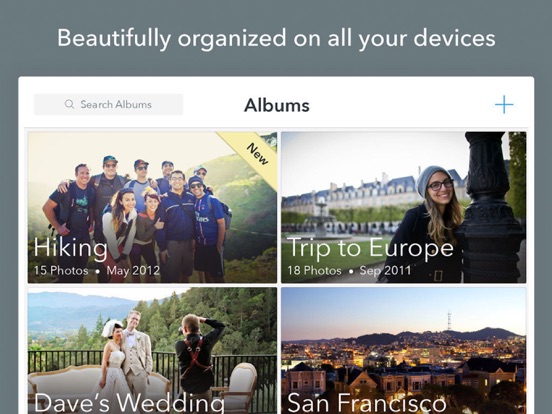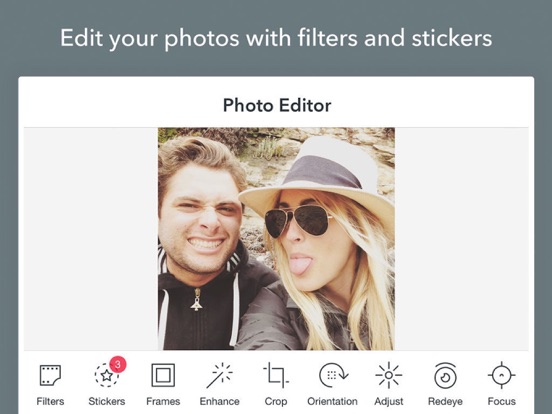 Reviews
iPhone/iPad app
Greggytrilam
on
11/18/2017
I noticed the iPad app works differently then the iPhone app. For example; The iPad does not have a Touch ID option 😞. Also the iPad app displays that 500 plus photos need to be backed up. This clearly is a bug 🕷. Other then these two issues I love this app! It helps keep all my pictures in the same place.
Best EVER*****
This is the best app for photo back up and to get your phone storage back. Once you have it, you will never, not want to have it. Best investment *****
No Good!
It doesn't let you edit your profile!
Can't even sign up
1swt.sassy.lil.gal
on
11/15/2017
I downloaded the app and every time I go to out my name in to sign up, I don't even get to finish typing in my first name and the app shuts down.. tried numerous times and same thing happens
Love this!!
Spike a lee
on
11/13/2017
This is a great app to change the tone, or fix a little blemish. I love it!
Horrible app I have "EVER" used!!!
This app does not work. I was one of the ones that they scammed by sending all my contacts my photo. It was one of the most embarrassing experiences EVER! They sent an embarrassing photo even do all my business contacts. I thought I would give them another chance and come back after I heard they got kicked out of the App Store and then fixed their scam behavior. This app needs some serious work just to make it function. The photo groupings they present to me as "throwback" are not grouped together in anything I'd be interested in seeing. This app is a waste of time.
Get it!!
Lyshthedysh
on
11/12/2017
Love it! All my pictures are here!!!
Great App
I got the pro version for free by recommending to friends and I can store all my photos and videos on Ever with ease. I love this app. Simple and efficient. Thanks
Deanovoy
I love the APP. Just need a little more instruction on all of its perks!
Great to have
Back up your memories.
Ever
Great app and easy to use
No brainer!
Super easy to use, frees up your memory almost instantly, and preserves your memories in case your phone is lost, stolen or destroyed. I have no complaints and have been able to keep snapping away when friends have run out of memory at special events :)
Great way to store photos for free!
Ever is wonderful because I don't have to use valuable storage space on my phone. I can retrieve my photos anytime.
Love it!
Toot da blues
on
11/4/2017
Love, love ,love , this app , .🤔.did I mention ,...I love It. 😂😂
Can't even sign up
I read a whole lot of reviews and this app seems very good but after 10 seconds of being in the app, it crashes! Please fix this !
Best app ever
Best app ever ❤️ every one should try this app it gives no problems .
Used to be amazing...update made it terrible
I used to HIGHLY recommend this app to everyone. Then a big update came and my photos are out of order and everything just became extremely unorganized and complicated to use. It's great for unlimited backup but when I need to actually find photos it's terrible
Dr. King loves Ever!
Dr. King loves Ever!
Easy to use!!
Like this better than iCloud . It found pics I forgot I had. Like the daily backups.
User
Great free app, love it. Keeps asking for reviews so updating my review. Works great and it's free.
I like it
Great for storage and Easy to use.
Review
chicknamedB
on
10/24/2017
Works great for me. Recommend to friends and family.
All my photos are here!!!
What a great app "Ever" is! Some of my apps I can only find some of my pictures...some of the time. This one has them all! Just today I transferred pictures to another app because they were missing. Funny thing is this is the phone I took the pictures with. Shouldn't the pictures have save to the app that is on this phone? Huh :/ That's OK! I knew they would be here on "Ever". ;D Thank you "Ever"! You are fabulous!!!
Rating
Selfmadeselfpayed
on
10/21/2017
I rate this app as a 5star I love it
Great app
x._blah_blah_blah_.x
on
10/20/2017
Really good
Me gusta mucho
Está es Edna de las mejores aplicaciones que hay .
Littlejohn delby
Johnnie darre
on
10/18/2017
Every one needs to have this all my stuff is backed up
Crashes
Useful app when it's actually working .... crashes each time I open it as well as continually disconnects from google photos and Dropbox ..... I think this app does not work well with the new iOS ....
Ever
I'm loving Ever app. Actually I love everything EverNote. Frees up my beleaguered iPhone amazingly. Strongly recommend this app. Thanks for the great app!!!
Ever
Daddy Diiiiiiiiiiiiick
on
10/15/2017
Great app for storing pics and freeing space on your phone!
no pay
i don't think that it is right that you guys are trying to make people pay for THEIR videos
When are we going get a real update
So far they never fixed a problem I reported. still skips photos. photos don't always go in the right order a photo you uploaded 20 minutes ago. you upload more that photo from 20 minutes ago is still in the first place. even times it even in the second place. Instead of adding stuff we asked they add trash like flash gif tag your friends. They been asked to add slide show but act like it impossible. You just have to slide a hundred trillion times. Instead of saving a pix at a time we should be able to save an whole album instead of slide click click click slide click click a zillion hundreds times and with app crashes. This another thing we didn't ask for they like fill our albums with trash albums if you updated photos on Sunday the album might have a name called Sunday morning or Sunday evening Sunday night
Awesome photo app
Keeps all my pictures organized and it always pops up with my throwback ! Which I absolutely love !!
Great app
Super easy to use and keeps my pictures arranged for me.
Love this app!
Tabmotheroftwo
on
10/12/2017
I have been using the app for six months. Super easy, and cleans the phone of backed up images! Love it! Downside- every two months now I have to delete and reinstall the app because the delete images off the phone part stops working. Other then that, great app!
Fixed my storage problem!
super easy to use and lets me keep taking excessive amounts of pictures
Life safer
Shanon floretta
on
10/11/2017
👍🏽
Used to love it
I used to love it and actually gave it 5 stars at one time but don't know if it needs updating or what but it won't back up my photos
Great
This app is great for people who hoard pictures. Little laggy. Google photos is preferred personally, because the layout is less cluttered. Get on that
deleted first year of my baby's life
skyznolimit
on
10/10/2017
i now have almost no photos or videos from my baby's first year. i hit the button from the app to safely delete and then when i looked a while later they were all gone from everalbum and my phone.
Love it!
Kittymorgan
on
10/10/2017
It does everything automatically so I don't have to worry about losing my photos! And it frees up so much space on my iPhone so I can stop getting those "iCloud full" messages. 😀
LOVE IT
always gives me the option to delete my pictures that are already saved on the app all at once & it's SO much easier!! love the throwbacks it gives you every so often & how it makes albums!!
Ms
Every photo has been saved since 2015 and it saves my space I greatly recommend it
Is good ever
Mi gordita sexy
on
10/9/2017
Muy buena
Love EVER
Trudilicious
on
10/8/2017
This is a very useful app! Love that it sorts by date and faces! Highly recommend!
I love ever
Madison Taylor Adams
on
10/8/2017
Ever is the best app
Fact Sheet
Publisher:

Everalbum, Inc.

Category:

Productivity

Released:

May 17, 2014

Current Version Released:

Nov 02, 2017

Version:

1.75.0

Size:

157.8 MB

Compatibility:

Requires iOS 9.0 or later.

Recommended Age:

4+

Game Center Certified:

No

Supported Devices:

iPad2Wifi-iPad2Wifi, iPad23G-iPad23G, iPhone4S-iPhone4S, iPadThirdGen-iPadThirdGen, iPadThirdGen4G-iPadThirdGen4G, iPhone5-iPhone5, iPodTouchFifthGen-iPodTouchFifthGen, iPadFourthGen-iPadFourthGen, iPadFourthGen4G-iPadFourthGen4G, iPadMini-iPadMini, iPadMini4G-iPadMini4G, iPhone5c-iPhone5c, iPhone5s-iPhone5s, iPadAir-iPadAir, iPadAirCellular-iPadAirCellular, iPadMiniRetina-iPadMiniRetina, iPadMiniRetinaCellular-iPadMiniRetinaCellular, iPhone6-iPhone6, iPhone6Plus-iPhone6Plus, iPadAir2-iPadAir2, iPadAir2Cellular-iPadAir2Cellular, iPadMini3-iPadMini3, iPadMini3Cellular-iPadMini3Cellular, iPodTouchSixthGen-iPodTouchSixthGen, iPhone6s-iPhone6s, iPhone6sPlus-iPhone6sPlus, iPadMini4-iPadMini4, iPadMini4Cellular-iPadMini4Cellular, iPadPro-iPadPro, iPadProCellular-iPadProCellular, iPadPro97-iPadPro97, iPadPro97Cellular-iPadPro97Cellular, iPhoneSE-iPhoneSE, iPhone7-iPhone7, iPhone7Plus-iPhone7Plus, iPad611-iPad611, iPad612-iPad612, iPad71-iPad71, iPad72-iPad72, iPad73-iPad73, iPad74-iPad74, iPhone8-iPhone8, iPhone8Plus-iPhone8Plus, iPhoneX-iPhoneX,

Supported Languages:

Arabic; English; French; German; Hindi; Indonesian; Italian; Japanese; Korean; Malay; Portuguese; Chinese; Spanish; Castilian; Thai; Chinese; Turkish;