TapNova recommends this app!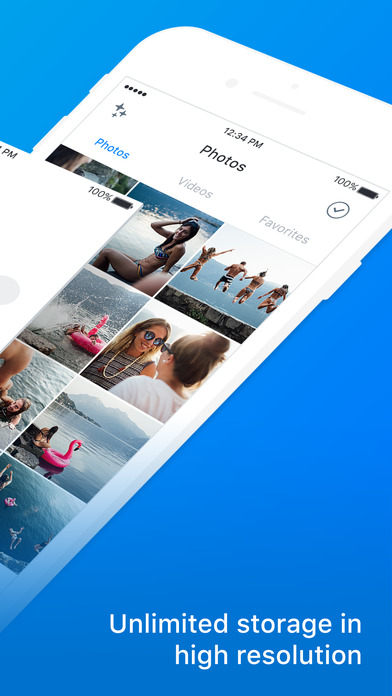 New in version 1.65.0
We regularly update Ever to provide you with the best experience possible. Please let us know how we can improve your experience with Ever by emailing support@ever.com.
Description
Never run out of photo storage again!

"One of the Fastest Growing Photo Apps Worldwide in 2016" -- Source: App Annie
"Ever, a challenge to Google and Dropbox for storing photos online" -- WIRED
"Bringing the emotion back to photos" -- The Next Web

---

Ever protects your life's photos so you never have to worry about losing them. Across devices and photo sources, Ever automatically backs up your photos and videos so you can access them at any time. You can then free up space on your device by removing photos from your camera roll.

HIGH-RESOLUTION PHOTO STORAGE
- High-resolution photo backup from your device's camera roll
- Easily import photos from Facebook, Instagram, Dropbox, Google, and more

GET YOUR SPACE BACK
- Easily free space on your device with just a few clicks
- Make room for more photos

SECURE & PRIVATE BACKUP
- Your photos are always private until you decide to share
- Automatically back up photos on your device, as you take them
- Add an extra level of security with Touch ID protection

SHARE YOUR BEST MOMENTS
- Collaborate on shared albums with your Inner Circle
- Share your favorite moments with friends & family

RELIVE YOUR #THROWBACKS
- Engage with your #throwbacks and flipbooks
- Rediscover and share your cherished photos

Questions? Please reach out to us in any of the following ways:

Email: support@ever.com
FAQ: help.ever.com
Facebook, Twitter, Medium: @ever
Instagram: @get.ever


Privacy Policy
• http://www.ever.com/privacy

Terms of Service
• http://www.ever.com/terms-of-service

---

Ever will always backup your high-resolution photos. If you choose to upgrade to Ever Plus, you will receive a free trial that provides unlimited full-resolution photo and video backup for 7 days. At the end of the trial period, your subscription will automatically renew each month at a price of $11.99 per month unless canceled at least 24 hours before the date of renewal. You can manage your iTunes subscription in the App Store settings after purchase.
iPad Screenshots
Reviews
Love this app
This app is great for photo storage and I love how it send you throwbacks from years back!
Image storage made easy
Glad I downloaded this app, made using limited IOS memory device manageable. Thanks
Excellent
Excellent program with no problems
Ever album
I have had this app for over a year and 💙❤️💜💚💛 it! Won't use anything else. Thanks for a great app!
Best app ever
Its the best i can save my photos and use my phone storage for other things. Been using for over 3 years
Pretty cool
I like this app cause it has pretty cool features. But I initially got it to free up space on my phone without deleting pics. Maybe I don't know how it works, but my storage is still almost always full. Did I miss something? Not sure, but still a cool app in general
Great app
Amazing app it saves every single photo and it frees up so much storage
Ever app
ever app is outstanding! Sincerely, Amani Amateur Rahman
Soll
Soloo Kurdîsh
on
7/18/2017
I love this app
A MUST HAVE FOR PICS
One of the best apps for people who love to take pictures like myself!!
I love it
It makes my photos safer and I can print them it is so amazing
Good work
confident garfield
on
7/18/2017
I like the app, works good
Enamorada de esta app
Ever❤️❤️
LOVE IT
Thats it. I JUST FREAKING LOVE IT
Great app
Awesome storage app!
Go ever
1234567254962745297582647
on
7/17/2017
It's the best storage saving app available for free
Amazing
Really love this app and recommend to everyone
Does everything you need it to do
Stored my pictures so now I can get them on my other phone without iCloud
Great
I trust it with all my pics, transfers through all devices.
Easy!!
Ever is so much easier and more user friendly than iCloud. 5stars all the way
Ever
samia_to_cute
on
7/16/2017
Better than I thought
The best
Aljewelssmrob
on
7/16/2017
I love it I recommend it to everyone
Great!
Very smooth free app. Works easily and well.
This is so great. Thank you.
I found a lot of old memories that I missed thank you so much.
Noice
It's everything it says it is! I just wish you didn't have to go the trial thing to save videos. But it's a good app
WOW!
Ash13645393639374
on
7/15/2017
This app is the best thing ever invented. It helped me get so much more space on my phone. If I could give this app more stars I would:)
Great pic storage
NorthernIndiana
on
7/15/2017
A great way to pictures! I wish you could access this app from email or text to share photos.
Miles
Im just here from miles
Selection
Hhhhhvguhthgy
on
7/14/2017
We need to be able to select multiple pictures at a time to save them from the ever app to our phones.
Best photo saver
Alaskanmonkey
on
7/13/2017
Saves all my photos and never runs out of space. I highly recommend this app!
Ever app
The best way I know to store pictures I love the app
Ever
Rocking the nerd style
on
7/12/2017
Great way to store pictures!
AMAZING!
GUYS you can trust this app with your life its so amazing and safe . Thank you , ever.
Yojana
Tony Mtz Aguilar
on
7/12/2017
Me sirve muy bien lo recomiendo
Great app
Great app to save all your pics and get them off your phone for added storage space
LOVE IT!
Thankful Banana
on
7/12/2017
I don't ever have to worry about loosing my PHOTOS&VIDEOS ..even if I loose my phone! Happy, Banana
Phenomenal!
This app is so good, it privately backs up your photos and gives you the option to delete them from your device to free up space. I freed up 2GB right off the bat. You also have the option to privately share customized albums with your friends!
LOVE
On a iPhone it is hard when your iCloud is full. That's why I LOVE this app!
How do I untag?
DaffySullivan
on
7/11/2017
So far I like it. Would just like to know how to untag someone. I accidentally tagged a few of my daughter's baby pictures under my son's.
Great
Hvfdrtbuhdrdd
on
7/11/2017
An employee at the Apple Store recommended this app for me and it works out great!
My past time is present with Ever
el gallo Leon
on
7/10/2017
I Love it and I will like for my friends and family to enjoy it same thanks ever
very good!
if your ever running out of space on your phone or about to go on vacation and want to make sure you have enough room, this is the perfect app. I've been using it for 2 years now and every photo I ever placed in everalbum and deleted of my phone has stayed there. highly recommend it!!!
Great app
This app is a life saver and I highly recommend it to everyone. This app not only saves images from your photos app but it organizes them neatly and stores them for easy access in the future. I use Ever Album all the time and trust me you will not regret downloading this app.
Fact Sheet
Publisher: Everalbum, Inc.
Category: Productivity
Released: May 17, 2014
Current Version Released: Jul 20, 2017
Version: 1.65.0
Size: 138.9 MB
Compatibility: Requires iOS 9.0 or later.
Recommended Age: 4+
Game Center Certified: No
Supported Devices: iPad2Wifi-iPad2Wifi, iPad23G-iPad23G, iPhone4S-iPhone4S, iPadThirdGen-iPadThirdGen, iPadThirdGen4G-iPadThirdGen4G, iPhone5-iPhone5, iPodTouchFifthGen-iPodTouchFifthGen, iPadFourthGen-iPadFourthGen, iPadFourthGen4G-iPadFourthGen4G, iPadMini-iPadMini, iPadMini4G-iPadMini4G, iPhone5c-iPhone5c, iPhone5s-iPhone5s, iPadAir-iPadAir, iPadAirCellular-iPadAirCellular, iPadMiniRetina-iPadMiniRetina, iPadMiniRetinaCellular-iPadMiniRetinaCellular, iPhone6-iPhone6, iPhone6Plus-iPhone6Plus, iPadAir2-iPadAir2, iPadAir2Cellular-iPadAir2Cellular, iPadMini3-iPadMini3, iPadMini3Cellular-iPadMini3Cellular, iPodTouchSixthGen-iPodTouchSixthGen, iPhone6s-iPhone6s, iPhone6sPlus-iPhone6sPlus, iPadMini4-iPadMini4, iPadMini4Cellular-iPadMini4Cellular, iPadPro-iPadPro, iPadProCellular-iPadProCellular, iPadPro97-iPadPro97, iPadPro97Cellular-iPadPro97Cellular, iPhoneSE-iPhoneSE, iPhone7-iPhone7, iPhone7Plus-iPhone7Plus, iPad611-iPad611, iPad612-iPad612, iPad71-iPad71, iPad72-iPad72, iPad73-iPad73, iPad74-iPad74,
Supported Languages: Arabic; English; French; German; Hindi; Indonesian; Italian; Japanese; Korean; Malay; Portuguese; Chinese; Spanish; Castilian; Thai; Chinese; Turkish;