Productivity
Photo & Video
This version of the app is not recommended
App last updated
Nov 02, 2017
Screenshots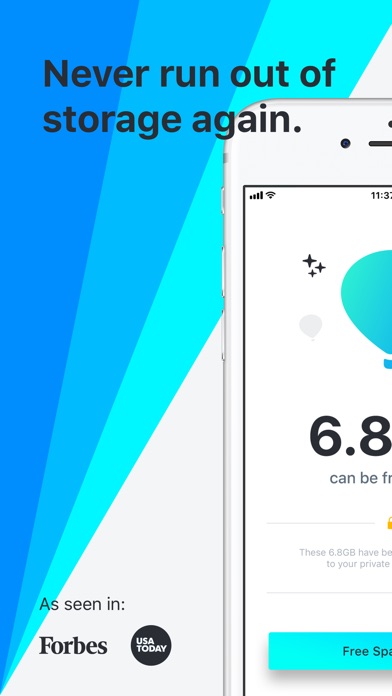 New in version 1.75.0
We regularly update Ever to provide you with the best experience possible. Please let us know how we can improve your experience with Ever by emailing support@ever.com.
Description
Never run out of photo storage again!

"One of the Fastest Growing Photo Apps Worldwide in 2016" -- Source: App Annie
"Ever, a challenge to Google and Dropbox for storing photos online" -- WIRED
"Bringing the emotion back to photos" -- The Next Web

---

Ever protects your life's photos so you never have to worry about losing them. Across devices and photo sources, Ever automatically backs up your photos and videos so you can access them at any time. You can then free up space on your device by removing photos from your camera roll.

HIGH-RESOLUTION PHOTO STORAGE
- High-resolution photo backup from your device's camera roll
- Easily import photos from Facebook, Instagram, Dropbox, Google, and more

GET YOUR SPACE BACK
- Easily free space on your device with just a few clicks
- Make room for more photos

SECURE & PRIVATE BACKUP
- Your photos are always private until you decide to share
- Automatically back up photos on your device, as you take them
- Add an extra level of security with Touch ID protection

SHARE YOUR BEST MOMENTS
- Collaborate on shared albums with your Inner Circle
- Share your favorite moments with friends & family

RELIVE YOUR #THROWBACKS
- Engage with your #throwbacks and flipbooks
- Rediscover and share your cherished photos

Questions? Please reach out to us in any of the following ways:

Email: support@ever.com
FAQ: help.ever.com
Facebook, Twitter, Medium: @ever
Instagram: @get.ever


Privacy Policy
• http://www.ever.com/privacy

Terms of Service
• http://www.ever.com/terms-of-service

---

Ever will always backup your high-resolution photos. If you choose to upgrade to Ever Plus, you will receive a free trial that provides unlimited full-resolution photo and video backup for 7 days. At the end of the trial period, your subscription will automatically renew each month at a price of $11.99 per month unless canceled at least 24 hours before the date of renewal. You can manage your iTunes subscription in the App Store settings after purchase.
iPad Screenshots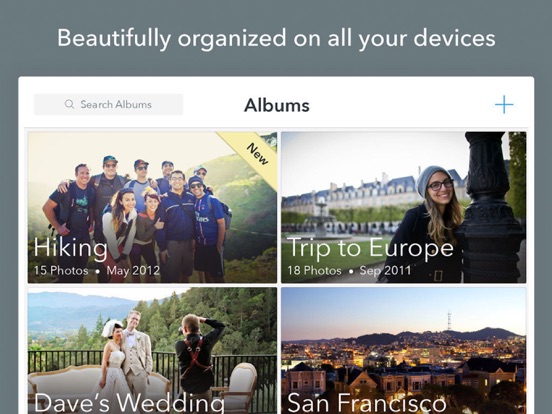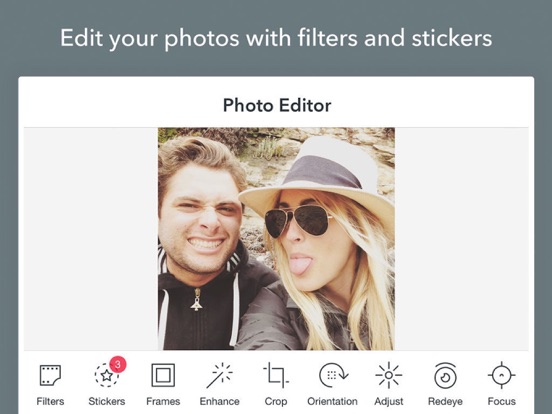 Reviews
give me my videos back Please
Darlina123456789
on
1/21/2018
i've had everalbum for a couple of years now so you know I have tons of pics/vids saved. and it used to tell me I can trust their app with my videos and that I can get more storage by deleting them from my camera roll. WELL PLOT TWIST, they got a whole new update that made me pay $12 a month to get my videos back?! I trusted you so please give me my videos back ASAP
Can't even sign up
This app is absolutely terrible. I only had it for ten seconds- wait scratch that, five seconds and when I tried to sign up GUESS WHAT?! It took me out of the app completely and at fort I thought, oh this isn't probably anything too concerning. So again I tried to sign up and the same stupid thing happened to me. I have been trying for the past ten minutes just to sign up but it is constantly taking me out of the app. So if I where you, maybe think about the way you might get a headache from just trying to sign up. And I got excited to get this app. All. For. Nothing. Hmph!
Question
diamondz_gal
on
1/19/2018
Are people able to see the images it backed up
Brings back memories
This app is great! It finds pictures in my phone that I never knew I had. Brings back some great memories! I love it.
Misleading
This app isn't free. Makes it seem like it's free high resolution storage but after you make an account, it says you have to pay for it to save high resolutions. It'll be low quality if you skip the "upgrade". Uninstalled.
Best app ever!!!
Holly S. Punkinhead
on
1/13/2018
I absolutely love this app!!! My phone was recently destroyed😢. I am so very fortunate my brother told me about this app several months prior to my phone disaster, if I hadn't had this app I would have lost the majority of my photos, most of which are of my baby, for whatever reason my now dead phone was not backing up to the cloud. So all my photos were lucky backed up by this app which I can now, on my borrowed phone, view again!!! Seriously best app ever 💗!!!!!
Can't save photos
Photos freeze and can't be re downloaded and saved
Asking for personal info first thing? Fail.
I would pay for a backup app. However this app demands personal info before it will bother doing anything. Especially for the relative steep price asked. Uninstalled.
How can you change the passcode if you forgot the code
I forgot my code . How can you change it ?
Ever
This app is very helpful!! It is fun to play too .
FANTASTIC
I think this app is super cute! I can't believe how much space it freed up on my phone!
Perfect digital photo album
Great place to store photos and flexible with pricing. Some months I wasn't able to pay (for almost a year) and all my photos are still safe and sound!
Love it
A great way to store pictures in private
Can't get past some questions
35madscientist
on
12/31/2017
Trying to set up an account, and it was okay until I get to a question about if I want to include photos from Facebook (which I don't have)…there's no yes or no to choose from or anything. So, I am either going to hear from someone as to what is up with this, or find another app to store my pics. Ugh!
Great app...but
I love my Ever app, however it tends to freeze when trying to share a picture. I have to exit the app and go back in. I have found the sharing no longer works. I would give the app 5 stars if it did.
Can't even get account started!!!😡😡😡😡😤
Jolleyrancher$$$
on
12/29/2017
I thought it would be cool but I tried to make an account and it kept logging me out! It got really frustrated and I tried over and over again it took lots of Payson patients to try over and over and over again but after a while I just stopped and I quit it is not going to work so It my work for those with Facebook but the account making needs a lot of work
Won't let me in the app
Ugguegfhdfb
on
12/27/2017
So I got the app and was trying to sign up and it would just blink back to my home screen. I even tried to delete it and reinstall it and it kept doing the same thing.
I think it might be great
Erica.Branson
on
12/27/2017
Hopefully
Poor customer service
Non existent actually. For months Ive been double billed and have had no response from the multiple emails Ive sent. Go elsewhere.
Me gusta, pero falta opciones de borrado
Es buena, lo único que sería mejor si diese la opción de "borrar " desde cualquier lugar, No solo desde el álbum principal A veces hay fotos que se ven en álbumes creados por Ever que son difíciles encontrar en el álbum principal y que sería bueno borrar en el instante que las vemos, pero No da la opción ! QUIERO FACILIDADES PARA BORRAR !!! 🙏🏻
Very good app
Does free up a lot of space. Does everything for you😊
This is the best
I've never had a problem since using Ever album I'm always able to keep my pictures something that mean a lot to me when I want to see my cute or how my year has been after being with Ever album for more than a year I'm thankful that I have a place outside of my phone storage to keep my pictures
Actually useful
Ofifdidudufuguddugytvfiffyb
on
12/16/2017
I've used Ever since last year and all my photos are accessible whenever. This app is highly recommended because of its reliability and agility when importing or exporting media. This is a great alternative for Icloud or simply transporting onto a computer. Overall it's good to use when storage is needed.
A happy family using Ever💚
The Cahill5Pak
on
12/15/2017
Our family has been using this Ever app for over a year now. We enjoy it's ease of use, #throwback photo feature as well as other photo options including photo memory books available to purchase to cherish family events and you can customize them and give personalized gift books to friends and relatives if you wish which we feel is a great one of a kind gift idea! I read a couple negative comments on here about Ever; however, I feel if some time is invested navigating this site - there is so much to learn and enjoy!😊✔️
REVIEW
headzrupmama
on
12/11/2017
I REALLY LOVE THIS APP.
Horrible service
Amelie's reviews
on
12/10/2017
This app does not work, I tried to use it but it kept sending me back to my home page. I didn't even get past the signing part!!!! DO NOT USE! There is clearly something wrong with this app.
Amazing App
Liam Bleakley
on
12/10/2017
I love this app because even if I delete it, it saves all my photos which is awesome because I can cherish ALL of my memories due to the fact that it automatically saves every picture in your camera roll. Love the app!
Outstanding app
So exciting to get pictures reminding you of special memories from the past. Makes me smile and sometimes brings joyful tears. Love this app!!!
Ever pics
One feature that's fun is it shows a picture from a year ago. I have two young grandchildren and it's fun to see how much they change in a year.
Adds. This is not about the app
I play flappy dunk and adds keep coming up on the screen and I hate it but it is only the ever add is coming on the screen. And it is not only flappy dunk most of my games have ever adds on the screen. But all of flappy dunk's adds are ever. And I only downloaded ever because I wanted to right a review I tried it and it was terrible !!!!!!!!!!!!!!!!!!!!!!!!!!!!!!!!!!!!!!!!!!!!!!!!!!!!!!!!!!!!!!! Ever OPEN Photos & Videos Protect Your Photos ✕
What the heck??
I can't even get the dang app to stay open! I download it and then I give it access to my photos but right after that, it just closes my app. Pisses me off!
Mrs Patrcia Tull Daniel
PatsyTullDaniel
on
12/4/2017
Hello this's is my picture on Twitter And please take care of them thay are very important to me some are very old and can't be replace Think you very much my friend !!
Ever
It's very good try it guys
Great
Helped clear space on my phone and the pictures are still available!
I want my videos back!!!
Oh my god I'm so so mad because i downloaded this app like three years ago or something so it saved my videos on the app because it was free a couple of years ago , so i deleted them from my phone so they were only on the app and now that it's updated and it's with money , all my videos are gone i really cant believe it and now i really don't recommend this app at all.
Very useful
Great to store all of your photos and videos. Easy access, quality of photos is not changed.
EVER
It's awesome it doesn't take up any storage but creates more so I can take more pictures/Take As Many As I Want😁 which is Awesome🤗 ok so if u haven't downloaded it yet, then what r u
Good app
Good picture storage app. I love the throwback pics it send me. ( :
I have enjoyed it
sjaspinwal358
on
11/28/2017
Saves my pictures
Love this app!
Tabmotheroftwo
on
11/26/2017
I have been using the app for six months. Super easy, and cleans the phone of backed up images! Love it! Downside- every two months now I have to delete and reinstall the app because the delete images off the phone part stops working. Other then that, great app!
Good for storage
Alley13Michael13
on
11/26/2017
I like Ever because it stores pictures that I can then delete off my phone.
Very good app
Stewcandance
on
11/26/2017
I really like this app!! Very good app!
Useless
InkpenJirachi
on
11/25/2017
Don't bother. "Save all your photos! Free up space!!"Just kidding If you want to back up videos and have good quality pictures pay money lel" Never.
Photos take forever to load & closes for no reason
DianiszReyes
on
11/23/2017
Every time i️ open the app and click to a photo of, let's say the year 2014. I️ want to save it to my album & instead of saving my photo, the app closes by itself. Every time !
Great app!
It works great and is easy to navigate. I love the photo 'reminders' of what I was doing on this day in the past.
iPhone/iPad app
Greggytrilam
on
11/18/2017
I noticed the iPad app works differently then the iPhone app. For example; The iPad does not have a Touch ID option 😞. Also the iPad app displays that 500 plus photos need to be backed up. This clearly is a bug 🕷. Other then these two issues I love this app! It helps keep all my pictures in the same place.
Best EVER*****
This is the best app for photo back up and to get your phone storage back. Once you have it, you will never, not want to have it. Best investment *****
Fact Sheet
Publisher:

Everalbum, Inc.

Category:

Productivity

Released:

May 16, 2014

Current Version Released:

Nov 02, 2017

Version:

1.75.0

Size:

157.8 MB

Compatibility:

Requires iOS 9.0 or later.

Recommended Age:

4+

Game Center Certified:

No

Supported Languages:

Arabic; English; French; German; Hindi; Indonesian; Italian; Japanese; Korean; Malay; Portuguese; Chinese; Spanish; Castilian; Thai; Chinese; Turkish;