This version of the app is not recommended
App last updated
Jan 19, 2018
Screenshots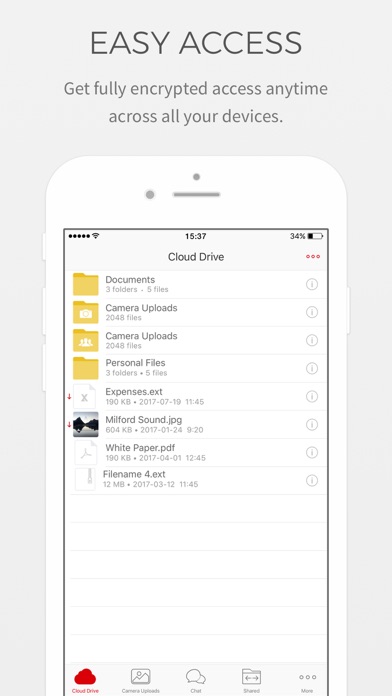 New in version 3.8.2
- Audio and video calls. Allow send and receive audio and video calls to / from your MEGA contacts.
- A new fresh design to ease chat with your MEGA contacts.
- Video player improvements, adopting Picture in Picture lets a user play video in a moveable window that floats over the apps onscreen.
- Other miscellaneous bug fixes and performance improvements.

If you want to be the first one to receive updates of the app write to iosfeedback@mega.nz giving us your email and we will add you to MEGA's TestFlight.

We want to solve your problems! If you reported an issue in an App Store review, please send a detailed e-mail to iosfeedback@mega.nz so that we can fix it in the next version. Thank you for using MEGA!
Description
MEGA is a secure cloud storage service that gives you 50 GB free storage space. Unlike other cloud storage providers, your data is encrypted and decrypted by your client devices only and never by us.

Upload your files from your smartphone or tablet then search, store, download, stream, view, share, rename or delete your files any time, from any device, anywhere. Share folders with your contacts and see their updates in real time.

The encryption process means we cannot access or reset your password so you MUST remember it (unless you have your Recovery Key backed up) or you will lose access to your stored files.

Inside the app you can upgrade your storage space & Transfer Quota with a monthly or yearly subscription.

PRO LITE subscription: €4.99 (US$4.99) per month or €49.99 (US$49.99) per year gives you 200 GB of storage space and 1 TB of Transfer Quota per month.
PRO I subscription: €9.99 (US$9.99) per month or €99.99 (US$99.99) per year gives you 1 TB of storage space and 2 TB of Transfer Quota per month.
PRO II subscription: €19.99 (US$19.99) per month or €199.99 (US$199.99) per year gives you 4 TB of storage space and 8 TB of Transfer Quota per month.
PRO III subscription: €29.99 (US$29.99) per month or €299.99 (US$299.99) per year gives you 8 TB of storage space and 16 TB of Transfer Quota per month.

Subscriptions are renewed automatically for successive subscription periods of the same duration and at the same price as the initial period chosen. You can switch off the automatic renewal of your MEGA PRO subscription no later than 24 hours before your next subscription payment is due via your iTunes account settings page. To manage your subscriptions, simply click on the App Store icon on your handset, sign in with your Apple ID at the bottom of the page (if you haven't already done so) and then click View ID. You'll be taken to your account page where you can scroll down to Manage App Subscriptions. From there, you can select your MEGA PRO subscription and view your scheduled renewal date, choose a different subscription package or toggle the on-off switch to off to disable the auto-renewal of your subscription.

For more info, please check our website:

Mobile https://mega.nz/ios_terms.html https://mega.nz/ios_privacy.html

New Terms of Service apply effective from 20 February 2016. See https://mega.nz/TermsOfService2016.pdf
iPad Screenshots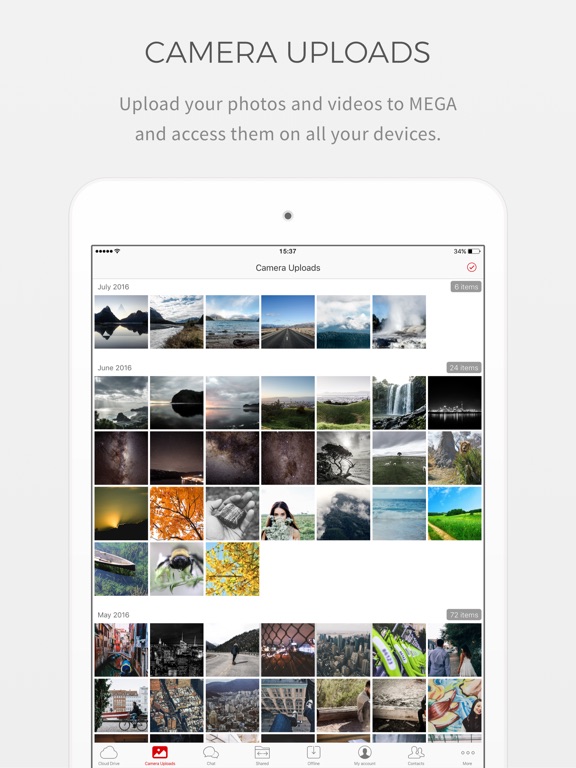 Reviews
Thanks mega
Hsgsbdydbvsshvss
on
1/20/2018
Best app ever been using it for years
New update rocks!
Ambizzlecakes
on
1/18/2018
I had originally had a 2 star rating because if I locked my phone it would crash and I'd have to start over and try to find my place . It still does this.. please fix it already but I LOVE this new update . I love that you can skip 15 secs And I love that I can now control it from my phone menu. Great improvements !
Lame
I have to keep the app open for photos to load. If not, it'll cancel the uploads.
Good stuff
I have uploaded all my other cloud files to this app. I would like to be able to upload and download bigger files without using the sync app. It would be nice to be able to transfer from one mega account to another.
Scam/unethical
An Angry Pandora Listener
on
1/16/2018
The biggest problem I have with this company is the fact that they dive very close to, if not into unethical waters. So they limit the amount of storage or download you can do right, the only way for you to get more is to either buy it, or do a number of things they say will get you a higher limit. The amount you can download restarts every 6 hour, keep that in mind. So when you download their mobile app, or download their computer app it says that it will give you more space. However what it really says in the email they send you in small print at the bottom is that it may take several days for you to get the bonus data. I'm all for company's making a profit but when you have to do sketchy stuff like this in an effort to make people buy your product, you're doing something wrong
Great overall
omae wa mou prozenduru
on
1/13/2018
How do I check my ongoing downloads?
Please answer me
Electronic_freak
on
1/11/2018
Is this app private? Nobody would be able to view my files online right? 5 stars for the free 50GB space, thank you.
Great App
Use it for photos, only thing I want that it doesn't do is support for moving GIFs
Nope
silvertechfilms
on
1/8/2018
These ridiculous download caps need to go
50GB after 30days =15gb only
What happened to real permanent free 50GB??
thank you mega
thank you for this awesome app
Best Storage Product Out There...
I have been using Mega Storage for a couple of years now... At first I had a problem playing videos, but that has since been corrected.. Now there are no issues.. Great storage tool.. Thanks!
Only 15 GB free space
Mega does not offer 50 free GB of lifetime storage.... all but 15 GB expire...Does anybody else find this misleading?
I need help
Nicki day one fan
on
1/2/2018
This app was definitely good before but now I can't even upload anything and I pay monthly I need help
Not getting my bonus
I installed the app but did not get my bonus in my account, what should I do to get it?
okay app
Hsjaijdnwjajfyicfgjugc
on
12/29/2017
i used to love this app but now i cant even download files? i have the app on my phone and i put the mega link in safari and it says open in mega app so i click it and it takes me to the appstore? even though the app is already on my phone!! it's been doing this a lot recently how do i fix it? i deleted the app and downloaded it again and reset my phone but nothing is working! why is this happening to me??!
A un paso de la excelencia
Junior33178
on
12/29/2017
Pero es necesario resolver el problema de la funcionalidad en el fondo (background uploading) la característica "camera uploads" solo funciona mientras la aplicación está activa, una vez que el teléfono va a modo reposo la subida de archivos se detiene y esta actividad debería ser silente en el «background» sin depender de que el usuario tenga que estarla invocando para refrescarla. ENG: Please workaround on a background photos and video uploading solution, it's annoying having to wake MEGA app to bring it up to the foreground in order that camera uploads continue working. This feature is supposed to work as iCloud backups, silently and without user intervention (after intentional activation) Thanks for a soon solution for this feature in this great client app.
Not compatible with iPhone X
The scrubbing and other items at the top of the app are cut off on the iPhone X.
Very buggy
Overall it's a nice app, lots of space. But it is very buggy when I try to do something basic as going 'back' within a file it leaves folder as well (it's going back twice).
Forced Prompt Upgrade?!
C00ki3M0nst4r
on
12/27/2017
Please stop prompting Free users to upgrade to a paid plan with the pop-over paid plan screen. If we want to upgrade, we will. This seems more like forcing/bullying to a paid plan.
iPhone X update needed
WWE Themer!
on
12/23/2017
I love this app, have used it for several years now. I rely on it for a lot of my storage needs. I upgraded my phone to the IPhone X about a month ago, and compatibility issues are preventing me to use it as I intended. Any plans on updating the app soon?
Closes itself
Happy Gilmore528192
on
12/20/2017
It's a great app, but every time I lock my phone while it's playing it will play another minute or so then completely stop and close itself
useless, baffling
travellover2013
on
12/20/2017
ok so it puts them on your app. big whoop. want them on my photos but no info orceven possible (?) way to do this. only installed app to "download all at once " nothing said only to app. deleting app, stick with google photo's. it may be stupid too but better than this crap.
50GB for free?
Henrique Oberlin
on
12/17/2017
I just created an account and said that I only won 15gb and that the 35gb will expire within 30 days. I would like to know if I will still be able to access my files if it exceeds 15gb or if the account is frozen until I sign a plan pro
Why no video
I have this on my iPhone, and it works great. But I wonder, why can't I watch any videos. I try to do it on Mobile but it doesn't work
Gg
My downloads are restarting everytime! i don't know what the hell happened, my connection is good! but heck it just keeps on restarting
Help
I've used this app for a long time but lately i can't stay on longer than 5 seconds without it crashing, please fix!!
Won't open anything downloaded
~celestian~
on
12/11/2017
I must be doing something wrong. When it says open in mega app I click it and it takes me to the download app on iTunes. I have it downloaded already.
Slow on the camera upload
The upload speed is very low , and even if i have a fast internet connection
doesn't play FLAC audio
I got around it by opening the same audio files in a third party open source program called VLC but I also needed to download them first which took up more space then it should've. Over all though this app is incredibly useful and as far as free apps go this one is 10/10
Stuck
TheAbyssGazesAlso
on
12/6/2017
It says there are pending downloads but there's no downloads to cancel and then it will upload some photos and not others without much rhyme or reason. Not impressed.
Perfected once again.
tomajesurthisnamwasntused
on
12/5/2017
You fixed the image scrolling, the long press shortcut is handy, and finally we can search while uploading and moving! Keep this up, good work.
i have a problem.
it doesn't send me the email confirmation. is this just mine? i've tried many different emails however it still doesn't work.
Danny manuel
Fix downloads in cola always
on
12/2/2017
Hay problema con la descarga, siempre que trato de descargar algo se pone inmediatamente en la cola. (Fix downloads automatic put in cola always.
This app has problems
BlueCatsTwelve
on
11/29/2017
All of this free storage is amazing, but it doesn't increase my quota by giving me the achievement that it was supposed to give my. This is a real problem for me because I got cheated out of 30 gigs of transfer quota
⚠️ PLEASE MAKE MULTIPLE ACCOUNT MANAGER ⚠️‼️⚠️‼️
AAKASH SONI
on
11/28/2017
PLEASE MAKE A SECTION THAT WE CAN MANAGE & SWITCH MULTIPLE ACCOUNT IN ONE APP WITHOUT LOGOUT..!!! LIKE INSTAGRAM AND FACEBOOK..!!!!‼️⚠️‼️⚠️
Crap
theironiccommenter
on
11/27/2017
Crap
online downloads?
so far this app seems great. However, I'm someone who loves to make edits and download clips from twitter platforms and etc. However every time I click open in mega app it just takes me to the apple store and doesn't open. Do you know when this will be fixed because I really want to edit soon.
I really like it but..
Every time I try to download videos it closes?
Great App with one issue
This is an awesome app and allows me to make use of the cloud on my iPhone except for one small issue. I am an IT tech and often need to listen to audio recordings of phone calls. These recordings are stored on MEGA and I use to be able to listen to them on the go through my iPhone. However, the iPhone X doesn't fully support that. If I open an audio file on my iPhone X, it opens the playback window like it usually would, but it gets cut off by the notch at the top of the iPhone X. I can't scrub through the audio file like you normally would be able to because there is a notch right where you would be able to scrub through. Nor can you press the "Done" button on the top left corner of the screen. To change audio recordings, I have to force close the app, reopen and select the recording I want to listen to. It's inconvenient to do so, but hopefully this gets worked out in the near future. Otherwise, the app is great and the service from MEGA is outstanding.
Mega isn't working
my mega is crashing everytime i try to save a file please fix this i can't do anything without it
Crashing - Plz Fix
WotGraceffa<3
on
11/19/2017
This app is awesome but when i'm trying to save photo and video files to my camera-roll, it crashes. Please fix soon.
very angry!
this app used to work like a charm but now, NOW, when i try to download a video from the downloads to saved offline, it claims it doesnt have enough storage. i have 36 gb left so i dont see how this is possible and im very disappointed.
Great Cloud Service
Rtorres0101
on
11/17/2017
A ton of space, Secure and private. highly recommend this app
Awful
Tried 30 mins to download file from mega.com-impossible. There are other apps out there that can download mega files. F this app
Crashing so bad...
I need an update.
on
11/15/2017
It's really good cloud, I have to many pdf in this cloud but recently is crashing a lot , I can transfer my pdf's and documents into another apps, so frustrating cause', I use to transfer my documents easily but now is crashing.
Awful
Is there any person who succeded to download a using this app? I am an telco engineer and couldn't do it.
Almost perfect
This app is great! It syncs well to the desktop version and JUST WORKS. The only problem I have is with trying to download multiple files to my iPhone camera roll. If you select more than 4 photos at a time the option to save to camera roll disappears! This is horrible when I'm trying to download 50+ pictures. Please allow me to download a larger batch to be camera roll.
Can't play most of the videos I have.
I can't even play most of the videos I have on there
My favorite app!
I love MEGA! I am a teacher and this is one program I can run on any computer. Just go to mega.nz! Been using it for some time and it is always available to me and has lots of space! Don't ever change this app, please!!
Fact Sheet
Publisher:

Mega Limited

Category:

Productivity

Released:

Nov 26, 2013

Current Version Released:

Jan 19, 2018

Version:

3.8.2

Size:

119.6 MB

Compatibility:

Requires iOS 9.0 or later.

Recommended Age:

4+

Game Center Certified:

No

Supported Languages:

Arabic; Bulgarian; Czech; Dutch; Flemish; English; Finnish; French; German; Hebrew; Indonesian; Italian; Japanese; Korean; Persian; Polish; Portuguese; Romanian; Moldavian; Russian; Serbian; Chinese; Slovak; Slovenian; Spanish; Castilian; Swedish; Tagalog; Thai; Chinese; Turkish; Ukrainian; Vietnamese;