Screenshots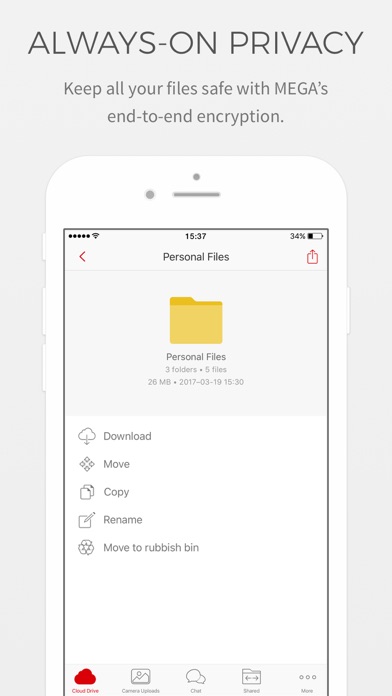 New in version 3.7.5
- New mobile help centre: browse the new help centre directly from MEGA, under My account -> Settings -> Help. Get to know the basics and a few helpful tips for our MEGA app on iOS devices.
- UI fixes for iPad: misplaced popovers under Contacts, Share folder and Chat and button under Achievements.
- Shortcut to pending contact requests view.
- Solved bug that made the File Provider crash in old iOS versions.
- Solved bug that made the app crash when generating thumbnails, specially on iPad Pro.
- Solved UI bugs with Hebrew translation and 3.5" displays.
- Solved bug displaying account usage on some localizations.
- Solved bug that made the app crash when the usage info was unavailable.
- Other bug fixes and performance improvements.

If you want to be the first one to receive the updates of the app write to ios@mega.nz giving us your email and we will add you to MEGA's TestFlight.

We want to solve your problems! If you reported an issue in an App Store review, please send a detailed e-mail to support@mega.nz so that we can fix it in the next version. Thank you for using MEGA!
Description
MEGA is a secure cloud storage service that gives you 50 GB free storage space. Unlike other cloud storage providers, your data is encrypted and decrypted by your client devices only and never by us.

Upload your files from your smartphone or tablet then search, store, download, stream, view, share, rename or delete your files any time, from any device, anywhere. Share folders with your contacts and see their updates in real time.

The encryption process means we cannot access or reset your password so you MUST remember it (unless you have your Recovery Key backed up) or you will lose access to your stored files.

Inside the app you can upgrade your storage space & Transfer Quota with a monthly or yearly subscription.

PRO LITE subscription: €4.99 (US$4.99) per month or €49.99 (US$49.99) per year gives you 200 GB of storage space and 1 TB of Transfer Quota per month.
PRO I subscription: €9.99 (US$9.99) per month or €99.99 (US$99.99) per year gives you 1 TB of storage space and 2 TB of Transfer Quota per month.
PRO II subscription: €19.99 (US$19.99) per month or €199.99 (US$199.99) per year gives you 4 TB of storage space and 8 TB of Transfer Quota per month.
PRO III subscription: €29.99 (US$29.99) per month or €299.99 (US$299.99) per year gives you 8 TB of storage space and 16 TB of Transfer Quota per month.

Subscriptions are renewed automatically for successive subscription periods of the same duration and at the same price as the initial period chosen. You can switch off the automatic renewal of your MEGA PRO subscription no later than 24 hours before your next subscription payment is due via your iTunes account settings page. To manage your subscriptions, simply click on the App Store icon on your handset, sign in with your Apple ID at the bottom of the page (if you haven't already done so) and then click View ID. You'll be taken to your account page where you can scroll down to Manage App Subscriptions. From there, you can select your MEGA PRO subscription and view your scheduled renewal date, choose a different subscription package or toggle the on-off switch to off to disable the auto-renewal of your subscription.

For more info, please check our website:

Mobile https://mega.nz/ios_terms.html https://mega.nz/ios_privacy.html

New Terms of Service apply effective from 20 February 2016. See https://mega.nz/TermsOfService2016.pdf
iPad Screenshots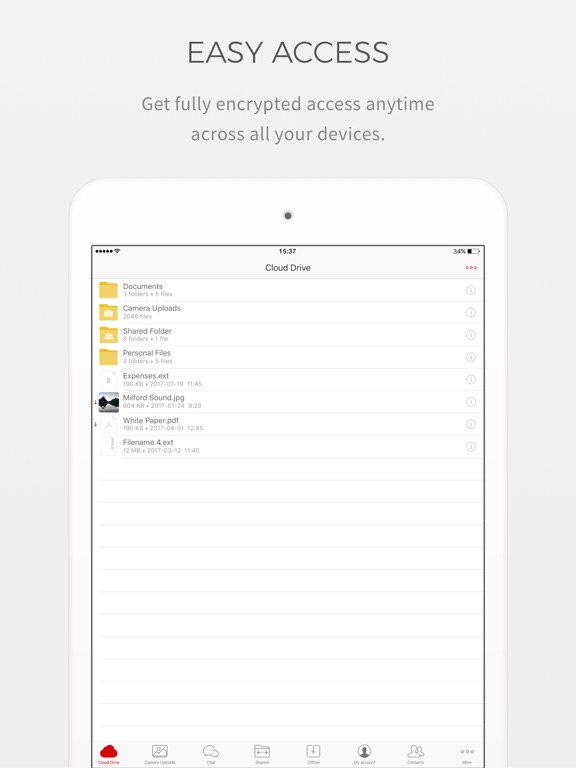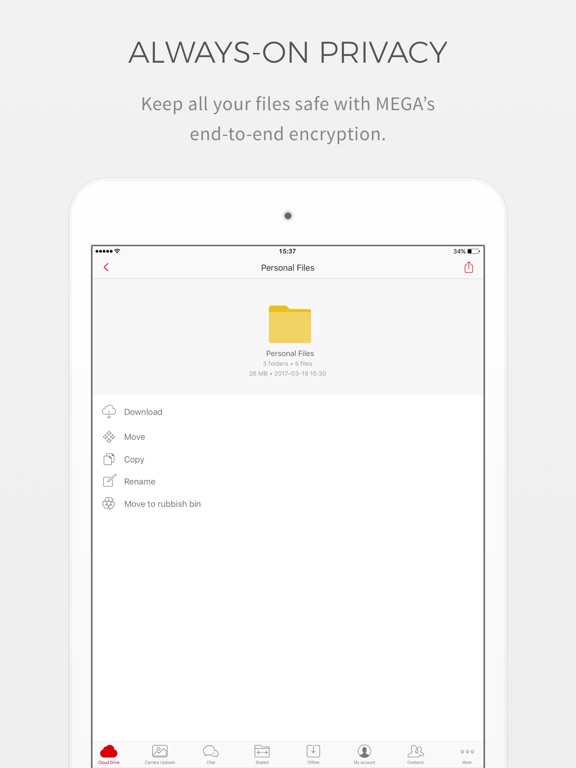 Reviews
Great Cloud Service
Rtorres0101
on
11/18/2017
A ton of space, Secure and private. highly recommend this app
Um.
Johndill021
on
11/17/2017
Crash crash crash.
Awful
Tried 30 mins to download file from mega.com-impossible. There are other apps out there that can download mega files. F this app
Crashing so bad...
I need an update.
on
11/15/2017
It's really good cloud, I have to many pdf in this cloud but recently is crashing a lot , I can transfer my pdf's and documents into another apps, so frustrating cause', I use to transfer my documents easily but now is crashing.
Awful
Is there any person who succeded to download a using this app? I am an telco engineer and couldn't do it.
Almost perfect
This app is great! It syncs well to the desktop version and JUST WORKS. The only problem I have is with trying to download multiple files to my iPhone camera roll. If you select more than 4 photos at a time the option to save to camera roll disappears! This is horrible when I'm trying to download 50+ pictures. Please allow me to download a larger batch to be camera roll.
Can't play most of the videos I have.
I can't even play most of the videos I have on there
My favorite app!
I love MEGA! I am a teacher and this is one program I can run on any computer. Just go to mega.nz! Been using it for some time and it is always available to me and has lots of space! Don't ever change this app, please!!
I can't sign up
I'm trying to sign up but it won't send the confirmation to my gmail what do I do?
Yaaay
Daniel.DANGER
on
11/11/2017
I can enter the links from deep web safely with this
Formats
Wish the builtin video player supported more file formats
crashes upon download
doesitloooklikeeicare
on
11/9/2017
ive been trying to download a file for over twenty minutes now. ive restarted my phone and ive uninstalled and reinstalled but nothing works. it crashes whenever i go to save my file from the online section. please fix this.
ok
Whenever I try to save a video from one of my files the app always crashes
It's not for photos it's for hacking
It's been used to use noclip hacking I recommend solving this or this review will always come back
please fix fileprovider calls for ios 10 users
file provider is not in 10.x its only in 11 pretty sure to fix ig link against Uikit.framework and weak link against FileProvider.framework. it is not linked implicitly against uikits. without ripping apart your app this should fix it, i cant live without mega, but i will #struggle if i have to.
Doesn't work
Can't even open the movie I want to watch. I have an IPhone, and this app is pretty bad. But like stated above, the fact that I am unable to open a movie is my main issue. Please fix, I've been wanting to watch a movie that I could only find here. Please and thank you ❤️
App wastes time
50% of a file downloaded Then, website says you need to register to complete the download. Then, it won't download bc transfer limit exceeded for 6h30min Then, asks for app to be downloaded for more transfer bandwidth Fine, but it's just a waste of time. Announce this before starting the download. It comes across as shady. If a user likes your company they will download and use your services. Wasting people's time doesn't gain customers.
should use this as primary online backup for photos
Theres nothing bad about this company, because they give you 50gb storage that is far beyond best for free users over the other mainstream service like dropbox and iCloud where give tiny space, even they give us large storage, never felt like laggy on uploading or downloading something. I use it on desktop too,Guys online hosting is expensive nowadays, but mega is serving us freely, and I hope to see you guys keep it updates and more news soon.
File sharing(links online)
Whenever I try to open a link in online using the 'open in mega app' option I'm transported to the mega app App Store page not the mega app. This just started after the latest update it used to be fine. It's very annoying.
Ads?
Great app, works really well uploading and view pictures and documents. But its starting to pop up every time I launch the app and asking me to upgrade, which gets really annoying.
Love it
whatagenda?
on
10/22/2017
I've used MEGA for around 2 years now and have never had a problem with uploading or downloading files. Very happy with the app and the free, huge amount of storage they provide.
Image viewing destroyed
tomajesurthisnamwasntused
on
10/17/2017
Aaaaaand the update ruined swiping through images. It's really choppy, occasionally scrolls too much or not enough, showing only a portion of the image and sometimes it locks up and keeps you in one image until you make 2-4 extra attempts. Fix this. C'mon.
Crashes
:Dolphenboy:
on
10/16/2017
I cant even open it, even after waiting for the update, it seems like the update did not fix this.
Idea is great.
Very good app, idea is great. There is chat option but I couldn't add a contact.
Can't stream my uploaded vids anymore
Before I was able to watch my videos that I uploaded but now every time I try to watch it just stays at a black screen.
Would be 5 ⭐️ but no 1Password
Chain unbreaker
on
10/2/2017
Great file cloud, but no way to use 1Password at sign-in.
Split screen
The app is awesome, the only thing missing is the ability to work with it in split screen on iPad. Since most of the files I store are supposed to be used in other apps this feature would help a lot on my workflow.
Wish It Had iOS 11 File Support 🙏
travin_wayne
on
9/26/2017
So far I've had no problems with MEGA the app or the file sync via computer. I'm still blown away at the fact that I get 50 GB at the start. There are a few things that I wish the MEGA app did have such as a grid or thumbnail view or files app support for iOS 11. Otherwise I do enjoy using MEGA. 👍
Can't download or generate a link
Guyyyyyyyyyyyyyyyyyyy
on
9/26/2017
Can't send links to files, it generates the link endlessly and downloads just don't start
Disappointing
Westlakesoccer7484
on
9/25/2017
Disappointing
50 gigabytes free means 50 gigabytes free.
Michael112489
on
9/22/2017
They aren't joking. When I heard 50 gigabytes free, I said "like that's ever going to happen!" Now I stand corrected. I had problems using google drive, but this is much better and Very easy to use. (Ps: offers 50x as much as dropbox)
Need few fixes
ADNOON ALBLOUSHI
on
9/22/2017
Mega is no.1 app it has many good features but still need some fixes ( like yesterday i backup my photos and logout and then i login again It started to backup from beginning again 😞
Still good, but please don't start going backwards
Mega is still my choice of storage for personal files, but this latest app version has me worried that the development is going backwards? What happened to the ability to customize my menu items docked at the bottom of the app?!$&/@ I LOVED THIS FEATURE! PLEASE BRING IT BACK!
Freezes too much
AnnieObsessed
on
9/21/2017
I've always loved this app. The 50 GB storage is outstanding. The only problem is now that I can't even upload my photos anymore due to the fact that it freezes whenever I try to do just about anything. I've deleted and redownloaded the app multiple times and nothing has fixed it. I'm begging you to please try and fix these bugs. I'm running an Iphone SE on iOS 10.3.1.
Log in not working
I just downloaded this but when I log in it just blank please fix this or I'll make bad reviews about this
Solid App
NASCARdude01350
on
9/17/2017
I use this app everyday, easy to use & if you have a PC & mobile device they intertwine nicely. Offline storage is a nice feature I play music while not eating battery with wifi. 50gb space is best i have seen with no strings attached.
Nice job!
I think this is one one of the best cloud apps in the market!
It taking To muchas space
I thought that It wouldn't take to much space and know I have to delete it.
A very crashy app
GamesterGameplay
on
9/13/2017
This app works and all but my main situation and io problem is that when I try to upload more than 20 pictures (not videos) at a time it crashes. You can't force close it and open it back up because it crashes when you try to reopen it. I would then have to redownload the app and upload smaller clumps of pictures. The same issue occurs when you have photo/camera upload. I would appreciate it if it would not crash. Other than that it's useable.
I want it like es file
Make it so we can download apks
I'm really enjoying it
Guaton de la fruta
on
9/11/2017
Mega is the best app for downloading and uploading 🤓👌
Update
Liked using the service. Update changed the UI, and now I can't change the icons! Not cool! 😡Also, videos take forever to load even when offline.
holy great app
it wz awesome
Good App
Long Range iDa
on
9/6/2017
Working properly!
I love this app
Phetmeuangzai
on
9/5/2017
Free 50 GB Very easy to sing up Very easy to use And very easy to love
It's an 4 star app in my book!
Especially the fact is 50GB free love the online drive space it's very nice!!! Thank for all the free space!!!
Fix mobile
abstractCourier
on
9/2/2017
I often find myself with links to files on mobile, but when I try to open the file into the app, it sends me to the App Store. Then I open my app and it's not downloading the file.
No funciona
Antes la app corría muy bien en mi iPad, ahora trato de abrir un folder o cualquier archivo y se congela, deja de funcionar!
Fact Sheet
Publisher:

Mega Limited

Category:

Productivity

Released:

Nov 26, 2013

Current Version Released:

Nov 08, 2017

Version:

3.7.5

Size:

76 MB

Compatibility:

Requires iOS 8.0 or later.

Recommended Age:

4+

Game Center Certified:

No

Supported Devices:

iPad2Wifi-iPad2Wifi, iPad23G-iPad23G, iPhone4S-iPhone4S, iPadThirdGen-iPadThirdGen, iPadThirdGen4G-iPadThirdGen4G, iPhone5-iPhone5, iPodTouchFifthGen-iPodTouchFifthGen, iPadFourthGen-iPadFourthGen, iPadFourthGen4G-iPadFourthGen4G, iPadMini-iPadMini, iPadMini4G-iPadMini4G, iPhone5c-iPhone5c, iPhone5s-iPhone5s, iPadAir-iPadAir, iPadAirCellular-iPadAirCellular, iPadMiniRetina-iPadMiniRetina, iPadMiniRetinaCellular-iPadMiniRetinaCellular, iPhone6-iPhone6, iPhone6Plus-iPhone6Plus, iPadAir2-iPadAir2, iPadAir2Cellular-iPadAir2Cellular, iPadMini3-iPadMini3, iPadMini3Cellular-iPadMini3Cellular, iPodTouchSixthGen-iPodTouchSixthGen, iPhone6s-iPhone6s, iPhone6sPlus-iPhone6sPlus, iPadMini4-iPadMini4, iPadMini4Cellular-iPadMini4Cellular, iPadPro-iPadPro, iPadProCellular-iPadProCellular, iPadPro97-iPadPro97, iPadPro97Cellular-iPadPro97Cellular, iPhoneSE-iPhoneSE, iPhone7-iPhone7, iPhone7Plus-iPhone7Plus, iPad611-iPad611, iPad612-iPad612, iPad71-iPad71, iPad72-iPad72, iPad73-iPad73, iPad74-iPad74, iPhone8-iPhone8, iPhone8Plus-iPhone8Plus, iPhoneX-iPhoneX,

Supported Languages:

Arabic; Bulgarian; Czech; Danish; Dutch; Flemish; English; Finnish; French; German; Hebrew; Hungarian; Indonesian; Italian; Japanese; Korean; Persian; Polish; Portuguese; Romanian; Moldavian; Russian; Serbian; Chinese; Slovak; Slovenian; Spanish; Castilian; Swedish; Tagalog; Thai; Chinese; Turkish; Ukrainian; Vietnamese;