Screenshots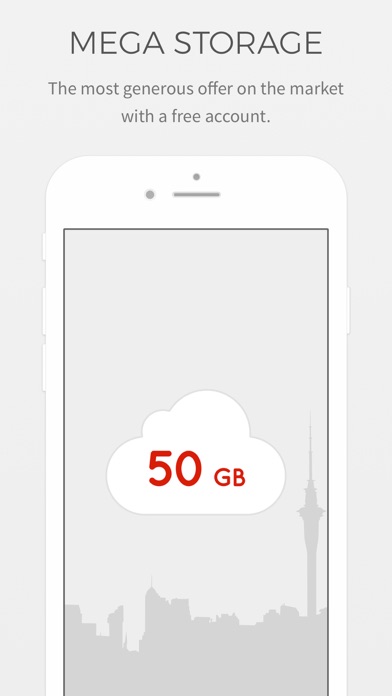 New in version 3.7.2
- Now the app only have five tabs: Cloud Drive, Camera Uploads, Chat, Shared and My Account. So, Offline, Contacts, Transfers, Settings and My Account itself are grouped on the new My Account view.
- Improved language change in-app. Now we force you to restart the app if you want to change the language.
- My Account -> Settings -> Advanced -> Don't use HTTP. This force to use HTTPS, which solves some issues for some users who navigate through some VPN/Proxy services.
- Miscellaneous bug fixes and performance improvements. Some fixes for iOS 11.

If you want to be the first one to receive the updates of the app write to ios@mega.nz giving us your email and we will add you to MEGA's TestFlight.

We want to solve your problems! If you reported an issue in an App Store review, please send a detailed e-mail to support@mega.nz so that we can fix it in the next version. Thank you for using MEGA!
Description
MEGA is a secure cloud storage service that gives you 50 GB free storage space. Unlike other cloud storage providers, your data is encrypted and decrypted by your client devices only and never by us.

Upload your files from your smartphone or tablet then search, store, download, stream, view, share, rename or delete your files any time, from any device, anywhere. Share folders with your contacts and see their updates in real time.

The encryption process means we cannot access or reset your password so you MUST remember it (unless you have your Recovery Key backed up) or you will lose access to your stored files.

Inside the app you can upgrade your storage space & Transfer Quota with a monthly or yearly subscription.

PRO LITE subscription: €4.99 (US$4.99) per month or €49.99 (US$49.99) per year gives you 200 GB of storage space and 1 TB of Transfer Quota per month.
PRO I subscription: €9.99 (US$9.99) per month or €99.99 (US$99.99) per year gives you 1 TB of storage space and 2 TB of Transfer Quota per month.
PRO II subscription: €19.99 (US$19.99) per month or €199.99 (US$199.99) per year gives you 4 TB of storage space and 8 TB of Transfer Quota per month.
PRO III subscription: €29.99 (US$29.99) per month or €299.99 (US$299.99) per year gives you 8 TB of storage space and 16 TB of Transfer Quota per month.

Subscriptions are renewed automatically for successive subscription periods of the same duration and at the same price as the initial period chosen. You can switch off the automatic renewal of your MEGA PRO subscription no later than 24 hours before your next subscription payment is due via your iTunes account settings page. To manage your subscriptions, simply click on the App Store icon on your handset, sign in with your Apple ID at the bottom of the page (if you haven't already done so) and then click View ID. You'll be taken to your account page where you can scroll down to Manage App Subscriptions. From there, you can select your MEGA PRO subscription and view your scheduled renewal date, choose a different subscription package or toggle the on-off switch to off to disable the auto-renewal of your subscription.

For more info, please check our website:

Mobile https://mega.nz/ios_terms.html https://mega.nz/ios_privacy.html

New Terms of Service apply effective from 20 February 2016. See https://mega.nz/TermsOfService2016.pdf
iPad Screenshots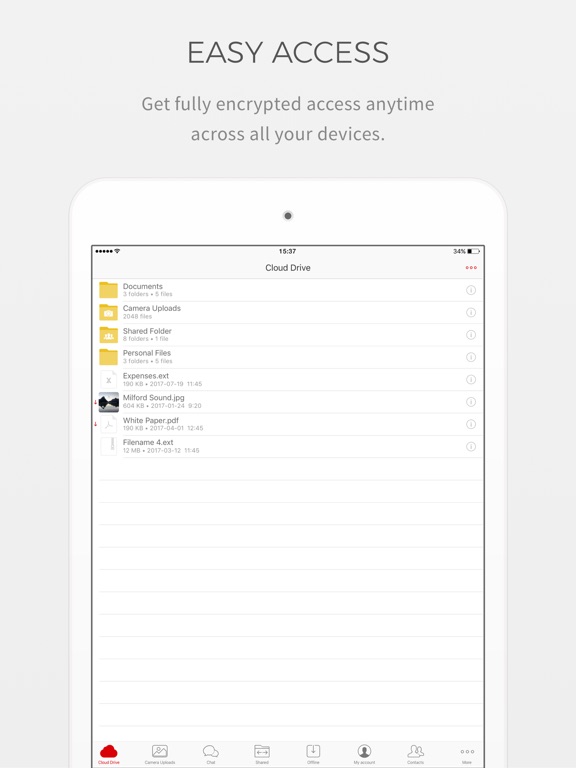 Reviews
Disappointing
Westlakesoccer7484
on
9/25/2017
Disappointing
50 gigabytes free means 50 gigabytes free.
Michael112489
on
9/22/2017
They aren't joking. When I heard 50 gigabytes free, I said "like that's ever going to happen!" Now I stand corrected. I had problems using google drive, but this is much better and Very easy to use. (Ps: offers 50x as much as dropbox)
Need few fixes
ADNOON ALBLOUSHI
on
9/22/2017
Mega is no.1 app it has many good features but still need some fixes ( like yesterday i backup my photos and logout and then i login again It started to backup from beginning again 😞
Still good, but please don't start going backwards
Mega is still my choice of storage for personal files, but this latest app version has me worried that the development is going backwards? What happened to the ability to customize my menu items docked at the bottom of the app?!$&/@ I LOVED THIS FEATURE! PLEASE BRING IT BACK!
Freezes too much
AnnieObsessed
on
9/21/2017
I've always loved this app. The 50 GB storage is outstanding. The only problem is now that I can't even upload my photos anymore due to the fact that it freezes whenever I try to do just about anything. I've deleted and redownloaded the app multiple times and nothing has fixed it. I'm begging you to please try and fix these bugs. I'm running an Iphone SE on iOS 10.3.1.
Log in not working
I just downloaded this but when I log in it just blank please fix this or I'll make bad reviews about this
Solid App
NASCARdude01350
on
9/17/2017
I use this app everyday, easy to use & if you have a PC & mobile device they intertwine nicely. Offline storage is a nice feature I play music while not eating battery with wifi. 50gb space is best i have seen with no strings attached.
Nice job!
I think this is one one of the best cloud apps in the market!
It taking To muchas space
I thought that It wouldn't take to much space and know I have to delete it.
A very crashy app
GamesterGameplay
on
9/13/2017
This app works and all but my main situation and io problem is that when I try to upload more than 20 pictures (not videos) at a time it crashes. You can't force close it and open it back up because it crashes when you try to reopen it. I would then have to redownload the app and upload smaller clumps of pictures. The same issue occurs when you have photo/camera upload. I would appreciate it if it would not crash. Other than that it's useable.
I want it like es file
Make it so we can download apks
I'm really enjoying it
Guaton de la fruta
on
9/11/2017
Mega is the best app for downloading and uploading 🤓👌
Update
Liked using the service. Update changed the UI, and now I can't change the icons! Not cool! 😡Also, videos take forever to load even when offline.
holy great app
it wz awesome
Good App
Long Range iDa
on
9/6/2017
Working properly!
I love this app
Phetmeuangzai
on
9/5/2017
Free 50 GB Very easy to sing up Very easy to use And very easy to love
It's an 4 star app in my book!
Especially the fact is 50GB free love the online drive space it's very nice!!! Thank for all the free space!!!
Fix mobile
abstractCourier
on
9/2/2017
I often find myself with links to files on mobile, but when I try to open the file into the app, it sends me to the App Store. Then I open my app and it's not downloading the file.
No funciona
Antes la app corría muy bien en mi iPad, ahora trato de abrir un folder o cualquier archivo y se congela, deja de funcionar!
Very good app!
Alchemic Falcon
on
8/31/2017
If you need to look at zipped files this has it! They even give you the offline mode for free unlike other apps where you have to pay.
Kim.com and this app is legit
Great app for storing images etc...very secure / crypto. Interface is easy to use and uploads / downloads are fast. Very pleased w/ app as well as online site.
Doesn't work
heyfixthisnow
on
8/27/2017
I have lots of photos on my phone. I don't have enough storage to keep them so I downloaded this app to save them in the cloud. But when I try to upload photos to the cloud I get a message saying I need to free up space on my phone to upload them?? What?? So basically, in order to free up space, I need more space.. pointless app.
I need help
Mario Studaway
on
8/26/2017
It won't let me make an account. I type everything and it never sends to my email
Está buena la app
Nelson072692
on
8/22/2017
Está buena la app pero podrían mejorarla , avísando cuando hay duplicados de archivos con el mismo nombre
New update won't let me open my files
MrPartyZombie
on
8/22/2017
So before the new update everything was fine but now all I can do is open the app then it doesn't work but sometimes it does Great app though
What HAPPENED?
This update made it crashes everytime I open a folder, any folder.
Pleas support Live photo
I want to save the live effect of my photo on my iphone ba the when I upload a live photo it will convert to still image
Totally safe
I've been using this app for almost 3 years. I have had no problems with it and it saved me tons of space on my iPhone
...
It's loading too long for the app to open now..
One file at a time?
I have just downloaded the app for Mega. I am interested in it as a replacement for Dropbox, which stopped syncing my data recently. However, I have many files stored in folders, and I cannot find a way to import entire folders, rather than one file at a time. I hope to receive a reply to my enquiry on the developer's web site, or here, regarding this issue, which sadly would be a deal breaker for me. ... If I can import folders I will add stars. Promise!
Great! But needs a better preview.
Whenever I read a jpg file like a book, the bottom line always stays at the bottom, even though nothing is on it. I find this annoying as the line can cover text and other thing. Other than that, I love MEGA, and the storage on it is amazing
It's Amazing&Perfect
t̶h̶i̶s̶ i̶s̶ Me
on
8/15/2017
For all those people saying they have problems with this app that's not true! This app is truly awesome, it works like a charm thanks for making this app!
Any new update on the pokemon go ++ IPA?
Abel Ramirez Jr
on
8/15/2017
Awesome app!!
Why no automatic picture upload?
Why have a photo upload feature if I have to open the app to upload photos? I want to use the app as my main data store but it's hard to do that when it doesn't back up!
THE WORST AND MOST FRUSTRATING APP
disapointedandashamed
on
8/9/2017
every time I download something, it appears on the "transfers" page, showing me the progress. Every time I go off of that page it stops downloading and/or restarts! Fix this problem!!
Crashes a lot
Ambizzlecakes
on
8/4/2017
I like the idea of it but it's really annoying to be listening to a story and having to keep starting it again (not remember exactly where it was ) . Thought maybe it needed an update .. nope. It was recently updated and I think that's the problem. It still did it before but far less . Please fix ! Update : still crashes a lot . If I don't have my phone set to never lock , it crashes about a min after it locks . Half the time it closes while I'm even in it . If this problem is fixed , I will gladly change my rating! :)
I will give it a try...
Umm... hi I am just new here but the thing is .... I just downloaded this app because it says 50 GB free... which I need because of the iCloud full storage... but the thing is am scared if I transfer my pics and files here in Mega it will may not be able to backup those pics if I needed them... so can u please confirm me that this app is able to protect my pics and files and keep them safe so that I can access them or backup them anytime? 😞
Aweful
Absolutely refuses to open zip files. Oh it will "download" for "offline" use, but after it uses your bandwidth to download the files...nothing. Just nothing. No amount of workarounds work either. Send the files to any number of other apps to view the files and again nothing. Frustrating and a complete waste of time.
Needs work
Animaltommylee
on
8/1/2017
Great app but....Doesn't always automatically upload photos/videos w/ automatic downloads on. Second, would be nice if, when you are uploading, you could scroll through files without being sent back to the beginning once a file is done uploading...annoying. UL/DL time is rather long but the free space is great. Overall good app...just needs a little tweaking for better performance. UPDATE 8-01-17 **I was as specific as I'm gonna get in this review...stupid that I should have to email you to explain that the automatic uploads don't work! What else do you need to know?**
memeilicious
Epic ROBLOX User 123
on
7/26/2017
i like it but i noticed that the developer comments are bots lol
Redirect Prevents Uploads
Blackbeastuzi13
on
7/20/2017
Whenever I paste a URL link in an explorer and choose the "open in mega app" option it just redirects me to the App Store even tho I already have the Mega app. Because of this I'm unable to even upload any videos from browsers using my iPhone. Please fix this and notify me.
Great App
So Nice App, no bugs and a biger storage.
😔😔
التطبيق بطيء جدا في رفع الملفات نرجو تحسينه مع عشقي لهذا التطبيق و اعتزازي به
Best
Salama syria
on
7/19/2017
Best program for storage your media
Music cuts out
GingerBeardManx13
on
7/18/2017
It's getting old trying to listen to songs that have been saved to offline and have them cut off randomly. Over... and over... and over... and over... and over... and over... I use this for my bad. Works great except for that nonsense. This will make me switch.
Fact Sheet
Publisher:

Mega Limited

Category:

Productivity

Released:

Nov 26, 2013

Current Version Released:

Sep 11, 2017

Version:

3.7.2

Size:

77.4 MB

Compatibility:

Requires iOS 8.0 or later.

Recommended Age:

4+

Game Center Certified:

No

Supported Devices:

iPad2Wifi-iPad2Wifi, iPad23G-iPad23G, iPhone4S-iPhone4S, iPadThirdGen-iPadThirdGen, iPadThirdGen4G-iPadThirdGen4G, iPhone5-iPhone5, iPodTouchFifthGen-iPodTouchFifthGen, iPadFourthGen-iPadFourthGen, iPadFourthGen4G-iPadFourthGen4G, iPadMini-iPadMini, iPadMini4G-iPadMini4G, iPhone5c-iPhone5c, iPhone5s-iPhone5s, iPadAir-iPadAir, iPadAirCellular-iPadAirCellular, iPadMiniRetina-iPadMiniRetina, iPadMiniRetinaCellular-iPadMiniRetinaCellular, iPhone6-iPhone6, iPhone6Plus-iPhone6Plus, iPadAir2-iPadAir2, iPadAir2Cellular-iPadAir2Cellular, iPadMini3-iPadMini3, iPadMini3Cellular-iPadMini3Cellular, iPodTouchSixthGen-iPodTouchSixthGen, iPhone6s-iPhone6s, iPhone6sPlus-iPhone6sPlus, iPadMini4-iPadMini4, iPadMini4Cellular-iPadMini4Cellular, iPadPro-iPadPro, iPadProCellular-iPadProCellular, iPadPro97-iPadPro97, iPadPro97Cellular-iPadPro97Cellular, iPhoneSE-iPhoneSE, iPhone7-iPhone7, iPhone7Plus-iPhone7Plus, iPad611-iPad611, iPad612-iPad612, iPad71-iPad71, iPad72-iPad72, iPad73-iPad73, iPad74-iPad74,

Supported Languages:

Arabic; Bulgarian; Czech; Danish; Dutch; Flemish; English; Finnish; French; German; Hebrew; Hungarian; Indonesian; Italian; Japanese; Korean; Persian; Polish; Portuguese; Romanian; Moldavian; Russian; Serbian; Chinese; Slovak; Slovenian; Spanish; Castilian; Swedish; Tagalog; Thai; Chinese; Turkish; Ukrainian; Vietnamese;