Recommended app!
App last updated
Jan 12, 2016
Screenshots
New in version 1.1.4
NEW STARTER PACK

One-time offer brimming with Coins, Hints, and Skillpoints at a special discounted price!
Description
Greedy millionaires have opened abstract art galleries to display and admire their latest work. Now Rory the bear is ready to fight back against the pointless pieces invading his home!

Bears vs. Art – a puzzling postmodern expression of the fight against subtext, from the creators of Fruit Ninja and Jetpack Joyride!

Discover 150 galleries with exciting puzzles around every corner. Plan your moves carefully or race the clock in timed challenges to destroy every painting on every wall!

Each painting is protected by sneaky security measures including lasers, spikes and mind-bending portals. Not to mention snooty guests, nosy security guards and art-snatching thieves!

Bears vs. Art is fun, furry and free. Try it now and see for yourself!

150 PUZZLES AND COUNTING
More and more added on a regular basis!

FIND ART AND RIP IT TO SHREDS
Abstract art? Subtext? Unbearable!

AVOID CUNNING TRAPS
Roar and roll your way to success!

COLLECT COLORFUL COSTUMES
Gain special abilities that change the way you play!

COMPETE IN EVENTS
Win awesome prizes with new events all the time!

PLAY WITH FRIENDS
Journey together on a grand adventure!

***
IMPORTANT NOTICE:

This game contains optional in-app purchases. You can disable this feature in the settings menu of your device.
View our privacy policy at http://halfbrick.com/pp
View our terms of service at http://halfbrick.com/tos
iPad Screenshots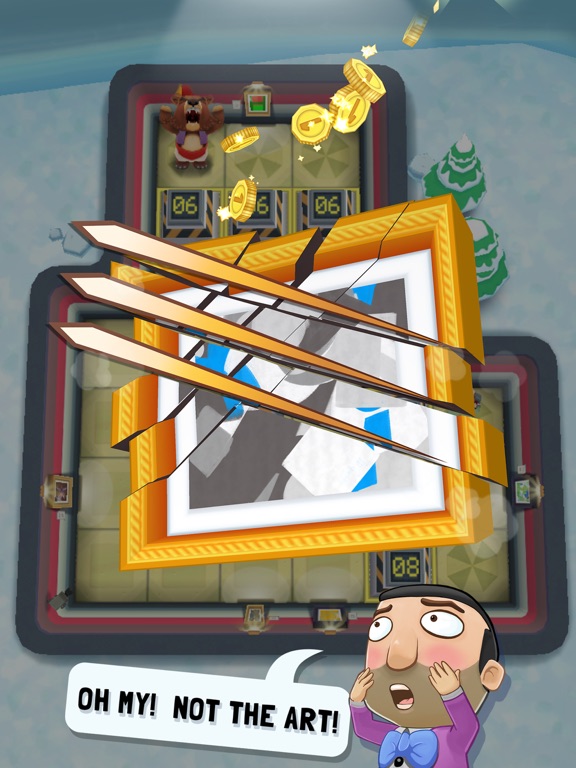 Reviews
Super fun🐻vs🖼
Really good game
Disappointed 😞😞
Gigi super cool master 1356
on
7/17/2017
This game is actually fun to play I mean I love to play this game but it keeps repeating levels for example yesterday I was on level 54 and today the game starts on level 1 !!😨😨 and last week I was on level 47 and the other day I was on level 32!! That made sad because I wasted time playing the levels and disappointed because I actually liked the game 😢😫
Super Fun!!!
The person who poops outside
on
6/30/2017
When I first started playing this,I felt it was going to be like candy crush. But on the first it was nothing like it. I recommend it to kids.
Disappointed 😔
Why iPhone 4 has a different market and other iPhones are not i like iPhone 4's market
More levels
Lagüera1986
on
12/14/2016
Love this game wish you would add more levels I'm stuck playing the infinite levels
Worth Your Time!
It is a great and difficult game that has awesome graphics. But be warned it gets difficult around level 20-23.
Fun but hard
This game was fun to play but it's HARD. If you don't like hard games don't get this game.
Don't let the cartoonish look fool you; it is a great puzzler
It is now my go to game for a quick, fun puzzle. The initial five islands in campaign mode are fine to play and generally easy, but level 125 (Incredible Machine) was pretty tricky and took me a while to figure out. However, it is the infinity mode which allows unlimited puzzles to be played at the difficulty you desire where this game shines. For me I've found 9-10 stars difficulty level is the sweet spot for enjoyment without being overly frustrated. Enhancing hats and suits to improve skills is a little tedious, but it is there likely for a younger crowd who enjoys that kind of customization. Definitely a game worth playing.
Habit-forming
I really like this game and keep coming back to it day after day. But I think it would be nice if you could see a list of prestige bonuses you've unlocked so far and toggle them off/on individually. So far there's always been at least one good choice, but that might not always be the case...
Nice
Very creative game in my opinion to spend time away. I'm addicted!
Bear-y fun!!
April is sexy
on
6/7/2016
Download this app! It's so much fun! Easy to play and free!!
Great game
I love bears and art so why not destroy one with the other! Fun and fluid! Love it :)
Berry......
Jocelyne Cabrera
on
5/31/2016
BERRRY FUN AND COOLL GET IT OR FOREVER HOLD YOUR BORDNESS !!😄
Puzzle game
Fun puzzle game.
Bear Vs. Art
This Game Is One Of My Favorite Games.
Awesome! The game is addicting.
So much fun!!!
Bears vs art
This game was so good puzzling the minds of people
Bearific!
Dezonly1ofthem
on
2/14/2016
🐻🍯🐼🍯🐨 Beary fun
Addictive!
Can't stop playing...
ADDICTIVE
Thesmartgirl567
on
11/22/2015
I'm love this game!!!if I could I hope I can rate this game a 10!
B v a
Juanfejfar00
on
11/20/2015
Love it
Better than Fruit Ninja
So cute! So fun! Way better than Fruit Ninja!
Good
SelenaGomez🐞
on
11/3/2015
I love this game because it is super fun
Top 10
i love this game .it is pretty challenging.
"Bear vs. Art App Review"
Gigantuous_Gamer_Guy
on
9/24/2015
When I downloaded this game out it was because I was intrigued by first the title of it and then the concept. When I started to play yet, it quickly became one of my favorite game apps. The characters are quite comical the story line is unique in the extremely humorous way, the gameplay is challenging and the way you can dress the character you are using to play the game is a whole lot of fun! This is why it is an ABSOLUTE no-brainer for me to give Bear Versus Art" a five-star rating!!! Halfbrick you make some REALLY fun games!!! Thank you SO MUCH for doing so!!! Please keep up the wonderful work!
Half Slab Failed again!
There is really no good point for the stash,though there's skills you have to wait century's to actually get an upgrade. I also hate the paw mechanics I don't ever get to play the game cause my paws always run out. I don't get why there little markers with people like "zombie dinosaur" it does not make sense! There for crapy game
I LOVE this game but..
Southern Belle 18
on
9/13/2015
I have been waiting close to 2 months for a new update with new levels. I will give it 5 stars as soon as they unlock new levels.
Bear-ly fun, freemium BS.
I tried the game because I really like fruit ninja. The game mechanic is kinda fun, but isn't anything novel. It's just designed to make you impatient and constantly prompts you to spend money on pointless things. Addiction-forming tactics 101. This "game" shouldn't be allowed to exist. Shame on you, Halfbrick.
Good game
Only played a little bit but good game don't seem to hard my kids like it HB did a good job with this game
LOVE IT
This is awsome with challenging puzzles but i dont like how we have lives to play the puzzles other than that I love this game soooo much
A lot of fun
I like this game, but there are in app purchases and you can only play so long before you have to wait and build up more games.
Awesome
Awesome game it makes time fly
Level-up loss..
Recently leveled up (again) & had a choice of rustling leaf trail or an extra play (paw print). I looked & had a maximum of 22 plays (paw prints) before I leveled up, I chose the paw print & now have 21 max plays (paw prints). Why did I lose 1 for my max plays down to 21? If I'm leveling up, shouldn't I get more? Not much fun anymore either as it seems there is nothing more to gain/win..
The game rocks
The orange flower pot
on
8/18/2015
The game is an amazing puzzle
Great Puzzles
The Steelers Fan 12
on
8/17/2015
Although I don't like the fact that we have to use lives in order to play the game the puzzles defeat the lives problem so therefore I won't let it affect my judgment of this game.
Suddenly exits the game
The game was going great but then at lvl. 39, it just suddenly goes black for a second and then quits the game without saving my progress
Love this game
This game is AWSOME the only complaint is the wait time for the 🐾. But I love how u don't have to spend real money to get past the levels. Over all I love this game!!!
Hai
Mr. Smell my butt
on
8/14/2015
It's ok
Love the game
Golden Freddy bear bae
on
8/13/2015
Like the game
Awesome Game! But....
Huskerfan 27
on
8/13/2015
I absolutely love this game. Its so fun and really addictive. But there is a bug in the game that causes it to crash once you've started a new level. I have an ipod touch so im not sure of its just me or it happens to everyone. Bit it would be nice for it to be fixed.
Best game Eva
hoppy flogger
on
8/12/2015
Very good fun and addicting and awesome
Great game!
Love this game! I may not be an art critic, but smashing art is fun!
This is DECENT.
🔯NikoGogapoe🔯
on
8/9/2015
Hey, I can't complain, I really like this game. It's such a neat concept and really puts Halfbrick first. Only there's ONE THING that's wrong: the life system. I can't believe that they're lives in this game. Lives are stupid. This is supposed to be played for hours on end, not every twenty minutes! Come on, Halfbrick. And I have to PAY to get more moves? Wow. I still like this game though. But it would make it better if you listened to my opinions. - NikoGogopoe
No event
The Fruit Ninja event does not show. This was the only content in the update but it is not here.
There's a problem with the events
Love the game and I'm enjoying the new update, but I've noticed a big problem with the events. Since the update, it'll say so many days/hours left before the next one so I'll wait. But when it counts down to zero, instead of there being an event, the thing resets. So I'm waiting for an event that's not going to happen. Can you fix this please? Plus, the tips on the new market/now cave, I was told you can change the cave when you complete new areas. I've already beaten the entire game but I cannot change the cave background. Error? Other than these, I love the game. Keep up the good work!
Fact Sheet
Publisher:

Halfbrick

Category:

Games

Released:

Apr 08, 2015

Current Version Released:

Jan 12, 2016

Version:

1.1.4

Size:

103.4 MB

Compatibility:

Requires iOS 7.0 or later.

Recommended Age:

9+

Game Center Certified:

No

Supported Languages:

English; French; German; Italian; Spanish; Castilian;

Parental Advisory:

Mild Cartoon or Fantasy Violence;