This version of the app is not recommended
App last updated
Feb 19, 2015
Screenshots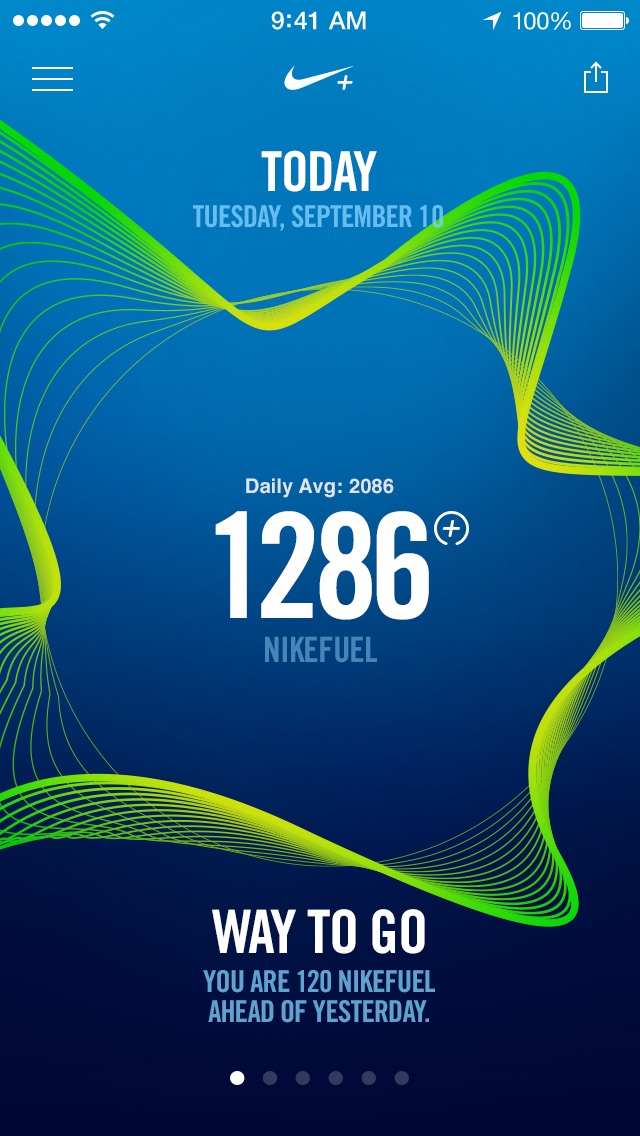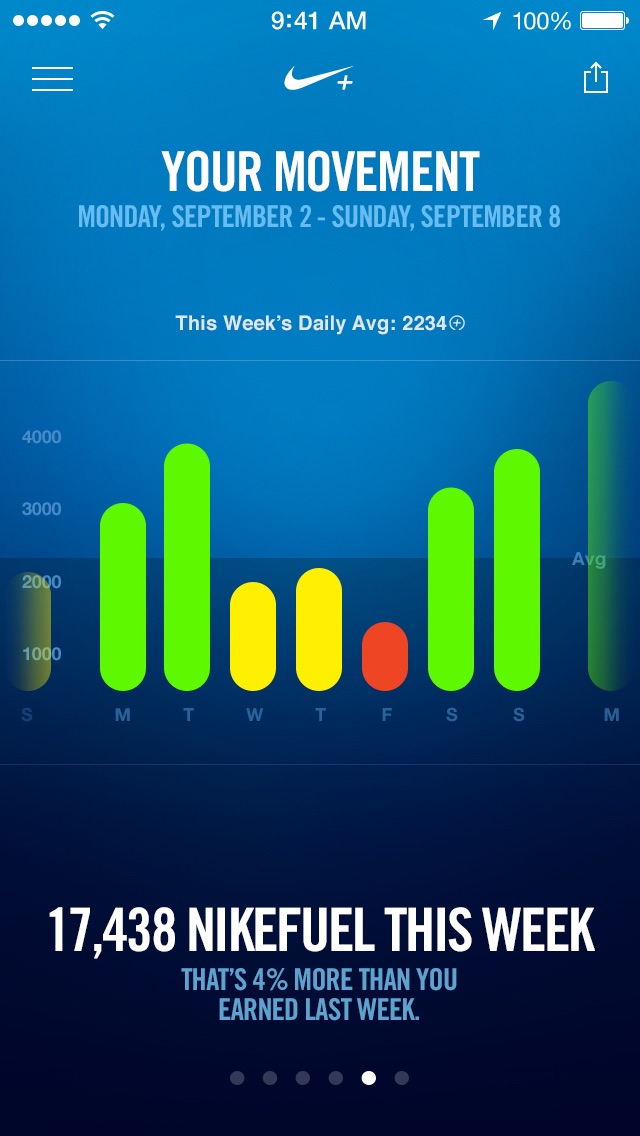 New in version 1.1.2
bug fixes and performance enhancements
Description
If you have an iPhone 5S, Nike+ Move is the simplest way to capture your every move, and motivate you to move more.

Exclusively for use with iPhone 5S, Nike+ Move to converts your movement into NikeFuel, the first-ever single, universal unit for measuring all kinds of activities. No matter your age, weight or gender, the same activity earns you the same amount of NikeFuel. And, because it uses the M7 coprocessor found in iPhone 5S and low-power location services (not GPS), this motivating all-day tracking experience won't run down your iPhone 5S battery.

Nike+ Move offers insight into when you move, how you move and where you move - and lets you challenge your friends to see who moves more.

Win the day by beating your NikeFuel average and watch your goal ring change from Red to Green.
See when you are most active throughout the day and how you're doing compared to yesterday.
Move more often and win as many hours as you can throughout the day.
See how you moved through the day with a breakdown of running, walking, and other movement.
See where you're moving and where you move the most each day.
Check out how you compare against your Game Center friends or other Nike+ Move users near you.

*Note: iPhone 5S is required to get motivated with Nike+ Move.
Reviews
Force quit
abdallah helmy
on
1/16/2018
Why the app is force quit in iphone 7 ?
Crash
I've an iphone SE, iOS 11.2.1 and when I slide the pages the app crashes :(
Needs updating.
This app is awesome but needs some updating. It hasn't been updated for iOS 11 hence, it crashes when you swipe beyond the 3 UI ( how you moved). Please update it for enriched user experience. Moreover, when you slide or click on the option key on the top right corner, the those informations over there ( What's Nike+, Get Nike+ running, etc) aren't necessary and therefore must scraped and new information should be included on that area because most Nike+ users already know about those companion apps. Thank you!
I've never seen Nike make something worse
I am pro Nike plus and have purchased all of their tech releases from the first pedometer to the fuel band and even the the tr1 workout shoes with sensors in the sole and work out app. This app doesn't allow for continuous monitoring over time... it keep no records and allows no challenges badge earning etc... this is a shell of all of the former strides Nike has made in personal fitness monitoring. I can not express the full extent of my sadness in this app.
Needs newer version
WhiteTigreNV
on
10/11/2017
Please updated
Always closes
Do I just got back into the Nike Game and so much has changed. But in regards to this app, I cannot got passed the 4th "tab" on the home screen. I scroll 1, 2, 3, and 4th screen app just closes. Um, okay. I can't use this.
Jump into the future
Michael11045
on
7/21/2017
Like the app but wish it was on the Apple Watch also.
Just Do It!
Today , not tomorrow!! Very good app has my recommendation.
Nike love
Good app. Starting using since my Nike fuel app will not save or load my profile for some odd reason. Used this to continue to get my fuel points. Great app.
Love it
Jay luv games
on
6/26/2017
Keeps me motivated
Please fix the friends/top movers for iphones
Bamamommaof3
on
3/20/2017
I would give a 5 star review if that worked for me.... I love everything else with the app! It automatically tells my Health app (comes on the iPhone) everything which is awesome because I'm very busy and having to stop and manually enter everything in multiple apps would be annoying and I wouldn't bother! For me to be able to get a really good workout I need technology that works! This app helps me push myself to do more each day to beat what I did the day before!!! I'm feeling so much better after I go to gym and workout! I'm now up to about 2 hour sessions at gym 2 times a day! I drop kids off at school in morning and head to the gym then I try to go again about 7pm-830pm and stay for as close to 2 hours as possible!!!! A lot easier to do on weekends but I'm figuring out a good weekday routine!! Please fix the issue and I will redo my review with 5 star!!! I wanna be able to challenge my husband and friends plus others in my area!!!! Hurry!!! Please!!!!
Applewatch... please??
I just got a Nike Applewatch only to find out this app isn't available on it........ huh?????
Could use some improvements
Dancergurl😍
on
11/18/2016
Love the app when it works. Not consistent in tracking activity on an everyday basis.
Doesn't track correctly.
I use Nike+Move, this app, and Nike+Fuel. Using Nike+Fuel only proves to me that Nike+Fuel does not track properly.
Doesn't always record activity!
Doesn't always record activity!
Decepção
Alexandre Mello
on
9/27/2016
Não gostei da solução , esperava maior riqueza de detalhes e facilidade na navegação
Excellent
This App is great!
This Doesn't Work
The updates to the Nike apps just don't work like the pre-fix versions. I used to be able to keep both Nike Move and Nike Fuel open and they would update throughout the day. These apps no longer do this. I have to always log in when I want look at them. If they are not open and tabulating what good are they??
Not very accurate
I keep hoping this app will get an update to make it more accurate or at least use my other two Nike apps to get an accurate fuel count, this app misses it by a lot could be fun, it is frustrating not fun! I finally removed it from my phone
Good app
Stevesk8enjoi
on
8/23/2016
Exceptional at what it does!
Nike
The best app to keep you motivated to keep moving and let's you know when your slacking!
Doesn't add to fuel points
I like this app because I recently was told that I can't run for a few weeks, so I decided to focus on taking it easy and walking. I noticed this app and I was glad to see that it tracks your movement and gives you "fuel points" just like when you use Nike + running, however I was not glad to see that the fuel points are not added to your cumulative fuel points total. I would be more motivated to use this app if it added the points. No point really if your iPhone already tracks your steps for you.
Sweet app
I love the app... However I can't bring phone or wearable technology inside at work. My 10k steps at work get lost and no way to enter.
Spartan
The app does what it says it will do. It works in conjunction with the Nike Fuel Band. It does not link up to the health app. If it would link up to the health app it would be a 5 star app.
May need an update
I am currently using an iPhone 6 and periodically the app stops tracking movement. Then the next day it works fine. It may need an update and please add the Apple Watch App as well.
Nike Move
I really like the app... It's pretty accurate for the most part and it motivates me to keep going! It's working great for me
Its ok
As a general movement counter its not bad tons of better ones out there but for a free app not bad. Could be tons better but hey its free.
Doesn't work
The app won't allow you to paste the password in the password field, which means you cannot use a password manager, so it forces me to use a password that is insecure. "Where you moved" (GPS Mapping) does not work! It shows an empty screen! And what's worse, I woke up with 348 Nike Fuel points! The phone has been sitting on a bedside table all night! And even if I don't move the ticker keeps moving up. What a crock! And on a day where I clearly do a lot of exercise it still shows red and on days I do not exercise at all it shows yellow. This app is garbage.
Doesn't work with iPhone 5
Requires me to buy the fit band.
App software needs to be updated!!
Giglioronomonocon
on
1/25/2016
Completely Inaccurate! Non motivational, I heard many great things about these Nike apps but I'm finding more flaws in using them daily. I don't want to lose all my data so angrily deleting it won't help. Please do some bug fixes! Don't act like you don't have a slew of techies in Portland totally capable of making this app as great as it should be.
Excelente App
Muy buena App
Exceptional at what it does
Nike amazes me with this app and the Nike fuel app. When combined, they give an iPhone user almost the exact same experience as a person who owns a fuel band! As for this app itself, it's spartan. However, that's exactly what it needs to be. It's an accelerometer that calculates Nike fuel as you move throughout the day, which is exactly what a fuel band does. Love the app. Love how it simply works. Wish it had a little bit more options to tinker with but that's nitpicking Bottom line: if you're into Nike fuel, download this app.
Imperfect, but good motivation
Amateur User
on
10/18/2015
I have found the program to be inaccurate, at times; however, it serves its purpose well, that being to motivate people to movement.
Muy buena app
Tótem chileno
on
8/28/2015
Esta app es muy eficiente y precisa, me encanta! La recomiendo:)
Does not always record movement
This app only records movement about half the time. What a disappointment. Deleting
Extremely inaccurate
Activity tracking is extremely inaccurate. The app says I get more than twice as much exercise taking the exact same hike if my phone is in the side pocket of my utility kilt, as compared to when the phone is in a fanny pack. It's somewhere in between if the phone is in my front pants pocket.
Same old
This could do more This had nice potential but Nike is rudely not taking the iOS 8 aggravates, to force people to use their flamboyant new app. Sometimes fixing the old thing may just work out!
App is a must have if u want to connect all the Nike apps in order to get super fit!!
As a personal trainer for 8+years I have seen so many different apps and ideas to get fit and lose weight...this app keeps it very simple and connects u to many other app that range from beginner to advanced and in my opinion it's a must have app if u want to have some knowledge and accountability!!
Love this APP
It really works well.
Often Wrong!!
:)Amanda:):)
on
6/13/2015
I would recommend purchasing both this app (MOVE) and the other (NIKE+FUEL) because it helped me realize this app tracks incorrectly. It would say I had 200 nikefuel about 10 minutes after I got up. This is just incorrect. It seemed to over track, while my fuel app may slightly under-track(though that motivates me more). SO.... I say you should get both and see what you think is more accurate. I like the idea, it just tracks poorly
Great but...
This app has become obsolete with the apple watch. Add Apple watch functionality!!!
Hmm not Tracking all
Love The Concept! Missing a lot Especially past 2 days Guess ok if you are not too concerned with accuracy but just want a somewhat estimated
add nikefuel to Applehealth
add nikefuel in this app to Applehealth
Great Tracker
Love it! It motivates & challenges you to move your asterisk.
Works for what I need
Pamela Schuler's Ipod
on
5/5/2015
I just wanted a simple pedometer type app on my phone to keep track of how much I walk; this does that. Didn't want an expensive or hard to set up band. Just wish it were a bit more accurate counting your steps. It takes 7 of my step to equal 1 on the Nike fuel.
Doesn't always track your movement
I have done a number of runs and walking all day and this doesn't pick it up please fix
Awsome
Its an awesome app, and very easy to use..
Fact Sheet
Publisher:

Nike, Inc

Category:

Health & Fitness

Released:

Nov 04, 2013

Current Version Released:

Feb 19, 2015

Version:

1.1.2

Size:

12.3 MB

Compatibility:

Requires iOS 7.0 or later.

Recommended Age:

4+

Game Center Certified:

No

Supported Languages:

English; French; German; Japanese; Portuguese; Chinese;