Not Recommended
App last updated
Jan 09, 2018
Screenshots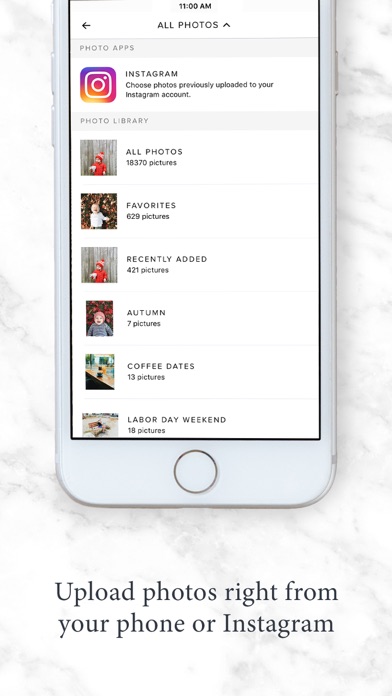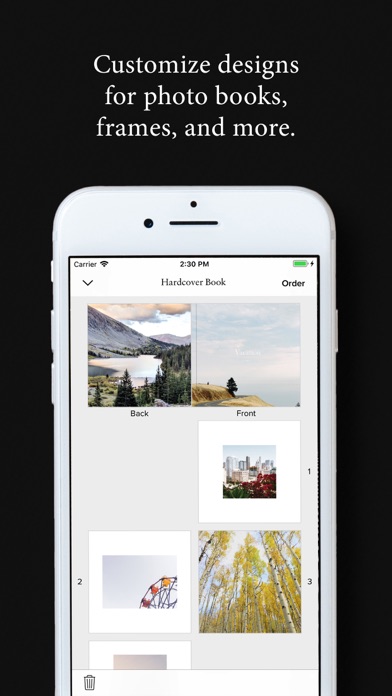 New in version 3.7.3
Shop our New Year Cards Collection, featuring 100% recycled paper with foil-stamped and hand-lettered options. Plus, create a photo calendar to kick off 2018 right.

As always, we're here to help and grateful for your feedback to help us continue making improvements!
Description
Featuring high-quality photo prints and elevated design, the Artifact Uprising app allows you to move photos off your device and into your life. Seamlessly access photos from your Instagram or camera roll and print meaningful photo goods and gifts in no time.

New to the app: Artifact Uprising Volumes. Automatically turn your mobile photos into a cohesive book series. Each time you add 50 images to your chosen photo album, our Volumes service will create a new book to add to your collection.

Make a custom photo book with your iPhone photos, wedding pictures, travel memories, or everyday family moments.

As seen in Oprah, The Today Show, RealSimple, Travel+Leisure, InStyle, Vogue.com, and more.

"The best part of their product is the quality of the paper and the company's commitment to tangible memories in the digital age." – Travel + Leisure

Products include:
- Artifact Uprising Volumes
- Hardcover Photo Book with your choice of 8 fabric colors
- Brass Easel & Calendar
- Softcover Photo Book made with 100% recycled pages
- Gallery Frames
- Square Print Set
- Thank You Photo Cards
- Wood Calendars
- Instagram Friendly Photo Book
- Wood Block & Prints

Tips for using the Artifact Uprising App:
- The Instagram Friendly Photo Book is a photo album that can feature your favorite pictures, captions, and tags.
- Easily create a meaningful photo gift – the Wood Calendar includes 12 calendar prints, printed on high-quality textured-matte paper.
- Gallery Frames are perfect for displaying Instagram pictures. Each photo frame is made of real hardwood in the USA.

Off your Device, Into Your Life.™ // Honor that which is meaningful. Bettered by a community of inspired storytellers. Driven by the belief everyone has a story to tell. Tell On.

To see our complete collection of photo albums, prints, gifts and more, visit artifactuprising.com.

For support questions about your Artifact Uprising order, shipping, or pricing, please email help@artifactuprising.com.
Reviews
Could use some cool features
some girl with the name of chelsea
on
1/20/2018
I'd really like to use this for whenever I am delivering clients their gallery. I wish you guys had a "gift" set up.. where I could write them a message and then make sure they don't get a reciept😂😂 Also, I'd really like to know what it looks like when my clients get it! I'd set it up in a heart beat if I had all these answers
Love this app and company!
kelseykbailey
on
1/19/2018
This beautifully app let me design an AMAZING gift for my parents for the holidays. As soon as you get it in the mail and see how amazing it looks and feels, you'll never go back. Am recommending to everyone! :)
best quality on the market
everything from print quality to paper to the box is beautiful. this company really cares.
The only place I go to for printing!
The only place I go to print my phone photos. Their app easily lets me create gifts and prints that I can send to my family, which is always a lifesaver when I'm looking for the perfect gift. I've been impressed with their printing, packaging, and especially with their customer service. They've taken care of me every single time!
Recent updates helped AU app
I had trouble on the app before, but since they have made several updates I've noticed quite a difference in functionality. The last few times I've used it to build photo books and they've turned out great! Excited I can make my beloved hardcover family yearbooks through my phone now.
Seeing my photos in print
The quality of my photos are beautiful. I love that my photos from my phone can live somewhere else other than just on my phone. I love flipping through them. Also love sending them to friends as a nice surprise :)
Super Buggy and frustrating
I have had so many issues using the "Volumes" function of this app. My first attempt got stuck in some payment bug and I had to reinstall the app and start again. I was finally able to compile and order my first Volume, and now cannot create a second one. Incredibly frustrating. A great concept but flawed execution.
Volumes needs help, buggy
I use the app for Volumes, but it is pretty buggy. When trying to edit the second volume, the app freezes. It also doesn't continuously communicate with the photos app, so if you change something in the photo album, you have to start the volume all over in order for the app to recognize it. Also would like to see more color and size options.
Pictures wouldn't upload and order canceled
I'm sure this is a pretty good service when ordered from a desktop. However, this mobile app isn't the most user friendly. Twice my orders were confirmed and canceled because the app uploaded blank photos instead of the selected photos. Customer service was nice enough, but the whole process ate up way more time than just going to a physical store.
Love this to print photos
This app is perfect for printing photos straight from your phone. I made a softcover photo book of 2017 and gifted a framed shot to my husband. Can't wait to have another excuse to use it!
Customer Service - Awful
Quality of the prints were great but they messed up on 7 of the 25 prints I had made up. When I went to report the issue they acted like they cared but did nothing about correcting the issue. Customer service is a complete joke.
Does not link to desktop account?
Qwertypop123hi
on
1/6/2018
I have an album I'm making on my laptop for a wedding guestbook. I have tried to access it from the app under the same account to add photos from my iPhone but the app and my account on the computer do not seem to link at all, and there is not even a way to make a wedding guestbook on the app. Very sad because I want to add some photos from my phone in addition to our engagement pics . Otherwise it seems to work okay
100% useless to edit projects or upload pics
You need to get with the times and allow mobile photo library access and uploading in your app. And access to projects...AT LEAST to add photos. This app is pretty useless, not intuitive and not a good user experience
Photobook
This app is amazing. I got my photobook in just a few days. A little expensive but worth every penny.
Where are my saved projects?
TheOnlyEmily
on
12/13/2017
Love Artifact Uprising but why would I download this app if I can't even access my saved projects? When I try to, I'm kicked out to Safari. And then, if I wasn't offered to create the project on the New Editor, I can't access it from my phone at all and get an error message to try on my desktop! Yikes, AU.
Seamless Experience
LauraJoan0418
on
12/12/2017
Impressed! Grateful to have my photos printed so beautifully.
Barebones App
In order to view purchases you are redirected to a browser session and have to login again. I have 2 items in my cart on the web but they don't show up in the app. All this time and the app still seems like they don't care.
UX and UI intensely lacking.
jennaschneid
on
12/8/2017
First time user and don't have access to a desktop, so the website sent me to the app. Upon download, I couldn't find what I was trying to order on desktop. And they don't even seem to have a location where you can review all products in the app. Frustrated and moving on to another vendor.
App needs work
Love their prints and website but the app is terrible. Doesn't let me add more than one option/item to my cart (prints, books, etc) without wiping the previous item. They need to be ordered separately, resulting in $6.99 for shipping each time.
Nice to have, website is better
As a frequent purchaser of photobooks from the Artifact Uprising website, I find the app difficult to use. It does not store photos in galleries and does not give you the option to save a project and return to it later. Unless you are only ordering prints, I would recommend the website over the app for the creation of albums.
Love AU, but the app is so frustrating
I love AU, but the app remains a frustrating experience for me. I wanted to order calendar reprints, but couldn't find it anywhere in the app, so I assume it's not one of the products included. I don't understand why we can't order the refill pack when the wood and brass easel calendars are available via the app. Overall, I find the lack of universal product accessibility and lack of crosstalk between the web interface and the app to extremely frustrating and disappointing. Also, is it possible to order multiple items in one shipment in the app? Didn't seem like it was when I was using it.
Concept good but app stinks and is frustrating
carriedrucker
on
10/27/2017
The concept is great but the volumes functionality needs a lot of work! Not intuitive and you can't delete or save your book. Quality seems ok but if you can't get it to work what's the point??
Great holiday cards
RaptorSmile
on
10/26/2017
Ordered my holiday cards through AU's app and they turned out great! Love the design, and the app was so easy to use. Definitely recommending to friends. :)
Love the products in this app!
Finally an app that provides quality photo book projects for all the photos on my phone and Instagram.
Love!
I find this app easy to use and the quality of the prints are pretty good so far
Beautiful looking, poor functioning
After more than 3 hours and multiple emails with tech support I still have nothing to show for my time. Don't waste yours either. Big disappointment
Buggy
juggernaut880
on
10/10/2017
I'd love to use the app but there is a bug that it keeps telling me I have the wrong email/password combo. I have reset my password three times and can log on through chrome but not through the app.
Needs update
Clawdeeuhisboss(:
on
10/9/2017
This app takes forever to upload your pictures, add info. It took so long I ended up just canceling my order. Not worth it.
Love these books!
I just got my first order and I can truly say my jaw dropped they are so beautiful. Add that to the fact that it was so quick and easy to put them together. Never going back!
Endless picture options
Great app for getting pictures off our phones and into high quality print! I have used other companies but the quality does not compare! I change out my wall gallery photographs often for mood and season with the ease of pressing of a few buttons! Also, LOVE the wood calendars that everyone in my family now has and each year I easily send the refill pack with new photos and they are able to save the old photos. My grandma loves the ability to have ALL the photos to easily show off whenever she pleases!
Easy. Breezy. Beautiful.
Simple and easy to navigate. Only to be outdone when the product arrives! Highly recommend. Best gift-giving app ever.
This app needs a lot of work
I really love Artifact Uprising prints and I hope you quickly get your app up to speed. My main frustration is when trying to create a Volumes album I cannot select from my iPhoto album, just the photos I want to print. It said that the album I selected would create 6 volumes! And I couldn't edit that. Yes I can edit the photos, but I only wanted to create 1 volume from that particular album in my iPhotos. The app also seems a little buggy and would freeze. Very frustrating and waste of time.
love everything about this company
highest quality, best customer support, beautiful designs, sustainable choices
Keeps crashing
Really was excited to use this app but it crashes every time I try to make a book. Big waste of time and big bummer
Where are the square print sets?
Just downloaded the app and no where do I find the sets of square loose prints. And no search bar to find them on the app. Whaaaaaa???
This app is terrible
You can't do anything! It's so faulty and frustrating 😕the books look pretty and I see them all over instagram and I was really looking forward to creating series of quality books. But this app won't let me do that. It freezes nonstop and won't load!
App constantly frozen
You cannot do anything when trying to order prints. The app continually freezes once you select print size. It locks up goes no where.
App closes
Anytime I try to open Volumes my app just shuts down. I love the app but can't access volumes I already made. Update: Not sure how to contact you back. I had the old app and it updated on its own when volumes released. What I ended up doing was deleting the app and downloading it again. Then I could open volumes. But my volume I had created was gone. I re created it and when I went to check it- the old one was there too. Weird. I ordered my first volume though, so excited to see if/how it turns out!
One star for app
Anonymous*0*
on
8/30/2017
Prints and company are great but this app is terrible. Attempting to create a volume and if you walk away from the phone for a minute and it goes to sleep it undoes all your selected photos. No way to save a volume in progress. That is simply not doable for most people. I work on things in bursts and need to use something that will save my work in progress. I was excited to try volumes but honestly will never make it to the end of a volume with selecting and reviewing all the photos if I have to do it all in one go. Maybe if they update it I'll try again! Response to developer 8/29/17. The app closes itself at multiple points (photos selected, half way through editing photos). It also doesn't save if the phone sleeps or if you answer a text message because you come out of the app and when you go back in you have to start at the beginning. It's not saving volumes at any point that I could get to (selected all photos and editing photos in the volume). Hope you can find a solution.
Horrible
Crashes constantly. Stalls. Takes forever. Doesn't save changes. And you can't access designs made on the app on the web.
App needs updated
Love love love the products and site but the app itself needs some work. At random, and fairly often, times it takes forever to go to the next step.
I love this
davidbeckner3
on
8/7/2017
I have been waiting to see this app for a while now and it's still very good for the iPhone version.
Can't add multiple products
ChrisyKeller
on
7/30/2017
App won't allow me to go back and purchase separate sets of the everyday prints. Forced to purchase and pay shipping for each separately.
Wish it could be 5 stars
Almost perfect. The user face is sleek, beautiful and easy to use, for the most part. I wanted to order multiple, but different, photo sets. The app wouldn't let me. I had to place separate orders for each photo set which cost me additional shipping fees. Frustrating, but I like their product.
I love this app...when it works
Benson.Family
on
7/23/2017
I've used this app on multiple occasions and the prints I get from it are fantastic but the app? It's incredibly buggy and frustrating. It constantly freezes when trying to choose a shipping method and makes ordering practically impossible. I've tried it on two different devices. Same problem. Ugh.
Amazing
Max D. Sanchez
on
7/19/2017
I have no words to describe how good this app is. :)
Frustrated user!
I was able to use the app successfully once. Since then, the app does not work at all. It will upload my images and then it freezes when I try to select the shipping option. I have used wifi. I tried without wifi. I upgraded the app and still - nothing works!!! Very frustrating. This company must be losing customers due to sheer frustration!
It's great but they still have work to do
This is a fantastic app to use for high-quality photos but the app and the website are not connected and all re-orders have to go through email.
Couldn't create account
Whyisthisneeded12345678
on
4/16/2017
App was updated. Was able to creat and account. All of the products look like they're really nice quality. Now just trying to decide on which one to buy first.
Love
I love this app and all of my little photos. So fun!!
Fact Sheet
Publisher:

Artifact Uprising LLC

Category:

Photo & Video

Released:

Oct 25, 2013

Current Version Released:

Jan 09, 2018

Version:

3.7.3

Size:

138.6 MB

Compatibility:

Requires iOS 9.0 or later.

Recommended Age:

4+

Game Center Certified:

No

Supported Languages:

English;