This version of the app is not recommended
App last updated
Nov 22, 2017
Screenshots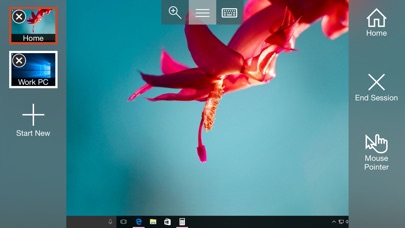 New in version 8.1.38
Bug fixes and performance improvements.
Description
Overview
With the Microsoft Remote Desktop app, you can connect to a remote PC and your work resources from almost anywhere. Experience a rich Windows experience with RemoteFX in a Remote Desktop client designed to help you get your work done wherever you are.

Getting Started
Windows Professional and Windows Server editions are supported. To view the full list of supported Windows versions and successfully connect to a Windows PC, read the FAQ at https://technet.microsoft.com/en-us/library/dn473015.aspx

Don't know how to configure your PC to access it remotely? Download the RDP assistant on your Windows PC and let it do the work for you: https://aka.ms/rdassistant

Features
* Access to remote resources through your Remote Desktop Gateway
* Rich multi-touch experience that supports Windows gestures and RemoteFX
* Secure connection to your data and applications
* Simple management of all remote connections from the connection center
* Seamless audio and video streaming
* Easy connection to external monitors or projectors for presentations


Have a question? Post it at http://aka.ms/rd-clients-forum
Have an idea? Add to our feature suggestion box in the app (Settings -> Recommend New Features)"
iPad Screenshots
Reviews
Works great
Please optimize for iPhone X!!
Won't connect now
Since this update I have had several issues connecting to our servers. After further testing there isn't any rhyme or reason to which it connects to and which it doesn't.
No Touch ID Support
No Touch ID Support. It was ahead of its time a couple years ago but missing Touch ID and password manager integration.
Works great, just needs to be compatible with iPhone X resolution
When will an update roll out for the app to be compatible with iPhone X resolution?
Meh I give this 1 1/2 stars
summertimefairy
on
1/16/2018
Definitely nothing special going on here. I mostly use this app to connect to my laptop from my iPad. Sadly 90% of the time I'm losing sound. Whenever I'm listening to something on YouTube or Facebook etc the sound dies out. The sound will even come in and out when I am listening to a book on CD. So I have to close out and go back in and even then, I'll have to do it maybe two or three times before connects again to the sound. And trying to type anything while using this app is an absolute nightmare. I can't even see what I'm typing because the keyboard blocks the comment section and for whatever reason when I try to speak my sentences it creates these enormous spaces in between sentences.... annoying
music mute when i disconnect from remote pc
that is,music playing on remote pc....
Update for iPad Pro 10.5 and iPhone X
Excellent app I can access my desktop at home from school. It needs to be updated for the new device resolutions though.
Extremely slow updates
Still waiting on compatibility to iOS 11.2 and iPhone X. For an app developed by the largest software company on planet earth, updates are way too late and way too slowly.
Great app
Will give 5 stars when formatted for iPhone X
Current version disabled iPad Keyboard
I love this app to connect to my windows workstation however the latest update seems to have removed iPad keyboard support as I'm unable to type now. Could you add that back in because as you can guess it's pretty critical. Thanks
Great tool but no iPhone X resolution support
Kenajones08
on
12/20/2017
I use this tool almost daily and it makes administration via mobile easy. The only complaint I have is that the iPhone X has been out for over a month and they still don't support the devices native resolution all other apps by Microsoft have been updated.
Needs updated for iPhone X
Radicldreamer
on
12/8/2017
Needs updated for iPhone X, currently most of the screen is wasted due to the black bars.
Dilyn2212
Please push an update for iPhone X support.
Make it easier to connect remotely
To setup for connecting remotely from anywhere is quite the hassle!
So well thought UX
GLaDOS_Portal2
on
12/6/2017
And great app overall. Just please add support for iPhone X screen.
One of the few apps that just "works"
PlatinumMedallion
on
12/2/2017
Not much more to write about. For Microsoft that's a big a achievement. It works from virtually any network even 2g
Surprisingly good!
Travis Naraine
on
12/1/2017
A smooth well thought-out remote desktop app by Microsoft. I love it!
A mess on iPhone X
Pilot739593
on
11/29/2017
Tapping on the screen to click doesn't work on iPhone X. Essentially unusable for now...
Surprisingly smooth and well thought out
willwalexander
on
11/29/2017
Microsoft hasn't been known in the past for smoothly interoperating with products from other software companies, but their Remote Desktop clients are an exception. Connections are smooth even over LTE and most of the Windows client features and options are available. There are two input methods: a simple tap-based method which works well for UWP apps, and a cursor-based method that more or less uses your phone screen as a trackpad. The input method can be switched with two taps, and the keyboard can be shown with one tap. The only thing I would like to see is a way to access certain keyboard keys that aren't present on iOS, such as arrow keys. You can open the On-screen Keyboard in Windows, but a virtual keyboard being clicked by a virtual mouse being controlled by a touchscreen becomes pretty laborious to get anything done with.
Background connection - Typing issues
MeirGreenrose
on
11/27/2017
Please fix the background connection! Every time the app run in the background for a minute or two, it will lose the connection to the Remote Desktop, please fix!! Sometimes the keyboard doesn't work, in the basic keyboard screen, I would have to press shift before every character I want to type, or when I go to 123 screen I have no issue. But in basics keyboard it will sometimes not work. I'm having this issue on my iPhone and iPad too.
Excellent RDP/Terminal Server App - Well Done MSFT
I don't leave app feedback often, but my experience has been excellent. Easily configured two profiles for the same terminal, one for when I am on LAN, and one for when I am away from the home desktop on WAN. The "More Data, Higher Resolution" setting makes this app experience as powerful and flawless as the native Windows 10 experience. Not understanding some users issues with the keyboard not hiding when an external keyboard is attached. I am using an Anker external keyboard, and an on-screen keyboard has never inadvertently appeared for me while using the application. Keep it up MSFT. Any others out there running this on iOS 11? I have not upgraded yet on my iPad, and will look to avoid it until I come back and see positive reviews for this app written by iOS 11 users.
Sonic MobileConnect
I am having trouble getting my MacBook Pro connecting via Sonicwall mobile connect. Apple says it's a Microsoft issue. The sonicwall connects fine but Microsoft Remote Desktop doesn't. Says "unable to connect to remote PC...please verify Remote Desktop is enabled...remote computer turned on..., then try again" I am using MacOS High Sierra.
MAKE IT STABLE
Every time it gets to a moderate level of stability, they figure put a way to royally screw it up again. The latest update has resulted in massive numbers of connection drops. It is something I depend on daily, and now it wastes soooo much of my time. FIX IT PLEASE!
I'm done with using this app
It seems that every time Microsoft updates this app something breaks, then gets fixed, then breaks again. I need remote access to work RELIABLY and EVERY TIME I try to connect, not random errors that make no sense as OTHER RDP apps let me connect with no issues. I've had enough of playing this game and I've deleted this app and am using other alternatives. You've lost me, Microsoft.
Optimize for IPhone X screens!
This app looks terrible on the iPhone X, please update the functionality to take advantage of the iPhone X's screen. Millions of phones sold and Apple makes it easy to auto scale the app, please fix this.
Great apps😘😘😘
Badhon Rahman
on
11/14/2017
Nice working
Bring back the old keyboard
alvaro7aranda
on
11/9/2017
I liked the keyboard that displayed more options like copy and paste and the left and right arrows to move the cursor. Please bring it back. Otherwise it works marvelous.
Keyboard won't hide
I really used to like this app. Now, on ios 11 iPhone 6plus, the keyboard won't hide and half my screen is covered which renders this unusable. The hide keyboard button is doing nothing. One star. UPDATE (11/7/17): it appears the newest version may have resolved this issue. Now 4 stars.
Really awesome on iPad Pro with Keyboard
I have been trying to do all my work on iPad Pro with keyboard and Remote Desktop lets me access all my servers and run jobs. The iPad does not look odd like a laptop especially in social settings. I have around 40 connections and it becomes hard to organize the various groups. One minor complaint is once you save the username/password, you cant setup another Remote Desktop connection with same username but different password with out a workaround. My workaround is to use a dummy domain or machine name before the username (All my servers are not part of a domain) - For example machine\username.
Can't hide keyboard
OilyTheOtter
on
11/1/2017
This app has worked well in the past but now that I can't hide the keyboard it's unusable.
Keyboard issues
KillerGamerCat
on
10/31/2017
Keyboard not typing correct letters or symbols
No keyboard input to virtual machines
This is worthless to me after a recent update. It now only allows you to send keyboard input to a physical machine. If you use VMs (who doesn't?) then all it lets you do is control the mouse.
Need Windows upgrade
Can't use with base Windows must buy a better edition. IT IS $100 DOLLARS don't waste your time using this
Well I loved this app up until five minutes ago
This app enables me to provide remote support to our clients without dragging my PC around with me. However I just found a huge missing feature. You create user accounts that are independent of the servers to which you are logging in. So you could have a username OurDomain\AccountName with password MyPwd and use it to log onto many different computers. Cool if you're IT for a large company. We're a small company with a lot of clients. I can't tell you how many of our customers have us log on with LOCAL\Administrator and different passwords. I have no way to indicate that the password for one server is different from another one.
Gets better with every update but still no Touch ID
Microsoft's Remote Desktop Client for iPad has always been a solid (and free) app that made it easy to connect to windows machines. The App had some issues in the beginning but with every update Microsoft has really improved the App and added some neat features. The App is so good now it works nearly flawlessly. The latest release has a great new my Desktop page, and is very responsive to inputs. I would give the app five stars if it weren't for the lack of Touch ID security (it's very surprising and annoying that this app doesn't have any security feature to launch it). It's also limited to Windows machines. Adding Touch ID and the ability to remotely connect to Macs on my network would make this the best Remote Desktop app on the market.
Awesome
Livesoftware
on
10/23/2017
I was able to RDP into a VM and update website code (on my phone). Can't ask for much more here.
Horrible... 0 star... Compared to itap rdp
Penny Trader
on
10/22/2017
As a Microsoft employee, I'm ashamed that we released this... Give me back itap rdp
Remote Desktop has issues now
For the last two and a half weeks after I remote in and come back normally to my workstation, RD client knocks out my mouse icon on the screen and I can't see what I'm clicking. I've been using this for months and never had the issue before
Keyboard Issues
For some reason when I type on my iPad Pro, random characters are being sent from the keyboard to the server I RDP into to. Been using this app for years and this never happened before.
Works remarkably well
DaveOnTheRoad
on
10/12/2017
I don't leave a lot of app feedback but after using this app for a couple of days I have to give credit where it's due. This app works extremely well, at least in a LAN environment and when running remote sessions from an iPad Pro to a Windows 10 desktop. Well done Remote Desktop app team.
Terrible replacement for iTap.
BitingChaos
on
10/11/2017
Microsoft bought iTap a while ago and then removed most of its features. Portrait orientation? Resolution settings? Where did all the options and features go?? Until I can set my own resolution and use the app in portrait mode, it gets 1 star.
Manager
Since the last update 8.1.35 RD Client wont work on ipad. error 0x00000003 continues. No one seems to be able to help.
Broke
It is crashing on iPhone 8 plus, iOS 11.0.2
Problem
Все хорошо. Отличная программа. Пользуюсь с удовольствием. Единственный минус (правда очень крупный)-не поддерживает режим split view в моем IPad Pro
Remote Screen does pass keyboard
I use this app to remote in to my office in a jam. Once in, I use a program called radmin and vnc to access all my users workstation and servers. I can't sent keyboard strokes to through those remote machines. Please fix this. Argh!!!
Not working good with iOS 11
After updating to iOS 11, the app is not working properly. Especially the keyboard
keyboard wont hide
surgemorales
on
9/26/2017
On ios 11 using an iphone 7 plus... remote desktop does not allow me to hide the keyboard. So i can see the lower half of the screen with rdp.
Remote Web Resources
This app never saves the credentials
Works really well
This is easily one of the best apps out there. It just works extremely well. Especially considering I'm controlling my computer from my phone.
Ok, but something is missing
Teconsultant
on
9/24/2017
Microsoft Remote Desktop is an ok app on IOS. There is one feature I feel that it is missing, especially on the IPhone. Smart sizing. This I a feature that I take advantage of on my Windows machine all of the time. It would allow users to connect to their windows machine with a resolution that they are used to using. This feature is available for some of the third party applications out there for IOS devices. Zooming in/out is something that would be needed. Another component of smart sizing could allow a user to connect to their local workstation setup, which could be multi-monitor. Again, this is a feature that is available on other remote access apps.
Fact Sheet
Publisher:

Microsoft Corporation

Category:

Business

Released:

Oct 17, 2013

Current Version Released:

Nov 22, 2017

Version:

8.1.38

Size:

29.6 MB

Compatibility:

Requires iOS 8.0 or later.

Recommended Age:

4+

Game Center Certified:

No

Supported Languages:

Danish; Dutch; Flemish; English; Finnish; French; German; Italian; Japanese; Bokmål, Norwegian; Norwegian Bokmål; Polish; Portuguese; Russian; Chinese; Spanish; Castilian; Swedish; Chinese;