This version of the app is not recommended
App last updated
Jan 08, 2018
Screenshots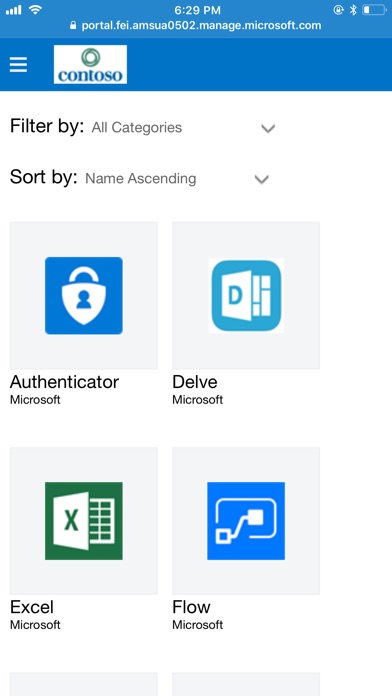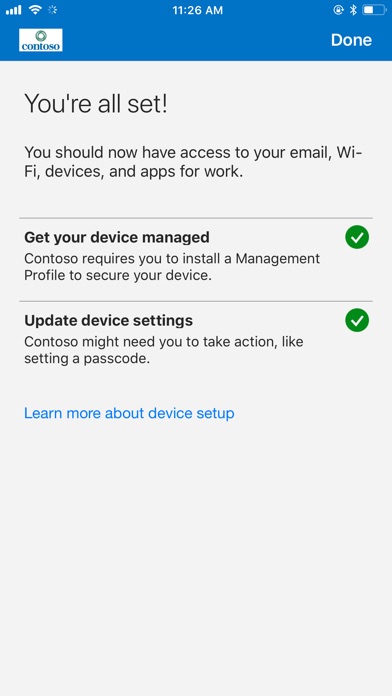 New in version 2.11.0
We've been improving the stability of the Company Portal. This helps keep your information safe and makes the app work more efficiently.

For details about what's new in the latest update, see aka.ms/intuneupdates.

Leave us a review in the App Store! We read all reviews and use them to improve the app.
Description
Microsoft Intune helps organizations manage access to corporate apps, data, and resources. Company Portal is the app that lets you, as an employee of your company, securely access those resources.

Before you can use this app, make sure your IT admin has set up your work account. Your company must also have a subscription to Microsoft Intune.

Company Portal helps simplify the tasks you need to do for work:

• Enroll your device to access corporate resources, including Office, email, and OneDrive for Business
• Quickly reset the password to your work account if you should forget it
• Find apps that will help you with your daily tasks as provided by your company
• View and manage all your enrolled devices – and wipe them yourself if they get lost or stolen
• Get help from your IT department with easy-to-find contact information

A note about Intune: every organization has different access requirements, and will use Intune in ways that they determine will best manage their information. Some functionality might be unavailable in certain countries. If you have questions about how this app is being used within your organization, your company's IT administrator should have those answers for you. Microsoft, your network provider, and your device's manufacturer do not know how Intune will be used by your organization.
iPad Screenshots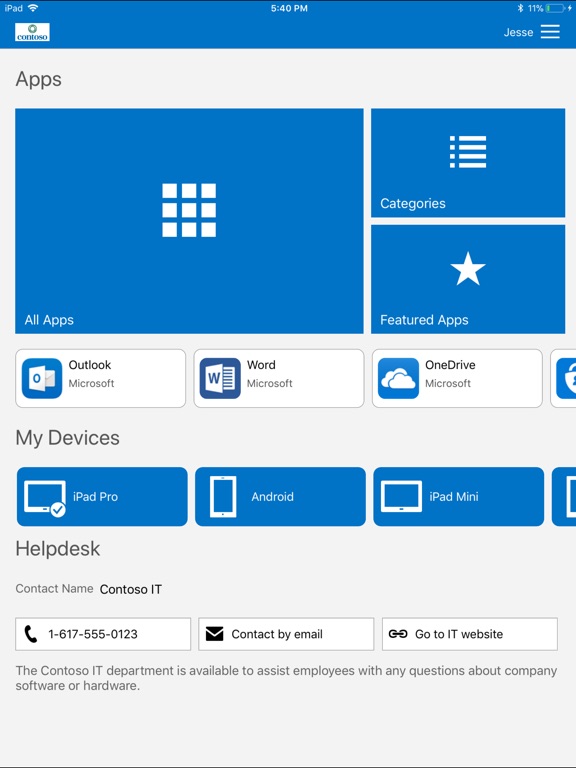 Reviews
Opting out
Many State employees are not going to Download this on their phone. Work phone no problem ! Personal phone it's invasive. A useful tool taken from the state Workers
Works just like that
Easy simple and elegant
Help received
The guy from the hub kiosk help me on this
Currently unavailable
The current version of app fails with the above error message. A report has been sent. Not sure if this would be a transient issue or an issue with the build. Not a good user experience.
Typical buggy software from MSFT
Device frequently shows not in compliance. Had to reinstall.
Really hard to navigate
A mess
No Bueno
I was coerced into installing this -via company policy. It may work fine, that's not the point - that I must install it is the point.
Horrible
nolikeprogram
on
1/3/2018
Resets almost monthly and a pain in always reloading.
Bad!
nizar bou diab
on
1/2/2018
Very bad and unpractical! Waist if time to figure out things!! Horrible!
Impressed
Ventruremann
on
12/24/2017
Setting up my iPhone for work was was very easy with just a few taps and quicker than I thought.
Confusing
Easy Country
on
12/21/2017
Not user friendly... very confusing !
Nice app
Works better than most others out there right now
This is a pain
Sbj awesome
on
12/19/2017
Password is a pain. And it locks up my I watch.
Just had to do 1 thing
just 1 thing right
on
12/15/2017
Just 1 company required app . Won't load it.
Good start!
All apps should be accessible from the portal!
Failed
Again Can't leave well enough alone
Great App for Productivity!
All my work apps under 1 overarching app. I love this!
Setup exchange email account
As usual, Microsoft crap is not easy to use. It is a sizzling maze of steps.
Confusing
Not intuitive installation, jumping between apps and can go round in circles. Very average Goes against the whole simplification process
Easy to follow and very user friendly
Lackson Mangira
on
12/5/2017
I enjoyed following the instructions....very user friendly
Ridiculous
I think it's ridiculous that I have to jump hoops to check my work e-mail.
Five thumbs down
Intune is a horrible MDM get out while you can. If I could rate 0 stars I would
Frustrating
HereComesTheActualReview
on
12/1/2017
I work for the biggest corporation. The IT team gave up on this suite. I just cannot get mail setup on my mobile while the certificate says it is valid. IT had called me everyday for 11 days in row and set different ways to solve problem. It was never solved. 1. I am missing mails 2. Missing my schedules 3. My plans had changed as the only way to check mails is mobile on which I can't. Can't believe one app suite can change life for worse. Sorry for harsh words.
Wipes out your personal contacts!
Left my company recently and when I left, this app removed not just all of my company contact info but also about 100 personal contacts that had nothing to do with work.
Update:Says temporarily unavailable
YashAnantha
on
11/18/2017
Update: so I had to change my password because of company policy, authenticator still works, but company portal stopped signing in!! I had to remove and register the device again! Such a pain!!! Outlook stopped working because of this. Previous:Suddenly can't sign in any more. It has some.logs to report, if there's any email I can send them to, I will, says can't get the session token
New phone set up
Received my new personal phone today and set up was a breeze. Way easier than last time.
Company's Portal Installation
Experience was hassle free, no issues, very easy to follow, thank you!
Set up
Set up went smoothly
Nothing works
Cannot get anything to install properly... can't open FYI blue or email or anything
Forced to reset my phones password
I was forced to reset my phone's password and wasn't given a choice to cancel the process or to pick simple password
Slooooowwwww
Slowed my phone to a crawl. I pay to be able to use my phone personally. If I have to install corporate software, please make sure it's not crapware.
Awesome
Organizer16801
on
11/6/2017
Awesome app!
Good stuff
Enjoying the ease of use and making it easier to get my work done!
Developing MDM solution
This is not a solution an IT department can execute quickly without experience and understanding the whole process. We have 1000 BYOD devices using this app. There are some compatibility issues with non-Knox Android but these issues are manufacturer related. Training your employees on app usage is highly recommended. The app is just an extension of the Intune cloud solution. Issues are usually caused by poor IT administration and lack of experience.
Does not work with IOS 9.3.5
This upgrade does not work with IOS 9.3.5....After an upgrade the app will not open, flash's blue screen and closes...Does the Same for a factory reset and fresh download....
Doesn't provide sandboxing for on prem exchange
Microsoft, if you can't get this to provide controls for your most widely deployed platform, why did you release this?
Really
This app is required by my company. Why are you bothering me with this rating crap?
Very poor app
Does not work. I have tried several times to download applications and this fails every time. I wish I could give it a zero.
Turns your device over
Our IT department just added this to our company iPhones. That is okay. But now I can't get my email on my personal iPad unless I install this monstrosity. It says my IT can completely take over and reset my personal iPad should they want. It claims privacy, but won't let you opt out of the net nannies. I uninstalled it from my iPad immediately. I guess I get my evenings back since I won't check the phone once I get home.
Avoid
Outdoorgirl96
on
10/25/2017
Horrible
Feedback
okayfinejustRONNIE
on
10/24/2017
I don't like the password changes. Too hard to enter when expires
Profile installation failed
That should be the name of this application. I run an IT dept with over 100 iOS devices and this error came up on way too many. Microsoft tech support is clueless and no help. I've tried all their solutions like use LTE, reset the device, make sure users are in correct groups, etc. The only way to get email up and running is to DFU the iOS device. That's absolutely ridiculous. This app is terrible and I pity people like me who have to use it and wonder each time if it's going to work or not. I'd give it zero stars if I could.
Awesome
My company recently switched from this from Blackberry Work. It is sooo much better and faster.
Seamless and smooth to work
Stream less app .. works smooth .. one of he best app from Microsoft.. Great Jim team 😊
Terrible app
Maximus12793
on
10/21/2017
Ill take 2 servings of software bloat please. Slow, unreliable rubbish app. -1/10 review
Don't make me enter PIN for non-Corp apps
I use my phone dozens of times a day to check FB, tweet, message my girlfriend or kids. My company policy requires 6 digit PIN which is fine when I'm accessing corporate email or calendar, but don't make me enter that for using other personal apps on my phone.
Terrible installation
8 pages with instructions in English and an iPhone in Swedish i not working together. Who would a French company do the instructions of end usets?
Terrible
Aeblid2338877
on
10/13/2017
Hardly works, super slow when it works
Piece of crap
Truly a piece of crap.
Fact Sheet
Publisher:

Microsoft Corporation

Category:

Business

Released:

Nov 19, 2013

Current Version Released:

Jan 08, 2018

Version:

2.11.0

Size:

36.8 MB

Compatibility:

Requires iOS 9.0 or later.

Recommended Age:

4+

Game Center Certified:

No

Supported Languages:

Czech; Danish; Dutch; Flemish; English; Finnish; French; German; Greek; Hungarian; Italian; Japanese; Korean; Bokmål, Norwegian; Norwegian Bokmål; Polish; Portuguese; Romanian; Moldavian; Russian; Chinese; Spanish; Castilian; Swedish; Chinese; Turkish;