Screenshots
New in version 2.6.98
1. Fix bugs that caused app crash on iOS11 about music player
Description
Transfer tool for sharing files without any mobile data, which is the choice of over 1 billion users.

SHAREit is a cross platform sharing tool which requires no mobile data. It's over 200 times faster than Bluetooth. Share the photos, videos, audios and files of any formats with your friends at any time on your phone or computer.

Features:

[No need for internet]

No need for a Wi-Fi network or a mobile data plan. Share at anytime and anywhere.

[10 seconds to transfer a film]

Over 200 times faster than Bluetooth. The fastest speed can exceed 20Mb/s.

[Enjoy music]

Enjoy the pleasant experience of listening music on SHAREit music player.

[SHAREit Vault]

Integrated encryption tool for photos and videos helps you protect privacy.

[Cross platform sharing]

Transfer between laptops & mobiles of different kinds without obstacles.

[Powerful functions]

Support sending files of any format.

No more cables or internet needed to transfer. Easily sharing between various devices.

Site:http://www.ushareit.com/
Feedback:feedback_iOS@ushareit.com
iPad Screenshots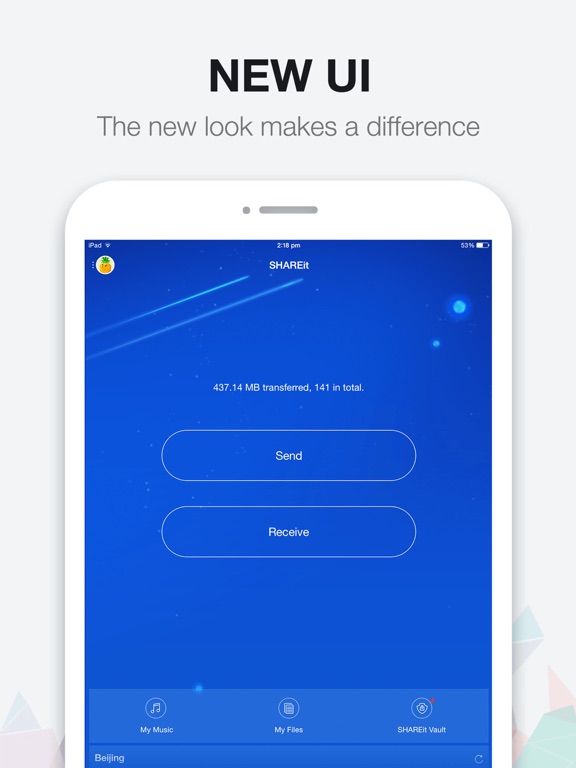 Reviews
Still crashes
Updated it and still crashes
Crashed
Toukir Babu
on
10/15/2017
I'm just getting fed up too much. When I instilled iOS 11 and I got new version SHAREit because doesn't working my music. 😒😒
fix it
music player is not work in ios11 even latest version of shareit is not work... fix this bug
Crashing
Tweetylove002
on
10/14/2017
I'm facing the same prblm like others..after a few minutes the app gets turn off automatically
A little angry about it
vahid_nazarie
on
10/13/2017
Music player doesn't work on iOS 11
Subtitle
Plz add select subtitle in media player of share it for view movies... Tnx
Confused
My cousin and I were using SHAREit, and I wanted to share her some apps, but it does not have the app button ( unlike hers which does ) confused, could someone tell me why?
good app
hi i have question can you support files(ios 11)?
هل يحتاج كسر الحماية
أنا حملته للأيباد ولكن لا أريد كسر الحماية😢 أتمنى يكون مفيد من هذه الناحية سـ أعطية خمسة نجمات إذا كان كذالك😃 وصفر إذا كان العكس😕
best apps in apple store
one of best file transfer app i saw in apps store,,Love this apps
Update
The new update does not work properly it crashes regularly.
Crashing every 2min
This app is great but after updating to ios11 it keeps crashing every 2 minuets
Bug
Crashed app & can't connected
Boob
Hamz3h abadan
on
10/1/2017
Cool
Goood
sina soroosh
on
9/28/2017
The music player needed equalizer
Crashing.
Happy purple uno
on
9/28/2017
This app is great! I'm am just a little disappointed because after I got iOS 11 the app has started to crash. I can't stay on the app for longer than a few minutes without it happening. I have also updated to the recent version and it still crashes. But before that the app was amazing.
Islam so sad
When I updated my iPhone to iOS 11 SHAREIt became stop music suddenly Ian so sad because I had the last version and updated SHAREIt to adapted with iOS 11 please find the reason and fix the problem
Shareit
We can not chat with this application as android.Just this!
Help please
Before iOS 11 it was good but now after updating I can't even listen a full song! Hope you fix it as soon as possible.
Shareit vault problem
After updating to ios 11 SHAREitVault is not able to work. Please fix it. I love SHAREitVault app.
force close
when i listen to music...force close!!
App crashes when you play music
Hardest game ever played.
on
9/20/2017
Since I updated my os to iOS 11 the app has been crashing when I play music with it and now I can't even use the app to play my favorite songs 😑😤😡
Good app
Fast and stable I'm satisfy
Mili
Milad hasani
on
8/31/2017
Mili
Shareit Music Player
Can you update the Music Player? Hoping for a better music player. Thanks!
Become slow
It is less responsive then earlier as it take a little bit time to load my files but earlier it doesn't take anytime. Now it look good then previous one.
Chat
If we can chat on it I think it well be the best application of the world #chating
Good app
This is really good app to share the data
Share it
Farah Tarifi
on
8/17/2017
Hard to learn but very nice app
THIS APPS IS AMAZING!!!
knarfsavior8
on
8/15/2017
HOPE YOU IMPROVE IT MORE SO IT GETS LOTS OF AMAZING STORAGE INSIDE THE APPS SHARE IT MORE POWER TO THE FUTURE OK! 👍😎👍
Very bad
Very bad . No download
audio crash
Some times it crashes when listen to music
Problem in sharing
Why i can't use shareit?? I can't send or receive anything from others devices. After updating my phone this problem is arised. I am very shocked. Plzzz help me to use shareit.
Perfect
This app works perfectly with my iPhone 7+ and my Samsung Tab S. Highly recommended this for fast file transfers!
Doesn't show all my photos!!
Restaurant lover
on
8/12/2017
What's the point of having a photo sharing app that doesn't show all the photos in your gallery! Deleting
Best transfer app
It's quite easy to transfer the song between iOS and non iOS phones.
Video player
Azharul Nahid
on
8/7/2017
Plz fix the video player option
Best app for wifi sharing
Thanks to shareit you can share it anywhere
Only video transfer ☹️
Osmani123445566
on
8/2/2017
I can't transfer any file ☝️ more than at a time
Love it
Lora universe
on
7/30/2017
Amaze
Photos NOT sharing
I give you access to my photos, but it just is stuck on the loading sign and does not ever load any of my photos for me to send someone.
Music player crashes, phone freezes
everytime i listen to music from shareit it crashes... worst thing is once it crash my phone freezes. i had to wait an entire day for my phone to restart, other than that it is still a good sharing app
Fact Sheet
Publisher:

SHAREit Technologies Co. Ltd

Category:

Productivity

Released:

Oct 31, 2013

Current Version Released:

Oct 12, 2017

Version:

2.6.98

Size:

52 MB

Compatibility:

Requires iOS 7.0 or later.

Recommended Age:

4+

Game Center Certified:

No

Supported Devices:

iPhone4-iPhone4, iPad2Wifi-iPad2Wifi, iPad23G-iPad23G, iPhone4S-iPhone4S, iPadThirdGen-iPadThirdGen, iPadThirdGen4G-iPadThirdGen4G, iPhone5-iPhone5, iPodTouchFifthGen-iPodTouchFifthGen, iPadFourthGen-iPadFourthGen, iPadFourthGen4G-iPadFourthGen4G, iPadMini-iPadMini, iPadMini4G-iPadMini4G, iPhone5c-iPhone5c, iPhone5s-iPhone5s, iPadAir-iPadAir, iPadAirCellular-iPadAirCellular, iPadMiniRetina-iPadMiniRetina, iPadMiniRetinaCellular-iPadMiniRetinaCellular, iPhone6-iPhone6, iPhone6Plus-iPhone6Plus, iPadAir2-iPadAir2, iPadAir2Cellular-iPadAir2Cellular, iPadMini3-iPadMini3, iPadMini3Cellular-iPadMini3Cellular, iPodTouchSixthGen-iPodTouchSixthGen, iPhone6s-iPhone6s, iPhone6sPlus-iPhone6sPlus, iPadMini4-iPadMini4, iPadMini4Cellular-iPadMini4Cellular, iPadPro-iPadPro, iPadProCellular-iPadProCellular, iPadPro97-iPadPro97, iPadPro97Cellular-iPadPro97Cellular, iPhoneSE-iPhoneSE, iPhone7-iPhone7, iPhone7Plus-iPhone7Plus, iPad611-iPad611, iPad612-iPad612, iPad71-iPad71, iPad72-iPad72, iPad73-iPad73, iPad74-iPad74, iPhone8-iPhone8, iPhone8Plus-iPhone8Plus, iPhoneX-iPhoneX,

Supported Languages:

Arabic; Bulgarian; Czech; English; Estonian; Finnish; French; German; Greek; Hebrew; Hungarian; Indonesian; Italian; Japanese; Korean; Latvian; Lithuanian; Malay; Polish; Portuguese; Romanian; Moldavian; Russian; Chinese; Spanish; Castilian; Thai; Chinese; Turkish; Ukrainian; Vietnamese;