Screenshots
New in version 2.7.38
1. Fixed the problem of repeatedly importing photos into media library under iOS11
2. Optimized other performances
Description
Transfer tool for sharing files without any mobile data, which is the choice of over 1 billion users.

SHAREit is a cross platform sharing tool which requires no mobile data. It's over 200 times faster than Bluetooth. Share the photos, videos, audios and files of any formats with your friends at any time on your phone or computer.

Features:

[No need for internet]

No need for a Wi-Fi network or a mobile data plan. Share at anytime and anywhere.

[10 seconds to transfer a film]

Over 200 times faster than Bluetooth. The fastest speed can exceed 20Mb/s.

[Enjoy music]

Enjoy the pleasant experience of listening music on SHAREit music player.

[SHAREit Vault]

Integrated encryption tool for photos and videos helps you protect privacy.

[Cross platform sharing]

Transfer between laptops & mobiles of different kinds without obstacles.

[Powerful functions]

Support sending files of any format.

No more cables or internet needed to transfer. Easily sharing between various devices.

Site:http://www.ushareit.com/
Feedback:feedback_iOS@ushareit.com
iPad Screenshots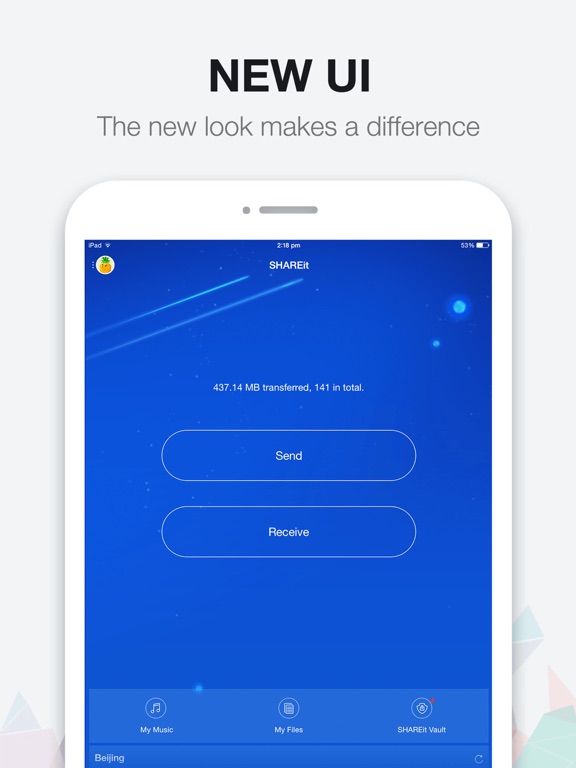 Reviews
Doesn't work anymore
Crashy game
on
12/12/2017
The app doesn't work anymore after the latest update. The app just freezes upon launch and we can't do anything. Kindly rollback the update or fix the issue.
Babak
babakjamshidi
on
12/10/2017
Nice
Crashing repeatedly
Before the 2.7.38 update the app didn't crash at all, now i can't stay on the app for 2 minutes, i can't play a song or anything. I am running iOS 10.3.2 iPhone 6. Please fix this issue as soon as possible
Hang out and play music in the inbox
Run the music in the inbox, disable the program after a while, and exit and close the program IOS 10.3.3
Incompatibility with IOS 11.2
Reza Joodmardi
on
12/3/2017
This app was good in previous versions, but it's not compatible with IOS 11.2. When the program runs and plays music, for example, after 1 minute the program is locked and no function works, and we have to close the program and re-run it, which again happens again. Maybe because of 64 bits and 32 bits. Please try to resolve this issue. Thanks
App store
Cute EXO lover
on
12/2/2017
It is a great app
Hanging
Haniye_ghlmi
on
11/29/2017
I can not use it because it hangs and my phone is iphone7 and i made a mistake when i update shareit to the latest version because it was adapted for iphon x. I want to download last version but i dont know how:((( If you could update shareit again maby i can solve the problem..:(
Complain
Awah Hassan
on
11/23/2017
An app crush.. i hope you fix it quick
crash
پرچم ایران بالاست
on
11/23/2017
it crash while using the app and listening music and also l cant send music to somebody
Eror
Esmaeil rahbari
on
11/22/2017
When open music it app is erroring
The new version is really baaaaad
Sabeeeeeeeer
on
11/20/2017
When i want to listen the music share it get me out of program 😡😡😡😡
Problem
In every single update i have a problem and the app will stop working in middle of my doing i dont know why plz notice me my issue
so bad
it is sobad and hang and hang and hang and.....
new update 🤢🤮
its a very bad update.its have a big bug and its not work. ip 7plus
Apple's file app
Please add access to files from Apple's file app
Irritating
I like SHAREIt but the problem is that when I go into other apps, it freezes and stops the music. Before I was able to do whatever I wanted while listening to music. Now I have to close the app and start all over again. Is there a way that u can make it stop freezing.
Good but could use some improvements
William Freed
on
11/15/2017
I am using this app on my iPad 2017 There is one feature I would like to see Landscape using mode Otherwise great app
Big problem with music player on ios 11.1.1
When it comes to music player, the program hangs
Thank you SHAREit
Whit this application every things go easier.thank
Crashes
It crashes a lot at the last update
Hangs up
Hello dear development! After a few minutes from the start of the app, the phone hangs up and gets so hot, and the battery will very soon be empty! Please fix this old problems.
bugggg
bugs music player to ios11
Crash
Since the last update mine plays one song then freezes then I have to close it and reopen it every time. Otherwise before the update it's five stars
Vault Suggestion
Suggestion!!!
on
11/7/2017
It's awesome & fast app to share file even with android. Vault is additional facility but it wil be more cool IF YOU ADD FOLDER FEATURE TO THE VAULT.. hope you'll work on it.. Thanks!!!
Hussin bio
The program is very good
Help
It's a great app really but how come back then i can send music through my iphone to other people's phone and now i can not anymore?
Crash problem fixed, great app!
It seems like I had the exact same crash problem that many people had. Every two or three minutes(more or less depending on device) The app would crash making it really hard to listen to music. Right when I was about to post a review complaining about the problem an update came out which seemed to have fixed the problem. Other than that one problem they fixed it's a great app for sharing files and works as a very good music player.
Simply awesome
Mesbah Allen
on
11/3/2017
It's just awesome!!
Bug and crash
This app have bug.when I play music after 10 second crashed app.please fix it
amazing
very good application
I think shareit workings
arshiatooshejolangrodi
on
10/29/2017
Gsgzg
Music player
Maria mantoni
on
10/26/2017
When i play music in shareit and then i open messeges or any other app,after a few seconds the music will stop,just after 8-10 seconds!!! Help!!!
CRASH
Before IOS 11 , the app used to crash every 30 minutes . After 11 , it stops 2 times in 20 minutes and crashes in the 30th minute. Very disappointing and bad app . I've to put up with because there is no alternative
Crashing
After I updated to IOS 11 this app can't work for even a min plzzzz do somthng
doesnt work
probably limited to only a few devices
Still Crashes When Music Is Played
votebtsonmama
on
10/21/2017
Hey, I updated my ios last week and it's already been A WEEK of continuous app crashing and I really hate to say this but, it's getting on my nerves. I have to transfer files to my imovie to even play the music. PLEASE FIND A WAY TO FIX THIS BUG SOON. I REALLY NEED THE MUSIC.
fix it
panchodo gane tuhade chlde ni aa saleyo ... ehnu peyo apne nu sahi kro
Still crashing music player in iOS 11.3
Sakib kabir
on
10/20/2017
Fix this problem plz.still crashing music player after update
Still crashing!
Rachel Marfori
on
10/20/2017
Update it. I need this app so bad but it keeps crashing. 😪
crash
Moein........
on
10/18/2017
app still crashing in music
Solve the problem seriously
vahid_nazarie
on
10/17/2017
How can you say that we solve the mentioned problem on ios 11
Usa
Very beautiful program
Still crashes
Updated it and still crashes
Crashed
Toukir Babu
on
10/15/2017
I'm just getting fed up too much. When I instilled iOS 11 and I got new version SHAREit because doesn't working my music. 😒😒
Crashing
Tweetylove002
on
10/14/2017
I'm facing the same prblm like others..after a few minutes the app gets turn off automatically
Subtitle
Plz add select subtitle in media player of share it for view movies... Tnx
Confused
My cousin and I were using SHAREit, and I wanted to share her some apps, but it does not have the app button ( unlike hers which does ) confused, could someone tell me why?
good app
hi i have question can you support files(ios 11)?
Fact Sheet
Publisher:

SHAREit Technologies Co. Ltd

Category:

Productivity

Released:

Oct 31, 2013

Current Version Released:

Dec 05, 2017

Version:

2.7.38

Size:

52.4 MB

Compatibility:

Requires iOS 7.0 or later.

Recommended Age:

4+

Game Center Certified:

No

Supported Devices:

iPhone4-iPhone4, iPad2Wifi-iPad2Wifi, iPad23G-iPad23G, iPhone4S-iPhone4S, iPadThirdGen-iPadThirdGen, iPadThirdGen4G-iPadThirdGen4G, iPhone5-iPhone5, iPodTouchFifthGen-iPodTouchFifthGen, iPadFourthGen-iPadFourthGen, iPadFourthGen4G-iPadFourthGen4G, iPadMini-iPadMini, iPadMini4G-iPadMini4G, iPhone5c-iPhone5c, iPhone5s-iPhone5s, iPadAir-iPadAir, iPadAirCellular-iPadAirCellular, iPadMiniRetina-iPadMiniRetina, iPadMiniRetinaCellular-iPadMiniRetinaCellular, iPhone6-iPhone6, iPhone6Plus-iPhone6Plus, iPadAir2-iPadAir2, iPadAir2Cellular-iPadAir2Cellular, iPadMini3-iPadMini3, iPadMini3Cellular-iPadMini3Cellular, iPodTouchSixthGen-iPodTouchSixthGen, iPhone6s-iPhone6s, iPhone6sPlus-iPhone6sPlus, iPadMini4-iPadMini4, iPadMini4Cellular-iPadMini4Cellular, iPadPro-iPadPro, iPadProCellular-iPadProCellular, iPadPro97-iPadPro97, iPadPro97Cellular-iPadPro97Cellular, iPhoneSE-iPhoneSE, iPhone7-iPhone7, iPhone7Plus-iPhone7Plus, iPad611-iPad611, iPad612-iPad612, iPad71-iPad71, iPad72-iPad72, iPad73-iPad73, iPad74-iPad74, iPhone8-iPhone8, iPhone8Plus-iPhone8Plus, iPhoneX-iPhoneX,

Supported Languages:

Arabic; Bulgarian; Czech; English; Estonian; Finnish; French; German; Greek; Hebrew; Hungarian; Indonesian; Italian; Japanese; Korean; Latvian; Lithuanian; Malay; Polish; Portuguese; Romanian; Moldavian; Russian; Chinese; Spanish; Castilian; Thai; Chinese; Turkish; Ukrainian; Vietnamese;