This version of the app is not recommended
App last updated
Dec 05, 2014
Screenshots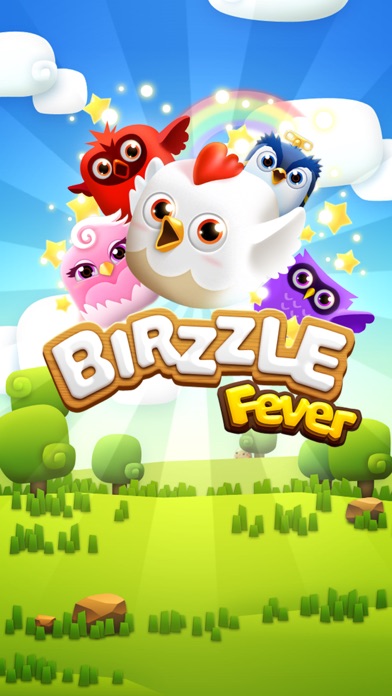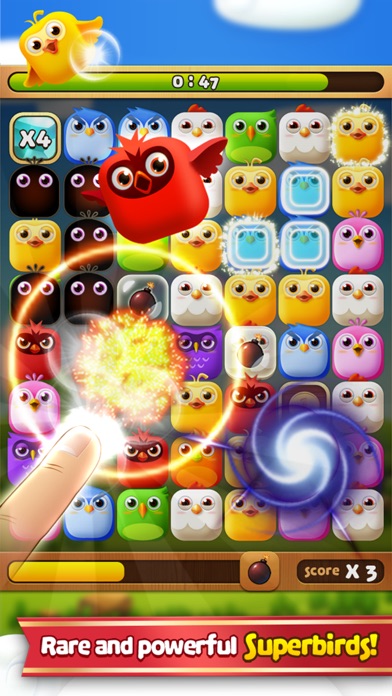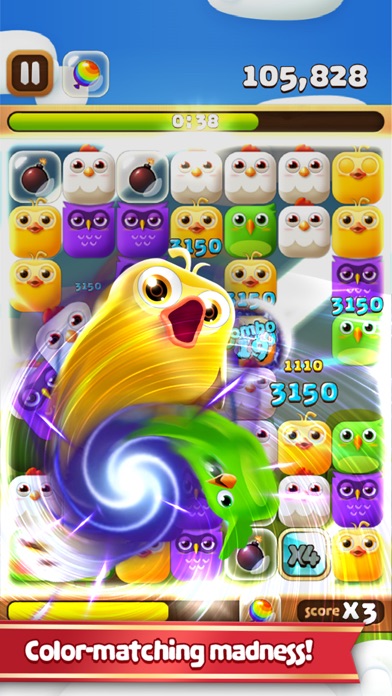 New in version 1.0.8
The holidays are here! Join the celebration with a special festive event in Birzzle Fever!

TWO NEW SUPERBIRDS – Complete special missions to unlock Rudy and Eve, two friendly and generous Superbirds who love to give gifts. Each one provides a range of unique boosts to help you unlock items quickly!

HOLIDAY DECORATIONS – Transform your nest into the perfect winter wonderland with snow-tipped trees, dazzling tinsel and festive Christmas lights throughout the game. You'll feel right at home in your warm and cosy surroundings!
Description
Birzzle Fever is a lightning-paced bird popping extravaganza!

Compete against friends, level up your superbirds and pop your way to the top in this cute, colorful match-3 arcade game! Find out why everyone's talking about Birzzle Fever today!

Developed by Enfeel and presented by Halfbrick, the creators of Fruit Ninja and Jetpack Joyride.

Play Birzzle Fever on your iPhone, iPad or iPod Touch!

KEY FEATURES:
• Level up to unlock new items, such as paint bombs, boosters and the mystery box
• Complete challenging missions to unlock new powers such as the devastating dark powerbird
• Choose a superbird companion and level them up - Each one grants a different bonus
• Collect and level up all the superbirds for huge bonuses in the game
• Trade hearts with friends and compete on the weekly leaderboard
• Find the hidden bonus keys to unlock the bonus mode and earn a ton of coins

Whether you're waiting at the bus stop or just home alone for the evening, Birzzle Fever is the perfect burst of adrenaline fueled bird popping fun!

***

IMPORTANT NOTICE TO PARENTS

This game may contain:

- The ability to purchase optional content using real money. You can disable in-app purchases in the settings menu of your device.
- Promotional material for Halfbrick products and trusted business partners.
- Links to external social networking sites intended for users over the age of 13.
- Direct links to the internet which may open the default web browser on your device.

Privacy Policy: http://halfbrick.com/pp-birzzle
Terms of Service: http://www.halfbrick.com/tos
iPad Screenshots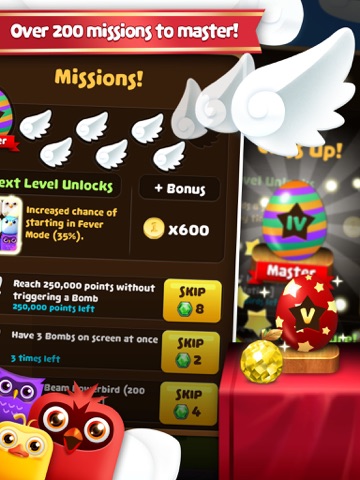 Reviews
Message from visually impaired person about this game
Saad mohemad
on
11/17/2017
I used to play this game every single time so I want this app to be updated for iOS 11 so me and my friend can play it please update this app thanks
Needs an update
redwoodRunner
on
4/22/2017
This game is great but desperately needs an update so it runs better on the latest version of iOS and addresses some bugs which have been around for over 2 years.
Good game but
I love playing the game, but every time I go to share or every so often it just shuts down. That gets a little annoying
Never got my gems
I really liked this game but when you pay for gems you don't receive them. A big rip off and when you complain you get nowhere 😡
Please UPDATE!!!!!
No new content since 2014...
My kids love this but...
I think it needs some bug fixes. Keeps shutting down or is unable to connect to network.
Addictive
Addictive game, but I hate the fact that the "invite friends" mission kept coming up. I don't like to bother my friends with game invites so I kept skipping this mission with gems. Please update. I've collected all birds and need new challenges.
Cool game but...
I would love to be able to play it on my iPad Pro, but it keeps crashing unexpectedly and loses progress...Please fix
Can't connect to Facebook & crashes
startrek1984
on
11/26/2015
Tired of trying to connect to Facebook and crashing mid game
I gots the fever!!!
Hollystarrhams
on
10/9/2015
I love to birzzle.
No Support!
The game asks you.... No, TELLS you to connect to Facebook friends in order to save your game and play with friends. I bit. I tried to connect in order to play with the few friends that enjoy this game in order for us all to benefit. NOPE! No support. Can't connect with or add friends. Can't get added bonus for Facebook link. Can't do anything outside of the game and if WIFI isn't available, the game reverts to generic mode that isn't linked to the efforts that have already been put forth. Can't connect to game period because there is no app support for OS 9.0.2 Tried contacting the designer, the feedback page is also broken!
Crashes after resume on iOS 9
cairastravis
on
9/28/2015
This game crashes after any resume from OS on iOS 9. -1 star. Previous review below. The game is fun, and I would have given it 4 stars, except for a number of glaring problems. Problem number one is that it doesn't support GameCenter at all, and instead requires Facebook for all friend-related stuff. Problem number two is that you often can't see how close you came to meeting any objectives that have to be met in a single game, because any time it throws in an in-app purchase offer, it FORGETS about the game you just played, BEFORE you have been given a chance to see how close you came to meeting your objectives. ?!?!?! Problem number three is that it really does a hideously awful job of telling you how things work. It has a hugely-intrusive tutorial mode at the beginning, but unless you fully understand exactly what it's trying to tell you (good luck with that), you are out of luck, because there's certainly no way to re-read that stuff later when it might make more sense, or simply read a list of instructions. Problem number four is that you can't turn off the music without turning off the sound effects. Problem number five is that one of the later mission rewards, the 2K tile, is in no way, shape, or form a reward. Instead it is a monstrous punishment for doing well. There's no way to disable it, and if you get past the mission where it appears, you're just hosed and have to live with SIGNIFICANTLY lower top scores. Problem number six (introduced in version 1.0.5) is that the in-game bonus messages are now off by default. I like the fact that once you find that setting and turn it on, they are now above the playing area, but unless that setting defaults to on for low-level players, this is a real problem.
Annoying addictive
After playing this game on and off for almost a year I'm still learning little details about it. Great design and well planned out. I wish it got better with time but it seems to have been forgotten in the Halfbrick world
Bugs
I love this game, but it does not allow me to connect with Facebook and all of the current missions require me to be able to connect with friends to advance. Would give this game a 5 star if they fixed the issue.
Awesome, but one small problem...
Dashing Geometry
on
7/7/2015
I'm absolutely addicted to this game, but there's one extremely annoying problem. Recently I got 1,000,000 as my best, and the next day it said I had no best score. Please fix this. Other then that, it's a great game.
Birzzle fever
It's really attractive and interesting but some times stops or there will be failure in loading the game as it sounds like it wants to renew the version or something not needed even in the offline mode. I hope you can free Birzzle Pandora too!
Addicted
I'm completely addicted to this game. It's fun to play and gets your mind and fingers going quickly. I just have 2 problems: 1. I've leveled up as far as I can go and there's no new birds to collect. Please add some new content. 2. Recently, it started telling me I have "no new friends" to send requests to. This means I can't collect friend points and open a gift box. What happened? I tried logging in and out of FB, but it didn't help. Tweak a couple things, please. Otherwise, a fabulous game.
Es un juego muy adictivo
Es un juego muy innovador, con una mezcla de puzzle y RPG.
Birzzle
Love pink monster girl
on
4/6/2015
Nice try HalfBrick but there is a game called birzzle pandora . You copyright violators should be really ashamed of your selves . You claimed that this was your own game alright a lot of game companies do that . But only you and "flappy bird "claim ownership to unrightful copyright for games others created. Yes you also have too many inappurchases . Also you have no rights to any of your games hahahahahahahahahahahaha.
Fun, but also annoying failing to update game info
This game gives me much fun. But it's always trying to update game information to the server and always fails. Very often it fails and fails again, while there is only the "retry" button, which makes it a dead loop. I have to disconnect internet connection if I want to play without those messages. Wired logic.
Quickly addicting
Truckwrencher
on
1/25/2015
Fun game where you end up trying to beat your old score. The characters are cute and gets you to smile when they chirp. Can't go wrong getting this game.
very cute!
and addicting!
I really don't understand this game
It's confusing and not that much fun
Loving it
This game is awesome. I just can't get enough of it. The only downside so far is I've run out of birds to buy and level up. Wish there were more birds. Otherwise great game
Super Fun and Addicting!!
Can't believe im saying this but...I love Birzzle Fever!!!
Too many bugs! So annoying!
Ksjsjbebjdixian
on
12/9/2014
There are too many bugs that are not fixed!
Game-wipe scare, but it's all good.
At first, I thought this update deleted all my game data, but it just logged me out of Facebook. Logging in again restores data. For those who did not log in to Facebook, this update may well just reset all your progress. Be warned. Other than that, the two new power birds are super cute, and perfectly appropriate for the season. Now I have a reason to start playing again - to collect these limited edition birds! XD
Fun
This game is awesome and cute!!! Sure there might be some difficulty but if u enjoy it more problems will subside 😉😀👍
One of my Favorites
Bookworm 1990
on
11/27/2014
Love the game, but where did the event go! It was there a few hours ago and now it is not showing up when I open the app or nest. Please keep updating and adding Superbirds!
I don't care for this update.
Fun game. Cute birds but where did the pauses go? Now I only get multiplier and extra time treasure boxes, I used to get a good mix. Fun game, lousy update.
Its okay, but..
Whenever i try to start the game with the web on, it doesnt work, cant connect to the game server. Error code 24 i think. Just recently offline mode doesnt show me any booster boxes when playing now.
Fun, but what happened
I love this game, but what happened to the pause when you hit a max combo or multipliers??? It showed on the screen and the Birzzles would talk to you when you reached a milestone! That made the game more fun and interactive! Please add that back into the game!
Birzzle Fever
This game is awesome!! Please add more superbirds!!!
No Pauses?
This is a great game. I wish it still paused when you hit a max combo, multipliers, etc. That was awesome. I would love to see this put back into the game.
Addicting
Super addicting and fun game. But yea it needs a lot of bugs fixing. I recommend connecting to Facebook right away cuz all ur nice things that you bought are gonna disappear
Not bad
Keeps my attention while commuting on train
WARNING!!!
CottonCandy228
on
9/29/2014
This game is extremely addictive! Absolutely love it! To the people who created this game, I give you a 2 thumbs way up!!! Thanks for a great experience!!!
Ok game made even worse by the TERRIBLE support
I always like to try a game out before signing into my Facebook through the game. After playing for a bit, I made some in-app purchases, and then signed into my Facebook through the game. All of my stats and the upgrades and perks I PURCHASED were gone. The only thing it kept was my high score. So then I sign out of Facebook to try and continue playing as I was before, but no luck. Signing out just resets EVERYTHING back to zero. I contacted Halfbrick Studios support over two months ago!!!! The only response I've received is the automated reply that tells me I would receive a response within 3-5 business days. I've sent several messages to their support department, all with no response. Worst customer service ever.
Love game but not it's issues
Gamecrazy1950
on
9/23/2014
I love this game & would have given 5 stars, but after losing my Internet connection for several hours I also lost my game. I had to download it again & now I can't connect to Facebook AND I have to start all over again. Not happy about any of this.
Awesome
I love this game it's soooo fun
Was fun...
lil sweetheart
on
9/19/2014
It was a fun game until it completely deleted my gems, birds, coins, missions, and any other progress I had made. Don't play unless you don't mind starting over repeatedly.
Biz hearts
I just bought 100 hearts. When I came back in I got bounced back to a beginner and all those hearts I bought are gone. All the levels are gone, everything. What's going on? Give me back my 100 hearts please!
An adictive game
This game is very adictive,I just started playing and I couldn't stop until my lives ran out.I sat on my couch for atleast an hour getting more lives the more I leveled up.This is awesome!
Good game, bad update
Stina from the Met
on
9/14/2014
This game was very addicting once I understood the rules and objectives, however this latest update has made the game harder to play. I can no longer tell if I have reached a max combo and the pauses have been taken out making it very hard to get a high number of max combos or to get high scores in general. Please correct those two problems.
Crazy update
Changing review. Update did not break combos. New update has pop up messages off by default. Really should be on by default. Otherwise good game :)
Update has too many bugs
The game no longer tells you when you reach max combo, so sometimes it is hard to figure out whether you actually reached it of if you missed twice. Also, black squares keep coming up every time you make a match. This makes it hard to see the game. The game has also given me the same mission three times in a row. It's annoying and frustrating. Please fix it.
Bugs still not fixed...!
I loved this game so much until I got to the objectives that involve inviting and receiving things from Facebook friends. It doesn't allow you to invite friends at all ! I stopped playing for over a week or 2 now cause there's no point in me playing it if I can't pass the missions. Very frustrating. Update: still not fixed!!!!! So annoying
Fact Sheet
Publisher:

Halfbrick

Category:

Games

Released:

Jun 17, 2014

Current Version Released:

Dec 05, 2014

Version:

1.0.8

Size:

39.1 MB

Compatibility:

Requires iOS 5.1 or later.

Recommended Age:

4+

Game Center Certified:

No

Supported Languages:

English; French; German; Italian; Japanese; Korean; Portuguese; Russian; Chinese; Spanish; Castilian; Swedish; Chinese; Turkish;