TapNova doesn't recommend this version of the app.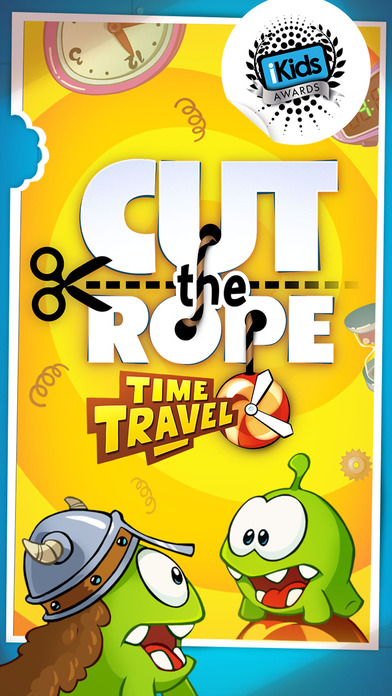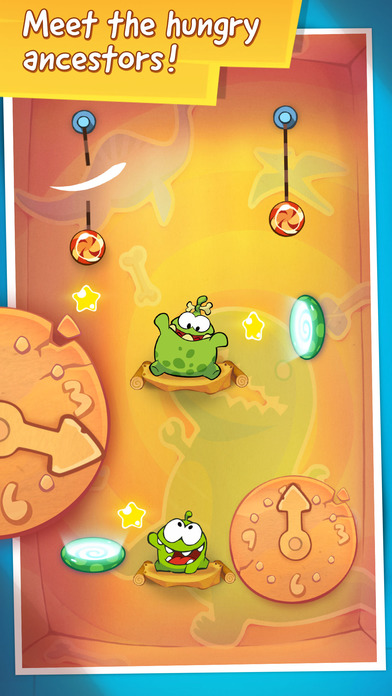 New in version 1.6.0
Changed the flux capacitor in the time machine.
Description
Join Om Nom as he travels back in time to feed his ancestors with candy. Cut the Rope: Time Travel is a completely new adventure filled with time-traveling, candy-crunching, physics-based action!

Eager to learn more about Om Nom's adventures? Watch "Om Nom Stories" cartoons and other amazing videos on our YouTube channel!
www.zep.tl/youtube

With two cute monsters to feed in each level, Cut the Rope: Time Travel is twice the fun but familiar to play. If you like Cut the Rope, you'll love Cut the Rope: Time Travel!

There's no time to waste! Visit exciting locations including the Middle Ages, the Renaissance, a Pirate Ship, Ancient Egypt, Ancient Greece, the Stone Age, Disco Era, Wild West, Asian Dynasty, Industrial Revolution and the Future. Om Nom's ancestors are waiting – and they're getting really hungry for candy!

NEW CHAPTER. Help Om Nom return from Parallel Universe in 20 new, mind-boggling levels!

Already a fan?
LIKE US: www.facebook.com/cuttherope
FOLLOW US: www.twitter.com/cut_the_rope
WATCH US: www.youtube.com/zeptolab
VISIT US: www.cuttherope.net
iPad Screenshots
Reviews
Love it 😍!!!!!!!!!!!!!!!!!!!!!!!!!!!!!!!!
It is the best game ever🦋
Cut the rope
zman0415molly
on
6/22/2017
This game and all the others are very fun
Grate fun app
I loved the leaves
Addictive
GlimmerandShine12
on
6/19/2017
I love this game so much.
I love all of the cut rope games
KristenYourFavorite
on
6/12/2017
I wish it didn't end I can't wait for more levels on cut rope 2 and I hope I never run out of these games to play I would be devastated if I didn't have my Om Nom to play every day
BEST APP EVER!!
I love this app super entertaining and fun I love the super powers and the challenging levels!!
Great game but one problem
So I like the Game a lot but if you don't get anything from it just remove the ads I went 10 levels in a row with ads
LOVE this game
I am completely roped in by this not only fun but challenging game. It involves logic and not just pushing buttons to watch candy pop (or whatever). I do get it though-games with that pop are good for when you just want to relax and enjoy the show in an easier way. I too, wish there were more levels!
Lovely game!
Super duper love this game and Om Nom
Omg
I love it!!!!! I play it way too much! But it's amaze balls!
Great game
I loveeeeeee it
Fun
Hdjdjsjsjxjvu
on
5/28/2017
Good game I love it always have
Don't get this game
Like a lot of other people are saying...the ads are out of control. They aren't a flash ad or a 5 second ad, they are long and you have to sit through them after every other level. I get that it's a free game, but there's a much better way to display the ads. I literally deleted this game after about 3 minutes.
Yay
This is like the best game ever I can't stop playing it
Awesome brain puzzle overrun w/ads
Nickname4325
on
5/13/2017
Love the game, but there're ads constantly popping up. If an ad popped up after every COMPLETED level, it would be great, no problem. But when you're already frustrated with a level and an ad pops up every time you lose a candy and have to restart that level, it's too much. Recommendation to the developers, move ads to after every passed/completed level, not on restarts.
Fun and works as promised
What else is there to know?
Cut the time
Cut the rope to cut time in half- very fun
Ads kill the fun
Soulkrn McCloud🇨🇴
on
5/9/2017
Way too many ads compared to other freemium versions of this popular title.
Too many ads
The game was fine but every other level I'd have to sit all the way through a thirty second ad. It took more time to watch than to actually pass the levels lol
Um...
I really like the app, but there are way too many ads that you can't skip. Sure, that's how you "pay" for a free app, but you shouldn't have to spend hours of your playing time crammed with ads! PS here's a hint that I use when necessary: Turn on Airplane Mode when the ads ore out of control. I hate using it since I can't receive a text with airplane mode, so please fix this!!!! 🎦Otherwise, awesome game! 👌🏼
It is great
I think everyone should have this it helps you learn an it is fun so everyone should get this app.
Good
Snap snap snap🤣
on
5/6/2017
A lot of ads because free version but I love it
Wooooo987
word cookie jeenus
on
5/5/2017
Love the app highly addictive 😂🎉😊😂😂😂🎉🎉🎊🎊can't stop playing
Too much ads
Way too much ads!
Thanks
Kai Kai 3829373$
on
4/29/2017
This game is so fun and it's like a mind game because you have to think about your moves
So many adssss
Too many ads
Luvs it
AmeliaTheDestroyer
on
4/19/2017
AMAZING
Fun Fun Fun
The app is very fun and can keep you playing for hours
Kid
DJ money town
on
4/17/2017
The game is awesome and a bit hard which makes it more fun
Fun game
Slightly challenging but easy enough to be relaxing.
My balls just exploded
The bulldogs teammates
on
4/15/2017
My balls hurt
🦁
Father Ketchum
on
4/2/2017
great game that really makes you think.
This app is amazing
Since I first played this game it got addicting and that's good so I can not be bored again but the only problem is the ads it keeps on playing like when i restart the game so please remove adds or just put some fiew ads and the game will be better
It's a great game
Quite original and entertaining !
Parent disgusted
Mommaonthego
on
3/22/2017
The adds from Buzz feed are worse than a BAD tabloid!! Gross thought provoking in a bad way!! I wouldn't let this gross crap in my mind! Otherwise the game is pretty fun, I enjoyed the game and I would buy if the adds hadn't discussed me. Deleted.
Too many ads
The game is fun I played most of the others but this one just has way TOO MANY ADS. Deleted and removed.
This game is great overall
It's Julian!!!!!!b!!b!
on
3/15/2017
The game is fun, but I bought a map and it said purchase successful and then it says error, please Fix, or money back. Overall it's just a very good game.
Do not do in app purchases
I have been charged for in app purchases and did not get them, it's a shame bc the game is really fun!
Not happy AT ALL
Believe123456789
on
3/11/2017
I was trying to buy some in app things I SPENT 23$ and got nothing. I am so ticked . This needs to be fix and everybody who bought in app stuff needs a refund!
This game is good but you should add more levels.
I like it !!!!!!!!!!!!!!!!!!!!!!!!!!!!!!!!!!!!!!!!!!!!!!!!!!!!!!!!!!!!!!!!!!!!!!!!!!!!!!!!!!!!!!!!!!!!!!!!!!!!!!!!!!!!!!!!!!!!!!!!!!!!!!!!!!!!!!!!!!!!!!!!!!!!!!!!!!!!!!!!!!!!!!!!!!!!!!!!!!!!!!!!!!!!!!!!!!!!!!!! What ????????????
ripped off
I payed $2.99 for 3 ghost thingies multiple times (3) and i never received it. this app has been taking my money
Wonderful Addition to the Cut The Rope World
XxAshEagleForeverxX
on
3/5/2017
Creative and interesting
👍🏻🤙🏻
Super cute and super addicting but it has no ad so if I were you I would get the free one and I think there should be a whole new level pack what you find all the snowflakes not just a hat. Overall I recommend it
😡
Tooooooooooo much advertisment
Can't buy stuff
I can't buy things it says ERROR
Too many ads
Fun but tooo many ads
Fact Sheet
Publisher: ZeptoLab UK Limited
Category: Games
Released: Dec 11, 2013
Current Version Released: Jun 07, 2017
Version: 1.6.0
Size: 115.5 MB
Compatibility: Requires iOS 7.0 or later.
Recommended Age: 4+
Game Center Certified: No
Supported Devices: iPhone4-iPhone4, iPad2Wifi-iPad2Wifi, iPad23G-iPad23G, iPhone4S-iPhone4S, iPadThirdGen-iPadThirdGen, iPadThirdGen4G-iPadThirdGen4G, iPhone5-iPhone5, iPodTouchFifthGen-iPodTouchFifthGen, iPadFourthGen-iPadFourthGen, iPadFourthGen4G-iPadFourthGen4G, iPadMini-iPadMini, iPadMini4G-iPadMini4G, iPhone5c-iPhone5c, iPhone5s-iPhone5s, iPadAir-iPadAir, iPadAirCellular-iPadAirCellular, iPadMiniRetina-iPadMiniRetina, iPadMiniRetinaCellular-iPadMiniRetinaCellular, iPhone6-iPhone6, iPhone6Plus-iPhone6Plus, iPadAir2-iPadAir2, iPadAir2Cellular-iPadAir2Cellular, iPadMini3-iPadMini3, iPadMini3Cellular-iPadMini3Cellular, iPodTouchSixthGen-iPodTouchSixthGen, iPhone6s-iPhone6s, iPhone6sPlus-iPhone6sPlus, iPadMini4-iPadMini4, iPadMini4Cellular-iPadMini4Cellular, iPadPro-iPadPro, iPadProCellular-iPadProCellular, iPadPro97-iPadPro97, iPadPro97Cellular-iPadPro97Cellular, iPhoneSE-iPhoneSE, iPhone7-iPhone7, iPhone7Plus-iPhone7Plus, iPad611-iPad611, iPad612-iPad612, iPad71-iPad71, iPad72-iPad72, iPad73-iPad73, iPad74-iPad74,
Supported Languages: English;