Screenshots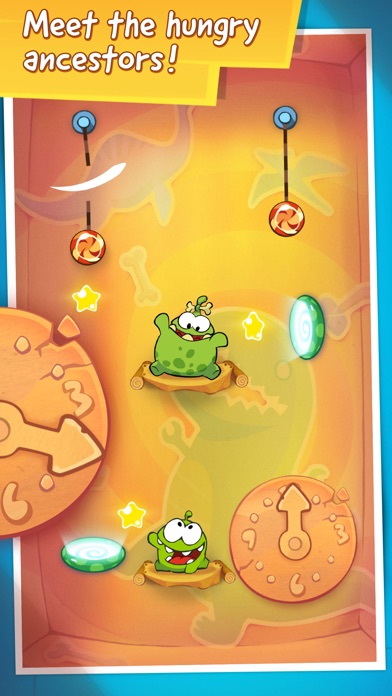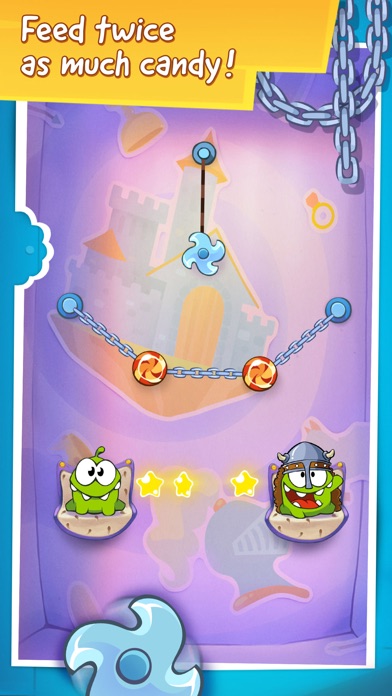 New in version 1.6.1
Captain Om Nom got his pipe refilled and his mustache trimmed.
Description
Join Om Nom as he travels back in time to feed his ancestors with candy. Cut the Rope: Time Travel is a completely new adventure filled with time-traveling, candy-crunching, physics-based action!

Eager to learn more about Om Nom's adventures? Watch "Om Nom Stories" cartoons and other amazing videos on our YouTube channel!
www.zep.tl/youtube

With two cute monsters to feed in each level, Cut the Rope: Time Travel is twice the fun but familiar to play. If you like Cut the Rope, you'll love Cut the Rope: Time Travel!

There's no time to waste! Visit exciting locations including the Middle Ages, the Renaissance, a Pirate Ship, Ancient Egypt, Ancient Greece, the Stone Age, Disco Era, Wild West, Asian Dynasty, Industrial Revolution and the Future. Om Nom's ancestors are waiting – and they're getting really hungry for candy!

NEW CHAPTER. Help Om Nom return from Parallel Universe in 20 new, mind-boggling levels!

Already a fan?
LIKE US: www.facebook.com/cuttherope
FOLLOW US: www.twitter.com/cut_the_rope
WATCH US: www.youtube.com/zeptolab
VISIT US: www.cuttherope.net
iPad Screenshots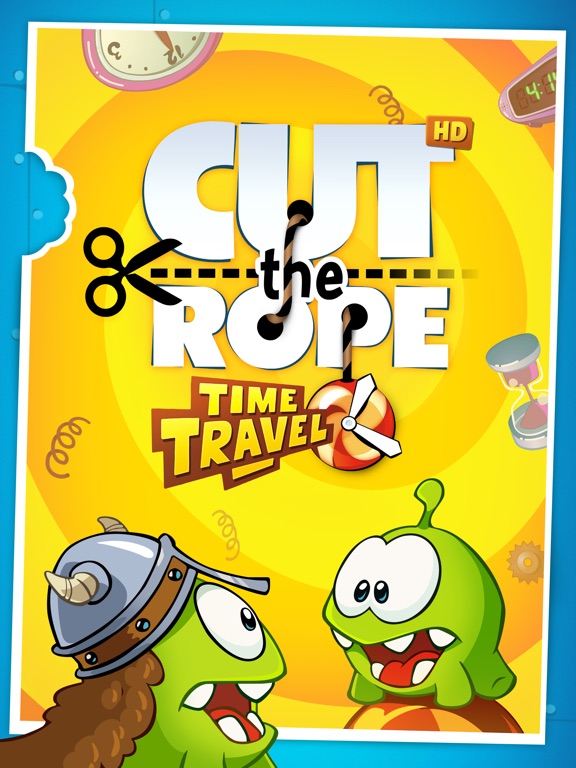 Reviews
Sad
Sophie Lipstein
on
12/8/2017
Advertisements are excessive. Years prior they didn't exist. Now the game is irritable.
Disheartening
Ryanthehatter
on
12/7/2017
The ads are overwhelming and constant. Its unplayable in this state
AAAADDDSSSSS!!!!!!!!!
michaelicious1
on
12/3/2017
Waaaaaay too many ads, Jesus Christ!!!
Nothing but ads
This app is literally nothing but ads. EVERY SINGLE LEVEL OR FAIL gives you another 30 second ad. I get it, you need to make money, by maybe do an ad every 3 levels? If I just hit retry there's no need to do another ad. Immediately deleted the game after like level 5. Awful brand.
TO MANY ADDS!!!!!!!!
It is completely ridiculous how many adds there are. And the adds don't let you exit out of them so you have to close the app and open it again just to play the game. They interrupt you in the middle of a level and are there after every level. I love the game but I'm going to stop playing because of the adds.
Great thinking game
I love that this game uses physics for most levels, but a player doesn't have to know physics to play. It'd make it a lot easier if they did. This is a super fun game that challenges your brain.
Way to many adds ruined the game
Addddds
ᴵᵀ'ˢ ᴬᵂᴱˢᴼᴹᴱ ˢᴼ ᴳᴱᵀ ᴵᵀ
ᴵᵀ'ˢ ᴬᵂᴱˢᴼᴹᴱ ˢᴼ ᴳᴱᵀ ᴵᵀ
So many ads
This game is super fun but I'm going to sue you for to many ads just take out the ads
Love it
Your mom rasmu7
on
10/1/2017
Hours of endless challenging puzzles.
Ads
I hate all these ads and some of them won't let me close out of them. I shouldn't have to deal with a ad every two seconds. And I shouldn't have to drop $3 to make them go away also.
WAY TOO MANY ADS
And they expect you to pay to have them removed😂😂😂and the worst part is they don't let you play without wifi unless you pay to have the ads removed it just ruins the whole thing I give it 2 stars bc it's a fun game if you can get past the ads
Love it ❤️
BYU grad/Dad
on
9/14/2017
Cool but I need wifi to play and I think that's stupid but I love it
Terrible
Very very very cooolll
on
9/14/2017
So Many ads! I would never recommend this.
Its really fun
Jonaz Deleon
on
9/13/2017
It's fun there's so many levels to play in different places and time periods with some extra things it's a great thing to play to kill some time make time fly and if you're bored this is the game for you and so is cut the rope games and pudding monsters I just wish all cut the rope games had nommies and extra stuff and you should have and need to have all cut the rope games and they're games worth having
Constant ads ruined it
The frequency of the ads is ridiculous and overbearing. I deleted the app after 5 levels, 5 adds and a survey.
Awesome
This is a great game. Addictive.
Time killer
Love great time killer 👠👡👢
Just hate, hate, hate the ads
You should seriously reconsider the ads seeing how annoying they are
Time spender
It's a really good game I just wish that there weren't as many adds and it's a good way to kill some time!!
it's basicaly mostly ads
2/3 ads & 1/3 game
Love it but...
When I try to open the game it opens but after I open the level it shuts down and goes to the homepage of my tablet
Awesome gate
Time killing game
Cool
whodatnsport
on
8/19/2017
Fun.
I Love This Game! But there are some inconveniences.
Falcon 900 / Global
on
8/12/2017
This game is awesome! I do recommend you download this app. It is so addicting and FREE! Some of the levels are a bit frustrating but, you won't want to quit. Also every day you are able to either get a hint power up which is very useful or telekinesis power that is great because you can move anything without any rules. There are some downsides like how many ads there are, but I still believe you should download this game. Finally, I have to say I LOVE THIS GAME!
Love it!
Entertaining and challenging. :))))))
Awesome
I really like the puzzles and it's tricky
Amazing!!!
This_is_poopy_game
on
8/3/2017
I love it so much and I rarely write reviews!!! This game is ❤️💛💚💙💜 the ads are a problem but still great!
Malmal
This game is amazing!!! I have all the Cut the Rope games. Om nom is adorable!! 4 stars! 🤓😎😜😋
WHY!
So many ads! Just STOP!
Wfghfggfhbmjffyfbjd
Fun game
So many ads
Rachel Duncan
on
7/31/2017
The game is fun just as you'd expect but the constant ads, back to back ads, and ads crashing your app make you not even want to play it. Very annoying and disappointing.
Awesomeness
geoffspinky4ever
on
7/31/2017
This game is so awesome I may die!!!!!😍😘
Too many ads
Bdidngebeidnrbb
on
7/28/2017
Every time I play an ad pops up and I didn't even want to play it. Every time I die, there's an ad.
Way too many ads!!!
Fun but not enjoyable with the countless ads.
To many adds
Hello people's
on
7/22/2017
Every time I'm playing it takes 10 seconds for an add to pop up.
Greedily unfun
MunkeyChung2009
on
7/20/2017
It's not literally bad and it's really not hard but it lacks greed by making you pay for the rest,I mean buy the full version!!just greedily unfair.
Lit!!!
Mary McCauley :-)
on
7/19/2017
Great game so fun!!
Crashes
;8/7;.&(,9(,96;
on
7/8/2017
I live the game bye every 3 levels the screen files black and the game crashes
Crashes too often
There is an ad every 2-3 levels and every 2-3 times I repeat a level. Then it crashes with every single ad. The original Cut the Rope was a great game but this is not worth it.
Cut the rope
Love ALL the om nom's. can't stop playing.
Maybe there's something wrong
Lps Ashly a user or lps
on
7/8/2017
K tried to go to the next level but it always crashes. Please help.
Shuts down often
Have always loved the game, but the app shuts down after every level. Gets aggravating to have to restart every time.
Good
_________________music______
on
7/7/2017
Really good
Fun lots of adds
I really love playing cut the rope but the adds get really annoying if they popped up less it would be nice still good game
To many adds
It's fun but to many fricken adds but it's a good game
Too many ads
OMMMMMM NOOOOMMMMMMM🍦
on
7/6/2017
An ad pops up every 3 times you wreck. Although the game is fun, sometimes there are more ads than the actual game. It is a very fun game though and I recommend it to anyone who wants to have fun.
Stupid ads.
omgELIZABETHHH
on
6/30/2017
Cut the rope, the original, was one of my favorite apps for a long time. I was excited to download this app and it is just as fun as the original. HOWEVER, the ads are very annoying. Every few tries to complete a level, an ad pops up. It ruins the game when I have to sit here and wait for a 30 second ad to be over. If the original cut the rope wasn't one of my favorite games, I would've deleted this app after the first few ads.
Video ads ruin game
Troy Routley
on
6/29/2017
The constant ad interruptions ruin what would otherwise be a fine game. Save your data and delete.
Fact Sheet
Publisher:

ZeptoLab UK Limited

Category:

Games

Released:

Dec 11, 2013

Current Version Released:

Aug 30, 2017

Version:

1.6.1

Size:

118.8 MB

Compatibility:

Requires iOS 7.0 or later.

Recommended Age:

4+

Game Center Certified:

No

Supported Devices:

iPhone4-iPhone4, iPad2Wifi-iPad2Wifi, iPad23G-iPad23G, iPhone4S-iPhone4S, iPadThirdGen-iPadThirdGen, iPadThirdGen4G-iPadThirdGen4G, iPhone5-iPhone5, iPodTouchFifthGen-iPodTouchFifthGen, iPadFourthGen-iPadFourthGen, iPadFourthGen4G-iPadFourthGen4G, iPadMini-iPadMini, iPadMini4G-iPadMini4G, iPhone5c-iPhone5c, iPhone5s-iPhone5s, iPadAir-iPadAir, iPadAirCellular-iPadAirCellular, iPadMiniRetina-iPadMiniRetina, iPadMiniRetinaCellular-iPadMiniRetinaCellular, iPhone6-iPhone6, iPhone6Plus-iPhone6Plus, iPadAir2-iPadAir2, iPadAir2Cellular-iPadAir2Cellular, iPadMini3-iPadMini3, iPadMini3Cellular-iPadMini3Cellular, iPodTouchSixthGen-iPodTouchSixthGen, iPhone6s-iPhone6s, iPhone6sPlus-iPhone6sPlus, iPadMini4-iPadMini4, iPadMini4Cellular-iPadMini4Cellular, iPadPro-iPadPro, iPadProCellular-iPadProCellular, iPadPro97-iPadPro97, iPadPro97Cellular-iPadPro97Cellular, iPhoneSE-iPhoneSE, iPhone7-iPhone7, iPhone7Plus-iPhone7Plus, iPad611-iPad611, iPad612-iPad612, iPad71-iPad71, iPad72-iPad72, iPad73-iPad73, iPad74-iPad74, iPhone8-iPhone8, iPhone8Plus-iPhone8Plus, iPhoneX-iPhoneX,

Supported Languages:

English;