Screenshots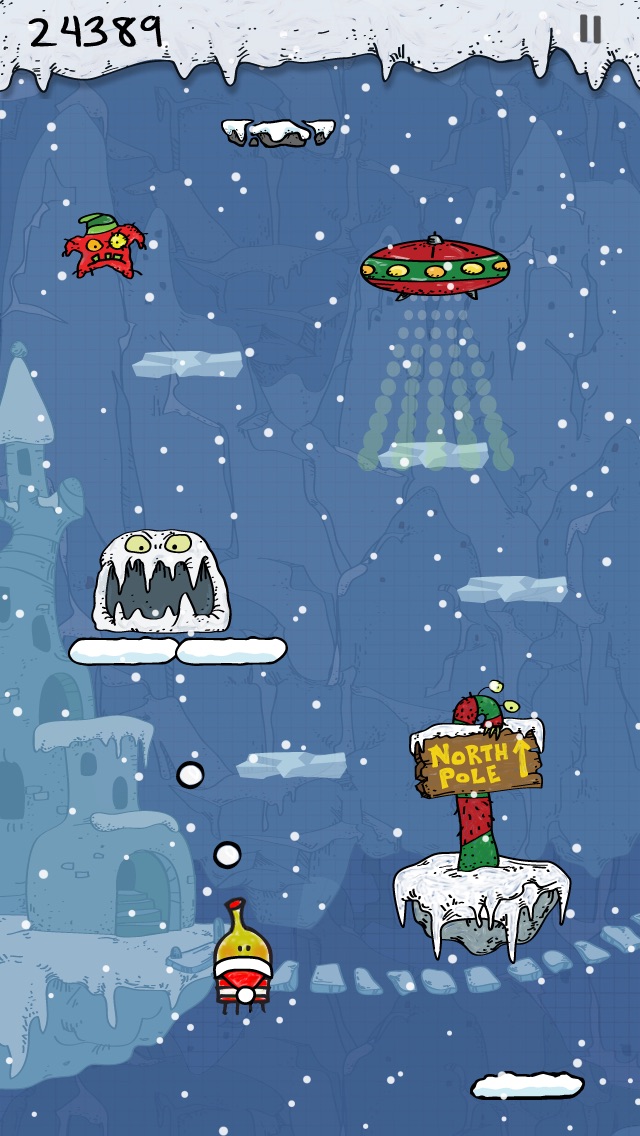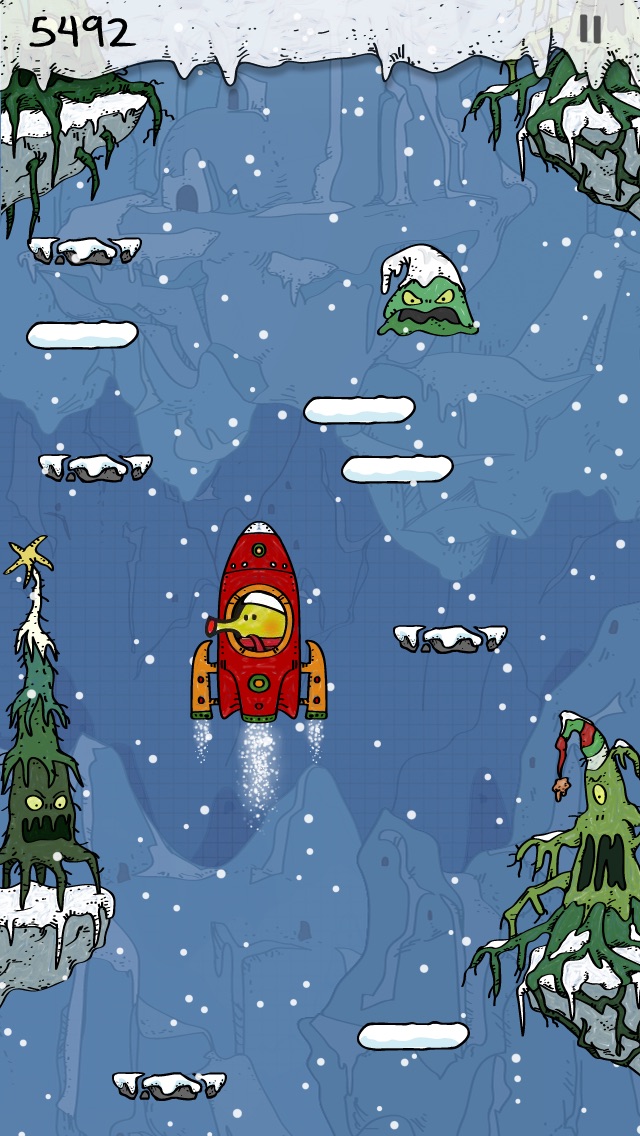 New in version 1.1.2
Bug fixes and holiday optimizations.
Description
Get into the Christmas spirit with this amazingly beautiful special holiday version of one of the most addictive and best-selling iOS apps of all time, Doodle Jump!

Doodle Jump Christmas Special Free features all-NEW STUNNING GRAPHICS, all-NEW paths and challenges, all-NEW monsters, a SUPER COOL ROCKET power-up, CHILL-BREATH MONSTER that will freeze you if you're not careful, STORE with upgrades, and much, much more!

Doodle Jump Christmas Special Free is all you LOVE about the original Doodle Jump and then some!

This is a FREE, ad-supported version of Doodle Jump Christmas Special.
iPad Screenshots
Reviews
Doodle jump
Bailey Olsen 13152467$
on
4/1/2016
This game is totally addicting once I start playing doodle jump I can never stop! This game doesn't just deserve 5 stars it deserves 100000000000000000000 stars! I'm not exaggerating play this game!
Cool
I have never played yet.
Great Christmas Fun
I play it during all of the seasons and I think it really fun & interesting great new updated version, keep it comin! #LuvChristmas.
Amaz!
I wudnt change a thing. It's perfect jus the way it is I luv it soooo much. Yah----hoo!
👍👎Good I guess👎👍
Cody rhodes lover
on
2/26/2015
👍👎👌
Bad game
You lose all your coins very bad game
Best game ever!!!
I love this app and i totally recommend it. Lima Sky is awesome. The only thing bad is the ads
This app is great but...........................
Truly I love this app it's just I wish every time you die they should give you a choice to start back where you for 5 money's. Other than that this game is really great.
Doodle Jump
Too many ads.
Doodle Jump
it's very beautifull Game & i love it so mush ... ;)
It's ok
Doodle jump Christmas special is good if you don't have an I tunes card but there are too many ADDS 😒😒😒😒😒😒. The adds also pop up when you are playing so it's very hard to play😡😡😡😡😡.
I don't like this app
I don't like this app because every time I tried to get on it the app stopped working and it kept bringing up different things that I don't even need or want 😡. I am very disappointed but with the other doodle jump apps I have had a great time with. Thank you for reading this and I hope you have a better time then I did.
Became unusable with new ad system
Recently started to show video-ads are super-annoying and can't be skipped (maybe due to software bug). That made game completely unusable.
Makes no sense
I'm not sure if you notice but when you shoot it only goes right??????????????L
💙💗AWESOME💙💗
Michelle00001
on
1/3/2014
This is TRULY the BEST game I have ever downloaded because it has different characters.
FUNNNNNNN!!!!!
Taylor Swift Justin Bieber
on
12/30/2013
This game is soooo fun!!!
Awesome!!!!!
It was great
Fun!
Packersfan18265
on
12/22/2013
My kids love this app! They said the first level is kind of hard but than its normal. Thanks for a good app!
Funny
It's a funny game, enjoy it!
Keeps crashing...
Midnight shad0ws
on
12/21/2013
Please fix!
Love it!!!
Raginasingh
on
12/21/2013
I love this game it's better then the original doodle jump
Pretty good
The game is pretty good & it's really fun!
Awesome
Foray banana lady
on
12/15/2013
This game is so much fun and is REALLY addicting!!!!!!!!!
Great Game
James Vaughn
on
12/13/2013
I've been Doodle Jumping for several years. Love the Christmas version.
Fun but.....
Great game but way to many ads can get really annoying but other than that LOVE IT❕❤😃
Cute for the holidays, but...
I do love the original but this one seems to hang and drag so my jumping goes into bullet time once in a while mid jump. Not good when this make you die cause the timing is thrown off. Love the premise and the graphics are cute but definitely needs some work.
Impressed
 Recce Clark
on
12/11/2013
Really cute loading animation!
Love
Boo boo!! :)
on
12/11/2013
Vs
Simple and fun
This is definitely one of my favorites to pass time it's great while waiting in line somewhere. It's simple and fun
It is fun
Love it. It's fun.
Great game :D
Trixxter432 
on
12/9/2013
This is the absolute best app ever!!!
Doodle jump
Challenging beyond belief
Awesome
I love this game it gets your brain cell moving
Makes me happy
I love earning presents:-);-)
Wonderful
Very good, I love it very much.
Alright
I think that the game is really fun but in-between every game there os a pop-up add and i u click the wrong button then it will take u to a place were u can purchase the app and it is really annoying
Great game
Awesome game so much fun and addicting
DoodleJump chistmas
Abcdefghijklmnopqrstuvwxyzkdjj
on
12/7/2013
I could not even play it.It is the wurst game ever.Don't get it.
Awful
Game freezes because of ads. Dont waste the space on your phone!!
Awesime
Romneyisgoingtowin
on
12/6/2013
Awesome boss
Great!
Yay! First review. I love doodle jump even after two years :))
Christmas Doodle Jump
Cookies mmmmmmmmm!
on
12/6/2013
This game is fun !!
Boo!!!!!
Piece of crap!!!
Loved it😄
MDAdancer1234
on
12/6/2013
This app had a great theme and made me smile😄
Love love love it
It's awesome
Love It!!!!
Tracy & Scott
on
12/4/2013
Thank You For All Of The Themes!!!!
Fact Sheet
Publisher:

Lima Sky

Category:

Games

Released:

Nov 22, 2013

Current Version Released:

Dec 13, 2015

Version:

1.1.2

Size:

40.8 MB

Compatibility:

Requires iOS 6.0 or later.

Recommended Age:

4+

Game Center Certified:

No

Supported Devices:

iPhone3GS-iPhone-3GS, iPhone4-iPhone4, iPodTouchFourthGen-iPodTouchFourthGen, iPad2Wifi-iPad2Wifi, iPad23G-iPad23G, iPhone4S-iPhone4S, iPadThirdGen-iPadThirdGen, iPadThirdGen4G-iPadThirdGen4G, iPhone5-iPhone5, iPodTouchFifthGen-iPodTouchFifthGen, iPadFourthGen-iPadFourthGen, iPadFourthGen4G-iPadFourthGen4G, iPadMini-iPadMini, iPadMini4G-iPadMini4G, iPhone5c-iPhone5c, iPhone5s-iPhone5s, iPadAir-iPadAir, iPadAirCellular-iPadAirCellular, iPadMiniRetina-iPadMiniRetina, iPadMiniRetinaCellular-iPadMiniRetinaCellular, iPhone6-iPhone6, iPhone6Plus-iPhone6Plus, iPadAir2-iPadAir2, iPadAir2Cellular-iPadAir2Cellular, iPadMini3-iPadMini3, iPadMini3Cellular-iPadMini3Cellular, iPodTouchSixthGen-iPodTouchSixthGen, iPhone6s-iPhone6s, iPhone6sPlus-iPhone6sPlus, iPadMini4-iPadMini4, iPadMini4Cellular-iPadMini4Cellular, iPadPro-iPadPro, iPadProCellular-iPadProCellular, iPadPro97-iPadPro97, iPadPro97Cellular-iPadPro97Cellular, iPhoneSE-iPhoneSE, iPhone7-iPhone7, iPhone7Plus-iPhone7Plus, iPad611-iPad611, iPad612-iPad612, iPad71-iPad71, iPad72-iPad72, iPad73-iPad73, iPad74-iPad74, iPhone8-iPhone8, iPhone8Plus-iPhone8Plus, iPhoneX-iPhoneX,

Supported Languages:

English;