Screenshots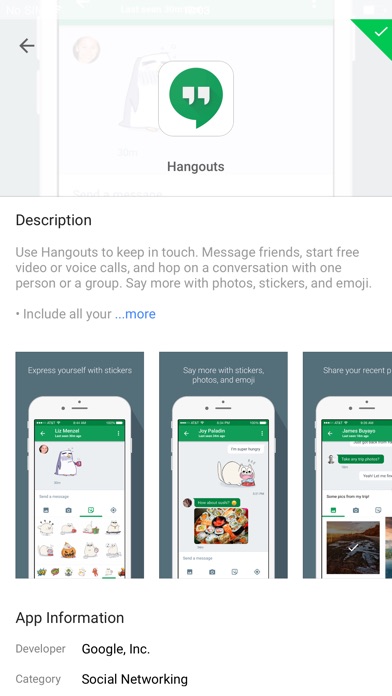 New in version 2.06
Improved notifications handling.
Description
***THIS APP IS ONLY FOR BUSINESSES USING G SUITE.***

You would be required to enroll your device with Google Device Policy App, only if your IT Administrator has setup Mobile Management in your company. The app allows your IT Administrator to mandate corporate security policies and keep the enterprise data safe on your device. Your IT Administrator can also configure corporate WiFi networks and work apps that you might require upon device enrollment.

Note: your personal information like geolocation, photos are not tracked or collected at any point of time.

For help with installing, using, or uninstalling the app, visit https://goo.gl/vrjvY6
iPad Screenshots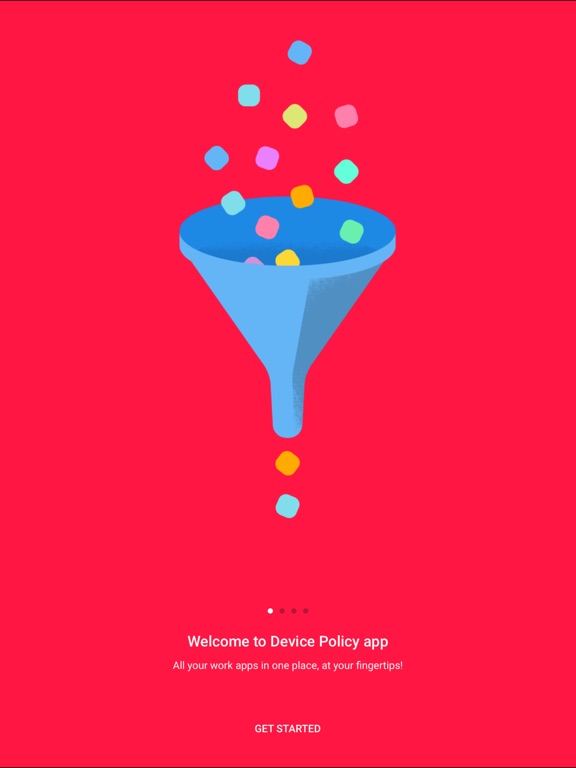 Reviews
This app had better not ever EVER
dafileitherfith
on
11/13/2017
This app had better NOT Show up on MY device without my knowledge ever again. My account is a personal created account So I'm in no way affiliated with any business, employer, enterprise, corporation or any such business entity at all, nor am I affiliated with any organization, group, investigational, research institute, or G suite anything ever! Yet i installs itself, and now I catch it on my cloud??????????? This app is pure evil and only google power grubbing psychopaths, actually use this app, and if your boss does, well look Dara out! I never had anything to do with any thing that would require this app but it always installs itself! It starts letting hackers in who start stealing my data, make my fraudulent accusations l, and blackmailing me with fake pictures, and frauding other people they add to their counterfeit app. Only hackers have any interest in this app. As well as the app developers, and only people who know how these terribly and abusive policies get made. You people aught to be stopped. Because of this app I suspect... I was subject to 10 months of round the clock cyber bullying, was abused and hacked in hundreds of ways. Also complete 100% invasion of my privacy and calls, including normal conversations with the real things I'm affiliated with. Then they went on stealing of my texts, pictures, and all writing apps data content would be deleted included Google purchased apps and subscriptions deleting MY wedding photos claiming they infringed on copyright... I was constantly audited, harassed and my devices ransacked, stripped down and partitioned off until there was no storage room. And even needed settings dimmed out and unselectable, and security security setting and things removed leaving me and all my devices vulnerable and I was threatened to be murdered, disfigured, by my fake fraudulent administrator who accused me of terrible untrue things. I was told I would be killed, or a crime committed to frame me with to put me in prison. me and placed in prison forever. It got to be such a huge fight and people came and beat me, broke my thumb, drugged me, ransacked my home for my devices, and all of my "device time" was cut down to about 20 minutes a day or sometimes less , because these people are just actively always inside my devices now, which became frightening, was it to get it to work after what these people did to me. This is a hackers app. I don't care what google says...Your boss would only use something as unsafe and malicious as this policy implementing app... if they had a power trip and nothing more! I was removed the abilities almost indefinitely and cruelly, abusivly restricted to call 911, for any reason, and google developers said it had to be all my fault... that when something like this happens with their device policy app, I must have done something bad to deserve it... If I see this app come anywhere near my device again I'm starting a class action suit, and it HAD BETTER find its way OUT of my iCloud NOW! And it all started after updating this s app, I knew nothing about, that came factory installed on my device, and an app called app clone children, and becoming a beta tester ONLY ONE app, but my fake administrator made me beta tester to all google services all the time, and I'm in absolute utter shambles, and a wrecked human being from it! I became agoraphobic, and I feel Suicidal half the time from the powerlessness that this hacker/administrator puts on me. This and all g suite developers should be ashamed of themselves!
Work profile
On android when google device policy administered, an separate work profile created where you find all the necessary google apps and they are not related to google apps (could be same) of the apple device. That's make your personal and work date separate. If your employer want to wipe their data or wrong password entered to unlock the device only the work profile is going to be wiped out. For your personal data apple got their own way. Please add the separate work profile feature into it.
Pure garbage
I mean it's google. Can't make a working app bruh? What is this crap. Just error ridden from my iPad to my iPhone.
Pointless obstacle
Regardless of the IT reasons for this app's existence, it adds no value to users. I have to sync it daily, and background app refresh is of course disabled when my phone is in battery saver mode, which is as often as possible, so I end up having to go through a pointless song and dance.
Other reviewers don't understand
This app is made for your employer to enforce it's IT polices. If you want to use your own device for work you use this app to enroll it's policies which often allow them to remote wipe if you loose your device.
Won't download
This just says waiting no matter what I do, and yes, my internet's working just fine. For some reason I'm now required to download this, as it's logged me out of all my apps. Completely awful, because I can't download it.
Wipe Device is Unacceptable
A remote wipe of device is unacceptable, especially if an accident. If a remote device wipe is enabled via iCloud this should not be allowed. Highly recommend you do not allow your employer to remote wipe your device, unless it is their property.
Update required
When opening gmail, it prompted me to update the Device Policy App in App Store. There is no update available for this app on app store....
Doesn't work...
On launch comes up with error code
Useless due to major bugs
Every google app on the iPhone is a useless mess. These apps do not function, they just spam security warnings over and over. "Device policy alert" over and over and over. The support pages for this topic are completely irrelevant and don't solve the problem. This app instantly fails upon load with "httpstatus error 500" chatting with google support people did nothing to solve the problem, either, but it did lead me to unlink my email account, which will not re-link successfully! Yay, now I can't even read emails in an account that I pay for. Avoid google apps on the iPhone!
Horrible - Invades Personal Property
My personal phone should not be in control of my employer. They should not be able to wipe my phone. It should only be limited to wiping data managed by this app, which are Google apps only. Think about the consequences when an employer decides to wipe a personal phone whether it is by accident, termination, or on purpose and you need your phone in an emergency. For example, you are involved in a car accident, need to find your child, etc. and you need to contact 911.....but you iPhone has been wiped, rebooted, and won't start. Google should not be providing the ability to wipe an iPhone without determining/validating if an iPhone is owned by the business or it is a personal phone. Remove remote wiping and monitoring, of anything outside the container, immediately. How did this app pass security reviews when Apple already provides this feature? Stop invading personal property and privacy!!! Protect my data. Protect my iPhone....Google and Apple.
Owner
timothycope76
on
2/4/2017
Stopped working today 1-4-2017. Error 500 iOS 10.2.1
Stopped working with iOS 10.2 update
Stopped working with iOS 10.2 update
Muy útil para soporte TI
Para nada del mundo
on
6/2/2016
Nos permite tener un férreo control sobre el acceso a nuestra información empresarial con iOS sync
Can't login
Can't get in!
Fact Sheet
Publisher:

Google, Inc.

Category:

Business

Released:

Nov 22, 2014

Current Version Released:

Jun 14, 2017

Version:

2.06

Size:

54 MB

Compatibility:

Requires iOS 8.0 or later.

Recommended Age:

4+

Game Center Certified:

No

Supported Devices:

iPad2Wifi-iPad2Wifi, iPad23G-iPad23G, iPhone4S-iPhone4S, iPadThirdGen-iPadThirdGen, iPadThirdGen4G-iPadThirdGen4G, iPhone5-iPhone5, iPodTouchFifthGen-iPodTouchFifthGen, iPadFourthGen-iPadFourthGen, iPadFourthGen4G-iPadFourthGen4G, iPadMini-iPadMini, iPadMini4G-iPadMini4G, iPhone5c-iPhone5c, iPhone5s-iPhone5s, iPadAir-iPadAir, iPadAirCellular-iPadAirCellular, iPadMiniRetina-iPadMiniRetina, iPadMiniRetinaCellular-iPadMiniRetinaCellular, iPhone6-iPhone6, iPhone6Plus-iPhone6Plus, iPadAir2-iPadAir2, iPadAir2Cellular-iPadAir2Cellular, iPadMini3-iPadMini3, iPadMini3Cellular-iPadMini3Cellular, iPodTouchSixthGen-iPodTouchSixthGen, iPhone6s-iPhone6s, iPhone6sPlus-iPhone6sPlus, iPadMini4-iPadMini4, iPadMini4Cellular-iPadMini4Cellular, iPadPro-iPadPro, iPadProCellular-iPadProCellular, iPadPro97-iPadPro97, iPadPro97Cellular-iPadPro97Cellular, iPhoneSE-iPhoneSE, iPhone7-iPhone7, iPhone7Plus-iPhone7Plus, iPad611-iPad611, iPad612-iPad612, iPad71-iPad71, iPad72-iPad72, iPad73-iPad73, iPad74-iPad74, iPhone8-iPhone8, iPhone8Plus-iPhone8Plus, iPhoneX-iPhoneX,

Supported Languages:

Arabic; Catalan; Valencian; Croatian; Czech; Danish; Dutch; Flemish; English; Finnish; French; German; Greek; Hebrew; Hindi; Hungarian; Indonesian; Italian; Japanese; Korean; Malay; Norwegian; Polish; Portuguese; Romanian; Moldavian; Russian; Chinese; Slovak; Spanish; Castilian; Swedish; Thai; Chinese; Turkish; Ukrainian; Vietnamese;