Screenshots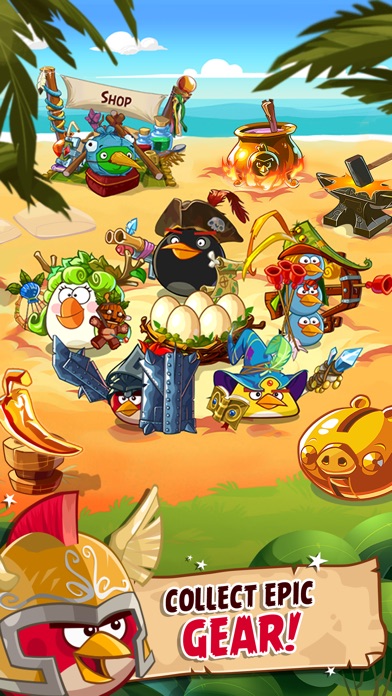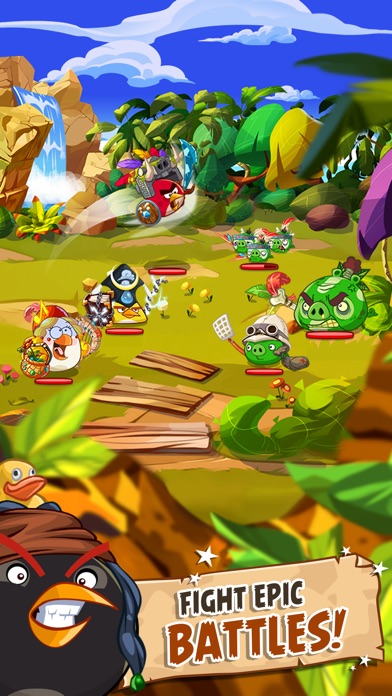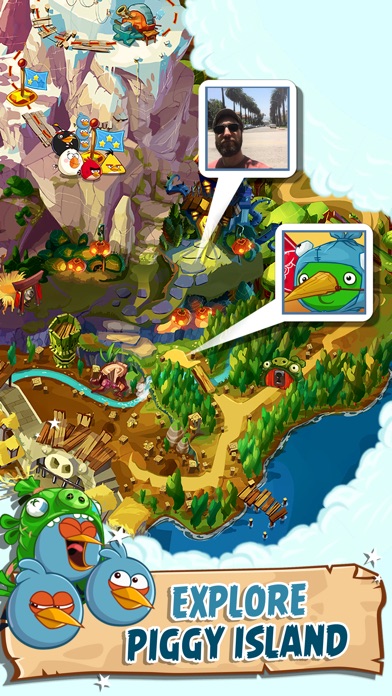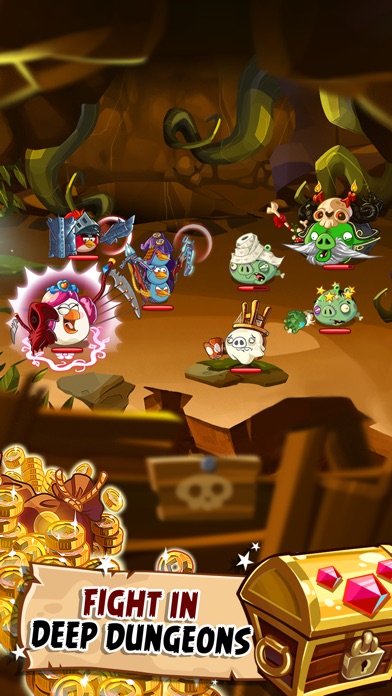 New in version 2.6.0
Birdies, it's cold outside! But the holiday events offer you bags of exclusive rewards to avoid frostbites.

· Win limited seasonal Class Upgrades:
Xmas Upgrades for Guardian, Wizard, Bard, Seadog & Spies
Ice Upgrades for Paladin, Lightning Bird, Druid, Capt'n & Marksmen
· Merry matches: have a cheerful arena time - win season reward chests for less points
· Lvl 90 players get their rewards from Daily Cinema now

Unwrap the patch notes: http://bit.ly/Epic260
Description
Unleash the Angry Birds flock in a free turn-based RPG, and join a community of more than 85 MILLION players around the world!

Angry Birds Epic sends you on a sprawling adventure across the tropical beaches, frosty mountains, and deep dungeons of Piggy Island in hundreds of challenging levels. Collect and craft a huge arsenal of weapons, and wield powerful magic to defeat fearsome boss pigs and their many minions. Crush troublesome pigs in battle to win epic loot, craft ever more powerful weapons and level up your party. To victory!


---------------//---------------

FEATURES:

● FIGHT hordes of enemies in turn-based battles. Use the powerful skills of your birds to lead your flock to victory!

● PLAY as heroic knight, mighty wizard, or helpful druid, and assemble the perfect party!

● LEVEL UP and master your birds to defeat mighty boss villains like King Pig, Prince Porky or Wiz Pig.

● CRAFT hundreds of weapons and magical potions! Improve your best equipment even further through powerful enchantments.

● COMPLETE rare equipment sets, and use them to unleash devastating power-effects in battle.

● CHALLENGE real players from around the world in the arena. Progress from wood to diamond league and carve your place at the top the leaderboards.


● JOIN limited time events to earn valuable upgrades and rewards! Follow the flock on Facebook and Twitter for news on upcoming events.

---------------//---------------
FOLLOW THE FLOCK
https://www.facebook.com/angrybirdsepic
https://twitter.com/ABEpic
---------------//---------------

PLEASE NOTE: Logging into Game Center does not save your game data. To save your game progress in Angry Birds Epic, please sign up for a Rovio account or log into an existing one.

Angry Birds Epic is free to play, optional in-app purchases are available.

This game may include:
- Direct links to social networking websites that are intended for an audience over the age of 13.
- Direct links to the internet that can take players away from the game with the potential to browse to any web page
- Advertising of Rovio products and also products from selected partners

This game may require internet connectivity and subsequent data transfer charges may apply.

Terms of Use: http://www.rovio.com/eula
Privacy Policy: http://www.rovio.com/privacy
Support: https://support.rovio.com/hc/en
iPad Screenshots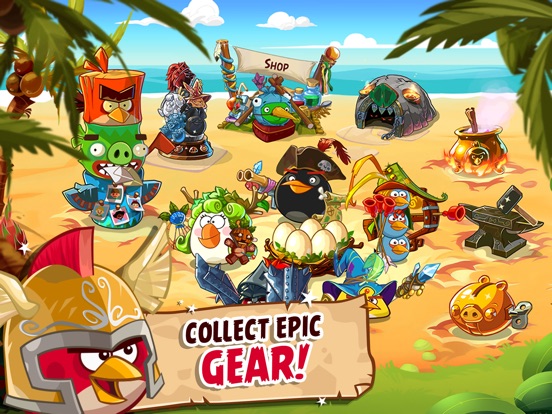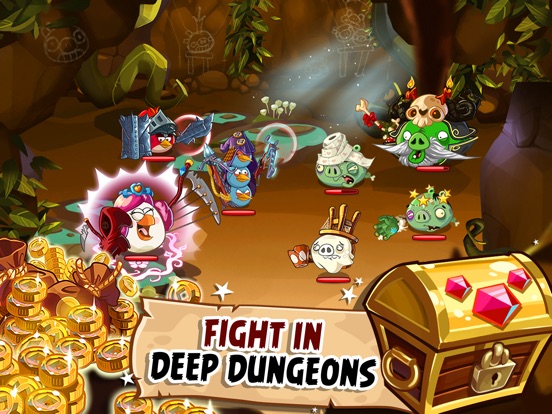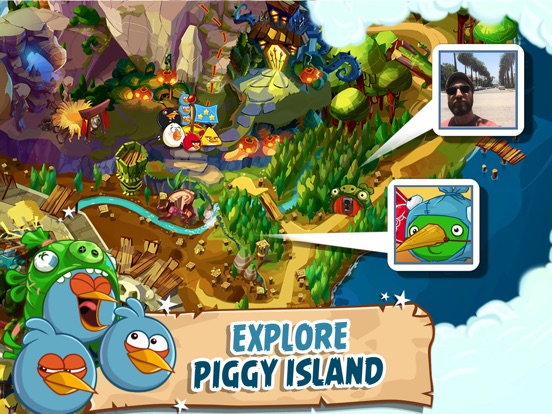 Reviews
Epic
This game is really challenging and fun for all ages
I Broke The Game
DragonClawYT
on
12/9/2017
Let me tell you what happend i was trying to get a sword for mighty eagel Then boom i crashed Then i Came Back And It wasnt working Can You Please Help Me
New update blew it(up)
SkinnyMooseMusic
on
12/6/2017
Now I can't battle my friends at all! I won't play until you put it back!
P2W
Amazing Game I love it. Only thing i have to mention is that it is to Pay to win. If you buy a lot of IG stuff than you have a big advantage over other people
Good clean fun
Keeping it t fresh still
Frankerman
This game is so fun I can't stop playing this however I can only get gold coins from the adds and leveling up which is hard when you get far please fix this soon anyway great game
Please
Add 4 birds to the battlefield
yyyayyayyyy
Darkness on the Edge of Harlan
on
11/30/2017
i loveee burdees 2 cuut for meh annd me reely want on butt may kitteh wooud hont teh burdee. too cute for me bro
Super fun!
angryma50nb1rd
on
11/27/2017
The game is super fun! The story is great! My birds have high health and deal a super amount of damage it seems like the levels are endless! I unlocked that cave with all those levels. And I love the daily reward thing! Every time I go on to the game I get an award! It's cool how in the cave at the end you get to use two birds and one pig on your team!
Angry birds epic is the best game ever!
Antonios Girgis
on
11/27/2017
The App is the best app ever!!😊😊😊😏🤡
BRO
THIS IS THE BEST GAME IN THE WHOLE ROVIO HISTORY
Awesomeness Sauce!!!!
TheMajesticWaffle
on
11/26/2017
This game is so much fun, I definitely recommend
Events
Ultimatechiller
on
11/26/2017
The latest update freezes/crashes often during adds. I have lost countless gold coins and lives during events because of this. I love the game but it is extremely frustrating.
THE BEST GAME
Victor to the victory
on
11/25/2017
This is the best game I've ever played and I've never been able to play it for 1 year and now you've got the best game ever!
Events
On this pirate event, even the easy level is really hard but overall, I think this game is good
Omg😱
Ojo/Watch Out
on
11/24/2017
Omg this app is so epic omg
😁😁😁
Conner7 and Lizzie1212 Gaming
on
11/23/2017
Love this game. Could use some more campaign though.
Rovio Fan? PLAY THIS GAME!
THIS GAME IS AWESOME! I used to play this game but I deleted it later on though. Then I tried it again, but I got bored easily. Then about 1-2 years later I got it again and now I AM ADDICTED TO THIS GAME!!!!!! This game is sooo fun now that I I'm at Slingshot Woods now. And that is a loooooooooong way from the beginning. And also my mom and dad also play with me too and my Angry Birds Epic experience is THROUGH THE ROOF! Im having soo much fun that I can barely put my phone down!
SO SO SO GOOD
This Angry Bird Epic RPG game is so fantastic!The only thing that gets you furious about this game is some levels are super hard and you can't save enough "Golden Coins" to buy the toughest classes.Download this awsome fantastic RPG!Very very good game for pepole to play!👌🏻👌🏻!! From Jesus Xochipiltecatl
Rovio, give me 9,0000 gold coins
I only have 2,1000 gold coins, but now I want 9,0000.
I love this so much!
poop plunger
on
11/22/2017
This game is one my top favs
The strategy game
JBlade3333333
on
11/21/2017
Angry Birds Epic is a RPG strategy game that you will not want to stop playing. This game can make you rage, but it makes you keep trying until you get that satisfying victory. There are 5 playable characters, Red, Chuck, Matilda, Bomb, and The Blues.
For AngryBirds Epic
GamerTube388
on
11/21/2017
I Love This Game, It's Too Epic!
Well
I am tried playing against Cheeders . I am tried loosing gold to stupid glitch or bug it's not fun anymore
So fun but lags
I used to LOVE is game, until the new updates that made my device lag too much. Eventually had to delete it becuase it took up too much space :(
Cool
B.E.R is my life
on
11/20/2017
Cool but can you add a new campaign and maybe new classes maybe a new bird like Hal or Stella?
HELP ME IN IS GAME (PART 3)
THE LAST ONE
Great game, but
The game is great I would recommend this to everybody but can u please add more levels or some type of rebirth thing because I keep on reaching the cave and there's like nothing to do so can u please add something like that, thanks
Cheaters, Cheaters, Cheaters
Wish the developers could eliminate the cheaters. It was a fun game but the cheaters have taken a lot of the fun out of the game.
EEW BUGS
Ok, this game was the best, hint the word was. This game is crawling with bugs. I end up having to play levels twice, TWICE! When you play the game you will notice that you need to play levels twice, and the ocean castle has so much magic your birds will glitch out. And if that wasn't enough, the game crashes 2 or 3 times a week! So this game is crawling with bugs and the game developers need to squash them.
Can't log into my rovio account.
Lizard Queen69
on
11/13/2017
Everytime I try to log into my Rovio Account it tells me that the game needs to be updated to the account! I need help with this, it doesn't let me transfer my previous data to a new device. Help me fix this and I'll give your review a 5 star.
A fun game you can play at your own pace you do not need to be in a guild anything like that
Like I said absolutely I am hooked on this game. I had to drop down a star ⭐️only out of frustration. -Beware- Make sure to have a Rovio account especially if you put any money into this game you will lose your progress even if you're signed in through Facebook, Game Center, etc. If you do not have a Rovio account and save it through that you'll lose everything when you have to uninstall it and reinstall because of an update. Play at your own pace the only thing I wish is if the price of the valuables would decrease and it wouldn't cost so much money to fuse items etc. Overall it's an extremely fun and addicting game
Cheater problems
I used to love this game so much that I recommended it to all my friends. But this week I was wrongly stamped as cheater in the arena and after 3days I put a request in its website, there is still no response. So I decided to change the rate from 5 to 1. But I still hope they can fix the bug and put me back to the right place I deserve.
Tech Difficulties
DarthVaderIsLukesFather
on
11/7/2017
When I m on a level, and I beat a few parts, when I go on the next part of the level, everything freezes up and the characters don't even move. So annoying! I have to reset it every time! Ugh!
Really good but a more events and more birds like green bird and pink bird also big red.
I love the game but needs more events and characters cuz I got all five characters in one day!
You need "are you sure?" buttons.
Sometimes I accidentally hit the button to get set gear or reset the missions, which wastes my gold coins. There should be a button for everything asking if you really meant to do that so you DONT waste money.
A epic game
SO EPIC I WANNA PLAY IT MORE!!😄😄😃😃
Decent but annoying
pokemonphill
on
11/1/2017
I've had this game on my iPad for a few years and I've loved it but my iPhone is synced to my iPad and I have elite classes on iPad and I cannot sync it back I've been trying to sign in to iPad account but it won't work and on my iPod I bought a load of gold coins and it wouldn't give me anything so if the producers see this on my phone account please restore my stuff
It was good but then...
Broken on 6.1.2
on
11/1/2017
This ga
Glitch?
Sometimes when I play the game, it would just stop the fighting and I can't do anything.
Used to be fun.
At first it was fun- going through each level, getting new gear, leveling each bird and hat. Now it's all about grinding levels in order to beat the tough bosses. There's a little strategy, but it's mostly get your gear level, bird level, and hp's up in order to survive. The daily pig is a bit fun. It's nice to get the gold coins. I don't use real money on these games, so it's taken me quite a while to get any sort of decent amount. [Edit- They removed the daily pig. At one time, you had to search for it on the map. Now they've completely removed it. This was actually one of the things I liked about the game.] It'd be nice if they opened up more of the regular world map & just got rid of the cave. I haven't made it there yet (still on the circle of bosses), but my husband got there. He stopped playing after the first couple. He found it tedious and boring. [Edit- The cave is not that fun. It gets progressively harder, which is fine. However, it is ridiculously hard to the point of being impossible to play - unless, of course, you want to spend some real money for items. I refuse to spend real money, though.] Edit- they started having "events" a few times a week. At first they were something new and fun. But they rotate the same three events so now it's just repetitive and boring. The game also has so many ads. They completely distract from playing the game. It feels like all the changes Rovio makes to the game, make it worse.
!
????!!!!!..!!!?
on
10/25/2017
i am unable to play Because of iPod touch and when I get in for like 1 to 3 seconds then it crashes
Its ok
Since the recent update my game won't load at all. It just sits at the loading balancing screen
A stage before easy
Fivrivte thing
on
10/22/2017
So after struggling I have to fight a docter no not a real one a good docter pig it's to hard lower down the health
OMG THX SO MUCH
Jack the brave
on
10/19/2017
Thanks so much Rovio! I got the game again and I beat the whole game once again! It's so thoughtful of you guys listening to me and I'm not too sure if I was a bad player since I couldn't beat the desert wizard at wiz pigs castle, but you made it possible to beat again! I wish I could repay you. But the events are pretty hard (Prize Wise) to get different prizes and my birthday is tomorrow buuuut....That doesn't matter. I'm just glad this game is possible again.
Won't open after update
PLEASE FIX! This happens after every update. I'm forced to download update or I can't play the game, once I download everything I still can't play the game. It won't open. So annoying.
Was a great game!
Baconusinbirds
on
10/18/2017
When playing in the events the game screws you by dropping you and you end up losing the medals that you have earned!!!!!!! Now I cannot even get into the game....new version where?
Won't load
The game was great until it wouldn't load. Stuck on Loading Balancing
Fact Sheet
Publisher:

Rovio Entertainment Ltd

Category:

Games

Released:

Jun 12, 2014

Current Version Released:

Dec 11, 2017

Version:

2.6.0

Size:

653.1 MB

Compatibility:

Requires iOS 8.0 or later.

Recommended Age:

4+

Game Center Certified:

No

Supported Devices:

iPad2Wifi-iPad2Wifi, iPad23G-iPad23G, iPhone4S-iPhone4S, iPadThirdGen-iPadThirdGen, iPadThirdGen4G-iPadThirdGen4G, iPhone5-iPhone5, iPodTouchFifthGen-iPodTouchFifthGen, iPadFourthGen-iPadFourthGen, iPadFourthGen4G-iPadFourthGen4G, iPadMini-iPadMini, iPadMini4G-iPadMini4G, iPhone5c-iPhone5c, iPhone5s-iPhone5s, iPadAir-iPadAir, iPadAirCellular-iPadAirCellular, iPadMiniRetina-iPadMiniRetina, iPadMiniRetinaCellular-iPadMiniRetinaCellular, iPhone6-iPhone6, iPhone6Plus-iPhone6Plus, iPadAir2-iPadAir2, iPadAir2Cellular-iPadAir2Cellular, iPadMini3-iPadMini3, iPadMini3Cellular-iPadMini3Cellular, iPodTouchSixthGen-iPodTouchSixthGen, iPhone6s-iPhone6s, iPhone6sPlus-iPhone6sPlus, iPadMini4-iPadMini4, iPadMini4Cellular-iPadMini4Cellular, iPadPro-iPadPro, iPadProCellular-iPadProCellular, iPadPro97-iPadPro97, iPadPro97Cellular-iPadPro97Cellular, iPhoneSE-iPhoneSE, iPhone7-iPhone7, iPhone7Plus-iPhone7Plus, iPad611-iPad611, iPad612-iPad612, iPad71-iPad71, iPad72-iPad72, iPad73-iPad73, iPad74-iPad74, iPhone8-iPhone8, iPhone8Plus-iPhone8Plus, iPhoneX-iPhoneX,

Supported Languages:

English; French; German; Italian; Japanese; Korean; Portuguese; Russian; Chinese; Spanish; Castilian; Chinese;