Screenshots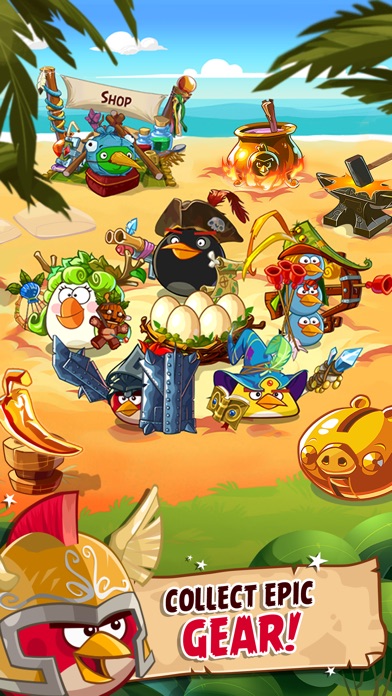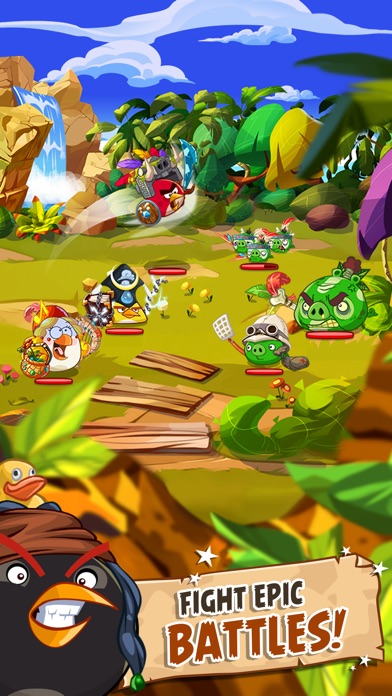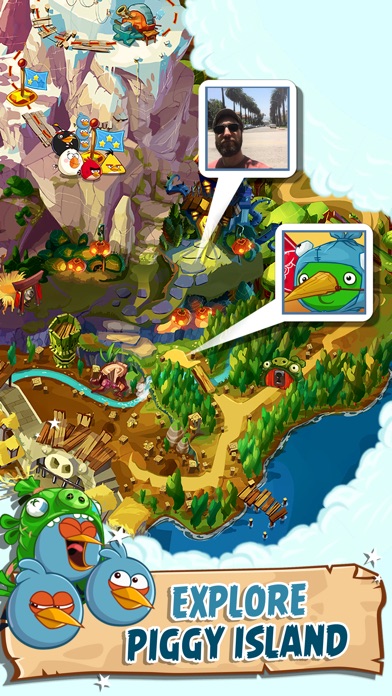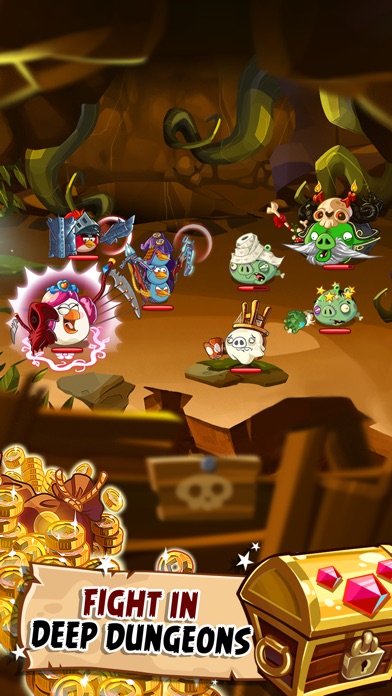 New in version 2.4.0
Halloween horrors are spreading over Piggy Island!
• The Hogriders return for a hair-rising Halloween spectacle
• Trick for the piggies, treat for your birds in the Halloween mini-campaign
• Win new creepy Class Upgrades: Pumpkin Paladin, Haunted Rainbird, Mummy Priestess, Bogey Berserk and Scarecrow Skulkers
• Golden Pig's dubious off-days are over. Find it at the beach theater to reward you for watching videos
• And we scared away bugs, the details: http://bit.ly/Epic240
Description
Unleash the Angry Birds flock in a free turn-based RPG, and join a community of more than 85 MILLION players around the world!

Angry Birds Epic sends you on a sprawling adventure across the tropical beaches, frosty mountains, and deep dungeons of Piggy Island in hundreds of challenging levels. Collect and craft a huge arsenal of weapons, and wield powerful magic to defeat fearsome boss pigs and their many minions. Crush troublesome pigs in battle to win epic loot, craft ever more powerful weapons and level up your party. To victory!


---------------//---------------

FEATURES:

● FIGHT hordes of enemies in turn-based battles. Use the powerful skills of your birds to lead your flock to victory!

● PLAY as heroic knight, mighty wizard, or helpful druid, and assemble the perfect party!

● LEVEL UP and master your birds to defeat mighty boss villains like King Pig, Prince Porky or Wiz Pig.

● CRAFT hundreds of weapons and magical potions! Improve your best equipment even further through powerful enchantments.

● COMPLETE rare equipment sets, and use them to unleash devastating power-effects in battle.

● CHALLENGE real players from around the world in the arena. Progress from wood to diamond league and carve your place at the top the leaderboards.


● JOIN limited time events to earn valuable upgrades and rewards! Follow the flock on Facebook and Twitter for news on upcoming events.

---------------//---------------
FOLLOW THE FLOCK
https://www.facebook.com/angrybirdsepic
https://twitter.com/ABEpic
---------------//---------------

PLEASE NOTE: Logging into Game Center does not save your game data. To save your game progress in Angry Birds Epic, please sign up for a Rovio account or log into an existing one.

Angry Birds Epic is free to play, optional in-app purchases are available.

This game may include:
- Direct links to social networking websites that are intended for an audience over the age of 13.
- Direct links to the internet that can take players away from the game with the potential to browse to any web page
- Advertising of Rovio products and also products from selected partners

This game may require internet connectivity and subsequent data transfer charges may apply.

Terms of Use: http://www.rovio.com/eula
Privacy Policy: http://www.rovio.com/privacy
Support: https://support.rovio.com/hc/en
iPad Screenshots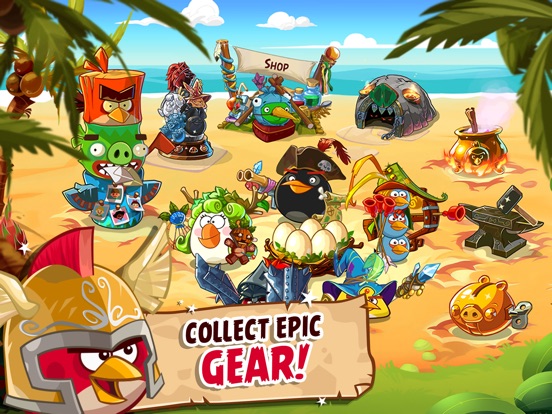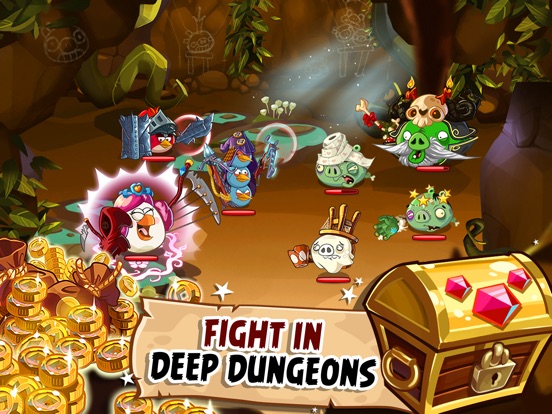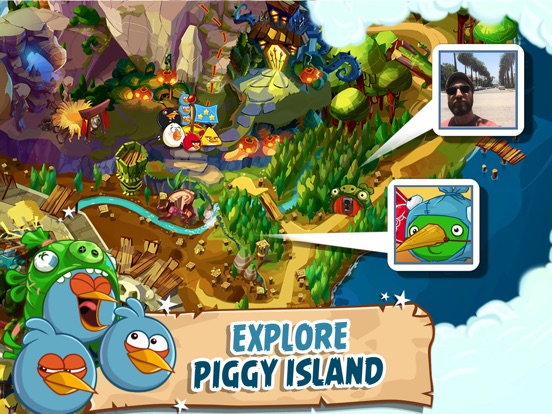 Reviews
Good game but I like it
Gimme the 2.4.0 update. Now.
Game entering problems
every time I enter the game, I crash. I try every time to make it work but it still happens. Can you try to fix this? (I like your game too)
Problems must be fixed
I got this game before, then deleted it for space. I couple years after, which is now, and it keeps telling me to update it. I cannot play without doing so. But there is no update. I tried my best, but couldn't find a logical explanation.
Was a great game!
Baconusinbirds
on
10/14/2017
Awesomely great been playing the game for years! The app runs a little slow, also when playing in the events the game screws you by dropping you and you end up losing the medals that you have earned!!!!!!!
Love this games!!!!!!!!!!!!!!!
I love this game because I love the challenges it gives me
Nice (But unfair!)
I love this game so much, but after you update the game, it doesn't load, please fix! P.S. In the arena, it keeps on giving me pro buyers with upgraded classes, I can't even do anything because (my birds) when my birds are K.O., it should be 4-3 turns before they re spawn, but my Blues are taking 4-5 turns to re spawn, and the enemy doesn't have Treasure Hunters class, plz fix! P.S.S all of the Rovio games freeze and exits out at the moment your about to get things that are good/win a game and especially this one, I was rolling the Golden Pig Machine then the freeze and the exit happened, plz fix this to!
Used to be fun.
At first it was fun- going through each level, getting new gear, leveling each bird and hat. Now it's all about grinding levels in order to beat the tough bosses. There's a little strategy, but it's mostly get your gear level, bird level, and hp's up in order to survive. The daily pig is a bit fun. It's nice to get the gold coins. I don't use real money on these games, so it's taken me quite a while to get any sort of decent amount. [Edit- They removed the daily pig. You have to search for it on the map. It may be there once a week, if you're lucky. This means you don't get a gold coin every day either.] It'd be nice if they opened up more of the regular world map & just got rid of the cave. I haven't made it there yet (still on the circle of bosses), but my husband got there. He stopped playing after the first couple. He found it tedious and boring. [Edit- The cave is not that fun. It gets progressively harder, which is fine. However, it is ridiculously hard to the point of being impossible to play - unless, of course, you want to spend some real money for items. But I will not do that] Edit- they started having "events" a few times a week. At first they were something new and fun. But they rotate the same three events so now it's just repetitive and boring.
Rigged
TheGameGetter
on
10/9/2017
The game itself is pretty fun, being a fan of rpg myself, but I have only one complaint. I downloaded this and when the update came where I was supposed to get the special tricksters class, I didn't get it. That's why I'm not giving it 5 stars. Other than that, good game.
The costs for the classes
I've been playing the game to the point that I keep losing on the final boss so I tried to buy those greater classes that requires gold coins but it's too much gold coins and it takes forever to get some so can you change the gold coins for silver coins because I have over a thousand of silver coins
Why!!??
Crazy Golden Robot
on
10/6/2017
Every time i win or die after a level, it kicks me out! Please fix this maker.. It would make it more enjoyable for everyone and me.
Angry Piggies?
Mindarinmaus
on
10/4/2017
This game is the utmost best game EVER ON THE DING DANG DOODLEY HISTORY OF ROVIO. The upgrades, classes, arena, etc- they're really good. All I have to say is that you should make a SECOND one, and add a Bad Piggies storyline to it. (Tip: for the bird enemies, just make new ones like you did with Angry Birds Evolution.)
It's not updating.
Does my phone have a virus? These dots on my screen mean I have a virus. Fix my phone
Bricked
The update bricked the game! I'm level 80 playing the game for a long time very upset so close to beating all the cave levels only 1 more to go!!! Very upset!!!
Angry Birds epic is epic
dsopasdgde😡💰💰💰🤑🤑🤑🤑
on
9/29/2017
The first game ever I love you. I can't believe I beat it you should really download it is one of the best games ever
Update broke my game
Just fantastic, at the end of a week long match and your update on sept 27th broke the game. Stuck on loading balancing. Not sure who to write for a refund on the money I spent getting my characters in a position to win the tournaments I will now lose due to running out of time. Frustrating, game was fine
Won't open after update
PLEASE FIX! This happens after every update. I'm forced to download update or I can't play the game, once I download everything I still can't play the game. It won't open. So annoying.
Can't play with new update
Was a great game. Now with the new update I can't play. The game will come up with no tabs to do anything. Very disappointing. I have now missed all sorts of prizes.
Angry Birds Epic
Игрушка работает очень плохо, постоянно "вылетает" с потерей всех заработанных достижений. Грузится долго, тормозит и глючит - полный повал разработчиков!!!
Glitchy
It's fun but it glitches so much and screws you out of progress. If you spend money in the game you'll regret it. In the end it becomes very frustrating how often it messes up.
Add more stuff
We could add an extension of the map There should an little animation to show that the set weapons such as chuck when he has the extra turn from the time staff and watch like a clock that pops up to show that he gained an extra turn i thought it would be cool to know when that ability activates When reds double hammer effect take action it should make a crack in the ground like when the brutes attack
Keeps crashing
Edwardsgirlfriend
on
9/12/2017
Please fix this game! It crashes all the time :(
ANGRY BIRDS R THE BEST
I LOVE YOUR GAMES KEEP ON MAKING MORE AMAZING GAME LOVE YOU
IOS users beware
koolaidIsheep
on
9/10/2017
Game is OK but has a grind. "Special" world events come so often that they are a chore if you want to keep up with them. Lastly and most importantly this game has many bugs on IOS and has for awhile now. Freezes and videos dumping to black screen with no credit given for having watched them are the norm. Be aware if your gaming time and patience are not unlimited.
Events
So when I played the game and I tried to past few events that came with the new legacy birds but before that I can't even play any events because it says "Coming soon" but it shows that it's playing now but I can't play any events
Ok?
Rovio's Freind
on
9/2/2017
It is a good game but could be better thanks for giving it your best rovio 🙂
Very good game, a few problems
KingofStuffs
on
8/30/2017
I love this game, I'm on my third time playing it. There are a few small problems in it, nothing super major, just technical things. One, I only get battle character sounds half the time. Two, I don't get cutscene sounds anymore. Three, I keep getting duplicates from the arena golden pig. As an aside, I think you should add other birds, maybe as like sidekicks, or mercenaries in dungeons. In general, very good game, will keep you busy for a long time. Awesome artwork and battle system. Better then most rpgs I've played. I highly recommend this for strategy people.
Predictable and rigged game
I've had this game since it's inception and I can tell you it becomes boring over time. It's the same challenges over and over. The game hasn't been updated in regards to new maps and characters. The only updates are to fix the constant bugs and crashes that plague this game. Be prepared to fork over more money in order to advance to higher levels because you'll never stand a chance. The arena battles are a joke because they're so rigged. Coin tosses are never 50/50, more like 80/20. Whoever put together the probability formula clearly made in favor of the bots because I don't I've ever played a real person head to head. This game gets old after a while and I haven't played it in months.
Nooooooooo
Really great game but i tried to transfer my data from my tablet to my phone and I lost all my progress not to mention I have beat the game going on 6 times because I lost my progress and today I was sick and really wanted to play but I realized that it deleted all of my progress so yeah fix it other than that it's a good game and oh yeah kinda expensive to buy the classes that cost gold.
Are you kidding me?
#gameisawesome
on
8/26/2017
After the update, my game is buggy and now crashes so much. And on top of that, once I beat the other red and started the sword cut scene, my game crashed! And when I went back in, I couldn't do anything! Please fix this ASAP!
Xander
It is so much fun.
Stuck at loading After Update
Seriously fix this update problem! It will stuck at the loading screen after app update. Luckily, it fixes itself after force closes the app COUPLE times.
Add more playable birds & more story
If there was more story continuing off from the ending, can you please add Bubbles And Stella as birds?
Good game but
Sometimes from the golden pig poaching it says a ad is available but I can't watch it to get it for free pls fix bug
please fix
it wont load after upgrade.
Fun but
SlayerXkillz
on
8/24/2017
The game is very buggy and always freezes
black screen after ads
Can'tpickmyname
on
8/24/2017
ipad 2017
Really I can't believe this
Mugglesmakemelaugh
on
8/24/2017
I transferred my phone and my data didn't carry over so I logged into my Rovio account and got my data back.... Except I can't actually play the game. The game loads but only the levels, the only thing I can do is swipe around the screen. None of the buttons such as settings or the nest are appearing please fix this
Update wiped all of my progress
Super frustrated. I couldn't continue playing without the most recent update. I finally succumbed and updated the app just to have all of the progress and the money I put in for packages and upgrades wiped out. I went from being level 50 to a 1. So annoying. What a waste.
Awesome
Can load the balencing thing it says so please fix and I'll change this
Stop updating
Every time the app updates, it gets worse/ won't load. Just stop.
Updates are problematic
Just updated to latest version, will not load. Now fixed. This has happened several times. Deleted it and reinstalled, after signing in to my account,I get message saying I need to get latest update. Deja vu all over again with 2.1.5. Won't load. Deja vu all over again, new update will not load.
Angry Birds Update
Three for three-the last three updates resulted in the game not opening after the mandatory update. Please fix.
Sudden quits all the time
Finally I got enough of it. Waste stamina and time, as well as entering battles, sudden quits all the time. I lost battles (three times)In no reasons, then I have wait until tomorrow to play again.:/
Crash
Matches Malone 2
on
8/19/2017
Keeps crashing....fix it.
Missing sounds
Whenever I fight, I get missing sound effects whenever I play.
Gurrrrr
I love this game but ever since I updated it the game will close on me ever couple of minutes while playing and takes forever to load. I spend more time trying to open the game then actually playing... So frustrating!
Arena under construction 24/7
I love this game but the arena has said under construction for 5/6 days and I don't know what to do rovio if you see this please tell me what to do
This game is HORRIBLE!!!
Billy mc fatso
on
8/14/2017
I tried to buy something and it said perches failed
3 yrs playing!
Espanol_king
on
8/13/2017
I've been at this a while; even through all of the updates. Never had many problems with game not loading. Had more problems with game crashing or just stalling, which meant losing several arena battles, daily challenges, and special awards. I still recommend it to anyone looking for a simple but fun RPG. Only one big issue is why do most of my opponents in the arena battles have banners with rainbow colored emblems? How does someone get them? Very interested to know. Other than that complaint, keep up the good work. The little events are fun and help to get more mastery. Lastly, the class events are challenging but cool when you get to earn an elite class.
Fact Sheet
Publisher:

Rovio Entertainment Ltd

Category:

Games

Released:

Jun 12, 2014

Current Version Released:

Oct 17, 2017

Version:

2.4.0

Size:

585.9 MB

Compatibility:

Requires iOS 6.0 or later.

Recommended Age:

4+

Game Center Certified:

No

Supported Devices:

iPhone3GS-iPhone-3GS, iPhone4-iPhone4, iPodTouchFourthGen-iPodTouchFourthGen, iPad2Wifi-iPad2Wifi, iPad23G-iPad23G, iPhone4S-iPhone4S, iPadThirdGen-iPadThirdGen, iPadThirdGen4G-iPadThirdGen4G, iPhone5-iPhone5, iPodTouchFifthGen-iPodTouchFifthGen, iPadFourthGen-iPadFourthGen, iPadFourthGen4G-iPadFourthGen4G, iPadMini-iPadMini, iPadMini4G-iPadMini4G, iPhone5c-iPhone5c, iPhone5s-iPhone5s, iPadAir-iPadAir, iPadAirCellular-iPadAirCellular, iPadMiniRetina-iPadMiniRetina, iPadMiniRetinaCellular-iPadMiniRetinaCellular, iPhone6-iPhone6, iPhone6Plus-iPhone6Plus, iPadAir2-iPadAir2, iPadAir2Cellular-iPadAir2Cellular, iPadMini3-iPadMini3, iPadMini3Cellular-iPadMini3Cellular, iPodTouchSixthGen-iPodTouchSixthGen, iPhone6s-iPhone6s, iPhone6sPlus-iPhone6sPlus, iPadMini4-iPadMini4, iPadMini4Cellular-iPadMini4Cellular, iPadPro-iPadPro, iPadProCellular-iPadProCellular, iPadPro97-iPadPro97, iPadPro97Cellular-iPadPro97Cellular, iPhoneSE-iPhoneSE, iPhone7-iPhone7, iPhone7Plus-iPhone7Plus, iPad611-iPad611, iPad612-iPad612, iPad71-iPad71, iPad72-iPad72, iPad73-iPad73, iPad74-iPad74, iPhone8-iPhone8, iPhone8Plus-iPhone8Plus, iPhoneX-iPhoneX,

Supported Languages:

English; French; German; Italian; Japanese; Korean; Portuguese; Russian; Chinese; Spanish; Castilian; Chinese;