Screenshots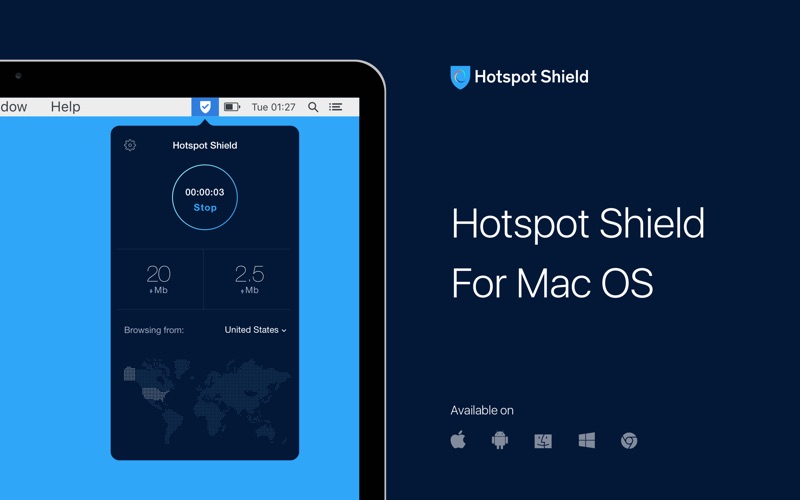 Description
Hotspot Shield VPN is the World's most trusted security, privacy and access app with top performance on speed, stability and security.

GET HOTSPOT SHIELD VPN TO

- Access all websites and apps securely and privately at home, school, work or from anywhere in the world.

- Stay private and anonymous online. Prevent anyone from tracking your IP address, identity, and location from websites and online trackers.
Enjoy complete anonymity.

WHY HOTSPOT SHIELD VPN

- No Logs Kept: Hotspot Shield doesn't track or keep any logs of its users and their activities. You are completely private with Hotspot Shield.

- FREE and UNLIMITED: You have the choice to use basic features for free (forever) and unlimited access, or simply upgrade to Elite for more features!

- Trusted by millions: Trusted by more than 500 million global users and featured by Fortune, Forbes, TechCrunch, New York Times and many more renowned media.

- No sign up, registration, or credit cards required: you don't need to create an account or have a credit card to use the basic features of the app!

- Unparalleled VPN Performance: Hotspot Shield fully own all the VPN servers, which ensures fastest VPN speed, and most stable and secured VPN connections.

- Largest VPN Coverage: Powered by AnchorFree, Hotspot Shield offers largest VPN coverage from more than 20 countries including US, UK, JP, IN, AU, CA, CN, TR, UA and more!

- Support: We are striving to be the best security, privacy and access app, so if you have any questions, simply shoot an email to support@hsselite.com!

Get Hotspot Shield VPN Now!

■ Hotspot Shield Premium (Elite)

- Start 7-day trial - free of charge; no commitment; cancel anytime
- Payment will be charged to iTunes Account at confirmation of purchase
- Subscription automatically renews unless auto-renew is turned off at least 24-hours before the end of the period
- Length of subscription: one month; three months; six months; one year.
- Account will be charged for renewal within 24-hours prior to the end of the current period, and identify the cost of the renewal
- Price of subscription: three months - 32.99 dollars; six months - 53.99; one month - 12.99 dollars; one year - 69.99 dollars.
- Subscriptions may be managed by the user and auto-renewal may be turned off by going to the user's Account Settings after purchase
- No cancellation of the current subscription is allowed during active subscription perio
- Any unused portion of a free trial period, if offered, will be forfeited when the user purchases a subscription to that publication.

■ ABOUT AnchorFree™

AnchorFree is a privately held, venture-backed company based in the Silicon Valley. Anchorfree believes in placing consumers in control of their personal information online. Anchorfree provides millions of users with online security, privacy and access through its most popular VPN product - Hotspot Shield.

■ Follow us on…

Google+: plus.google.com/+HotspotShield
Facebook: facebook.com/hotspotshield

Website: https://www.hotspotshield.com/
Lean About VPN Technology: https://goo.gl/tgL10z

Privacy: https://www.hotspotshield.com/privacy/
Terms: https://www.hotspotshield.com/terms/

Copyright © 2017 AnchorFree, Inc. All Rights Reserved
Reviews
Doesn't Work After OS Update
After updating to the latest operating system, this is no longer setting up the profile correctly. I'm unable to use this item and I paid for the Elite subscription. Please fix ASAP.
1.5.3 needs to be fixed for MAC!
Ever since i got the update at the end of August, I am unable to receive any traffic. After looking at the vpn profile I noticed that the profile is not correct.. I tried to reload the profile and the problem still excists. The account name field is empty and it can not be edited. Please look into this and fix!! I've been using this product for five years now and never had a an issue until now… It's only on my MAC, and I'd seen other comments with the same issue. My iPhone, iPad and windows machine's are just fine.
Used to be Better - Drops Connections, Nags You to Give a Review
I've been using HSS elite for 5 years now. Their VPNs are typically fast, albeit they don't have a ton of neutral options and aren't super configurable. I really liked the previous versions, but the latest update incessantly nags you to review the product, which is super annoying. Far worse, it has cut out on Mac OSX many times without warning leaving me exposed. This is unacceptable from a paid VPN service. Finally, the new interface is shiny but it isn't intuitable and it's buggy. The on/off switch isn't clear whether the VPN is in the process of shutting off or turning on, so this can lead to multiple clicks each time it fails to turn it back on, particularly when the connection hangs (common on some of their remote servers).
App continues to ask for rating
I rated the app previously. It continues to ask for a rating. As a result, I have re-rated it with one star. Otherwise, the app apears to do what it is supposed to do.
Consistently Drops Service
I have been using Hotspot Shield for over 4 years now. The latest update needs fixed ASAP. It keeps dropping my protection and then reconnects every 1-5 min or so. This is extremely annoying and not very secure, whatsoever. Before this last update, I rated this app a 5. Now it is garbage and can't keep it's connection. If this isn't fixed within the next couple of weeks, you will lose a long time, loyal customer!
Great
travelerfadfas
on
9/11/2017
Great app.
Great App
Jacob P. Lanzer
on
9/11/2017
This app works great if you work or go to a school that restrics certain websites and applications.
Works Wonderfully
I use the free version without complaint. It works exactly as I would want it to. Really, I could not be happier.
Poor Performance with recent update
I used to be very pleased with this product but since the last upgrade the performance/bandwidth has been so poor as to render this ap useless..
Needs Software Tweeking
Nice app but there are gaps in user friendliness - it sometimes quits then doesn't have option to sign in again as returining user…then charges for a new subscription. Suggest it wouldn't take a lot of effort to correct this Otherwise very nice. Sorry ffor only 3 stars but i want to get this problem to the attention of the developers.
Constant lost connections
I have been running this app for almost 3 months and I consistently have to restart the connection. I can bring up the browser window and all starts well and then 30 minutes into my activity it starts slowing to a crawl and then eventually I need to restart or just plain drop the vpn.
rate us
slow connection and you are killing me with rate us everytime i sign in or out
Really great VPN. Only issue is CPU overhead.
Murderizer9000
on
9/6/2017
I really like this VPN. I would recommend it to anybody who's looking to get a convenient VPN that has a good, simple interface. The only issue I've run into is that the application will use quite a bit of CPU power (16% out of 400% of the quad core CPU in a 15 inch MBP 2017) even when it isn't connected.
Doesn't work
DID NOT WORK, I don't know how else to say it.
Poor Customer Service Does Not Work With DIRECTV
When you but Unlimited with an Elite subscription the app keeps insisting that yopu subscribe again because your data limit \has been exceeded. There is no work around and the customer service people on chat are from some outsourcing place in India and have been given zero authority to help. Oh, and this also does not function with DIRECTV when you travel. Apart from that and the ongoing lost connection issues it's really awesome. Do not waste your money. Interesting that Apple actually lets them sell this garbage in its App Store.
I want my money back
whatidontwant
on
9/2/2017
this is so bad. I didn't even know I was paying for the in-app purchases and I get this reciept from apple store that my card paid for this. I ended up not using this app because of poor connetion,( never stays on for more than 10 minutes), and I pay for this crap. Please don't buy this app. horrible experience.
useless
This app is not worth paying for. The connection is sporatic and unreliable. Connections to specific locations are untrustworthy. Connect to Australia, for example, and you will be routed to Japan or Portugal. Don't even think about paying for this app.
good app
MrchavVvVVveeezz
on
9/1/2017
its a nice vpn app...
Do not use this app
This company is horrible. They have overcharged me for many years and now will not refund. The customer service is horrible. If you sign up then monitor your credit card charge as they may double charged you and then it is very difficult to get anyone to respond. Very difficult to turn off auto renewal. BUYER BEWARD.
New Update Doesn't Work Anymore
Before this update HSS definitely needed some fixes but now I can't get it to stay connected on my Mac at all. Not only does it not stay connected but it isn't even hiding my IP address. It looks like it's working and it's slowing down my internet speed but it isn't actually doing anything. This needs to be fixed ASAP. I've been using HSS for over a year and this is the first time I don't trust it to do it's job. Sad.
Constantly lose connection
I wound up canceling my Elite supscription because I could never keep a connection. I would be browsing, then dead…no conneciton unless I turned off HotspotShield. This would happen 10x a day, so I finally just kept it off. I reached out to their customer service, but they said to update to the latest version, which I alreadt had; then they said they couldn't help me any longer due to the fact they couldn't find my account on their end. Yet I gave them all the information on my account…so, I canceled my subscription. There are plenty of other good VPNs out there so will find a better one.
thumbs up
contented123
on
8/29/2017
So far so good. Only issue for me was starting the app up the first time. It seemed the only option was to get the elite version. But you can click back enough times to get to the free version again.
Good
It asks you to rate it until it drives you crazy. Just rate it
New update is horrible
The current update has made speeds from all locations slow down to a crawl. I can't even get browsers to resolve hosts. Not sure what happened with this last update because this was easily a five star VPN. Please fix!
Overall good
The app was better in the past but since the new update it's quicker to choose what server you want but doesn't let you choose a state which can be a problem with certain streaming services if you're trying to use them overseas. Also, sometimes I have to restart it because it greatly slows down my internet.
Great
Alex12345gardner
on
8/27/2017
its great
Consistently losing connection
I have been using this VPN for over a year and would give it 5 stars until the most recent releases. Now I'll give it 2 stars. I have it on my MAC Book Air, iPad Pro and iPhone 7. The VPN on the MAC and iPad are consistently failing in such that I get no bandwidth after 10-15 minutes of use. Once I shut the VPN down the WiFi traffic continues without a problem. I just updated to version 1.5.3 from 1.5.2 and the problem still exists. I recommended this app to my friends and several bought based on my recommendation. If things don't improve quickly I'll have to start looking at other vendors
Poor customer service
Once upon a time there was actual customer support person. Now, your on your own. I use it with my Mac and browsing lags, used with google to get to what restricted sites? Poor performance, poor back up and support.
Here's Your Rating
You can't activate the app without clicking the link to rate the app…power button is covered indefinitely by the rating link.
Not perfect but keeps slowly improving; expensive
Comment est-ce que on dit non.
on
8/25/2017
Their support has in the past been responsive and effective. I've used this app for years, and recently bought a lifetime license along with the high speed license (about $200 total). The new version user interface looks nicer than the old one but it seems to disconnect more frequently now, and then it reconnects almost immediately which the old app version didn't do so well. This usually happens a lot when browsing that involves more than 60 seconds of dwell time on a website. It also happens now when I video stream from Netflix, which is something no version ever did do very well — I usually remember to disable the app when video streaming, so the quality of the video isn't disturbed by the frequent cut-outs. Whether the newest version with high speed option really is speedier than before will have to wait until my next trip to Europe to prove. Europe is where the speed was noticeably slowed before. It still remains true that some websites refuse to allow access when I use this app. I haven't sorted out whether this is due to a server the app is using being off shore, or just the app itself. I think the only affected sites are US Government sites intended for private access to personal information by private citizens. It is easier for me to just turn the app off than to troubleshoot the root cause. Generally the app delivers what I choose to use it for: encryption between my computer and the first server node. This saves me some worry about eavesdropers hacking my personal information such as passwords or frequent account pages. I am not concerned about government monitoring, per se. I suspect that technologically advanced governments have access to the data stream anyway, maybe through a backdoor, or maybe just through sophisticated decryption routines. Bottom line: it serves my needs but could be significantly improved considering the $200 good faith payment I've just made for this app. Stopping the app from disconnecting automatically and reconnecting frequently would be a good start. Allowing continuous seamless use with Netflix would be an even better fix. UPDATE August 2017: The constant resetting to different primary servers is such a nuisance I sometime/often just shut off the VPN when I would most want to have it running! Hope they work a solution to this.
Ratings nag
Only complaint is that it nags for a rating every time you access the application.
Premium version works very well
I use this more often on my Macbook Pro, and it works very well for public networks. The only hiccup is after an update, sometimes it forgets that I have purchased the premium version, and I need to log back in. Other than that, it works very well.
Doesn't work now
Installing profile doesn't work for me anymore.
Seems to work just fine
TheBestBro21
on
8/20/2017
Seems to work just fine. I have yet to encounter any problems.
Dont Purchase
If you are looking to use it for BBC iPlayer this does not work any more. Use to but it does not and their engineering team cant fix it.
Awful! Doesn't work at all!
MickeyDisappointed
on
8/18/2017
So, at first it just slowed down my internet a ton and didn't work at all. Then, even though it told me that I was technically browsing from the "United States", all the websites seemed to think I was in Germany. Then, when I tried to use websites that would only work in the US (again, it told me that I was browsing from the US), those websites told me I was unable to view them because I wasn't in the US. So, basically, it just doesn't work whatsoever.
Install on OSX is a mess
UPDATE: Once the install nightmare was over, it has functioned fine BUT, subsequently I have read multiple reviews and break downs of VPNs from reputable technolgy and Mac sources. It turns out that many VPNs are not entirely secure. Some are more then others. Guess which is the LEAST secure VPN? This one! Apparently HotSpot does let companies in on where you are going on this VPN. It shares far more then many other VPNs and is the least secure VPN out there. Ugh. So dumb. I am now actively looking for a replacement. Now that I am retiring my old Mini (Apple, where is the new Mini?!) I will use a new VPN on a new iMac I jsut got and an older but still compatable with latest OS X iMac. Adios HotSpot. You blew it! Security and privacy are what users only want and, you can't even do that! Install on OSX is a mess. It wants to do a configuration install. To do so, it launches a browser. The user would think, that means, the DEFAULT browser. NOPE! It launches Safari. the install is clunky and unclear. But, once the data is downloaded, you click on it and, well, the first 4 or more times, nothing. It never installs properly. It shows up in System Prefs but, does not work. The Hotspot drop down menu just, wants to install it, AGAIN and again and again… Somehow, and I am not sure how, on the 5th or six try, DAYS LATER, it worked and install. (Now, if it will stick or not, remains to be seen.) The iOS version installed much easier. I also have an older OSX and, the Java (?) version installed easily too. It is just this newer OSX version that is a PITA. If you can't get your product to install correctly, you will have mad customers fromt the start. Why companies ignore this critical element of software is a mystery. Also, when you do the install in OSX, it shunts you over to the App Store to get it. But when the App Store installs it, the user is left hanging. Now what. Well, like I said, OSX install is a total mess! The only reason why I use this HotSpot Shield is because that other version works on the older OSX. Otherwise, I would use Nord, Tunnel Bear (reluctantly) or another VPN instead.
Annoying POS
Dirty_Mike_&_The_Boys
on
8/17/2017
Here is your review you keep asking me for every 10 seconds. Now shut up!
Stop begging for reviews
Your worst nightmare 666
on
8/16/2017
This aint gonna help you get a good one
I kinda depend on it, so what can I say?
tiredOfMacOSStuttering
on
8/14/2017
it becomes not responsive after a period of being open while disabled and macOS doesn't even try to shut it down, and since the update it tells me to rate it every time i open it from the menu bar and it plays that bloody animation everytime you launch it (the reason why I don't use it on Android)
Annoying requests for review
AnnoyingPopUpsRequestingReview
on
8/14/2017
App works great but it is really unpleasant to see constant requests for review. Marketing VP should be fired.
Just do your job!
FrustratedCat
on
8/14/2017
The job of the app is to provide secure proxy access. Not to beg for ratings and not to ask me to upgrade while announcing that I've reached my data limit even though I already purchased Elite. Also, it is not clear how to close or manage the app. C'mon, guys, do your job!
Like everything except the rating nag.
Please remove the ratings nag.
Hope this gets rid of the rating nag.
The app usually works fine, but like others, I'm also tired of the persistent rating request.
Works great on all my devices!
Stockholmspeed
on
8/13/2017
Its nice to have that works seamlessly over all my devices.
annoying
It works fine, I can access US shows and content online… My only complaint is that it constantly asks for me to download a profile! Its annoying and Im getting sick of it!!!
tire of being forced to rate this application
Tire of this application forcing me to rate it with the popup windows, I hope this makes them go away.
This app works fine.
I purchased the one time option to make sure I didn't have to deal with annoying subscribe banners and pop-ups. I did this because I really really really hate pop-ups. But it seems that I could not avoid annoying pop-ups because now, Hot Spot shield is asking me to rate this app. Don't get me wrong, I love the app. It works fine. It does what I needed to do and I appreciate the programmers at hotspot Shield who have done a wonderful job putting this app together… but What what I do not like is the constant nagging to rate their app. If they could do away with that, this app would be perfect.
Fact Sheet
Publisher:

AnchorFree Inc.

Category:

Productivity

Released:

Dec 30, 2013

Current Version Released:

Aug 22, 2017

Version:

1.5.3

Size:

6.8 MB

Compatibility:

Requires iOS 10.10 or later.

Recommended Age:

4+

Game Center Certified:

No

Supported Languages:

English;