Screenshots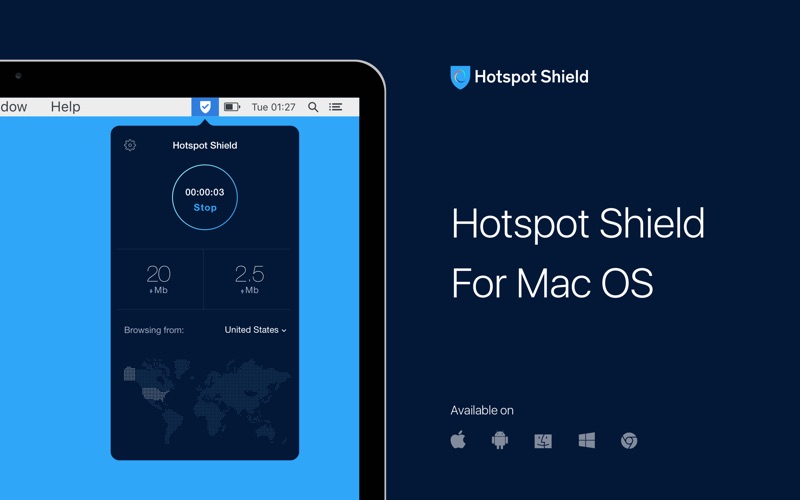 New in version 2.0.1
We're always making changes and improvements to HotspotShield. To make sure you don't miss a thing, just keep your Updates turned on.
Description
Hotspot Shield VPN is the World's most trusted security, privacy and access app with top performance on speed, stability and security.

GET HOTSPOT SHIELD VPN TO

- Access all websites and apps securely and privately at home, school, work or from anywhere in the world.

- Stay private and anonymous online. Prevent anyone from tracking your IP address, identity, and location from websites and online trackers.
Enjoy complete anonymity.

WHY HOTSPOT SHIELD VPN

- No Logs Kept: Hotspot Shield doesn't track or keep any logs of its users and their activities. You are completely private with Hotspot Shield.

- FREE and UNLIMITED: You have the choice to use basic features for free (forever) and unlimited access, or simply upgrade to Elite for more features!

- Trusted by millions: Trusted by more than 500 million global users and featured by Fortune, Forbes, TechCrunch, New York Times and many more renowned media.

- No sign up, registration, or credit cards required: you don't need to create an account or have a credit card to use the basic features of the app!

- Unparalleled VPN Performance: Hotspot Shield fully own all the VPN servers, which ensures fastest VPN speed, and most stable and secured VPN connections.

- Largest VPN Coverage: Powered by AnchorFree, Hotspot Shield offers largest VPN coverage from more than 20 countries including US, UK, JP, IN, AU, CA, CN, TR, UA and more!

- Support: We are striving to be the best security, privacy and access app, so if you have any questions, simply shoot an email to support@hsselite.com!

Get Hotspot Shield VPN Now!

■ Hotspot Shield Premium (Elite)

- Start 7-day trial - free of charge; no commitment; cancel anytime
- Payment will be charged to iTunes Account at confirmation of purchase
- Subscription automatically renews unless auto-renew is turned off at least 24-hours before the end of the period
- Length of subscription: one month; three months; six months; one year.
- Account will be charged for renewal within 24-hours prior to the end of the current period, and identify the cost of the renewal
- Price of subscription: three months - 32.99 dollars; six months - 53.99; one month - 12.99 dollars; one year - 69.99 dollars.
- Subscriptions may be managed by the user and auto-renewal may be turned off by going to the user's Account Settings after purchase
- No cancellation of the current subscription is allowed during active subscription perio
- Any unused portion of a free trial period, if offered, will be forfeited when the user purchases a subscription to that publication.

■ ABOUT AnchorFree™

AnchorFree is a privately held, venture-backed company based in the Silicon Valley. Anchorfree believes in placing consumers in control of their personal information online. Anchorfree provides millions of users with online security, privacy and access through its most popular VPN product - Hotspot Shield.

■ Follow us on…

Google+: plus.google.com/+HotspotShield
Facebook: facebook.com/hotspotshield

Website: https://www.hotspotshield.com/
Lean About VPN Technology: https://goo.gl/tgL10z

Privacy: https://www.hotspotshield.com/privacy/
Terms: https://www.hotspotshield.com/terms/

Copyright © 2017 AnchorFree, Inc. All Rights Reserved
Reviews
Does not work properly
I purchased a subscription to this service last year. In the time I have used it (1 year), I have learned it can be incredibly slow at times (sometimes it's so bad I have to turn it off). It also conntects you through countries other than what I tell it to. I have it set to browse through USA, but when I search google or ebay, I get UK search resluts, sometimes Mexican. I feel like thats a huge red flag for anyone trying to use this for security purposes. It's also incredibly annoying that it constantly interrups me asking for a review.
Really Annoying
After I buy the PREMIUM they "force" me to rate the app before I can use it. This is ANNOYING!! Its slows down my productivity! So, here is my rating! What a silly policy!
Not good
Sany Pet. J
on
11/21/2017
Sometimes, the internet connnetion is terminated.
Performance bottleneck
It works, but I assume all VPN packages work. I like the way HS connects to a different server (within the selected country) each time I log in. I have xfinity internet service that provides pretty consistent 75 mbs download speeds with HS turned off. Using HS, my download throughput typically drops to less than 30 mbs, and it is a very lumpy service, with the download speed sometimes barely reaching 5 mbs before "spiking" into the twenties. These numbers were reported by speediest.net over an extended period of observation. I periodically must download a 250 MB file from Dropbox. If I don't disable HS prior to starting the download, the process often hangs indefinitely. With HS turned off I have no problem, so I find myself turning the VPN service off. I'm sticking with HS until I find something better. I have an Elite subscription, their highest paid service level as far as I am aware, so I should be getting their best performance. If so, they've got work to do to eliminate the performance bottlenecks.
awesome
Hegahsgdjdydbsgd
on
11/16/2017
this is the best vpn i have ever seen.
Its useless for streaming.
Worthless app. If you need to check an email you'll have to wait a few minutes to download any content its like having dial up again.
This is robbery, pure and simple
As a paying subscriber of Premium I was able to select the target country. After Elite was released, I couldn't change the country anymore — it asked for even more money to upgrade to Elite. The customer service representative I chatted with would not even admit that that was happening, but kept asking me to remove network interfaces and change DNS entries and whatnot. Dude, the thing was working yesterday, and today it's asking for more money. I know a thing or two about computers, and that's not a DNS problem. Stay away from this, who knows what else they will come up with in six months.
Works fine
HotspotShield VPN it's more than amazing, well done
good customer service; Netflix Issue
I have to update; customer service is responsive. They renewed my membership for free based on my recurring issues. The app is still somewhat buggy; it stops working every once in a while. When it works, which is often (98% of the time) it is really good. However, Netflix recognizes that you are running a proxy and won't work, occassionally. Please fix this bug and rating will increase. I rate it and yet it still asks me to rate it. Why?
Annoying rating requests
I like the way this VPN works. It is very user friendly, does the job very well and is very reliable. Would have given it 4 or 5 stars, but the endless requests for reviews are getting to be very annoying, especially since I pay for the elite version of HotSpot Shield.
Really annoying constant reminder to rate the app
While the functionality is OK, I have been having issues where I am finding the bandwidth goes to nothing and I have to restart it every few hours of use. It is super annoying that everytime I have to restart it I am prompted to rate the app. Well, this time I am rating it. If this isn't removed in the next version I won't be renewing. There are lots of other options out there that are now much cheaper than this one. And by the way, why did you more than double the price in the last year?
worst VPN ever
Do not buy elite subscrition, once you're connected to the VPN half of the websites are either don't work or load very slowly. I reached out to customer service serveral time no help. regret wasting my money on VPN service.Constatly nag about leaving review.
Used to work well
In the three years I have been using this VPN (with Elite subscription) it has gotten worse. Slows connections to things like Facebook to the point where you can't post a photo or even a comment without rebooting the browser or stopping the VPN. Many, many contacts with their customer service, including doing their troubleshooting suggestions, sending log files, etc., etc., only to be told, "...the drop we are having is normal within the parameters of using a VPN." On top of that are the constant prompts to rate the app, which I see every time I need to pause it or restart it, which is frequently. Maybe the most frustrating thing is that it really went downhill after I accepted their offer of a big discount for a lifetime subscription! I'll be looking for a better alternative.
Beware of constant review request prompt!
Hotspot Shield provides the peace of mind you need in order to surf the internet. When you're on a public wifi network your traffic is subject to being tracked and keystrokes logged. HSS helps you. My pet peeve is that the the VPN connection sometimes slows down or drops out and I have to stop and restart the connection. I've been premium subscriber for year and the current version is polished but I am constantly bombarded to write a review before I start the connection. This is annoying and I shoudl not have to take two steps for me to activate the conection especially since I paid for the service. One click to dismiss the request for a review and a second click to activate the connection. I'm giving HSS 3 stars becasue of these two reasons.
new bug
there is bug in new update. when double tapped on connect button suddenly app will closed
Not so great with MAC laptop
I have had some trouble with this. Sometimes my web guys see that I'm working from the USA, which they are not supposed to do. Seems like it looses it's place a bit when I close and then open my laptop.
QUIT NAGGING ME!
rhaupenthal
on
10/28/2017
Nags me constantly about reviews even after I've given one or two or seven.
It fails to hide location from websites
Even after I upgraded to the Elite Subscription, the software was not able to change or hide my location from certain websites. I tried to rent video on Amazon with the app working in the background but Amazon was still able to find my correct location and did not allow me to rent.
Getting worse with each update!
Terrible, terrible, terrible! I have been using HotSpot shield for about 5 years now and with every update gets worse and worse. It keeps disconnecting and then having troublke to re-connect Support alweays keep tellong to download the latest version from App Store, to run updates, to clear cache etc. Nothing works. Please take care of the ssues that users are having running your app on OS X
fast connect
Hooman naffat
on
10/23/2017
fast connect but unstable :/
It keeps connecting/disconnecting..waste of time
I started with 7 days trial and i was very happy with it so continiued my subscription and 2 days after my account was charged it doesn't work at all. it connect for a few seconds then disconnects and then keeps doing the same thing again and gain. very disappointed and wish i could get my money back and delete this app and forget that it even exists. BTW i did trying it on different platforms such as Android, windows mac and IOS with the same result.
Not safe to use
Bah bahahaha
on
10/22/2017
Terrible VPN service, they track everything you do online. Get a paid VPN to stay secure, stay away from these guys.
does what it says
great app.. does what i need it to do…
Great…when it WORKS
Captived two
on
10/21/2017
I would give this a -10 if I could. This is great when it decides to work. It also has a habit of pushing you into their "FREE" version without many choices. I spent 3 weeks with support and it still isn't working. Its slow to connect to any website if it ever does. They THINK they will be getting an automatic renewal come January. I think NOT. DO NOT WASTE YOUR MONEY.
Tired of the hassle - Drops connection, constant review ads, authentication errors
Started off ok but pretty tired of always having to mess with it dropping connection then having to reinstall profile. Updates don't seem to help much either as the last update kept giving me authntication errors when I tried using it and coulnd't even log on. Maybe I'll switch back one day for for now not worth my time to keep messing it.
Stole my money
Darbukarama
on
10/20/2017
I only wanted to try this porgram. I uninstalled the app after a couple days, before free trial period was over. I never agreed to pay for anything. I looked for how to make sure I wasn't paying for anything, in the settings of the app, and in the app store, and found no indication that I was. Today, more than a month later, I find a charge from Apple in my credit card bill. I reinstall the app to figuer out how the heck to stop my subscription, but again, no idea. Never agreed to pay for a susbcription. I have no way of seeing that I am subscribed in apple store or in app. I have no way of canceling the subscription. I'm being robbed.
More featurene need
Pros: 1. Fast connection to the server 2. Ukraine, Russia server available 3. Really fast and table speed. I tested and compared to top 5 popular VPN in the google search. 100% faster than any other services. One of the reasons why I stick with it. Cons: 1. You can't choose the new country to connect to after close an app. It will only. Connect to the previous country, then need disconnect and connect to the country you want. 2. No current speed indicator, as it was in the previous version. 3. Missing kill switch. Really needed. 4. Bad support, never gets back to me after inquiry.
Very bad performance and customer service
Really liked the free version of the app. After paying quite a bit and updating, the vpn takes forever to connect and, when it does, nothing will load. It is very slow. I wrote customer service without any help.
its good
SaggyMcFatFace
on
10/12/2017
im only doin this so it stops notifying me to rate it
DO NOT USE THIS VPN... MY EMAIL GOT HACKED!
Brian @Awesome
on
10/11/2017
After a few weeks of using this, I started getting emails notifying me of unusual sign in activity on several of my online accounts, especially my email accounts on Google and Outlook. Note however, that these sign-ins were done from different parts of the world than where I live, especially the United States (where I assume the servers that most users are connected to are located). It became pretty obvious to me that my internet traffic was being monitored and that someone had gained access to my passwords, so I stopped using the VPN and deleted the app right then and there off of my Mac. Please, consider investing in a more reliable and secure VPN service ( I'd recommend NordVPN any day), rather than trust the first free VPN you see on the app store with your stuff. Really guys, Stay safe, and smart.
charged aftger trial ended, uninstalled after canceling subscription.
HEMPERORJZS
on
10/11/2017
i was still charged for the service after my trial ended, but only a week after it was over. i had already uninstalled the app for over a week, after my trial ended, as i stated. i was still charged for this, and need my money back, this isnt right
No funciona
MALA_APLICACION
on
10/10/2017
Desde que pusieron la aplicacion en al app store, esta aplicacion no volvió a funcionar de la manera correcta, se re-instala la aplicacion y te pide la suscripcion de $11.99 dolares al mes. ES UNA PORQUERIA!!!!!
Good but needs improvement
Not a solid VPN provider, but a promising one. Unfortunately, does not support VPN Router, or other devices; such as Amazon Fire TV. A bit expensive for what it offers comparing to other VPN services with more options. A bit bummer when it constantly asks for a review. But Overall, the service itself is not bad at all. I would have given a four star if it supported more devices and was compatible with a router. Other than that, a really good VPN provider.
Generally Works Well
App seems to work well - adding a second device to a subscription purchased through the App Store can be interesting - repeatedly asking for reviews is annoying
worked with magic jack
It worked well with magic jack, and i have been trying to find another one for free and i do not think it is possible. I have downloaded at least six of them and none of them are working. But i did switch countries from vietnam to thailand so not sure if that was it either.
Good and stable but limited to countries rather than cities
Good app with stable connection. There is however a loss in speed (download and upload) and response time (ping from 7ms to 140ms!) The three issues I have with this VPN are: 1. The fact that it only connects to a country rather than a city. Many applications are geolocation based and this doesn't help as it is broad to the country. 2. The cost of the premium service when comparing to other VPN services which have the lifetime option. 3. The pop-up window asking to rate the app, on and and on, to no end, until you effectively give a rating. The app might deserve an additional star if it wasn't for point 3.
Crap. Does not work
Greengrass47
on
10/2/2017
Even after I paid $47.99 for this piece of crap it dose not work. I want my money back. Will not let me into my elite account. Keeps cutting off and saying my data limit is reached. Don't waste your money. I still have not gotten my $47.99 back yet.
1.5.3 Won't Connect at All
Progress, it's the way we all like things, right? Well these folk dno't seem to understand what the term means. Like many others, older versions of Hotspot Shield worked well for me. I own a lifetime license. A license that is useless since the Mac version no longer works. Well maybe you need to do this or try that. I uninstalled, like with an ininstaller program, which really shouldn't't be needed on a Mac. I restarted. I've reinstalled, nothing. Why is it that apps that worked well come to the App Store and go to hell?
Does not always connect to a US Server
It does not always connect to a US server which is frustrating when I am trying to watch something live!
Solid VPN - Serves Me Well Around The World
BizTraveler29
on
9/27/2017
I have been using Hotspot Shield for about three years and consider it a necessary tool for any online activity. My travels take me out of the office and into suspect WiFi spots all of the time and I just do not worry when I have this VPN on. Plus, I found my only reliable access from China to the US was when HSS was on and protecting me.
Not bad
Great app its very useful
Works ok but could be improved
QuantumState
on
9/26/2017
When it works it works well there are however some drawbacks in the mac os version - you cannot change the country you wish to connect to before connecting - ie you have to connect first to the last country you were connected to before being able to change location, this can be really annoying if that connection is not working - you cannot change it. Last complaint is that it badgers you to leave a review everytime you open it - so here I am leaving a review to not get irritated any further. + positive points Good value - 1 year for $30 Iphone version works very pleasingly well
Worst VPN EVER!!!!
Would not connect to VPN service and developer sent one email a day to "correct" the problem. Nothing they suggested helped and the moment I asked for a refund, they suddenly stopped responding. Try any other service but this one. They are more than happy to take your money for providing a nonexistent service. What a scam!
Doesn't work half the time
Not worth the money, doesn't work half the time. Very disappointed. Wish I can give 0 stars.
Constatly drops connection
The app will constantly disconnect and I have to manually go in and restart the session which totally defeats the purpose of using the VPN. I have this running on a Windows machine with no issues.
Doesn't Work After OS Update
After updating to the latest operating system, this is no longer setting up the profile correctly. I'm unable to use this item and I paid for the Elite subscription. Please fix ASAP.
1.5.3 needs to be fixed for MAC!
Ever since i got the update at the end of August, I am unable to receive any traffic. After looking at the vpn profile I noticed that the profile is not correct.. I tried to reload the profile and the problem still excists. The account name field is empty and it can not be edited. Please look into this and fix!! I've been using this product for five years now and never had a an issue until now… It's only on my MAC, and I'd seen other comments with the same issue. My iPhone, iPad and windows machine's are just fine.
Used to be Better - Drops Connections, Nags You to Give a Review
I've been using HSS elite for 5 years now. Their VPNs are typically fast, albeit they don't have a ton of neutral options and aren't super configurable. I really liked the previous versions, but the latest update incessantly nags you to review the product, which is super annoying. Far worse, it has cut out on Mac OSX many times without warning leaving me exposed. This is unacceptable from a paid VPN service. Finally, the new interface is shiny but it isn't intuitable and it's buggy. The on/off switch isn't clear whether the VPN is in the process of shutting off or turning on, so this can lead to multiple clicks each time it fails to turn it back on, particularly when the connection hangs (common on some of their remote servers).
App continues to ask for rating
I rated the app previously. It continues to ask for a rating. As a result, I have re-rated it with one star. Otherwise, the app apears to do what it is supposed to do.
Consistently Drops Service
I have been using Hotspot Shield for over 4 years now. The latest update needs fixed ASAP. It keeps dropping my protection and then reconnects every 1-5 min or so. This is extremely annoying and not very secure, whatsoever. Before this last update, I rated this app a 5. Now it is garbage and can't keep it's connection. If this isn't fixed within the next couple of weeks, you will lose a long time, loyal customer!
Fact Sheet
Publisher:

AnchorFree Inc.

Category:

Productivity

Released:

Dec 30, 2013

Current Version Released:

Nov 13, 2017

Version:

2.0.1

Size:

6.3 MB

Compatibility:

Requires iOS 10.10 or later.

Recommended Age:

4+

Game Center Certified:

No

Supported Languages:

English;