Not Recommended
App last updated
Jan 29, 2017
Screenshots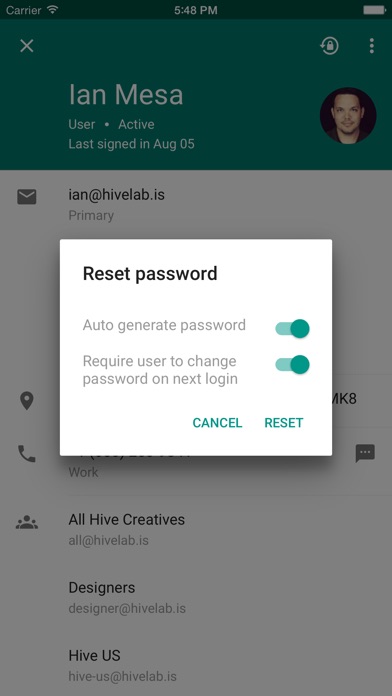 New in version 3.2.0
New in 3.2.0!
• Richer user profiles - with support for groups and several new attributes
• Bulk actions on users and groups - adding multiple users to a group etc.
• Send short messages to users when adding them or resetting passwords
• Simplified user interactions on a new Material Design based UI
• Create new users by importing your existing contacts directly from the App
• Bug fixes - Resolved issues related to app crashes and minor UI elements.
Description
Google Admin lets you manage your Google Cloud account on-the-go. Add and manage users and groups, contact support, and view audit logs for your organization.

FOR WHOM? - This app is only for super administrators of Google Cloud products, including G Suite Basic, G Suite Business, Education, Government, Google Coordinate, and Chromebooks.

It provides the following features:
• User Management Features - Add/Edit user, Suspend user, Restore user, Delete user, Reset password
• Group Management Features - Add/Edit Group, Add members, Email all members, Delete group, View group members
• Audit Logs - Review Audit logs

Permissions Notice
• Contacts: Needed to create a User from your phone contacts.
• Phone: Needed to call a User directly from the Application.
• Storage: Needed to update User's photo via Gallery.
• Accounts: Needed to display the list of accounts on the device.
iPad Screenshots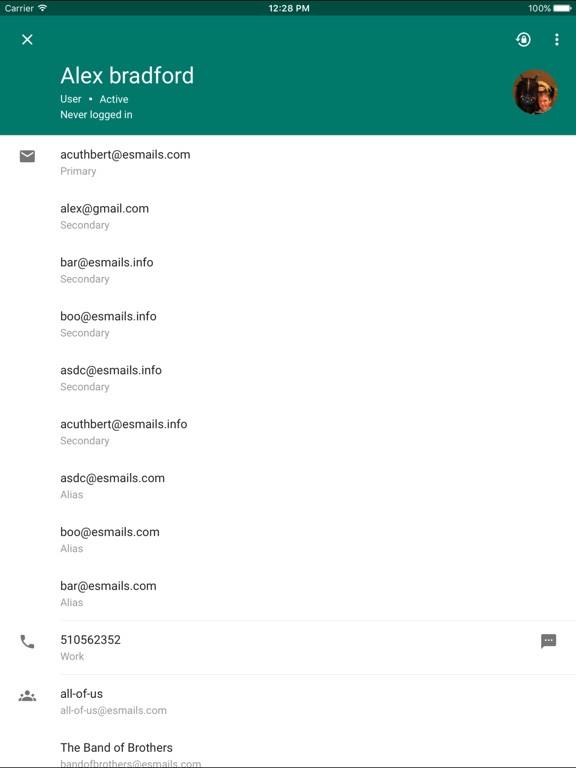 Reviews
Great App!
I have used Google Admin with my G-Suite account for about a year. It has always been reliable. Yes, there could be some extra features but I still love this app!
Very limited utility
osric courtier
on
10/5/2017
You can add users to groups, but you can't edit or delete them afterward. This app is really bare bones and it would only be useful if they were to add a lot more of the web admin features. It's easier just to use the web site.
Thin functionality
I'm not sure why Google couldn't just present the same features and UI in the web based admin console into this app — at least the iPad version where there should be plenty of screen real estate. As it is, this only has the most basic admin features, which is pretty disappointing. I'd much rather have a direct console app rather than have to resort to the web version.
Useless
ralphster949
on
8/15/2017
This app doesn't really do much but allow you to delete users. I installed it because I wanted to approve a new team members device and you can't even do that. Developers, please make this app more useful
Nonstandard UI for removing users
ribollagialla
on
5/25/2017
I had to search the web to figure out how to remove users from groups. Turns out you have to tap the image or circle to the left of the line item. This is nonstandard and not very discoverable. It should at least have a remove option on the detail view of users.
Too basic
Add ability to delete users and groups.
Useless
I want to change a group's permissions but can't with this app. Worse, I can't get into the admin webpage because Google keeps giving me the web version of this app. I want to maintain my G Suite but can't on an iPad. Google, do you really hate Apple that much?
Too basic
CaptSaltyJack
on
4/1/2017
Not too bad, but the app is too basic by only offering user management.
Only Super Admins!?
The Android version of this app works on any permission level and applies those permissions to the app. Sadly I cannot even log in on this device because I need Super Admin access, and I am not at that level yet, as it is not my role in my organization yet. If would be nice if either this app did the same as the Android version, or there was another version for those with lower levels of permission.
Not bad
stopdeletingmyreviewnickname
on
3/2/2017
For a smartphone app, the functionality afforded by Google Admin for iOS ain't bad. It's fairly responsive, easy to use, and very stable. The things I'd wish for in future releases include partial name matches when searching Groups (seriously -- what if the group name is too long to type all the way out and I don't want to scroll through the rest of my groups to find it?), and some search and filtering options for the Audit Log. Aside from that I'm pretty darn happy with this app and the features Google has been adding in recent revisions.
Super useful for super admins
Can do any user and group admin function on the fly with this app. Create / delete / edit users and groups, aliases, change pws etc. A time saver!
It does exactly what it says it's supposed to.
Why are so many people leaving bad reviews for reasons that are irrelevant? "Two stars - it needs MDM support". What? Is that an effing joke? You rate it two stars because it doesn't do something that you WANT it to do, yet it never claimed to do such things?! Come on, people... Pull your heads out of your butts... This app does exactly what it says it is supposed to do. If you want Google to add new features, rate their apps appropriately and then submit feedback to their support/development teams with your requests. It isn't that hard to figure out. Oh and for the people saying they can't log in: you probably a) aren't a super admin, b) have two-step authentication enabled, or c) don't have authorization to authenticate with mobile apps. Good day!
Good start. Needs MDM management
This app is a great start. It works well but it is missing MDM management which makes me still have to log into the website. Sometimes on the go I need to be able to approve, wipe or delete access to devices but this feature is not here yet. Please add MDM access if possible.
They have update
You cannot log in.!!!
Nice idea but can't even log in
Markus stevens
on
3/30/2016
I saw this app mentioned in my admin console and had high hopes. I can't even login in using the iOS app on my iPhone 6. Don't waste your time...
Simple straight forward. Limited in some functionality
Randall in Iowa
on
3/28/2016
I've found this app is simpler for some basic operations than using a web browser interface. I'm glad its an option.
Bugs!!
Compared to the online version this mobil app struggles to compete. I've noticed several bugs. One major one in particular is the "add user" button doesn't work. After entering in all the info for the new user it won't let me add them via Mobil app.
Very raw
Still missing lots of basic features
Limited options
Options are too limited compared to admin console.
Very Limited Functionality
Can manage user accounts and groups and that's pretty much it. Waste of my time downloading it.
Can't use this app
Everytime I tap into a user, I always see API access is not enabled. I check my settings and it was.. Hmm.
Great!
Pros: -This app is great for all the common admin tasks and even makes me question whether I should use the website on a desktop from now on. - Fast and easy to navigate! - Love the new design Cons: - Being at the max level of allotted users it simply fails to create a new user. No option to purchase another slot. This needs fixed Etc: - It'd be nice to have the dashboard like the desktop dashboard with more of the other features. Not necessary but it would be nice.
Excellent!
Black Reggae
on
9/18/2015
[updated on sept 6th] Now the app is working great. We have more access to console features that weren't available on the mobile app. The environment looks to flow smooth. Thanks for fix the problem. Excellent!
Nope
We're on day 15 and I'm still going back and forth with support.
App crashes when trying to access a GROUP
fraser.aruba
on
9/15/2015
Can now login, but app crashes when trying to access a GROUP. Deleting and reinstalling app does nothing to fix the situation.
Update: much better with log in
Update: now that I can log in it is a big improvement from the previous version Happy to finally see an update but I can't login to the app.
Works Great!
Linknnavi4ever
on
9/5/2015
Had some issues logging in before but appears to be fixed. Thanks! This update was a long time coming!
Yes!!!
Thank you! I'm now able to manage while I'm on the go.
SO MUCH BETTER
Huge improvement from before.
FIXED - Can't Login
Quick fix for the login issue, and it seems to be working great! Like the new layout!!
Sadly, update does not function
Update: day two, I can now log in! However, app crashes immediately upon attempting to view group members. Garbage. Although today's update looks like a fantastic upgrade on paper, it simply will not allow me to login to any one of my seven Google apps accounts. All are paid Google apps for work or government, using super administrator logins, with zero success so far... Attempts to login result in an endless loop, enter password, return to login page. Confirmed with multiple accounts. Uninstalled and reinstalled the app, no change. Bummer, since now I cannot administer any of my Google apps accounts.
Very nice
Works beautifully! Had a issue when first updated, but seems to work now. Great work!
So secure!!
This app introduced such strong security that even super admins are locked out! How about that?!
FAIL
Mister Houdini
on
9/3/2015
This is why Apple needs to allow users to re-download previous versions of an app.
It works, finally. Thanks for the fix
Used to be great. What changed? I can't log in anymore. Issue repaired. Thanks for the fix
Was good before the last update
Tarik Chelabi
on
9/2/2015
I can't even login, ask for my credentials then nothing, please fix it!
cannot login
Cannot login even though I am super admin.
Doesn't work - cant sign in
I just updated the app on my iPad and iPhone and it doesn't work - endless loop of sign in page. This is an update? Please fix or let us know what's going on!!!!!
Can't sign in
Can't sign in. After I do it just brings me back to sign in page. Not a password typo issue.
You broke it!
The endless login loop is as far as I can get. Please fix!!!
Can't access to my account
How I can't access to my GApps ? How many times I have to write my info ?
App not letting me log in
Old version worked this afternoon. Just update to new version 2.0.0 and it keeps going to the front page after I put in my admin password. Please fix!!
2.0 broke the app!!
Use this daily, new update won't let me sign in. Dead in the water. I have to teamview my desktop to reset passwords and add users. Lame
Can't Sign In!
joseph.gruber
on
9/2/2015
With this latest version I can no longer sign into my account. It just gets stuck in an endless loop of logging in.
DO NOT UPGRADE
It kicked me out of my accounts and won't let me sign back in. The app is broken, at least for me.
Really?
Overandover12:;456
on
9/2/2015
This is the third time I've written a review and been bounced. This is a joke. I know my password. I know how it use this app and yet I get sent round and round (even if I try to enter a review). What on earth is going on over there?
What happened?
Guy Called Nick
on
9/2/2015
The update doesn't work!!! Don't download until they can fix it. It crashes and doesn't allow you log in.
New version broken...
The new 2.0 version downloaded today but I can no longer login. My admin accounts are listed, I can submit my password and I even received emails notifying me of a new login from my device, but it never gets past the 'Sign In' page. Just an infinite loop. I rebooted phone, deleted app, same result.
2.0 doesn't work for GAFE
Blake Matthews
on
9/2/2015
This app has been great. The latest broke it. I hope 2.0.1 is out soon.
Just Released
I'm the super admin of our domain. Password is correct. Asking me to authenticate again. When doing so app bounces back to beginning again. Never make it past the login/authentication screen.
Fact Sheet
Publisher:

Google, Inc.

Category:

Productivity

Released:

Feb 10, 2014

Current Version Released:

Jan 29, 2017

Version:

3.2.0

Size:

39.8 MB

Compatibility:

Requires iOS 8.0 or later.

Recommended Age:

4+

Game Center Certified:

No

Supported Languages:

Arabic; Czech; Danish; Dutch; Flemish; English; Finnish; French; German; Hebrew; Hungarian; Indonesian; Italian; Japanese; Korean; Norwegian; Polish; Portuguese; Russian; Chinese; Spanish; Castilian; Swedish; Thai; Chinese; Turkish; Ukrainian; Vietnamese;